With multiple, first-of-its kind themed sales to its name, the Geneva Watch Auction: FIVE will include some of the most exceptionally complicated Patek Philippe wristwatches to be retailed by Tiffany & Co., along with a selection of Cloisonné enamel timepieces. Scroll down to discover these unique timepieces!
1. Patek Philippe Reference 2499, Second Series
As one of only two known yellow gold Patek Philippe second series perpetual calendar chronograph wristwatches, this rare timepiece with moonphase was retailed by Tiffany & Co. circa 1960. What makes it even more covetable, are the baton indexes. This is the only piece known to have such indexes.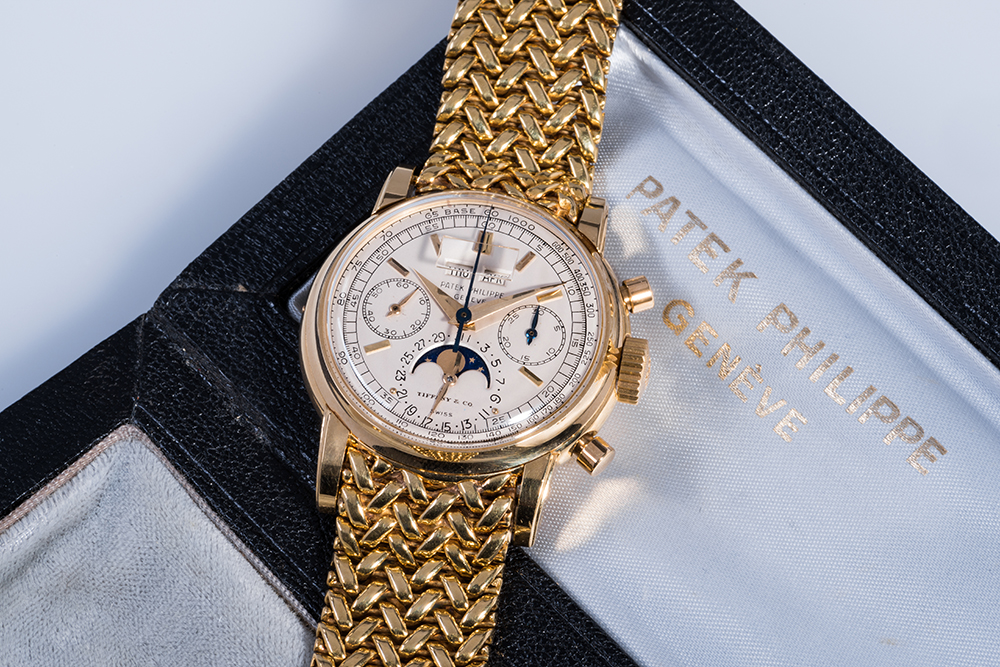 Estimate: Sfr. 1,000,000 – 2,000,000
2. Patek Philippe World Time, Reference 2523/1
Setting the benchmark by being both, an icon and a milestone, this 18K gold dual crown world time wristwatch with a 24 hour indication, was retailed by Tiffany & Co. circa 1963. It is the only one known to bear the prestigious Tiffany & Co. signature.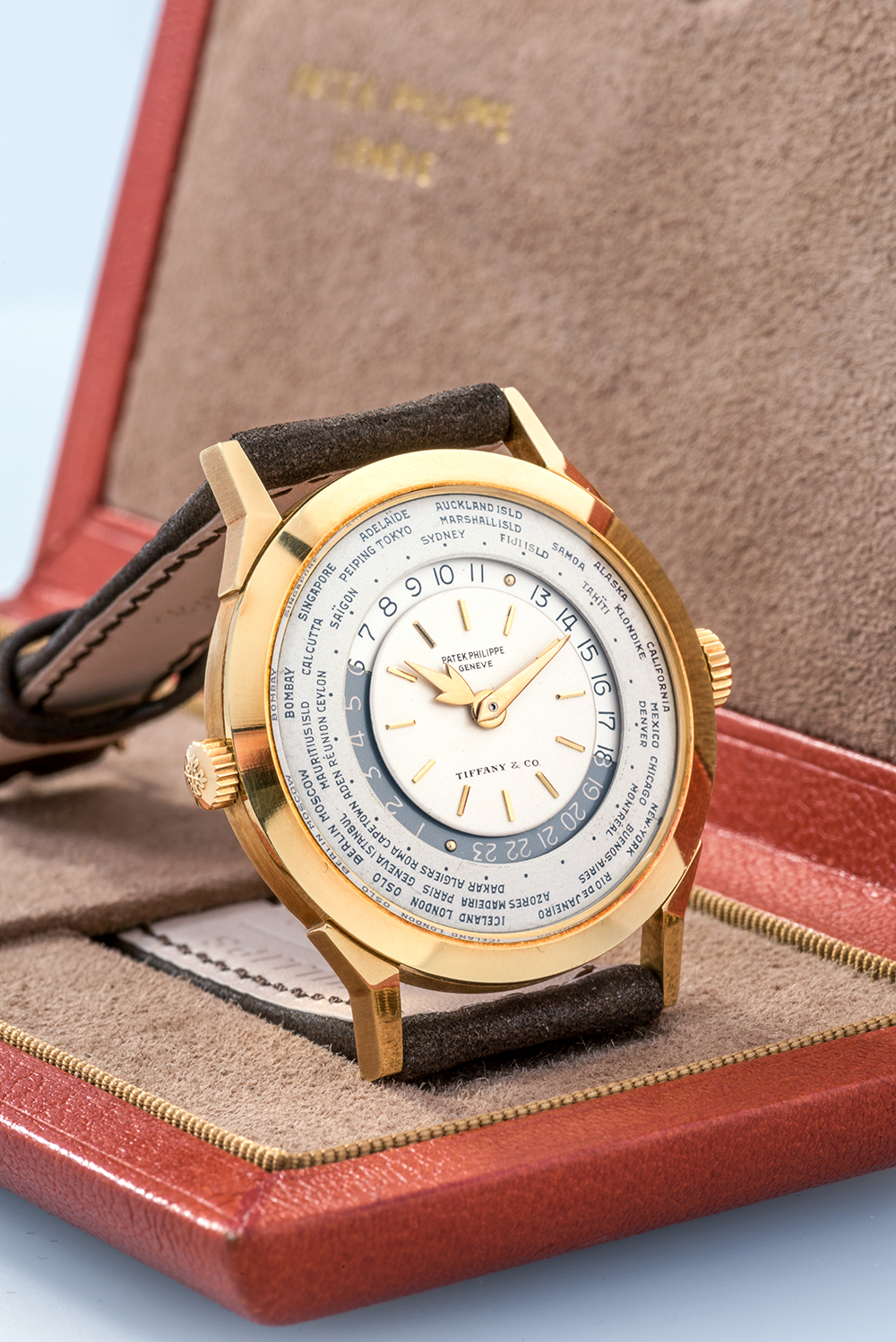 Estimate: Sfr. 900,000 – 1,800,000
3. Patek Philippe Perpetual Calendar, Reference 3450
The highly exclusive yellow gold perpetual calendar wristwatch with moonphase and a "red dot" leap year indicator is known to house the 27-460 QB calibre, and is one of five Tiffany & Co. signed reference 3450s to have been offered at public auctions.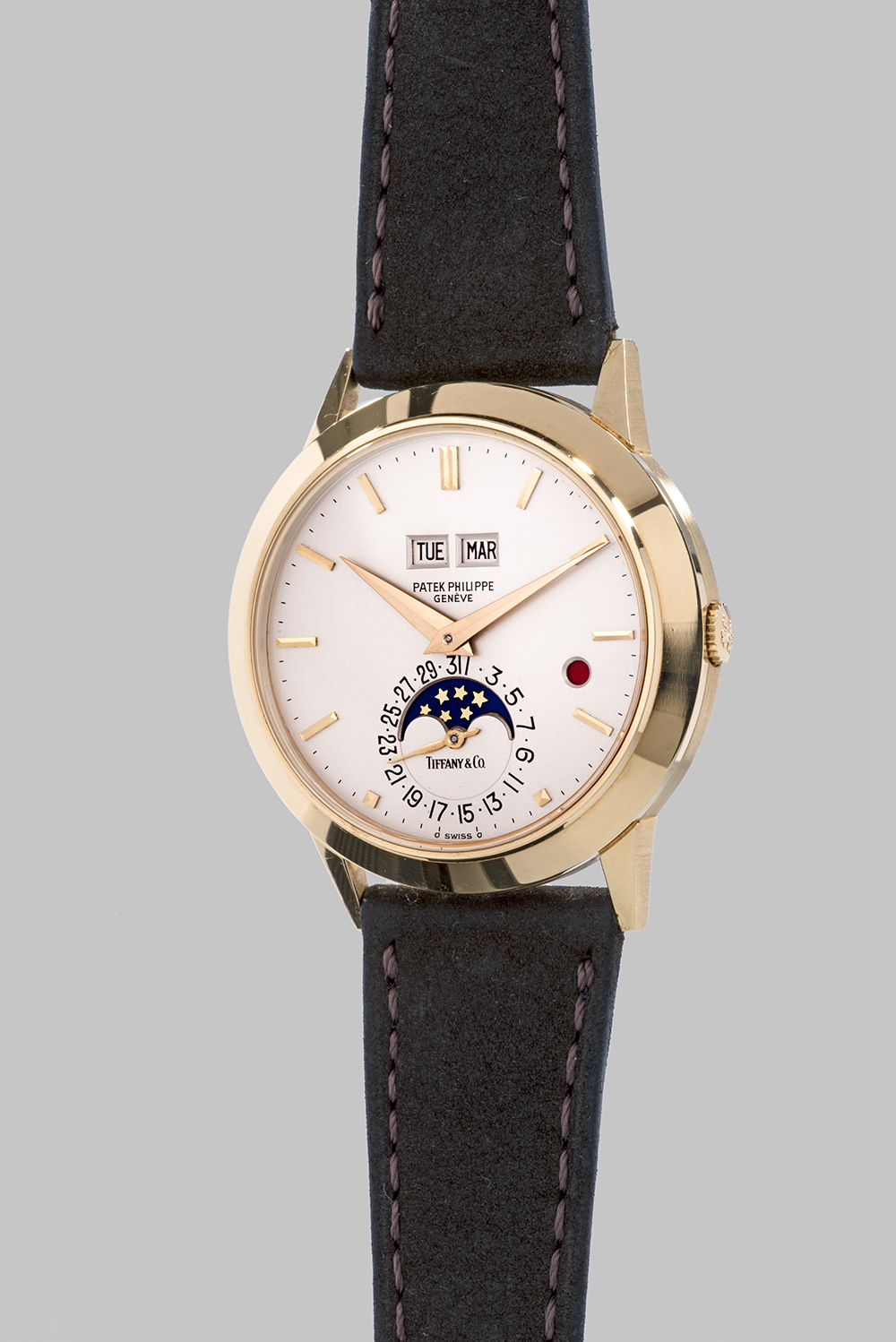 Estimate: Sfr. 220,000 – 320,000
4. Patek Philippe Reference 2597
Bearing the original Tiffany & Co. signature, this rare gold wristwatch comes with a separately adjustable hour hand.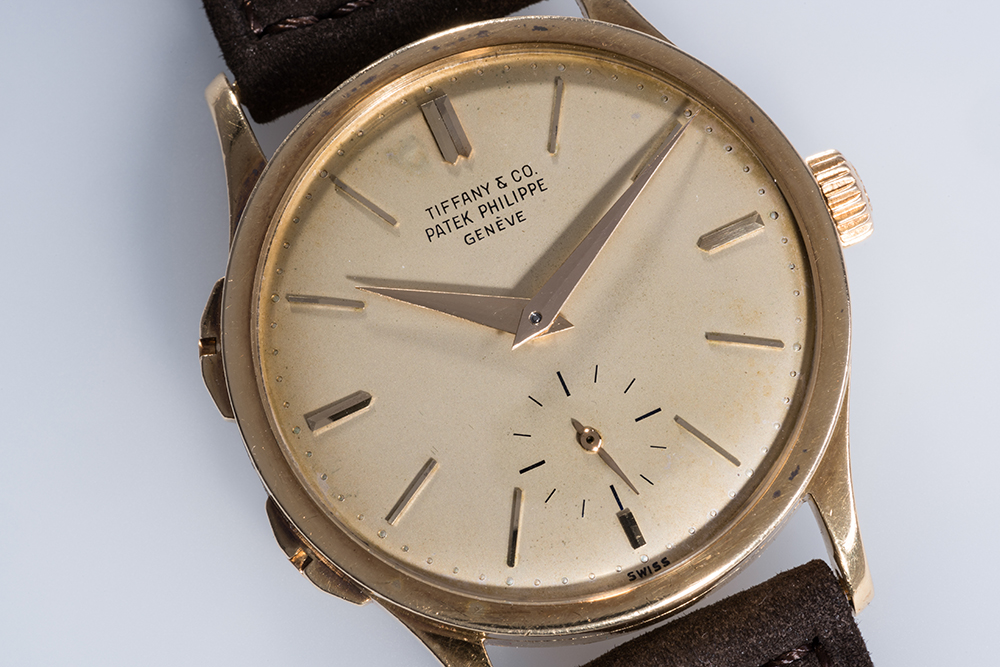 Estimate: Sfr. 70,000 – 120,000
5. Patek Philippe 2497 in Rose Gold – The Sydney Rose
Said to be the only reference 2497 to feature luminous hands and the original pink gold bracelet, this perpetual calendar wristwatch with moonphase and sweep center seconds, is known as a gem of horological design with its balanced chemistry, spectacular curves, and large case size. Interestingly, the timepiece has remained untouched for the last 60 years.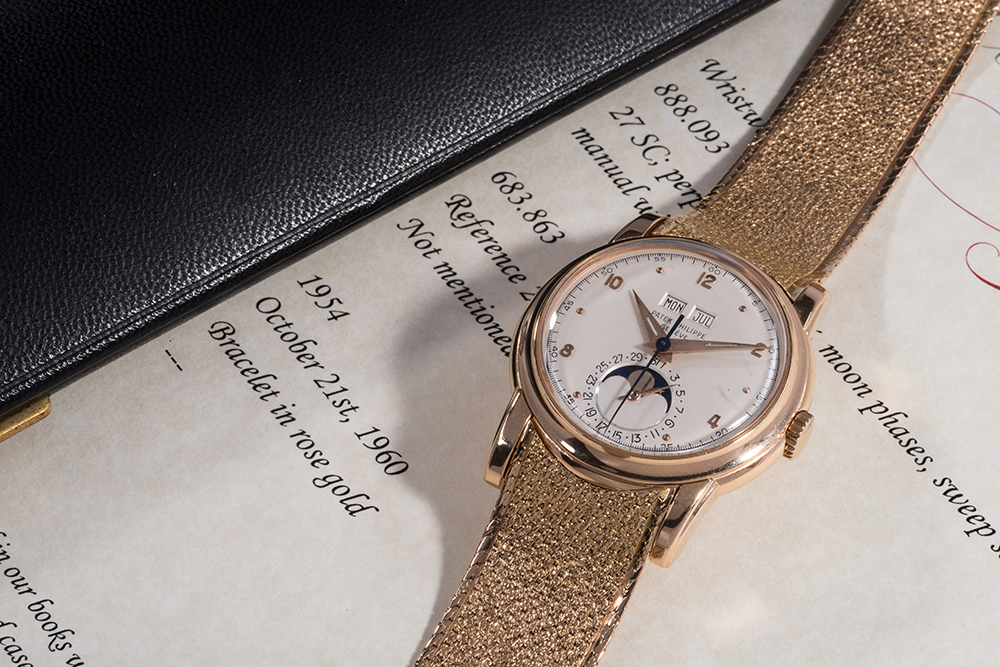 Estimate: Sfr. 400,000 – 800,000
6. Patek Philippe Chronograph, Reference 530
Available in an untouched condition, the original silver dial with Breguet numeral hour markers, of this rare yellow gold chronograph wristwatch, has retained its crisp, hard enamel printing, just as it was when it left the factory 70 years ago.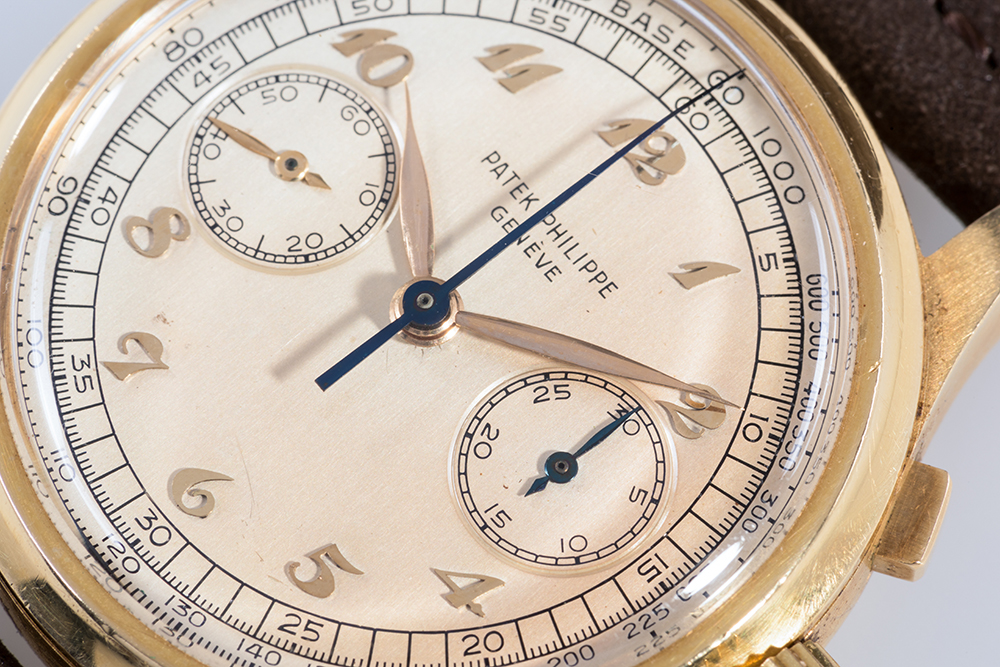 Estimate: Sfr. 300,000 – 600,000
7. Patek Philippe Split-Seconds Chronograph, Reference 1436
A rarity for the brand, the pink gold split-seconds chronograph wristwatch with pink dial is the first ever split-seconds produced by Patek Philippe in this series. Research suggest that less than nine examples have known to have survived in pink gold, with even fewer examples with a pink dial. The timepiece comes complete with all its original accessories – original certificate, bill of sale, envelope, and a fitted presentation box.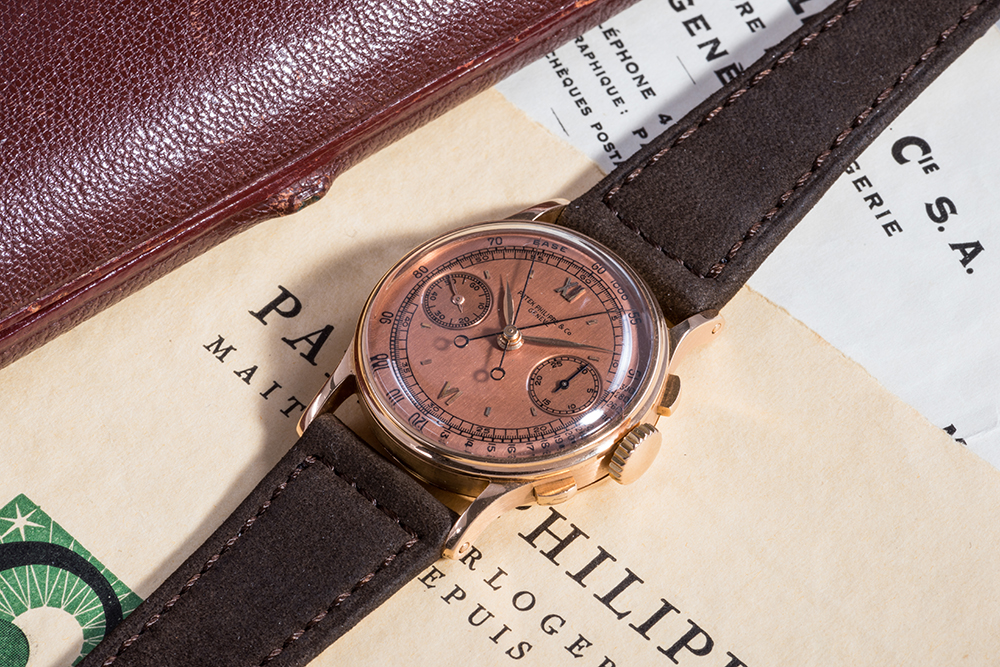 Estimate: Sfr. 350,000 – 550,000
The Cloisonné Enamel Timepieces
1. Patek Philippe World Time Pocket watch, Reference 605 HU (Heures Universelles – universal hours in french)
Fresh to the auction market, this rare yellow gold open face world time watch with a cloisonné dial depicting North America is a perfect example of the Patek Philippe cloisonné timepieces. Introduced in 1937, these models were said to be available either with metal dials or cloisonné enamel dials representing mostly continents or mythical creatures.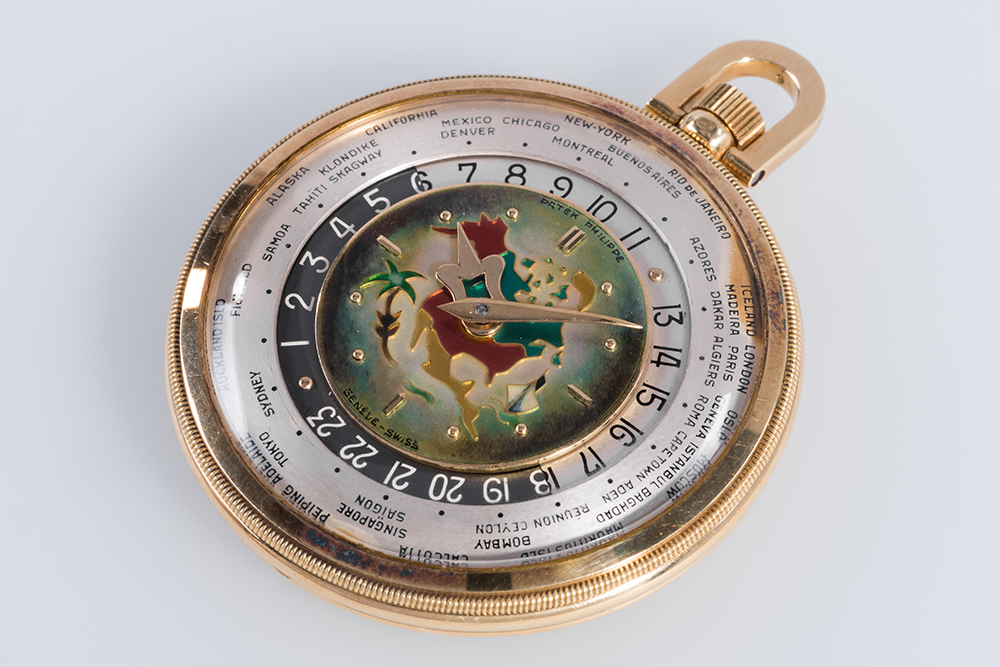 Estimate: Sfr. 300,000 – 600,000
2. Patek Philippe Dome Clock, Reference 743 E
Created by Michel Deville in 1959, the hand between some of the most vibrant and attractive enamel work of Patek Philippe dome clocks, this unique gilt brass solar power dome table clock with cloisonné enamel depicting the Geneva harbour made its appearance in the auction market in 2007. When open, one can make out the dial of Patek Philippe's reference 2497 perpetual calendar.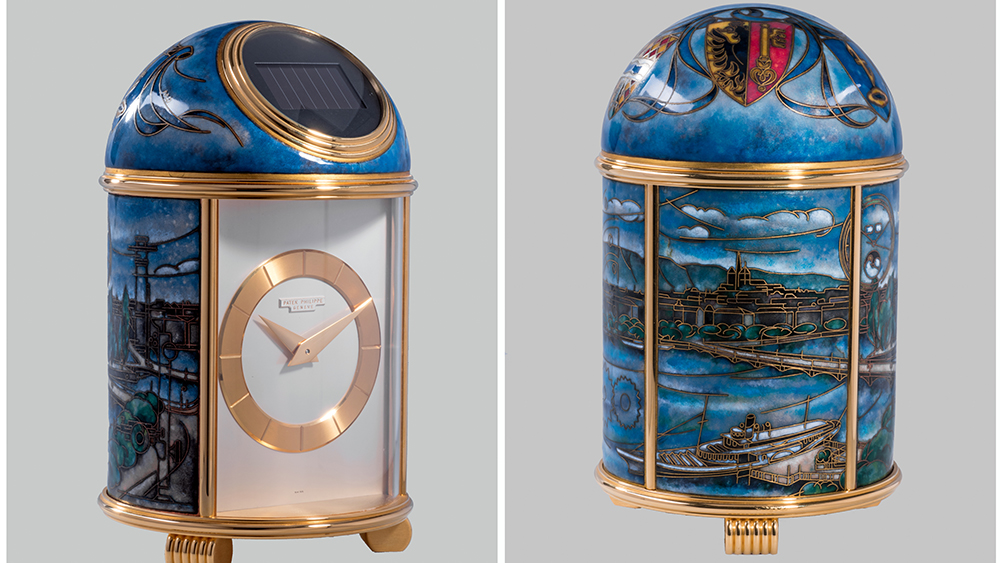 Estimate: Sfr. 120,000 – 250,000
3. Omega Constellation "De Luxe", Reference 2699SC
A fine example of Omega's most important watches from the era, this fine yellow gold wristwatch on bracelet with cloisonné enamel dial depicting the cupola of the Geneva observatory, was launched in 1954. Following the aftermath of World War II, Omega started offering cloisonné enamel dials, which led to the creation of the Geneva Observatory cupola in vibrant hues of blue, turquoise, and gold, upon special order from a Middle Eastern client.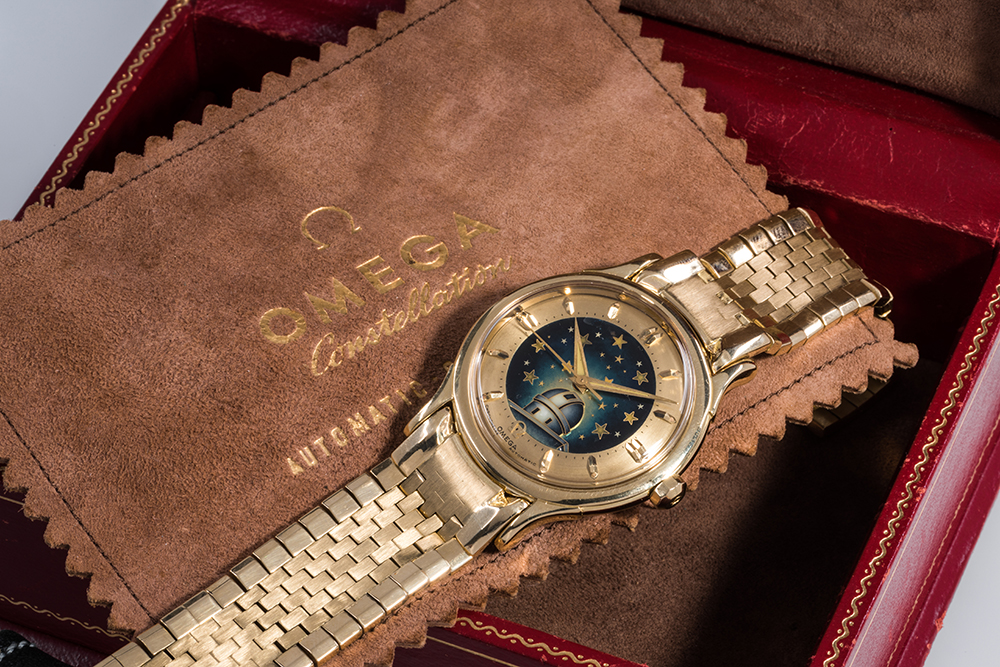 Estimate: Sfr. 80,000 – 120,000
4. Rolex Champs Elysées "Chimera", Reference 8724
Made around 1953, this rare yellow gold wristwatch with cloisonné enamel dial dial depicting Chimera, is an example of some of enameler Marguerite Koch's excellent artistic talents.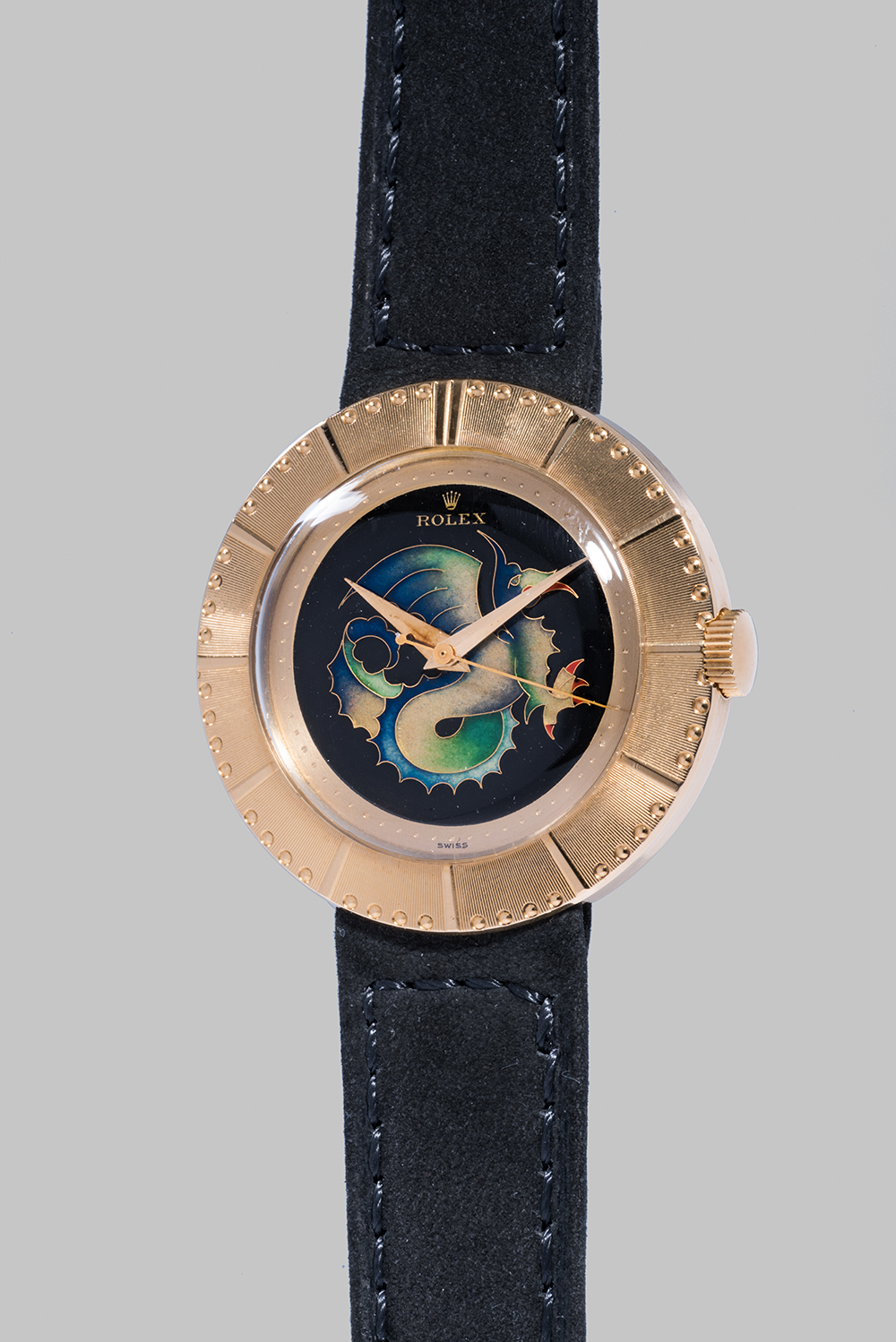 Estimate: Sfr. 100,000 – 200,000