Introducing the new HM7 Aquapod Platinum Red by MB&F.
After taking over the world with their horological exploration of the outer-space ((HM2, HM3, HM6), the clear blue sky ((HM4, HM9) and the racing track ( (HM5, HMX, HM8), MB&F took a dive into the water with the jellyfish inspired HM7 Aquapod series. This time, they take it a step further with the launch of a brand new version of the series - the HM7 Aquapod Platinum Red. It is is the first time that the MB&F creation has been released in the most precious of metals (platinum) and an arresting new shade (red). While the former has been specifically selected for its lightness and bright silvery-white hue, the latter does seem like an unlikely colour to be incorporated into a dive watch. Apparently not. According to the brand, "It has a very particular significance when it comes to the jellyfish. The deeper you go into the ocean, the less colour you see. Red is the first colour to disappear, being on the lowest end of the visible light spectrum and thus most easily absorbed by water. This is why you find a higher concentration of red sea creatures in the deepest waters — being red makes them almost invisible to predators."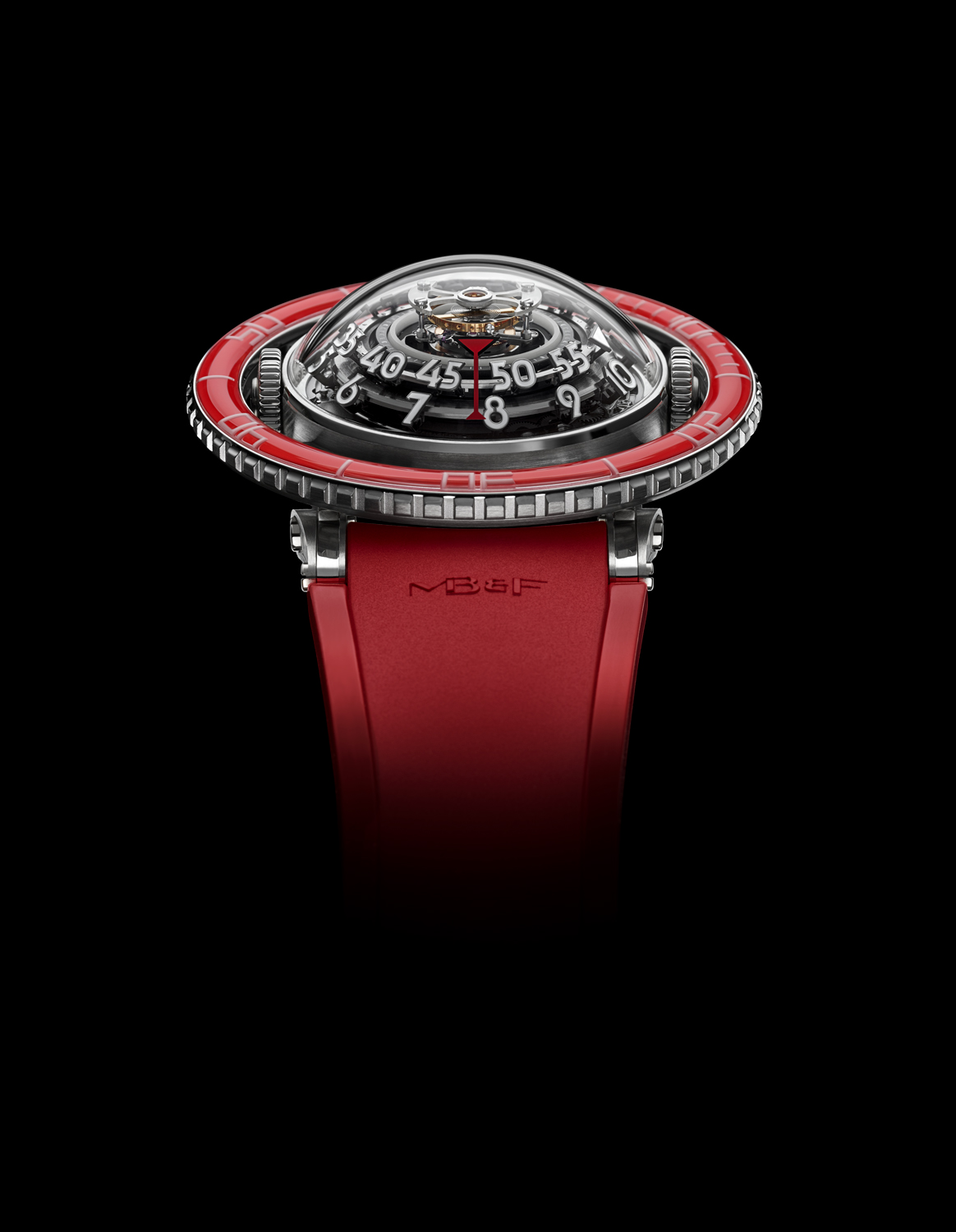 Unlike the previous incarnations of the Aquapods which indicated the hours and minutes via the rotating rings, the HM7 Platinum Red features a three-dimensional, "floating" hours and minute numerals that are made of titanium. The centrally mounted 60-second flying tourbillon with its various indicators radiating outwards offers a visual effect like that of ripples that come from a pond. The use of sapphire crystal for the bezel (instead of coloured ceramic that was used in the earlier models), the steeply-domed bubble and the tourbillon bridge in the middles allows the watch to increase its overall transparency. All of these features allow the watch to showcases the overarching jellyfish theme. Like many jellyfish, the HM7 also glows in the dark with the help of the un-tinted Super-LumiNova filled numerals and an AGT Ultra technology (Ambiant Glow Technology) luminous ring that surrounds the flying tourbillon.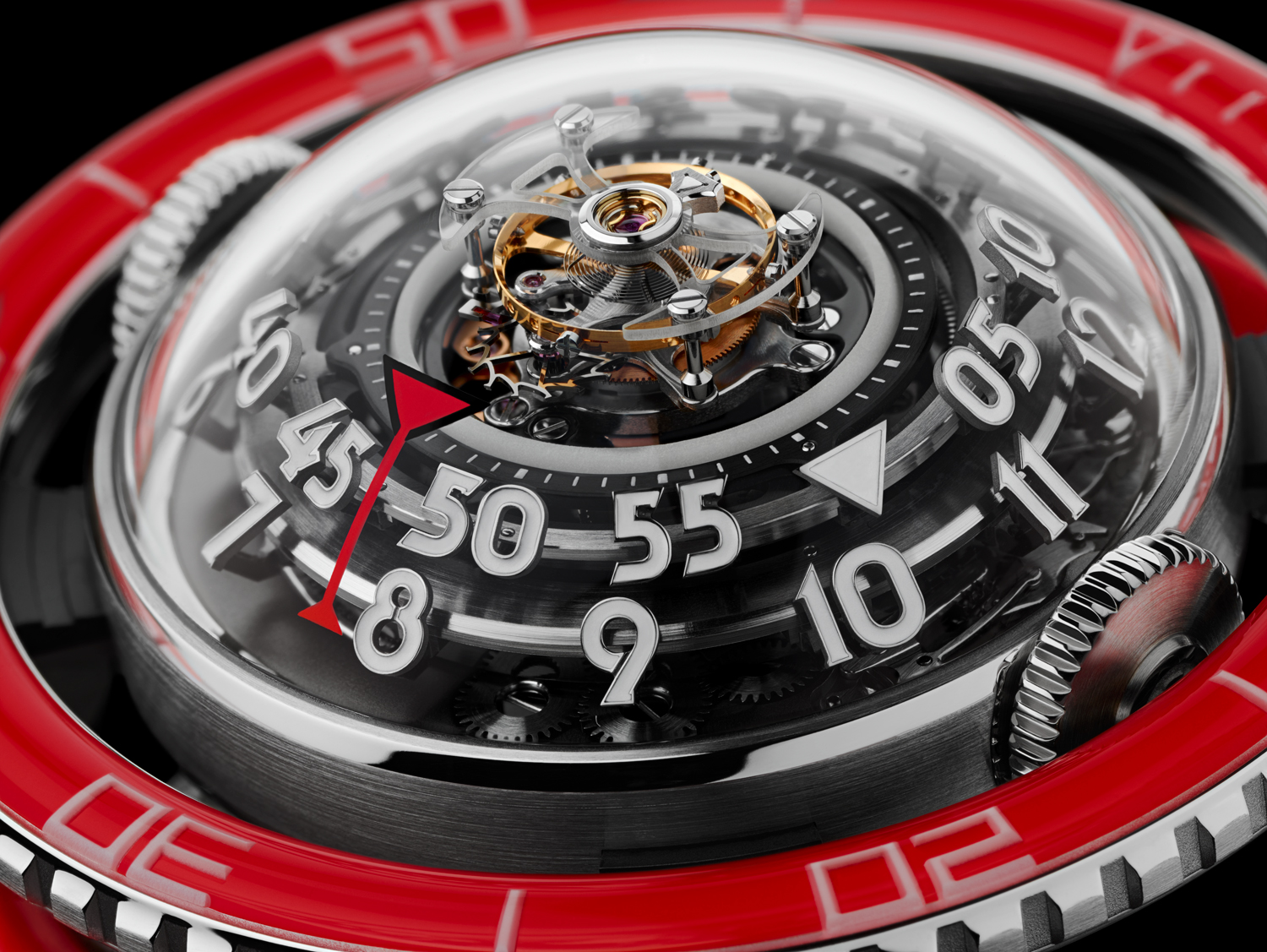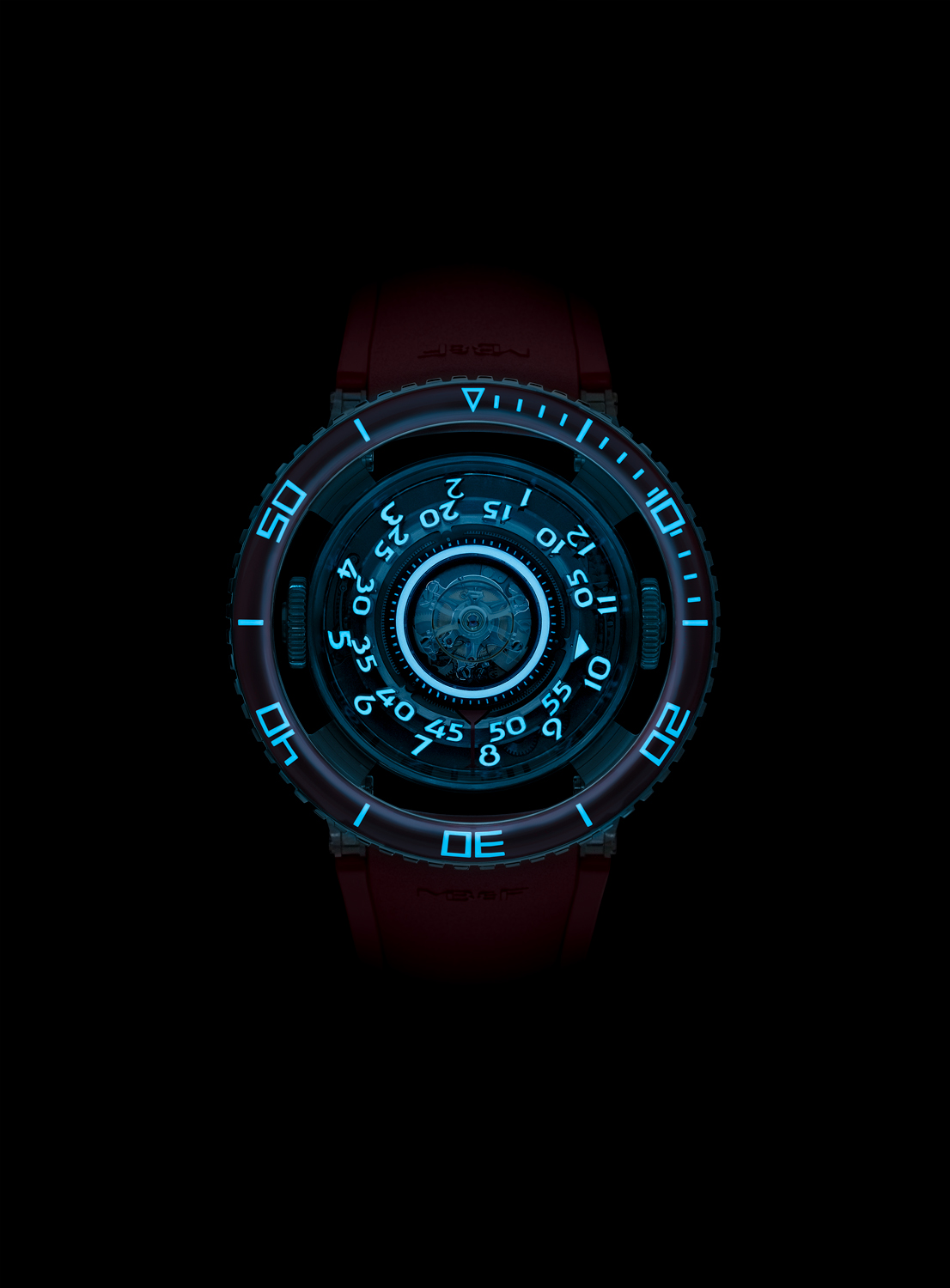 Despite its truly innovative, bold and utterly inspiring aesthetics, the MB&F HM7 Aquapod Platinum Red does not slack behind on its technical details. The Jellyfish inspired timepiece is powered by a vertically arranged, in-house, self-winding, 391-component engine that clocks in a power-reserve of 72 hours. Additionally, even with a massive - 53.8mm in diameter and 21.3mm in height – case size, the new launch sits comfortably on the wrist. Fitted with a platinum case, bezel and buckle, HM7 Platinum Red will be made in a limited series of 25 pieces, each presented with three interchangeable straps (red, white and black) in aircraft-grade rubber.