Edouard Meylan and Maximilian Büsser have created the ultimate expression of a collaboration by introducing a pair of creations that blends the DNA of the two brands with extraordinary effect. Read on for more.
The word collaboration or "collab" mean different things to different people. We have witnessed collaboration across all kind of brands and products. When it comes to MB&F, the brand itself has been a master of collaboration with its name (Maximilian Büsser and Friends) bringing out the philosophy.
This time around, MB&F have partnered with H.Moser & Cie. to create not one but two masterpieces that showcases the two Maisons expert craftsmanship and also sets an example of the beautiful friendship shared by Edouard Meylan and Maximilian Büsser.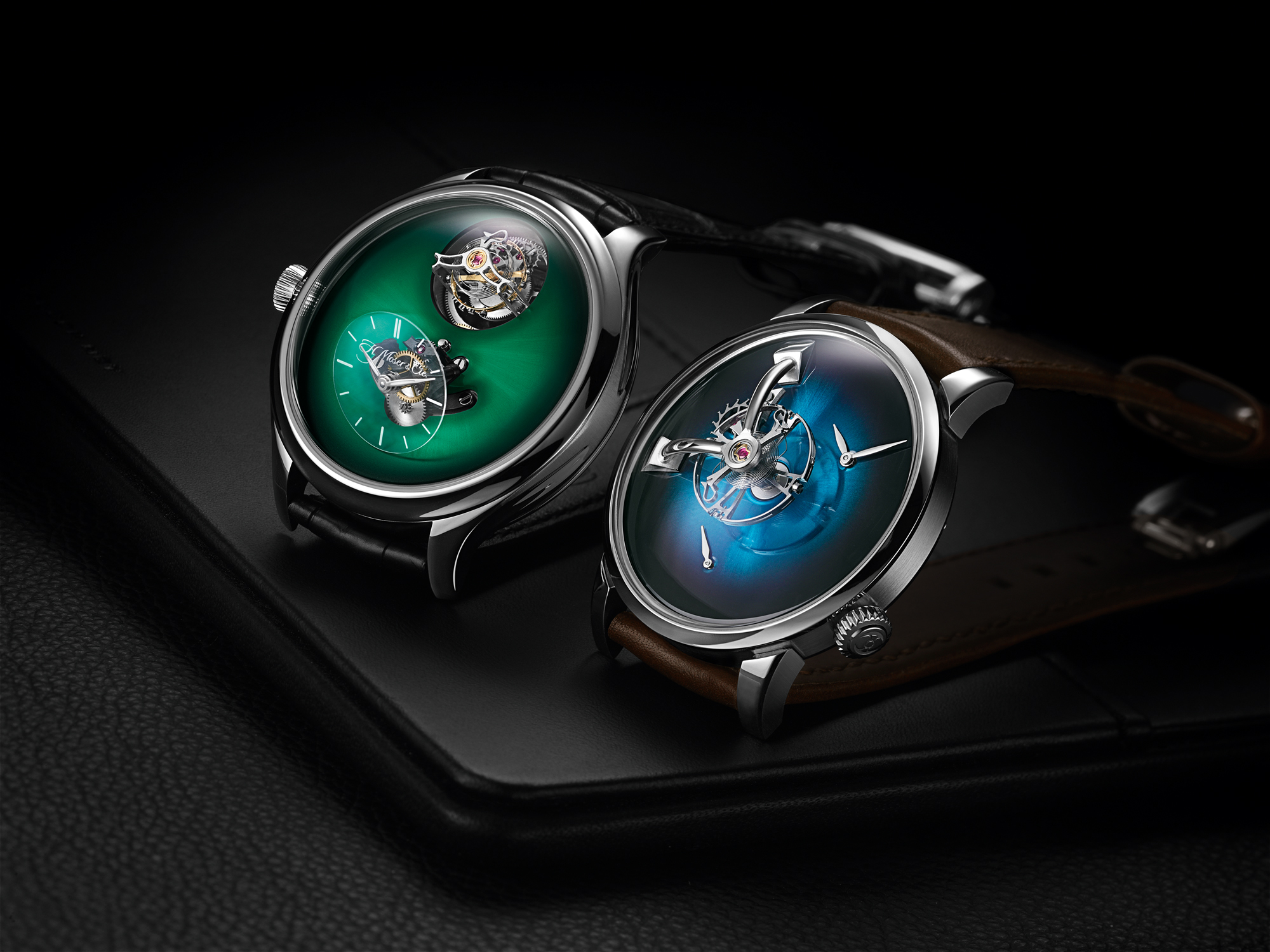 How did this collaboration come about?
If you think this collaboration has been the result of a few meetings and some months of work then you are gravely mistaken. The two brands have been working together for more than ten years with with Precision Engineering AG – a sister company of H. Moser & Cie. – notably supplying MB&F's balance springs. Maximilian Büsser says: "When I called Edouard to tell him that I wanted to collaborate on a creation, I mentioned that I really liked the double balance-spring, the Moser fumé dials and the Concept watch series. Edouard immediately told me that he would let me borrow these features, but on condition that he could also reinterpret one of my machines. After an initial moment of surprise, I gave it some thought. Being 50% Indian and 50% Swiss, I am firmly convinced that mixing DNA creates interesting results, so why not try the experiment in watchmaking? I therefore agreed and suggested the FlyingT model, which is particularly dear to my heart."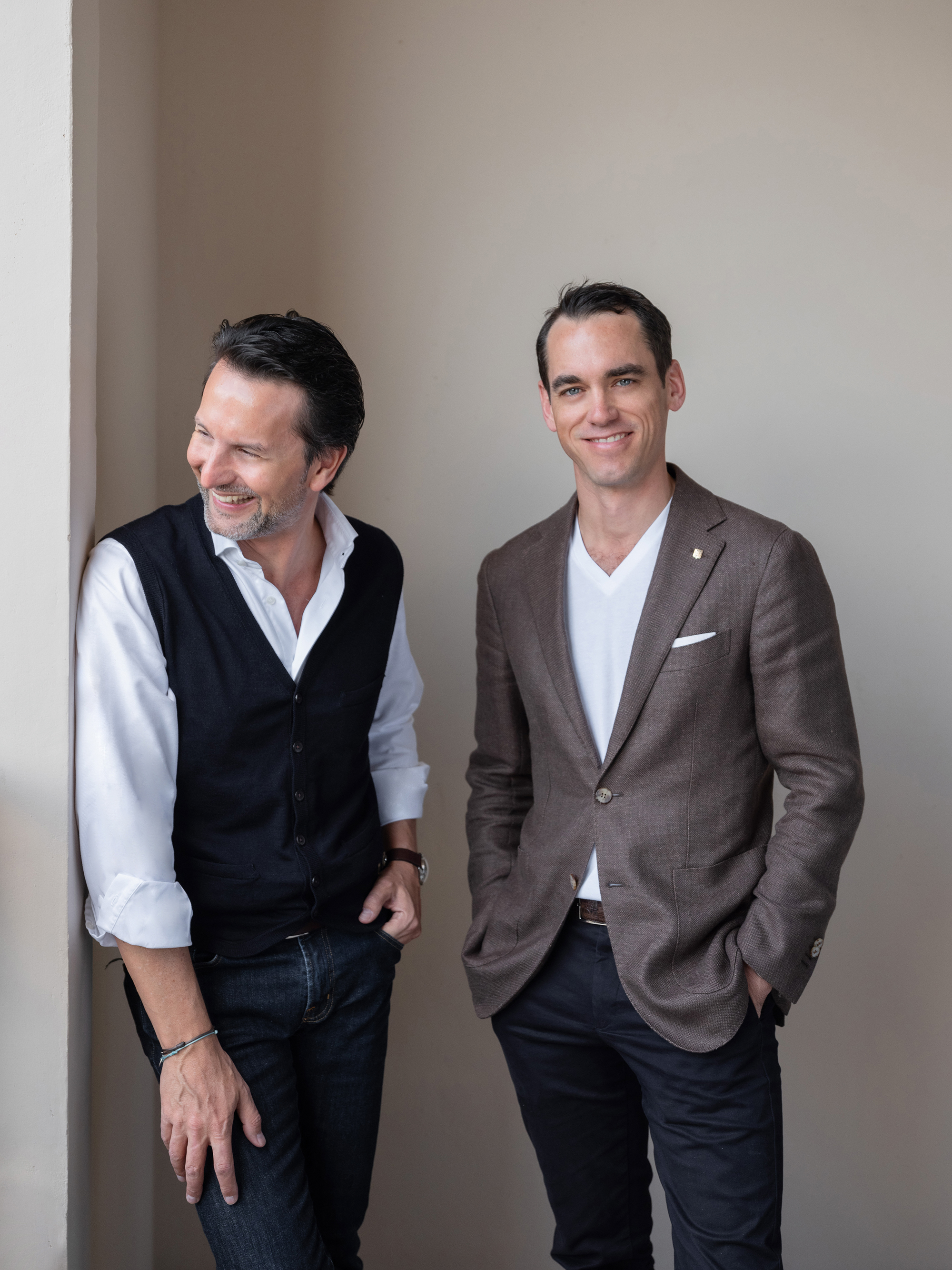 So keeping this aspect in mind, the two brands pooled their skills, shared a spirit of openess and transparency and birthed two models available in several versions and issued in 15-piece limited editions. Why 15? It not only marks the 15thanniversary of MB&F but also celebrates the 15thanniversary of the relaunch of H. Moser & Cie.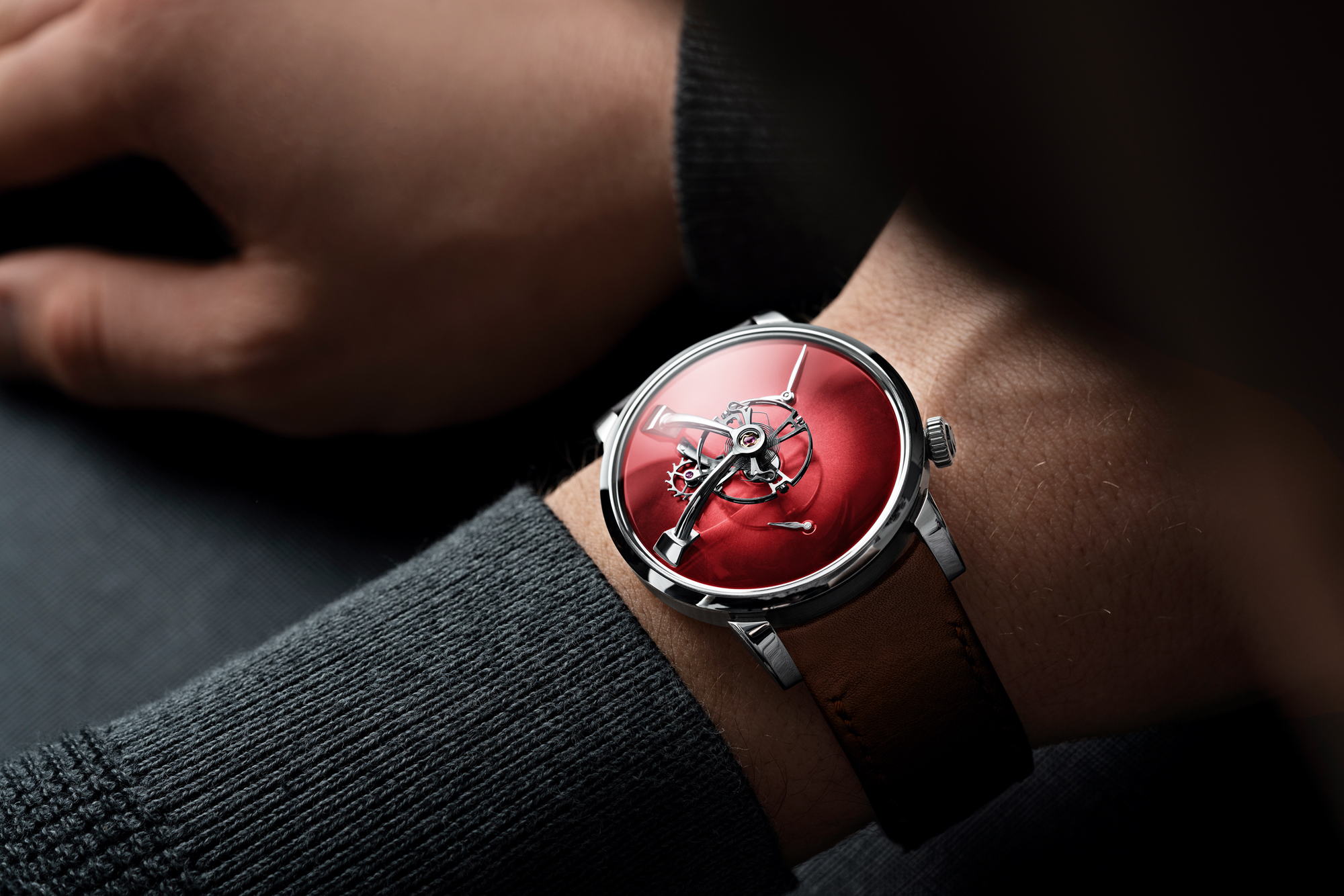 Now lets talk about the watches:
First up is the MB&F Legacy Machine 101 MB&F X H. Moser. Guided by the beauty of minimalism, the Legacy Machine 101 distils the very quintessence of mechanical watchmaking. Taking inspiration from the "back to basics' approach embodied in the H. Msoer & Cie. Concept watches, the Legacy Machine 101 MB&F X H. Moser. follows the same route. It does not feature logo and in a way returns to its roots of understated design focusing on the movement.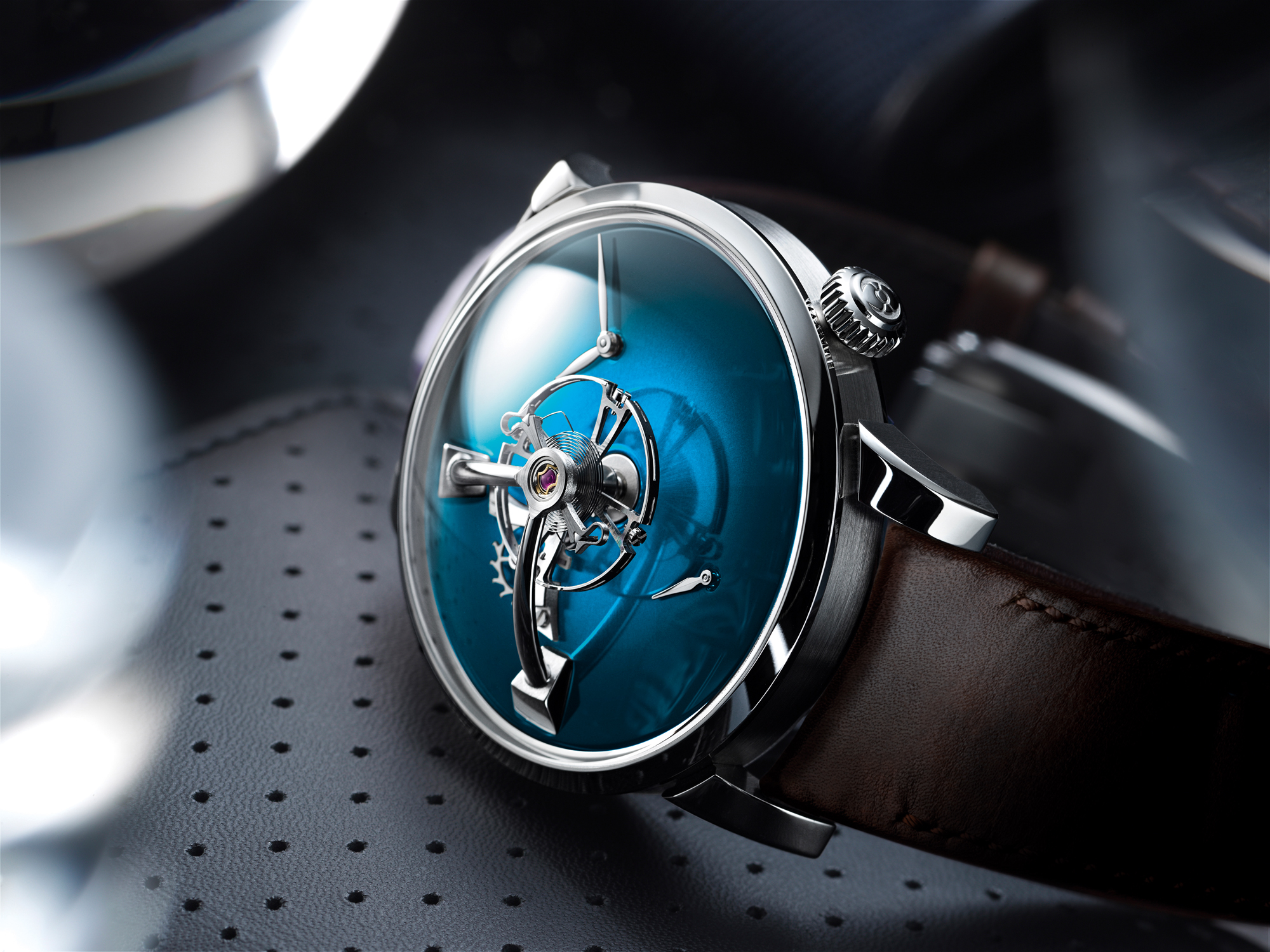 The watch is available in four fumé dials which have been borrowed from H. Moser & Cie variations, namely the Red fumé, Cosmic Green fumé, Aqua Blue fumé and, the Funky Blue fumé. This time around, the dial does not house the floating domed subdials that displayed the hours and the minutes and neither the 45-hour power reserve by means of a hand paced directly on the main dial. Despite the abandonment of many features earlier present on the dial, the large suspended completely redesigned balance wheel continuous to take centre stage.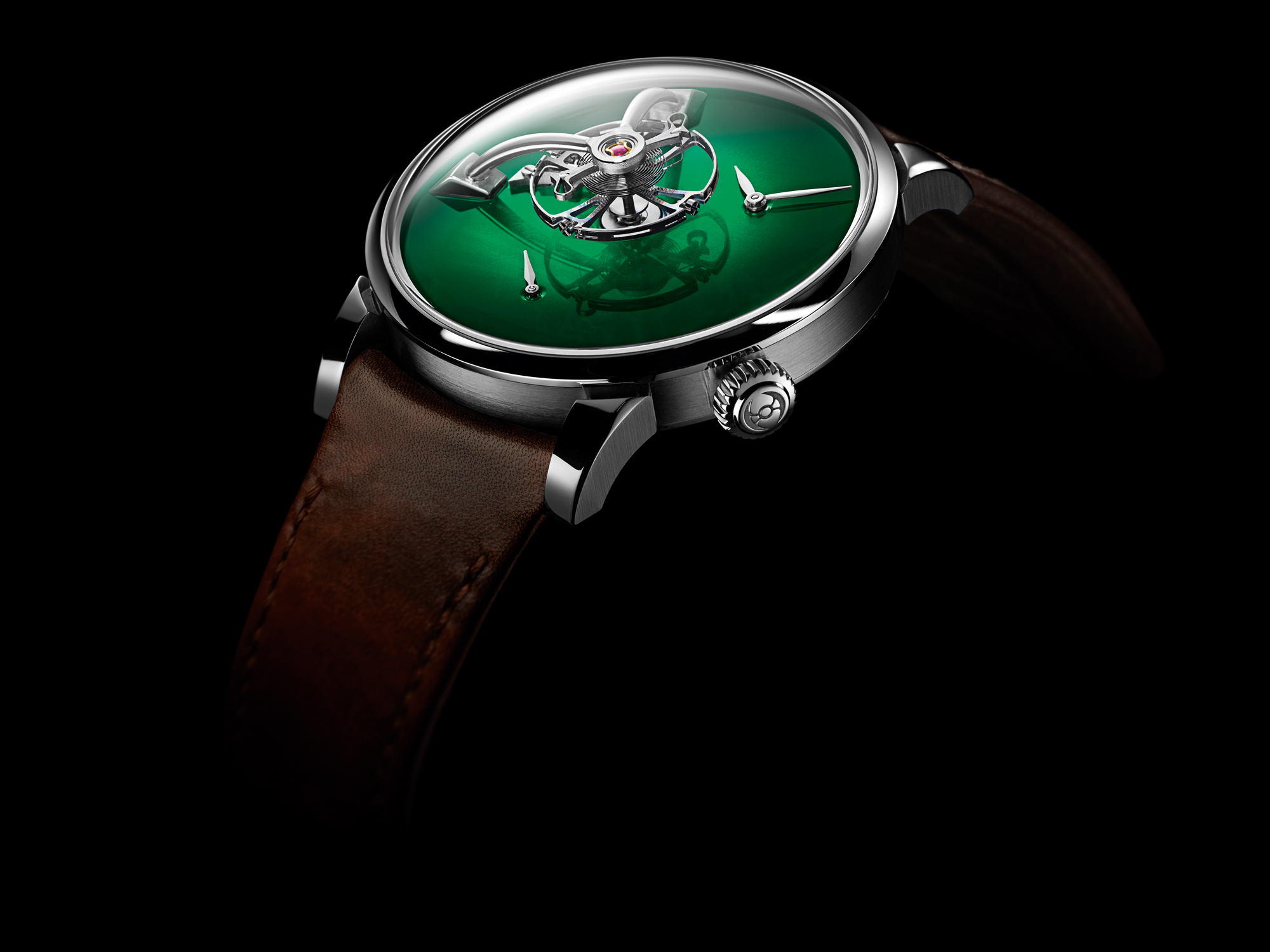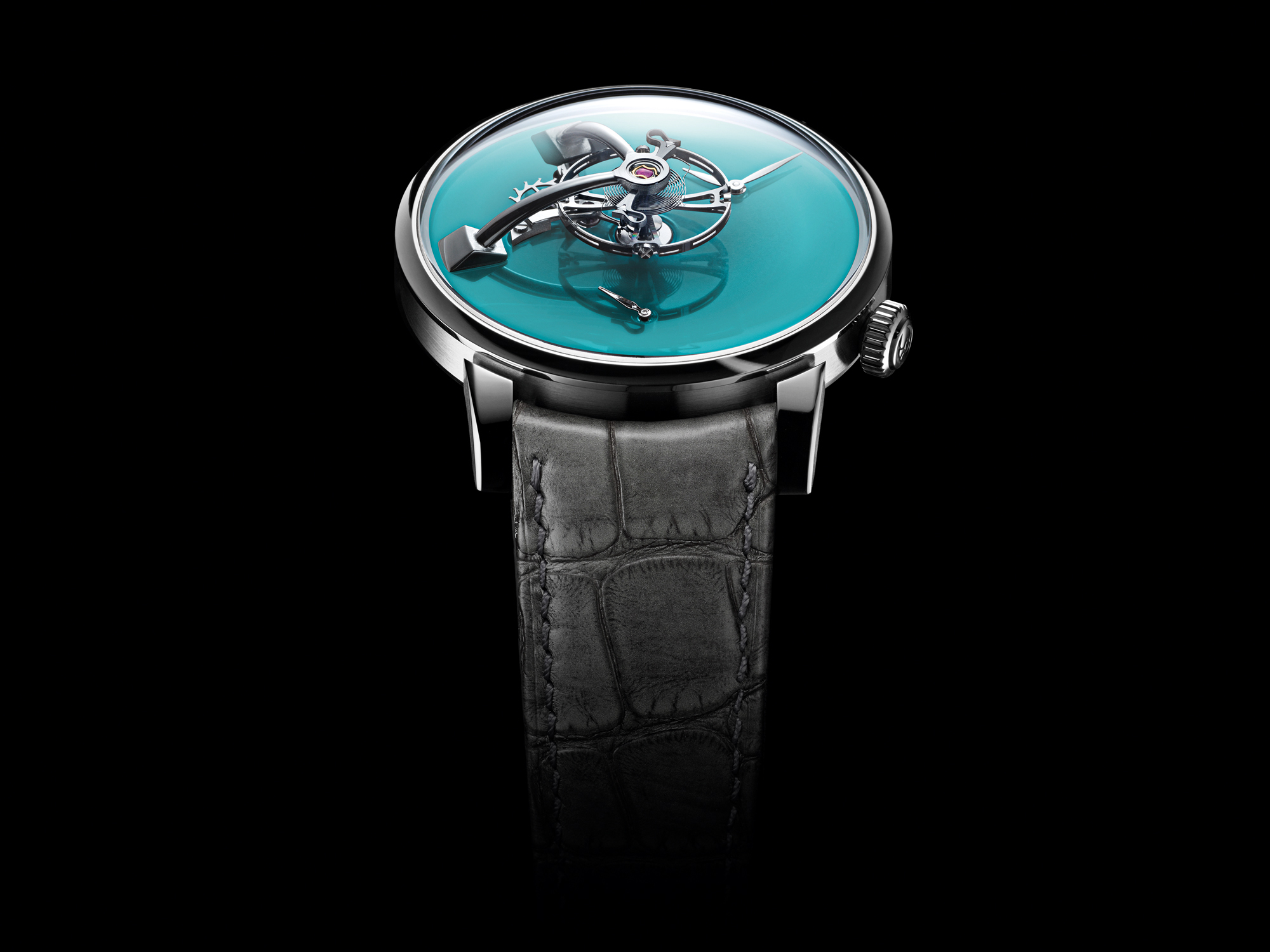 Fitted with a double balance spring produced by Precision Engineering AG, the engine running the Legacy Machine 101 MB&F X H. Moser is finished in a more contemporary manner with a subtle NAC treatment to the enhance its beauty. Strapped to a hand-stitched calfskin Strap, the Legacy Machine 101 MB&F X H. Moser is available in 4 limited editions of 15 pieces in stainless steel and priced at INR 41.63 lakh (approx.).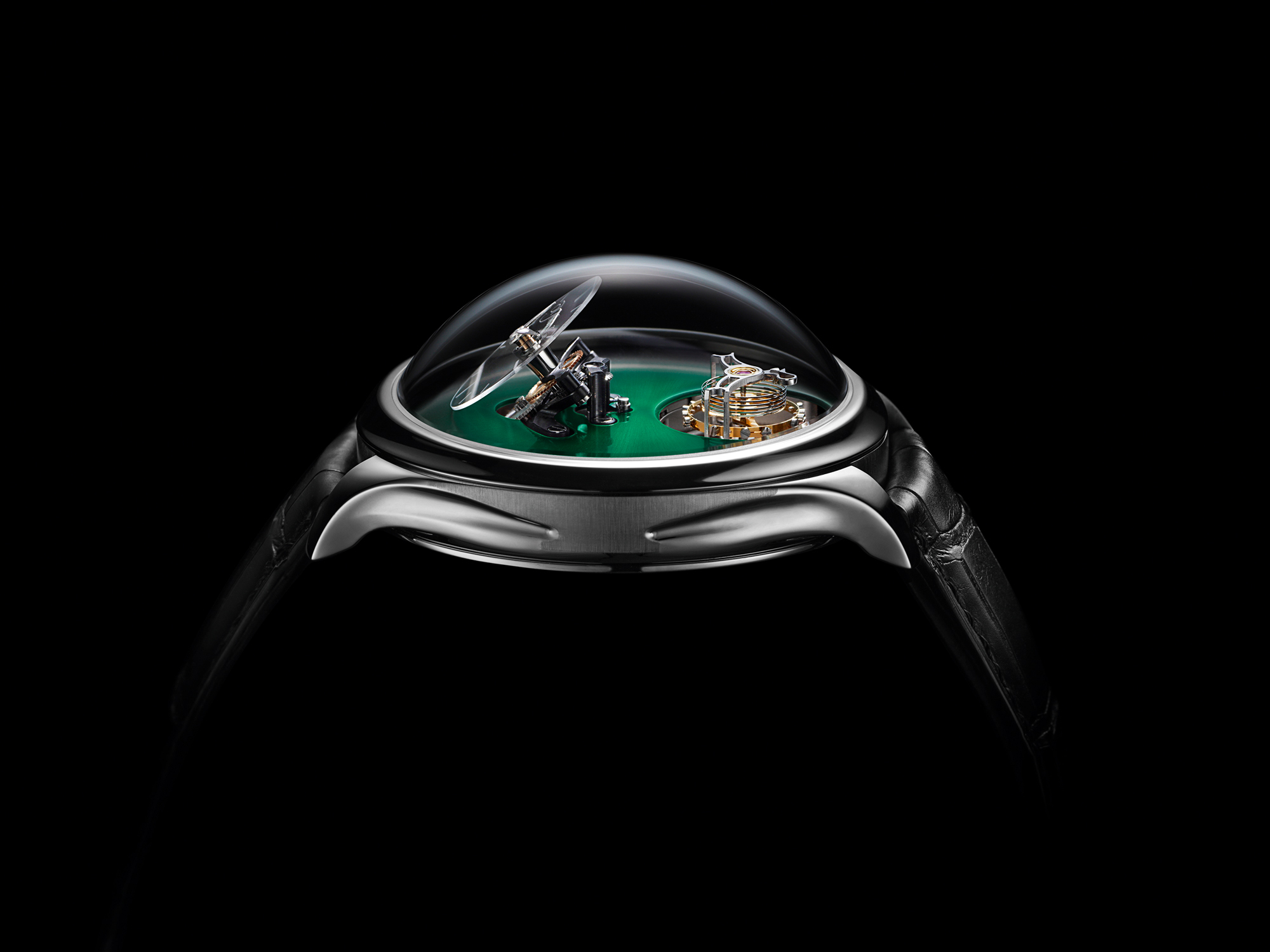 The Endeavour Cylindrical Tourbillon H. Moser X MB&F is the second timepiece that has resulted from this extraordinary collaboration. Borrowing the MB&F concept of three-dimensional movements with a sapphire dome and a one-minute flying tourbillon, the Endeavour Cylindrical Tourbillon H. Moser X MB&F is equipped with a tourbillon with a cylindrical balance spring that was developed with the expertise of its sister company Precision Engineering AG. The titles dials which H. Moser & Cie. Has adopted for its hour and minute subdials is also a page taken from the book of MB&F. The inclination provided at 40° allows the revelation of time only to the one who is wearing the watch.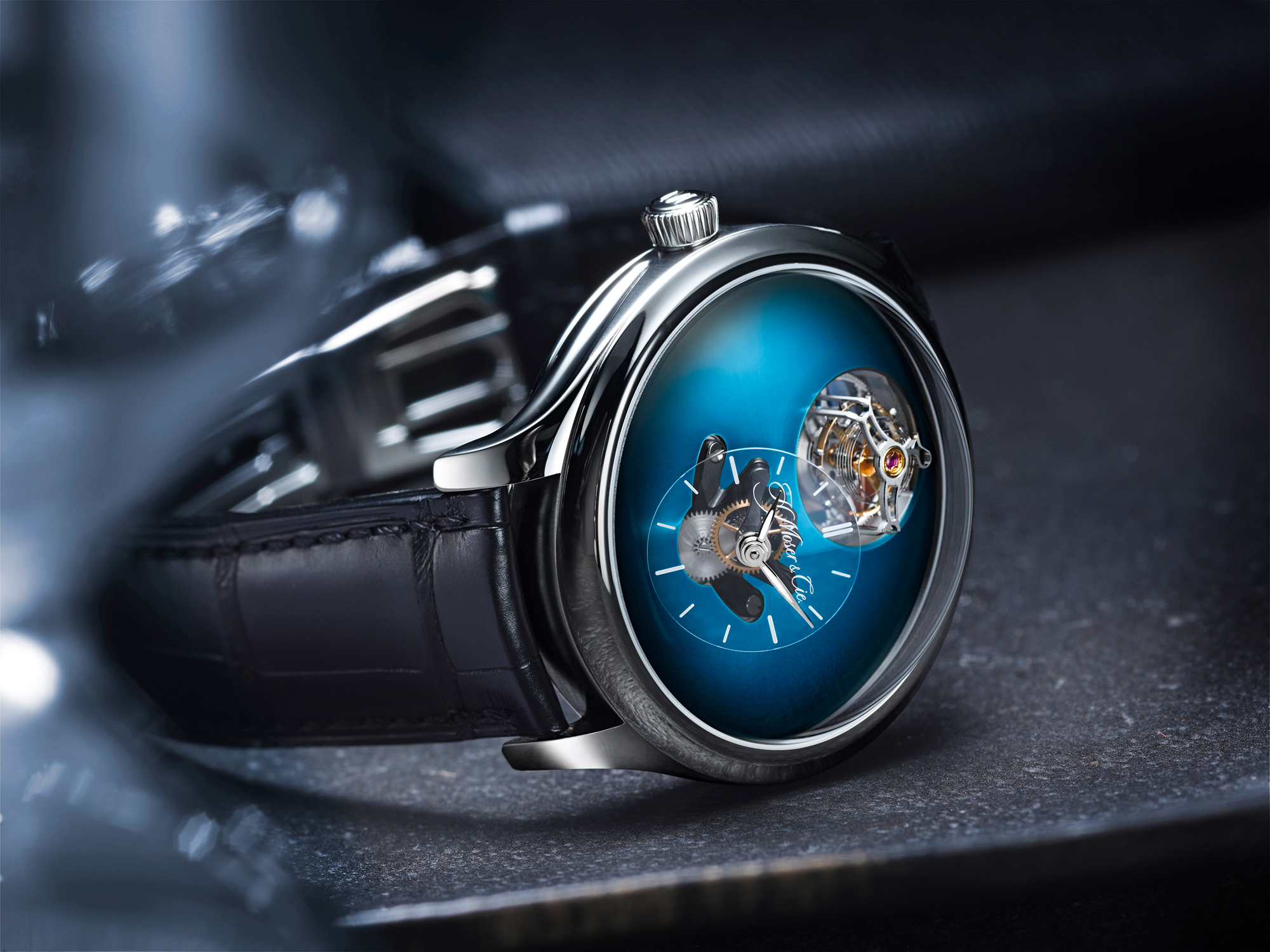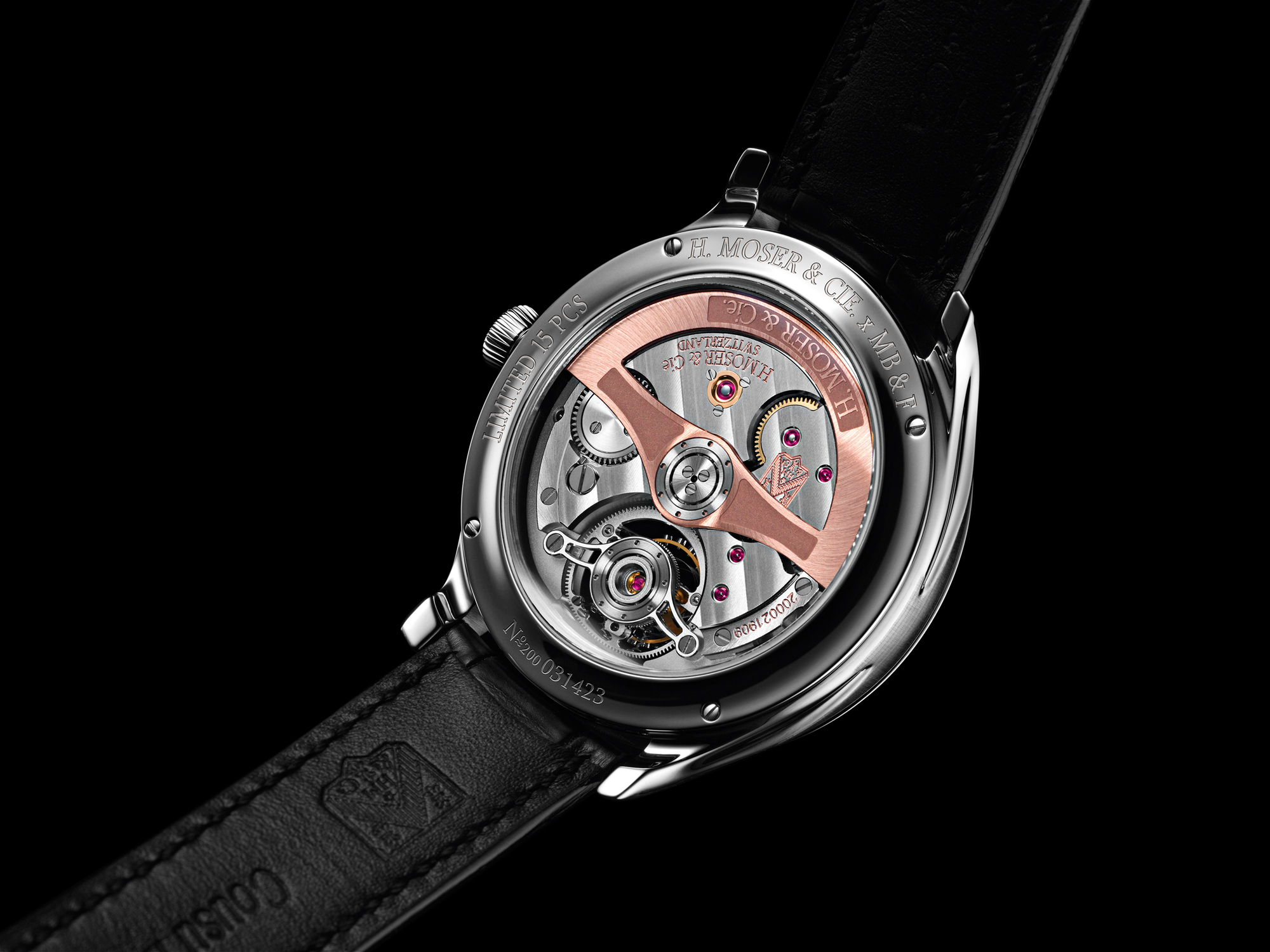 As Edouard Meylan explains: "We have Moserized the MB&F universe by developing a sapphire subdial, which melts into the background so as to highlight the beauty of our fumé dials. And to pre- serve the purity and elegance of this true work of horological art, we have inscribed our logo like a watermark on the sapphire subdial, thereby underlining the personal character and intimate relationship binding it to its owner".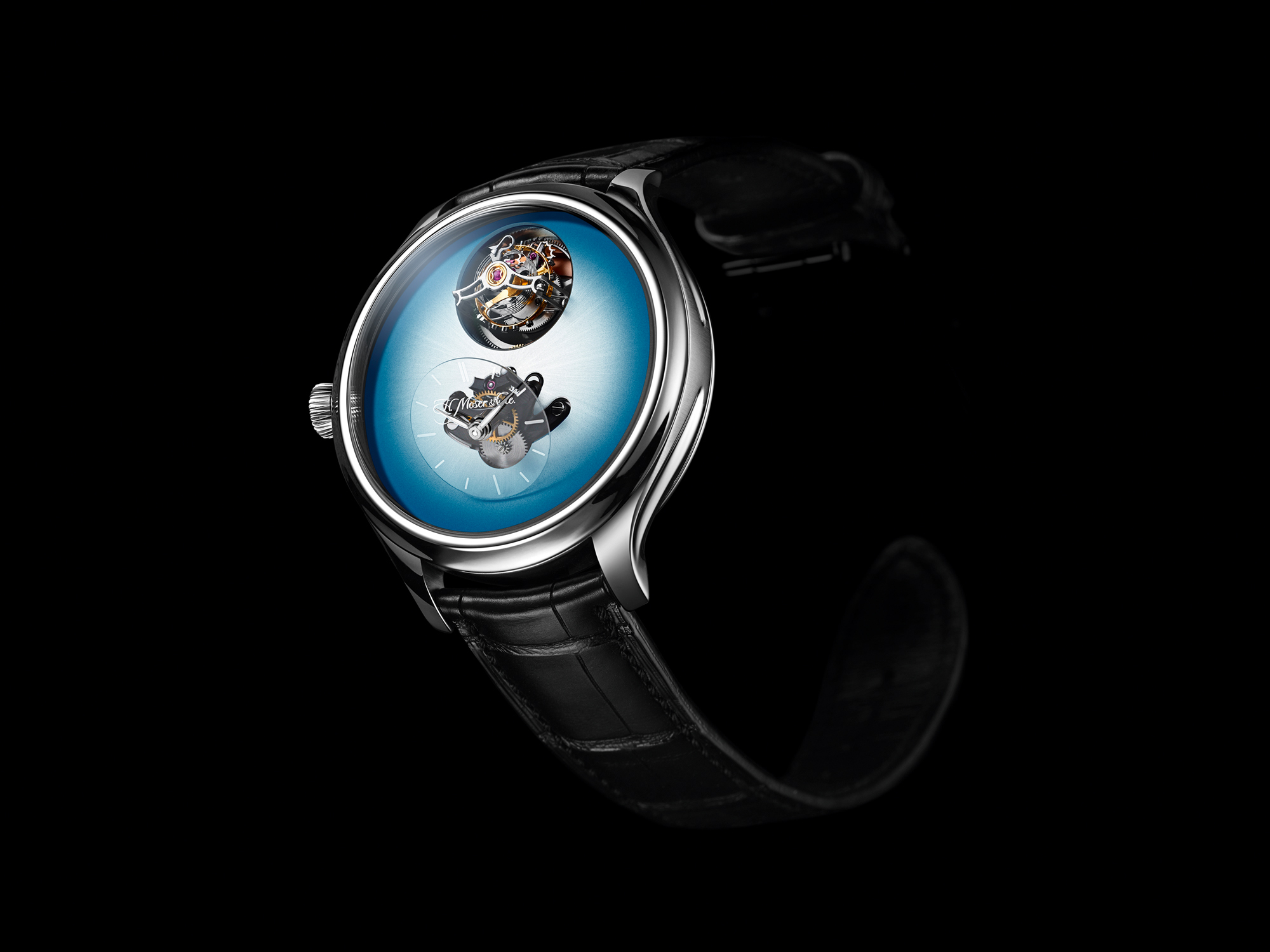 Available in a 42mm steel case topped with a high domed sapphire crystal, the Endeavour Cylindrical Tourbillon H. Moser × MB&F is offered in 5 limited editions of 15 pieces each. The watch also offers a range of dial colours from Funky Blue fumé dial, Cosmic Green fumé dial, Burgundy fumé dial to an Off-White fumé dial and Ice Blue dial.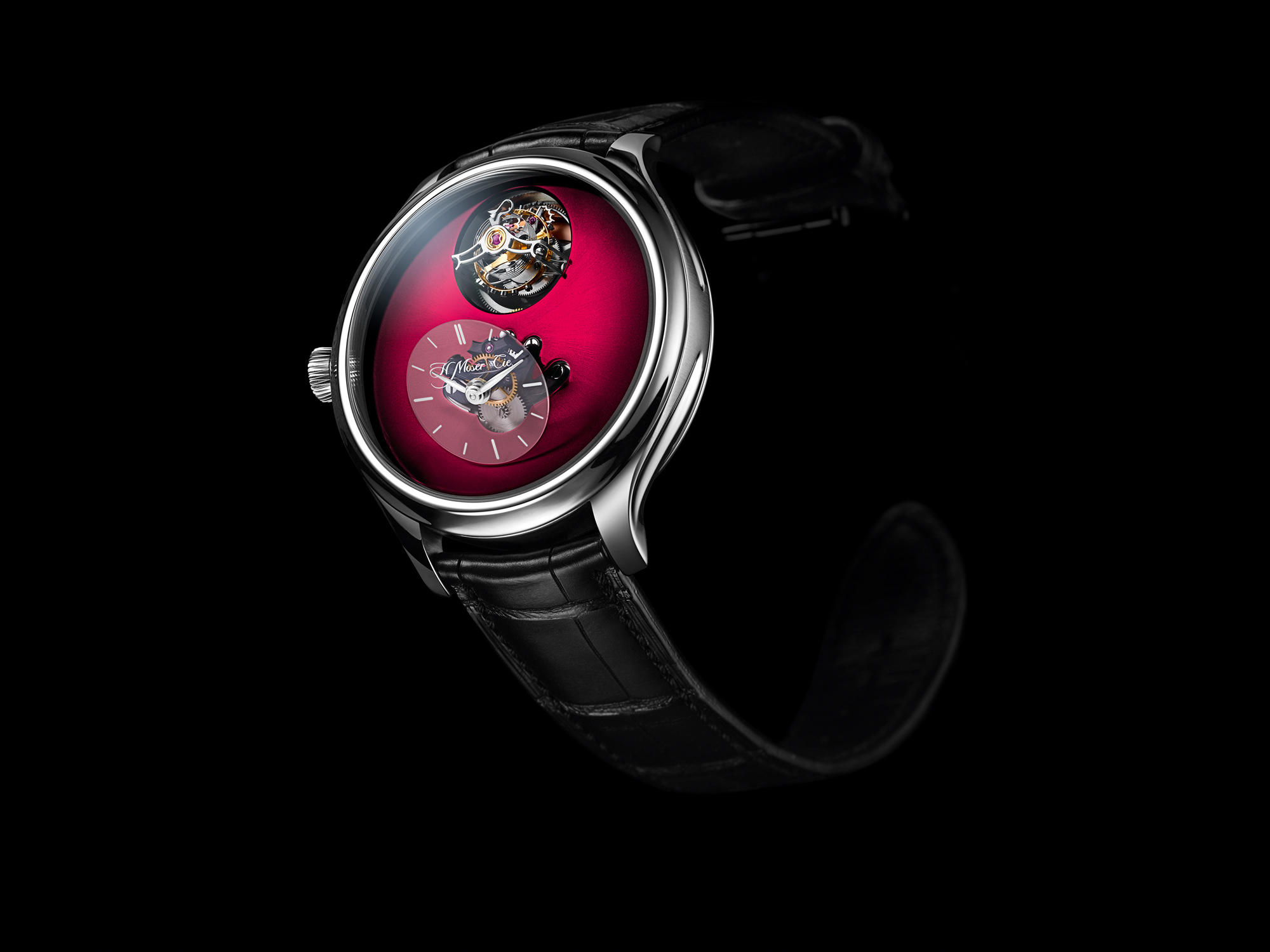 Working within the timepiece is the HMC 810 three-dimensional automatic Manufacture caliber with a power reserve of a minimum of 72 hours. Priced at INR 62.05 lakh (approx.) , the Endeavour Cylindrical Tourbillon H. Moser X MB&F is available in a hand-stitched black alligator leather strap.