Phillips will be hosting a thematic sale of vintage Heuer timepieces followed by the Geneva Watch Auction: SIX in Geneva on the 11th and 12th November.
Phillips in association with Bacs & Russo is all set for the action packed auction weekend from the 11th - 12th November in Geneva. Following their record-breaking Spring auction season with the Rolex Bao Dai, the Geneva Watch Auction: SIX, concluding on the 12th, will be led by the headliner for the event - The Crosthwaite and Gavin Collection. This collection is considered as one of the most complete collection of vintage Heuer tmepieces, and will be hosted as a tribute to one of watchmaking's great men, Jack Heuer. The Heuer sessions will conclude with the sale of a brand new Autavia, designed by the man himself, with all the proceeds going to "Save the Children".
The Geneva Watch Auction: SIX will provide watch collectors with multiple opportunities to acquire some of the rarest complicated Patek Philippe wristwatches ever produced, including the absolutely mint yellow-gold reference 2523 – a timepiece previously unknown to the market. The 160 rare timepieces also includes an Explorer worn by George Brand OBE during the 1955 British expedition of Kangchenjunga – descended directly from the Band family. More highlights are given below:
Patek Philippe Perpetual Calendar Chronograph Reference 2499
Estimate: CHF1,500,000 3,000,000
Made in 1971, this watch is in immaculate condition. Only six examples of the reference 2499 third series in pink gold like the present gem are known. The present example with its two sided baton markers and large pyramid indexes is only one of two known.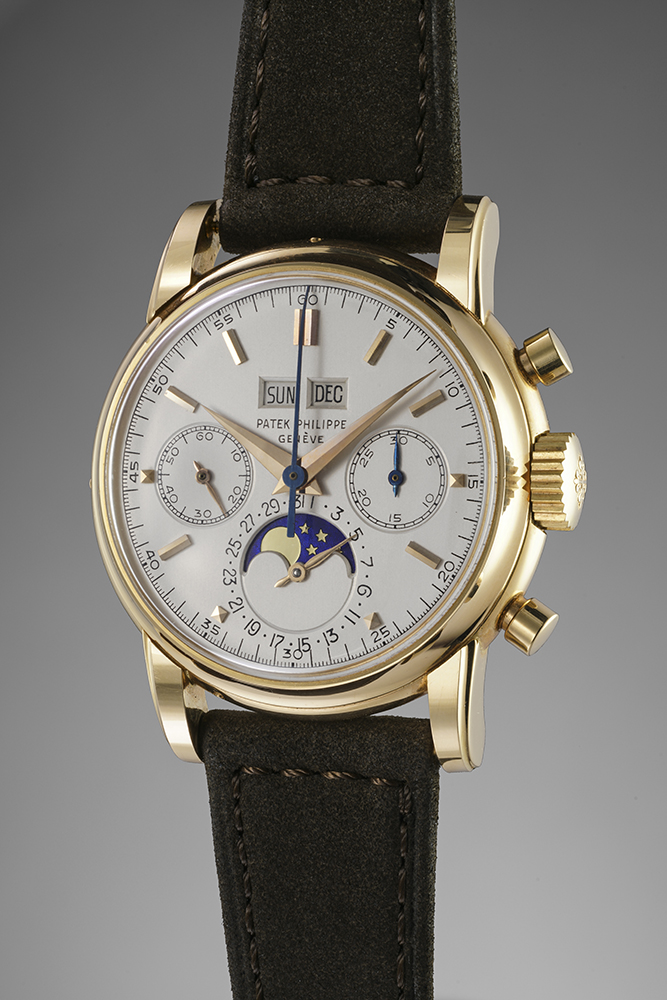 Rolex Cosmograph Daytona, The "Big Blue" Reference 16528 (inside caseback stamped 16500)
Estimate: CHF100,000 200,000
When launched in 1988, it was not only the first time Rolex used an automatic caliber for the Daytona, it was also the first time that Rolex used an ebauche supplied by a third party for one of its automatic movements. Caliber 4030 was based on a heavily modified Zenith El Primero movement.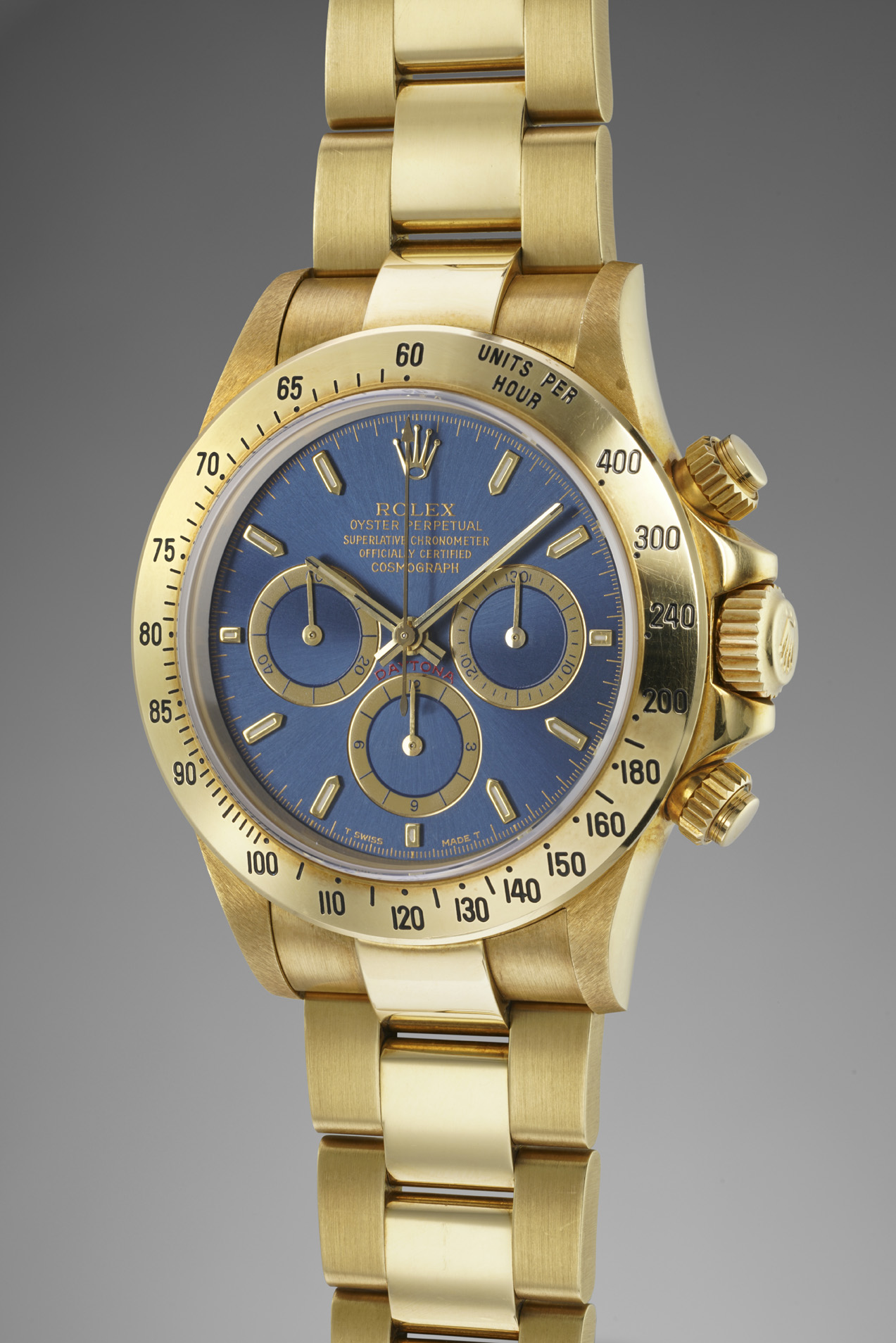 Rolex Explorer Reference 6150
Estimate: CHF50,000 80,000
An attractive and historically important wristwatch made in circa 1953 with centre seconds, black lacquer "explorer" dial and bracelet, worn on the 1955 Kanchenjunga Expedition by George Band.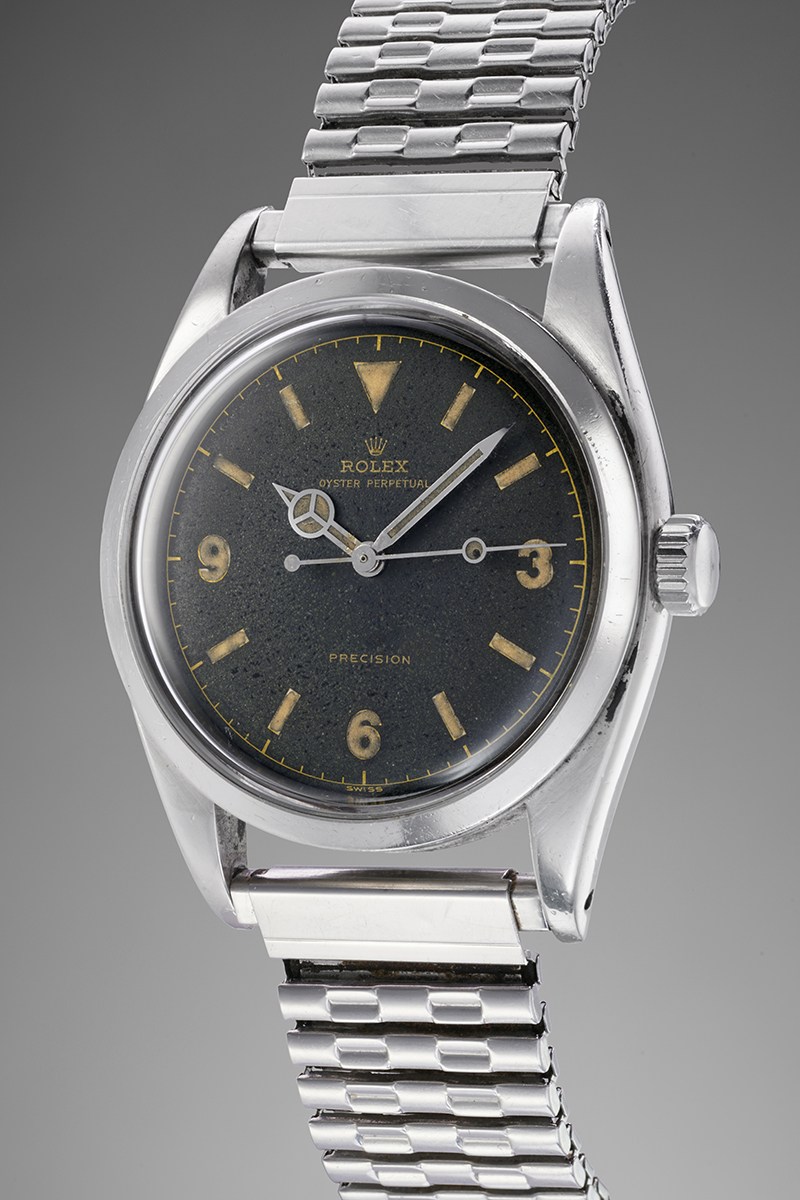 Rolex Triple Calendar Reference 6062 (6063 also stamped inside the case back and then struck through by Rolex)
Estimate: CHF400,000 800,000
Reference 6062 is one of only two Rolex models ever to feature a full calendar paired with the indication of the phases of the moon, together with reference 8171.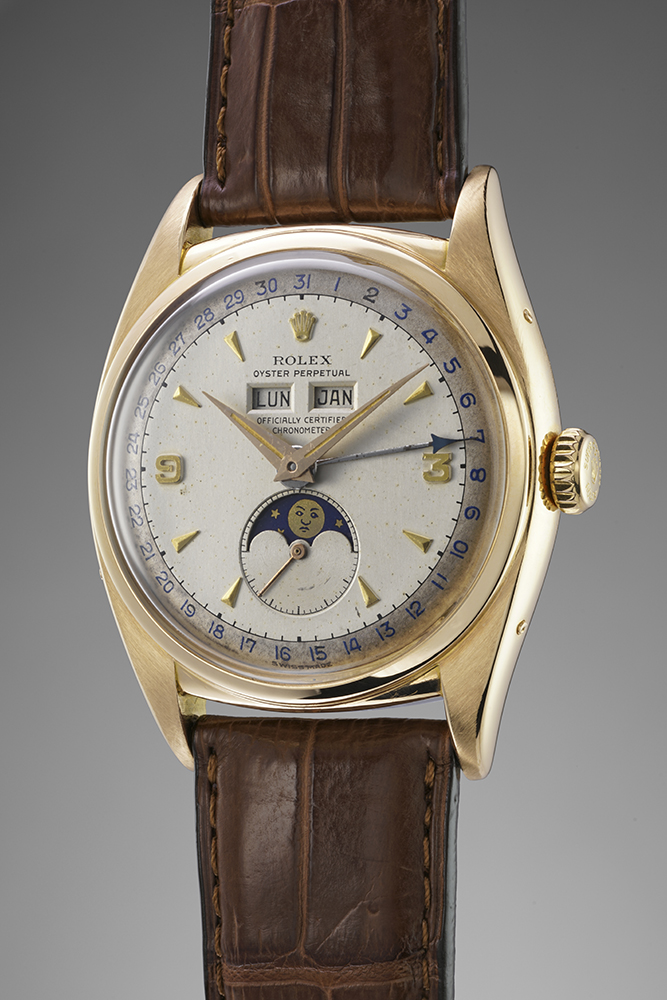 Patek Philippe Reference 2523/1
Estimate: CHF700,000 1,400,000
This extremely rare, important and attractive yellow gold dual crown world time wristwatch with 24 hour from 1964 features a Louis Cottier movement. Patek Philippe stopped the production of world time watches in the late 1960s with the passing away of Louis Cottier and this complication came back into the Patek Philippe catalogue only in 2000 with the reference 5110. The present lot from stands out thanks to its superb condition - according to research, nine references 2523/1 were known all case metal and dial combinations - until now. It is exhilarating to have discovered the tenth reference 2523/1, fresh to the market and part of the earlier models made.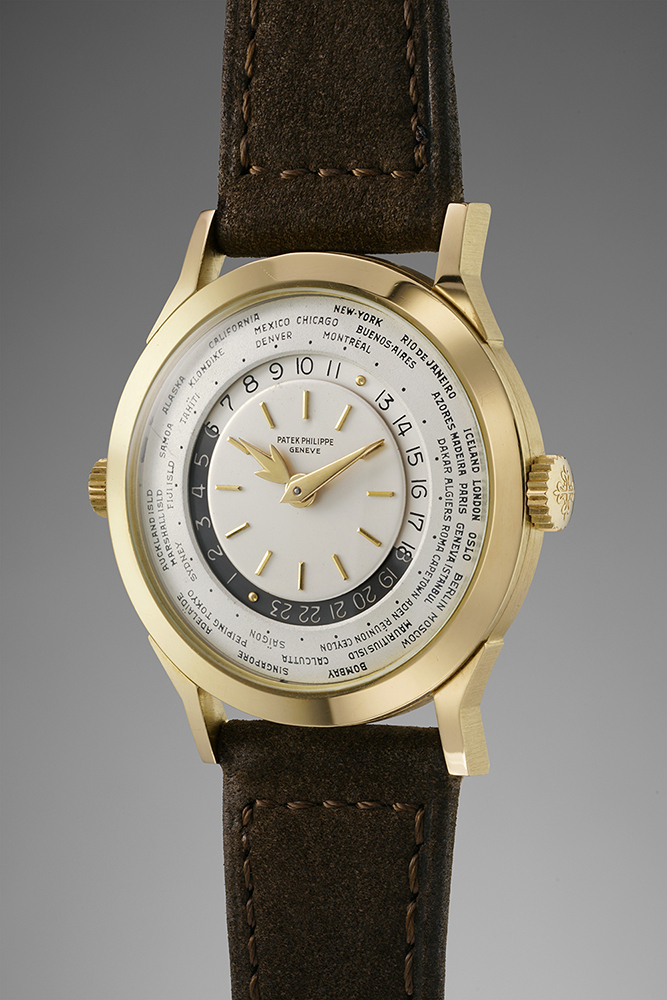 Omega Tourbillon Reference Unique Prototype
Estimate: CHF100,000 200,000
In 1947 Omega created twelve Calibre 30 I tourbillon movements of only 30mm in diameter to run in the "wristwatch" category of the Geneva, Neuchatel and Kew‐Teddington Observatory trials. In these movements the tourbillons had a rotation rate of 7.5 minutes as opposed to the more habitual 60 seconds. Whereas it was always believed that these movements had only been created to participate in Observatory trials, illustrations and information contained in letters preserved at the Omega Museum showcase plans for a 30mm tourbillon movement to be housed in a wristwatch. The present watch is proof that at least one pre‐series model with the 30mm. tourbillon was, in fact, produced, making this watch superbly and historically relevant.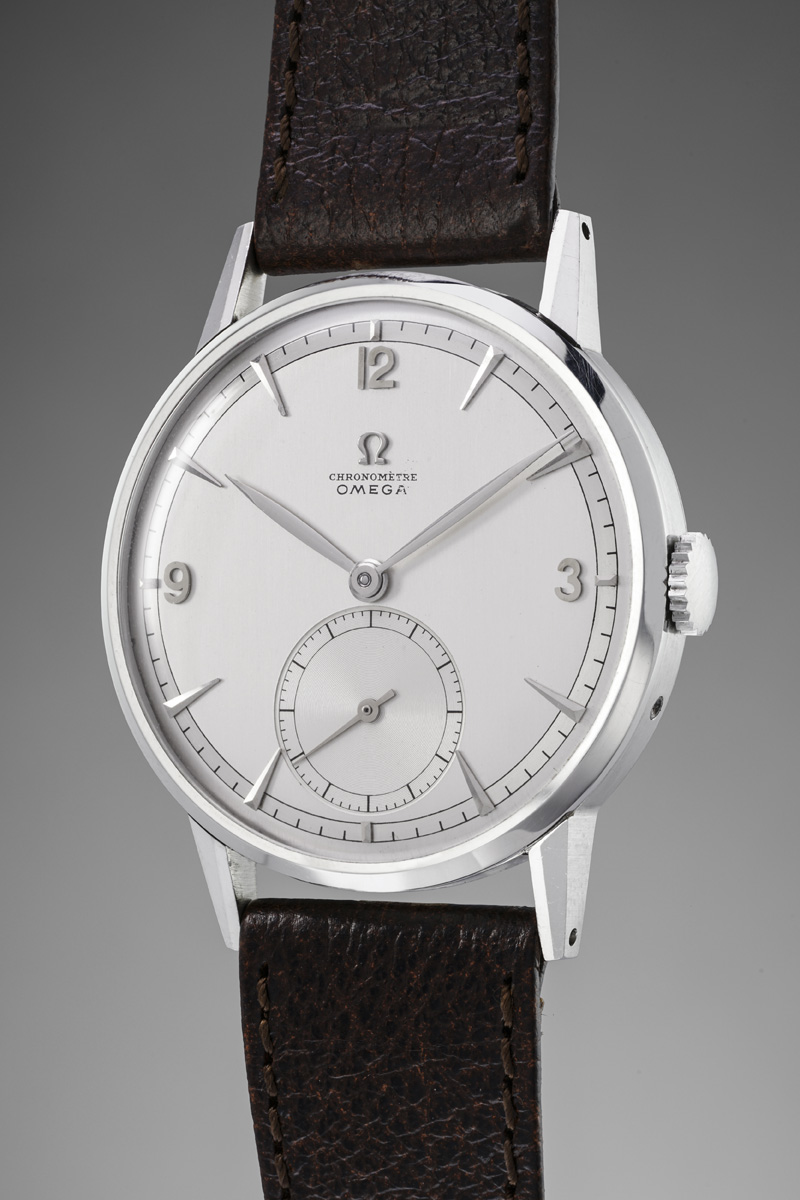 Panerai Luminor "Panerai L" Reference 6152/1
Estimate: CHF80,000 160,000
This extremely rare, large and historically interesting stainless steel wristwatch with rotating bezel, movement and case by Rolex, formerly owned by Admiral Birindelli, is from circa 1955. It is only one of four known reference 6152/1s that still retain its original bezel.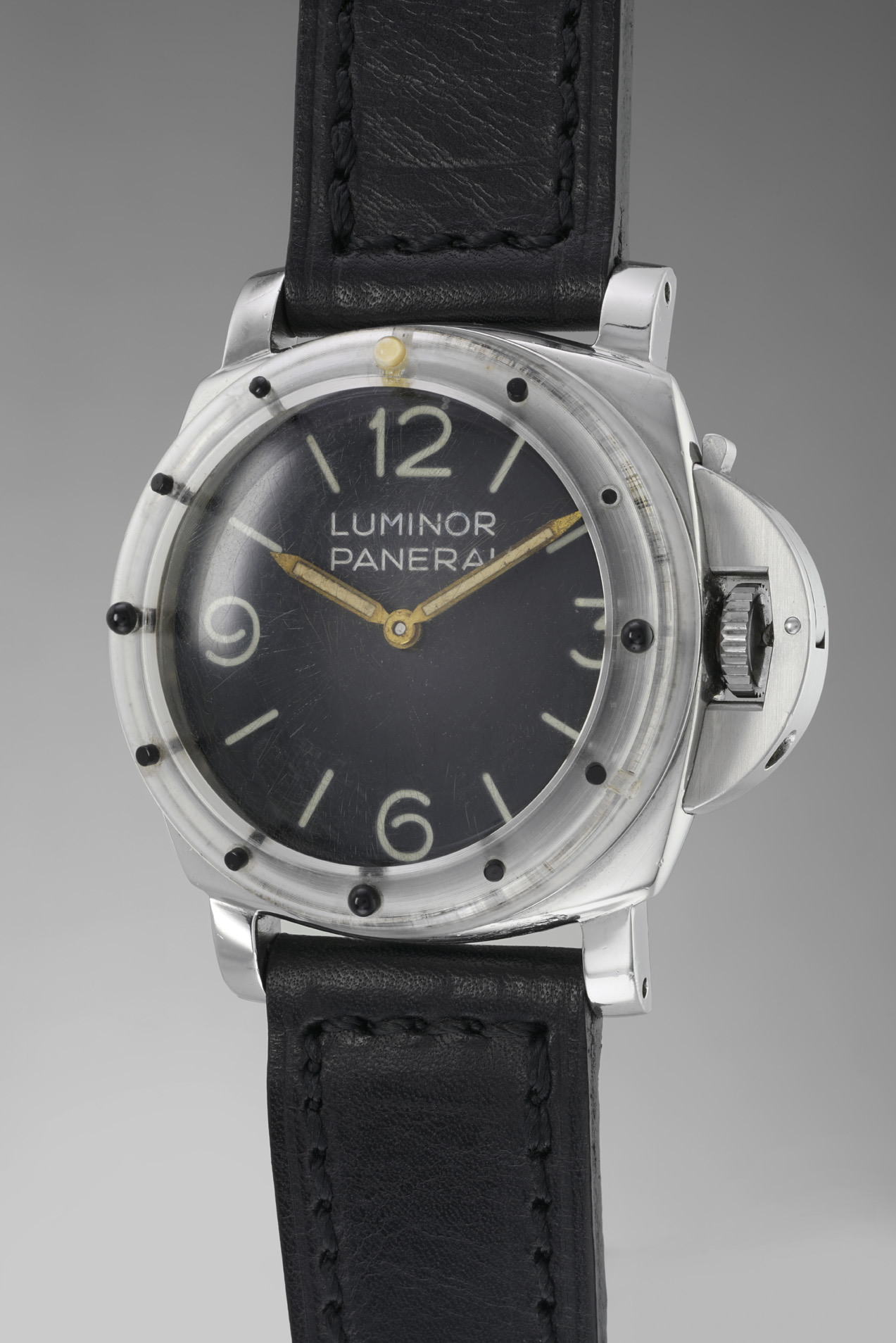 Omega Reference OT.14.166
Estimate: CHF30,000 60,000
The Omega Extract of the Archives indicates that the watch was delivered to Ethiopia in 1949, the case back is enraved with the Imperial crown of Ethiopia and the Crown Prince's initials.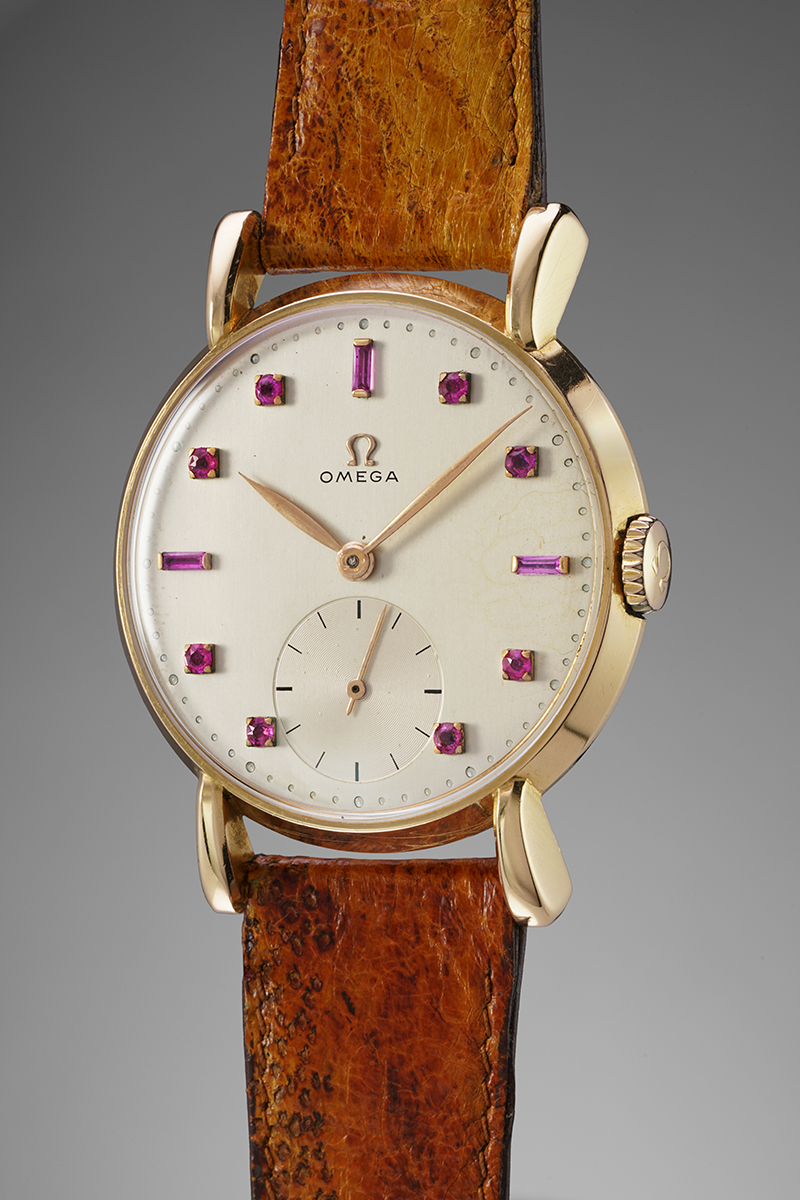 Rolex GMT Master Reference 16753 (inside caseback stamped 16750)
Estimate: CHF8,000 12,000
The GMT Master was created by Rolex in the second half of the 1950s in collaboration with Pan Am. This watch, reference 16753, is a rare variant within the GMT family as it is cased in both stainless steel and yellow gold. This specific watch was offered to the Formula 1 engineer Gérard Ducarouge by the pilot Elio de Angelis on his first pole position with the Lotus-Renault 94T during the 1983 European Grand Prix.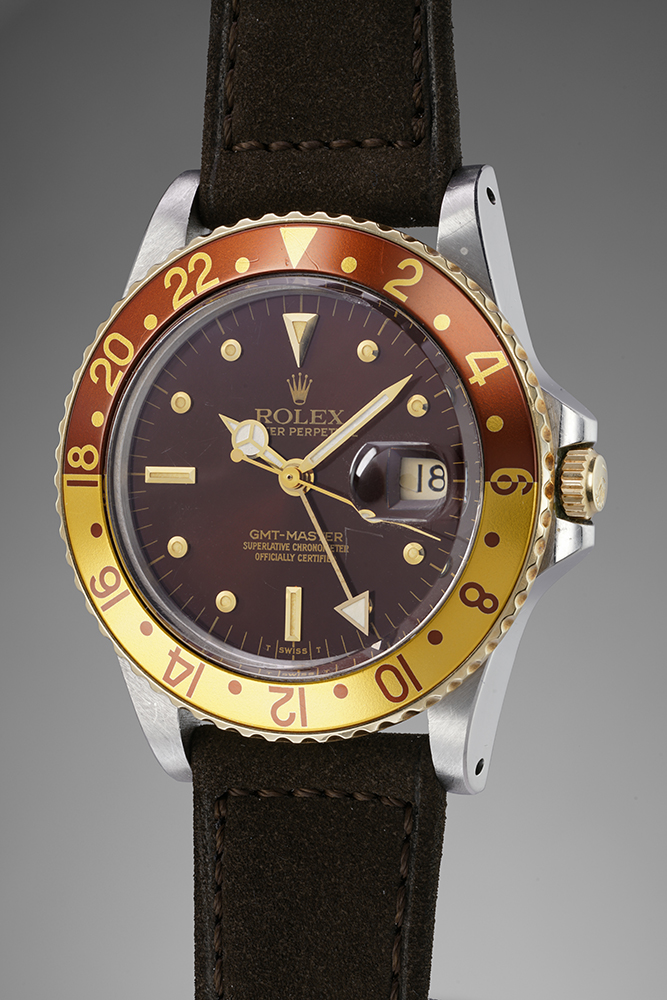 Panerai Type C Reference 3646
Estimate: CHF60,000 90,000
The present watch from circa 1942 is notably fitted with the anonymous "sandwich dial". It is highly possible that Panerai created these dials during the war years to avoid recognition, lest an enemy found the watch. This historically interesting and well-documented stainless steel wristwatch with movement and case by Rolex, was formerly owned by combat swimmer Helmut Rösel.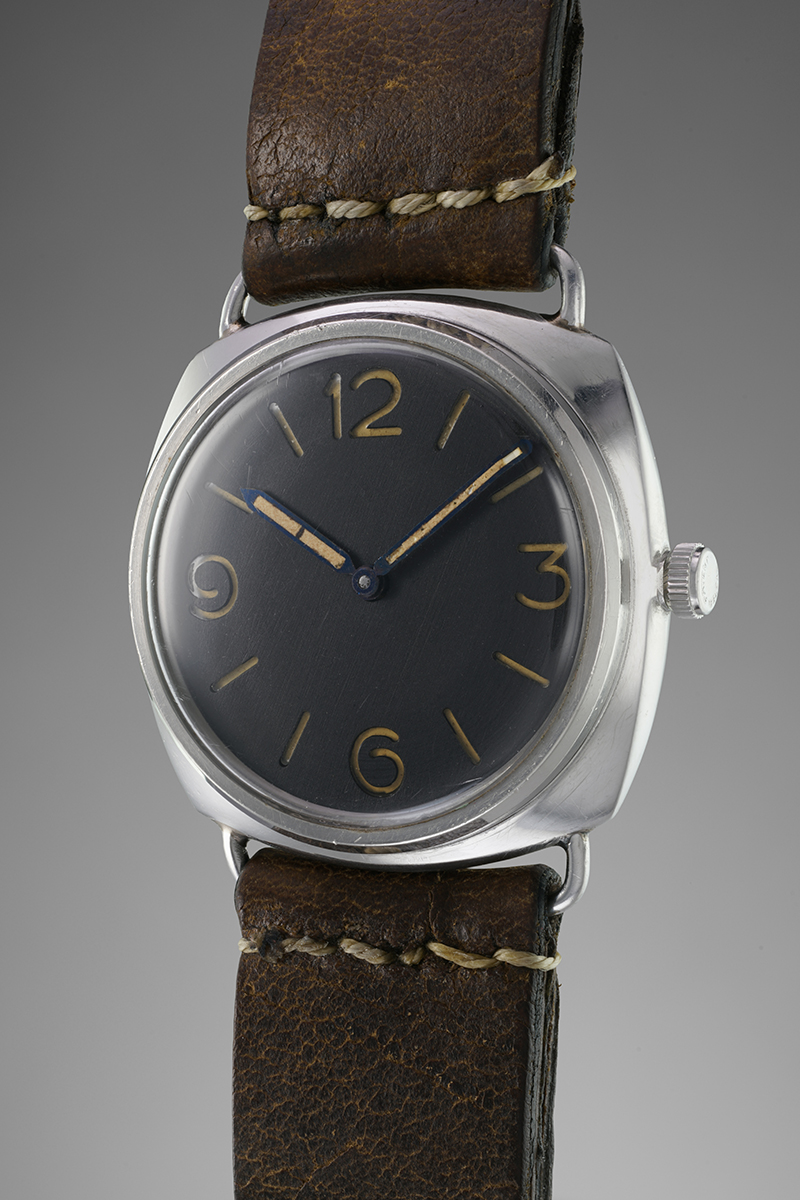 Patek Philippe Perpetual Calendar Reference 2497
Estimate: CHF1,500,000 3,000,000
A truly landmark model, reference 2497 is the first serially produced Patek Philippe perpetual calendar wristwatch to feature centre seconds. No more than merely three examples cased in white gold have graced the market so far, including the present watch.