Located in the suburban area of northern Bengaluru's Jalahalli, the HMT Heritage Centre and Museum is housed in an unassuming two-storey building, set in the middle of a picturesque four-acre plot dotted with lush trees and colourful flowering plants. The area once belonged to a former chairman of the organisation and was transformed into a museum three years ago after Hindustan Machine Tools, or HMT, shut down its wristwatch and tractor manufacturing divisions back in 2016. Today, it's like a time travel vessel that allows a peek into not only the glorious legacy of HMT and its famous timepieces, but also how it played a crucial role in building a modern, industrial India.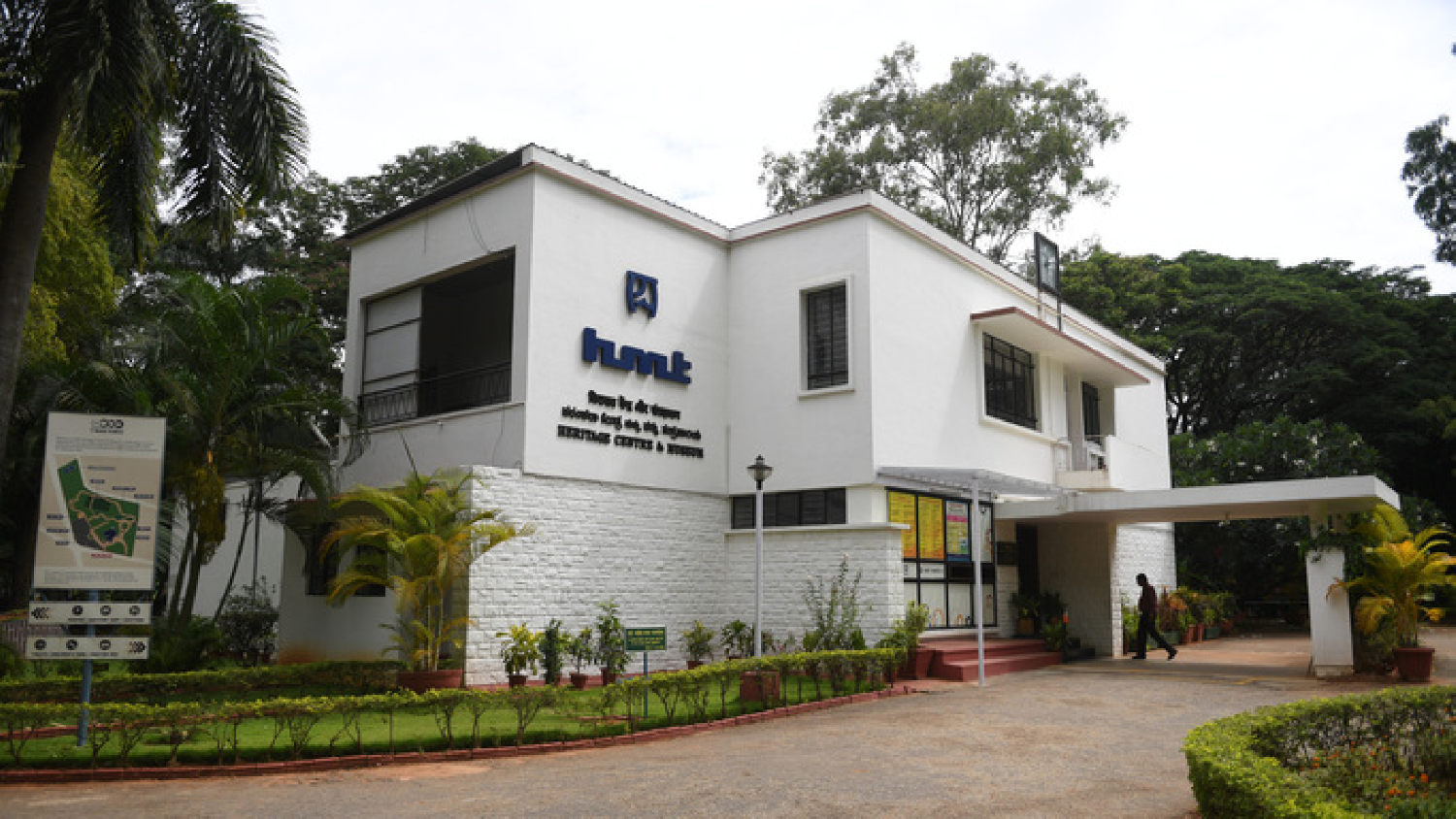 HMT Museum
Step back in time
Founded in 1953 by the Central government, HMT began as a machine tool manufacturing company and later diversified into different sectors, including watch manufacturing. It was just eight years after its inauguration that the brand established its first watch factory in Bengaluru in collaboration with Japan's Citizen Watch Company. The association not only helped train the employees of HMT about every aspect of watchmaking, but also assisted in setting up the manufacturing unit for the production of watches in India. After that, there was no turning back. HMT watches soon became synonymous with reliability and peerless performance. From crafting hand-wound timepieces to automatic ones, the brand offered a wide variety of references, with the Janata, Pilot, and Sujata ranges being the most popular. HMT dominated the Indian market till the 1980s and was zealously promoted by former prime ministers Jawaharlal Nehru and Indira Gandhi, and former also cricketer Kapil Dev.
Jayapalan P., who joined the company as an engineer in 1985, now takes care of the museum and fondly remembers the fanfare. "Just a few years after the launch, HMT watches became so popular that people used to stand in queues in front of the retail shops," he says. "The demand was so high that most of the times customers had to wait for months to receive their choice of watch."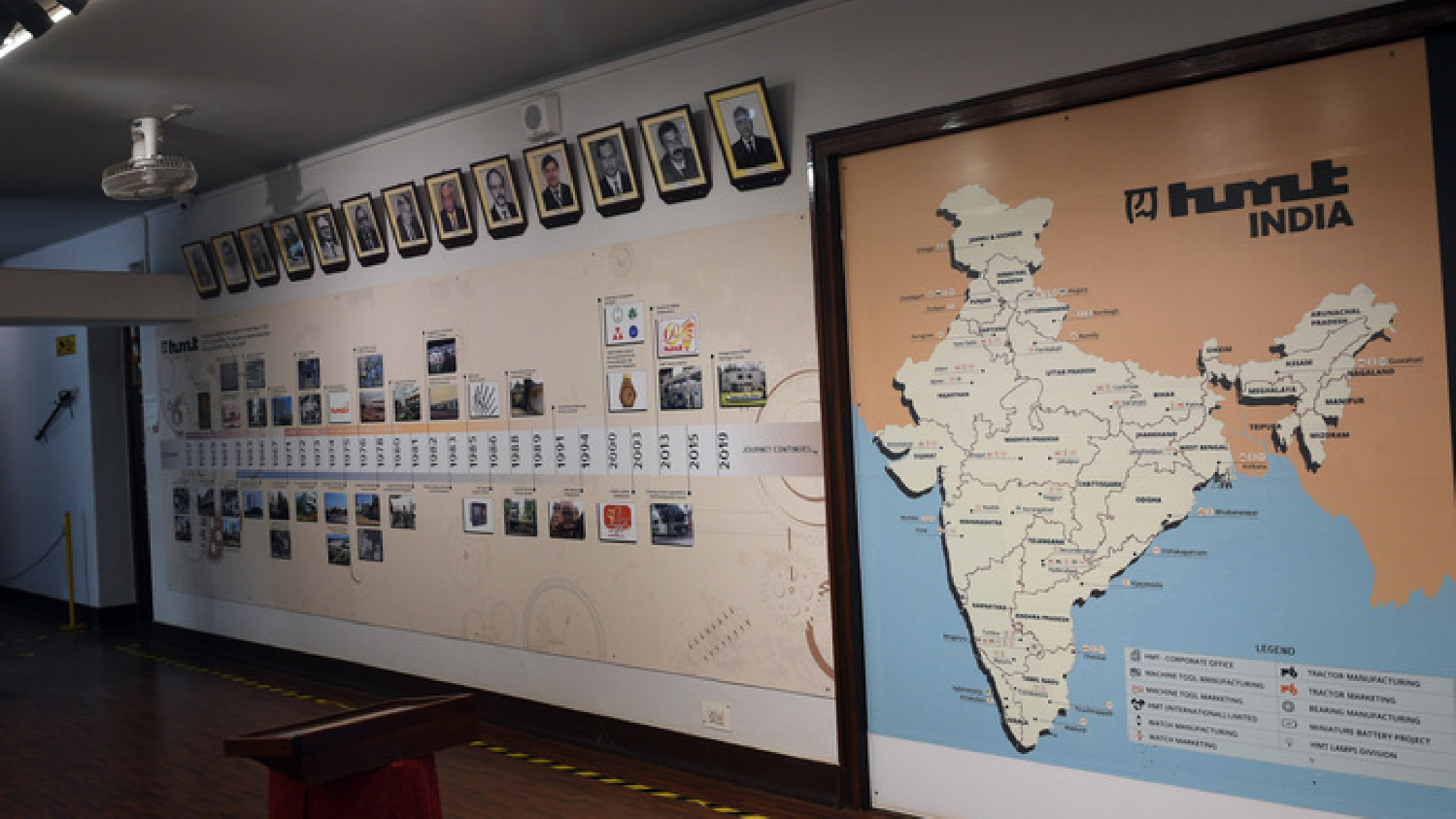 A hall dedicated to show HMT's exponential growth in India
It is this illustrious history that has been exhibited on the first floor of the museum with a brightly lit, spacious hall dedicated to showcasing a timeline of the company's exponential growth, portraits of its various former chairmen, a map of all its 14 factories across the country, and a framed inauguration certificate—signed by Nehru in 1963—of a factory in Pinjore, Haryana. The end of the hall leads into a series of rooms that display different components of a watch, tools, and equipment required for manufacturing and servicing, and more than 1,500 models of HMT
watches
, pocket watches, and wall clocks.
Standing inside a room named 'Parts of a Watch', Jayapalan points to different glass display cabinets that consist of several kinds of dials and cases. "The cases used to be made from different materials such as stainless steel and plastic. For dials, we used thin plates and attached hour markers to them manually. It was a very laborious job and mostly done by women," he explains.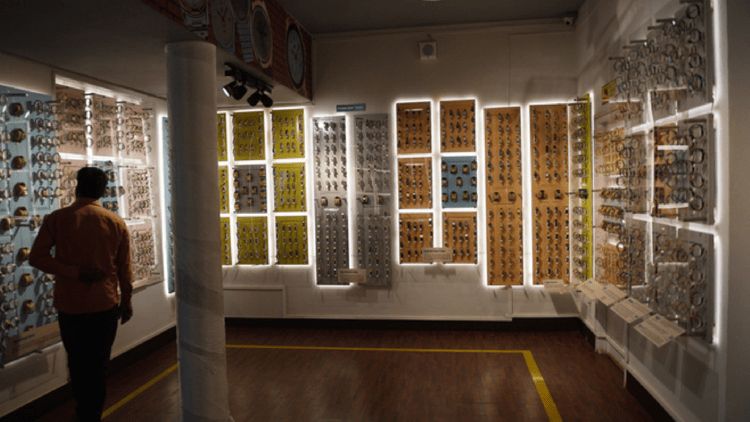 A room showcasing the many HMT watches that were created over 70 years

A few steps further, and on display are the movements, ranging from the hand-wound
Calibre
0231, featured inside the Janata models, to Calibre 2150, a quartz movement that powered the Gold Biscuit watches. There are also two microscopes placed in one of the rooms to help visitors view the minutest components of a watch. However, what instantly grabs attention is the giant version of the first Janata watch—presented to Nehru in 1962, it was the first-ever hand-wound HMT timepiece—that is hung on a wall. Apart from this, there are several types of watch boxes displayed inside one of the cabinets, including a replica of the box in which former Prime Minister Atal Bihari Vajpayee was presented the company's 100 millionth watch in 2000.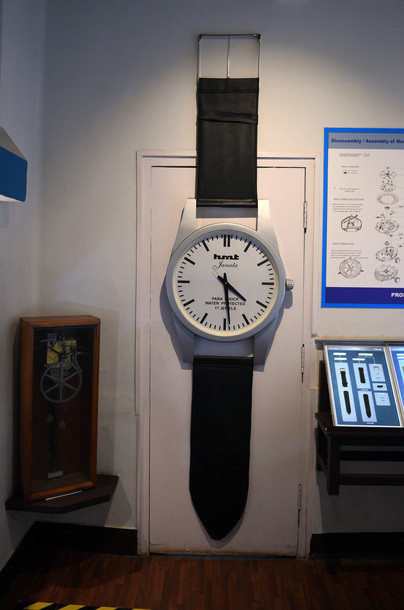 A life-size replica of the HMT Janata presented to Nehru in 1962
Notable timepieces
Among the large number of watches displayed across the first floor of the museum, some stand out for their ingenious design and exceptional accuracy. One such timepiece is the HMT Gem Utsav, which was first introduced during the 1990s and came studded with brilliantly cut natural
gemstones
, like emerald, topaz, and rhodolite. Showcased right next to it is another bedazzling timekeeper called the Gold Biscuit Watch, which is adorned with a one-gram gold biscuit at the centre of its dial. "These timepieces were quite cheap when released. However, today they are very much sought-after and have a good resale price in the market," says Jayapalan.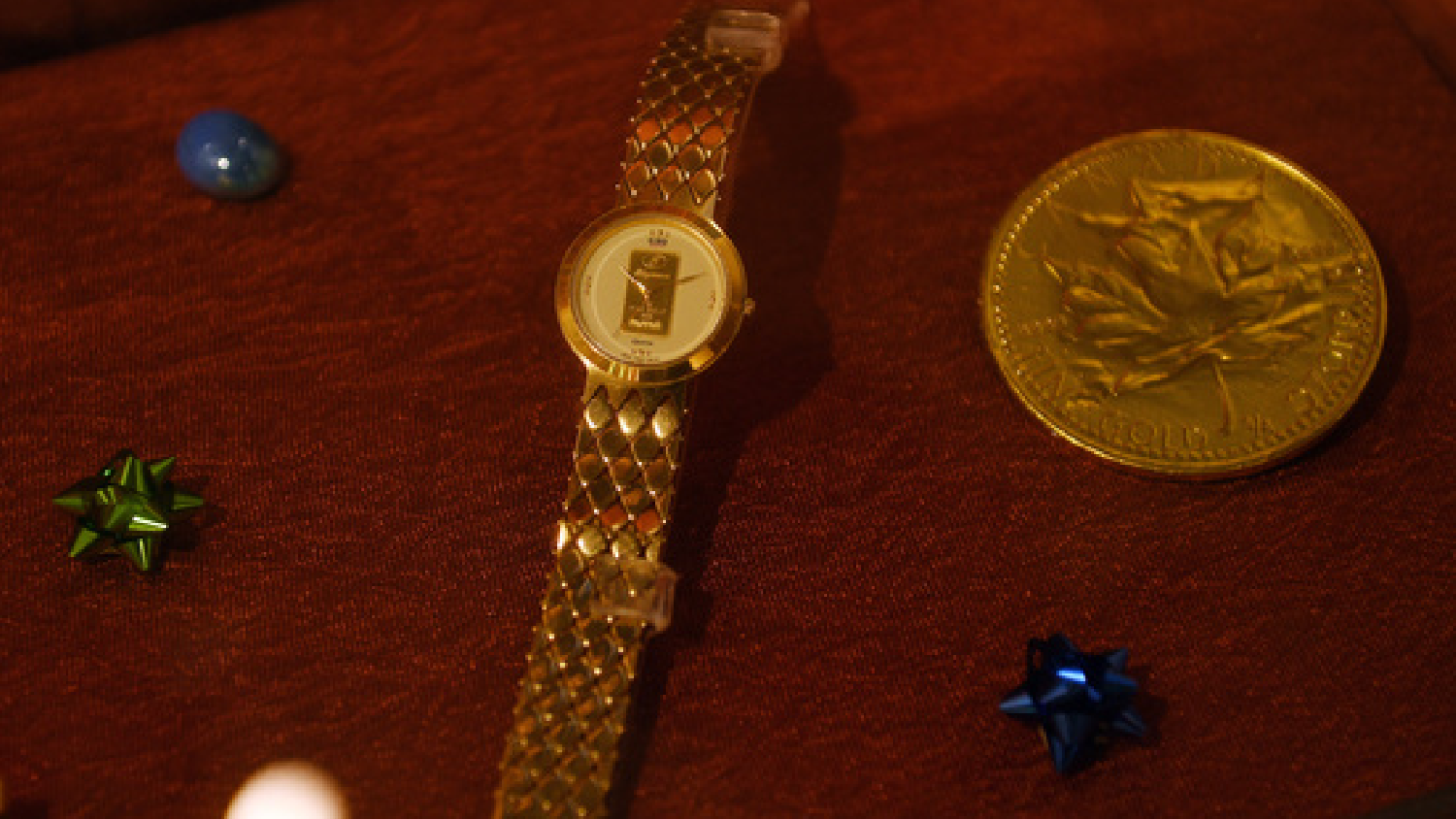 HMT Gold Biscuit watch
If the Utsav and Gold Biscuit Watch models represent HMT's mastery in crafting luxurious timepieces, then the Nurse Watch and Braille Watch exemplify the company's perpetual pursuit of innovation. First launched in 1970, the Nurse Watch was specifically built for nurses who could wear it on their uniform, whereas the Braille Watch was meant to be used by those who were visually challenged. It also came with a Braille handbook. Another striking timepiece is the Chandan Watch, released in 1990. As the name suggests, the watch came with a sandalwood dial ring and was sold with a wooden box that also consisted of a bottle of sandalwood oil, used to apply on the ring.
Most of the other models manufactured by the brand over its seven-decade existence have been kept inside vibrantly coloured display boxes—placed in another room called 'Watches'—made from the repurposed window panes and doors of HMT Schools that were once attended by the children of the brand's employees (they were shut down in 2016). The timepieces shown here belong to the well-known collections of HMT, such as the hand-wound series, Economy series, Elegance range, and Automatic Day-Date line. Pointing to the timepieces of the 1200 series, Jayapalan says, "These watches were the first quartz watches manufactured by the brand and were worn by the former Prime Minister Indira Gandhi."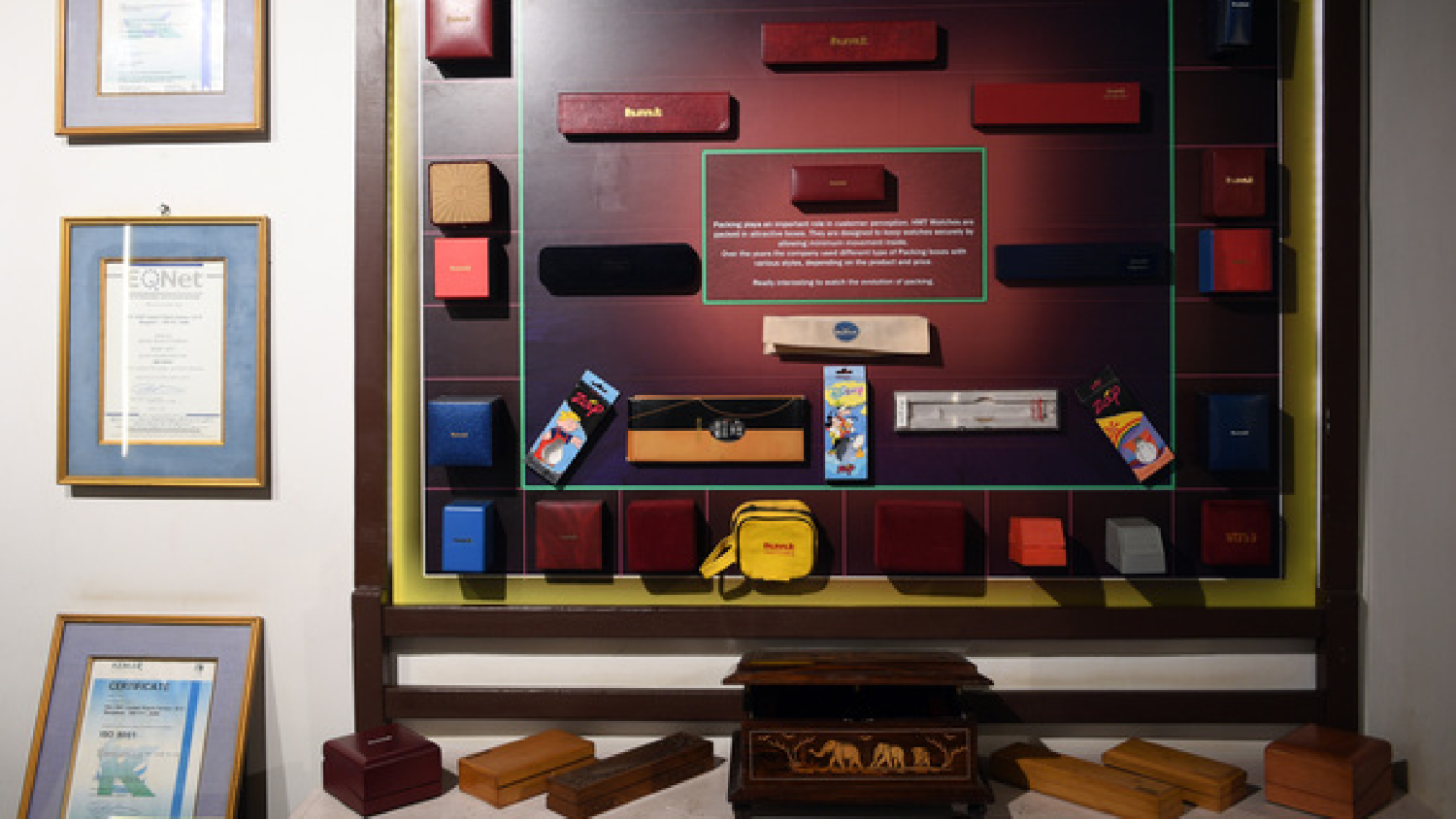 Different watch boxes displayed at the museum
Jayapalan reminisces about the heyday of HMT wristwatch factories and talks about what led to the brand's downfall. "There used to be around two to three thousand people who worked in all those watch factories. The quality of watches that we made was exceptional. However, once quartz and cheap Chinese watches hit the Indian market, our sales declined, and the factories had to shut down," he adds. HMT is still manufacturing some of its watch models, but in a very small number, and only around 50 employees work on them. One can buy these watches through the brand's website; from the souvenir shop located next to the museum; and from four retail stores located in different areas in Bengaluru.
Since the closure of the manufacturing units, HMT watches have gained a sort of cult status among watch aficionados. From individual watch collectors to collector groups, there's a whole community that has sprung up around the brand's timepieces, both vintage and contemporary.
The HMT machinery
Just adjacent to the 'Watches' room is a wide, tin-covered space that resembles the factory floor of one of the brand's industries. At the entry, there is even a punching clock machine into which visitors can insert a card and punch in and punch out just like the employees would have done. The floor displays a host of heavy machinery, like a lathe machine, power press, and a special tool room machine. There is also a cut model of an HMT tractor placed in one of the corners to show all the moving parts of the vehicle.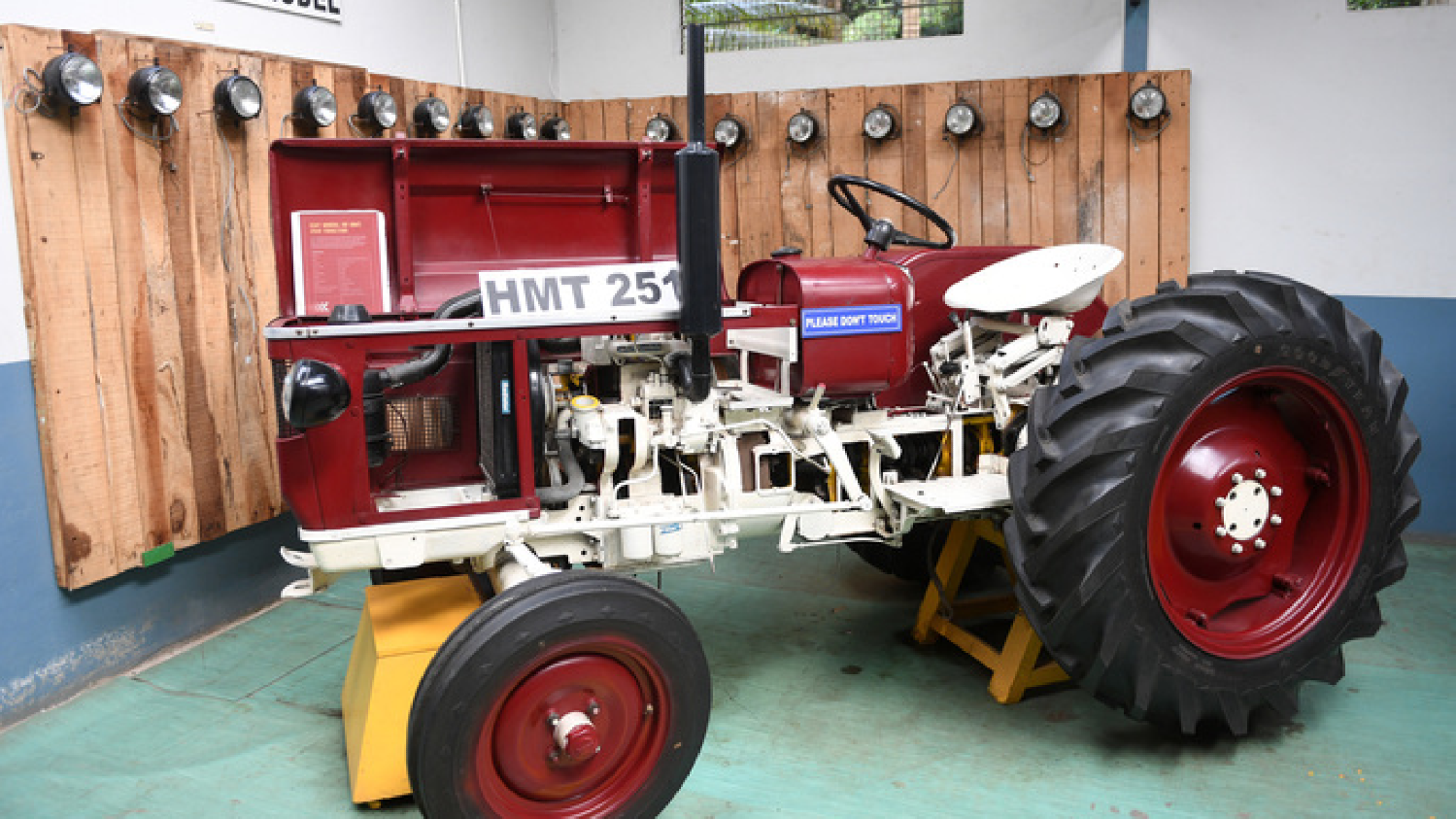 Cut model of an HMT tractor
Another centre of attraction on the factory floor is a printing press, manufactured in the 19th century. "Made in 1886, this printing press was imported from London to India. For the longest time, it was kept in one of our factories but was shifted to the museum before the inauguration," Jayapalan explains, as he gives a demonstration of how paper used to be printed. Besides the machinery and watches on the first floor, the museum also consists of an audio-visual room along with spaces dedicated to HMT's other divisions, including lamp manufacturing, machine tools, ball bearings, and tractors. The rooms on this floor are filled with cut models of engines, several kinds of machines, and bearings supplied to the Indian Railways back in the day. According to Jayapalan, the place is frequently visited by former employees along with their partners and children. The museum also has a children's park with a handful of swings, slides, and a tractor for joyrides. "Whenever former employees come here, they are so moved by all the memories that they start to weep," he says.