Greubel Forsey reinterprets the GMT with its outsized rotating globe in the new Quadruple Tourbillon timepiece.
Staying true to their theme of the 'art of invention', the founders of Greubel Forsey, Robert Greubel and Stephen Forsey, have successfully reinterpreted the concept of the GMT with their latest Fundamental Invention, the GMT Quadruple Tourbillon. As the name suggests, the special edition is an innovative play on their 2005 Quadruple Tourbillon Invention, this time with an added multiple timezone display.
Limited to a total of 66 pieces, with the first 11 in white gold, the watch features four separate tourbillons constructed in pairs and placed in compact cages. The first cage rotates in one minute angled at 30° and is fitted inside a second upright cage which performs a full rotation in four minutes. This combination of the inclination and the different rotational speeds help in cancelling out the time variations which are caused due to the natural gravitational pull of the earth.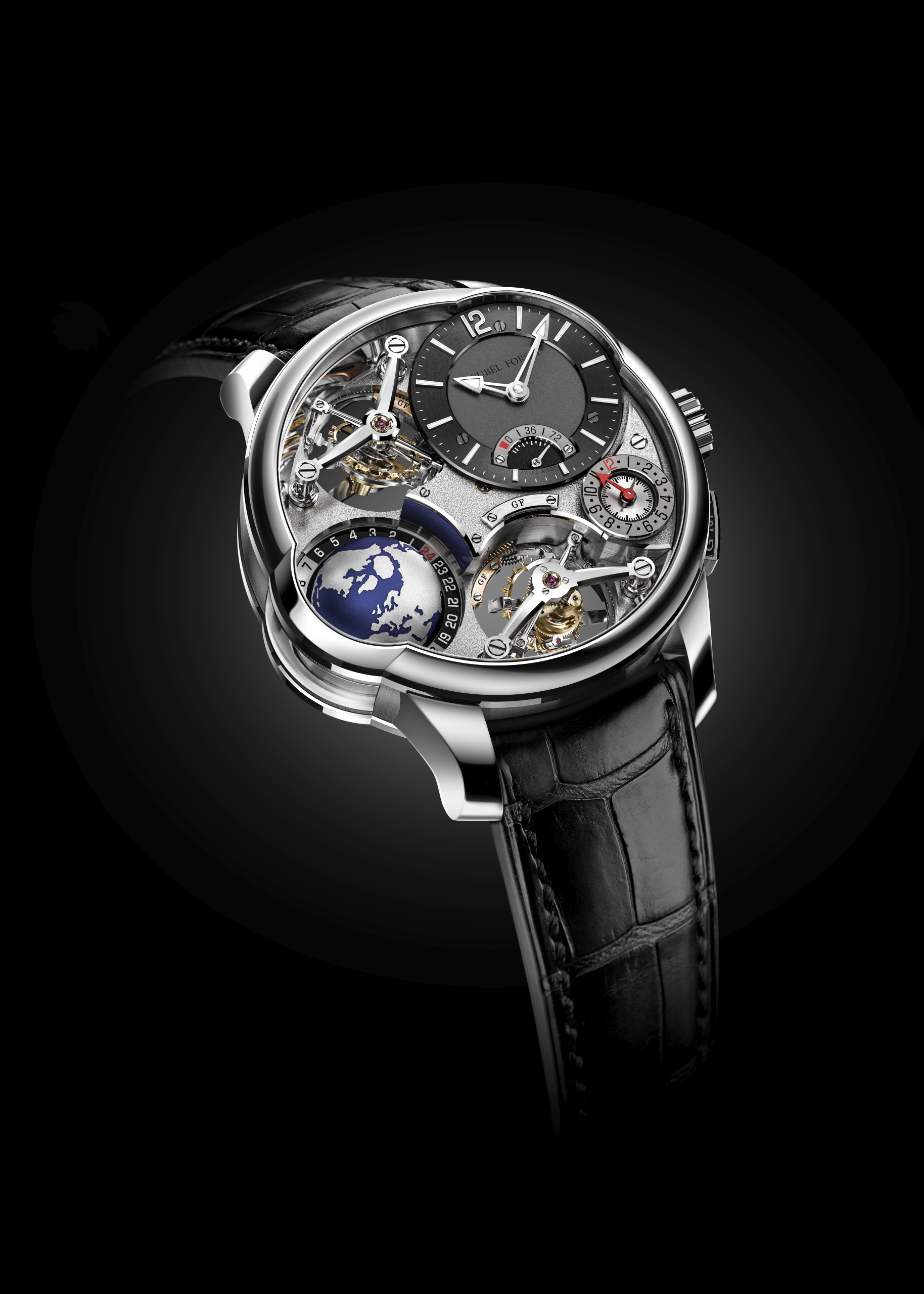 The GMT function is represented by the very apt GMT Earth design which displays multiple timezones simultaneously. Located between the 8 and 9 o'clock positions, the outsized globe completes one full rotation every 24 hours, following the planet's movement. Surrounded by a fixed 24 hours ring around the equator, the GMT Earth displays the local time for all the longitudes while also taking into account the day/night indicator.
The GMT Quadruple Tourbillon comes equipped with a new hand-wound calibre made of 705 parts, including three fast-rotating barrels, and holds a power reserve of 72 hours. The dial displays the main hours/minutes between the 1 and 2 o'clock positions and the 4 o'clock position features the coaxial small seconds and a second timezone display which can be adjusted in one-hour increments using a pusher.
The caseback of the watch offers a view of the universal time with a fixed 24-hour scale and a disk with three-letter abbreviations of 24 cities representing the various time zones.