In December of last year, H. Moser & Cie. unveiled its last watch of 2022, the Endeavour Centre Seconds Genesis. For several reasons, this was a timepiece unlike any the brand had ever launched. A concept watch limited to 50 pieces, its 40mm microblasted steel case featured a 3D-printed titanium crown and bezel that appeared pixellated. With a signature Vantablack® dial, the watch had a QR code engraved on the sapphire crystal.
That aesthetically this watch was quite distinct was just the start. The Endeavour Centre Seconds Genesis marked H. Moser & Cie.'s step into Web3 and the metaverse. With this watch, the brand developed a complete ecosystem that offers blockchain product authentication (for security and transparency), exclusive privileges enabled by digital assets ownership (NFTs like short videos promoting the product and the watchmakers behind it), and a metaverse space (where visitors can discover the history of the brand and the manufacture, and meet the Moser team in a new dimension).
H. Moser & Cie. seemed to, with one watch (and in one fell swoop), do everything that different luxury watch brands have been doing in smaller parts over the last two years. Learning from the different ways in which luxury watchmakers have embraced Web3 and the metaverse, something that really gained momentum this past year,
H. Moser & Cie. has leveraged several digital avenues for a deeper engagement with their customers. Another result of their initiative is that blockchain watch authentication will eventually be introduced for all Moser watches via the warranty card that is included with each model.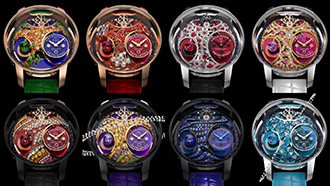 The Jacob & Co. Astronomia Metaverso collection consisting of physical watches and NFTs
Blockchain and NFTs
Anyone who closely follows the watch market will attest that the past couple of years have seen an increase in luxury watch NFTs and brands dabbling in the metaverse. It started with powerhouse Jean-Claude Biver, who teamed up with the Swiss cybersecurity company WISeKey to auction the NFT, or the digital twin of his favourite watch, the Bigger Bang All Black Tourbillon Chrono 'Special piece', based on its existing digital certificate of authenticity and ownership. The sale kicked off on March 31, 2021 on Open.Sea, the largest digital platform for NFT sales. Shortly afterwards in April 2021 Jacob & Co. auctioned its first ever watch NFT in association with ArtGrails, a new NFT auction house. Up for grabs was a 10-15 second 3D animation of the Epic SF24, the brand's first ultra-complicated piece with the kind of a flap system that's seen on the status boards at classic train stations and airports; the animation showed 10 cryptocurrencies moving through the flap system, and a tourbillon in motion (which the original watch didn't have). While not much is known about how much the Bigger Bang All Black Tourbillon Chrono NFT was traded for, the Epic SF24 NFT reportedly sold for
US $100,000.
So what are these NFTs, and why are people buying them? NFTs or non-fungible tokens are unique digital creations that exist on blockchain, an integral part of the Web3, which focuses on decentralisation of the web, (a version of the web that's built, operated, and owned by its users). At the most basic level, in the watch world this means digital twins of physical watches that can be created and traded via cryptocurrency. It can also mean varied types of digital assets, like a video that plays on loop, centred around the watch. So a highly collectible watch's NFT becomes unique and collectible too. It can change ownership but never duplicated since NFTs are secured via cryptographic algorithms, and stored on blockchains like Ethereum, IBM Blockchain, Cardano etc. Another way the industry is using blockchain is to create digital certificates for its luxury watches that rest on these blockchains. These digital certificates prove the authenticity of the watch during sale, and can be transferred to another person; it also allows for traceability of repairs and ownership. Since they rest on blockchain, counterfeiting is impossible. This is a route Czapek, Breitling, and Vacheron Constantin have taken.
As collectible watches become harder and harder to get, their NFTs become nifty ways for people to own a unique, equally rare version of it. And while one can argue that these have no physical element, their exclusivity cannot be denied either. As the world becomes more and more digitised, brands have also found this as a dynamic way to engage with consumers.
"As we do for watches, we want an NFT to be thought through, holistically, ensuring that it brings value to the wearer. Technology is an enabler, not an end in itself. We thus approach each opportunity to use technology—blockchain or other, both in and out of the watches—from the wearer's standpoint, and how it brings him or her something additional," says an official statement by Ressence watches to WatchTime India. In April 2021, Ressence became the first watch brand to pair a physical watch with an NFT artwork. The Ressence Type 1 Slim Spymaster was a 12-pieces limited edition in collaboration with Spyscape museum in New York, and it sold out entirely. Each watch came with a unique NFT recorded on the Ethereum blockchain, which represented a moment in the creation of each timepiece in a motion graphics by Hans Lo, with music by Jasper+, and vocals by Ryann Ross, which runs on an infinite loop. The serial number 008 was the first watch of this limited edition to be sold at Sotheby's first Important Watch auction of 2021, in Hong Kong. It fetched US $48,000 (approx.) and proceeds from its sale went to the Make a Wish Foundation.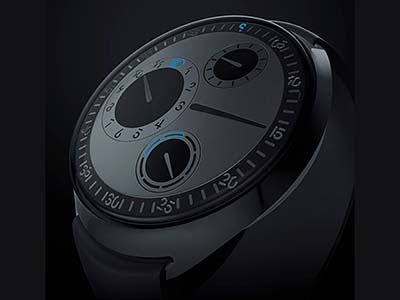 Ressence Type 1 Slim Spymaster was the first watch to have an attached NFT
Ressence hasn't created any watch NFT since, saying that they approach each new watch or collaboration with the wearer in mind, and strive to bring readability, functionality, and value. "We haven't had yet the right fit for a new NFT-related project, one for which the NFT would bring a significant difference and add to the
Upping the ante
While that may be true for Ressence, over the last year, the watch NFT floodgates have burst open, and with it, unique ways in which brands are trying to engage with their consumers. In early 2022, Louis Moinet launched 1,000 unique NFTs inspired by their Space Revolution 2021 Edition watch. Fully functioning in their virtual form, and true to the original vision of the brand, they were developed by 3D digital creator Tafi and launched on the marketplace of the luxury NFT platform Exclusible.com. According to Louis Moinet, the 1,000 NFTs sold out in seven minutes, with 200 NFTs trading on the secondary market, some for more than double their purchase price, only hours after their release. The brand melded this virtual venture with the physical by giving two owners of the NFT Space Revolution a chance to win a SUPER MOON watch, unveiled at
Watches and Wonders
2022.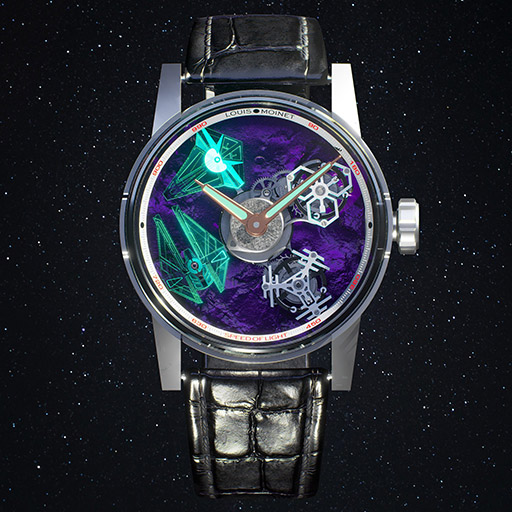 Louis Moinet's NFTs inspired by their Space Revolution 2021 Edition Watch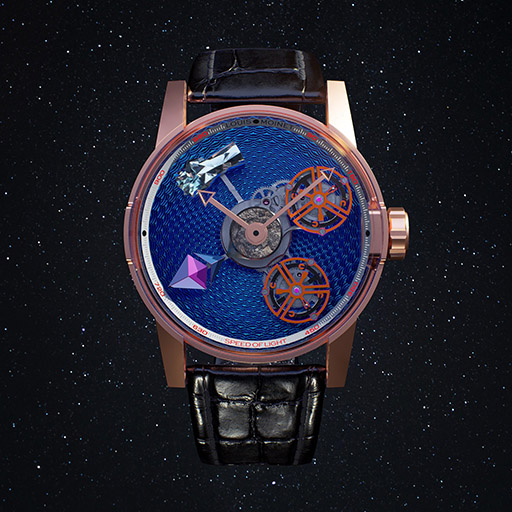 Louis Moinet's NFTs inspired by their Space Revolution 2021 Edition Watch
Every watch brand that is launching an NFT is now pushing the limits of how Web3 can be incorporated with the physical to create a wholesome, immersive, appealing package. A great example is the Jacob & Co. Astronomia Metaverso collection inspired by planets. This was a set of eight watches, five physical, unique timepieces, each accompanied by 50 NFTs, and three digital-only designs of 50 each—the initiative sought to push the brand into "a digital, crypto-native future". Created by founder Jacob Arabo and sold on the NFT marketplace UNXD, its owners were assured access to exclusive, by-invitation-only Jacob & Co. events, with the physical watch owners invited to a private tour of the Jacob & Co. Geneva production facility, dinner with Jacob Arabo, and participation in the design process for a custom line of crypto/NFT-inspired watches to be released in 2023. In a similar vein, Panerai paired its latest 'Experience' watches—extremely limited editions that come with an 'experience' that heightens the essence of that timepiece—with NFTs. The Radiomir Eilean Experience Edition (PAM01244), a limited edition of 50 pieces, came with a chance for its owners to go on a journey aboard the 1936 classic yacht Eilean, sailing the Mediterranean along the Amalfi Coast, and with the Luminor GoldtechTM Calendario Perpetuo (PAM01269), customers were invited to a Panerai experience in Florence, Italy. Both the watches came with exclusive NFTs that would unlock exclusive content related to these experiences.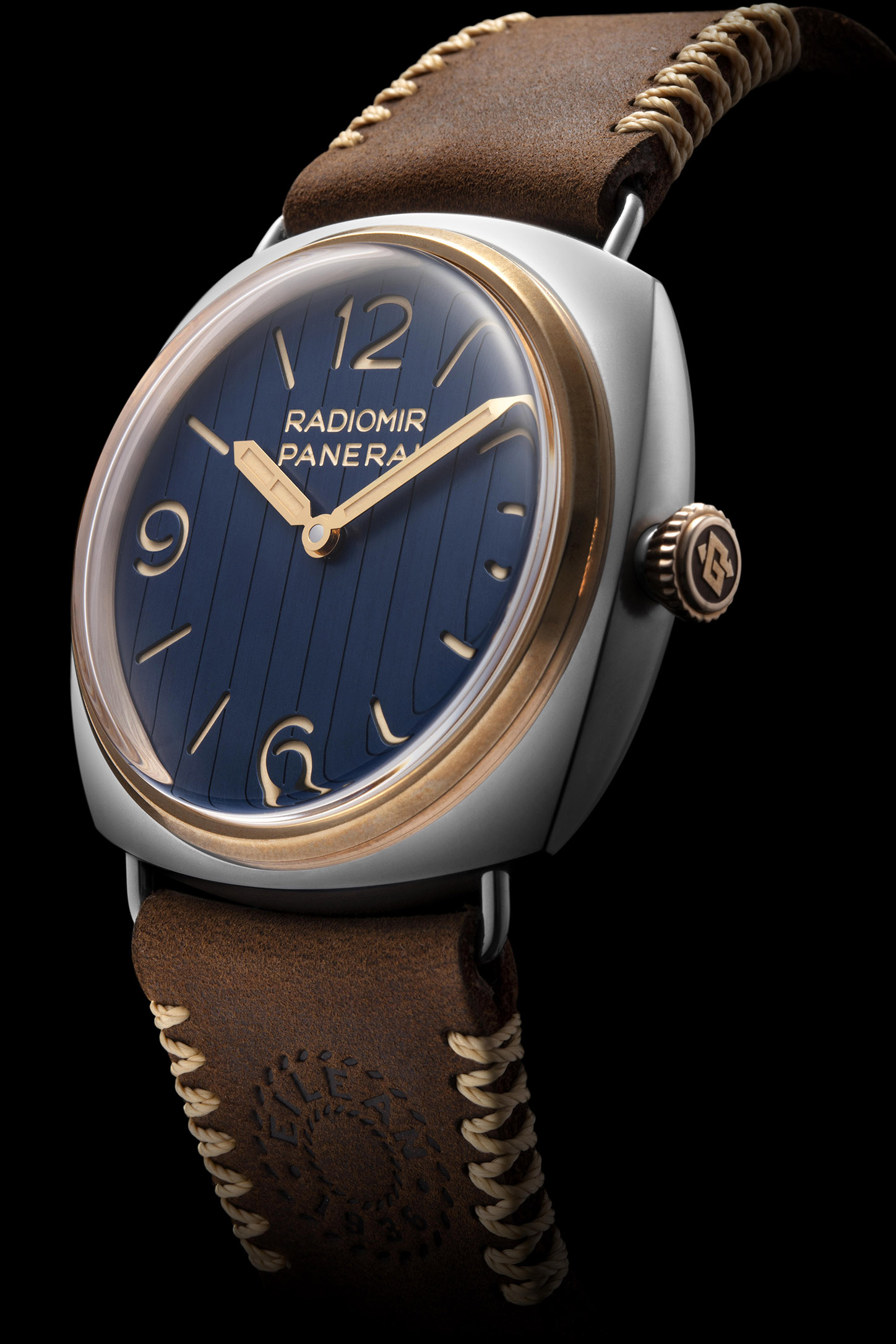 Panerai's 'Experience' watches that are accompanied by NFTs: The Radiomir Eilean Experience Edition
Exclusivity and experience have become key to NFTs now, and go a long way in making them desirable to buyers. Nothing personified this more than two 2022 launches—the NFTs created by Hublot in association with renowned Japanese artist
Takashi Murakami
, and the trailblazing Bulgari Octo Finissimo Ultra. In the first of these, Murakami created two static NFTs based on the Classic Fusion Takashi Murakami All Black (216 pieces) and the Classic Fusion Takashi Murakami Sapphire Rainbow (108 pieces) watches. These were offered for free to all existing owners of the watch via Hublot's e-warranty app (the e-warranty is stored on the AURA blockchain, and therefore owners are traceable). The NFTs were minted, or published, on the Ethereum blockchain, and owners could later trade it if they wanted, virtually giving owners the opportunity to earn off the NFT. The brand also offered 10 NFTs to the public and two NFTs to the Hublotista community in a public draw.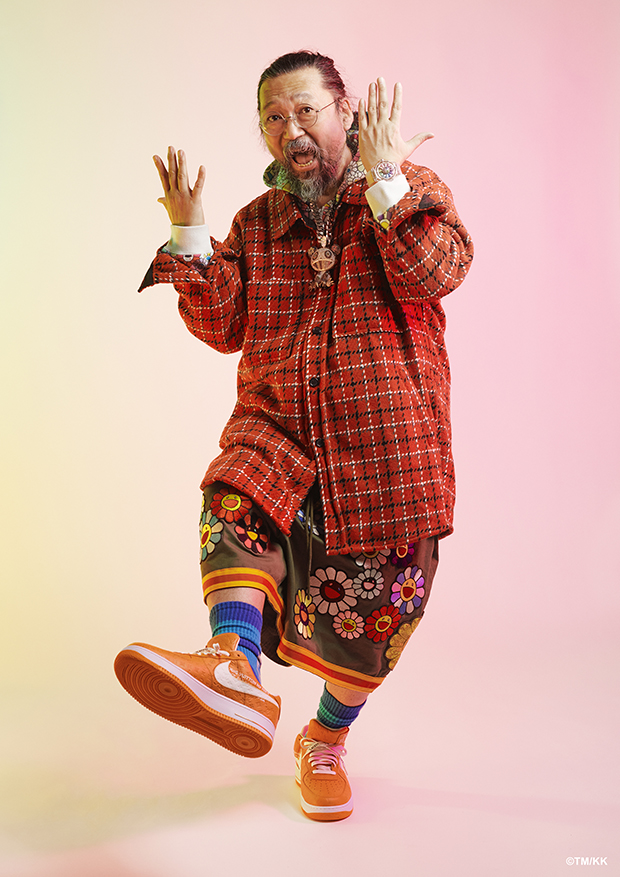 Takashi Murakami wearing the Hublot Classic Fusion Takashi Murakami Sapphire Rainbow
"The luxury industry must always reinvent itself. Hublot is constantly seeking innovation and newness, and by creating these NFTs, we are entering a space where others might not dare to go," says Hublot CEO Ricardo Guadalupe. "We will always continue to be first, unique, and different, and we would like our products to be a reflection of the new ways we are experiencing luxury. NFTs and blockchain more generally allow us to trace the circle of life of our products. Authentication and ownership are without a doubt very attractive to the luxury consumer. This new technology will help watch brands reinforce their brand and leverage value."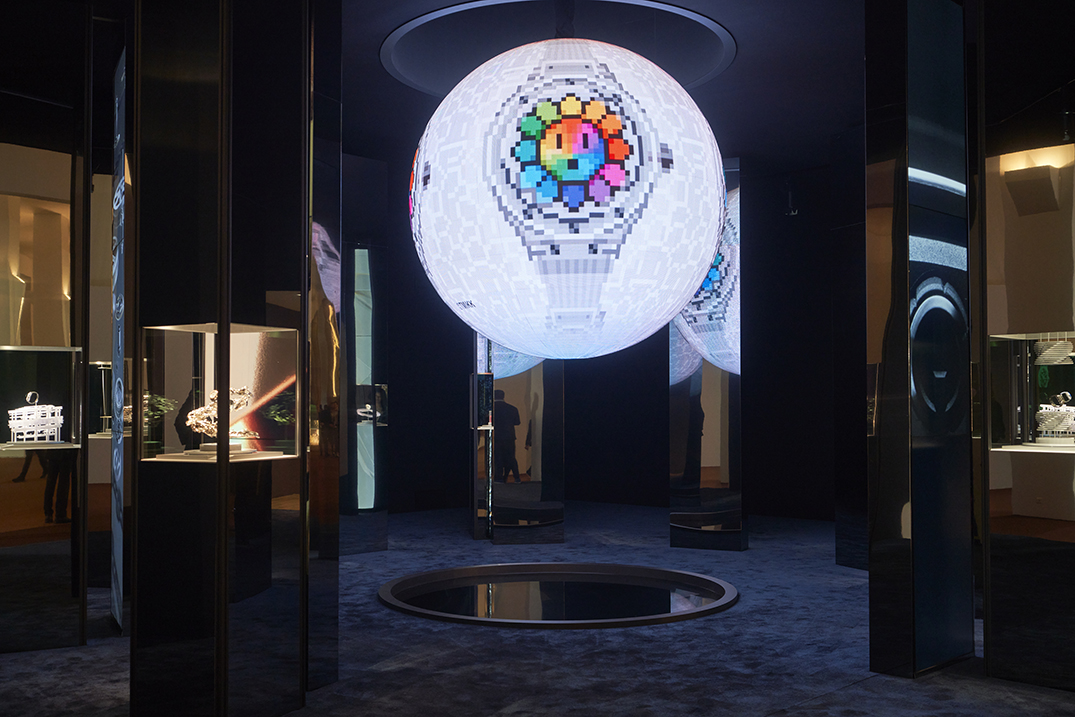 The NFT created by Murakami for Hublot seen at Watches and Wonders 2022
This idea was also a part of the Bulgari Octo Finissimo Ultra, which was for a while the world's thinnest mechanical watch at 1.8mm thickness (a record broken a few months later by Richard Mille). Limited to just 10 pieces, the Octo Finissimo Ultra featured a QR code on its barrel displayed on the dial. By scanning it, one could access the information stored on the blockchain—the authenticity and warranty certificates, the logbook of maintenances, as well as the story behind the creation of the watch and the unique NFT artwork (3D art inspired by the watch, it shows its deconstruction and reconstruction). With this watch, a much higher level of inter connectivity, accessibility, and innovation was achieved. The watch and the NFT-based artwork were powered by two separate smart contracts, Aura, the brand's blockchain provider, and Polygon, a leading platform for Ethereum scaling, respectively. Through the use of blockchain, the two contracts interacted with each other. "We had to think out of the box and decided to make a cultural breakthrough. We created an NFT which is a piece of modern art inspired by the watch, as our clients are often art collectors," said Bulgari is a statement to WatchTime India. "This NFT artwork is registered on the blockchain and secured. The owner of the watch can choose to view this artwork in 3D, or view it in slow motion, or even as a sequence of pictures, having an opportunity to stop and frame the art on the digital screen. When you buy this watch, you acquire your own piece of art."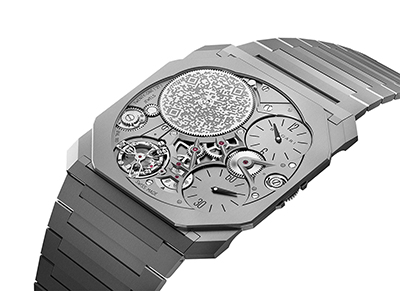 Bulgari's Octo Finissimo Ultra has a QR code on the barrel, which can be scanned to access the information stored on the blockchain
Watches and digital universe
While so much is happening in the sphere of watch NFTs—let me add that Sotheby's auctioned Gerald Genta's paintings of watches with corresponding NFTs, and TAG Heuer has now made it possible for people owning NFTs to display them on the TAG Heuer Connected Calibre E4 smartwatch—another aspect being explored is immersive experiences in the metaverse.
One such example is IWC Schaffhausen's Diamond Hand Club (DHC) initiative launched at Watches and Wonders 2022. This is a membership that one could have acquired by gaining one of the 1,868 NFTs (a raw diamond-shaped digital artwork) claimable through the QR code displayed in the brand's newsletter, social media channels, and through different avenues at the event, and also by owning one of their coloured ceramic watches. Once the NFT has been claimed, its owner could enter a virtual 3D space, a digital version of its physical high-tech shipping container-style booth at Watches and Wonders, hosted on Spatial.io.
With an eye on the future, the DHC also seeks to bring a 360˚ experience of the brand to the consumers by providing access to benefits both in their metaverse and the real world. This could mean digital twins of your watches, access to virtual 3D experiences and events, exclusive and unique real-life experiences in the physical world, special merchandise, and early access.
"As a luxury brand, we are about amplification—products, features, images, and feelings. We also believe that the metaverse is not about escaping society but rather about enhancing society," says Katharina Doepke, Associate Director of Digital Strategy and Transformation, IWC Schaffhausen. "We aim to use the additional layer of Web3 and the metaverse to engage even more with our clients, using the opportunity to engage in 3D, no matter where they are. Blockchain technology and the creation of NFTs for us also represent the future of authenticity and ownership. Those who have joined our IWC Diamond Hand Club will be the first to learn about these new developments." Interestingly, IWC has not launched a watch NFT as part of this initiative. While a future digital asset such as an NFT is not ruled out, the brand is at the moment approaching the metaverse more holistically.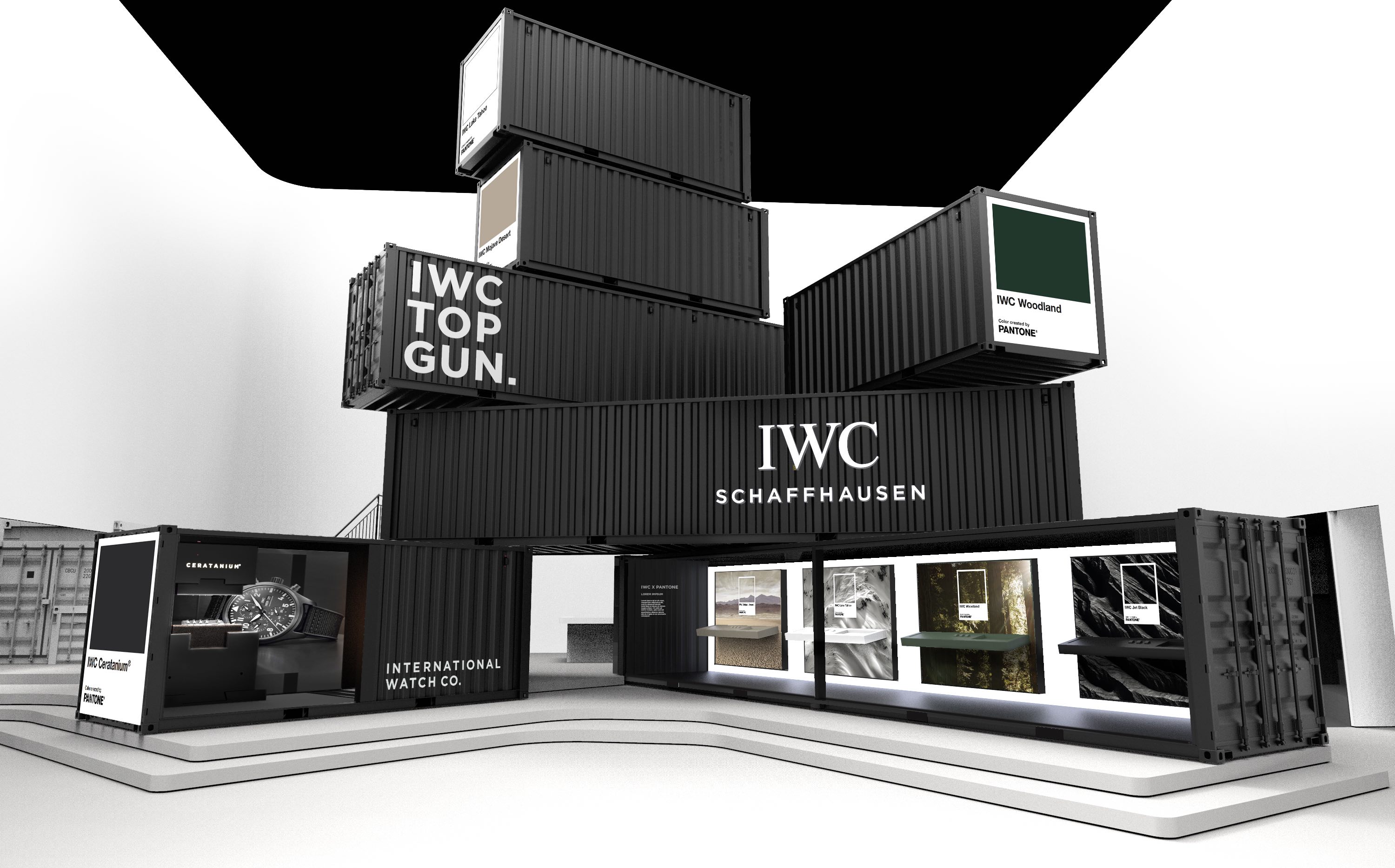 IWC Schaffhausen's shipping container style booth at Watches and Wonders 2022 in the metaverse, hosted at Spatial.io
It's a similar approach that
H. Moser and Cie has taken with its newest watch. And let's not forget the recently launched 'Hublot Loves Football' campaign in support of the Qatar World Cup, for which the brand created an eponymous stadium in the metaverse. A hybrid sport, art, and digital events space, the stadium's design was inspired by the 2022 Big Bang e FIFA World Cup Qatar 2022TM. It is the largest venue built in the Spatial metaverse, a 90,000-spectator stadium on Spatial.io, accessible to anyone for free as long as they have a mobile, desktop or Oculus headset. "When we decided to create this stadium, what we wanted most was to create a destination. A place for the 'Hublot Loves Football' campaign where people can go and discover it in a new way. It's a way for us to create a meeting point, a space for the Hublot universe. By bringing in the physical and digital, Hublot is continuing the Art of Fusion in the metaverse," says Guadalupe.
For an industry that has largely been able to innovate only within the sphere of watches and watchmaking, the Web3 and metaverse have opened up a whole new way of interacting with watch lovers and bringing new enthusiasts into the fold. As an official communication from Ressence to WatchTime India states: "We believe that the blockchain in general, and NFTs in particular have potential for the luxury watches industry, as long as they bring value to the customer, and are not used 'just because everybody else is using them'. Brands must identify the most compelling use cases for these technologies and integrate them into the customer's experience of the watch and the brand."
This story first appeared in the Jan-Mar 2023 issue of WatchTime India. To subscribe to the magazine, click
here
.