Geneva Watch Days
2022
showcased a fair array of new references, and for l
uxury jeweller and watchmaker
Jacob & Co. that has meant unveiling
the limited-edition Astronomia Solar Bitcoin in 25 pieces (Ref AS310.21.AB.AA.A) and new iterations in the Epic X line.
Astronomia Solar Bitcoin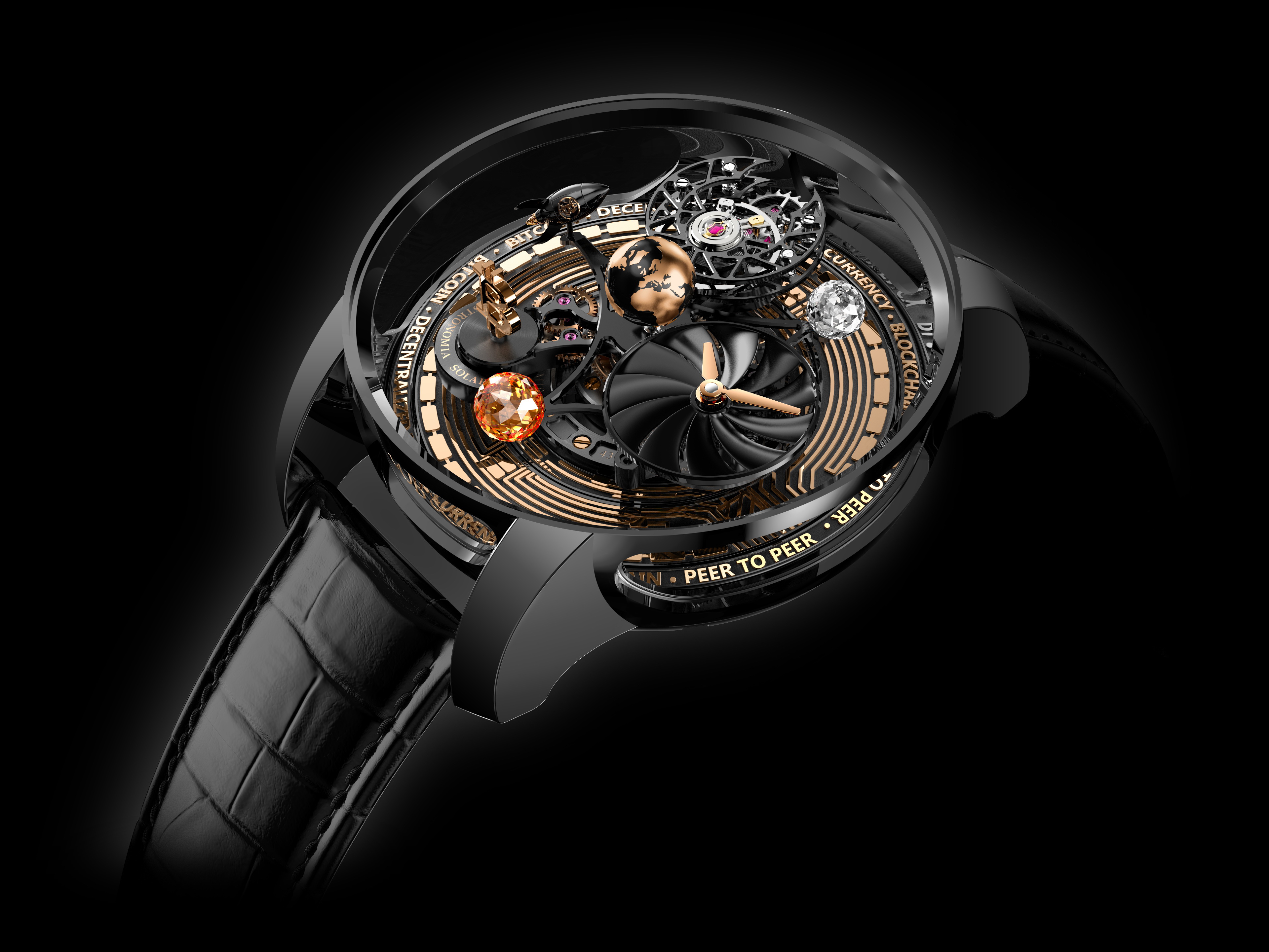 Jacob & Co Astronomia Solar Bitcoin (Ref AS310.21.AB.AA.A) gets a 44mm Black DLC Titanium Case
Today's era is about blockchain, cryptocurrency, and the various forms of Web3, and watchmakers have embraced the idea in the form of NFTs and leveraging the concept to secure and authenticate watches. However, at the 2022 Geneva Watch Days, Jacob & Co. had a slightly different way of interpreting this. The watchmaker revealed a high complication watch, the 44mm, black DLC titanium cased Astronomia Solar Bitcoin, limited to 25 pieces. An ode to cryptocurrency, the watch runs on a movement developed specially for the watchmaker and powers the many elements of this truly eccentric timepiece.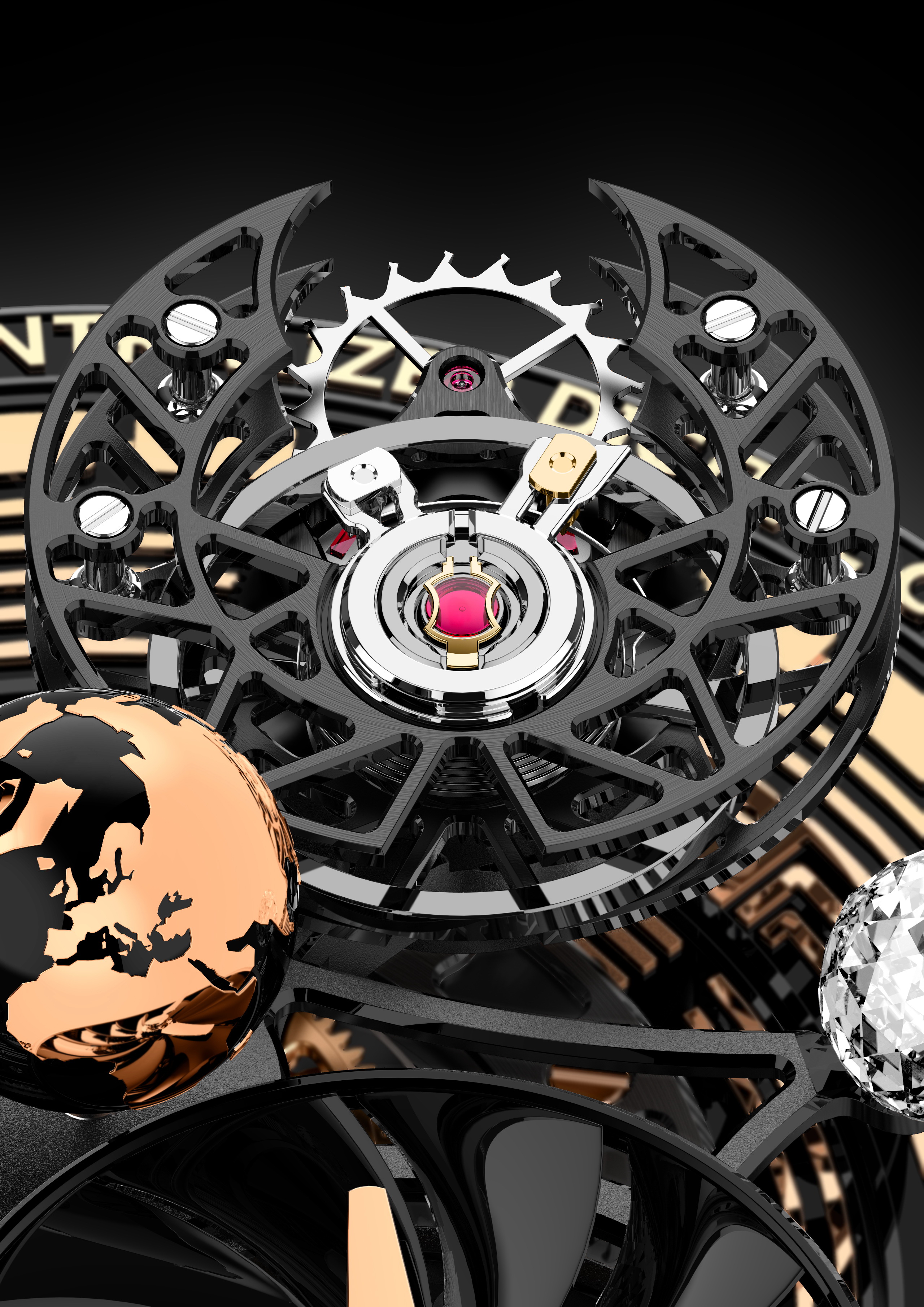 Jacob & Co Astronomia Solar Bitcoin gets a one-minute flying tourbillon with a black DLC titanium cage
The dial of the Jacob & Co. Astronomia Solar Bitcoin watch has a lot to offer. The dial plate is actually the
bottom plate of calibre JCAM19, decorated to look like a microchip. Surrounding it are words like 'Bitcoin', 'Decentralised Digital Currency', and 'Blockchain', which highlight the ethos of the watch.
C
rafted in positive engraving on the frame surrounding the movement and mounted on ball beatings, they spin counter-clockwise to the tune of one rotation every 11 minutes.
The movement is built from titanium, with some steel elements, and in the
shape of a three-pronged carousel, divided into the on-minute flying tourbillon at one o'clock, the dial at 3, and the vertical, rotating Bitcoin logo.
The hour and minute hands in 18K rose gold sit atop a black fan, reminiscent of
Bitcoin mining farms' servers
. Aside of this, there is a 288-facet sun in Jacob & Co.-cut orange citrine, a one-carat white diamond-shaped moon, and an earth made of gold and black lacquer that turns once every 10 minutes - all of them contribute to the 'Astronomia' edge. A miniature rocketship painted black gets a Bitcoin logo with a
flaming reactor
.
Jacob & Co Astronomia Solar Bitcoin has a Bitcoin logo rotates on itself in 60 seconds with a miniature black rocketship,
All of these symbols rotate on top of a titanium and steel main plate, under a single-piece
domed
sapphire crystal, allowing for a viewing of the components. The A
stronomia case features wide openings in the case band, allowing for a full view of the movement as well.
The titanium case gives this watch a 30 metre water resistance, and it sits on a black alligator strap with a black titanium deployment buckle.
Not surrisingly, all of the 25 piecs of the watch will be sold in cryptocurrencies.
Also Read | Geneva Watch Days: Dark Arts In The Le Régulateur Louis Erard x Label Noir
Epic X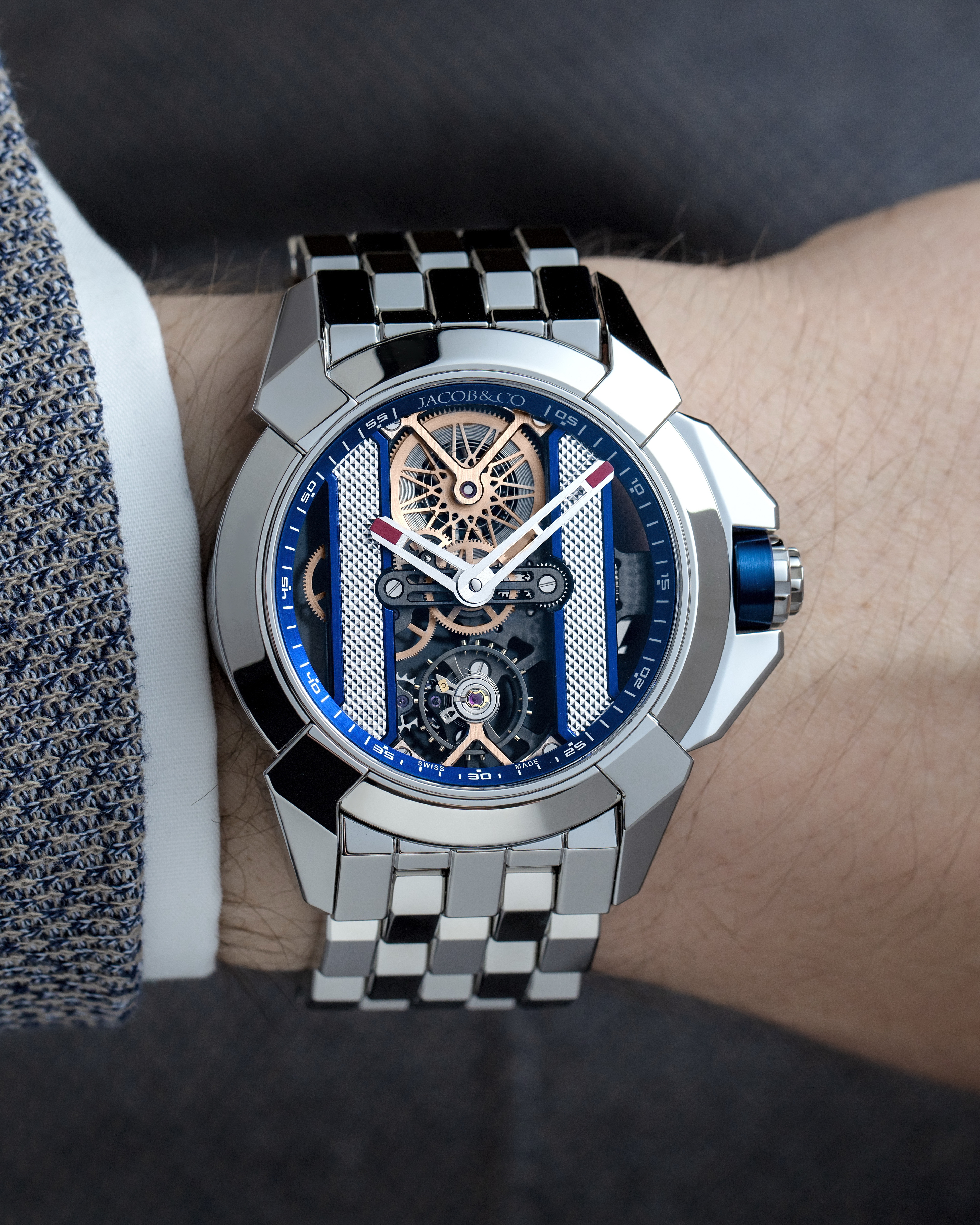 Jacob & Co Epic X comes with Clous de Paris guilloché bridges with coloured outline
The year was 2018 when Jacob & Co. established their new store in Geneva and created the first Epic X in partnership with the famous Argentinian footballer, Lionel Messi. This was followed by two Epic X models in 2019. The last version of the Epic X model came in March 2022: The Epic X Chrono Tourbillon in Blue Titanium, a 47mm titanium watch limited to just 99 pieces.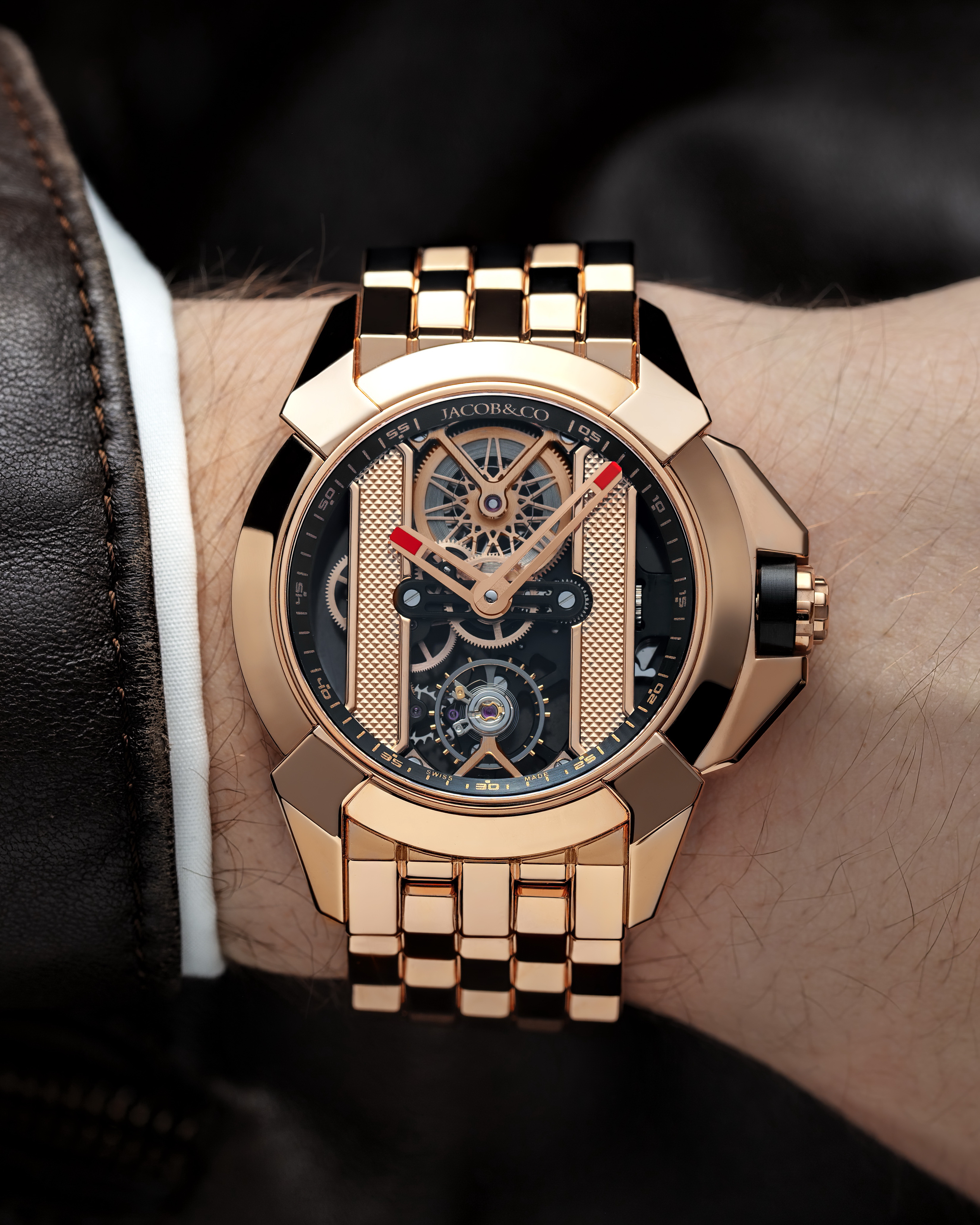 Jacob & Co Epic X comes with a balance wheel at 6 o'clock and an open barrel at 12 o'clock
During the 2022 Geneva Watch Week, Jacob & Co. introduced a 44mm Epic X model in black DLC-coated steel (Ref EX120.11.AB.AB.ABRUA), rose gold with a green inner ring (Ref EX120.43.AC.AC.ABRUA), stainless steel with black strap (Ref EX120.10.AB.AB.ABRUA), rose gold bracelet (Ref EX120.43.AB.AB.A40AA), and a stainless steel bracelet (Ref EX120.10.AB.AB.A10AA), all in a new style and design but maintaining signature features.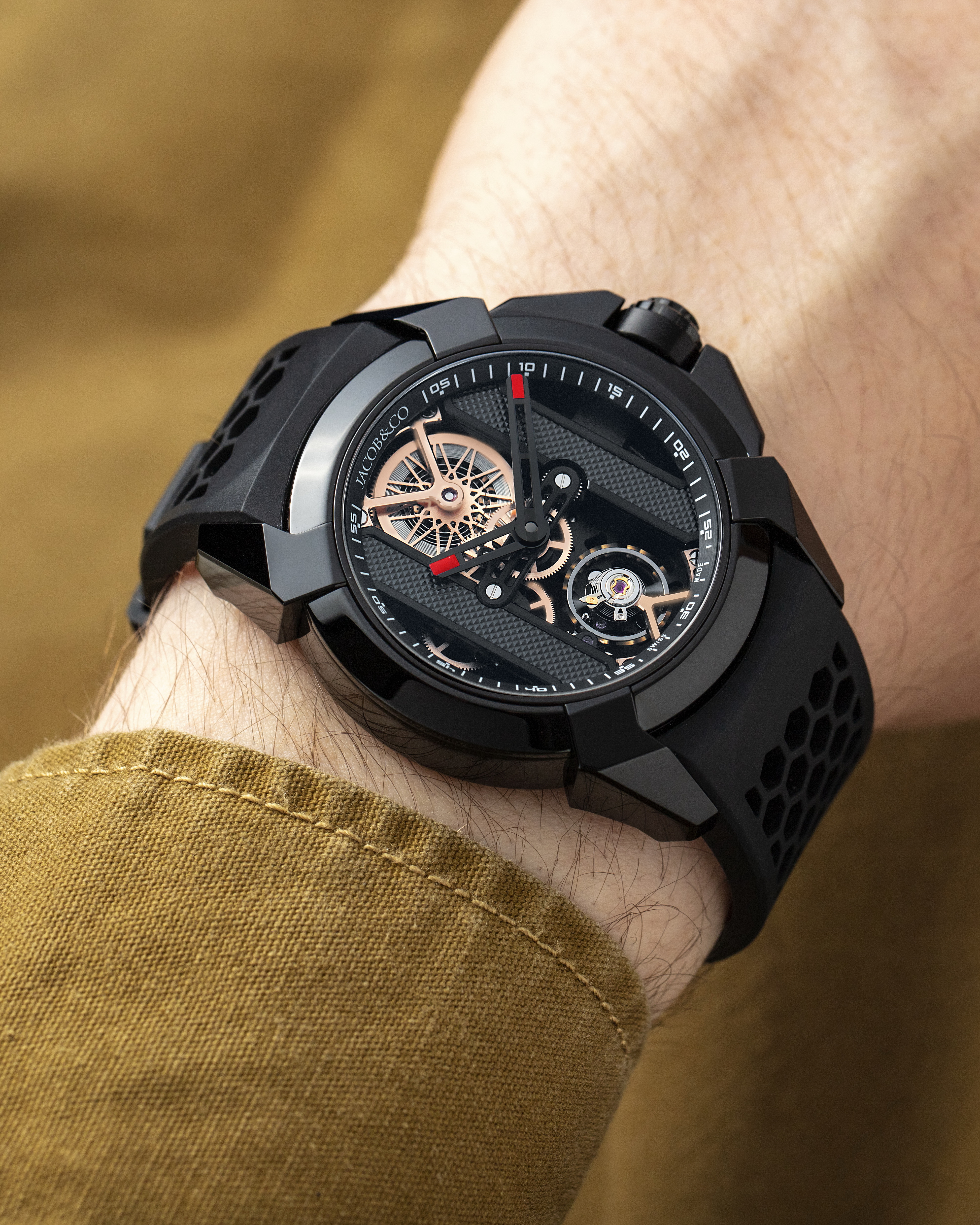 Jacob & Co Epic X is powered by manual winding, Caliber JCAM45 with 48 hours of power reserve
The limited, numbered collection gets a sapphire crystal on top to flaunt most of the open-worked movement. The watch has a balance wheel at 6 o'clock and an open barrel at 12 o'clock. The lugs, bezel, bâton-shaped red-tipped minute and hour markers, and crown all match the material of the case. The dial gets Clous de Paris guilloché bridges with a coloured outline and a coloured aluminium flange. Powering the watch is a hand-wound Caliber JCAM45 with 48 hours of power reserve, which has a vertical design set up. The movement is 5.9mm thick.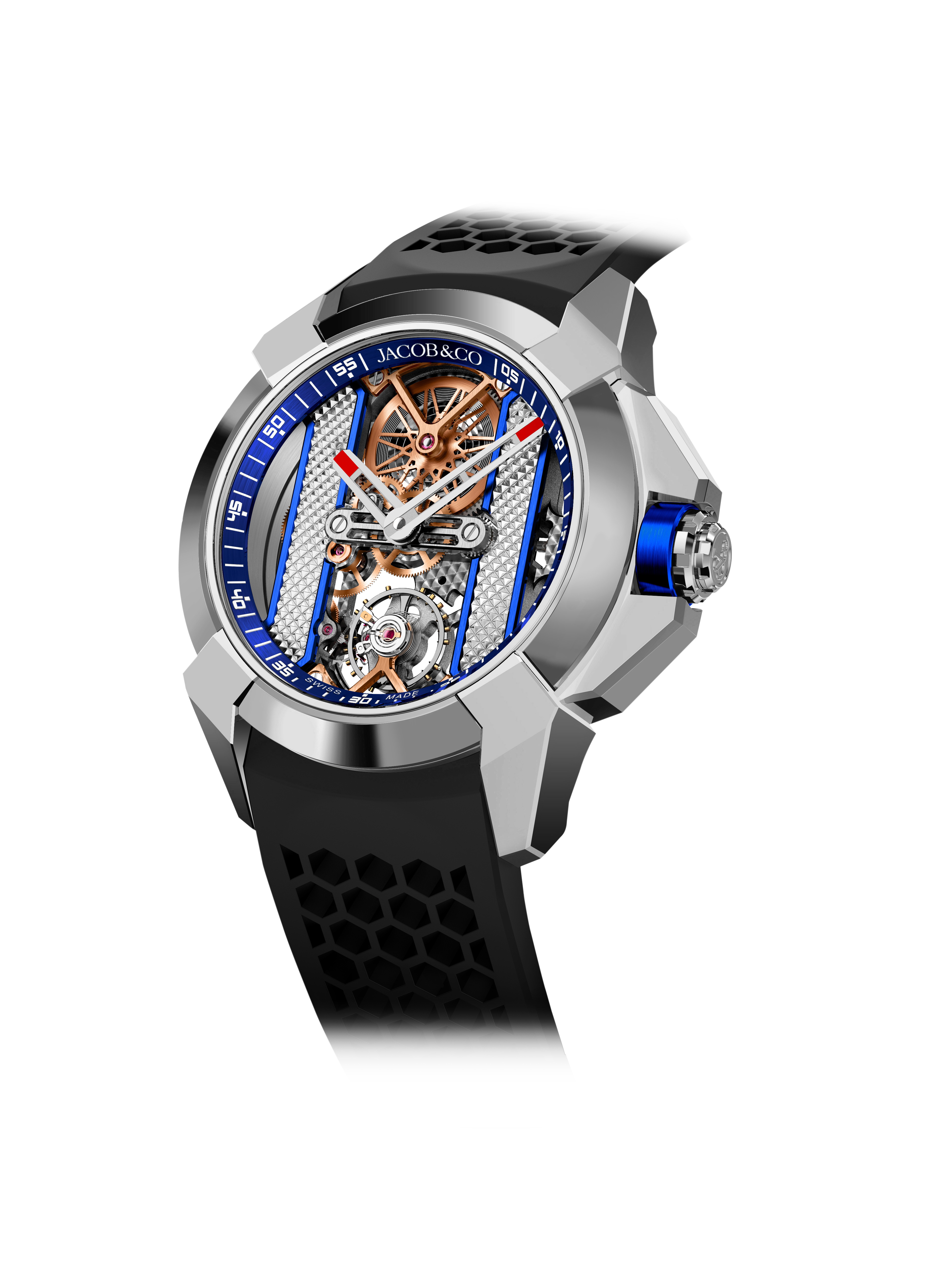 Jacob & Co Epic X (Ref EX120.10.AB.AB.ABRUA) in a 44mm Stainless Steel Case
Turning the watch over reveals a sapphire caseback with an 'Octopus' spring with thin curved blades. The Jacob & Co. Epic X gets a new design for its 5-link stainless steel bracelet with a steel deployment clasp and a black rubber honeycomb strap with a pin buckle. The watch gets 50 metres water resistance.
Images: Courtesy Jacob & Co.