Provenance stories of watches are always fascinating, especially when the timepieces belong to someone famous. One such watch that has been drawing attention since last month is the Patek Philippe Reference 96 Quantieme Lune, belonging to the last emperor of China, Aisin-Gioro Puyi. Phillips in Association with Bacs and Russo is set to auction the watch on May 23, 2023, in Hong Kong; the timepiece is currently being showcased in a travelling exhibition whose stops include Singapore, London, Taipei, and Geneva.
To support the historic auction, the auction house has also released a short, evocative new documentary, The Imperial Patek Philippe.
Written and directed by
Arthur Touchot
, it captures the legacy of the watch through the life and times of Puyi and Russian translator Georgy Permyakov, who spent nearly five years in close contact with the emperor and to whom Puyi finally entrusted the watch. Through poignant animation, archival photos and documents, and interviews with experts, the documentary sheds light not just on a rare collectible but also on how the timepiece came to signify a tender relationship.
The watch is a previously unknown 30mm platinum, triple date wristwatch with small seconds, moon phases, roulette-dial, enamel Arabic numerals, and pink gold Feuille hands. It is one of only eight such timepieces known (five of them platinum, two gold).
Phillips's website
states that "With its pure lines, this timepiece is recognized as the essence of the round wristwatch and one of the finest symbols of Patek Philippe, the Calatrava." In his memoir Aisin-Gioro Yuyan, Puyi's nephew, says that Puyi wore this exceptional watch day to day. I was particularly fond of it, not only because of its superb quality, but also the fact that it was such a personal item of Puyi!"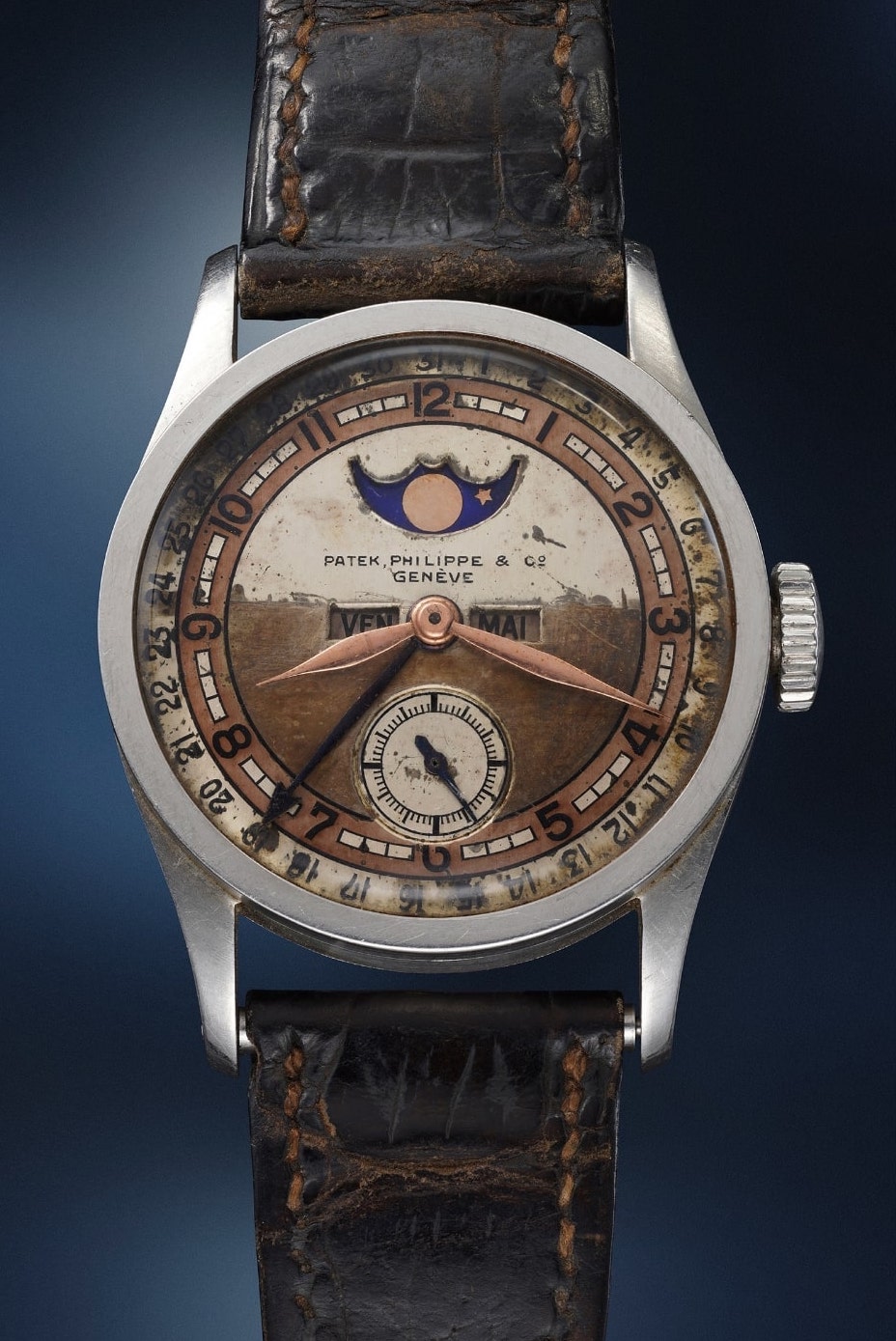 Patek Philippe Reference 96 Quantieme Lune
As rare as Aisin-Gioro Puyi's Patek Philippe Reference 96 Quantieme Lune may be, its legacy makes it infinitely more attractive – it accompanied Puyi to the Khabarovsk prison camp near the Chinese border where the deposed emperor and his entourage were held after being captured by the Soviet Red Army in 1945. Named Special Object No. 45, Puyi eventually gave it as a parting gift to his Russian translator Georgy Permyakov when he left the prison camp in 1950. The watch remained in Permyakov's possession till he died in 2005, after which it passed to his heirs. It was consigned to Phillips by its current owner in 2019.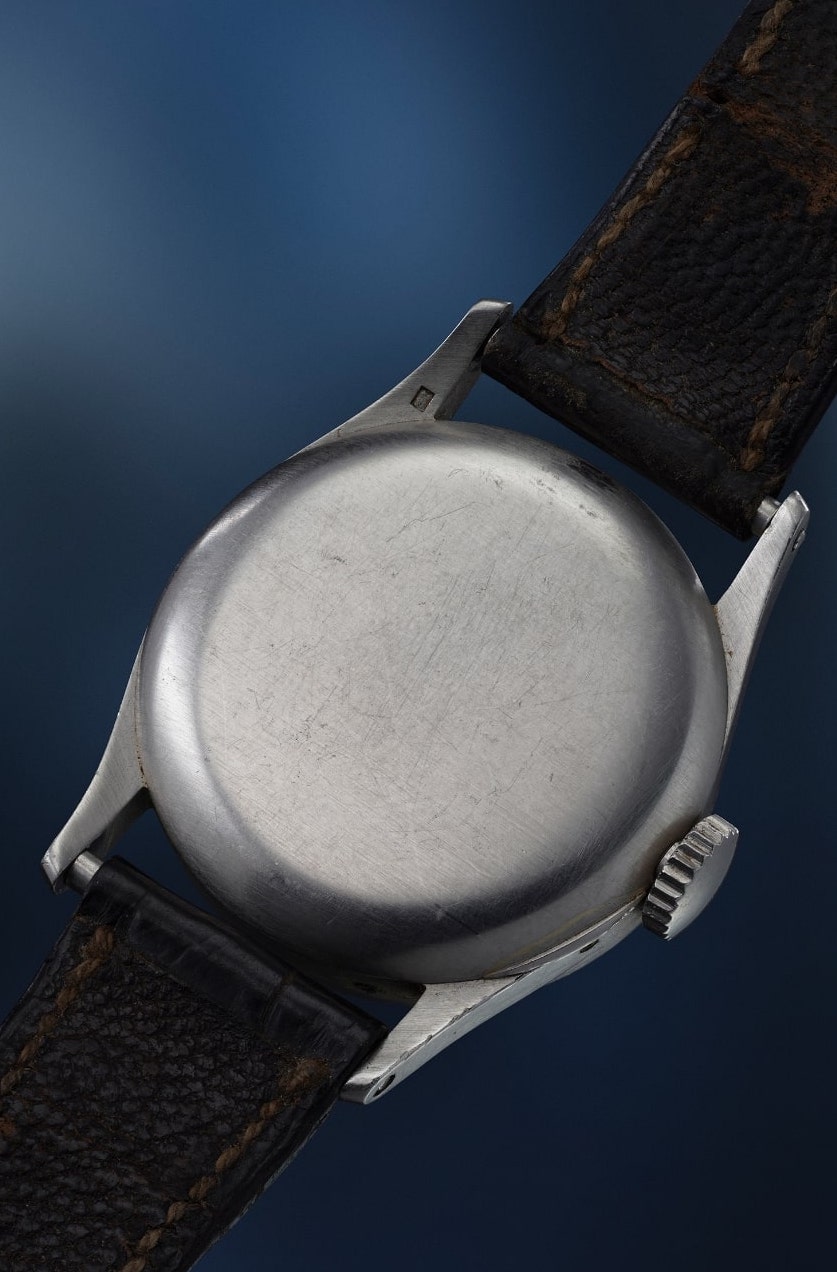 The caseback of the Patek Philippe Reference 96 Quantieme Lune
The story of how the watch came to be given to Permyakov is at the core of The Imperial Patek Philippe. Piecing together the story of Permyakov and Puyi through living and recorded sources, Touchot has carefully scripted the story of the watch and its exchange and communicated it through stirring animation.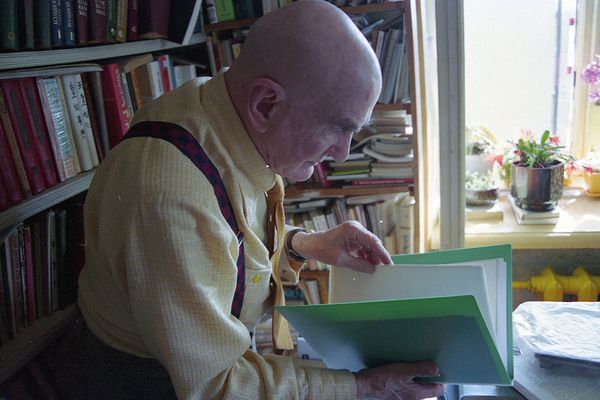 Photo taken by journalist Russell Working during an interview with Georgy Permyakov in Khabarovsk in 2001. Image: ©Russell Working
The 17-minute documentary, available on YouTube, also gives an insight into how the timepiece was authenticated and its provenance established. The process took three years starting in 2019 when the watch was first entrusted to Phillips and was spread across several countries and numerous experts. The auction house states that it is possibly the longest authentication research project of a watch in auction history.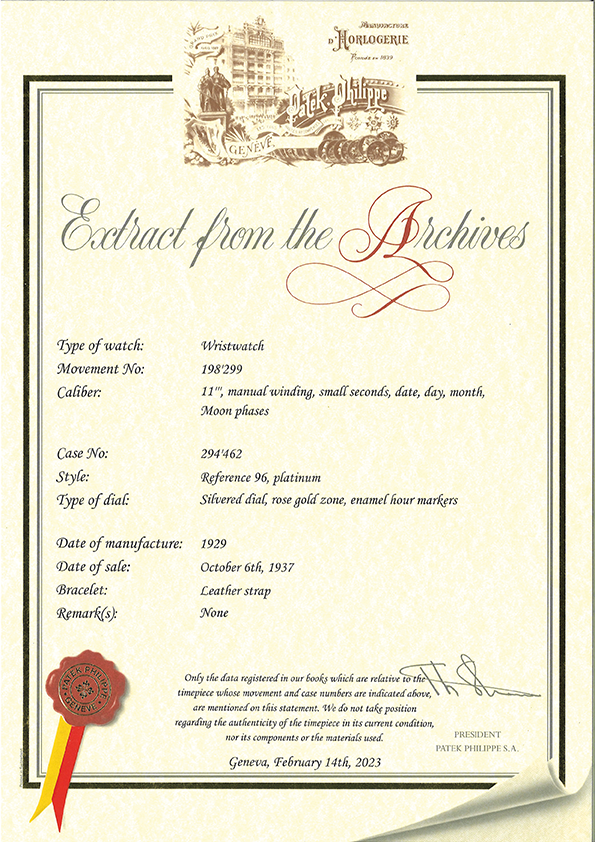 The Patek Philippe Extract from the Archives confirms that the Patek Philippe Ref 96 Quantieme Lune was fitted with a silvered dial, rose gold ring, and enamel hour markers
There are several fascinating elements to Puyi's Patek Philippe Reference 96 Quantieme Lune. Starting with how it came to be in his possession (the sale has been traced to Guillermin, a Parisian luxury store then located on Place Vendome, in Paris), and why he chose that timepiece (it is said he loved clocks and watches), to how he opened up the watch himself to test its authenticity (the dial has a darker, scraped surface due to this), how he gave it to Permyakov who carefully kept it with him for nearly 50 years, and ultimately how its provenance was established. While the auction house has disclosed every little detail in a bid to establish its authenticity, the documentary offers a more touching look at its life and times.
Images: Courtesy Phillips Watches, except where specified