As far as incredible watch-buying stories go, Lydia Winters has one for the books. "I got my Oyster Perpetual 36 yellow dial just recently," says a visibly happy Winters, Chief Storyteller of Mojang Studios, creators of the best-selling video game, Minecraft, over a Zoom call. For those who might not know, the Rolex yellow dial Ref. 126000, launched in 2020, was retired earlier this year. What's even more interesting is that Winters requested for it end March-early April, just as the announcement of its discontinuation was made public. That's around four months to Winters landing a Rolex. After it was discontinued. "I had always wanted the yellow OP, but kept thinking I had time. So when it was retired, I was really desperate for it. I sent what I can only call the equivalent of a drunk text to my authorised dealer [AD]," she says with a laugh. "I was so embarrassed, and we joked about it later. But then some time ago, my AD wrote and asked if I was still interested. And, I said yes. Did someone ask for one and refuse it later? I'm not sure. But I got it!"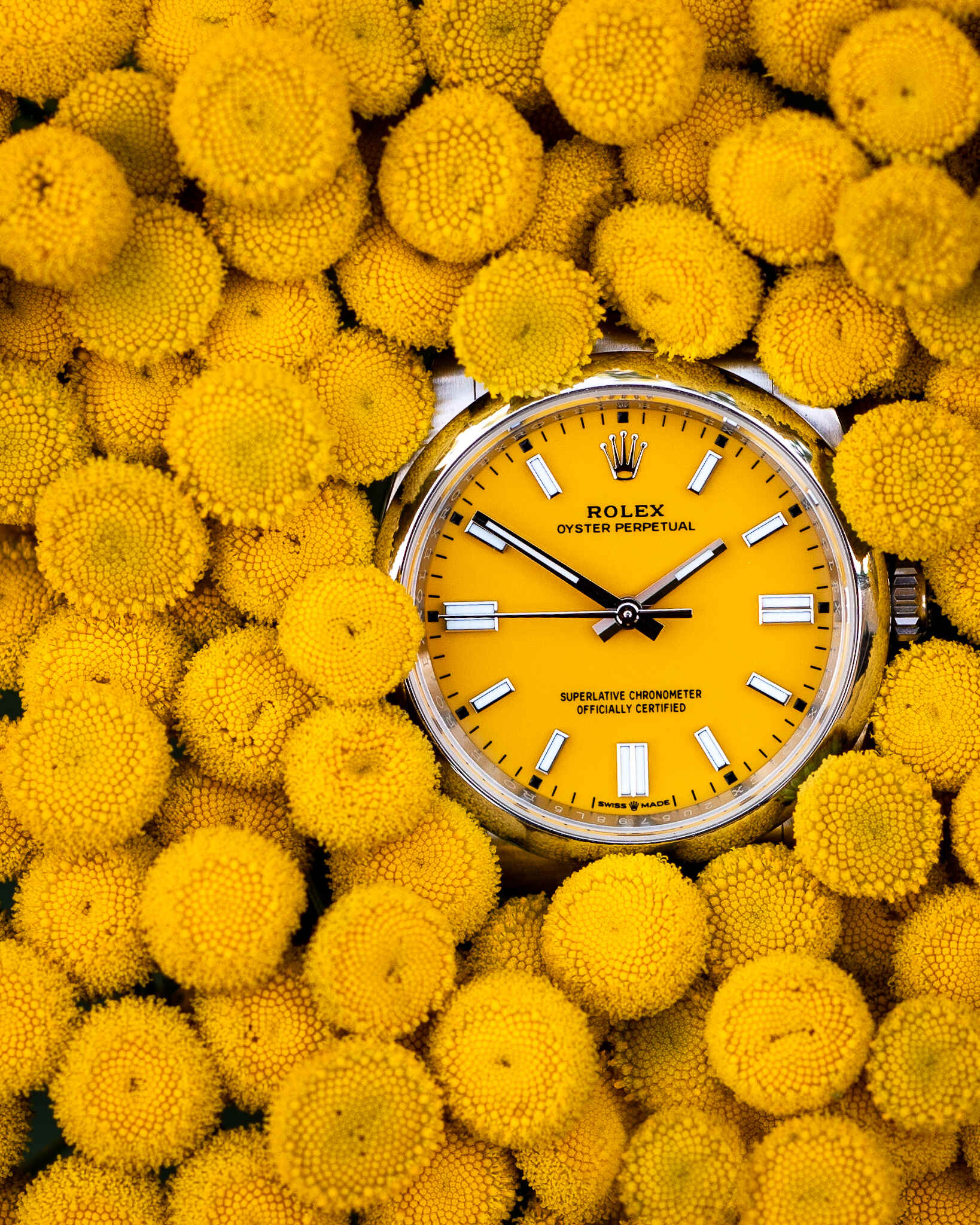 The Rolex Oyster Perpetual 36 yellow dial shot against wildflowers
The watch today, naturally, has the pride of place in Winters's collection, and on her Instagram, too. The last few posts on
@lydiaswatches
, largely dedicated to her watch collection, showcase the acquisition beautifully against wood, rocks, and lichen; nestled inside a sunflower; and even surrounded by the yellow wildflowers of Stockholm, where Winters is based. "All I see is yellow now," Winters admits in one of these posts.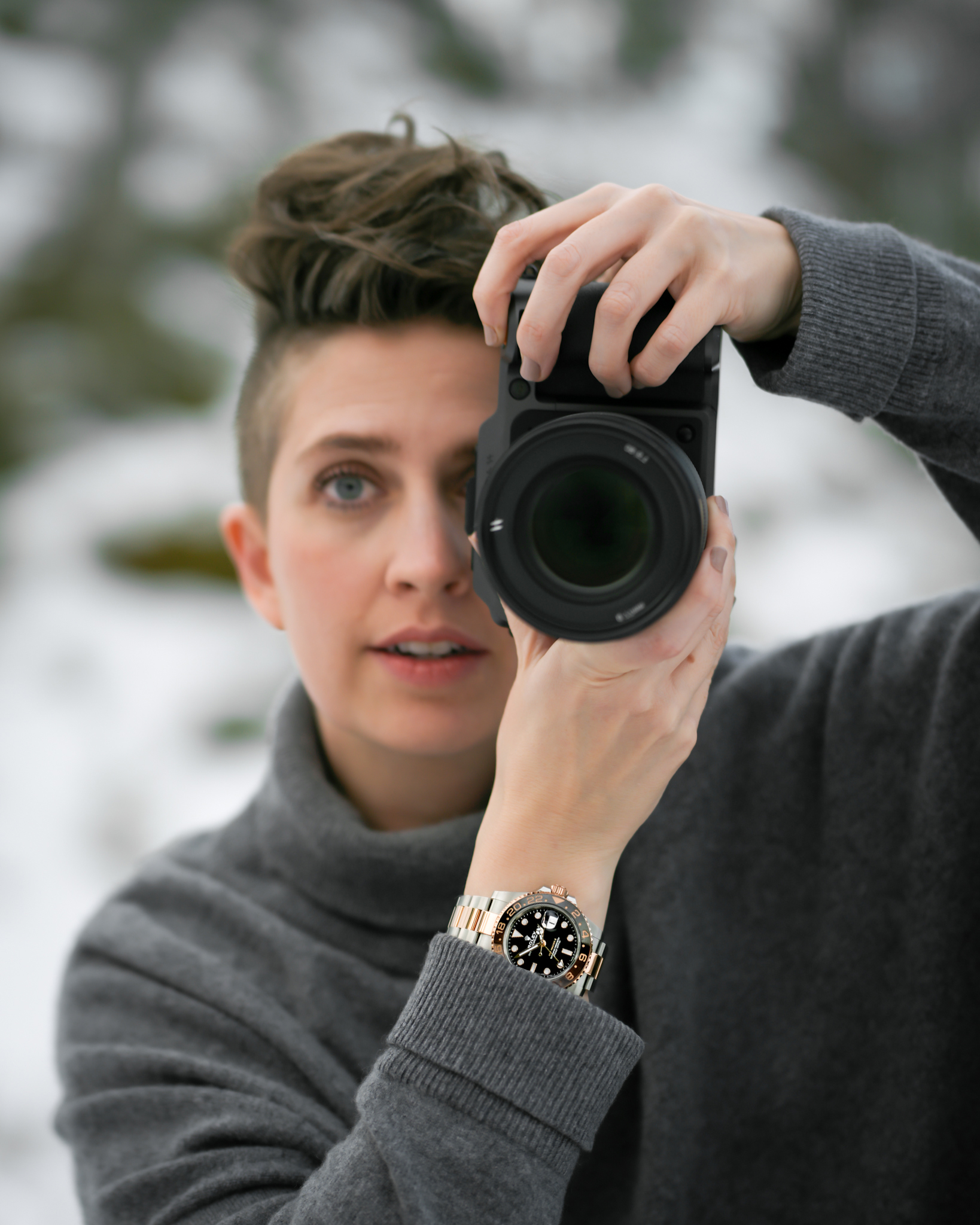 Lydia Winters
The yellow Oyster Perpetual follows in the footsteps of the Rolex GMT-Master II 'Rootbeer', the Rolex Oyster Perpetual 36mm turquoise, and the Rolex Datejust 36 with a white dial. The last of these was Winters's first-ever luxury watch purchase, back in 2015. "I definitely love Rolex, and also prefer sports watches. My life in the countryside, going places, travelling—it fits more to have watches that are waterproof and ones I can do anything with. I am not gentle with watches—if they get some scratches, they get some scratches. But people ask me how I can do that with the turquoise or the yellow. And I say it's because it is a watch that I want to wear. I don't think of them as investments," she says. Given this thinking, her latest acquisition is the
Rolex Oyster Perpetual Cosmograph Daytona with a black dial
.
Winters thinks of timepieces as things to enjoy and have fun with. So her 19-watch collection is fairly diverse, and representative of different times and experiences. "My partner Vu [Bui] and I were going to see the Northern Lights in 2015, and I realised that you don't wear a rose-gold Cartier Tank with a croc strap in -20 degrees. So I got a Rolex. Growing up, I didn't have a love for watches. But that's when I realised that if I am going on an adventure then I can have an adventure watch, and if I wanted to look elegant, I can have something else. I realised that watches can give you their own feeling for the day."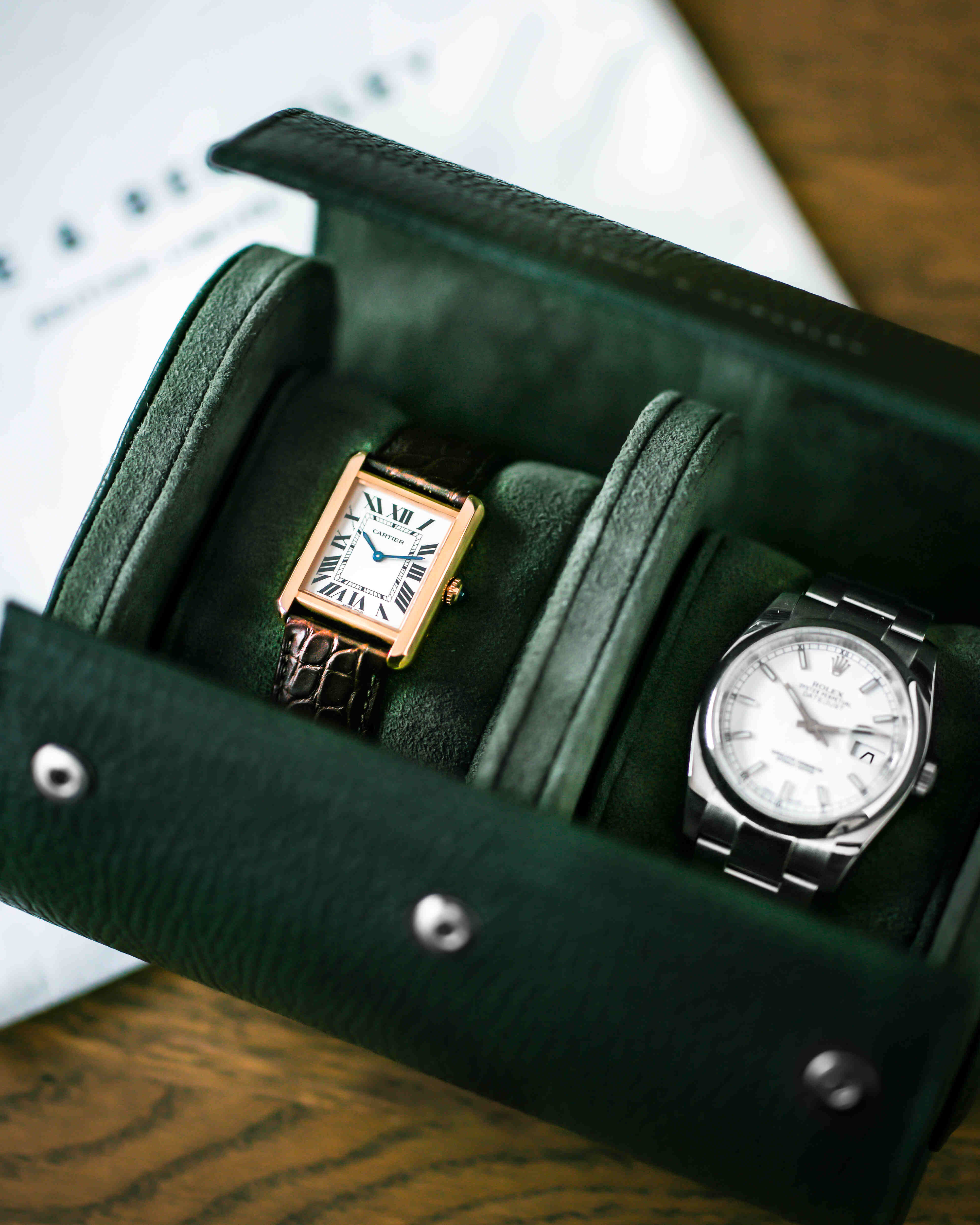 Rose gold Cartier with a croc leather strap, and the first luxury watch Winters bought, the Rolex Datejust 36 with a white dial
At the beginning of 2020, when she and Bui were preparing for a trip to Vietnam and Tokyo, her Datejust was being serviced. So, she researched and bought a 33mm Tudor Mini-Sub off Chrono24. When she reached Tokyo, a 39mm IWC Pilot's Chronograph that "looked just small enough for my wrist" caught her fancy at a store display and was acquired.
"My collection is a bit all over the place, so the thing that ties it together is me," she says with a laugh. "Some people have refined their style—it could be all vintage or all sports watches. My style is quite eclectic. I like to have quite a wide range."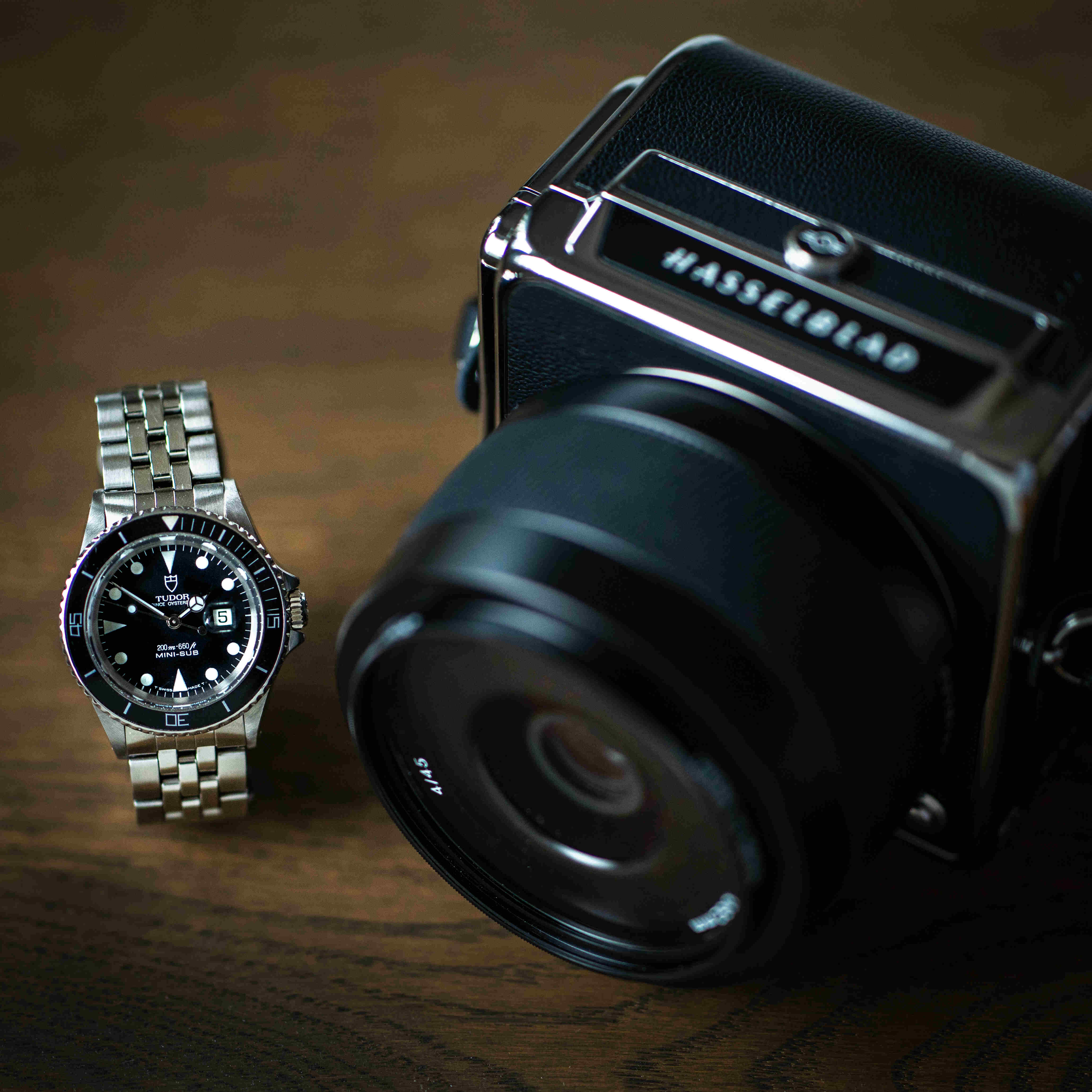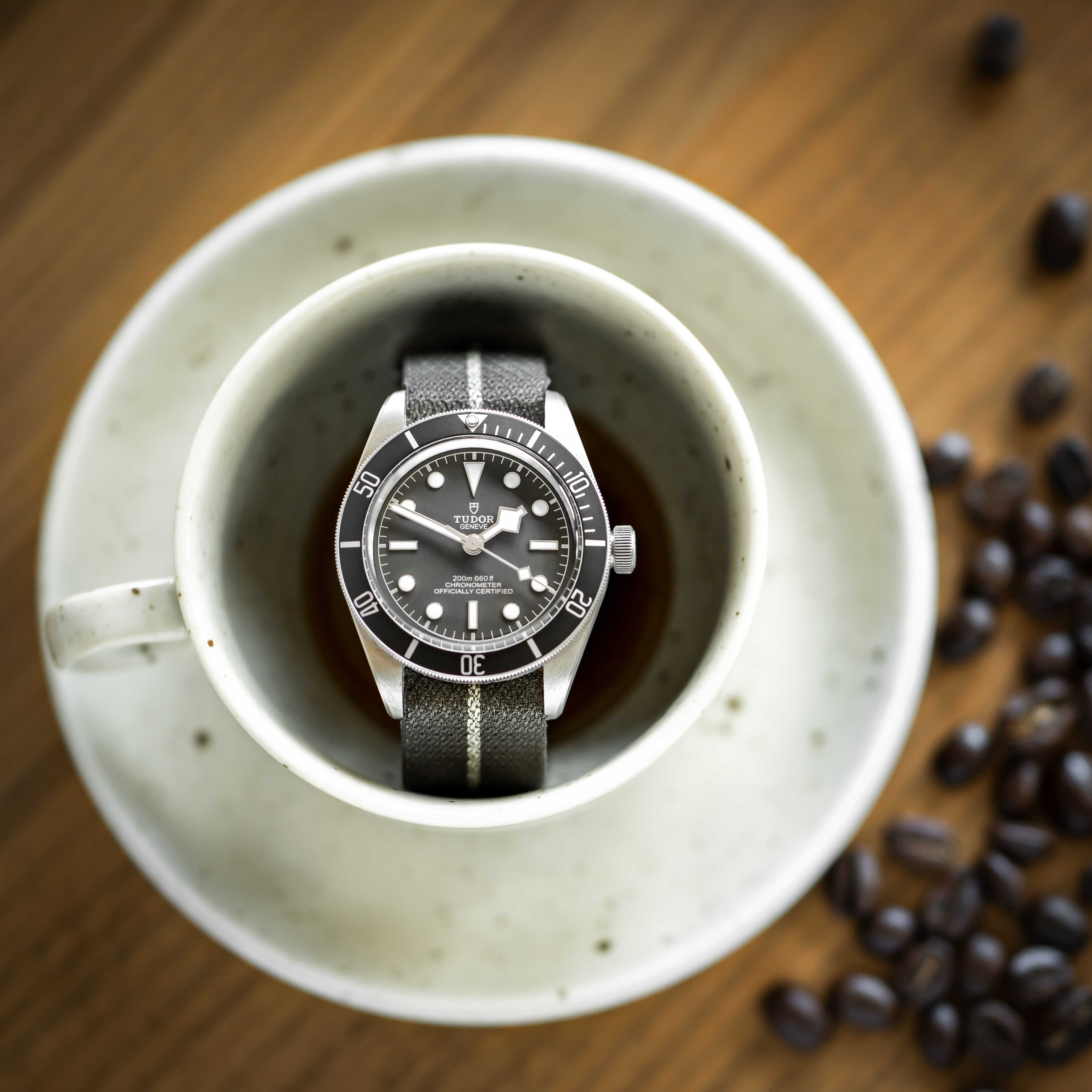 Tudor Black Bay Fifty-Eight 925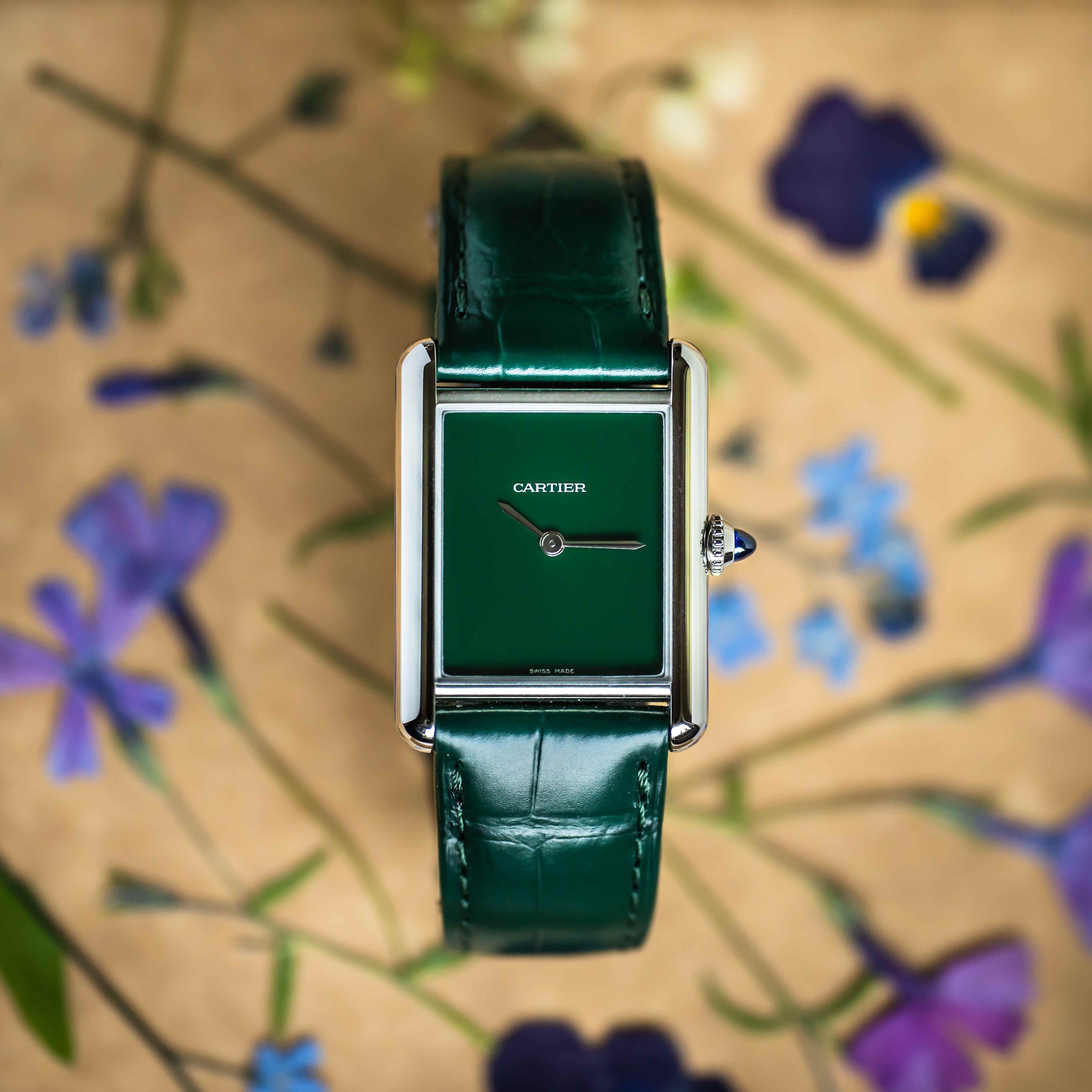 For Winters, photography is a way to heighten this experience of watches. She has enjoyed photography for as long as she can remember—before she joined Mojang Studios, she had done professional photography for weddings and portraits. During the pandemic, wanting to get outside and do something creative, she started an Instagram account of flowers she'd photograph. Around the one-year mark, her partner suggested she photograph watches. Winters started another account and found that she could meld her love for flowers and macro photography with watches. As a result, her watch photography repertoire today is rife with timepieces shot against flowers and the topography of Stockholm, not to mention daily objects like coffee cups, books, artwork, and even desserts. "I always felt like I couldn't find my style of photography, but time, maturity, and shooting only for myself has helped me refine it, and by extension, helped my watch photography. I wanted it to be macro, lighthearted, bokeh, magical, fun, whimsical. I wanted people to scroll and come across my image and know that it was something I had shot. It is deeply personal, like creating my memory bank with the images showcasing where I was at that moment in time."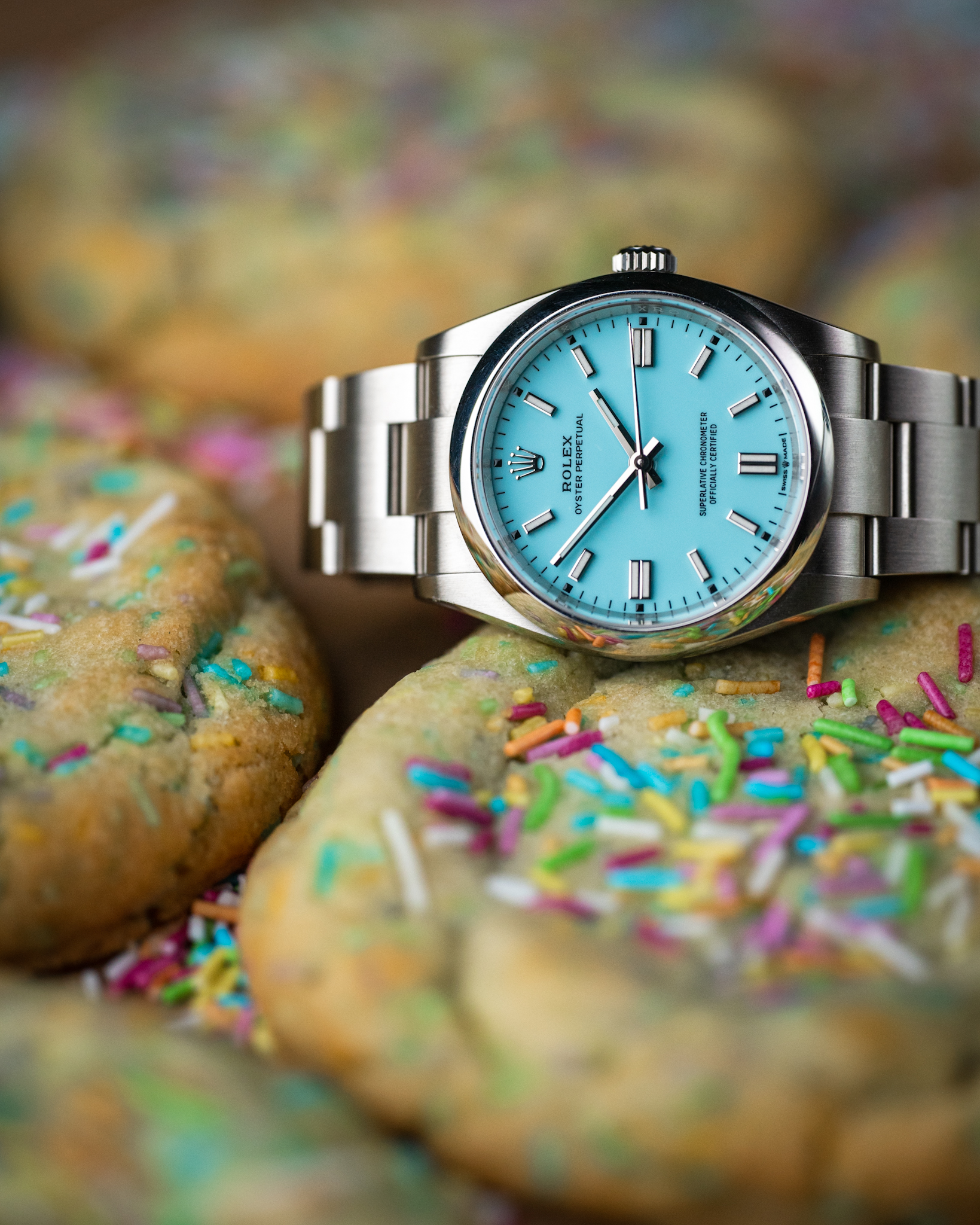 The Oyster Perpetual 36 turquoise dial, set atop cookies
A quirky thing that Winters does with most of her Instagram posts is showcase how she shot that image, using graphics and lettering. "I always liked seeing behind-the-scenes images, but not numbers or the settings on the camera. I love lettering, and combined it with watches, flowers, and writing. It was also a fun way [for people] to learn something about me. And that was the part people really seemed to like. Also, why not show everyone how to
make one's photography better? Why not show how you did it? It's part of being inclusive."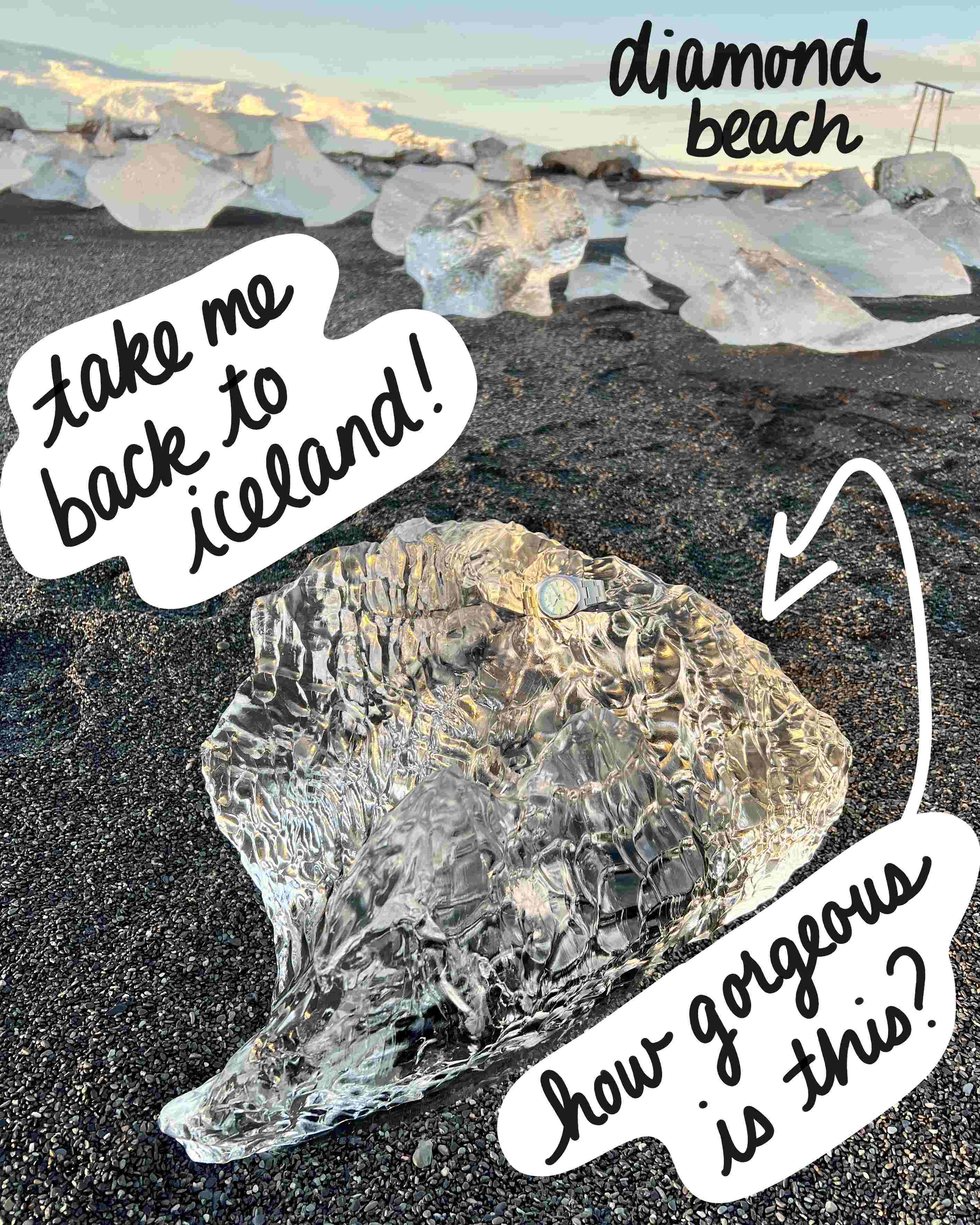 Winters has a cutesy way of giving an insight into how she shoots watches
Winters's Instagram account has grown so much since February 2021 that even the legendary camera company Hasselblad took notice. In March this year, Winters was announced as a 2022 'Hasselblad Heroine', a programme that puts the spotlight on women photographers across genres and styles, the world over. She won the accolade along with another Stockholm-based photographer—they are the first from the city to receive it.
Photography isn't the only area in which Winters has blazed a trial. At her company Mojang Studios, where she has worked on Minecraft for 11 years, she was the first woman and first non-Swede to join the team. She moved from Florida to Stockholm to work with the brand. Over the years, Winters has held many roles in the company, and now as chief storyteller, she speaks, hosts, and talks about the impact Minecraft has. She also hosts the virtual event Minecraft Live every year on YouTube, which is packed with news about the game and community interactions. It is watched all over the world. It's no wonder that to commemorate the 10th anniversary of her working at
Mojang Studios (on Minecraft)
, Winters bought herself the Rolex GMT-Master II 'Rootbeer' last year.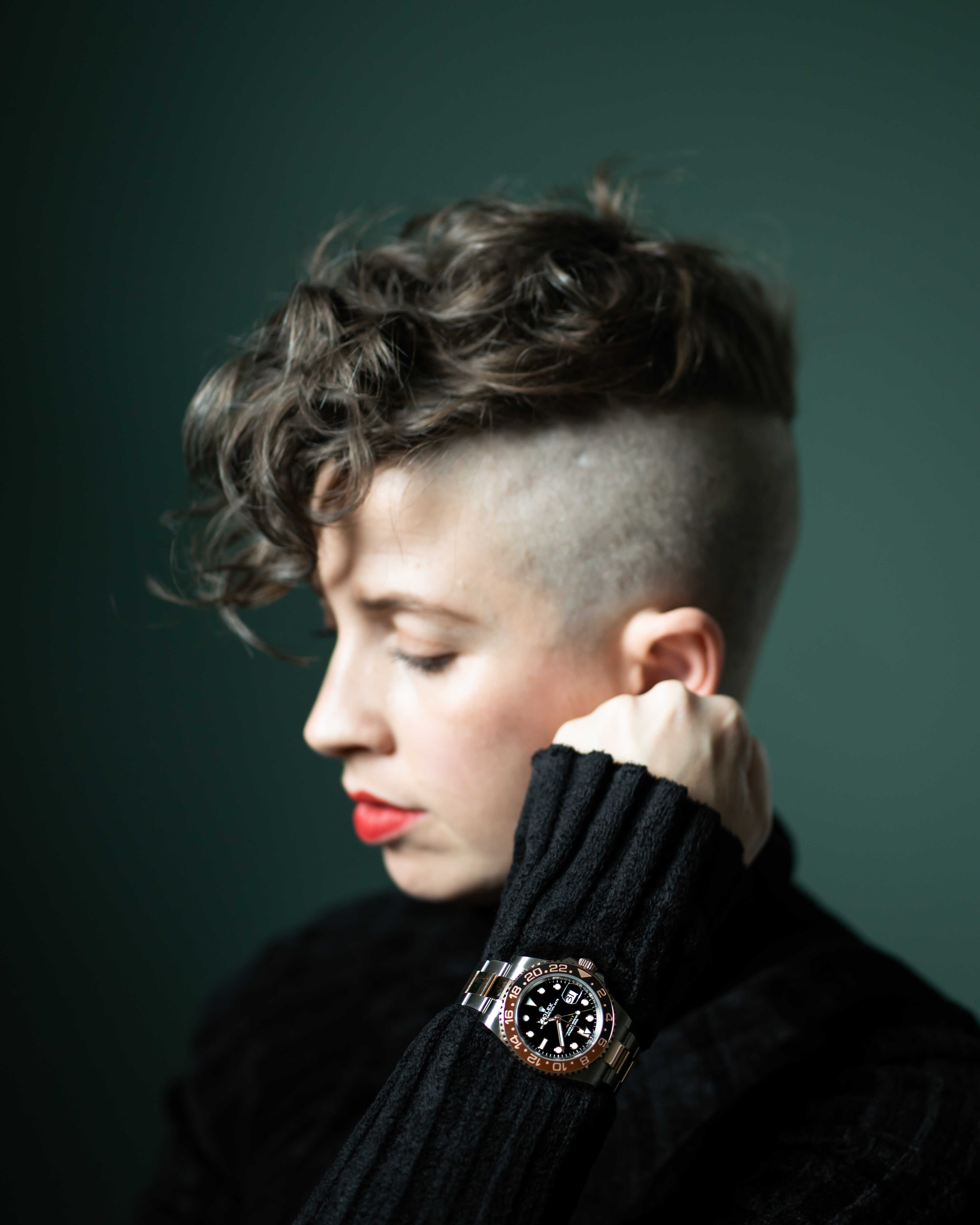 Winters wearing her Rolex GMT-Master II 'Rootbeer'
Other watches that make up her collection are the 2021 Cartier Tank Must in green, a Tudor Black Bay Fifty-Eight 925 in silver, the
Omega Seamaster
300 Trilogy, and also a two-tone Vacheron Constantin Harmony from the 1980s/1990s that she picked off Chrono24. Peppered between these are
Nomos Glashüttes
(Club Campus 36, Orion Neomatik 33 Midnight Blue, Tetra 27 Karat), a vintage Omega 1967, an
Oris Aquis
Date Cherry (her love for colourful watches has grown as her style evolved), and a Cartier Tank Solo. It was the Tank Solo, given to her as a Christmas gift by Bui in 2014, that got her interested in watches. "I can safely say that I am a Cartier and Rolex lady. Cartier has its own magical feeling, and for many women watch collectors I know, it was Cartier that got them into collecting. You see all these incredible women wear Cartier watches—not just women who are fashionable but also women who have made a difference. That's an idea that I, too, like to put into the watch community—that it is for everyone. For me, the community only gets better if it's more diverse—more people of colour, more women. And it feels like it is starting to move in that direction."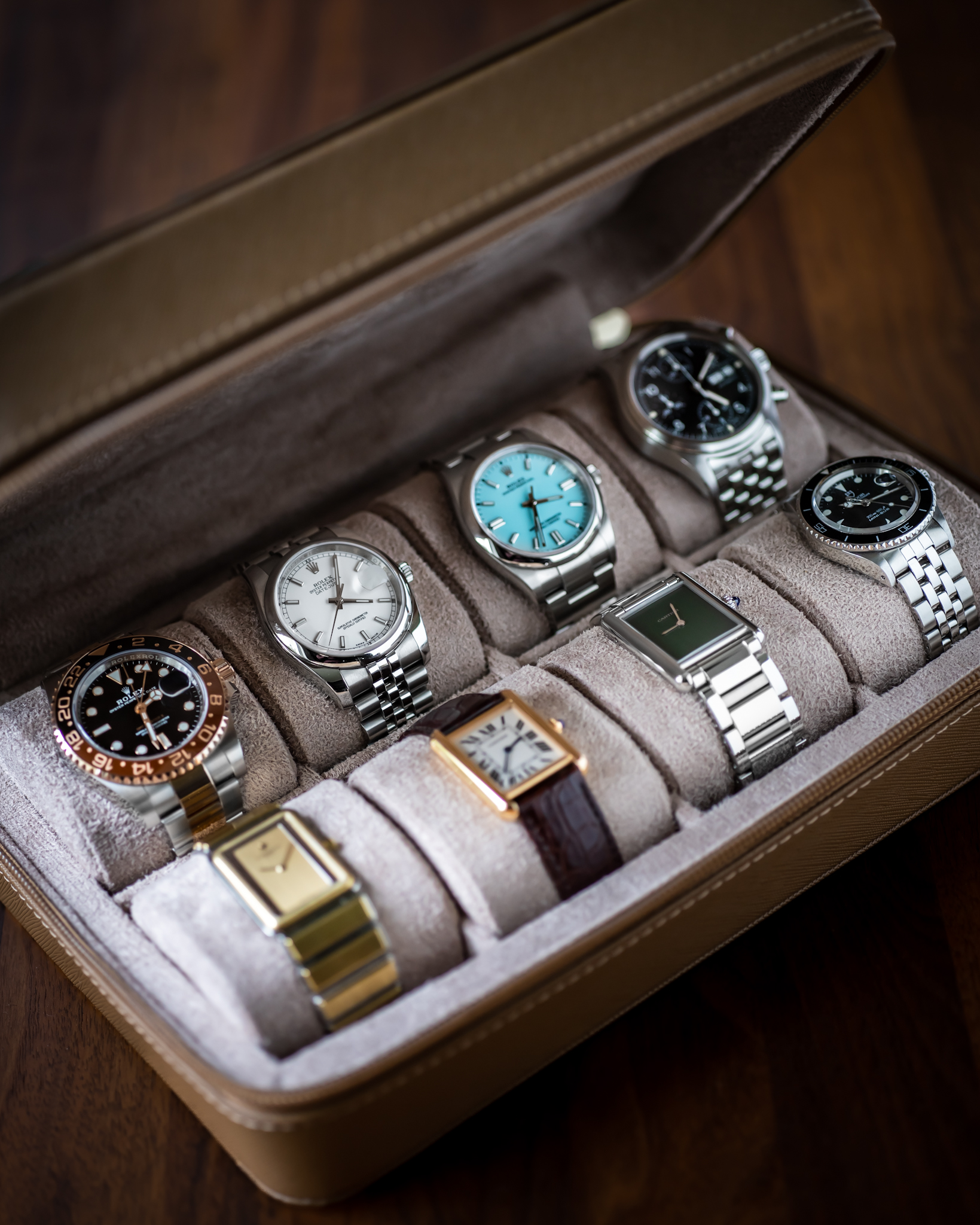 Winters' watchbox
Winters credits Bui with initiating her into the watch world and also influencing a lot of her buys. Bui is a collector too, but they don't share watches. "We work and live together, and have hobbies together. But we don't have watches together, because it is nice to have our own collections. Also, I'm not careful with them," she adds. Winters admits that she mostly buys retail because of the need to touch and feel a watch. "We have a really great relationship with our AD, from whom we have been buying for around nine years," she says. She turns to Chrono24 for vintage watches, though finds it hard to "pull the trigger" because her "choices are all over the place and there are so many cool ones out there."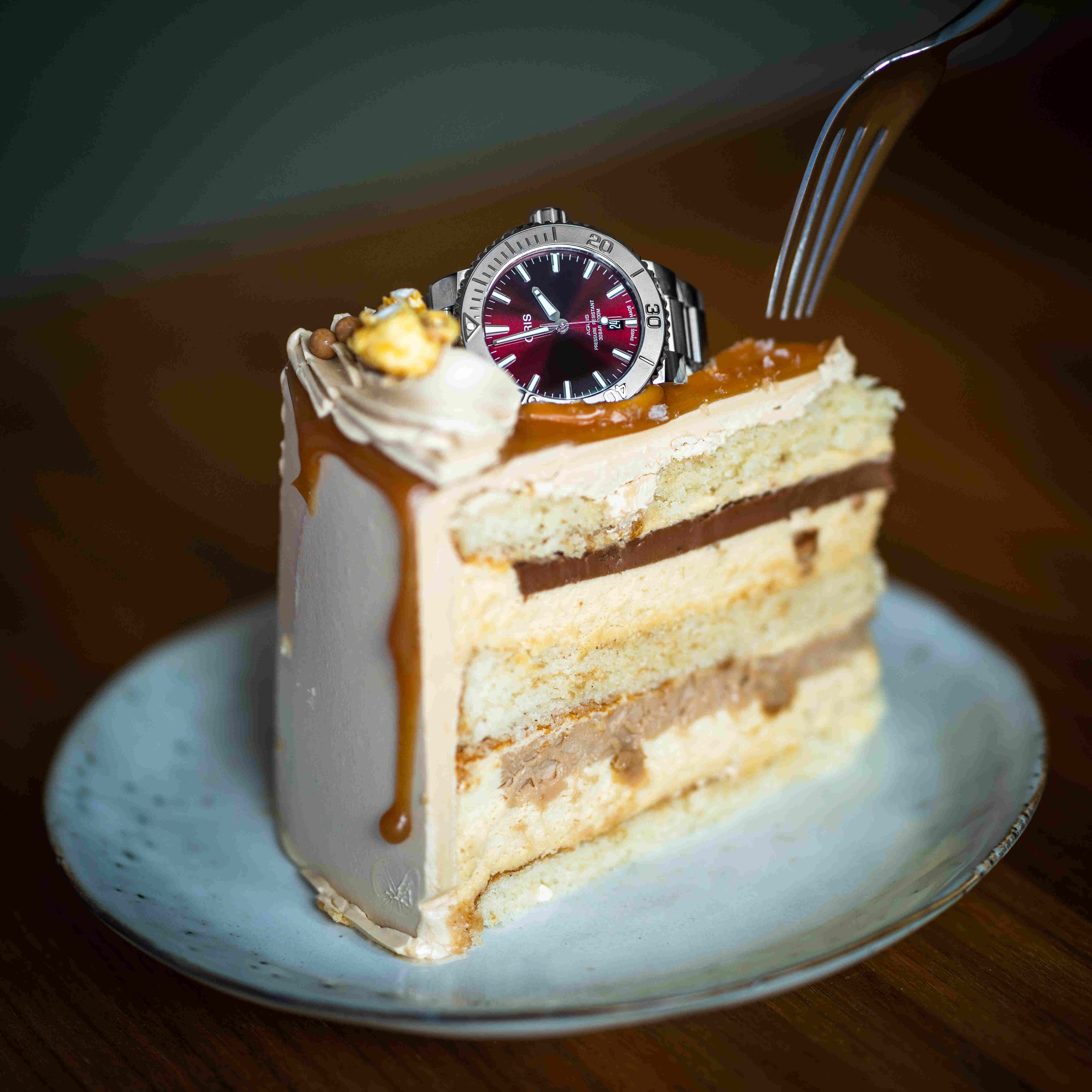 Oris Aquis Date Cherry
On her list of grail watches are the pieces from the Collection Privée Cartier Paris, and the haute horology brands she loves include Vacheron Constantin and Jaeger-LeCoultre. "A brand communicates who they are for. For example, Patek Philippe and its tagline about generational watches is certainly not for me. I don't plan to have kids, and I don't have generational wealth either. So that sort of idea does not appeal to me. I like what Breitling is doing a lot in the space of being inclusive to women. I am very anti-rules, and I am not a watch snob. You don't have to know about watches to be part of the community. I feel if you like watches, that's enough."
Images: Lydia Winters