Catch 'em young – the phrase certainly stands true for watch collector Sarat Bhogavalli's love for watchmaking. Bhogavalli, an IT consultant and partner at the Bengaluru-based Moksha Consulting, grew up inculcating a sense of wonder for mechanical timepieces - he vividly recalls how as a 10-year-old he would see his father delicately hold a mechanical watch and wind it. "When I asked him about it, he would tell me what a mechanical watch was, and how they didn't need batteries and still kept running. How quartz watches were something that one should never buy, and even though mechanical watches were more expensive, I should buy one. So it was bred in me very young."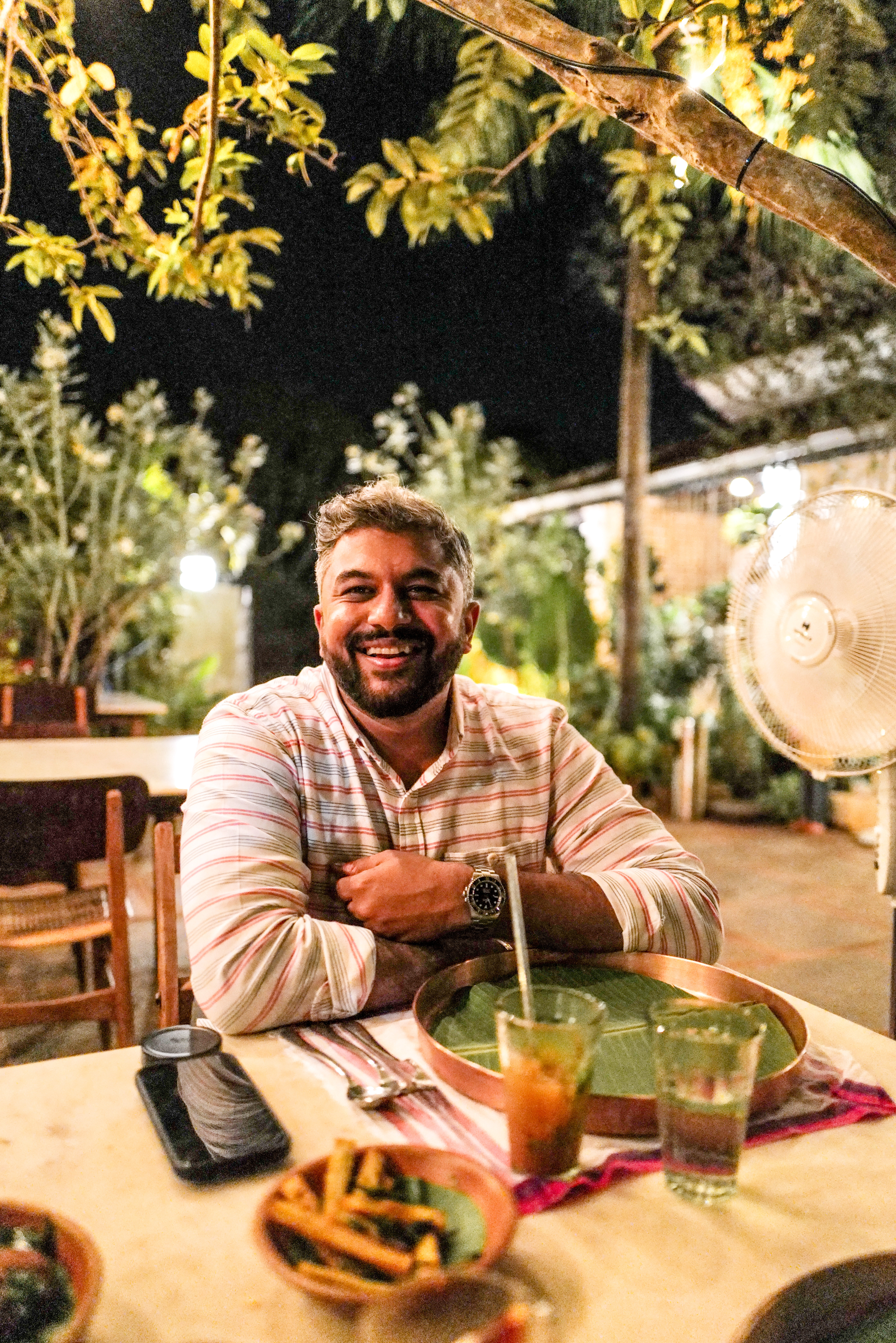 Bhogavalli got his first watch when he was 14 - an aluminium Swatch chronograph with a telemeter scale. "I still have it, and though it is not in working condition now, it is still very much a watch I can wear today," he says. When he went to the US for his undergraduate studies, his father gave him his Titoni, saying "this is a watch you should be wearing." Through college, he continued to pursue his love for watches, buying whatever was trending at that point – Diesel, Emporio Armani – along with Seikos. "In my first year, when I started my part-time job, I started to make a wish list of watches that I would buy. I wanted to have a 5-6 watches collection when I graduated. On that list was Baume & Mercier, TAG Heuer, and Breitling." When he did graduate and got his first job at 23, he bought himself a TechnoMarine Maori.

Also Read | Collector Diaries: Watch consultant Jehangir Readymoney's timepieces
More than a decade later, Bhogavalli has 47 watches in his collection, neatly classified by defining characteristics into four boxes. From independents Czapek & Cie. (he was the first person in the country to get the Antarctique) and H. Moser & Cie. to the iconic Rolex Deepsea to functional Seikos, Bhogavalli's collection is a reflection of deep love and diverse taste in watches. WatchTime India caught up with Indian watch collector Sarat Bhogavalli to learn more about the pieces he owns and why he loves them.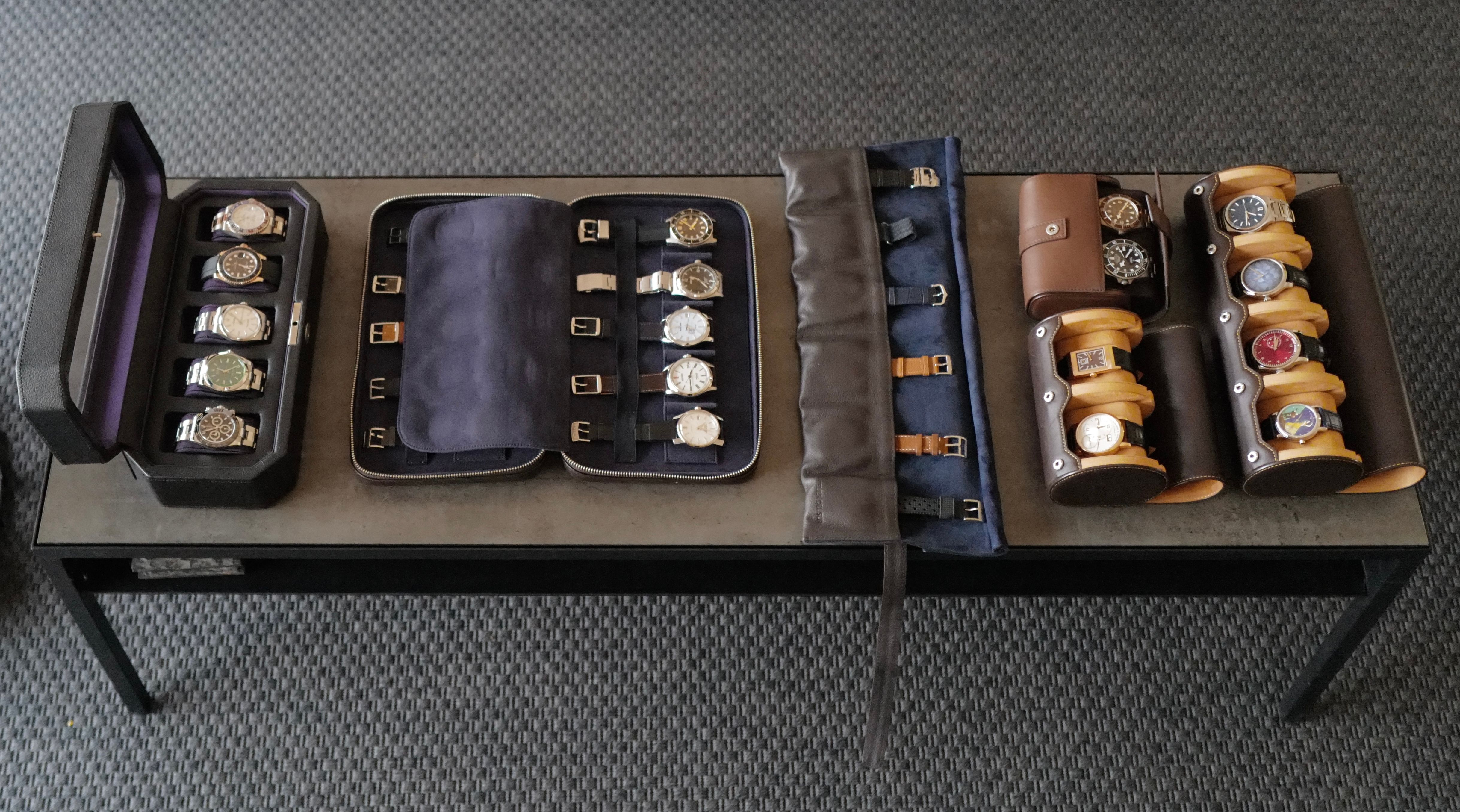 WatchTime India: When and how did you start collecting seriously?
Sarat Bhogavalli: In my generation - the late 90s, early 2000s - smartphones didn't exist. Forget smartphones, I barely had a cell phone. So, we had to look at the watch to tell time, and they were pretty important. Plus, I love anything that's analog; I don't like digital. When there's something mechanical going on, a beat, it feels like there's something live sitting on your wrist, and that is a pretty cool feeling.
When I finished my MBA and got a job, I got two watches together – Citizen Eco-Drive (because solar watches are also cool), and a Tissot PR516GL. This was around 2012. So I will say that I started collecting around this time, when I was finally secure.
WTI: Can you give me an overview of your watches as they stand today in your collection?
Sarat Bhogavalli: My collection is pretty eclectic. I have a variety of sizes and shapes from 37mm to 44mm. I have a 7.1-inch wrist, and I wear both big, chunky watches and smaller timepieces.
I have divided my watches into a few categories. First, is Box No. 1 – haute horology. These are watches that have an exquisite movement finish, or a pedigree. In this box, I have seven watches – Czapek & Cie. Antarctique with a dark blue dial. I was the first person to get this watch in India, thanks to Ethos. I had already spent a year-and-a-half researching Czapek, when I got to know that Ethos had struck up a partnership with the brand. They were still in Switzerland when I messaged the salesperson saying that I want the first Antarctique. I had also been bugging the brand on Instagram on a regular basis. They were working on their micro-adjuster for the clasp and I wanted to wait to buy the watch with that, but eventually, I didn't. What I love about Czapek & Cie. is that it has by far the best-looking movement there is on a sports watch. The micro-rotor and finger bridges are phenomenal. This watch has not left my wrist since I bought it in December last year and that's a pretty big statement, because in a week I try to wear about 15 watches. It is also superbly comfortable and good-looking.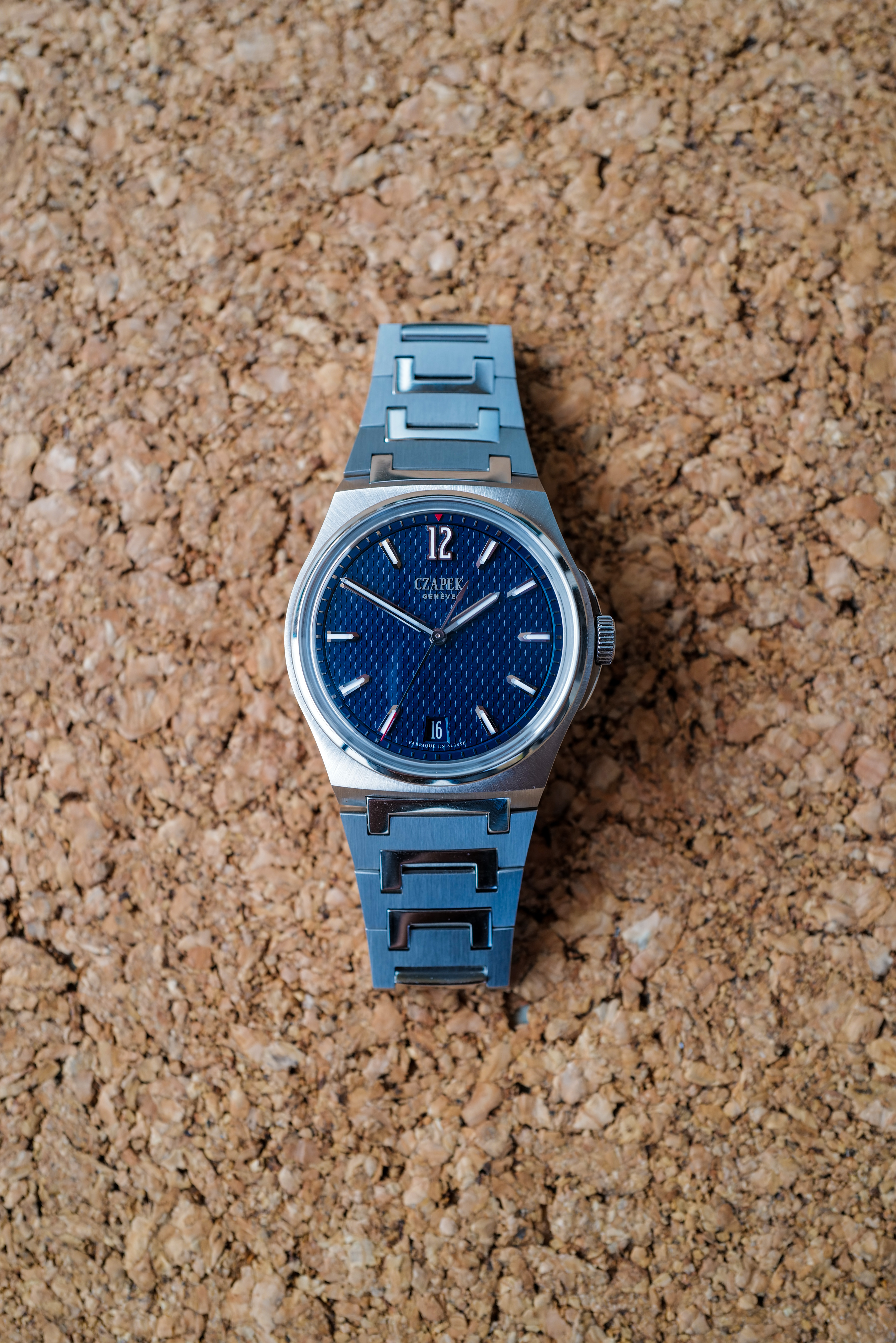 There is also a Moser & Cie. in this box. I started looking at them in 2016, because during my travel to Innsbruck, Austria, all the watch windows there were filled with Moser & Cie. and its 'Exceptionally Rare' tagline. I wanted to see what they were all about.
I also have an A. Lange & Sohne Grand Lange 1, a Roger Dubuis collaborative watch with Dubai Watch Club, a Jaeger-LeCoultre Grande Reverso Ultra Thin 'Tribute 1931', and an Armin Strom Tribute 1.
The A. Lange & Sohne Grand Lange 1 in 42mm doesn't have much of a story other than the fact that I wanted a Lange. The hand-engraved balance cock with the engraver signature on every Lange is something I was really fascinated by. Normally, on a Grand Lange 1, they play with negative spaces, so the circles are barely touching – my watch is the only Lange that has intersecting circles. It's a very geeky, nerdy detail I love.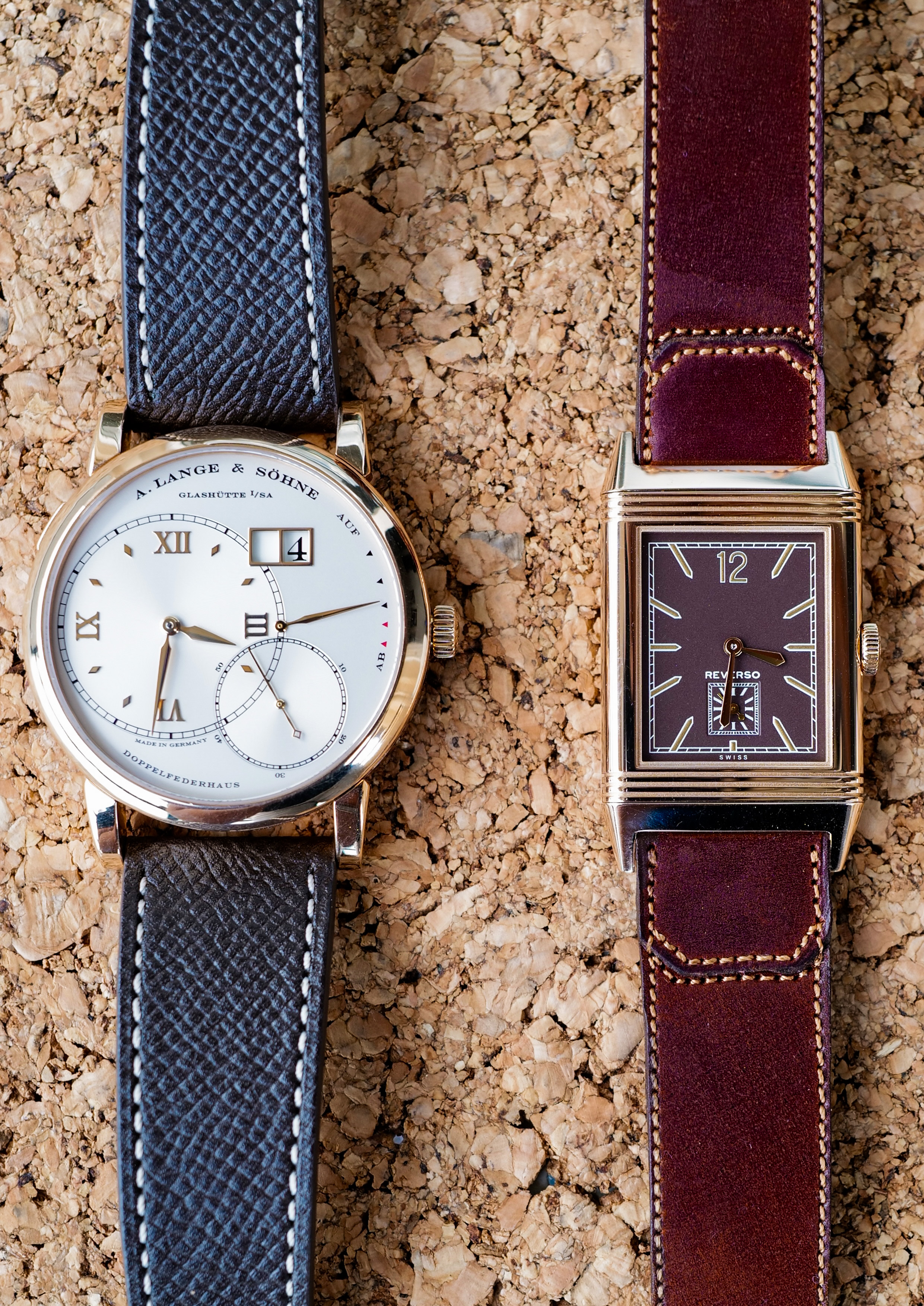 The Armin Strom happened because it is the only watch brand that is doing resonance movement at a budget that is not F.P. Journe. Also, the movement is really well done for the money. So I kept looking into, wondering why that was. This was 2019 and they only made watches that had skeleton dials. I like skeleton dials, but I can't see myself wearing one for an extensive period of time. So I thought let me see what they do next. And then they came up with the Tribute 1, which has a beautiful bridge on the dial. It is a perfect 38mm.
Also Read | Seeking (my) Seiko: A journalist's ode to his now-lost vintage Seiko
WTI: You also have a Rolex box...
Sarat Bhogavalli: That's where the athletic part of me takes shape. Initially, didn't like Rolex, even though my dad always wore one, a Datejust. But it is not a watch brand that I thought I would start collecting. Then my first Rolex happened, and something changed. Sometimes, all said and done, it is just about comfort. It is about what goes with everything and what is something you don't need to think twice about. So, Rolex has checked boxes that other watches have not checked for me - it is a watch that I can take and bang-up and it is still going to hold. There is also the aesthetics and how the brand perfects it every single time.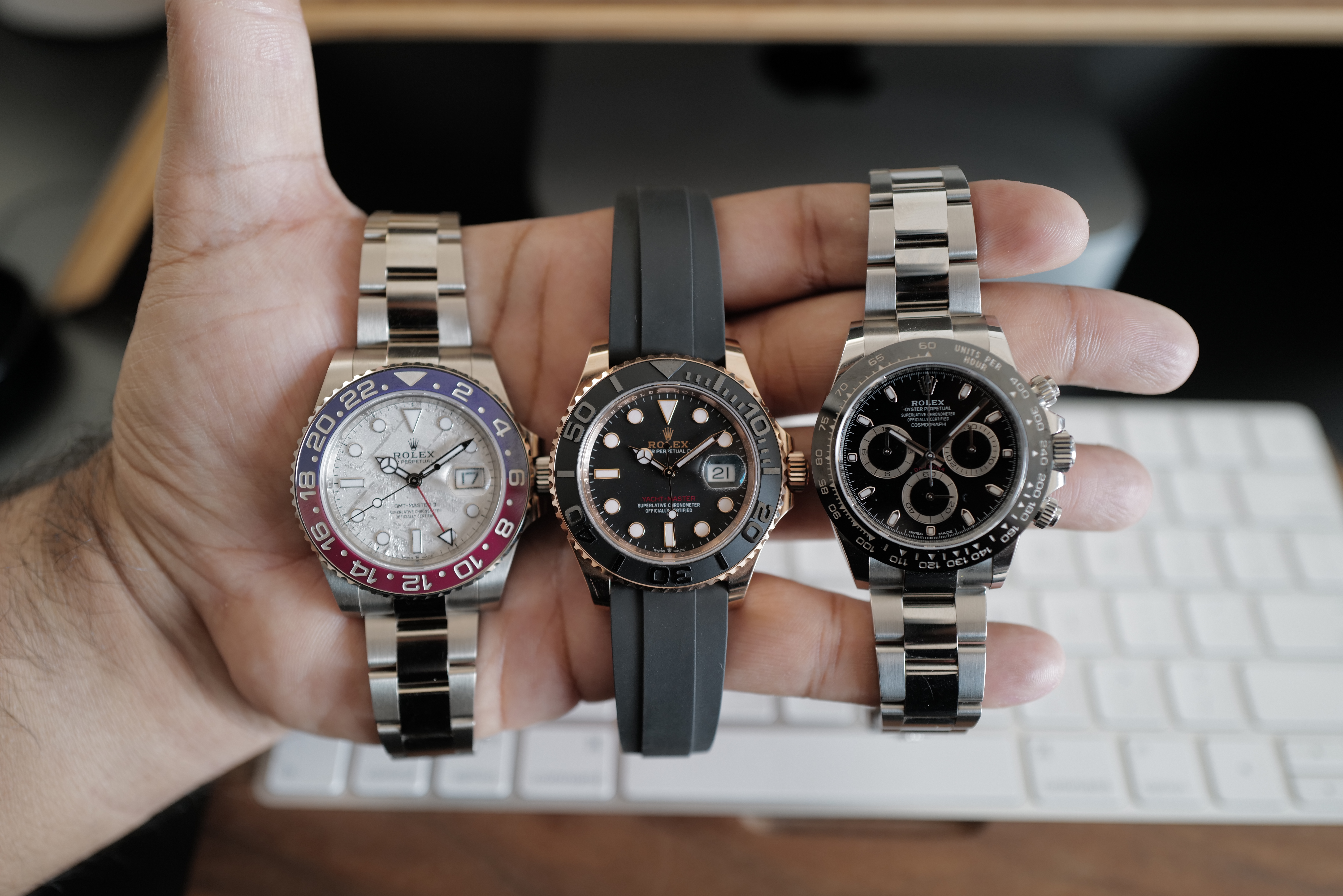 I have quite a weird selection of Rolexes, some conventional, some not so conventional. I have two GMT-Masters II, one in white gold and one in steel. The white gold is with a meteorite dial, and the steel is Pepsi. I have the 40mm and the 41mm Submariner, and, strangely, I have the first 39mm Oyster Perpetual with a white dial, which is slim, small. And then I have the biggest, baddest Rolex – the 44mm Deepsea. Some days I like wearing OP, some days I love wearing the Deepsea – this is a watch that I feel like was made for my wrist. Then there is my favourite Rolex - the Yacht-Master Rose Gold with an Oysterflex bracelet– which just a pretty-looking watch. It's was a grail watch for me. When I saw it in Dubai, it was a watch that I couldn't forget.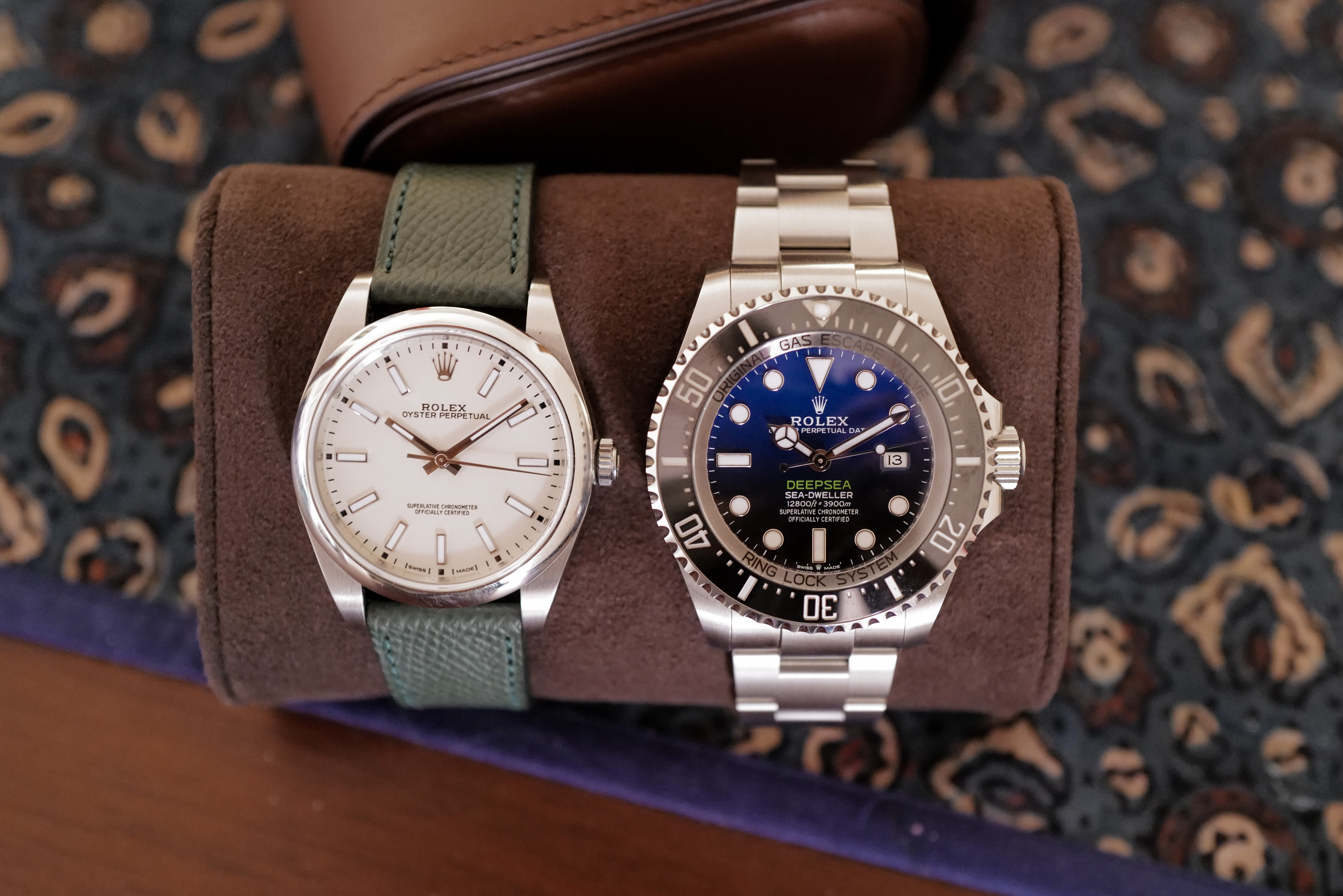 WTI: What's in Box 3?
Sarat Bhogavalli: Breguet Type 20 Chronograph with a tritium dial; Ulysse Nardin San Marco Cloisonne enamel dial in 37mm platinum; a Jaeger-LeCoultre Geophysic, a deadbeat seconds complication; Panerai Luminor; Cartier Drive Extra Flat; the new Kurono Tokyo, and I have a couple of Nomos' and Oris'.
WTI: What draws you to these brands?
SB: So initially, when I started collecting, I wanted to own every single brand. Now, I've I really slowed down and I understand that even 47 is too many watches. The Cartier is an ultra-thin Piaget movement in a Cartier, which is pretty cool. The Breguet Type 20 was a watch that checked off my chronograph list. It's a part of my trio of Speedmaster and Daytona - three chronographs with a black dial, steel case, black sub-registers, no date. The Breguet was something that I was drawn to aesthetically because it is clean. But the hunt for Type 20 took a while - I wanted a tritium dial, which was no longer in existence. And I wanted a full set - I don't buy watches without papers or boxes.
The Jaeger-LeCoultre is probably my favourite watch brand if there are no conditions (my German Shepherd is named Jaeger). It is a pretty cool brand, very geeky, for people who love their movements. The brand has a side where they don't really care about aesthetic perfection or listening to collectors - they just do watches that they wanted to do. The Geophysic True Second is something that I actually saw on a fellow collector, and I thought this is something that is outstanding. It's a deadbeat second - nobody knows what this watch is unless they're a watch geek.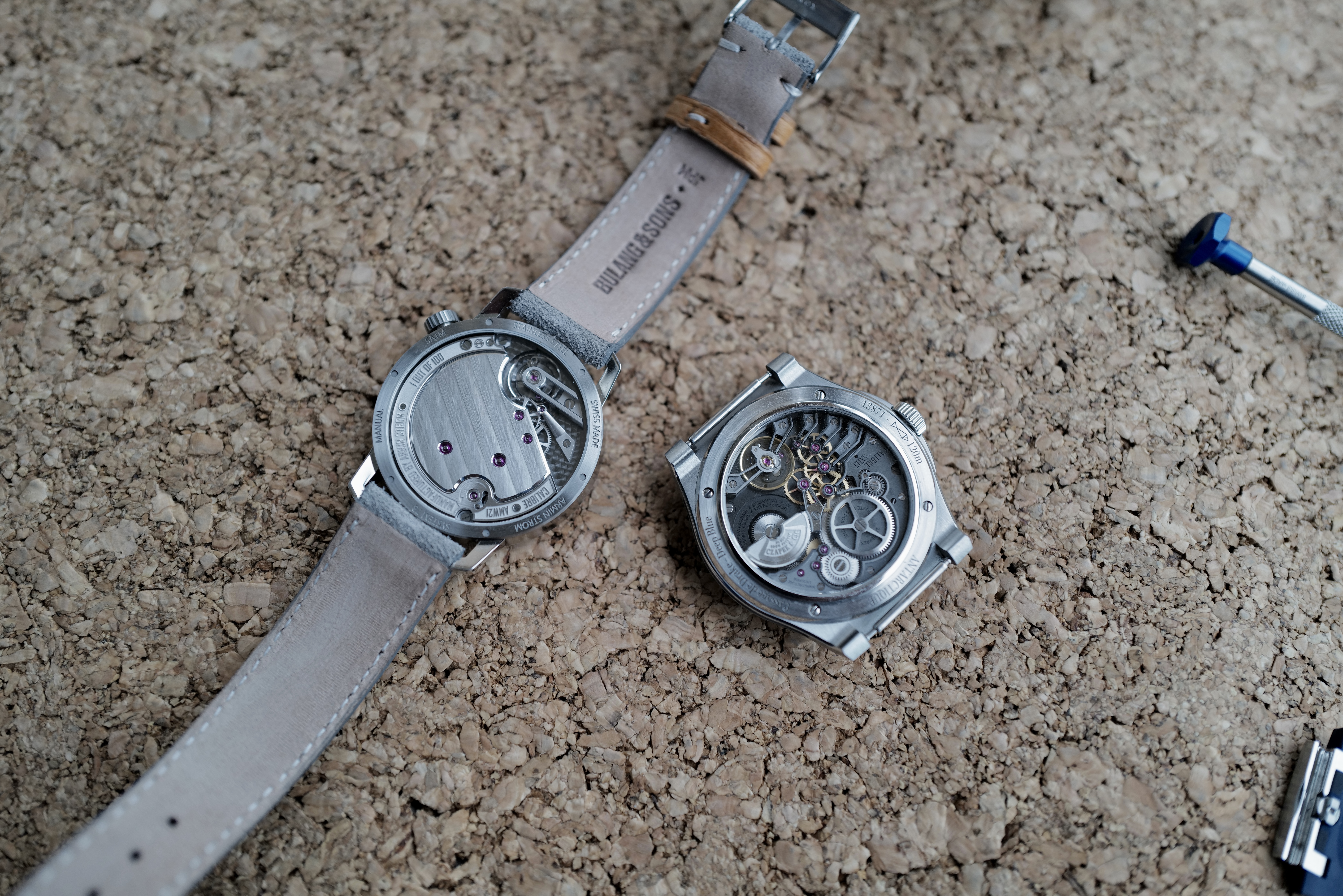 If Breitling was my teenage affliction, Panerai was my first adult love. My Instagram name is @mrpaminreverse. PAM [Panerai's reference numbers] in reverse is 'MAP', and which also signals to my love for travelling. I have two Panerais - one Radiomir and one Luminor.
Nomos and Oris are two brands that I recommend to people who are starting out their collections, on a regular basis. They are the best value in horology. Regarding Nomos, what they do on a value basis, individual manufacture basis, how small they are, how German they are, how perfect they are in choosing their Bauhaus fonts is brilliant. Oris is the same, but they are on the non-conservative side. Both are the yin and yang of entry-level watch-collecting.
WTI: Box 4?
SB: This is the Seiko box. I have a Grand Seiko and King Seiko pair, which are both watches that I love quite a bit. Other than that I have Swatch, Timex, and HMT.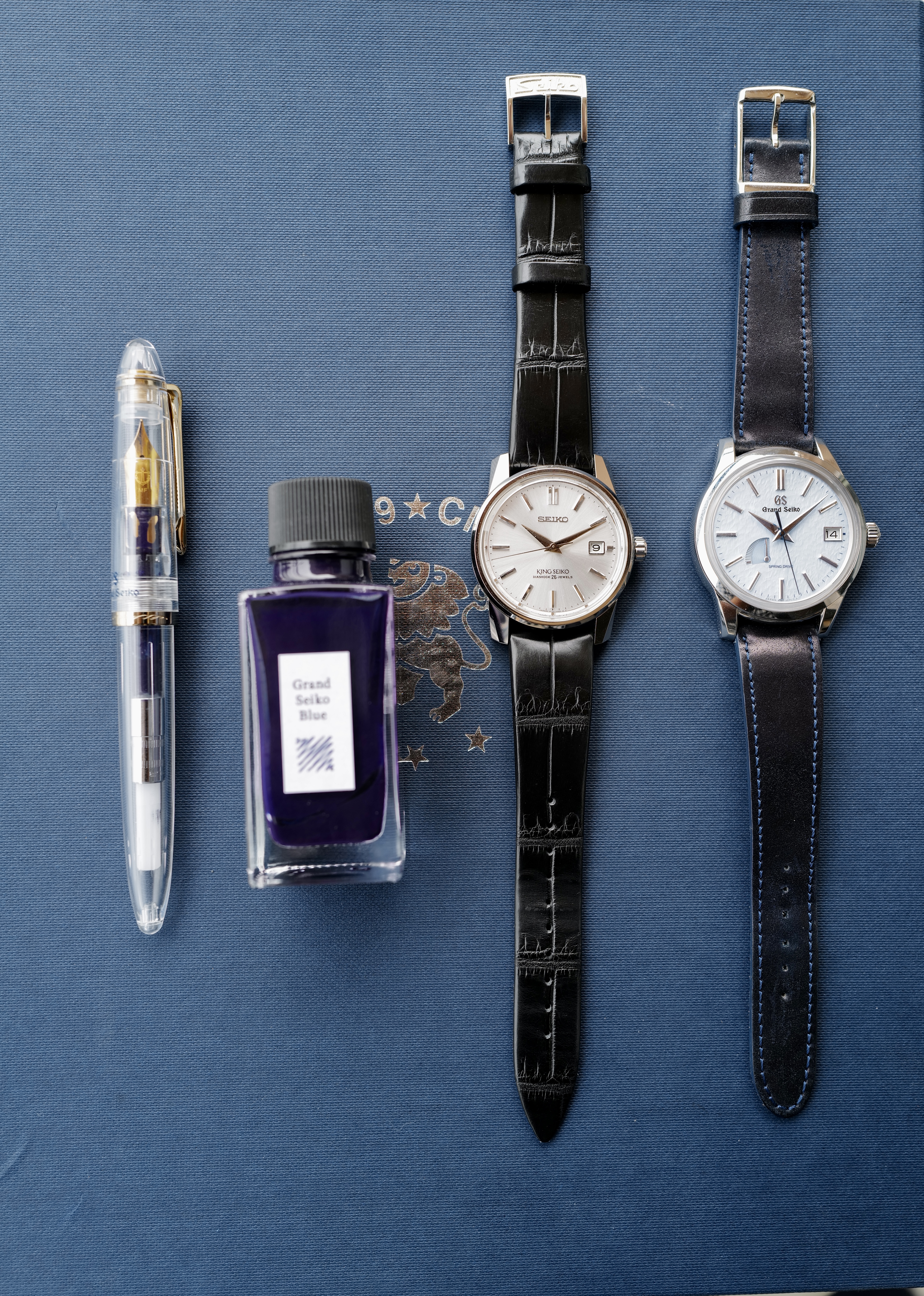 WTI: What are your favourite watch hunt stories?
SB: The Roger Dubuis story is an interesting one. It is the only watch of its kind in India. It is a series of 25 watches that Dubai Watch Club did with Roger Dubuis in 2015-16. It has a burgundy dial, Eastern Arabic numerals, a micro-rotor, and Geneva Seal. I saw that watch and went mad for it, obsessing over it for a year. I had a few friends at Dubai Watch Club, and I poked them every week, asking if they had one to sell. Unfortunately, the watch could not be sold outside Dubai Watch Club, and only Dubai residents could be part of the club. But this is where the camaraderie in watch collecting comes in. One of my friends felt bad - he had a watch that he didn't wear. So he went to the founder of Dubai Watch Club, took him out for coffee, showed him my Instagram, vouched for me and convinced him that the watch would never leave my collection and that it should go to a person who would appreciate it. The founder agreed. This was during COVID-19. And when the Dubai flights opened up around November 2020, I flew the same week and picked up the watch.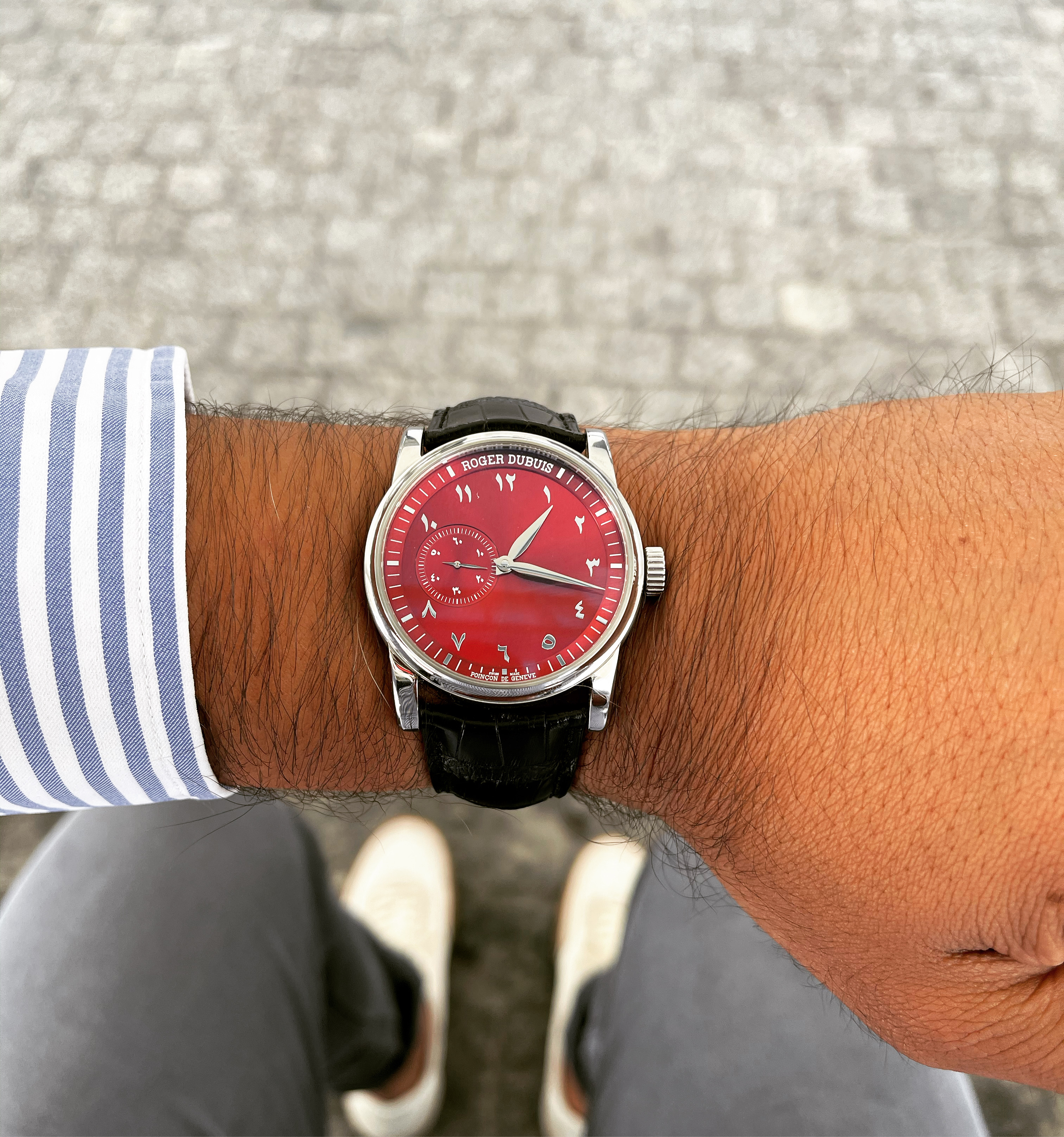 The other story I have is for the Grande Reverso Ultra Thin 'Tribute 1931' with a chocolate dial. It came out in 2014, and I remember when I saw it, I was like awestruck at how good-looking at was. It doesn't have the brand name on the dial; It just says 'Reverso'- that was a signature for the Tribute to 1930s ones, and I really liked that. I didn't have the means to buy it in 2014 when it was launched, so I started looking for it around 2016-17. It was listed at WatchBox for US $11,500 in 2016. I made an offer on it, but I wanted them to buy my steel Reverso - I didn't think at that point I needed two Reversos – and agreed to pat the difference. Eventually, they offered me US $1400 for the steel Reverso, which I thought was very insulting. I was put off by that. So I decided to stand by principles and let the watch go even though I loved it.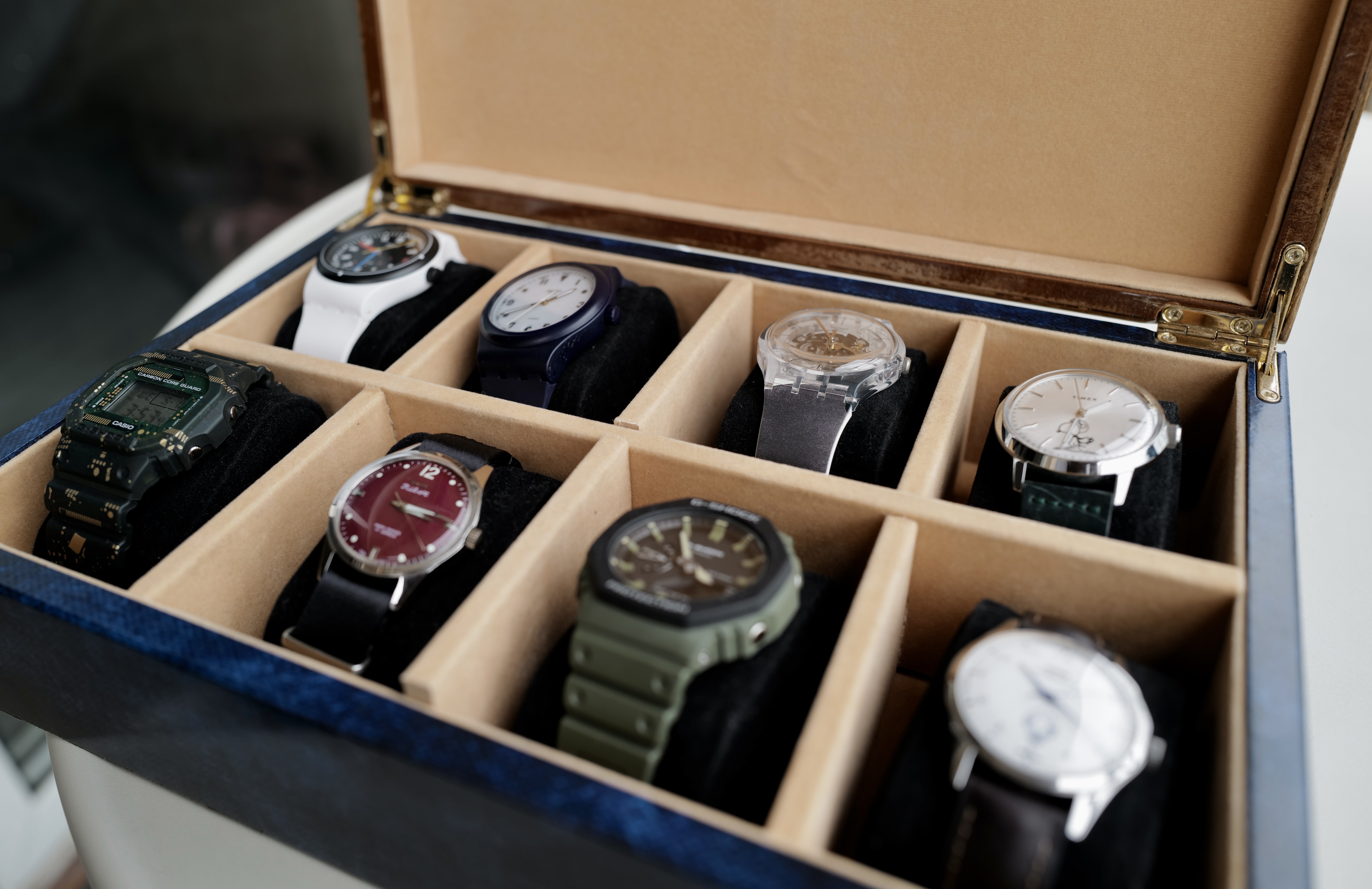 Then I started looking for it again. I used to come across one or two watches selling at US $17,000 or US $18,000, and I started regretting what I had done. But then in 2020, Ethos started a pre-owned watch division [Second Movement]. I met the head of sales and told them about this watch. Then November 2021, he found the watch with a collector in Mumbai. The watch was with a seal, card, date, and the clasp and caseback had tape on them. The day that I went to see the watch and I saw it I almost started giggling like I couldn't believe my eyes.
Then there is the 37mm Ulysee Nardin San Marco Cloisonne enamel in platinum. It came up on an auction, or one of the local St. Louis websites where my office in the US is. I love Latin culture, and have a little bit of Latin dancing experience. The dial has flamenco dancer on it, done in cloisonne. I didn't know it existed, but when I saw it, it just sang to me. Only five pieces made, and mine is Serial No. 1 of 5. A pre-owned watch, it is the only one in my collection that doesn't have box and papers.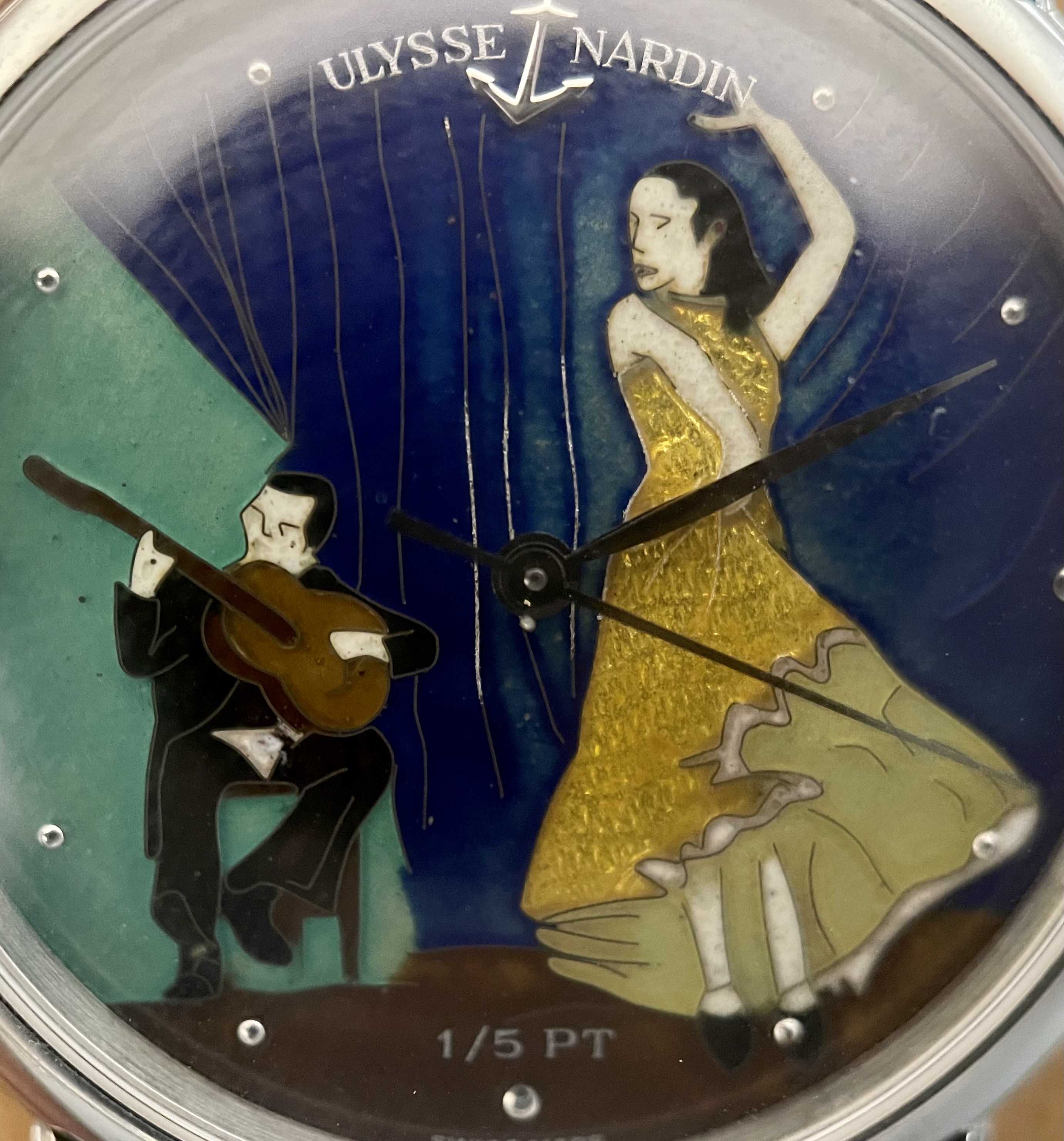 WTI: Your favourites in your collection...
SB: The Czapek & Cie. Antarctique, the Rolex Yacht-Master Rose Gold, and the Roger Dubuis.
WTI: How do you typically buy your watches?
Sarat Bhogavalli: About 95% retail. Only my Breguet Type 20 was pre-owned because it's a tritium dial and that's the way I wanted that watch, along with Jaeger-LeCoultre Reverso and Ulysse Nardin. The Kurono Tokyo is the only exception in terms of buying a watch online, but that was because I'd seen it on my friend previously.
If I know of a brand that I like, I spend about six to seven months to a year researching it. I took a year to buy my first Panerai because I didn't know what model I wanted. I first research on the aesthetic side, and then the movement side. Things like is it a watch that I'll be able to stick with forever; is it too big, too small. It should be something that I know I will continue to enjoy.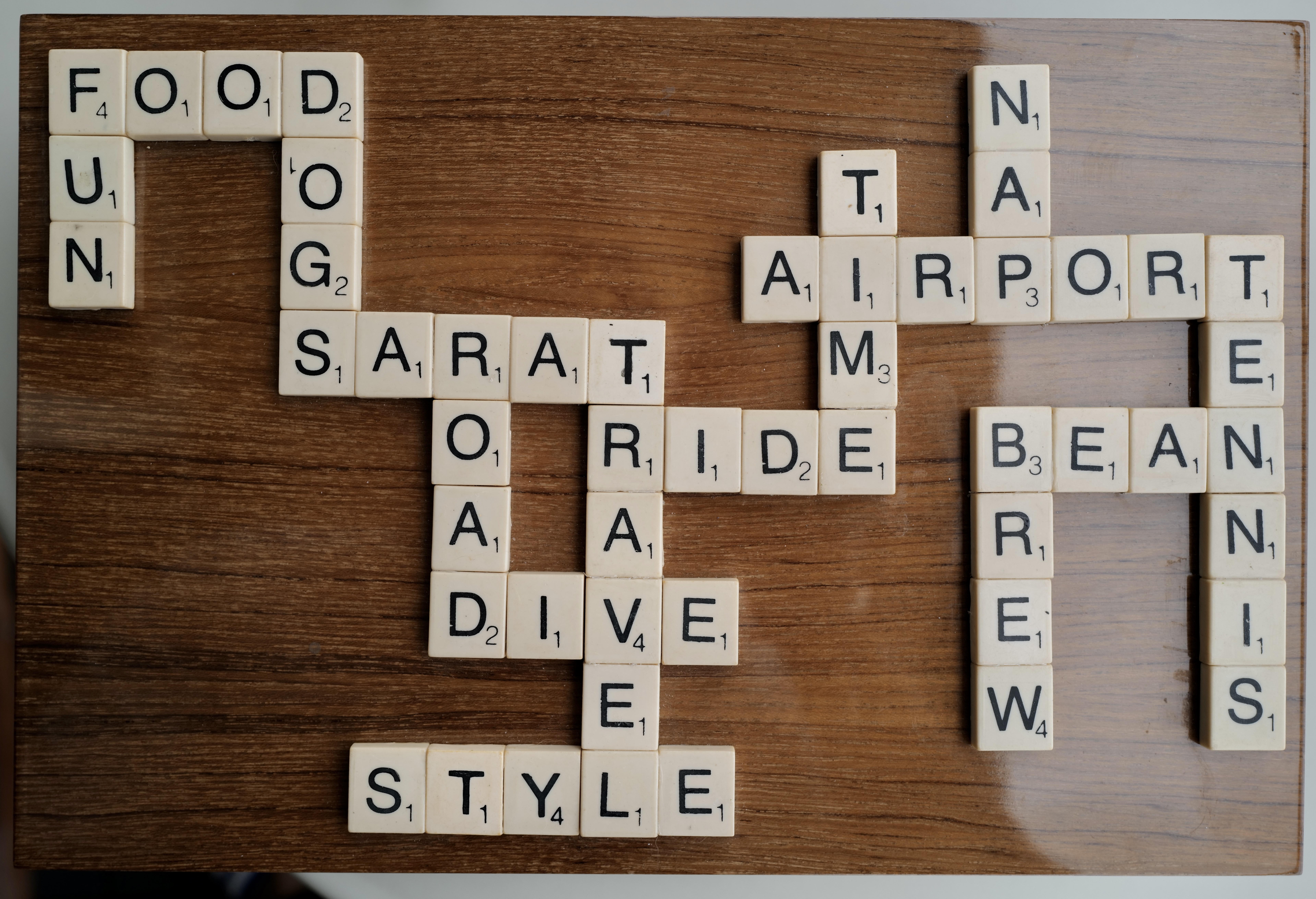 WTI: You moderate two Whatsapp groups on watches...
Sarat Bhogavalli: Yeah. One is called J9 collectors, and the other is Bangalore Watch enthusiasts. J9 is a pretty integral part of my life. We are on the chat non-stop. There is a wealth of information from the group. On Bangalore Watch Enthusiasts, we are about 24 of us. J9 is very North India based, and even though I travel to Delhi quite a bit, I don't get to see them as often as I like. So I started the Bangalore group. On both the chat groups, there is a lot of watch information being shared.
WTI: Do you have any set rules for when you buy watches?
SB: Box and papers of course. I also try to balance out the heart and the mind. My heart is always telling me to buy watches that don't really fit into my personality or lifestyle. So essentially the watches that I buy with my heart, are watches that I want to have despite the fact that they might not go with my aesthetic or lifestyle. And then the ones that I buy with my mind are the steel Rolexes, Oris', Tudors, which I can wear comfortably.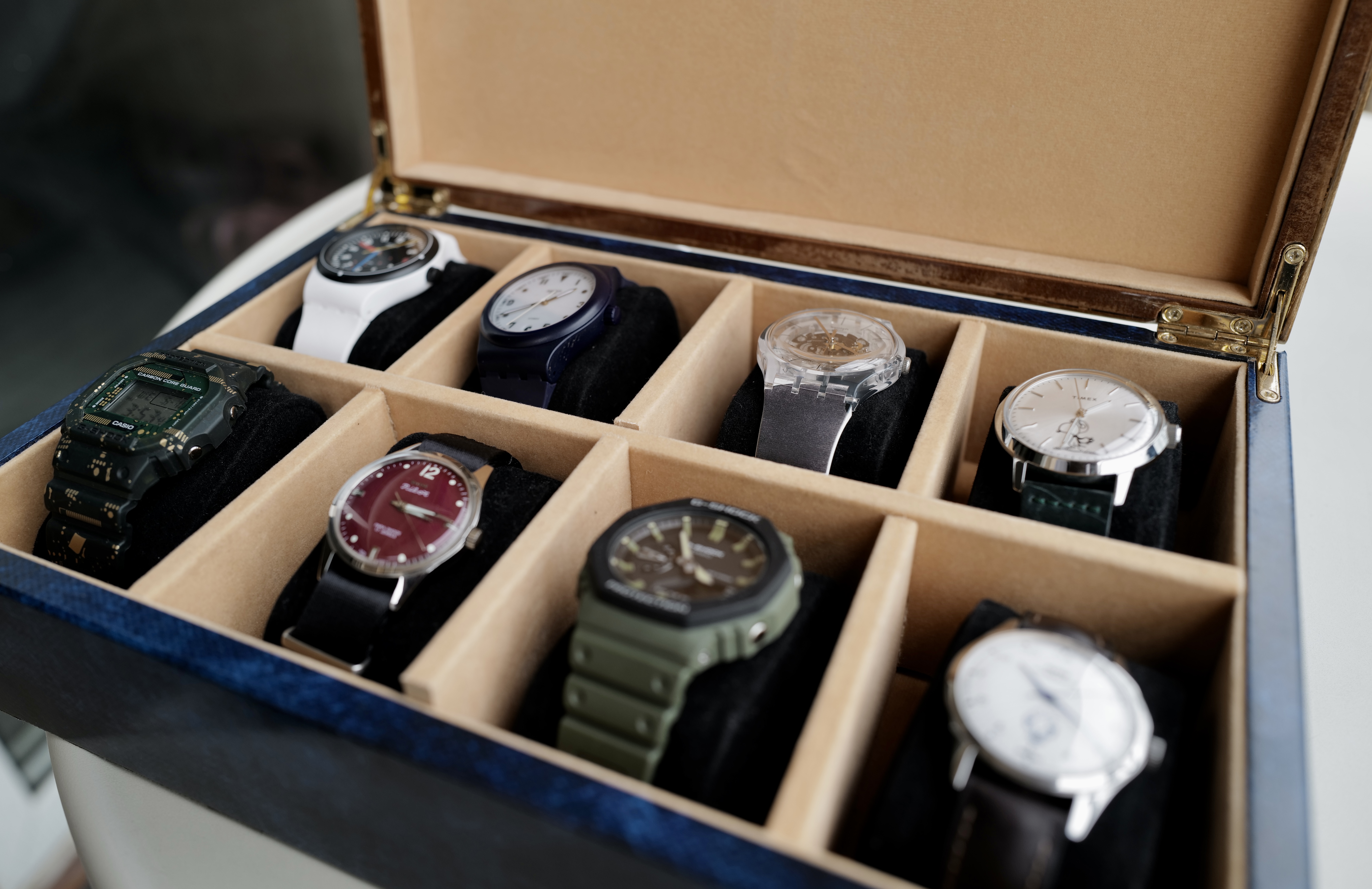 WTI: Do you ever customise your pieces in any way before or after you buy them?
Sarat Bhogavalli: One custom watch that I do have is a Nomos Glashutte one for J9. That's a watch that I really love and it is a significant part of my collection. It is a sentimental watch and I'm pretty proud of it.
Also Read | A toast to time: J9 Watch Collectors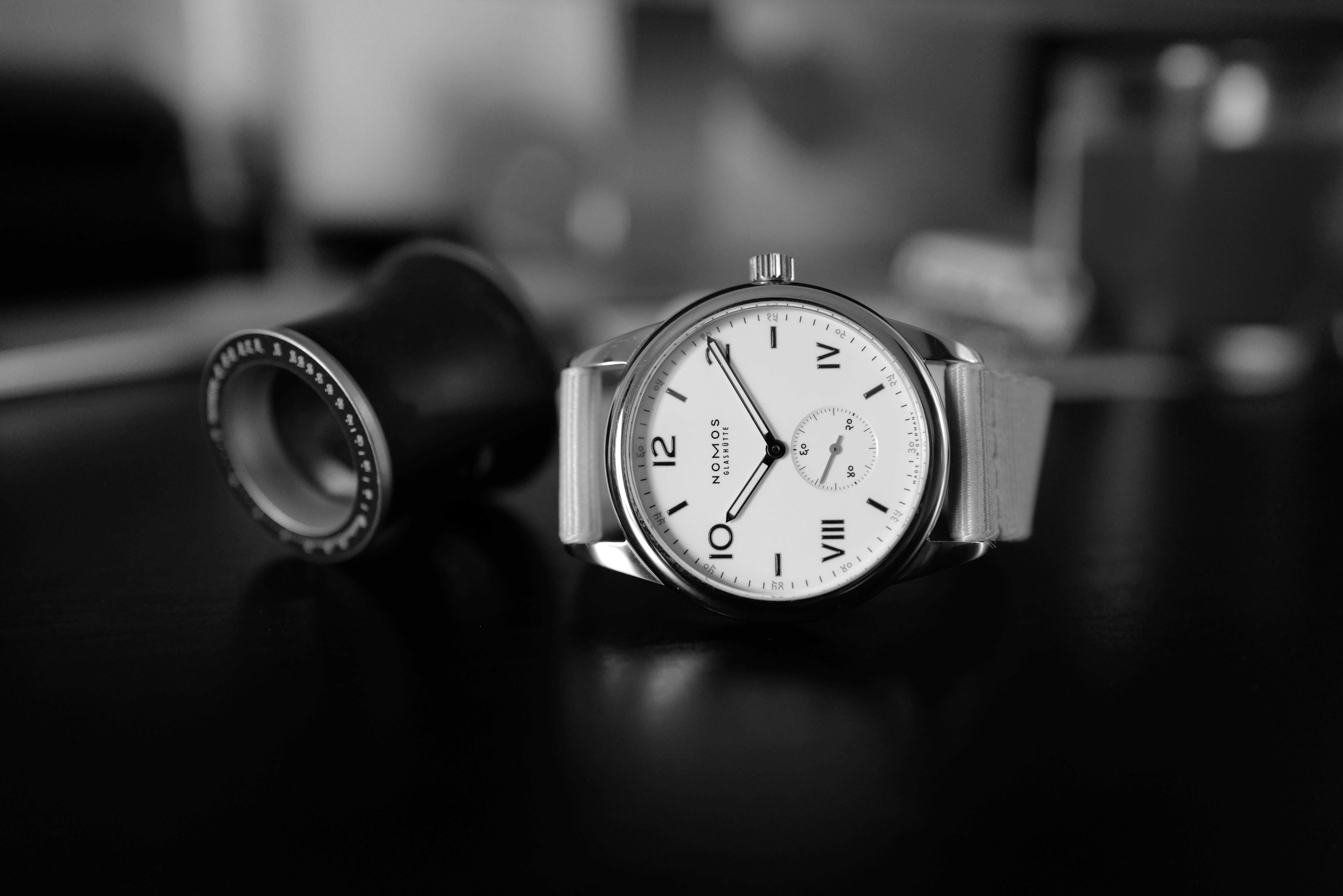 I'm a pretty avid strap collector, and probably have about 75-80 straps - none my watches are not on stock straps. They're organized according to their diameters. There are brands like Atelier del Sur, based out of Argentina, and they make the best shell cordovan straps in the world – their taper and measurement is perfect. My second favourite is the US-based Veblenist. Bulang and Sons in Europe also make great straps. I don't buy anything exotic, and try to buy vegan straps. I have my tools, and I change my straps on a regular basis for each watch. I maybe have about two-three straps per watch.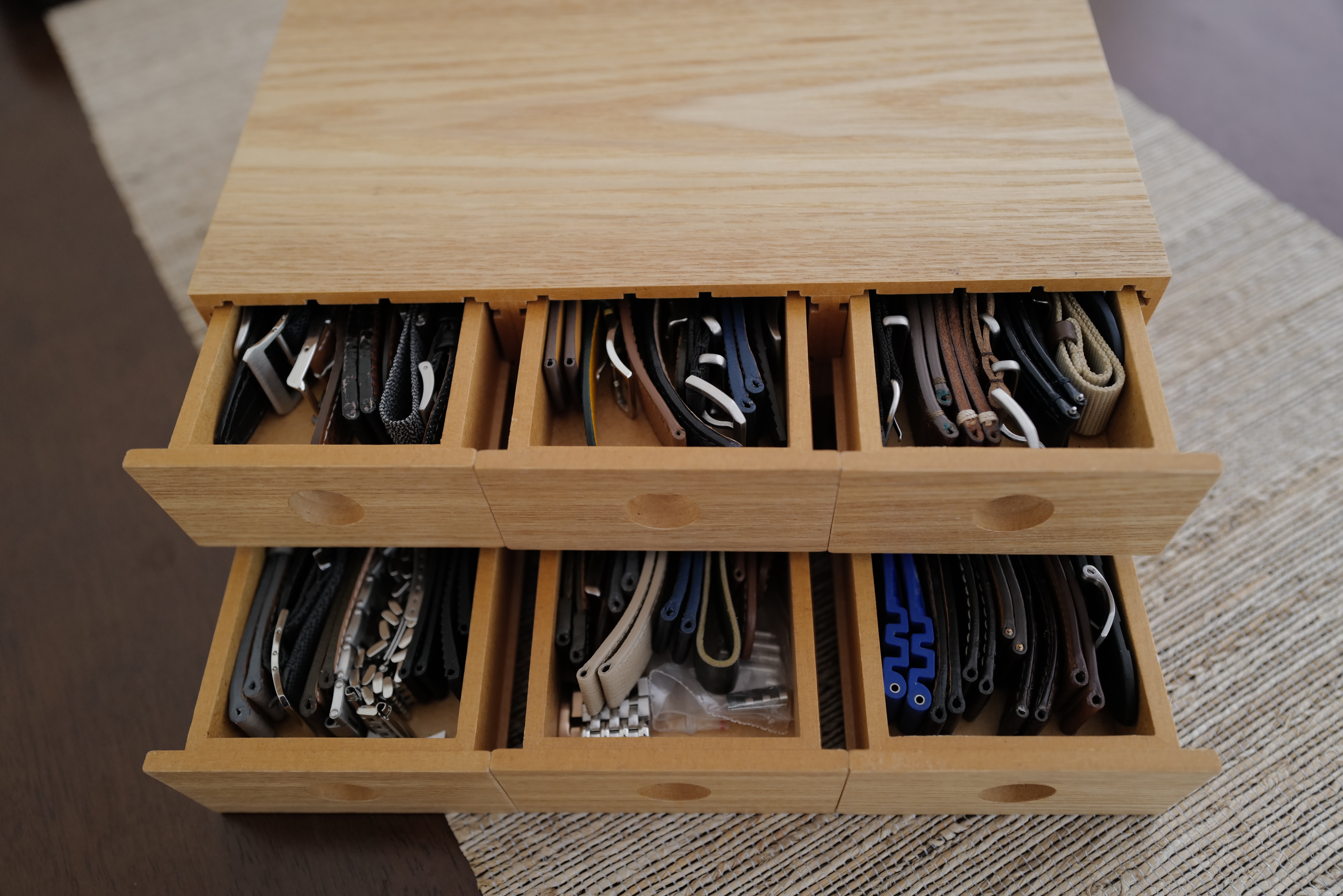 WTI: Since the time you started collecting watches to now, what have been your learnings about buying and wearing watches?
SB: Never be closed-minded as a collector. You should not shut off any brands or any watch because somebody says so. Unless you experience something, wear something, spend time with a particular brand or reference, you cannot say that it is bad. My biggest learning is that there's no bad watches. As long as they're mechanical, and as long as they're aesthetically pleasing to the collector that owns them, I don't think they're any bad watches. It's all about personal taste. I am 'mechanical over quartz' person, but if someone is wearing a Grand Seiko 9F, Casio G-Shock, or a Citizen EcoDrive, that still is a horologically relevant watch.
WTI: Brands you absolutely love...
SB: In no particular order at this point of time – Nomos Glashutte, Jaeger-LeCoultre, Czapek & Cie., Rolex and Lange & Heyne - they're a small German manufacturer out of Dresden.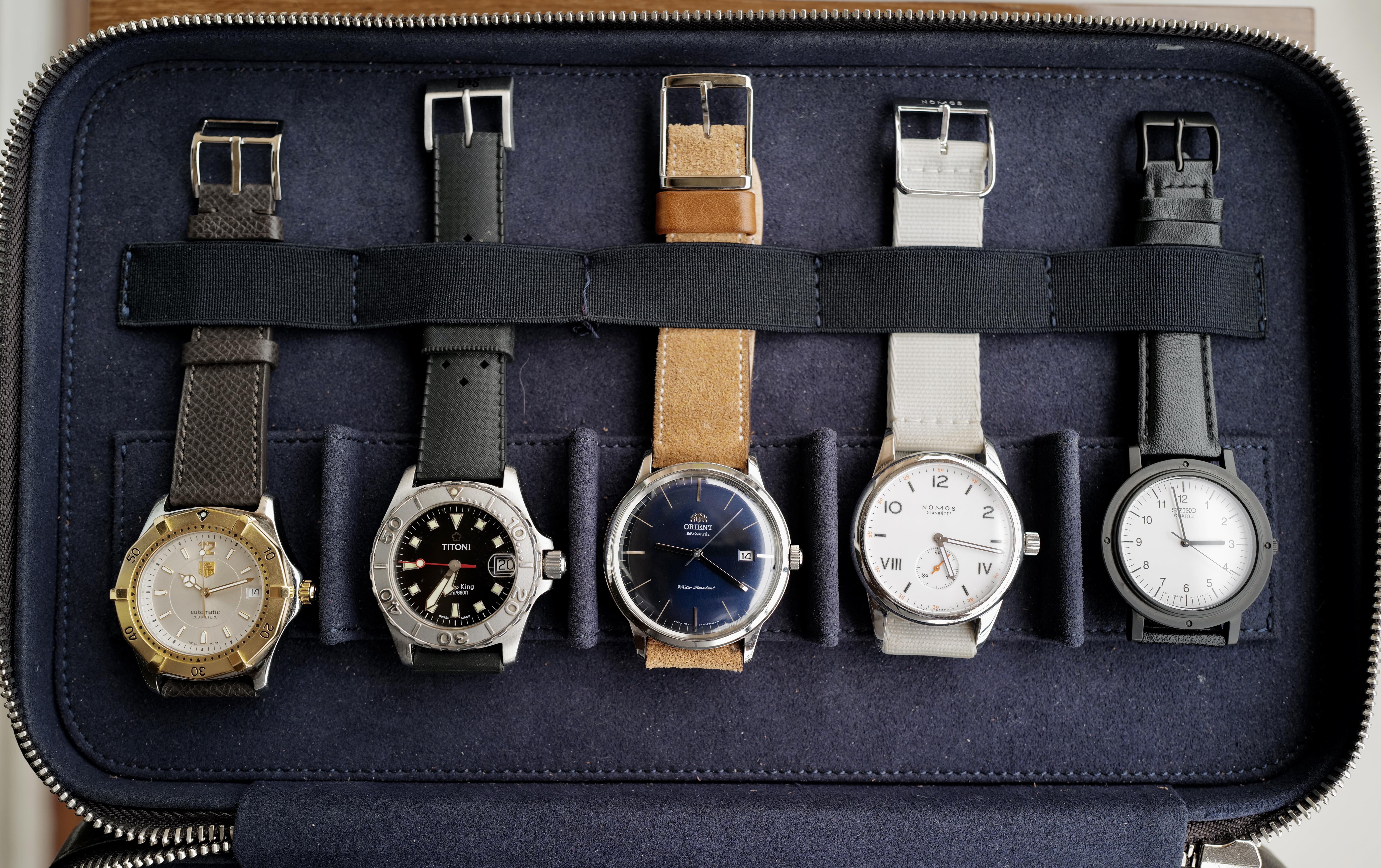 WTI: Watches that you're looking at picking up next?
SB: A Patek Philippe 6119 G white gold Calatrava. I'm on the waitlist for an MB&F LM 101, which I am hoping to get maybe end-2023. Two other watches in mind that I really want are a Lange & Hyne, and the Credor Eichi II. Credor is trained by Philip Dufour and the only watch that you can buy at this point that you can get some sort of a Philippe Dufour signature.
WTI: At this point of time, do you have a grail watch?
Sarat Bhogavalli: No, but I have a grail complication - the minute repeater. I love music and always wanted to own a minute minute. At some point, I'll get a minute repeater from Breguet or Jaeger-LeCoultre.
WTI: What do watches mean to you?
SB: Initially, they started off meaning aesthetic perfection and mechanical geekery. It was looking down and knowing that you're wearing something that is mechanically done and will keep ticking forever. But now, they've become about camaraderie. If I didn't have J9 and Bangalore Watch Enthusiasts, if I didn't have my friends in Dubai Watch Club, I don't know if I would enjoy watches as much as I do right now. It's a really great feeling, and meeting them let's your recharge for the next weeks.
Images: Courtesy Sarat Bhogavalli