Imagine your grail watch that you haven't yet had the good fortune of getting your hands on. Or that unicorn watch you have always coveted but know you might not be able to possess. Would a drawing of it do, to scratch that itch? Chances are you'll say no. What if it was a supersized watch portrait where every curve of the lug and indexes, every marking on the subdial, every serration of the exposed wheels, and the thinness of every hand was precise, perfect, life-like. These are drawings by artist Julie Kraulis we are talking about, and they are bound to convert even the most stubborn naysayers.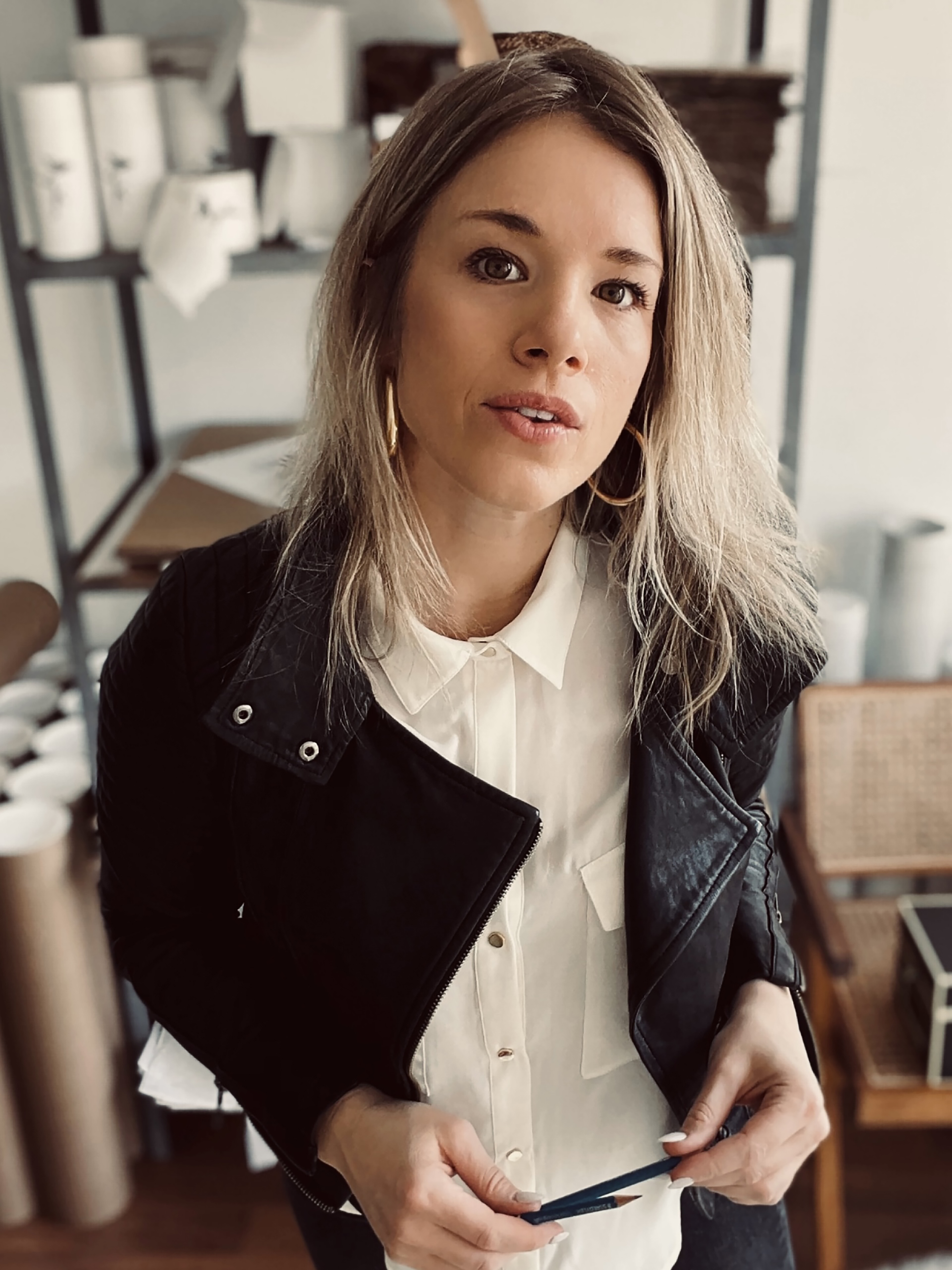 Toronto-based Kraulis has been sketching watches for over five years now, and has quickly gained recognition for her detailed black-and-white watch portraits that meticulously capture even the smallest facet of a timepiece. The chiaroscuro effect gives depth to the works, while every circular graining and sunray finish in her graphite drawings is carefully recreated. Each creation is an average of 26" x 40", which means that even the smallest aspects get magnified. So popular have Kraulis's works become that she has collaborated with brands, boutiques, and magazines, and routinely gets private commissions.
A quick look at Kraulis's Instagram is enough to understand how painstakingly accurate her watch portraits are (you would even be forgiven for thinking some of the timepieces were real). Her latest work for MR PORTER's The Watch Annual compendium features her drawing of Hermes's H08, where the grained centre, the texture of the black rubber strap, and the sunburst satin-brushed titanium bezel are all drawn to perfection. Early December, Kraulis posted her drawing of the 1969 'Paul Newman' Rolex Daytona 6239 (which was commissioned to her), its engraved tachymeter scale diligently reproduced. Kraulis has also drawn Cartier Tanks, Patek Philippes, and a sub-collection that she lightheartedly calls 'Crazy Dials that Almost Broke Julie' - these include the Rolex GMT Master II Meteorite, the F.P. Journe Tourbillon, Jaeger-LeCoultre Deep Sea Alarm, and F.P. Journe Chronometre Souverain. Kraulis also sketches movements down to the light sparkling off the edge of a screw.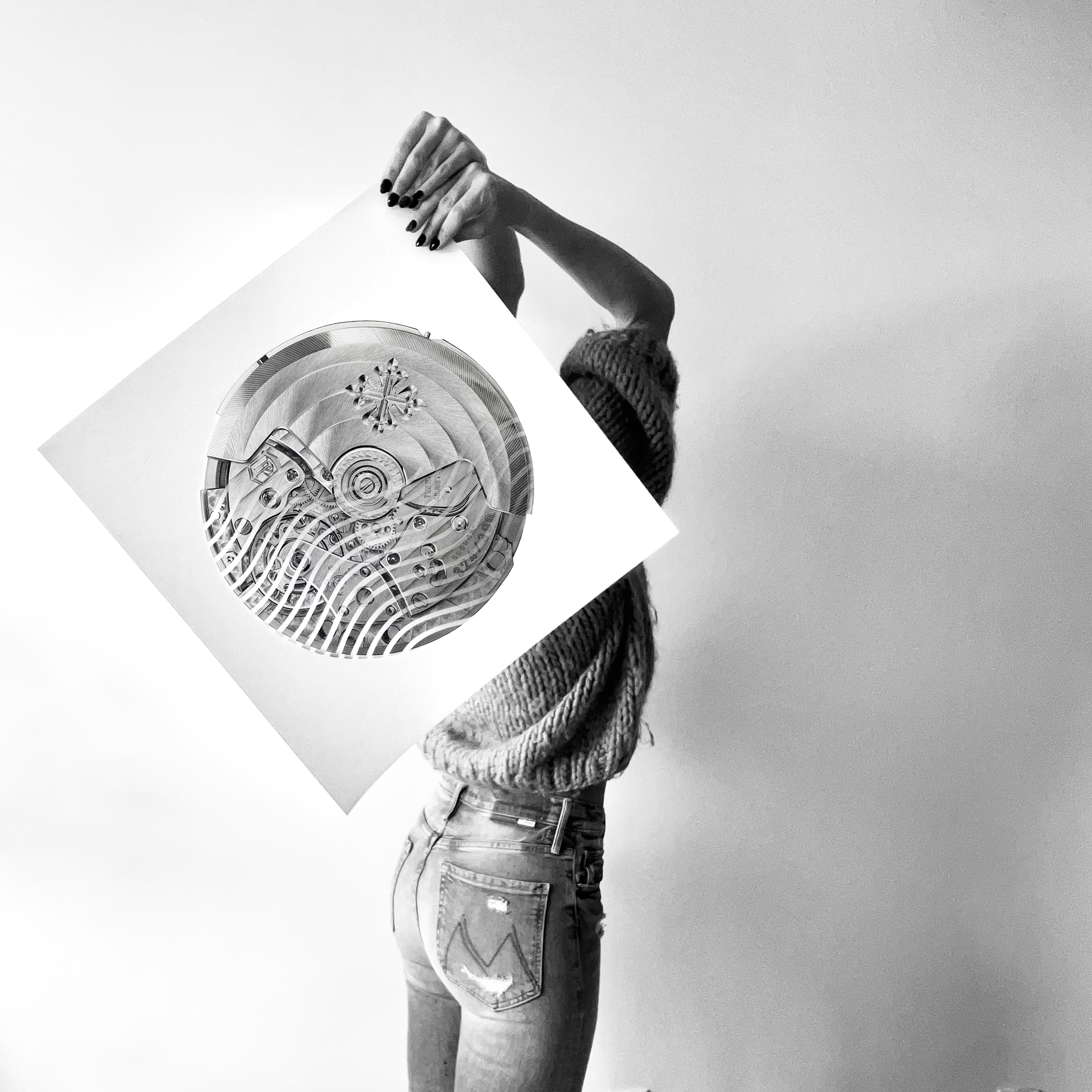 Having studied design with a focus on illustration at the Ontario College of Art & Design in Toronto, Kraulis often gives her work an inimitable touch by weaving in thematic, historical, and narrative elements, working closely with clients to choose the significant details to highlight. Some examples of this include a meteorite texture partly featuring on the watch bracelet, or a dial splashed with water. Each addition goes a long way in giving the artwork a distinct personality.
So popular did Kraulis's works get that, in 2017, she launched her webshop, featuring limited-edition prints. The shop currently features prints of Patek Philippe Calibre 324 S C, Rolex Submariner 5513 'Metres First', and the dial of the Patek Philippe Nautilus 5711/1A, among others.
WatchTime India reached out to Julie Kraulis, also a GPHG 2021 jury member, to understand her work and process.
WatchTime India: What made you start sketching watch portraits?
Julie Kraulis: I stumbled into watches unexpectedly in 2016 after reading an article about iconic timepieces. I had been looking for an area of focus that would keep me interested through tangible and abstract qualities. The art of watchmaking does both. Watches are portals into so many different worlds I love. As a design enthusiast, one of my driving curiosities is what makes something timeless. I'm fascinated by objects and spaces that remain relevant and passionately embraced over decades, continuing to capture an audience.
Also Read | Designer Spotlight | Lee-Yuen Rapati from One Hour Watch on Instagram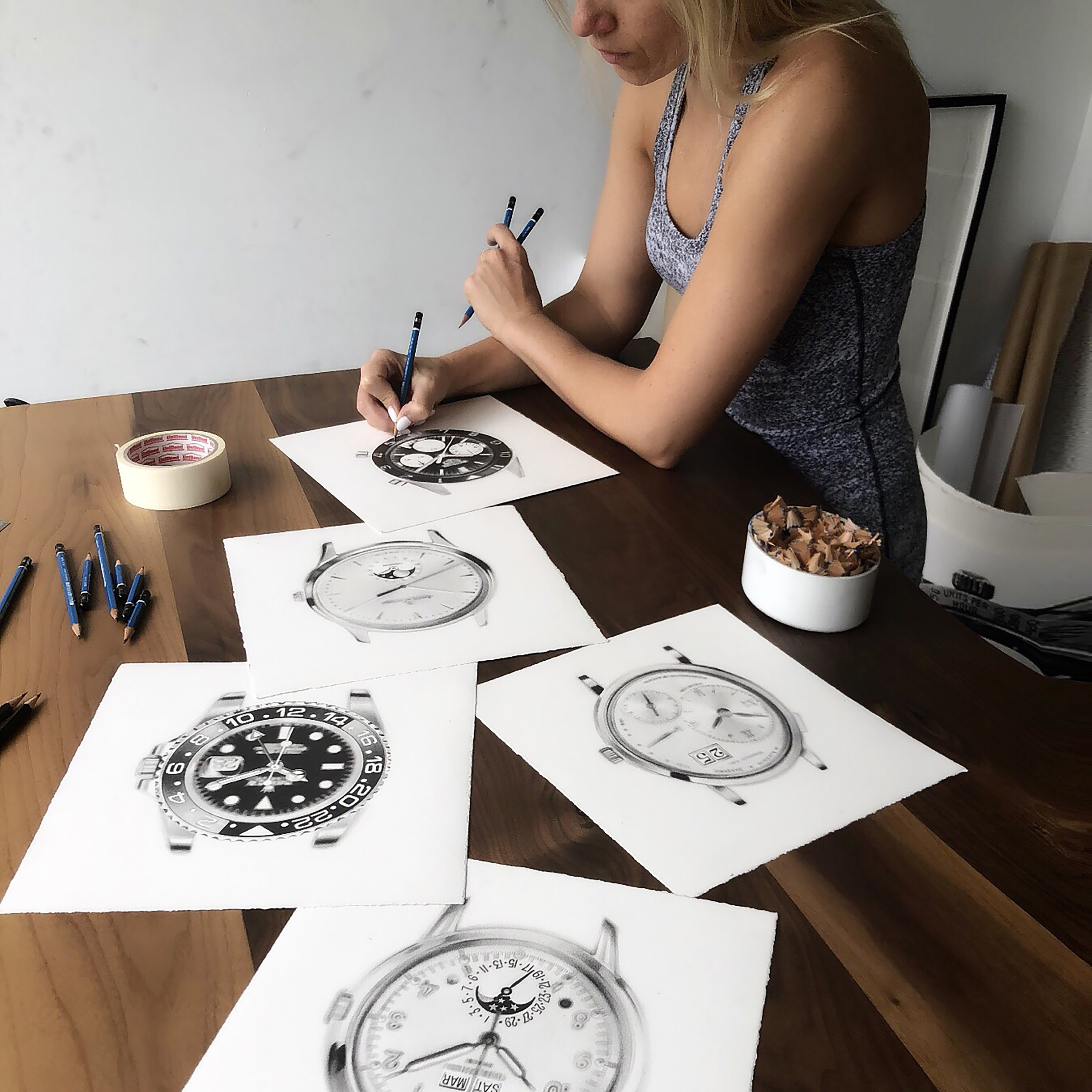 WTI: What were your initial challenges and how did you overcome them?
Julie Kraulis: Learning to work at a large scale was challenging, as was learning a new world of design. There is always more to learn in the world of horology and it's what keeps me interested. In creating this niche, I knew I wanted to offer a new take on timeless icons, and so I'm continually working to find a fresh perspective and design approach.
WTI: Could you take us through the process of creating a drawing?
JK: The inspiration starts with the timepiece. In the preliminary stages, I glean as much information as I can about the watch through research and conversation. All of these details roll around in my head and eventually distil into ideas. The collection is rendered in a hyper-realistic approach and I weave in thematic, historical, and narrative elements, working closely with clients to choose the significant details to highlight. Most of my clients are collectors or brands who desire a bespoke piece to celebrate a special watch. Each piece takes anywhere from 200 to 450 hours to create, depending on the intricacy and technical difficulty.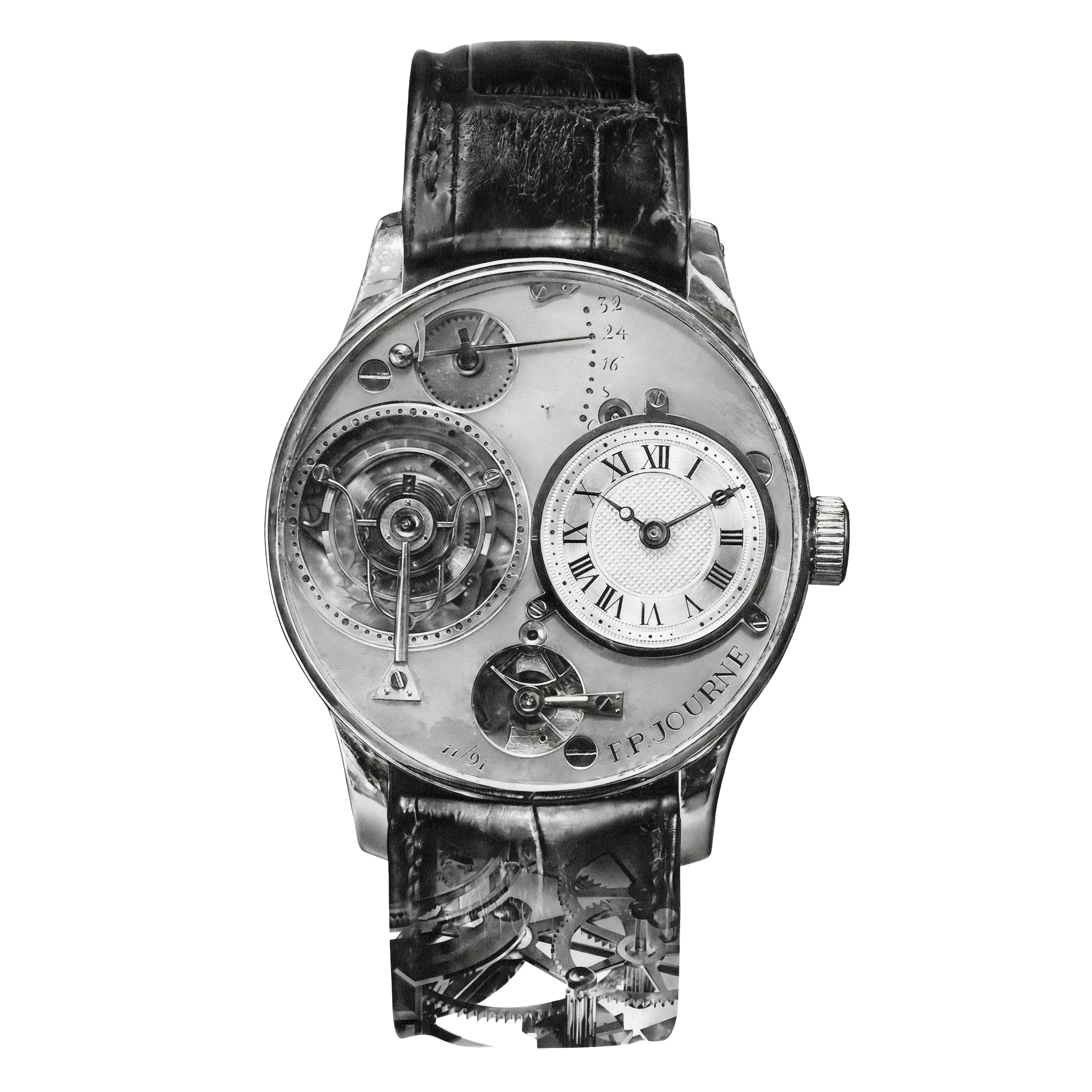 WTI: Why did you choose to work with graphite only?
JK: Graphite was an intentional choice for the collection. I love the idea of using one of the humblest tools to push its boundaries and to create luxury in huge, elaborate drawings. I love the magic of the medium - it's got a lively shimmer and great depth. It changes in different light, seasons, and from where you stand. The medium also captures all of the different watch textures beautifully from leather to metals to carbon, creating an almost 3D effect on the page. A simplified B&W palette also allows you to see line, form, and balance more clearly, emphasising design.

WTI: What would you say are the biggest challenges when you are drawing watch portraits, and how do you overcome them?
Julie Kraulis: Each piece presents new challenges. You never arrive, you just continue to improve. Texture is one of the most difficult aspects of the subject. I learn by drawing. It's a process of learning how to see. So much of drawing is not drawing; it's pausing, stepping back, considering, looking from different angles, making small corrections in assumption.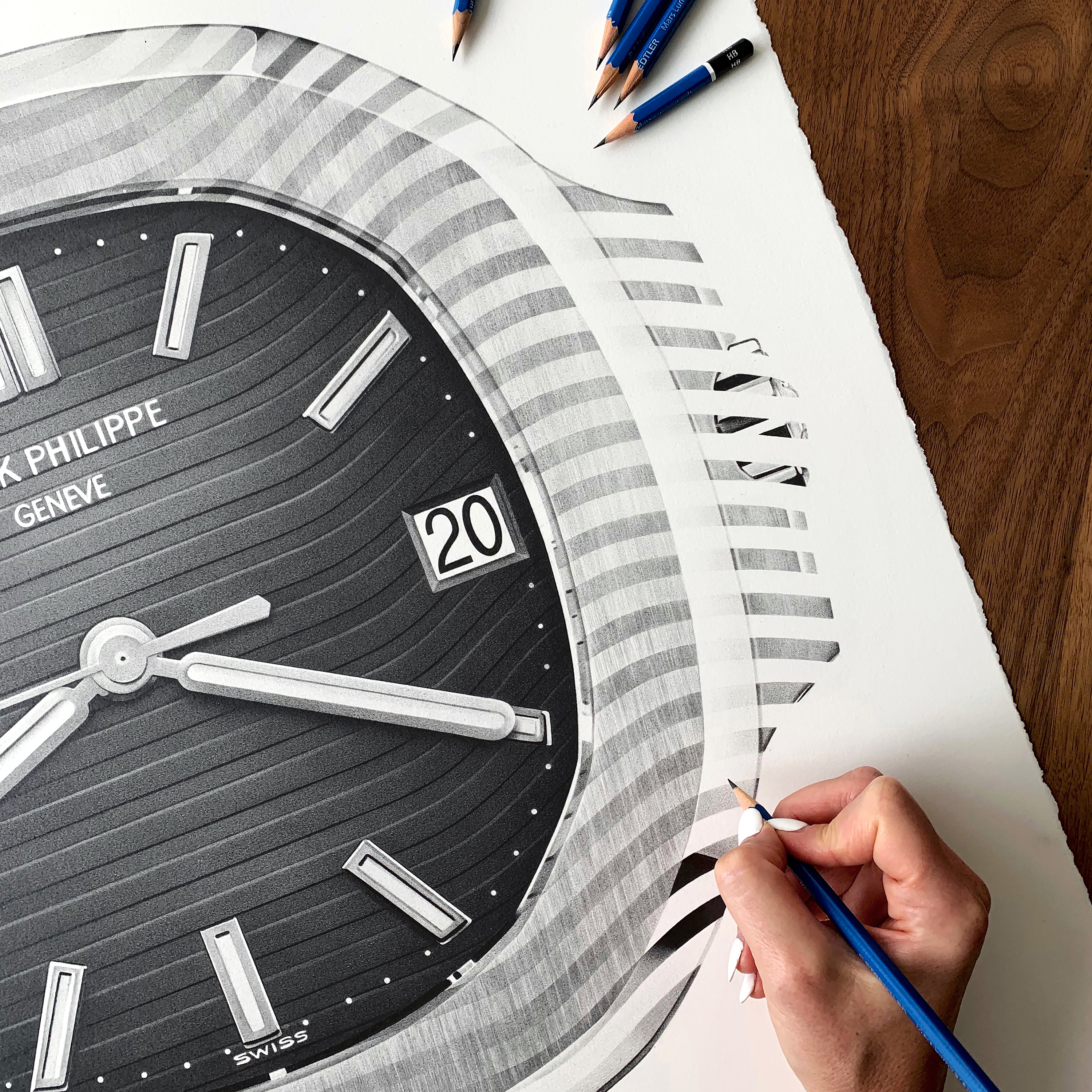 WTI: Do you have a favourite watch drawing? And a favourite watch you would like to own?
JK: Too many to choose! Each project has been special in its own way and within each piece, I can pick a favourite spot or two. I love the challenge of figuring out how to do something I've not yet done. I'm drawn to the soul of vintage and love the technical challenge of capturing the patina and marks that make a watch unique. Some of my favourites are the ones that have been the most difficult, such as capturing the Datograph movement, the GMT meteorite dial, or the speed blur on the most recent Daytona bracelet.
WTI: You have worked with various watchmakers and platforms. Can you tell us more about these collaborations - with whom, what was created, and in which years?
JK: When I first set out with the MAKING TIME collection, I had a vision but no idea where it would take me. I have had the good fortune to work with many amazing clients including auction houses, brands, editorial publications, and private collectors all over the world. It's been a thrilling adventure creating the work and making so many good friendships along the way. There have been many special projects that include bespoke commissioned drawings, boutique artwork, pieces for auction, limited-edition prints, book covers, and live events. Each project is approached in a similar way but uniquely tailored to each client and purpose. Most recently, I worked with MR PORTER and The Watch Annual to create an exclusive art print that went inside each hardcover edition.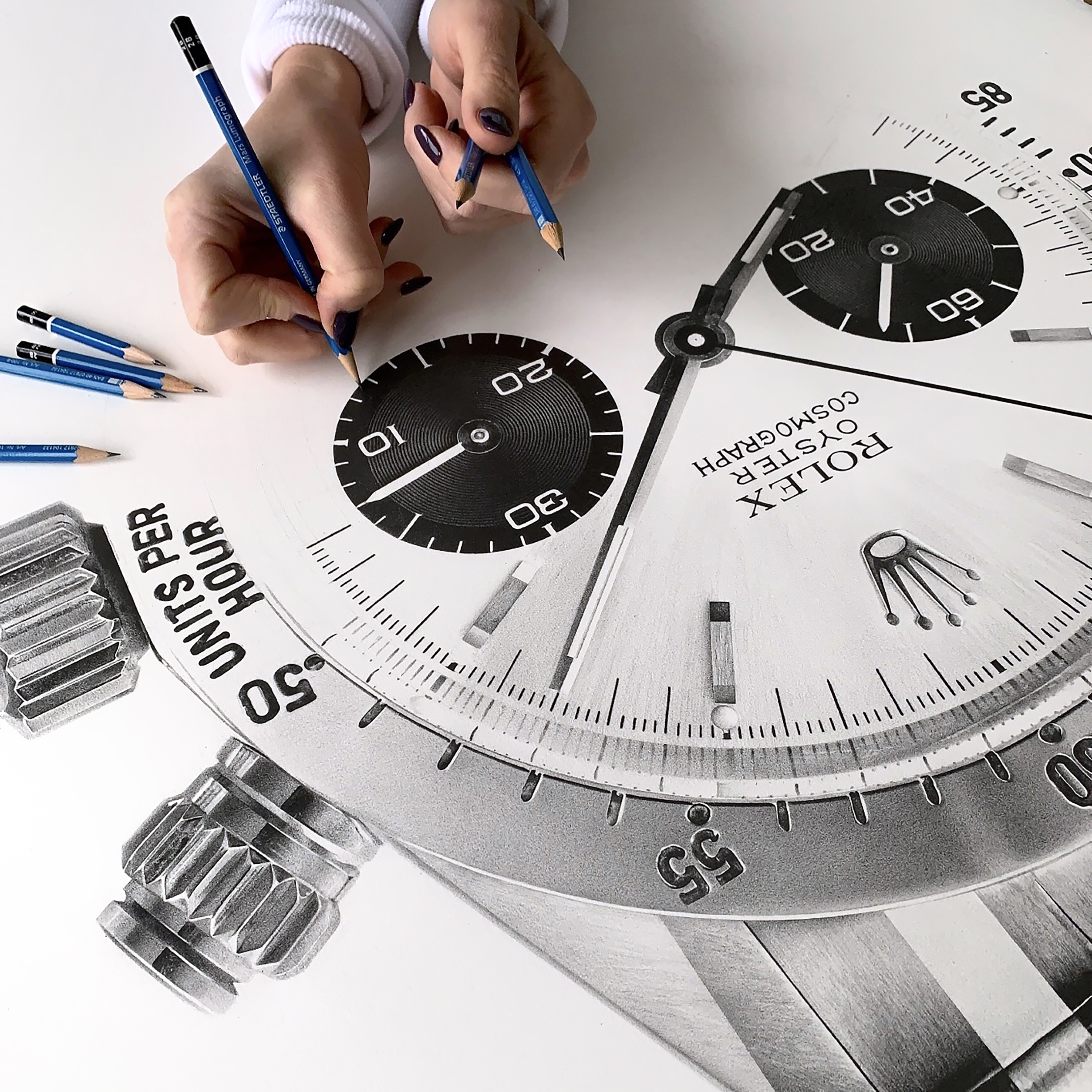 WTI: What are you currently working on?
Julie Kraulis: I always have many ideas and projects on the go! I am currently working on a handful of commissioned bespoke pieces for collectors on my waitlist as well as some independent projects.
Images: Courtesy Julie Kraulis