Here are the top ladies watches at the upcoming Christie's Important Watches Auction including the Ruby Collection and an important private Asian collection Part V.
It's time to get ready for the much-awaited Christie's Important Watches Auction which also includes the Ruby Collection and an important private Asian collection Part V. The auction is scheduled to begin from the 28th of November in Hongkong at 2 pm. From the many rare and superb watches going for auction, this time around there is something special dedicated to the ladies!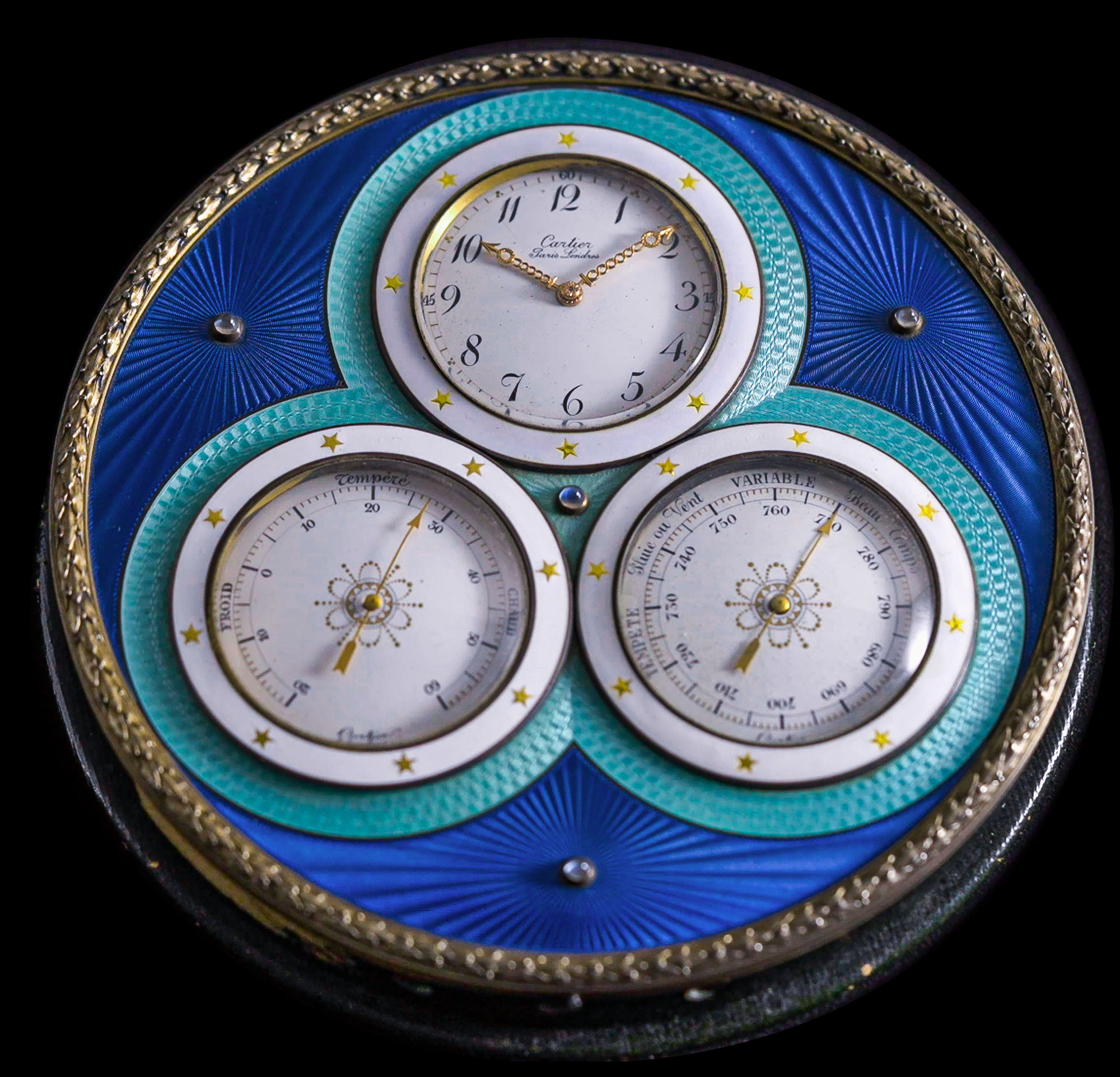 Below is the list of the top ladies watches available for auction at the upcoming Christie's Important Watches Auction including the Ruby Collection and an important private Asian collection Part V. So ladies feel free to pick and choose!
Lot 2256: Chopard
This is a one of a kind timepiece featuring an 18K gold bangle with a Lapis Lazuli dial that was produced back in 1972-1973. Housing a manual dial set in a 54mm case, the 18k gold Chopard bracelet is one of the most interesting feature of the timepiece. The timepiece's overall design aesthetics that have been handcrafted throroughly makes its an exceptional timepiece that will definitely be a conversation starter.
Estimated price: US$33,000-65,000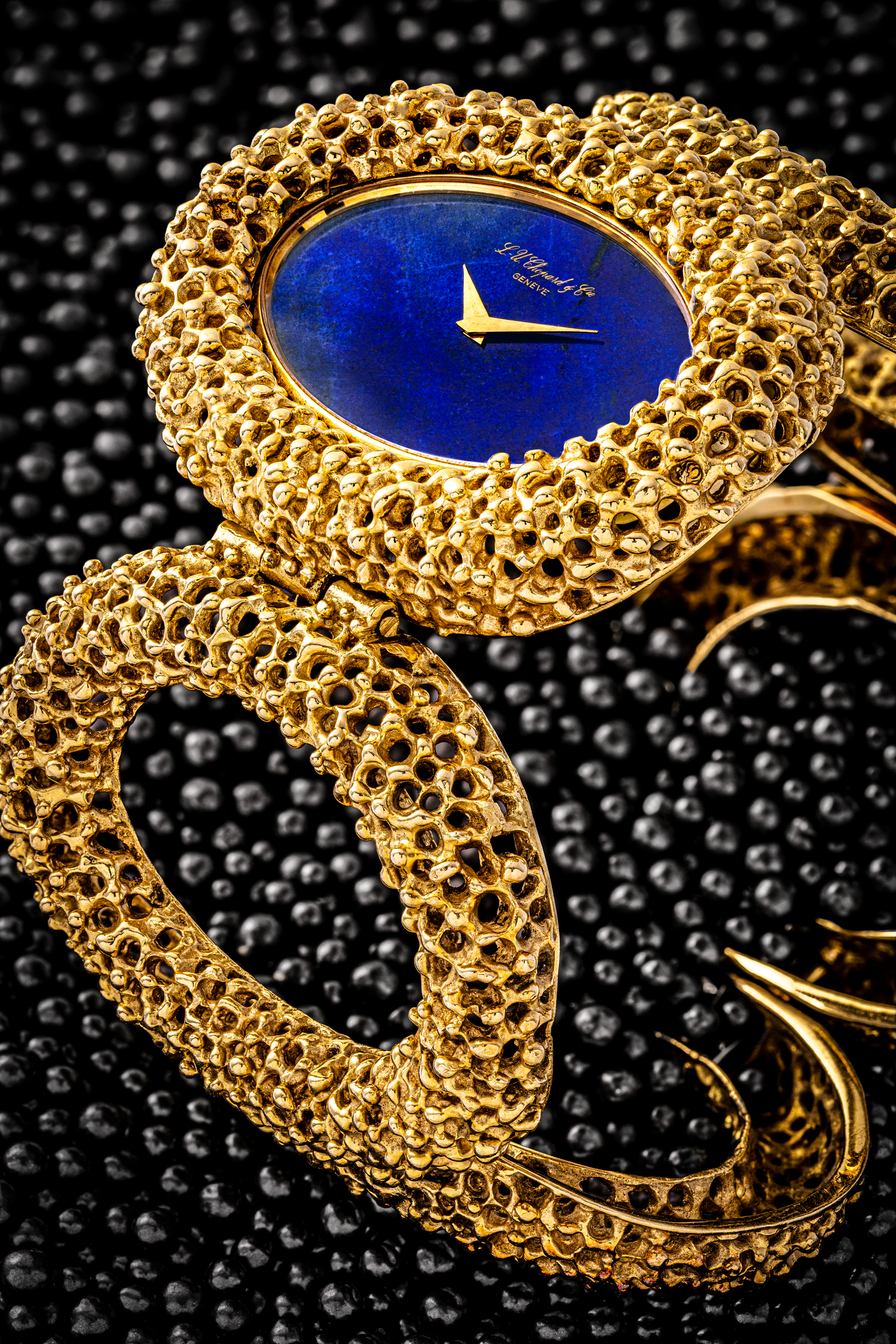 Lot 2257: Piaget
Making a statement with this rare Piaget timepiece is a given. Featuring an 18k gold bangle with a coral dial, the timepiece is powered by a manual movement working within a 54mm 18k gold case. Available with a Piaget Certificate of Origin, the timepiece dates back to circa 1970.
Estimated price: US$52,000-78,000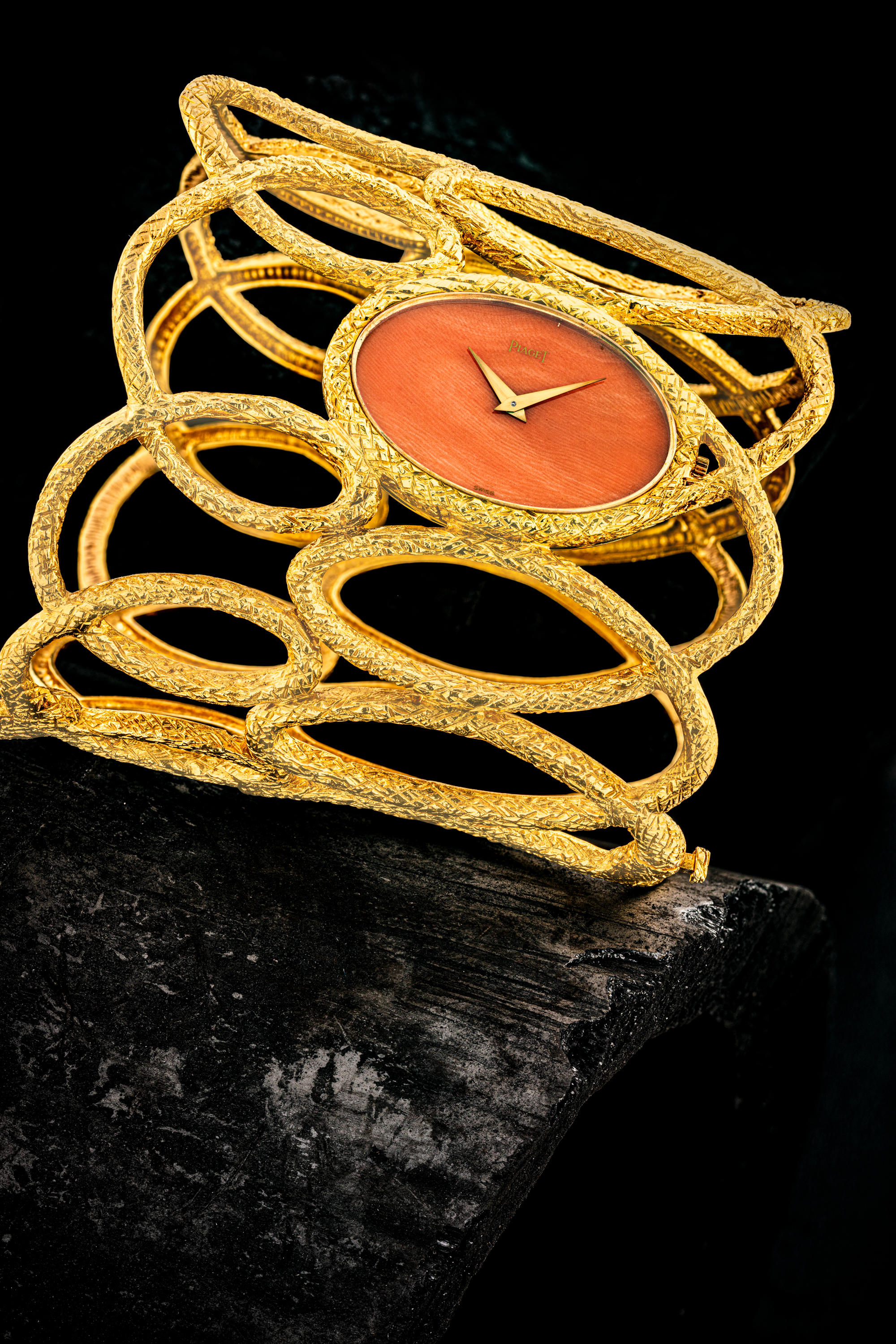 Lot 2285: Patek Philippe
If you are looking for something that will take your breath away, then the gorgeous Patek Philippe 18k gold and diamond-set bracelet watch with coral hints is the one for you! Designed in the 1970s, reference 4363 is a timepiece that is rare, distinguished and extremely appealling. Only a handful of examples have surfaced over the years, and one can safely assume the overall production was extremely scarce. Set in a 38mm 18k gold case with a dial housing paved diamonds, the watch is strapped to a diamond and coral-set Patek Philippe bracelet. Available in exceptional condition, the watch is set with a total of 387 diamonds and weighs approx. 5.00 cts according to the Patek Philippe Extract from the Archives. The Gemmological report remarks the timepiece to be "a one-of-a-kind piece"
Estimated price: US$71,000-130,000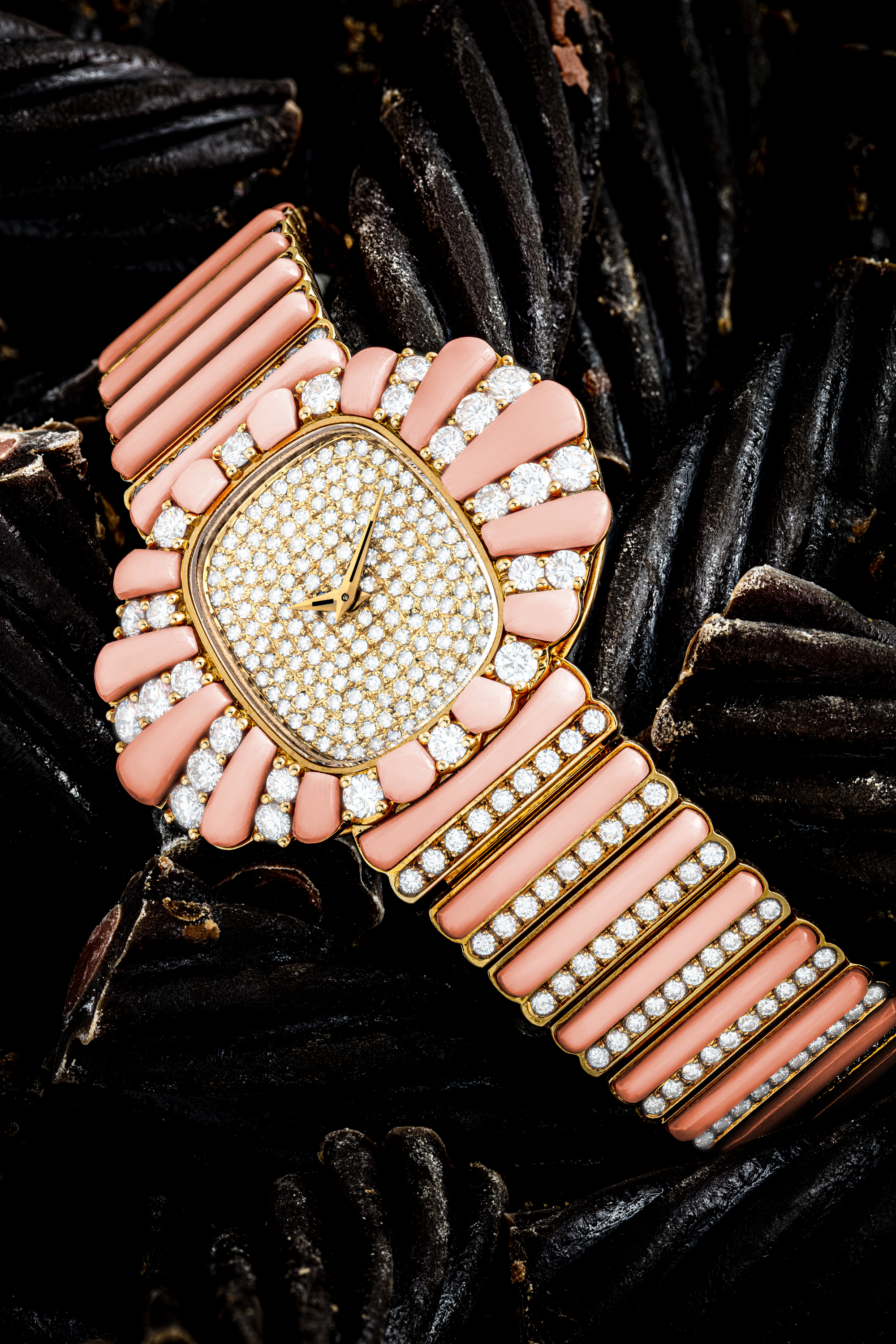 Lot 2294: Boucheron
Exceptional in its aesthetics is the 2008 manufactured Boucheron ladies watch featuring an impressive 18k white gold and diamond-set bracelet watch with mother-of-pearl dial. Sitting large at a 58mm case size, the watch is powered by a quartz movement and comes with a leather pouch.
Estimated price: US$65,000-130,000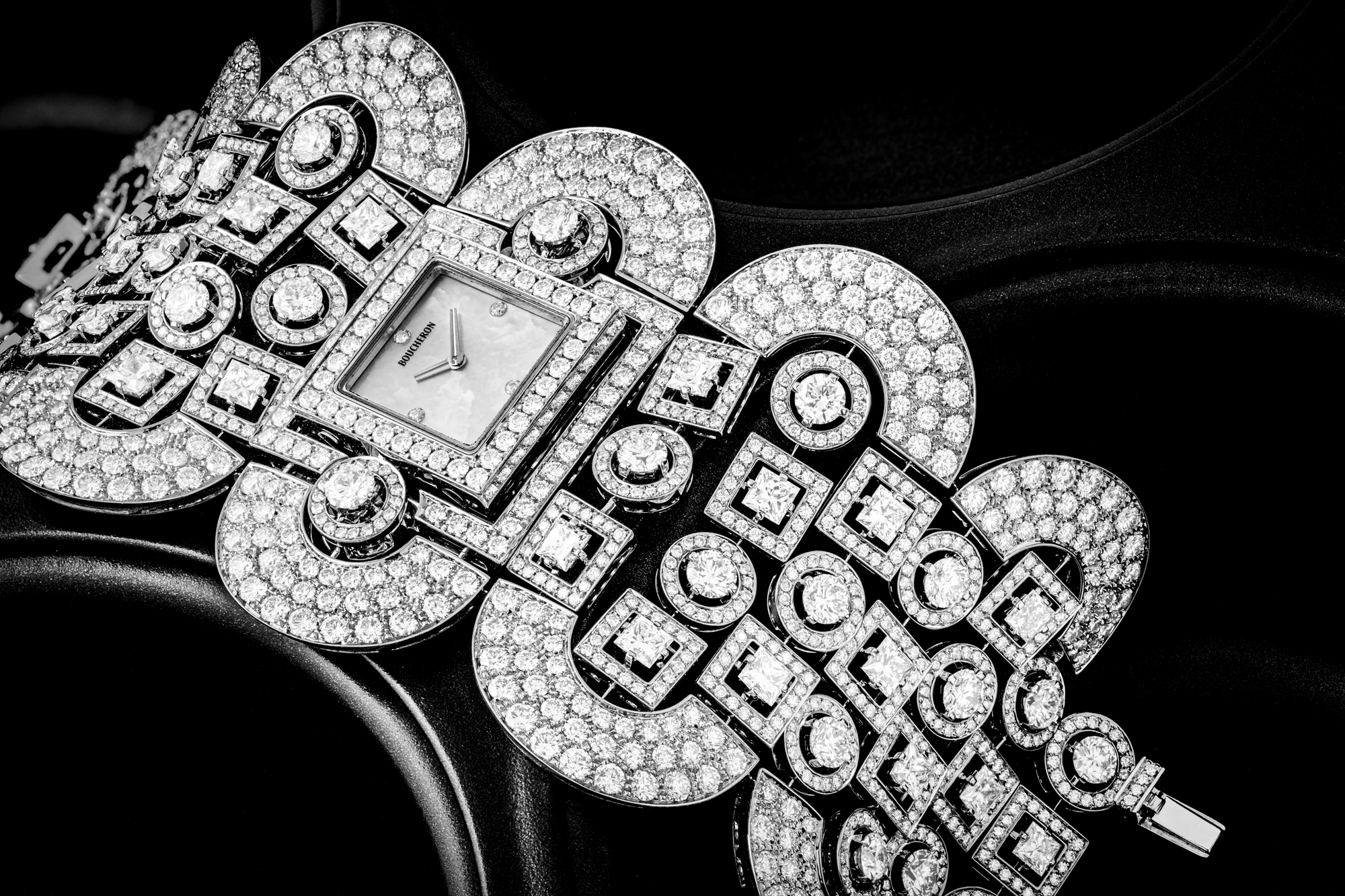 Lot 2302: Cartier's Baguette Panthère High Jewellery Wristwatch with Caliber 101 Movement
Perpetuating the beauty of the Panthère jewels that have captivated generations of Cartier's clients is the Baguette Panthère High Jewellery Wristwatch with Caliber 101 Movement. Set with baguette and brilliant-cut white diamonds and emerald eyes, this exceptional timepiece embodies the powerful essence of Cartier's big cat jewels that have been popular for their femininity and elegance. The present watch features an 18k white gold and diamond-set bracelet with a diamond studded Panthère with emerald eyes sitting on it. Apart from the exceptional design of the watch, what also makes this timepiece stand out is the movement beating inside. The watch is powered by the Calibre 101 movement that was first introduced by Jaeger-LeCoultre and then used by Cartier in 1929. It was then celebrated as the smallest movement of the time measuring only at 14 x 4.8 x 3.4 mm. This movement got its time in the sun in 1953 when it was found that Queen Elizabeth II had worn a diamond-set calibre 101 at her coronation that year.
Estimated price: US$78,000-155,000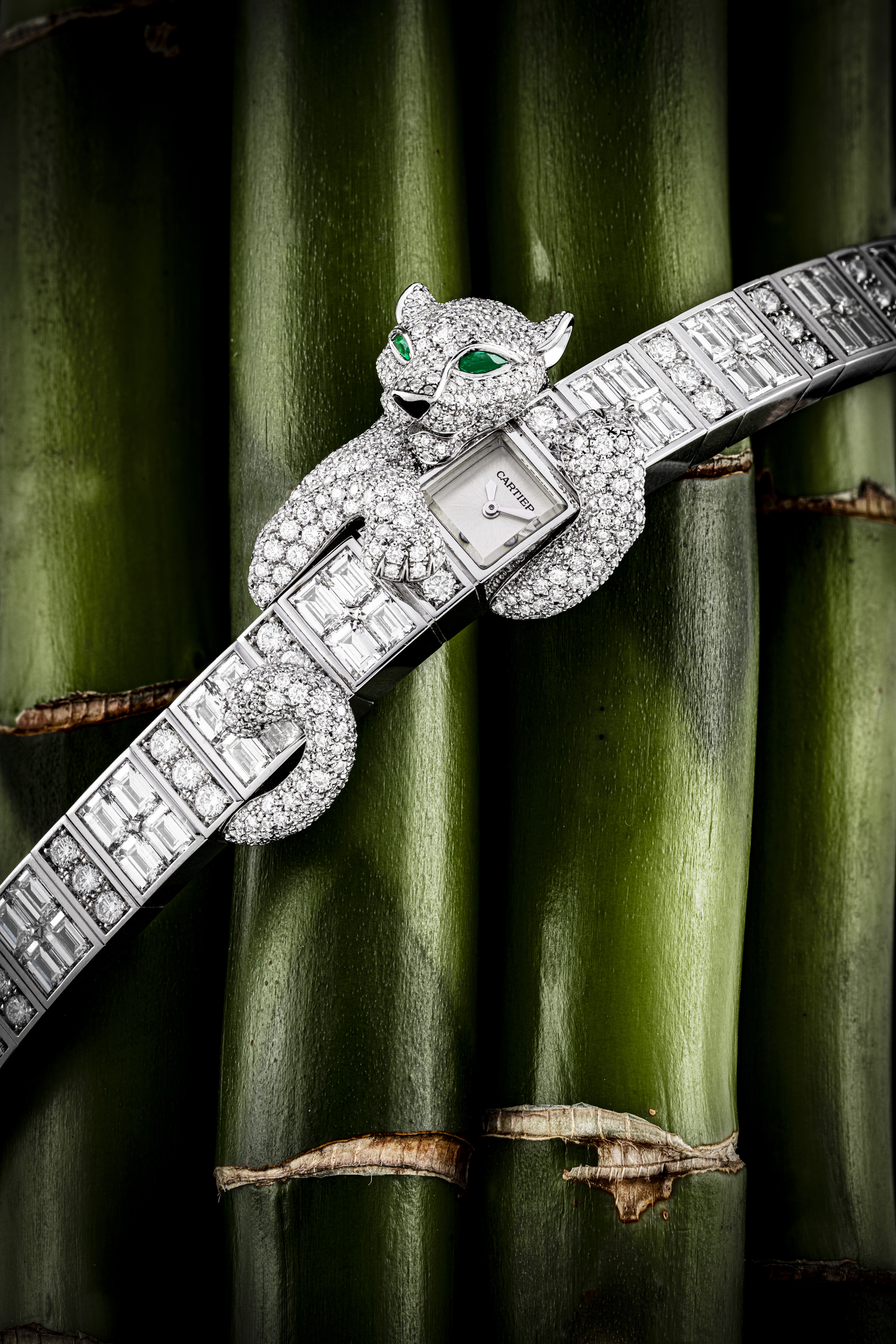 Lot 2304: Cartier Clock
First produced back in 1975, the Cartier Clock features a case made of a very rare gilt metal that is accompanied with a mother-of-pearl case and a mechanical movement working within. With a case size of 14.4 x 7.4 cm. (W x L of the stand) and a height of 24 cm, this vintage clock is a much-needed addition to every clock lovers mantle.
Estimated price: US$12,000-24,000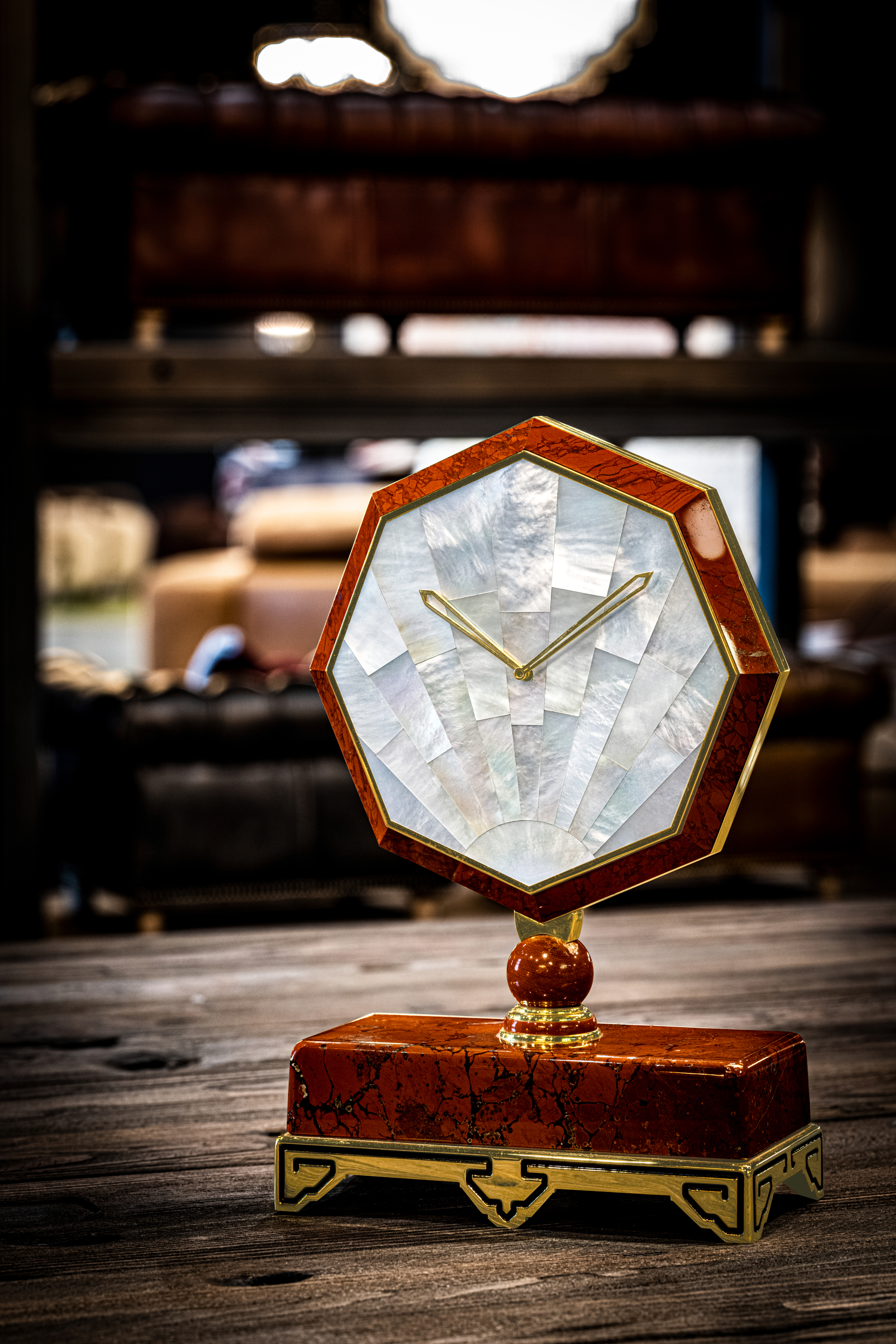 Lot 2303: Cartier
It is rare to find a watch with such contemporary aesthetics in an auction that prides itself on vintage timepieces. But there is an exception and the Cartier 18k two colour gold, morganite, diamond and orange sapphire-set obsidian bangle watch is it! Inspired by Art-Deco, the watch features bold blocks of colour and geometric styling that gives this timepiece a modern twist.
The bangle comprises of two individually carved curved panels of black obsidian coming together to form a complete circle. The two-colour 18K gold asymmetric detailing is set with 690 brilliant-cut white diamonds, 6 baguette-cut diamonds and one D colour VVS2 square-cut diamond. This is complemented by a line of 132 orange sapphires which, with the diamonds form an octagonal frame for the centrepiece. Furthermore a spectacular 143.99 carat octagonal pinkish-orange transparent morganite is placed over the dial set with a further 215 pavé-set white diamonds. Pretty neat, right?
Estimated price: US$517,000-1,007,000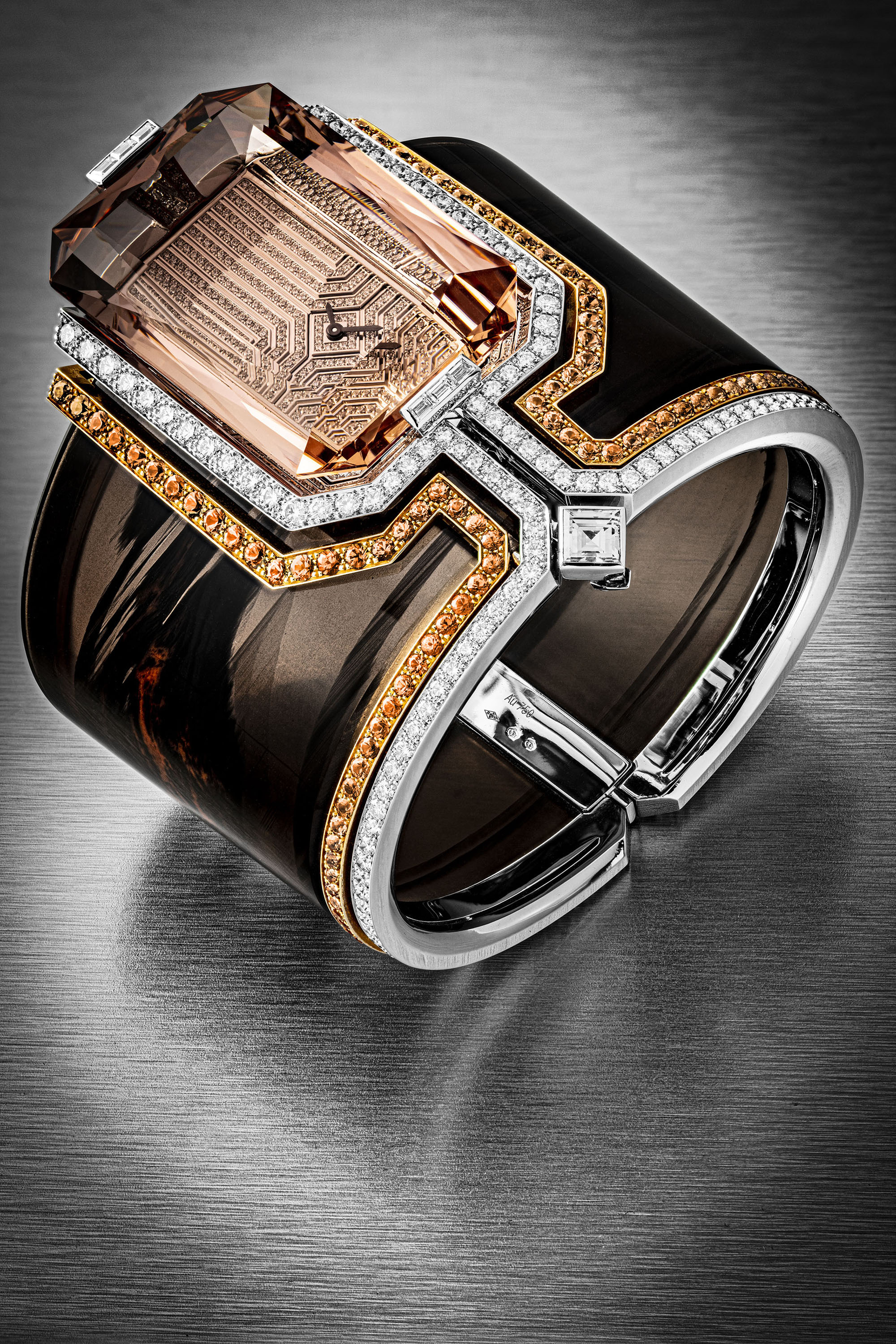 Lot 2305: Cartier Belle Epoque
This exceptional timepiece made around 1907 is one of the earliest Cartier timepieces ever produced. Featuring a thermometer and a barometer, the watch was set to be fitted to a car dashboard or in the rear seating of an early motor car. The Cartier Belle Epoque Clock is a significant identifier of the history and evolution of the watch world, the optimism of the period and the technological progress on both sides of the Atlantic.
The Belle Epoque is crafted from silver gilt metal with a nicely chased laurel and berry border. Within this border lies three white enamel dials for the time, barometer and thermometer which are individually framed by white enamel borders decorated with gold stars. These subdials are set against a blue translucent guilloché enamel of the very best quality. Powered by a manual movement, the timepiece is available in a presentation box.
Estimated price: US$62,000-123,000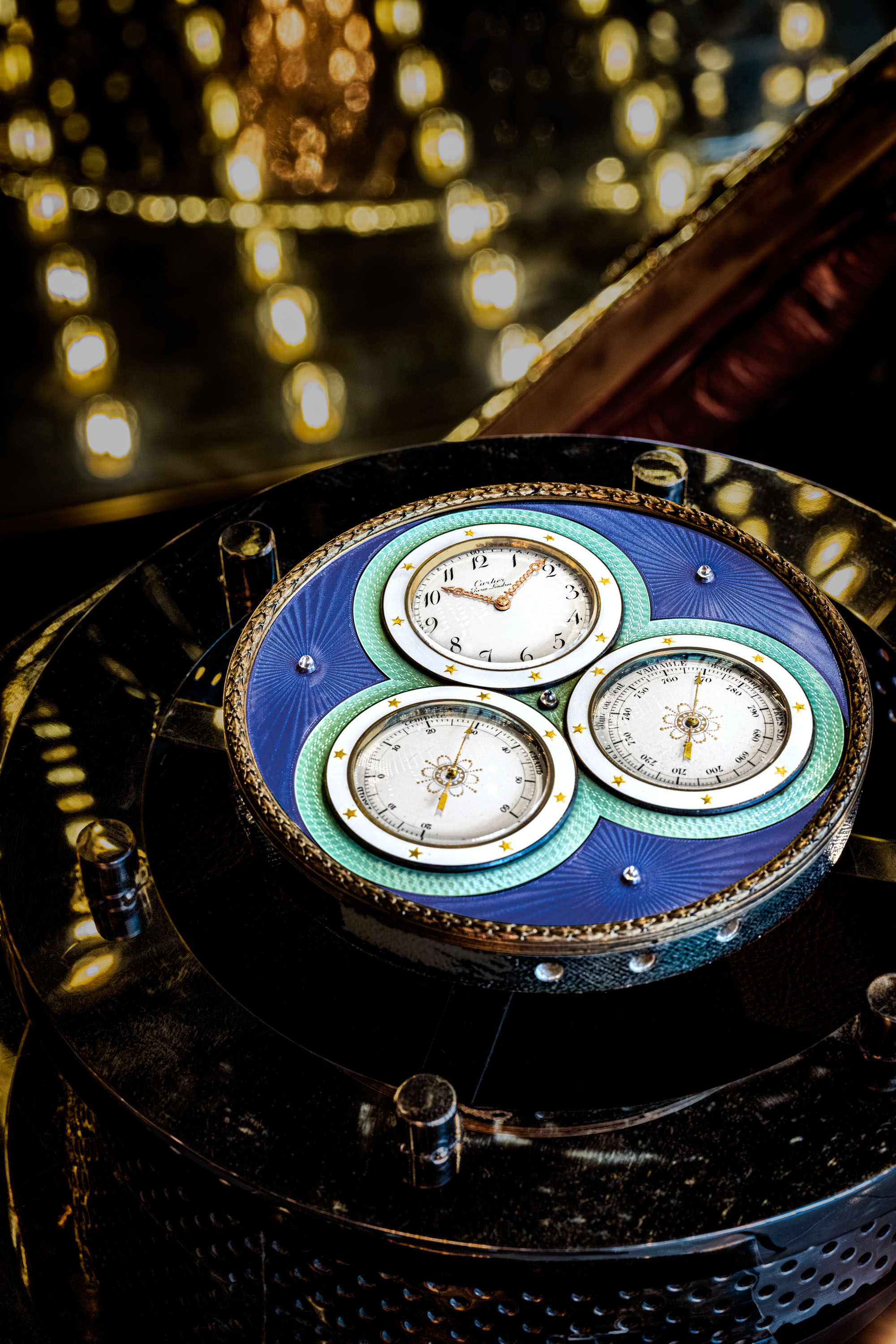 For more details on the upcoming auction, visit www.christies.com