Offering one of the most impressive releases of the year, Hublot makes an impression with Novelties featuring new colours, materials and technical innovation. We bring you the major highlights from Hublot:
The digital version of the LVMH Watch Week 2021 started with a bang on the 25th of January. The event started off with Hublot CEO Ricardo Guadalupe taking us through the various departments of the Hublot Manufacture and showcasing the Novelties that are born from each department.
Here are the major highlights from Hublot this year:
Hublot Big Bang Tourbillon Automatic Orange Sapphire
Drawing inspiration from Hublot's Art Of Fusion, the new timepiece reflects Hublot's mastery over the creation and machining of sapphires with exclusive shades for watch cases. This time around Hublot manages to create a completely new colour to its palette – Orange. This is combined with an entirely new tourbillon movement that is not only equipped with a automatic winding feature but also a reinvention of the architecture of the movement. What does this mean? It means that the movement beating at the heart of the Big Bang Tourbillon Automatic Orange Sapphire is uniquely designed with the micro-rotor facing the dial side and the three sapphire bridges instead of the back! Isn't that something?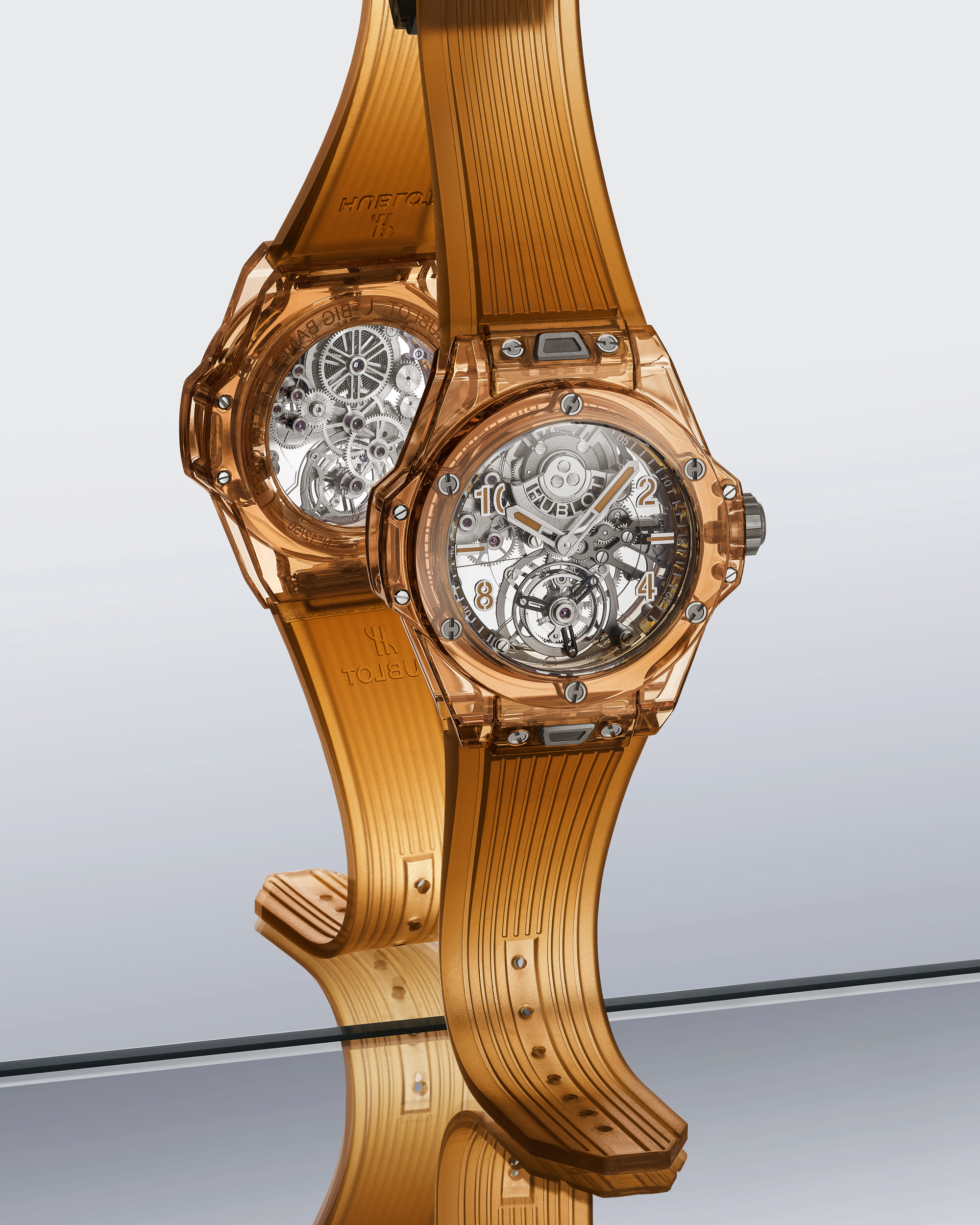 "In line with its winning spirit, Hublot has produced a new exceptional innovation by unveiling the world's very first case in orange sapphire. Our manufacture has also reaffirmed its watchmaking expertise by unveiling a new automatic tourbillon calibre, entirely designed and manufactured in-house, and on which the spectacular visible dial side architecture underscores the innovative design of the watch. The "Art of Fusion" in all its glory," says Ricardo Guadalupe, CEO, HUBLOT.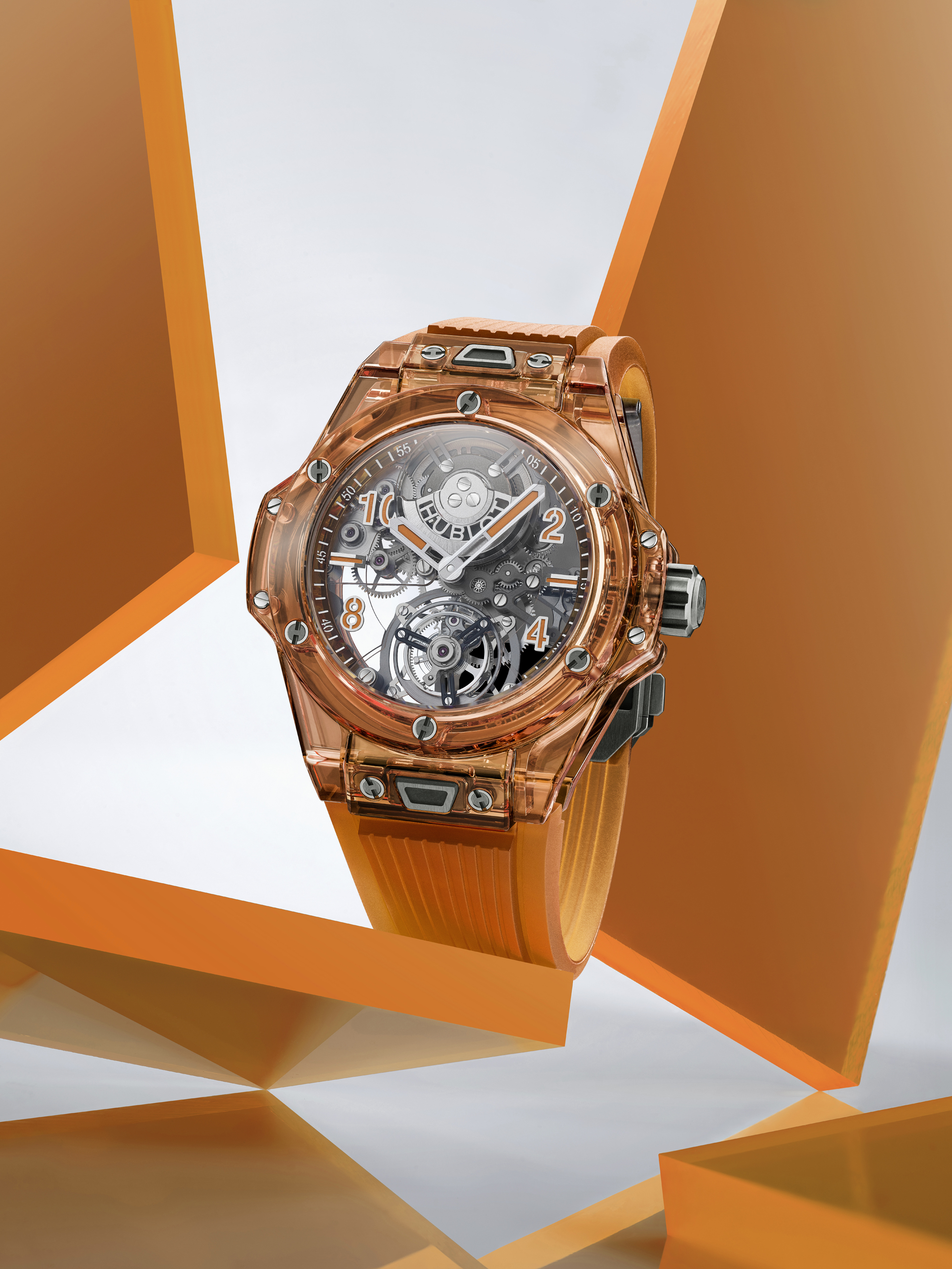 Limited to just 50 pieces, the Big Bang Tourbillon Automatic Orange Sapphire's watch case is crafted through the incorporation of titanium and chromium in a skilful manufacturing process. What further adds to the revolutionary timepiece is the mastery of the tourbillon beating within. Powered by the MHUB6035 Manufacture Automatic that clocks in a power reserve of 72 hours, the movement is reconstructed to showcase the micro-rotor on the 12 o' clock position of the dial side. The presence of the tourbillon cage at 6 o' clock gives perfect symmetry against the micro-rotor sitting at 12 o' clock. Strapped to a transparent orange rubber strap with a lined relief, the watch also features Hublot's patented One Click interchangeability system and titanium delpoyant buckle. The all new is Big Bang Tourbillon Automatic Orange Sapphire is priced at INR 1.21 crore (approx.)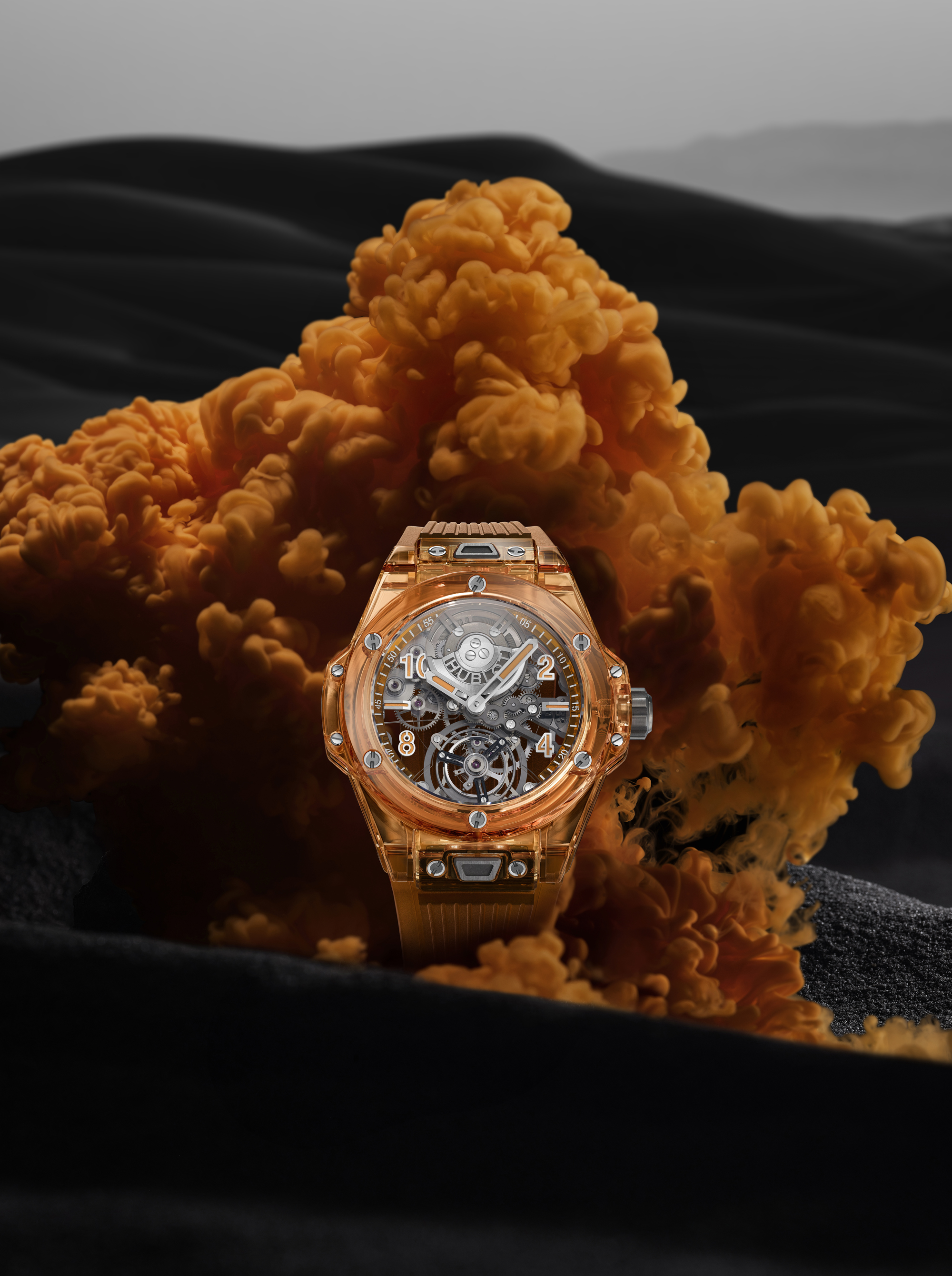 Hublot Big Bang Integral Ceramic
Offering a fully ceramic look is the all new Big Bang Integral Ceramic. After the success of it black ceramic version, Hublot launches three new ceramic colours to the collection; White, Navy Blue and Grey. From its monobloc structure to an integrated bracelet, there is a lot to like about these new watches. Crafted in 42mm case made entirely from ceramic, the new watches are set with the fully-integrated bracelet that launched in 2020.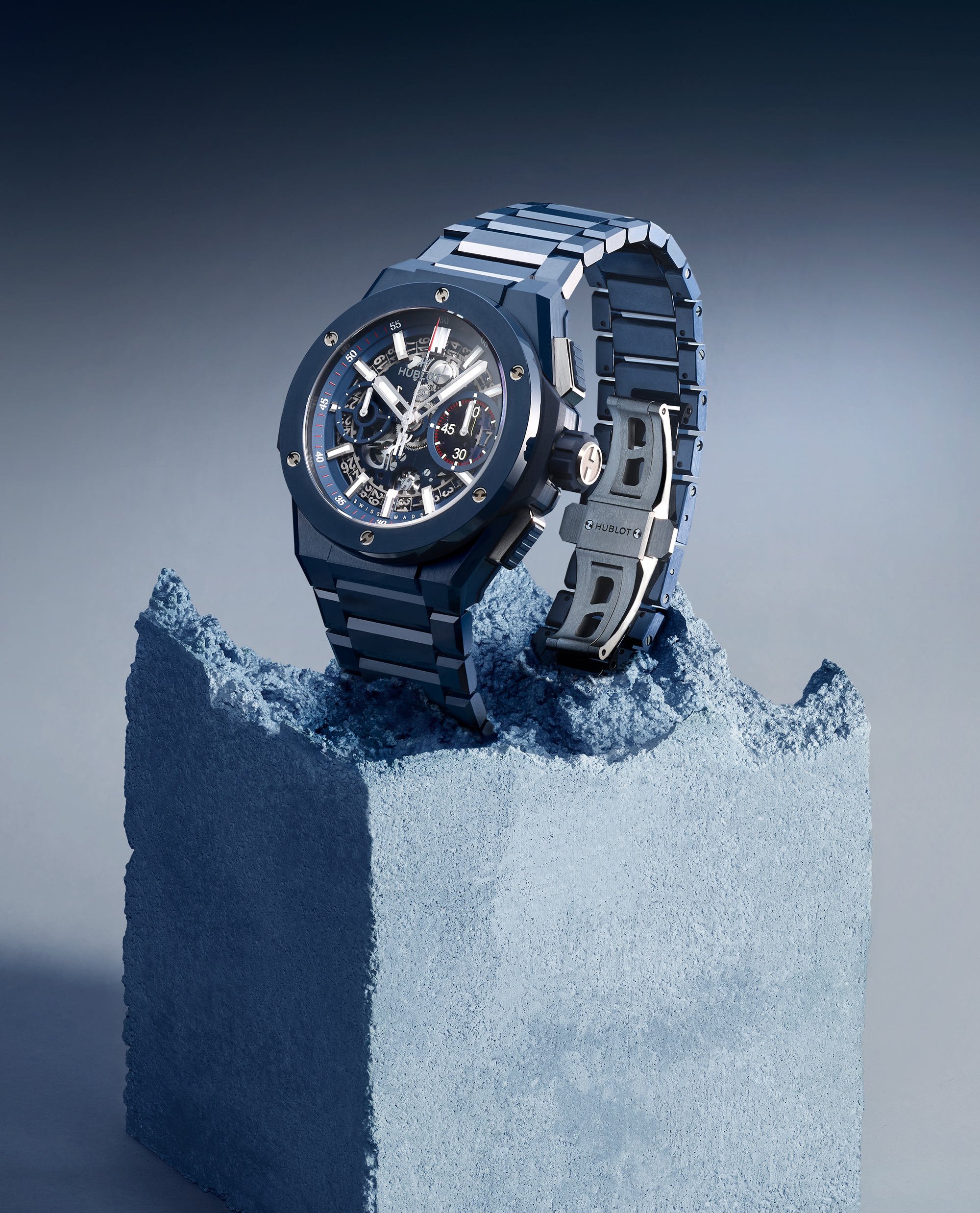 It features three links: one central and two lateral with polished and brushed surfaces that create an effect of depth and contrast. All of the new watches are powered by the UNICO HUB 1280 which is a modified version of the UNICO HUB 1242.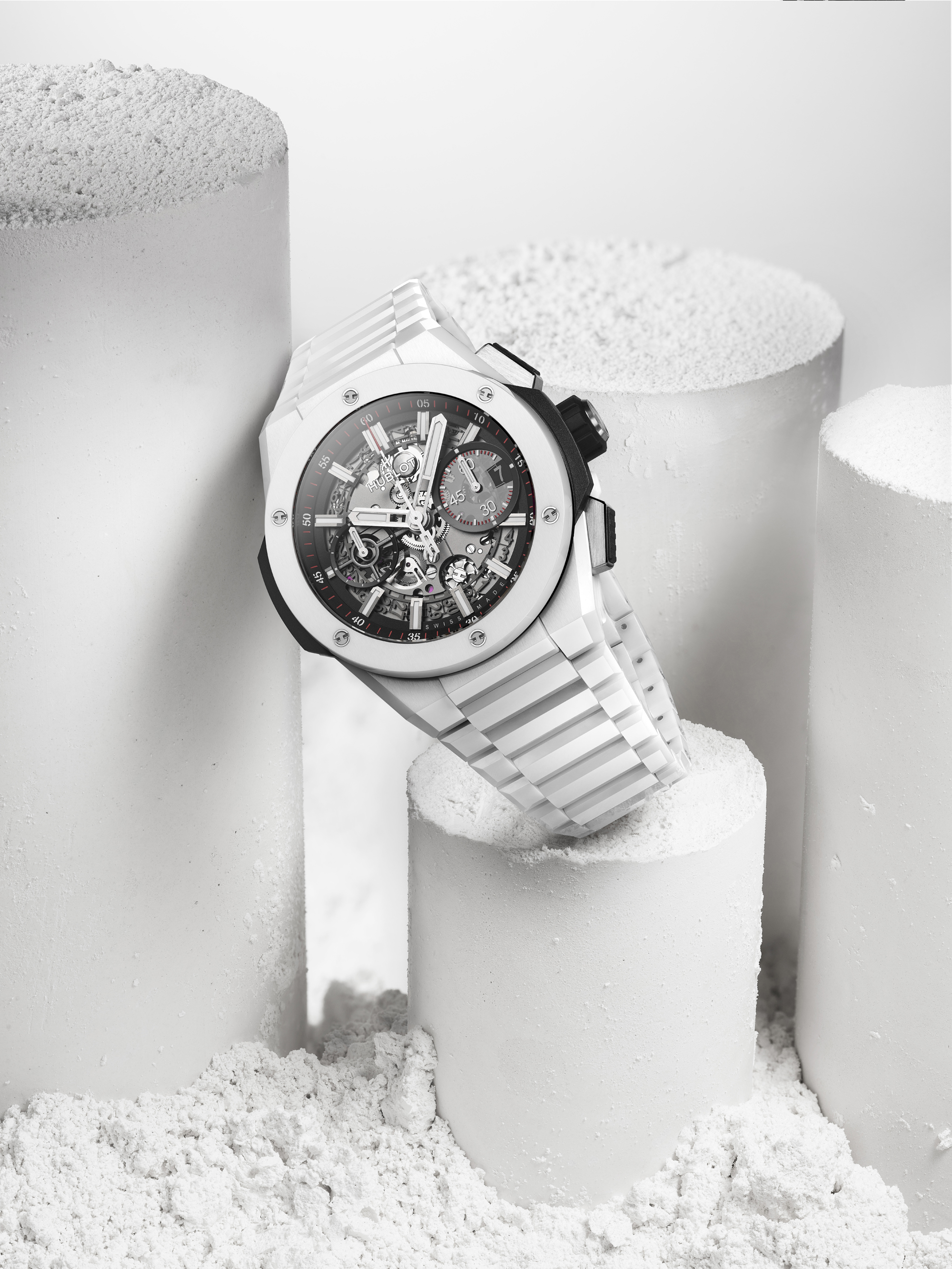 The Big Bang Integral Ceramic is available in three colours; White ceramic, Navy Blue and Grey. All the versions are priced at INR 16.82 lakh (approx.).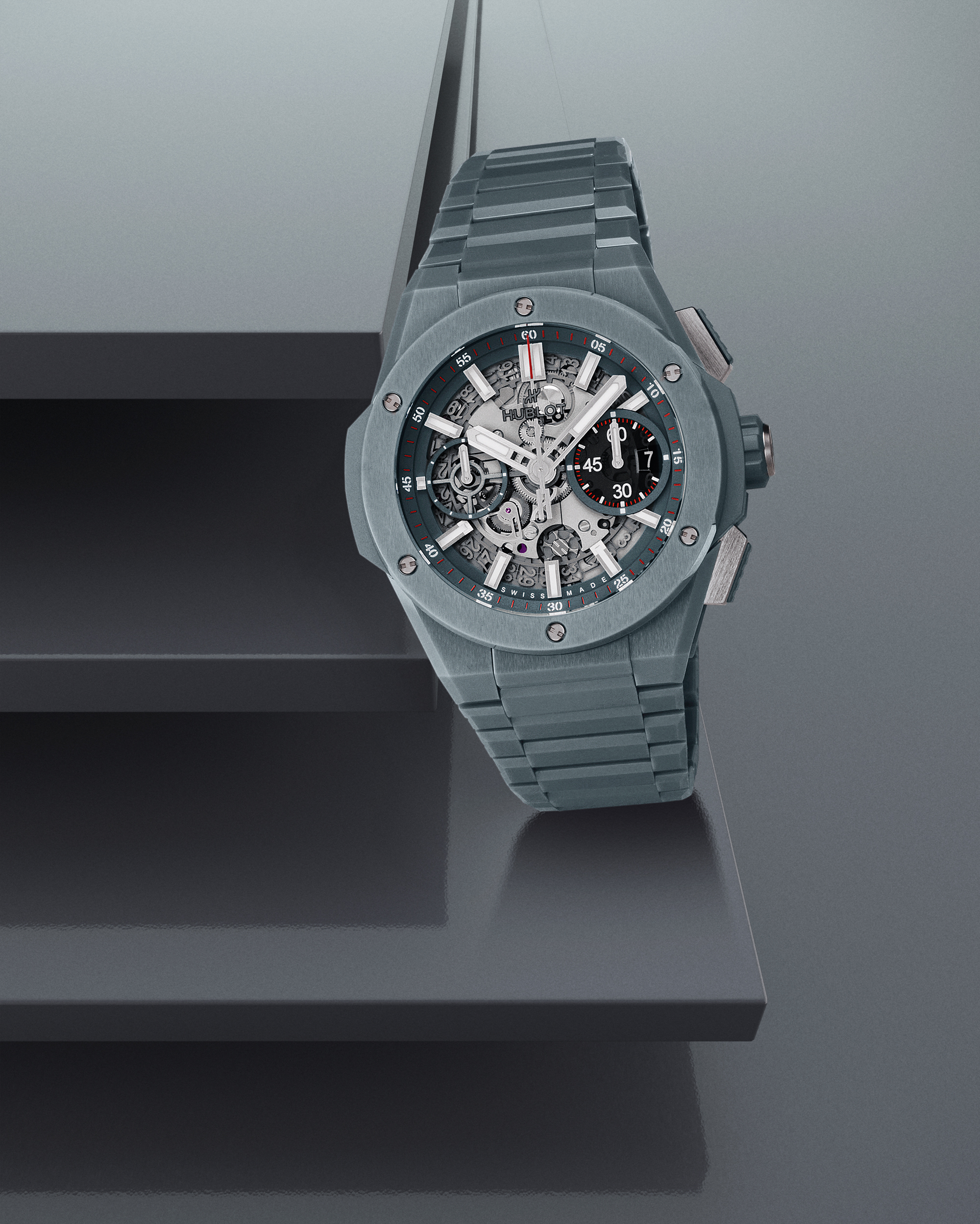 Hublot Big Bang One Click 33mm
Making sure you get an array of options when it comes to choosing the perfect strap colour for the day is Hublot's all new timepiece's main objective – the Big Bang One Click 33mm. Available in stainless-steel or in King Gold with almost 14 possibilities of interchangeable straps, the Big Bang One Click is equipped to set a happier mood for 2021. From an understated black, nautical style white to royal blue and smart pink, the timepiece has got something for everyone.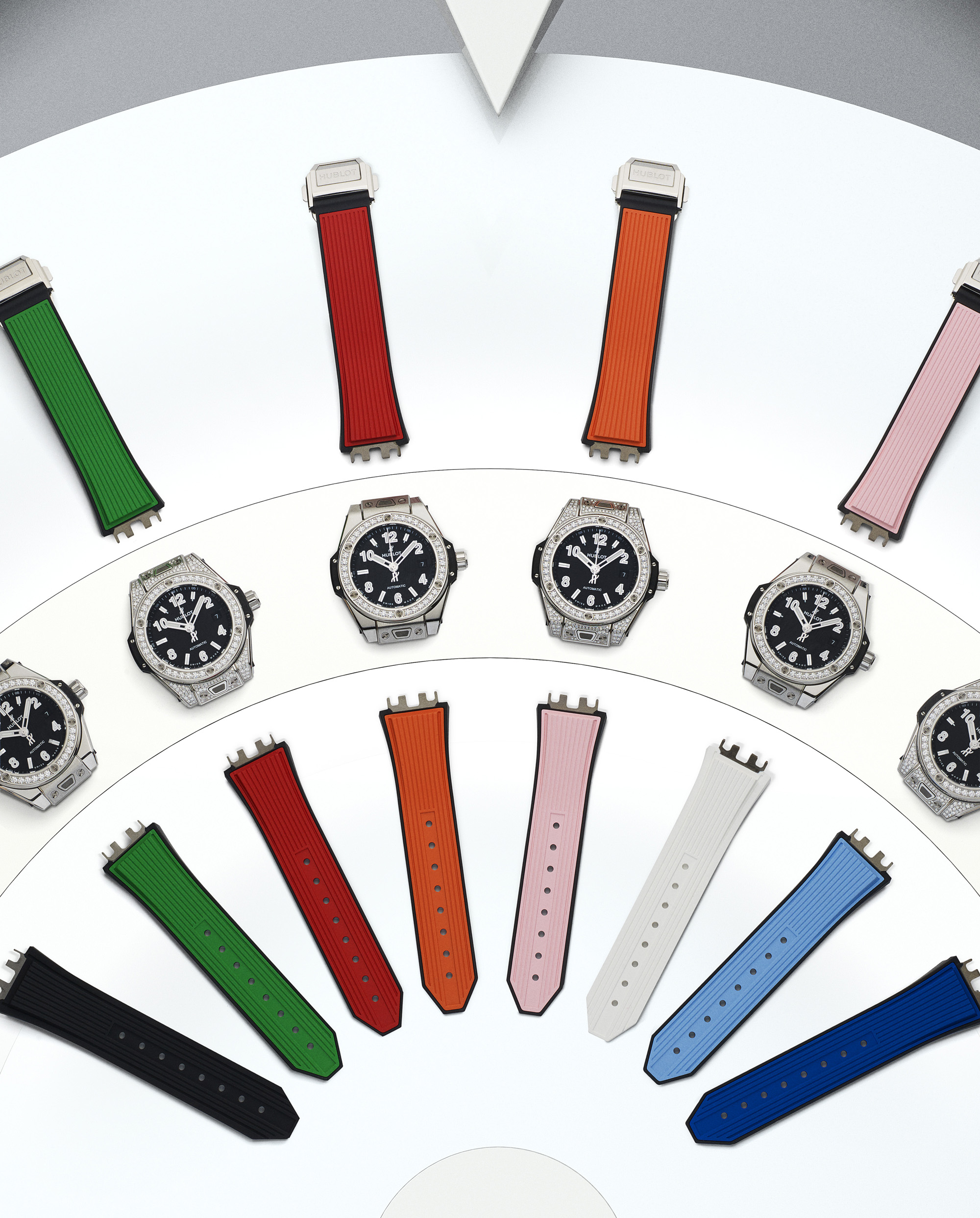 What makes this timepiece so amazing is the fact that it adopts the patented "One Click" fastening system that allows a wearer to quickly change their straps. The Hublot Big Bang Once Click 33mm is available in four versions; Steel with white diamond (priced at INR 9.77 lakh approx.), King Gold with diamond (priced at INR 17.98 lakh approx.), Steel diamond (priced at INR 9.77 lakh approx.) and King Gold diamond (priced at INR 17.98 lakh approx.)
Hublot Big Bang MP-11 Magic Gold
Reasserting its unrivalled expertise in cutting-edge materials is the all new 2021 Big Bang MP-11 in Magic Gold. Completely scratch-resistant and made from Gold and Ceramic, the King Gold case of the new watch offers watch enthusiasts a spectacular instrument that reveals the MP-11 manufacture within. The seven in-line barrels of the MP-11 movement guarantees an unrivalled power reserve of 14 days and is showcased wonderfully through the open dial of the new watch.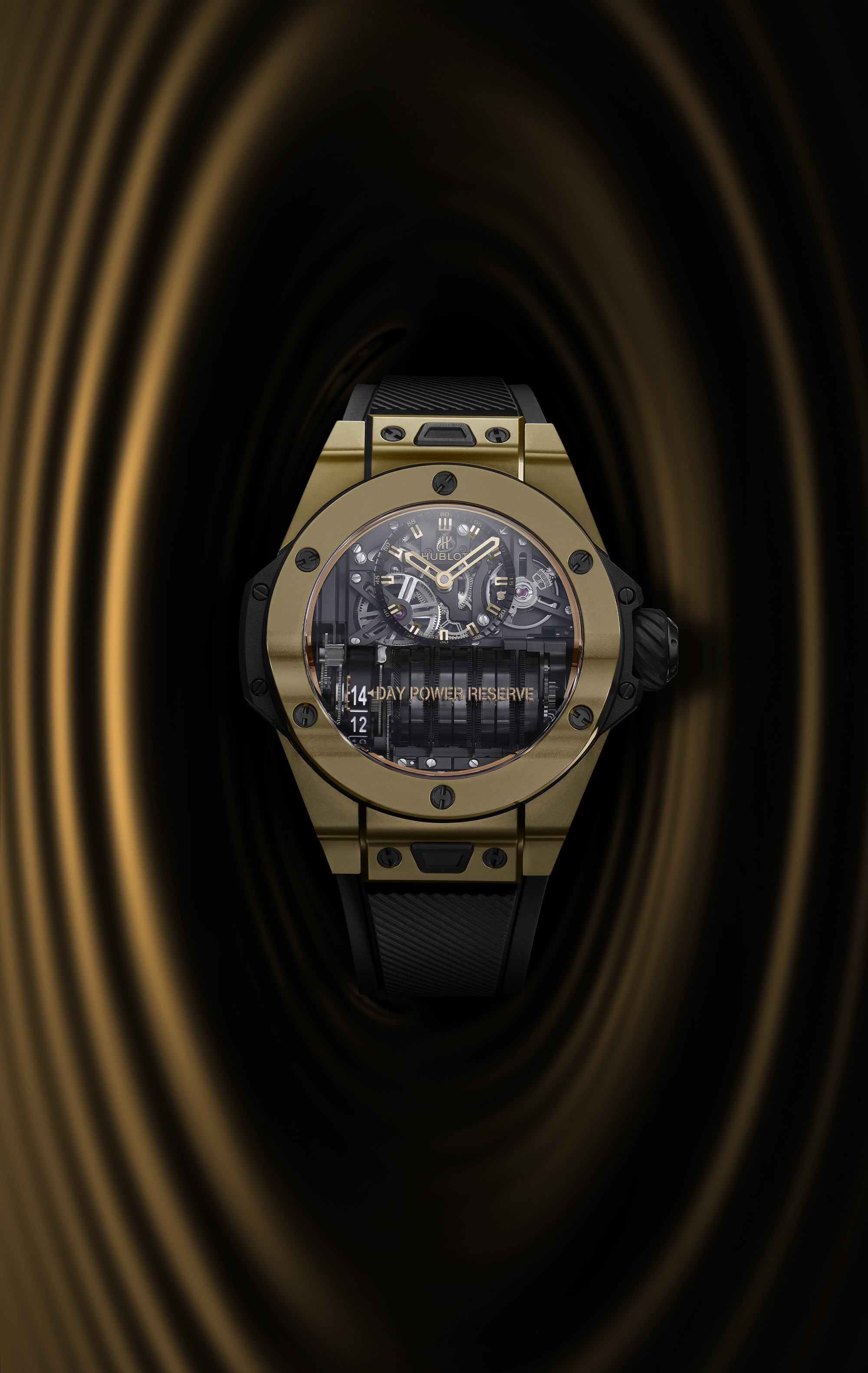 Available in a limited edition of just 50 pieces, the Big Bang MP-11 14-day Power Reserve Magic Gold for the first time offers this unique movement in the world's first ever version of scratch-resistant 18ct gold.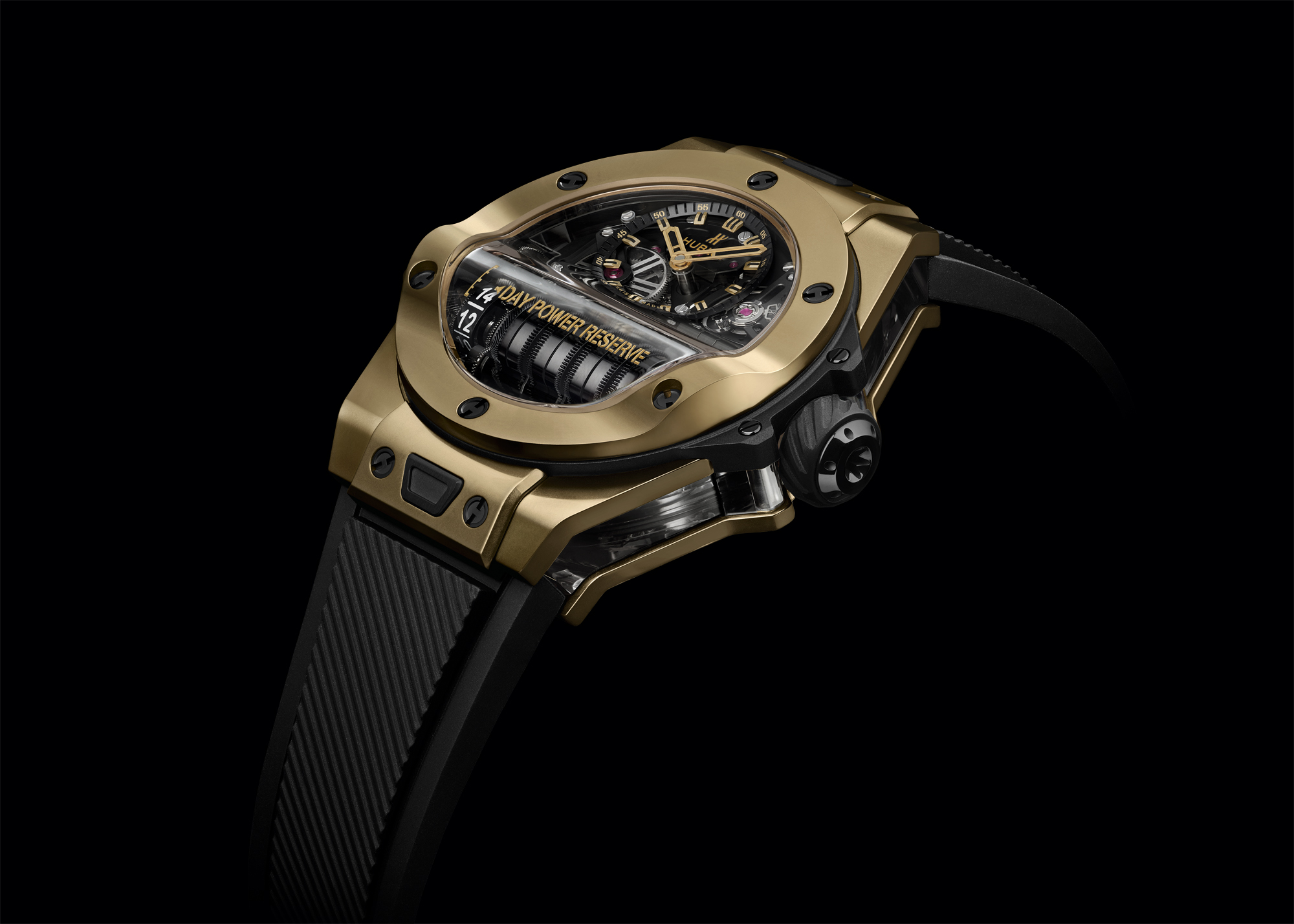 The Big Bang MP-11 14-day Power Reserve Magic Gold is available in a 45mm case size and strapped to a black structured lined rubber strap for maximum wearability. Priced at INR 69.80 lakh (approx.) the watch is a perfect example of the extraordinary technological mastery that Hublot offers when it comes to cutting-edge materials and movement manufacture.
Hublot Classic Fusion Orlinski
Richard Orkinski's emblematically designed watches in collaboration with Hublot has made quite the news since its first release in 2017. From collaborating on Hublot's new experiments with materials to inculcating his signature design on various components of a watch, the Classic Fusion Orlinski collection has never disappointed. Keeping this in mind, Hublot launches the Classic Fusion Orlinski 40mm for 2021. These new watches feature a monochrome mode in two editions that are made completely in ceramic and are available in two colours; flashy blue and glossy black.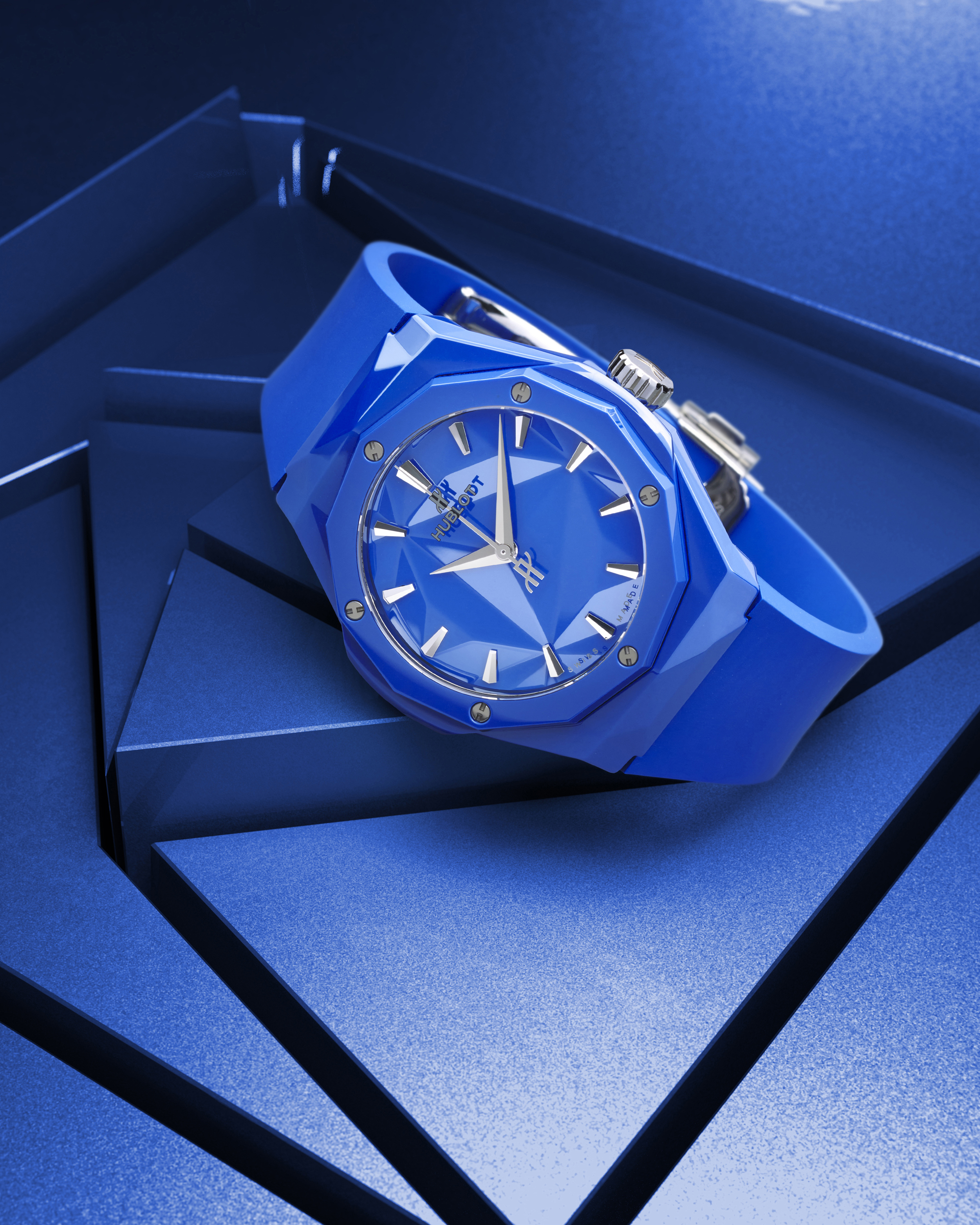 "I'm delighted to unveil two new versions of the Classic Fusion Orlinski. These two monochrome editions are perfectly in line with the DNA of the fusion of our two worlds, that of the House of Hublot, which shapes precious materials and dreams up extraordinary products, and mine, a world of pop and colour." says Richard Orlinski.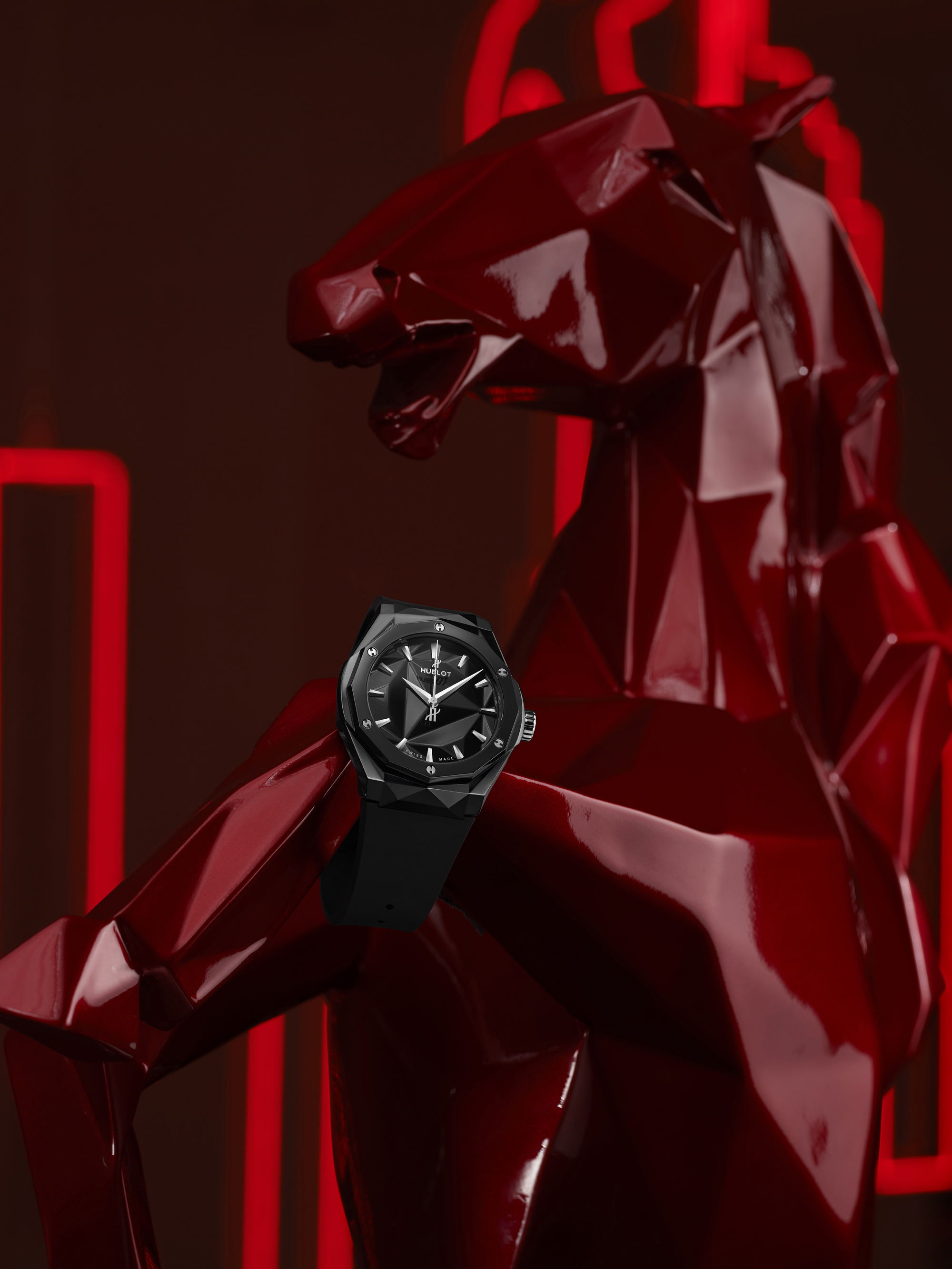 The two versions are priced at INR 10.59 lakh (approx.)