While it never flew to the moon or kept time on 007's wrist, the Omega Railmaster is a practical, straightforward watch to wear on the job. In this feature from the WatchTime archives, we give it a thorough once-over.
Originally designed for people who work near electric fields, today's Omega Seamaster Railmaster is a style-confident timepiece with a modern Master Chronometer movement. Its indexes and baton-shaped hour and minutes hands are coated with Super-LumiNova that has a faux-patina color during the day. But when darkness falls, these components glow with a beautiful azure luminescence, while a bright dot leisurely passes the points of the dial's triangular hour markings. This "lollipop" seconds hand with its luminous disk alludes to the way the seconds are shown on the clocks in Swiss railway stations and underscores the Railmaster's affiliation with railroading.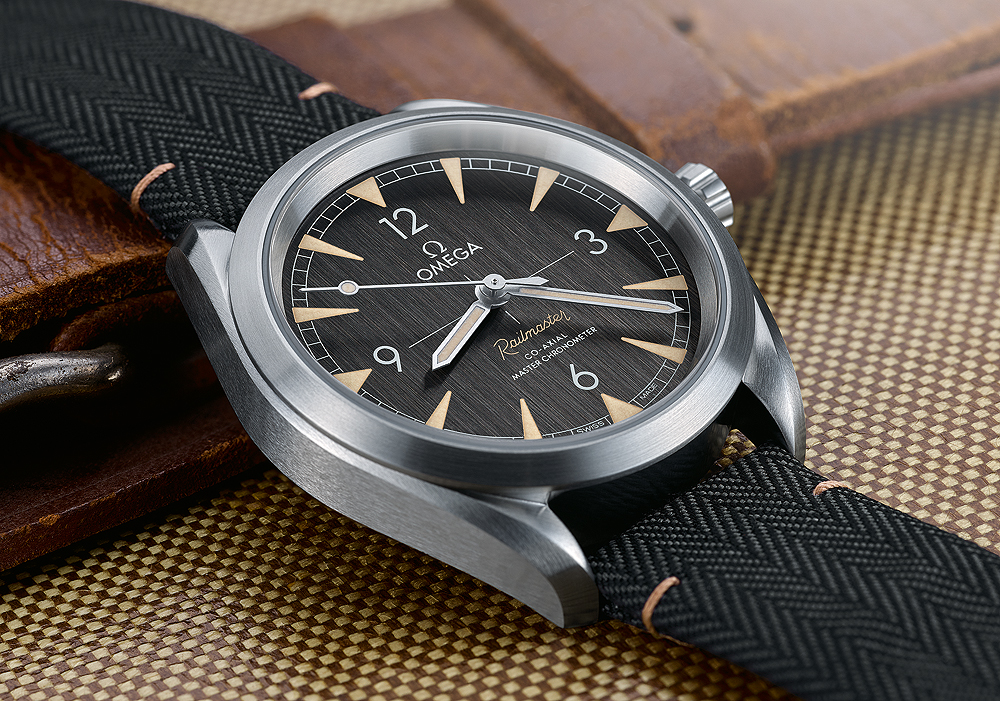 When the Railmaster debuted in 1957, it was the latest expression of a longstanding relationship between Omega and the railroads. Omega first delivered pocketwatches to railroad companies in 1895. The Railmaster was the first wristwatch designed specifically for railroad employees, scientists, electricians and technicians who worked in close proximity to strong electric currents. Early Railmaster watches were equipped with a special double case that could protect the movement against the adverse effects of electrical fields up to an intensity of 1,000 gauss.
When a revised edition of Omega's classic was launched in 2003, the model was already equipped with a modern co-axial caliber that had been developed in the late 1990s. This variation is no longer produced, but the Railmaster returned in a serially manufactured anniversary edition in 2017. It revived the historical design of the original model from 1957 and spiced up the familiar styling with several nuances. Encasing Omega's self-winding manufacture Caliber 8806, the model had a vintage look juxtaposed with modern Master Chronometer technology, which protects watch movements from magnetic fields up to 15,000 gauss. The Railmaster thereby continues a story that began more than 120 years ago.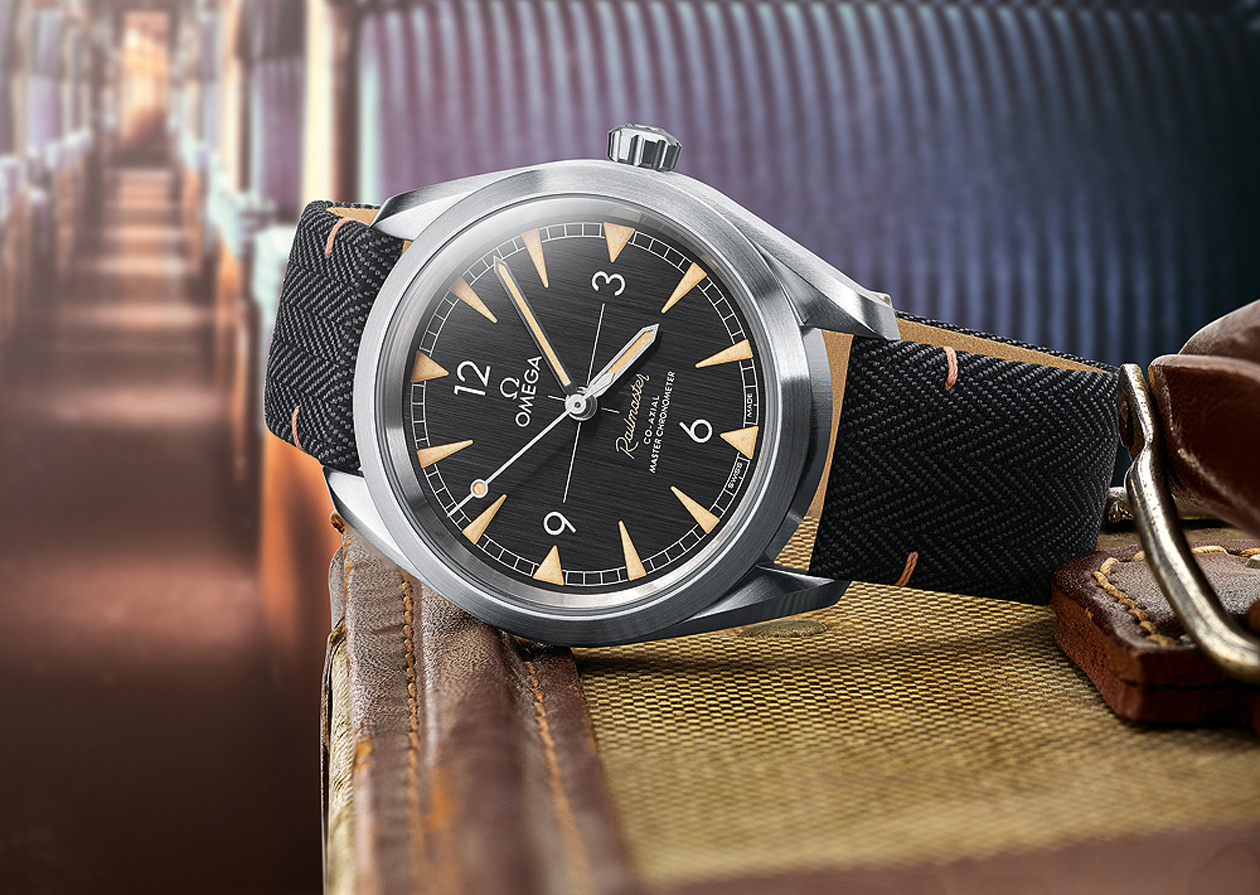 Unlike both the original and the limited-edition anniversary model, the dial of the serially produced Railmaster, our test watch, is vertically brushed rather than smooth, thus adding a modern touch to the watch's face. Nostalgia, on the other hand, is embodied by the aptly named "railway-style" minutes circle, which, incidentally, consisted of elongated index strokes on the original model. By contrast, a more modern impression is made by the numerals 3, 6, 9 and 12, which are present on all models, but printed in different typefaces.
The crosshairs in the center of the dial were understood as a symbol of precision, which the contemporary Railmaster reliably achieves thanks to Master Chronometer Caliber 8806. A COSC certificate proves that this caliber's timekeeping upholds the official chronometer standard. A second certificate – this one issued by METAS (the Swiss national metrology institute) – affirms that the Railmaster exceeds the COSC's quality level and, as a tested Master Chronometer, provides protection against magnetic fields up to 15,000 gauss. The Railmaster has a four-year warranty.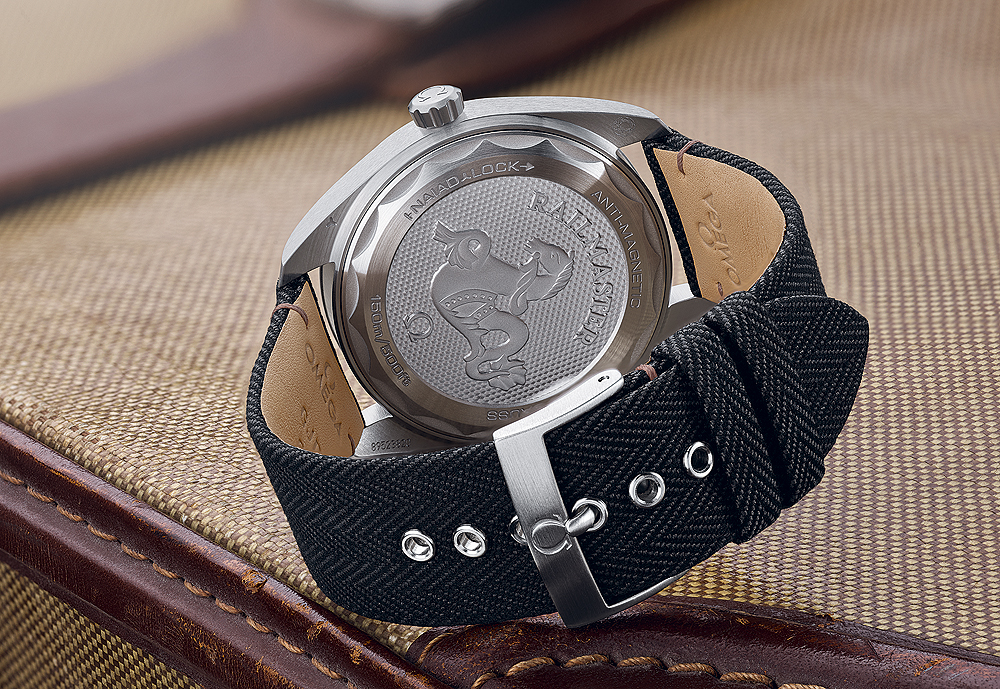 Like many other Omega movements today, Caliber 8806 achieves the current highest standards of precision, rate accuracy and resistance to magnetic fields. It doesn't run quite as perfectly as other Master Chronometers that we've tested in the past (see our recent test of Caliber 8900 in the Seamaster Planet Ocean), but it keeps time very well. Our timing machine detected only very minor rate deviations among the individual positions. And our empirical test proved that this watch performs better on a wrist than on the timing machine.
Caliber 8806 has been a three-handed movement in Omega's Master Chronometer repertoire since 2017. It has essentially the same construction as Caliber 8800, which debuted in 2016. But unlike the 8800, Caliber 8806 doesn't support a date display. This handsome movement is unfortunately concealed behind the solid metal back of the Railmaster's case, which has an undulating angular design and is embossed with an image of a seahorse. The seahorse and the lettering on the back always appear in their correct positions thanks to the new, patented Naiad Lock system: this innovation is a kind of bayonet connection for the caseback, which Omega plans to gradually install in all its new models as a replacement for conventional screw-in casebacks.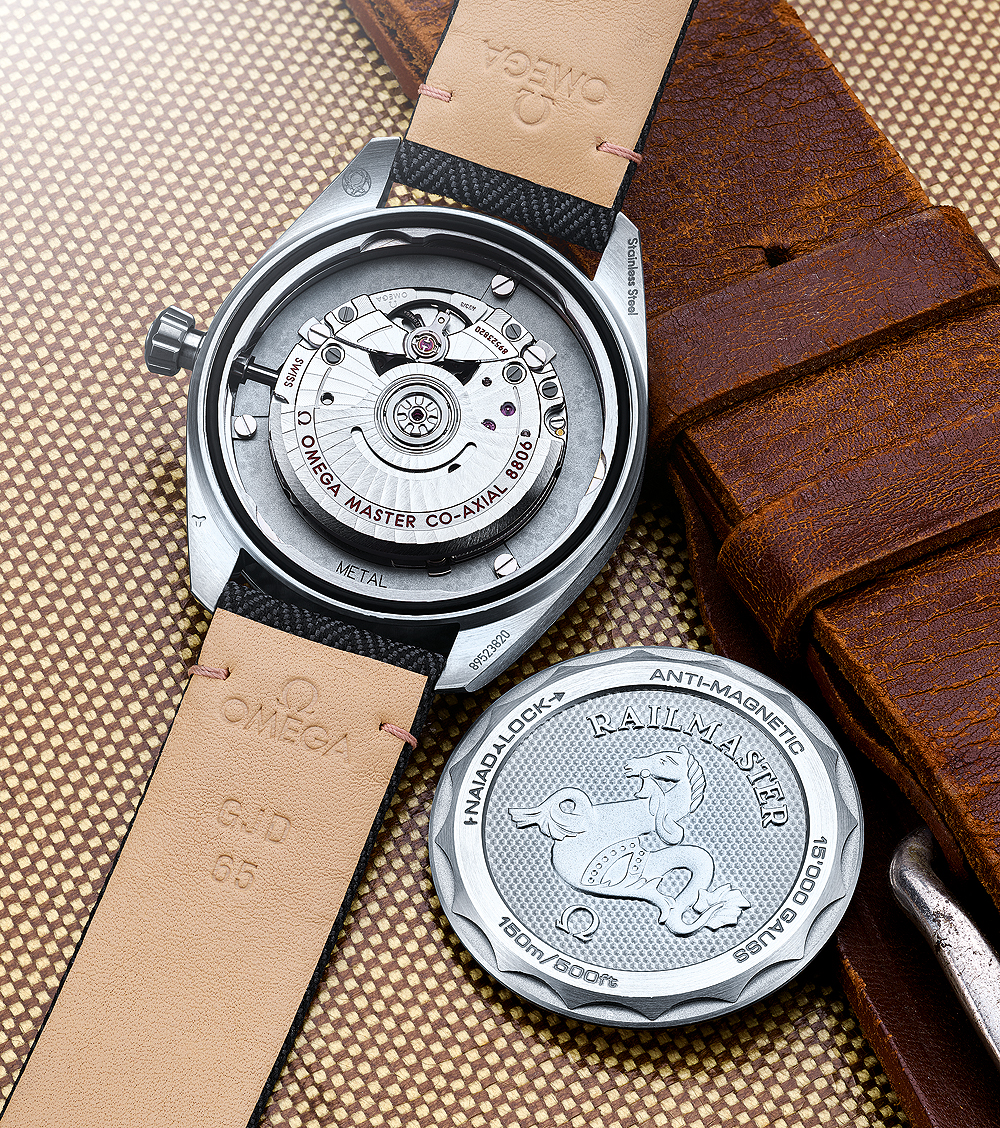 The case is 40 mm in diameter and resists water pressure to 150 meters (15 bar). The Naiad Lock system ensures that the back always fits exactly, which also contributes to its aesthetic appeal. With a large honeycomb pattern and monumental-looking lettering and engravings, the back also contributes to this watch's "workhorse" impression, which is further reinforced by the textile strap on the model that we tested. A leather lining on the underside of the strap enhances its comfort on the wrist, while the herringbone pattern of the fabric and the metal grommets around the holes in the tongue recall the robust quality of work clothes.
The Omega Railmaster is inarguably a sturdy fellow. Although its design isn't especially sophisticated or innovative, this watch has stood the test of time and has proven itself to be a practical, reliable and understated, but still elegant companion that you can enjoy wearing both at work and after the workday is over.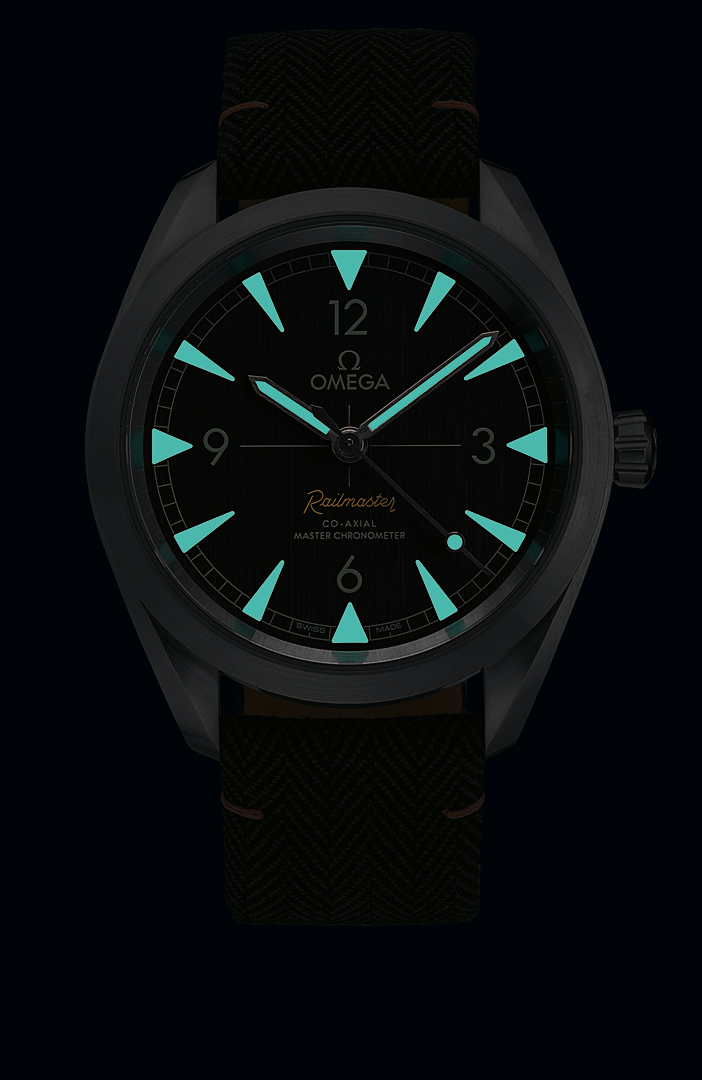 Specifications
Specifications
Omega Seamaster Railmaster
Manufacturer
Omega S.A., Stampflistrasse 96, 2504 Bienne, Switzerland
Reference Number
220.12.40.20.01.001
Functions
Hours, minutes, central seconds
Movement
Omega 8806, automatic, 25,200 vph, 35 jewels, titanium balance, silicon hairspring, screws on balance for fine adjustment, Nivachoc shock absorption, 55-hour power reserve, diameter=29mm, height=4.90mm
Case
Stainless steel, curved sapphrie crystal anti-reflectively treated on both sides, water resistant to 150 meters
Strap and clasp
Reinforced textile with stainless steel pin buckle
Rate results
Deviation in seconds per 24 hours, fully wound/after 24 hours)
Dial up
+4.5 / +4.1
Dial down
+4.5 / +4.4
Crown up
+1.4 / +3.2
Crown down
+5.3 / +5.6
Crown left
+4.2 / +4.6
Greatest deviation
3.9 / 2.4
Average deviation
+4.0 / +4.4
Average amplitude
Flat position
294 degree / 285 degree
Hanging position
259 degree / 250 degree
Dimensions
Diameter = 39.97mm, height = 12.68mm, weight = 82 grams
Variations
With stainless steel bracelet and black, grey, or blue dial ($5,500 or Rs. 3.81 lakh approx.); with brown leather strap and grey dial ($4,900 or Rs. 3.40 lakh approx.); limited edition based on original model ($6,800 or Rs. 4.71 lakh)
Price
$4,900 or Rs. 3.40 lakh (approx.).