A glimpse into the painstaking, breathtaking art of enamelling at the Ulysse Nardin atelier in Le Locle.
A delicately-crafted oil rig, drilling for black gold in the dark waters of the North Sea. How's that \ for an offbeat motif on a watch dial? For its SIHH debut this year, Ulysse Nardin had this and much more up its sleeve. Among other firsts, the Le Locle-based manufacture announced an extended five year warranty on all newly purchased watches. The spotlight, however, was clearly on the enamel pieces, be it the three movable cranes of the North Sea Minute Repeater, chiming the hours, quarter hours and minutes, or the Classico Manufacture Grand Feu, with its translucent blue dial.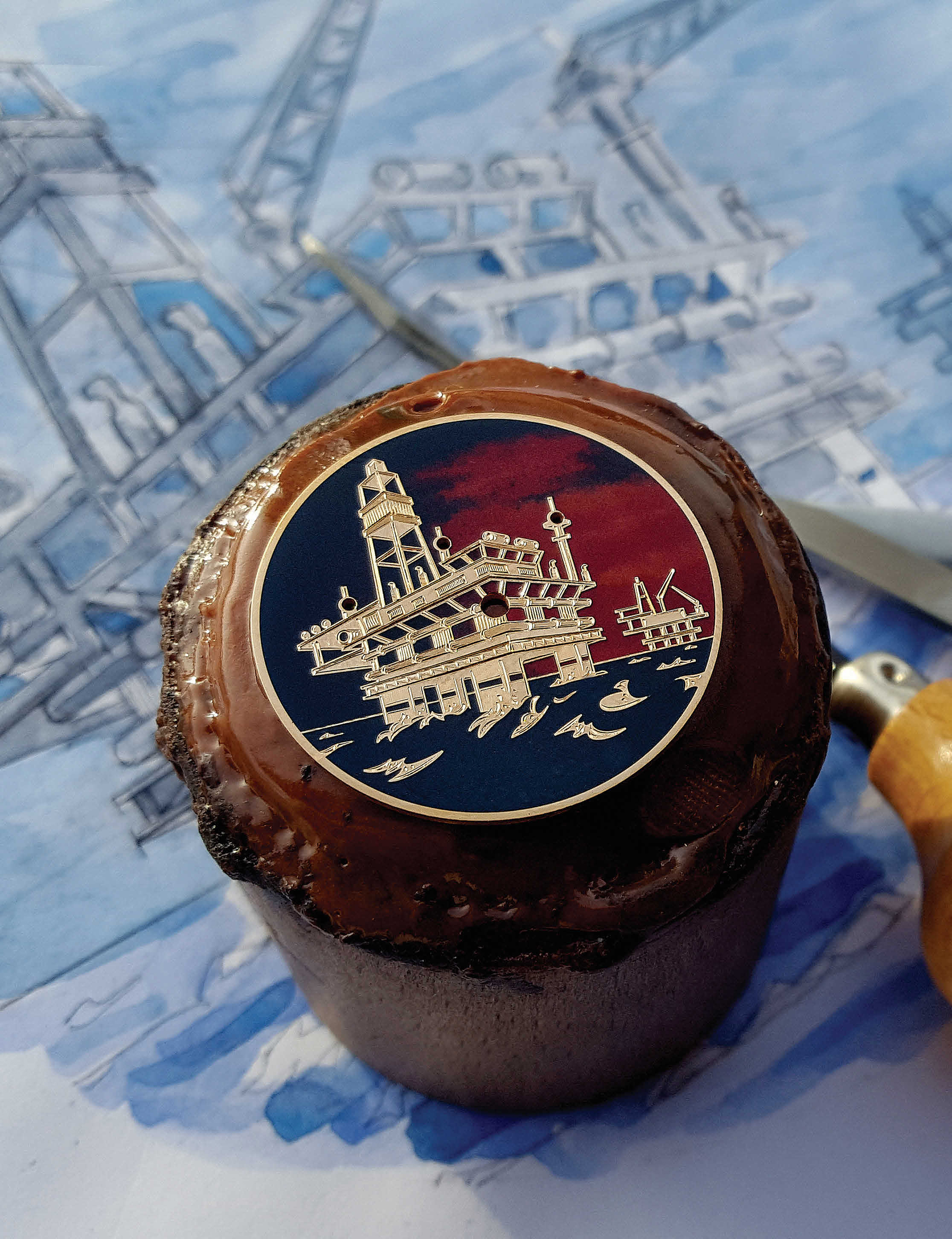 Ulysse Nardin's tryst with enamelling began about three decades ago with the San Marco Hourstriker limited edition. Crafted in gold and platinum, the wristwatch depicted a jacquemart (automaton mechanism) set on a vibrant blue enamel dial. And, since then, there has been no looking back. The brand has dabbled in this art, partnering with Donze Cadrans, one of the oldest companies that specialises in such dials; Francis Donze established the fi rm in 1972. Cadrans, incidentally, is the French term for 'dials'. Ulysse Nardin bought it in 2011 as part of a major vertical integration move.
"In French, it means a big fire and, as it involves baking the dials in an oven between 760 and 900 degrees Celsius, the name stood ground."
In the past 15 years, the company has invested around 100 million CHF for the Le Chaux-de- Fonds plant, where movements are made, and research and development takes place. And, today, it is one of the few watch companies that can produce everything in-house, including hairsprings. WatchTime India travelled to Le Locle to witness the artistic side of fine watchmaking at Ulysse Nardin and get a first-hand perspective on the age-old decorative art, mastered by a handful of people at Donze Cadrans. Enamelling consists of three techniques— Grand Feu, Champleve and Cloisonne. "It takes about five hours for simple dials in single colours, whereas the complex ones take at least 60 hours," says Claude-Eric Jan, director, Donze Cadrans. "All techniques require superior skills and we have five people entrusted with this work."
Usually white or beige in colour, the widespread use of the Grand Feu technique began in the 17th century. "In French, it means a big fire and, as it involves baking the dials in an oven between 760 and 900 degrees Celsius, the name stood ground," says Claude-Eric. The dials are created on a copper base and the subdials are manufactured separately, before being tin-soldered together. Enamel is a soft glass composed of silica, red lead and soda. "Mixed with other elements, it is capable of creating intense hues with a subtle depth. The elements used to add hue to enamel include iron for a grey colour, chromium for green and iodine for a fiery red. "There are only about five such factories where production is carried out in a stringent manner. It all starts with the selection of the enamel powder and most of these dials retain their sheen forever," says Claude-Eric.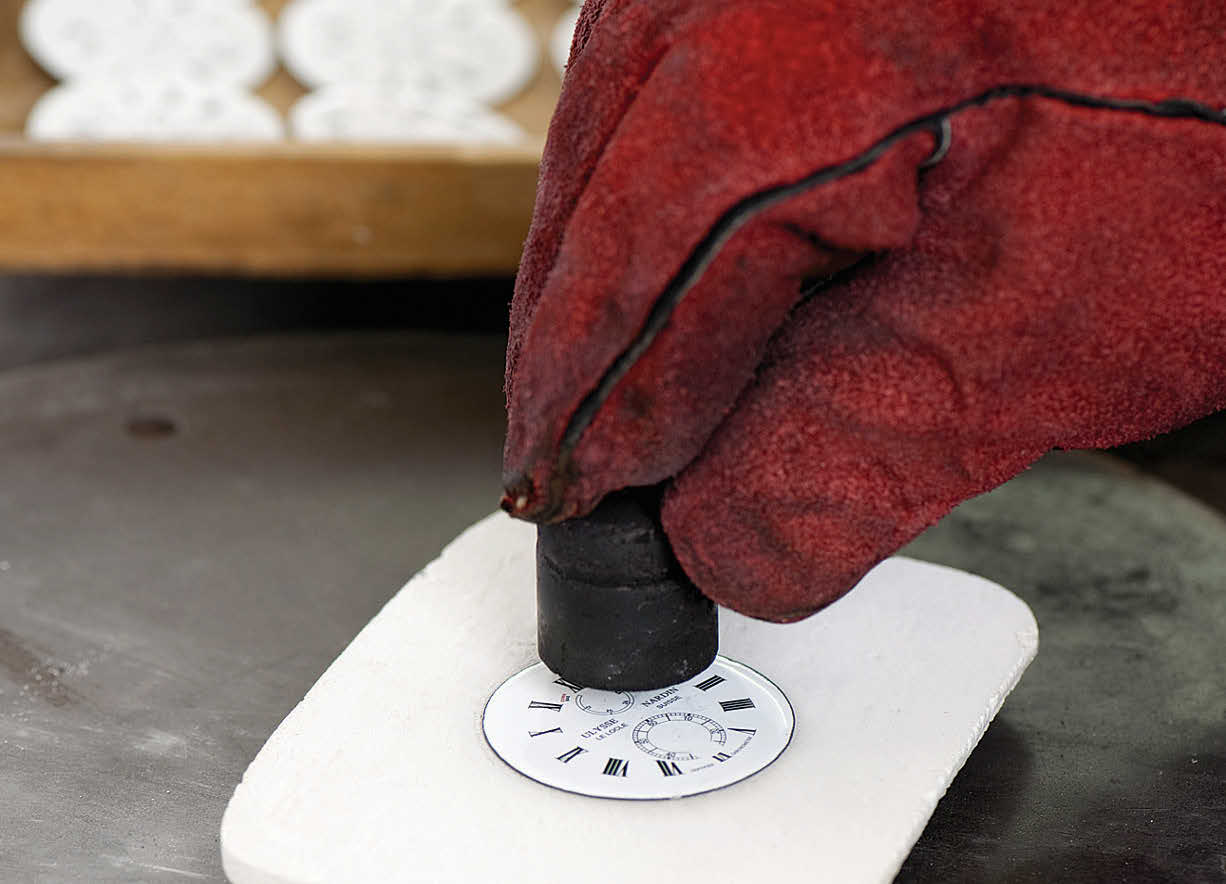 When enamel is heated to temperatures of 800 to 1,200 degrees Celsius, it liquefies and bonds to metal. It is then applied to a dial with a goose quill. However, it must be built gradually to create the appropriate depth and hue. "Any dial that is broken, split or damaged cannot be repaired," he says. There is no room for even the slightest error. "Sometimes there are air bubbles or temperature variations beyond our control. On other occasions, they get over-baked without the desired pigment. Therefore, the rejection rate is close to 60 per cent," he says. The company makes about 1,500 dials annually, of which 60 per cent are for the Kering Group; the highest demand is in China.
"Experience is our best teacher as there are no formal training schools for enamellers"
Watchmakers have their own set of challenges, says Fabienne, who specialises in Grand Feu enamel dials at the atelier. "Usually, we put around three to six layers of enamel, but my biggest challenge is to get it right in the fourth attempt. Otherwise, the back of the dial, which also has one coat of enamel, gets burnt. Experience is our best teacher as there are no formal training schools for enamellers" she says. Cloisonne, dating back to before the Middle Ages, consists of creating compartments using gold wire in order to deposit the enamel with utmost precision. "It is always carried out on white or yellow gold dials. Cloisonne gets its name from the French word 'partitions', because the enameller works with thin gold wires to first outline the design and then fill it in with colours," says Claude Eric. The thickness of the gold wires is 0.06mm and the watchmaker needs to work with a microscope. "Artisans work eight hours a day and require immense energy and concentration. Sometimes, it can take 10 hours only for the folding of wires," he says.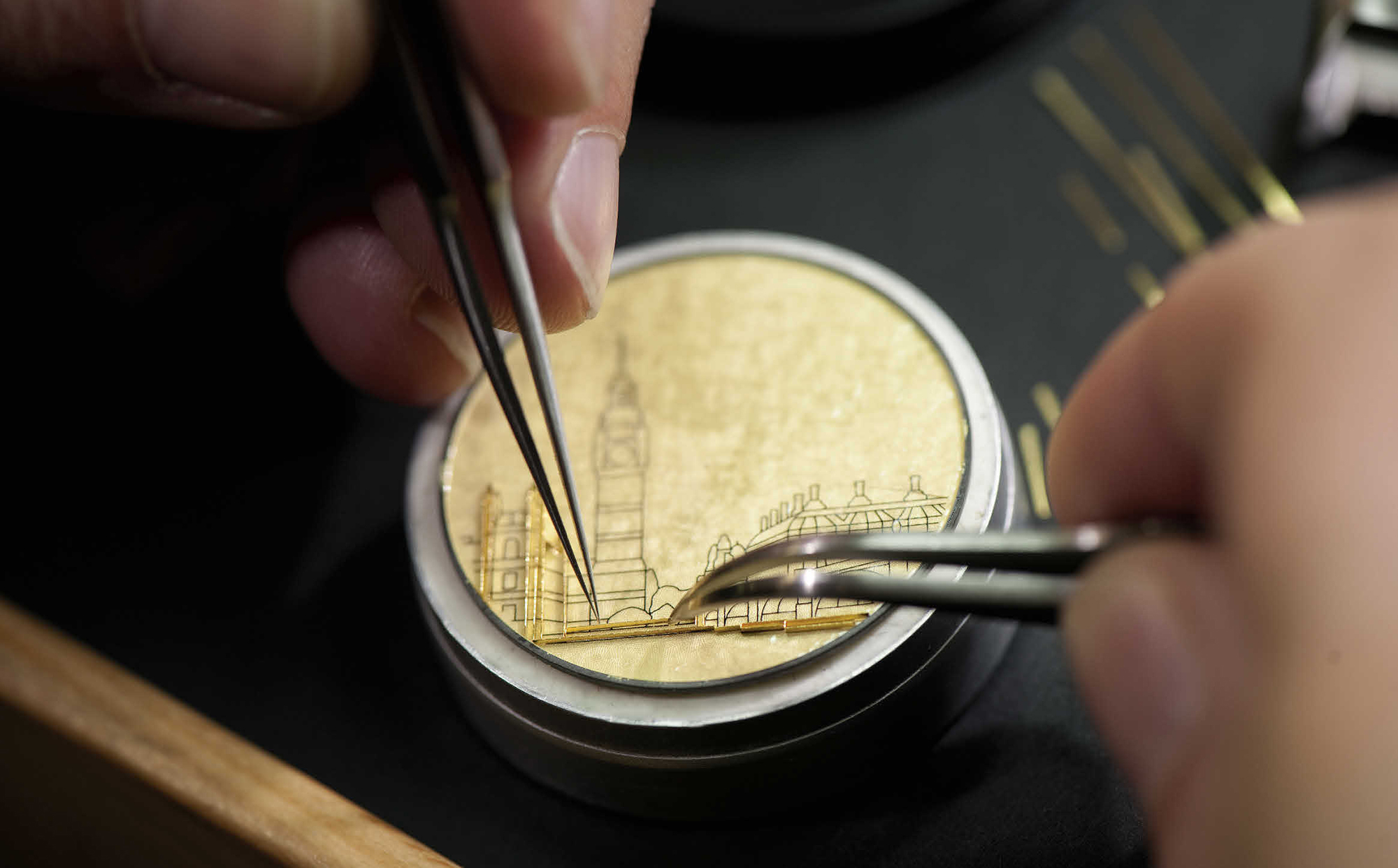 The wire used can be circular or rectangular in section; the former offers an advantage when partitions are positioned and does not collapse. "It takes three to four layers of coloured enamel and at least five runs in the kiln before application of a last layer of transparent enamel called 'fondant'," says Claude-Eric. This layer is surfaced with a diamond file and then polished. Once the dial is complete it needs to be drilled to add any appliques as well as the hole for the placement of the hands. The vibrant Jade Cloisonne Lionfish presented this year at SIHH is a stellar example of this artwork. Priced at about CHF 44,000, it is powered by the UN-310 calibre, the first movement designed and produced in-house specifically for women.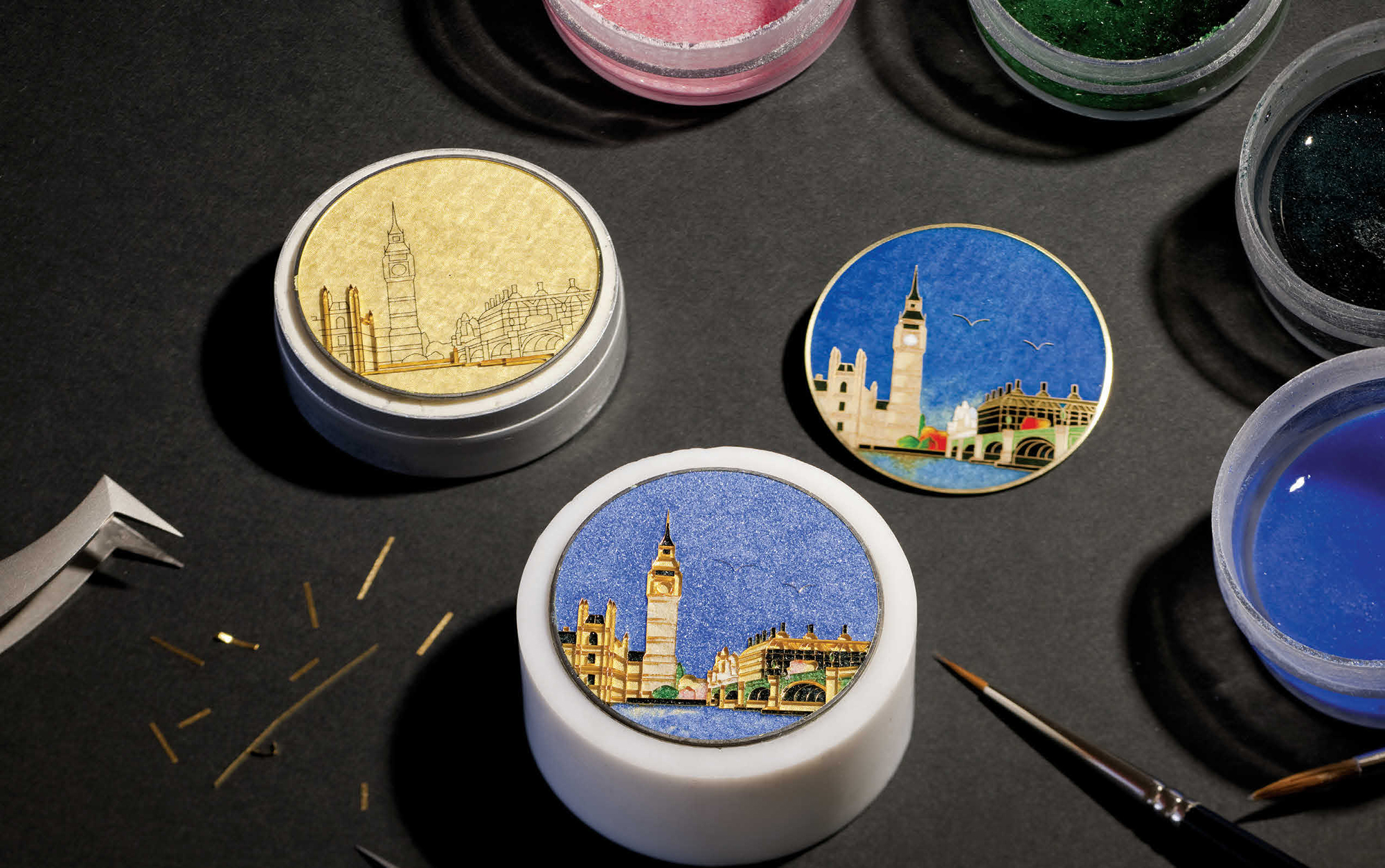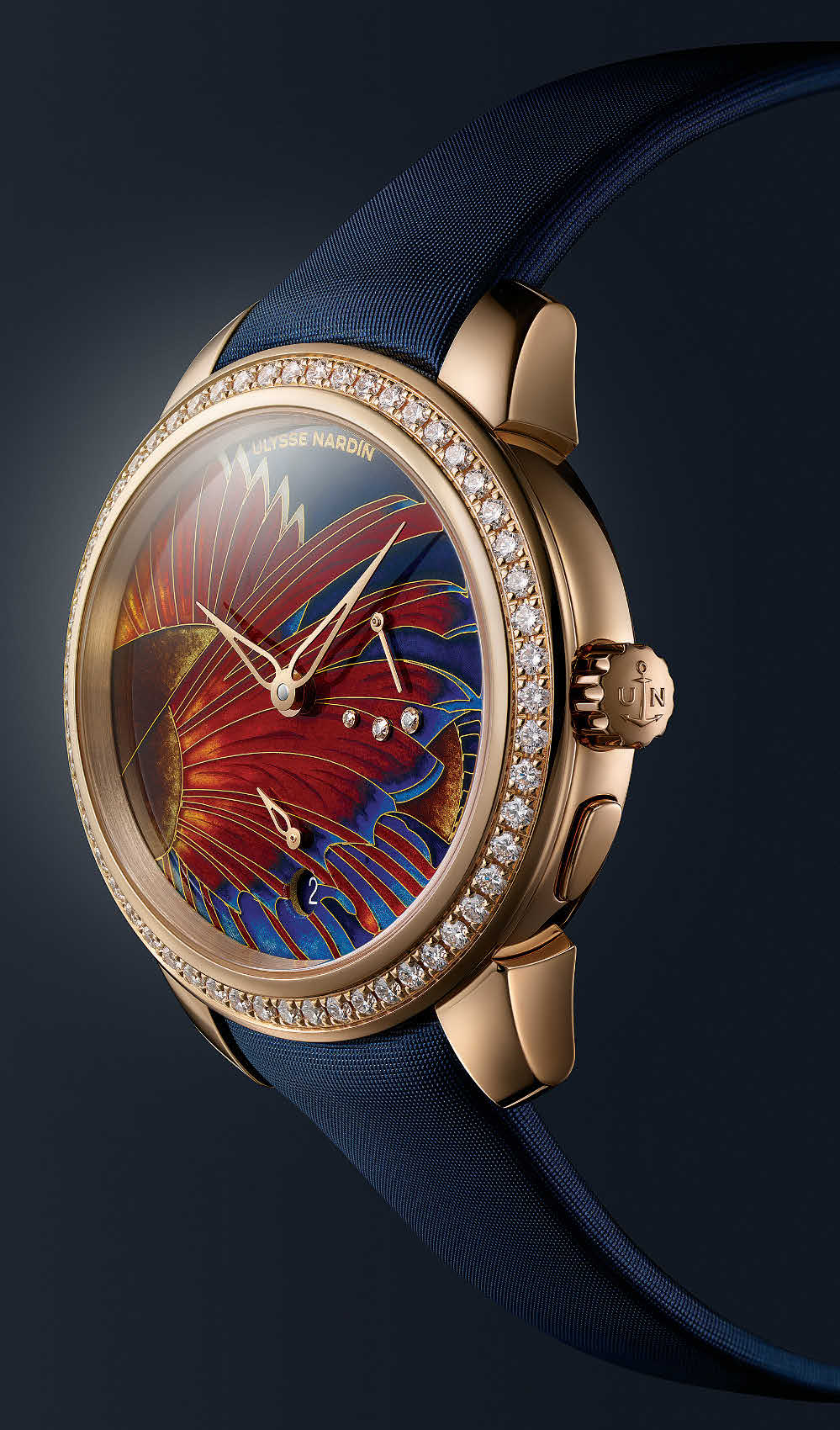 Champleve is another 12th century technique mastered by artisans at Donze Cadrans. It requires the collaboration of two craftsmen— an engraver and an enameller. The former creates the three dimensional pockets in which the enameller deposits the coloured enamels. The engraver further enhances it by chiselling all the metal partitions once the dial has been polished. "If the pressure applied by the engraver is too high and the wall separating the base material from the enamel becomes too thin, the dial will be damaged," says Claude-Eric. The 88-piece limited edition Classico Rooster uses this skill. Equipped with the self-winding UN-815 movement, it is priced at about CHF 40,350.
Besides Ulysse Nardin and brands of the Kering Group, Donze Cadrans also makes some dials for Patek Philippe, Bovet, Cartier, Hermes and Breguet. The enamellers can also make perfect copies of an original dial, a skill essential for museum pieces. "We get about ten such requests a year, but it is expensive as 85 per cent work is manual and we only do it for our clients," says Claude-Eric.