Apart from being an artisanal timepiece showcasing the brands mastery of plique-à-jour enameling, the Jaquet Droz Petite Heure Minute Smalta Clara Hummingbird is also the perfect summer watch to wear this season.
Refined and colourful, the all new Petite Heure Minute Smalta Clara Hummingbird from Jaquet Droz is an exceptional timepiece. Personifying the summer season, the timepiece features immaculate decorative details that the House of Jaquet Droz demonstrates acutely.
With this timepiece, the brand establishes itself as one of the rare artisanal ateliers who have mastered the art of plique-à-jour (smalta clara in Latin) enamelling – a rare technique that demands a rare dexterity for a natural and lively composition. The technique was first introduced 1500 years ago and has been compared to a miniature stained-glass window. The process of the plique-à-jour enamelling consists of the application of the enamel to bottomless moulds. It is then filled into the empty spaces of a gold dial that has been partitioned with different shaped and sizes. Once this is completed, the enamel undergoes different levels of firings that determine the pigmentation of the coloured enamels. Eventually, the plique-à-jour process results in the enamel turning into a perfectly transparent entity that plays with light, shadow and reflections that offer a wonderful visual treat.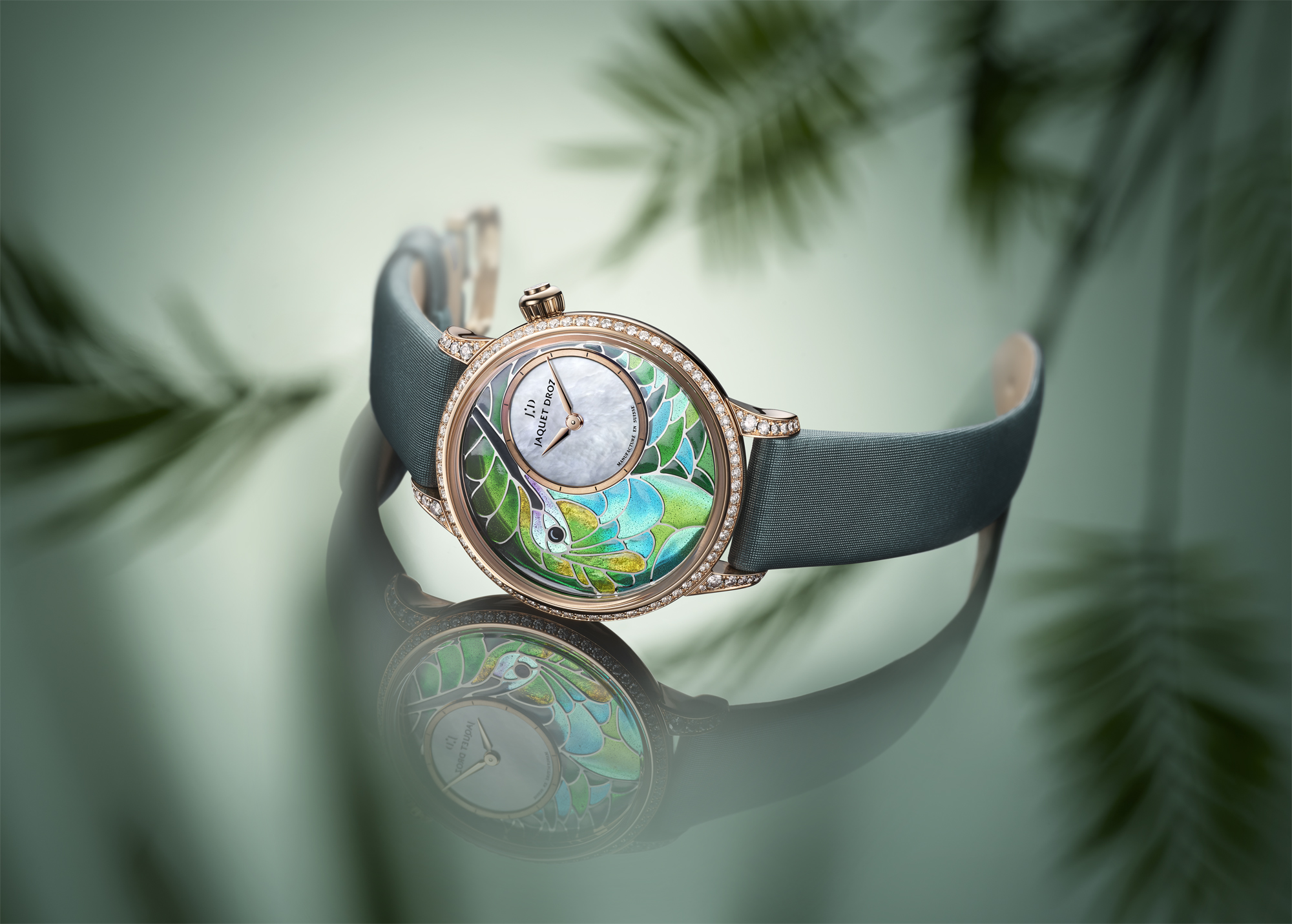 About the watch:
Crafted in a 35mm 18K red gold dial case set with a 100 diamonds, the Petite Heure Minute Smalta Clara Hummingbird comes in an 18K white gold dial with "plique-à-jour" Grand Feu enamel, an off-centred white mother-of-pearl subdial at 2 o' clock, and white gold appliques. The "plique-à-jour" Grand Feu enamel comes together to craft a hummingbird that is set n a subtle gradient of Green that is completely mesmerising.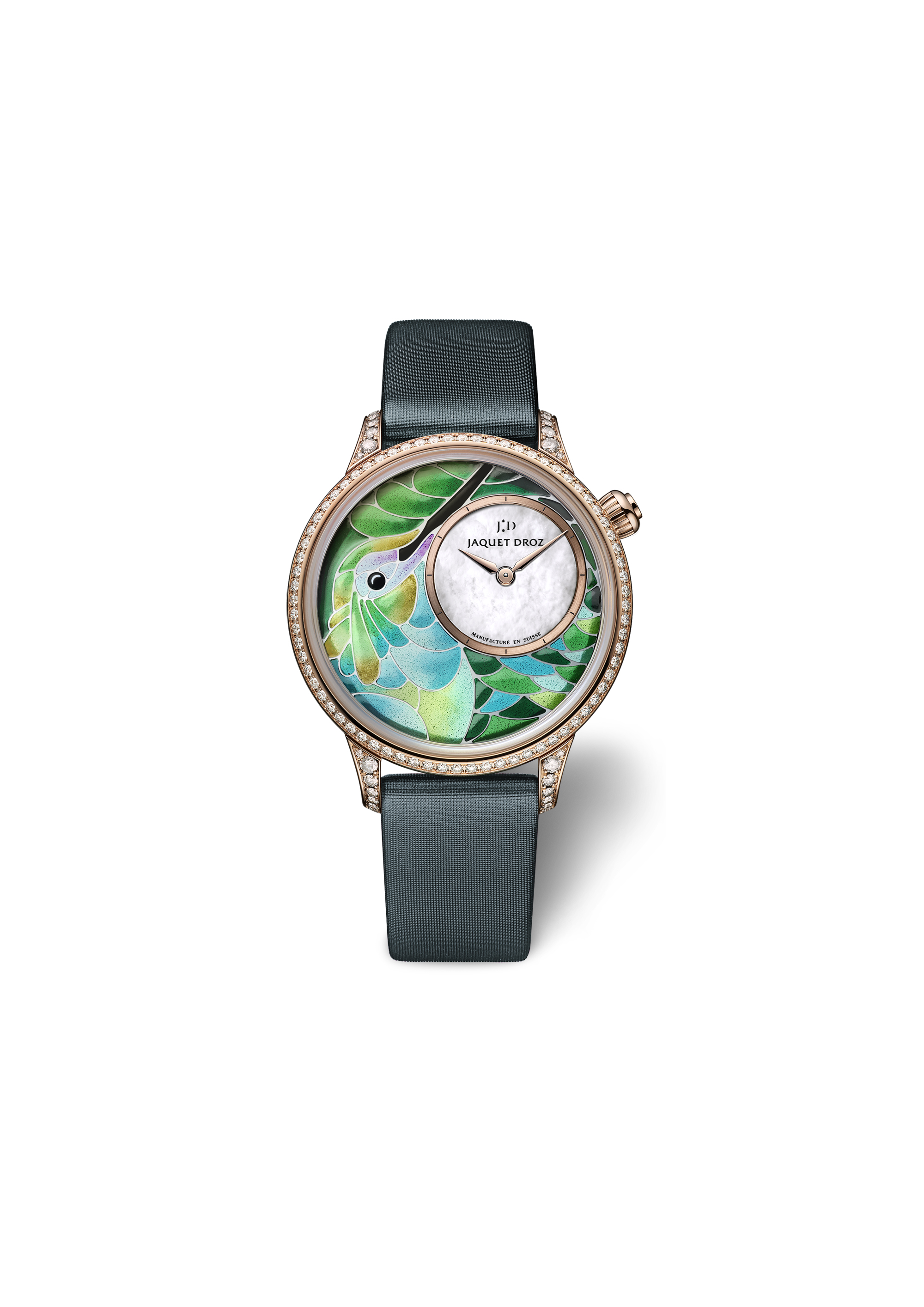 Apart from the wonderful and unique aesthetics of the timepiece, the watch does not hold back on technical innovation. It is powered by the automatic Jaquet Droz 6150 mechanical movement that houses a platinum oscillating weight with 18K red gold applique and clocks in a power reserve of 38 hours.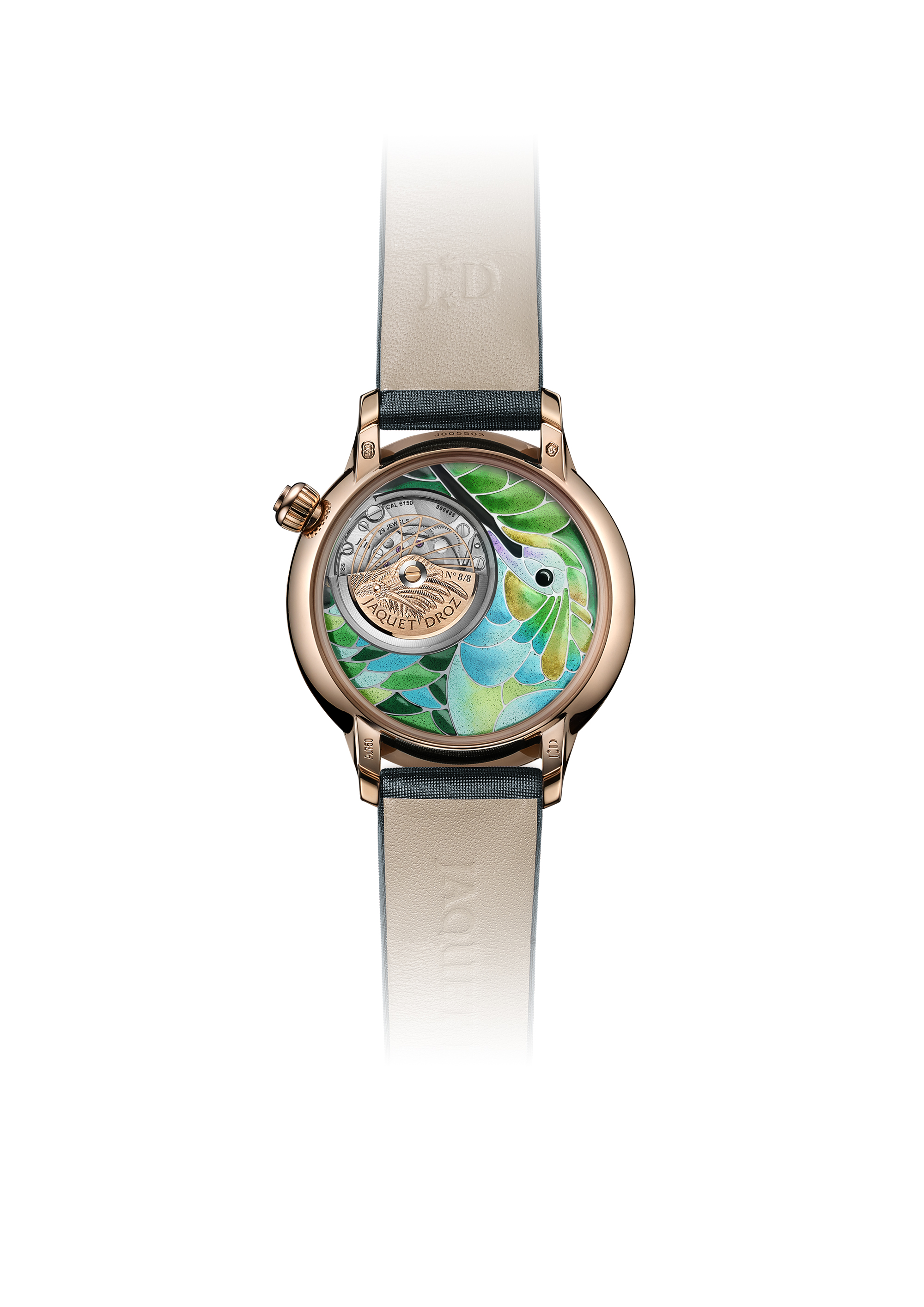 Limited to just 8 pieces, the 2021 Jaquet Droz Petite Heure Minute Smalta Clara Hummingbird is available in a rolled-edge hand-made green satin strap.
For more information, please visit here.