The IWC Ingenieur Chronograph Edition "Rudolf Caracciola" has an elegant retro look and a completely newly developed movement. How did it perform in our test? Test by Jens Koch, WatchTime USA
The IWC Ingenieur premiered in 1955 as a three-handed watch with a clean design and protection against magnetic fields up to 80,000 amperes per meter. The watch was created to assure that technicians and researchers would always be punctual in an increasingly electronic world. In 1976, the renowned watch designer Gérald Genta, whose other brainchildren include Audemars Piguet's Royal Oak and Patek Philippe's Nautilus, sketched a totally new Ingenieur. Genta's "SL" had five little holes in its bezel, an integrated metal bracelet, and a soft-iron inner case to protect it against magnetism. This styling was revived when the Ingenieur line was relaunched in 2005, but some of these models had no protection against magnetic fields. IWC has built and still builds numerous models with diverse additional functions such as a second time zone, chronograph, perpetual calendar and tourbillon.
IWC revived several historical watches in 2008 when it premiered the Vintage collection. Among these was a three-handed watch that paid homage to the first Ingenieur with dauphine hands and applied baton-shaped indexes. This model also had a sapphire window in its caseback through which you could view manufacture Calibre 80111. The downside of this nice view: Magnetic-field protection had to be left out. But the core of the Vintage collection continues to be the large models with five holes in their bezels.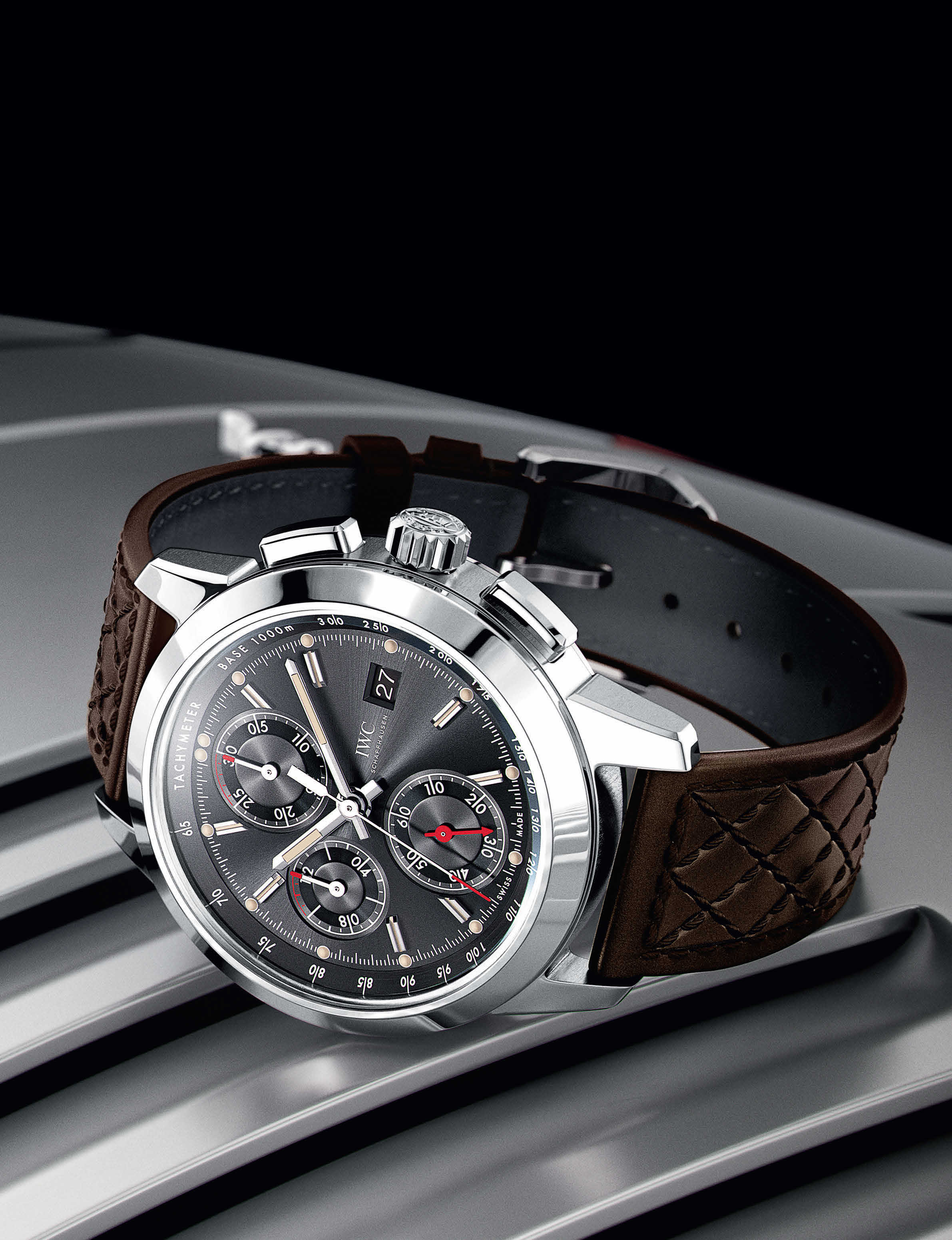 Now the Ingenieur line again welcomes a model with a smooth bezel. Like the SL, this watch is available in steel, titanium and gold. All three
"IWC's new calibre 69370 has a column wheel and the brand's characteristic Paul-winding system"
versions are limited editions. A chronograph also fits well here as an additional function that further enhances the Ingenieur's practicality. Lacking a predecessor from the 1950s, this model posed a more difficult challenge for its designers. At first glance, the new Ingenieur looks timelessly elegant with an angled flange for the tachymeter scale, a broad bezel, and a slate gray sunray pattern dial. The Ingenieur's engineering look comes into play with indexes drawn between the two- and three-digit numbers and a zero added to the left of the single-digit numbers on the subdials. Even the date has a leading zero. The use of red on some of the scales and on the pointer tips of the chronograph and seconds hands adds a touch of sportiness.
Only the ecru-colored luminous material and the saddle-stitched leather strap, which calls to mind the upholstery on a car seat, convey a retro look. The automotive reference is intentional: Our test watch is named after race car driver Rudolf Caracciola. Born in 1901, he was driving his parents' Mercedes-Knight even before he got his driver's license at age 15. And beginning in 1926, he won numerous Grand Prix and sports car races behind the wheel of a Mercedes and was one of his era's most successful race car drivers.
SPECIFICATIONS
SPECIFICATIONS
Ingenieur Chronograph Edition "Rudolf Caracciola"
Manufacturer
IWC Schaffhausen,Baumgartenstrasse15,8200 Schaffhausen, Switzerland
Reference Number
IW380702
Functions
Hours, minutes, sall seconds, chronograph with counters for up to 30 elapsed minutes and up to 12 elapsed hours, date display
Movement
Manufacture Calibre 69370, automatic, 28,800 vph, 33 jewels, stop-seconds function, rapid-reset mechanism for the date-display, column wheel, fine adjustment via index and eccentric screw, 46-hour power reserve; diameter = 30mm, height = 7.9mm
Case
Stainless steel with domed sapphire crystal with non-reflective treatment on both sides, screwed crown, fully threaded screw-in back with sapphire window, water-resistant to 60m
Strap and clasp
Calfskin strap with stainless steel pin-buckle
Rate Results
Deviation in seconds per 24 hours (Fully wound/24 hours)
Dial up
+1 / +4
Dial Down
+1 / +4
Crown up
+3 / +6
Crown down
+3 / +5
Crown left
+5 / +9
Crown right
+5 / +8
Greatest Deviation
4 / 5
Average Deviation
+3 / +6
Average amplitude
Flat positions
276 degree / 248 degree
Hanging positions
254 degree / 221 degree
Dimensions
Diameter = 42mm, Height = 15mm, Weight = 112g
Limited Edition
750 pieces
Price
INR 4.58 Lakh (approx.)
Only when you take a closer look at our test watch do you notice that the baton-shaped indexes with luminous dots at their outer ends and the double luminous dot at the 12 trace their ancestry to the first Ingenieur. Some of the earliest Ingenieurs also had baton-shaped hands with sharp points. The case with applied bezel, polished surfaces and satin-finished sides is also similar to the case of the first Ingenieur (Reference 666).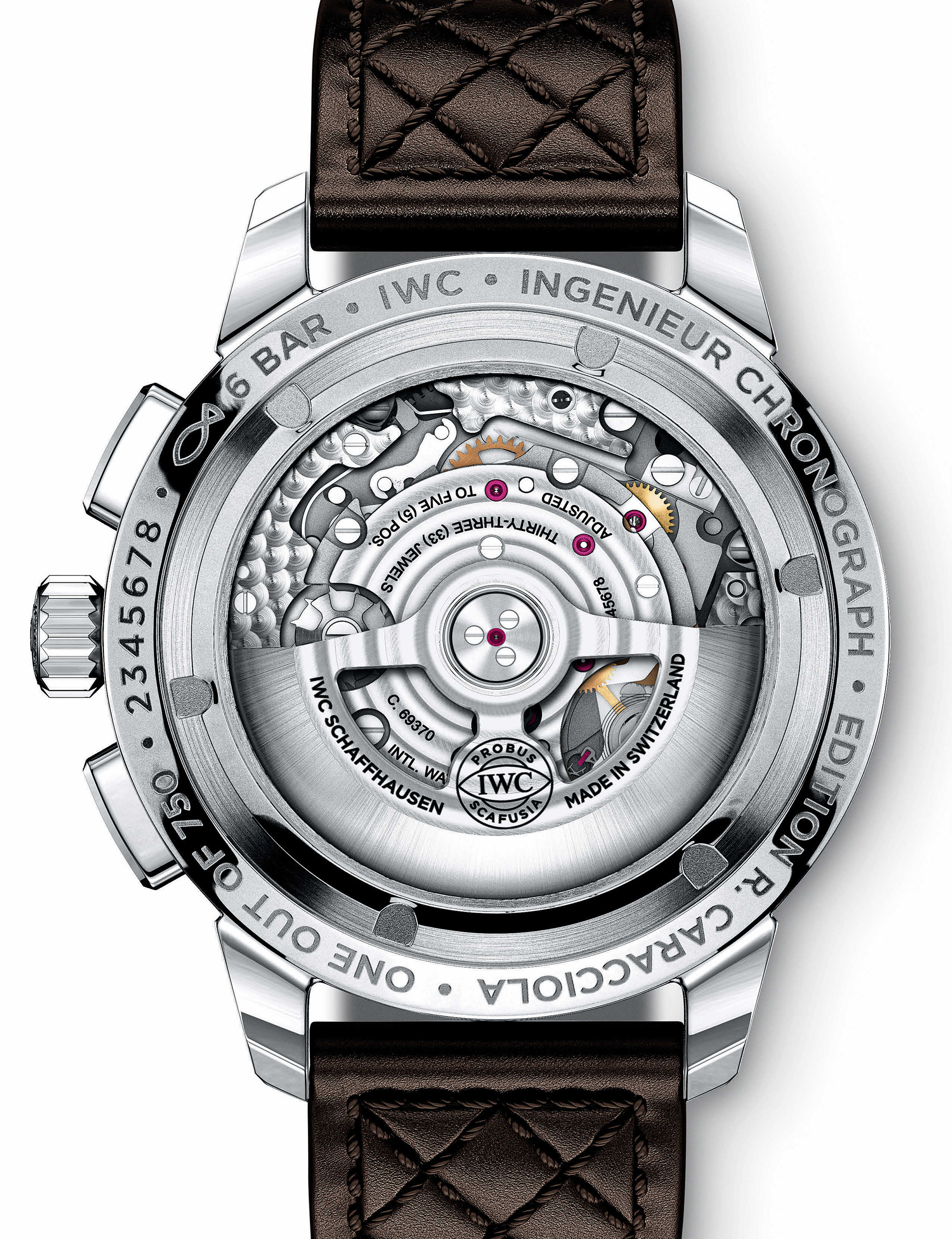 All in all, IWC's designers have created a handsome watch, but the design isn't totally in harmony with the retro look. The case is too high and the bezel slopes too steeply downward to be a dyed-in-the-wool retro watch. And this newcomer has a contemporary diameter of 42 mm. The case of the Edition "Rudolf Caracciola" we tested is made of steel.
"Some of the styling of the Ingenieur Chronograph Edition "Rudolf Caracciola" recalls the Ingenieur from 1955"
This model's second special feature is newly engineered chronograph Calibre 69370, which is used here for the first time. Why did IWC develop a second self-winding chronograph movement? The surprising answer: so the brand would be able to offer less costly chronographs encasing a manufacture calibre. Prior to this debut, IWC had offered chronographs encasing Calibre Valjoux 7750 (supplied by ETA), which IWC denotes as "Calibre 79xxx." The prices for these watches started at around `3.7 lakh (approx.).
Watches with IWC's own chronograph Calibre 89xxx cost around `7.05 lakh (approx.) almost twice as much. Our test watch retails for `4.58 lakh (approx.). The new movement is somewhat taller and thus achieves the same dimensions as the Valjoux 7750, which means that in the future, IWC could replace the Valjoux movement with this new calibre without encountering any major problems.
But what features must one do without in this new manufacture movement compared to the older calibre? The power reserve is shorter (46 hours instead of 68 hours). There's no flyback function, which would have made it possible to start a new elapsed-time measurement while a previous one continued to run. And the new model also lacks a combined counter for elapsed hours and elapsed minutes, which would enable the user to intuitively read elapsed time as on the face of an ordinary clock. The new movement's construction is simpler from a technical standpoint because it relies on an index for fine adjustment rather than on weight screws along the rim of the balance. Both the new model and its predecessor have column-wheel control for the chronograph, rocking-pinion coupling and IWC's characteristic pawl-winding system.
The decorative differences aren't especially gigantic either. The old 89xxx, which reveals more of its mechanisms, also has decorative patterns on its wheels, and gold fillings in its engravings. But the new 69xxx also boasts a skeletonised rotor, a circular pattern on the bridges and polished heads on the screws. However, close scrutiny shows that some of the movement's components have been left entirely unembellished.
IWC is frequently criticised for its suboptimal price-performance ratio, but our test watch with the new movement achieves a significantly better ratio. Furthermore, only 750 pieces of this Ingenieur Chronograph Edition "Rudolf Caracciola" will be made.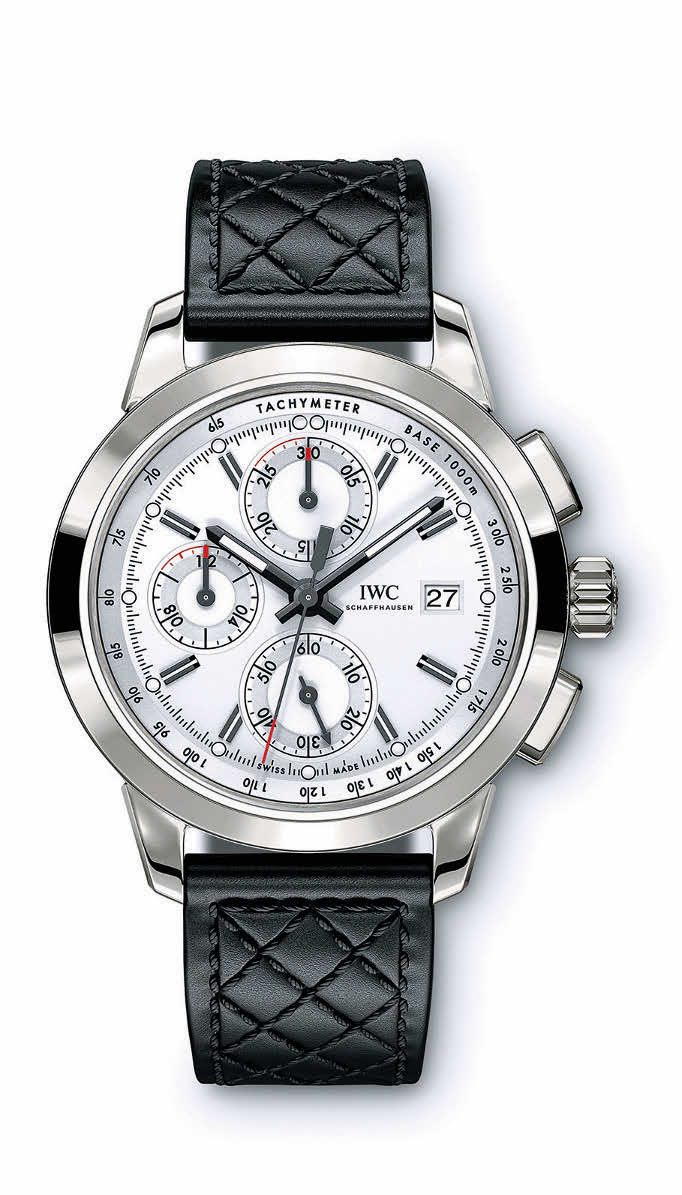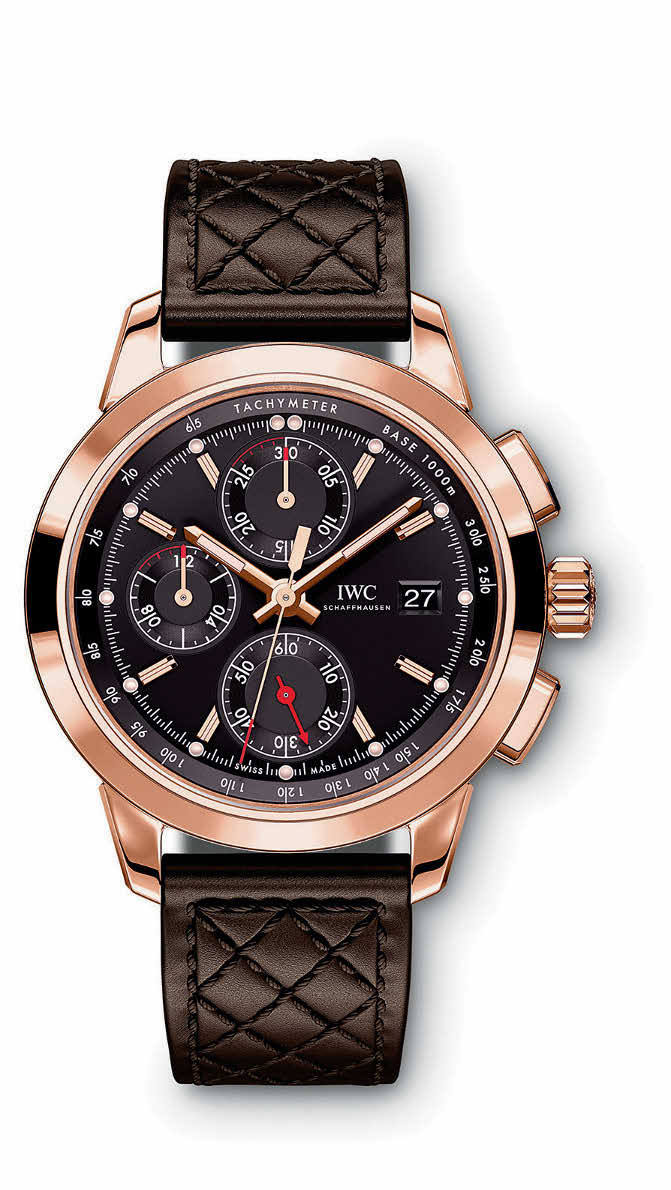 SCORES
SCORES
Ingenieur Chronograph Edition "Rudolf Caracciola"
Strap and Clasp
8/10
The saddle-stitched leather strap is tidily crafted; the case and the stainless steel pin-buckle have polished and satin-finished surfaces
Operation
5/5
The start-stop button runs with satisfying smoothness,but the zero-return button demands greater-pressure. The rapis-reset mechanism for the date and stop-seconds function are operated via the easy-to-grasp screwed crown.
Case
8/10
The satinless steel case is well-crafted, has a transparent sapphire back, and remains water-resistant to a depth of 60m.
Design
13/15
IWC mixes retro, high-tech, sporty and modern elements. The mix is successful, although the case is rather thick and the bezel slopes steeply downward.
Legibility
4/5
The time is legible by day and by night. The chronograph's counters provide adequate contrast.
Wearing comfort
8/10
This IWC watch is comfortable on the wrist, thanks to its pin-buckle and leather strap.
Movement
16/20
Good, robust chronograph movement with column wheel; the date display takes a full hour to advance to the next day's date.
Rate Results
9/10
Very good; similar results in all positions and the average deviation is small. The chronograph saps its share of energy, but the rate performance remains good.
Overall value
12/15
A reasonable-price performance ratio for the manufacture chronograph.
Total
83/100