Carl F. Bucherer launches the Manero Tourbillon Double Peripheral timepiece in India.
Lucerne-based Swiss watch brand Carl F. Bucherer is well-loved and appreciated for the familial connect they offer to their customers with each timepiece. With their "made in Lucerne" promotions raging across the social media realm, and now even in their brick and mortar stores, Laurent Lecamp, Executive Vice President Sales for the luxury watch brand talks to us about the Indian market and the strategies they've adopted in this exclusive interview. He also takes us through the newly-launched Manero Tourbillon Double Peripheral timepiece in the video above.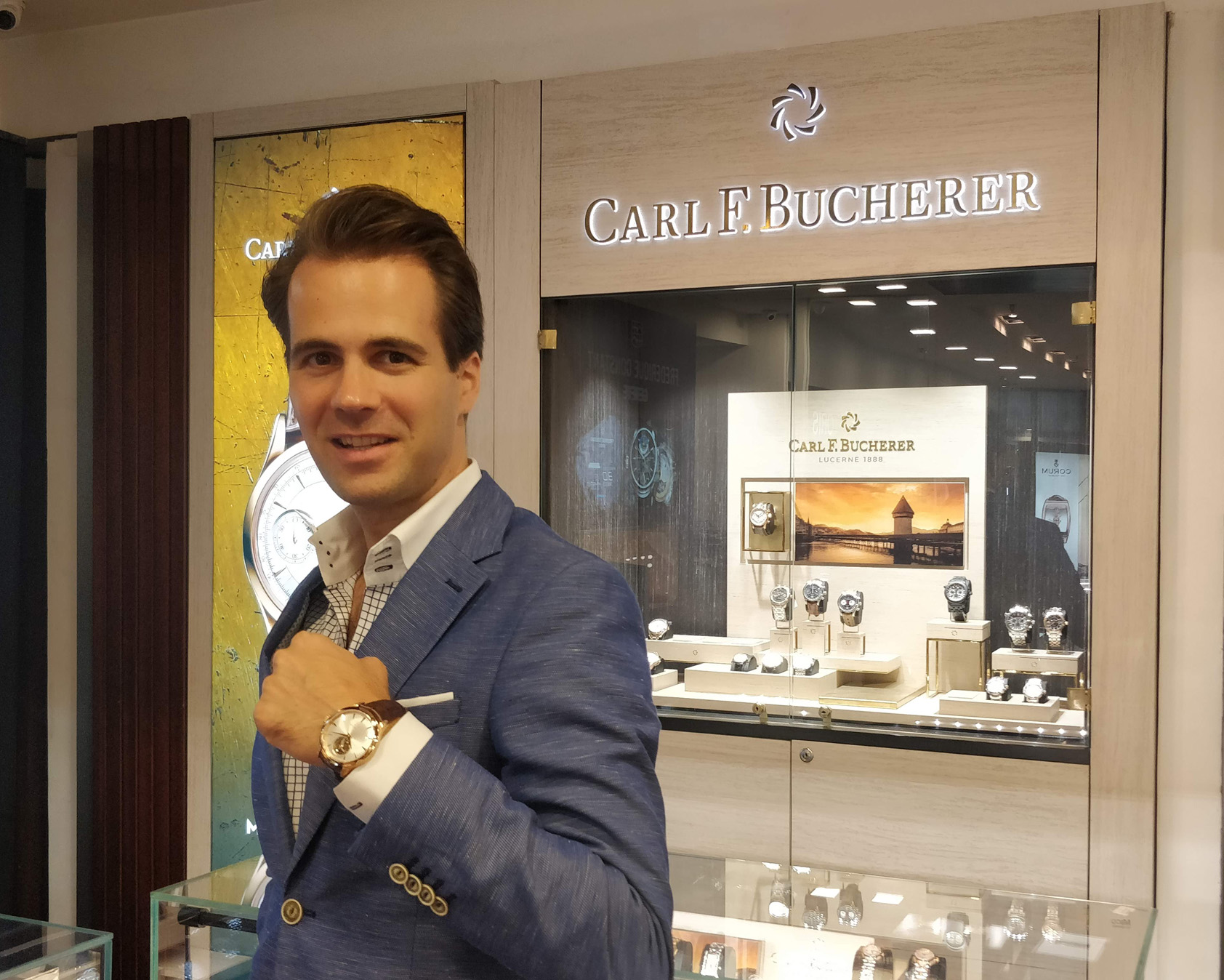 WTI: How does the Indian market differ from the rest?
LL: I handle a lot of difficult markets – Russia, India, Japan, Middle East, Kazakhistan, Pakistan, to name a few. India really stands out from all of them. I'll explain how. Once you see and learn how the general public or the customer is in India in their normal daily lives, you will understand how intrinsically different the market is from other countries. People here are fast, they want everything quick – which is something which you see even with the traffic jams here. Everyone wants to get somewhere first, versus in, a country like Japan where everything and every one's space, time and reason is respected. This means in Japan you can't push the customers, you need to explain the products smartly, clearly and then they make the decision. In India, you can push a little bit. You can try to go deeper in to the product and give more information because the consumer here wants it fast, he wants it quick and he wants it first. There is a lot of energy involved.
WTI: How have you fared in India so far?
LL: It's been interesting. We have a partnership with Ethos, here. We're two different companies who share the same values as strong family brands. My strategy for this country includes having a local exclusive partner so that we're protected from discount policies and bargains etc and build our brand together. This I've found in Ethos Watches.
You know, they're actually very clever in terms of development. They're the only retailer who have a presence across the country as compared to certain people who are very strong only in their specific city's. The fact that Ethos had the vision and insight to build a nationwide business so early on speaks volumes – especially considering how new the watchmaking industry still is in India. That's why I find a huge connection with our strategy. Two family businesses who had the same vision to take the whole country by a storm.
Plus, they have a very European style, their values, they have that special something because they come to Switzerland, they see, observe and they adapt the Swiss level of luxury here in India. You see all their stores and Summits, they all look like European stores. We are also currently in the process of opening three more stores in India in the next month – one of which will be in Chennai.
WTI: You're opening three new stores in the age of e-commerce? Why is that?
LL: We strongly believe in the brick and mortar retail system. India is a very interesting country because they are extremely advanced in terms of online. For example, the Ethos call centre provides delivery at the store and at home.
But, I think luxury is not something digital. Digital just helps enhance the luxury experience. Sure, if I go online I can find lots of information, stories that the brands want to share with me. But if I talk to the brand myself, the maker myself, then the stories you hear are more detailed, more personal, more customised. You can ask questions, and get explanations.
WTI: What defines luxury?
LL: You know, when I was young, my parents told me that I was running before I was walking, which today I think is important and a good thing. I love it. I run even now, every day, whenever I can. But, the best part is, running through the forest, through nature. Nature according to me is the reason behind the creativity which is luxury. Let me explain.
When I think of luxury, I think of France and Switzerland – two countries with lot's of nature. This helps your creativity, your thinking. It helps calm you down, clear your head and think. I can tell you from my point of view, I work in the forest, or when I feel like I need some creative ideas, thoughts, strategies, after a walk or run in the forest, I can personally guarantee that you will have some ideas the next day.
Carl F. Bucherer is the same. The Peripheral movement is completely different. How can you imagine such a movement, with the the peripheral rotor having no connection to the centre of the watch? In Lucerne, we are surrounded by nature, so now you can guess where I'm going with this. Many brands tried to do it, one of the most famous, three others, five brands in total tried to do it, but they never managed to do it and Bucherer did it.
WTI: How long did it take to develop the timepiece?
LL: It all started 130 years when the first drawings were made by the brand. Ideas don't come from one brand. They come from development, technology, the will to do something different from other brands. I believe, you are what you are today because of your ancestors. So you're continuing the story, which your ancestors started generations ago. Same thing with Carl F. Bucherer. The Manero Tourbillon Double Peripheral was not made in a year, it was made decades ago. It was knowledge, hard work, investment and thanks to Mr. Bucherer who had the belief in all of us. He made it possible.
Today, we are the leading company for the peripheral rotor, and that for me is interesting especially since we're a family-run brand.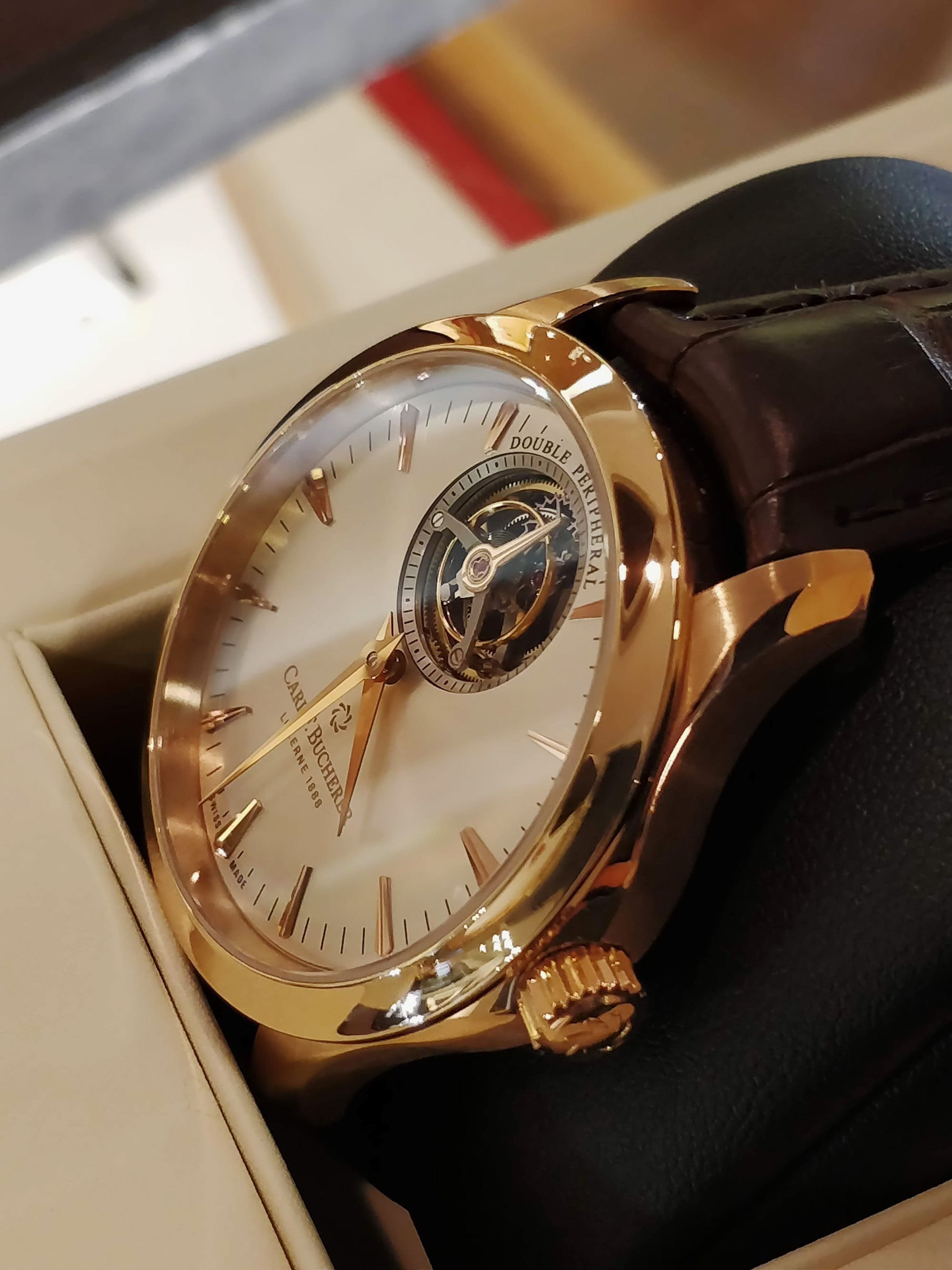 WTI: How was the response to the watch in Baselworld this year?
LL: The response was excellence. We sold 116 pieces after Baselworld itself.
In India,we've limited our production of the piece, so we're getting two pieces in January. One will be available at SelectCity Walk store in New Delhi, and the other in The Palladium, Mumbai. I'm convinced it will sell quickly because of the competitive pricing compared to the quality we're offering.
WTI: Will you be showcasing at Baselworld in the future?
LL: We will be in Basel next year but for the other years I think we should check with Sascha. We'll see how next year goes.
Personally, I think all these changes are very positive, because it gives us more time with our customers. For the overall watch industry, on the other hand, it is a different story. Today, if you launch a new product, you put it up online and you're good to go. Fifty years ago, this wasn't possible. Baselworld was your connection. So, we'll see. It's time to bring something new to excite people.
WTI: What's your one basic retail strategy?
LL: Our main connect as a brand is an emotional connect with the customer. We are a family business – one of the oldest since 1888. The only watch company based in Lucerne. We are the first company to harness the peripheral rotor.
We have a lot of different stories. The bridge of Lucerne is the oldest bridge in the whole of Europe and that's the picture we used in all our visual merchandising, our marketing promotions etc. It's so completely different from other brands who focus on watches or their ambassadors.
The customer comes up to us and asks us where is this place and there you form the emotional connect and then you start. That is something unique to us as a retail strategy.