The premium Japanese brand Grand Seiko started the year with an impressive show of force. We look at some of the highlights launched shortly before and during Baselworld. By Roger Ruegger and Logan R. Baker.
The first Grand Seiko arrived in 1960, but the brand wasn't officially available outside Japan until (almost) 10 years ago. Fast forward to the present day, Grand Seiko is celebrating 20 years of its revolutionary Spring Drive technology with the introduction of two new manu- al-wind movements, and has introduced a bold new model for its Sport Collection. Furthermore, Grand Seiko also added four new watches to its Elegance Collection that feature a new, mechanical manual- winding calibre and a slimmed-down case profile.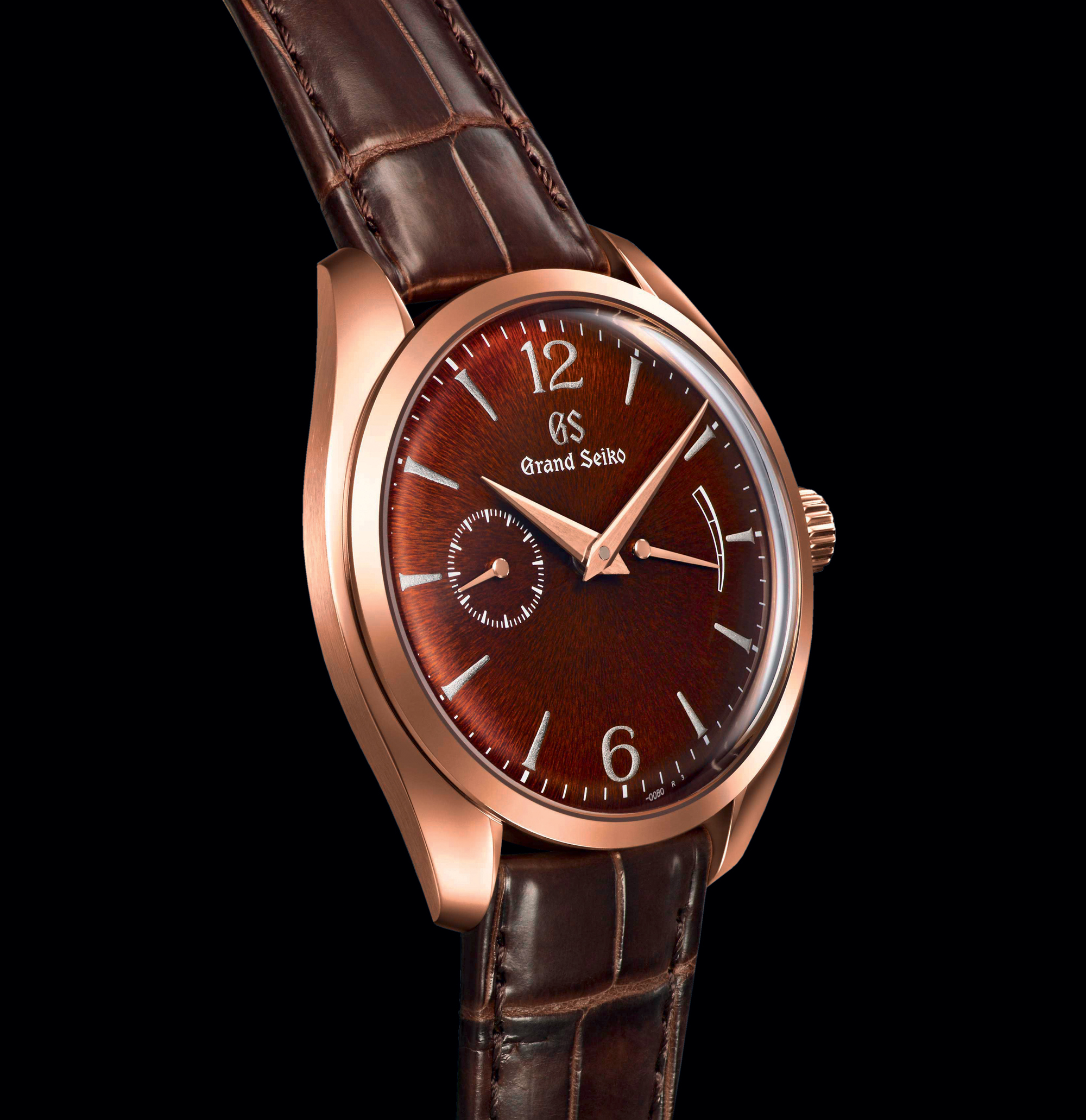 More Elegance
With the introduction of Calibre 9S63, the first manual-winding movement from the brand in eight years, Grand Seiko has launched a new model in the Elegance Collection with a slimmed-down case profile and four attractive dial options. The new movement beats at 28,880 vph and offers a power reserve of 72 hours. More importantly, it allows a well-balanced dial layout with small seconds at 9 o'clock and a power reserve indicator at 3 o'clock. Grand Seiko states that the movement has been regulated to an accuracy rating of between +5 and -3 seconds per day. The new case design measures in at 39 mm by 11.6 mm and is available in either rose gold, yellow gold or stainless steel, polished using Grand Seiko's prized Zaratsu method. Both the dials and sapphire crystals are slightly curved, adding extra depth to the watch's appearance. The elongated minutes hand, and even the power reserve indicator at 3 o'clock, are slightly bent to follow along with the domed structure.
The dials of two of the four new models (SB- GK002 and SBGK004) feature Urushi lacquer, a centuries-old Japanese technique that involves collecting sap from the poisonous Japanese lacquer tree and then applying it layer-by-layer onto the dial. One of the models (SBGK002) features an amber tint that is inspired by Mount Iwate, the peak that resides outside of Grand Seiko's Shizukuishi Watch Studio. The black dialed model (SBGK004) uses the same lacquer technique, but the lacquer is mixed with iron to give it a unique, blacked-out appearance. Starting in March, the first three models will be available in a series of limited-edition runs. The two models with Urushi dials and rose gold cases are limited to a total of 150 pieces each. Both are priced at Rs. 20.21 lakh (approx.). A third model in stainless steel with a blue dial inspired by Mount Iwate (SBGK005) is limited to 1,500 pieces and is priced at Rs. 5.15 lakh (approx.). Finally, a fourth model with a white dial and an 18k yellow gold case (SBGK006) will be added as an unlimited release in July of this year at a price of Rs. 13.24 lakh (approx.).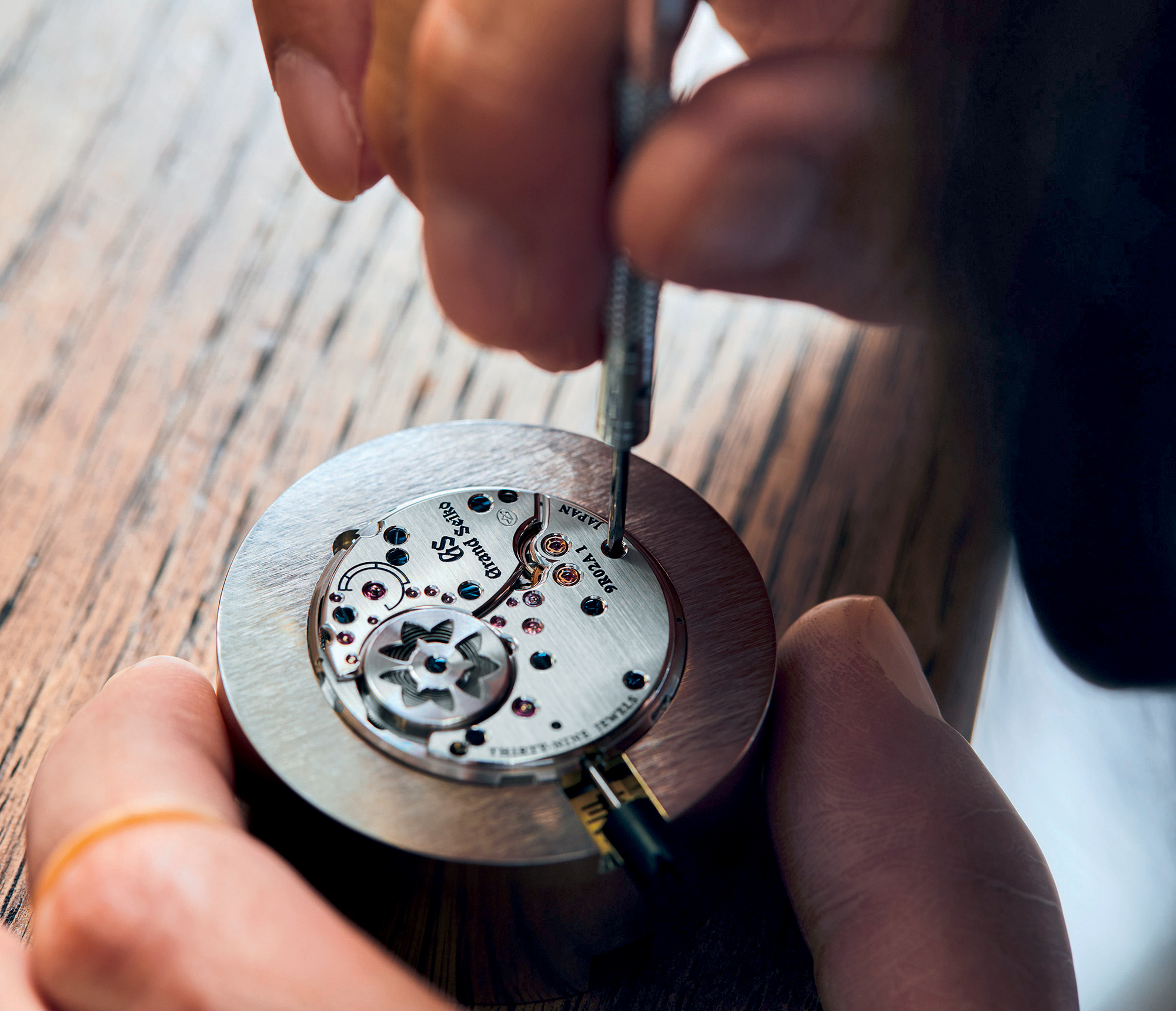 More Spring Drive
To celebrate the 20th anniversary of its Spring Drive technology, Grand Seiko has introduced a new movement (Calibre 9R02) and a limited edition that is most likely going to be regarded as the ultimate "Snowflake" (named after the traditional dial design inspired by the alpine environment surrounding Grand Seiko's Shiojiri manufacturing centre). The SBGZ001 not only features the Snowflake dial design, it also comes with a Snowflake-carved platinum case. Of course, the downside of this release is that it comes with a price tag of Rs. 52.94 lakh (approx.) and is limited to a total of only 30 pieces. The SBGZ001 will be available in this year, followed by the unlimited SBGZ003 with a polished platinum case.
The new movement has two mainsprings set in parallel within a single barrel and uses Grand Seiko's Torque Return System to deliver a power reserve of 84 hours and an accuracy of +/- 1 second per day. In Grand Seiko's own words, the Torque Return System works like this: "When the mainspring has been fully wound and the torque output is at its highest, approximately 30 per cent of the available power is not needed to maintain the precision of the watch, and is in effect wasted in a normal movement. The Torque Return System uses this energy to rewind the mainspring, resulting in an increase in the power reserve. In Calibre 9R02, this system is activated for 48 hours after the mainspring has been fully wound."
A second new movement, the Spring Drive Calibre 9R31, is similar to the 9R02, but uses a full plate architecture instead. Additionally, the Torque Return System is omitted in the 9R31, resulting in a slightly lower power reserve of 72 hours. The 9R31 is first being introduced in the SBGY002 in yellow gold and the SBGY003 in stainless steel (limited to 700 pieces). These two watches are slightly thicker than the platinum models, at 10.2 mm.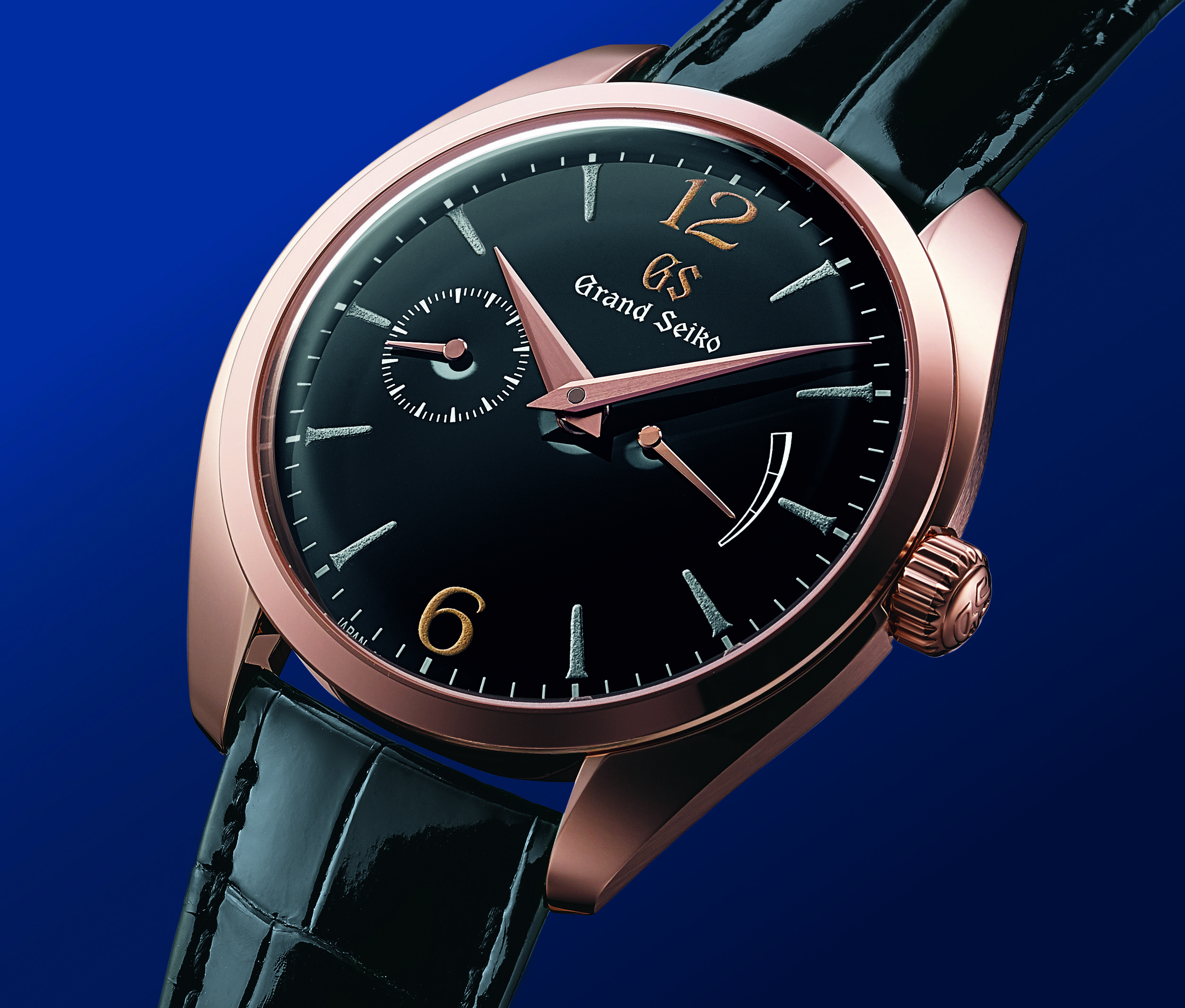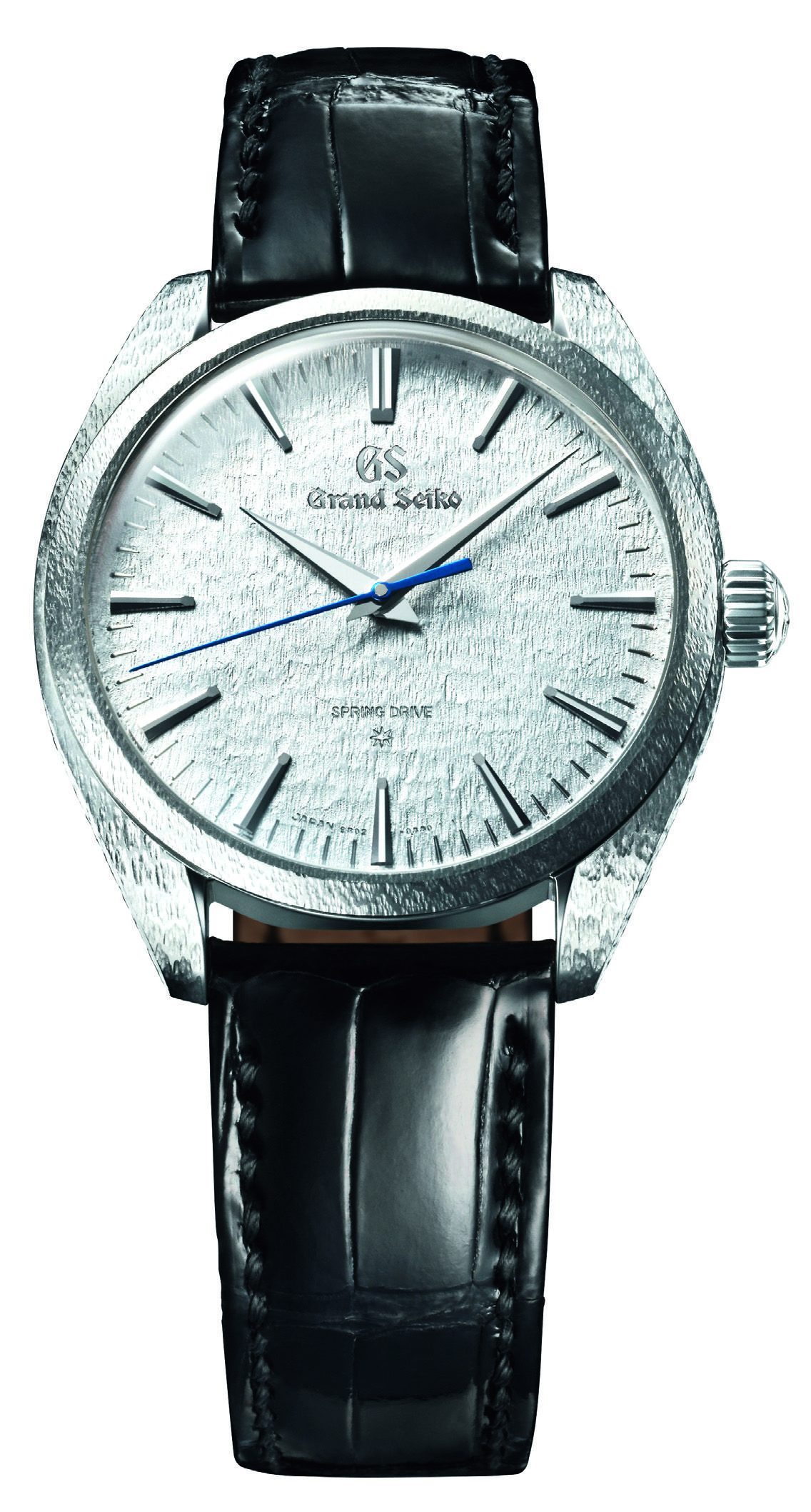 More Power
For nearly six decades, Grand Seiko has used the lion as a symbol to reflect the brand's ambition to manufacture the "king of watches." That same lion's paw inspired Grand Seiko to create a new case design for a serious-looking Sport Collection, with the "claw-like shape of the lugs" and the "lion's mane pattern on the dial." In addition, the new watches also have an 18k gold medallion with the lion on the oscillating weight. More importantly, the angular case marks a bold new design direction in Grand Seiko's offering and will hopefully be used for further releases. It's not only an ideal showcase for Grand Seiko's expertise in case finishes, but also an interesting new interpretation of an everyday watch.
The new Sport Collection kicks off with two 44.5-mm models, a chronograph in two versions (SBGC230 and SBGC231) and a time-only model (SBGA403) that's only available in "high-intensity" titanium. The chronograph is powered by the Spring Drive Calibre 9R96 and is available in gold (SBGC230, limited to 100 pieces) and in titanium (SBGC231, limited to 500 pieces) with a matching titanium bracelet. The 9R96 automatic movement has a power reserve of 72 hours, a 12-hour chronograph counter, a GMT hand and a power reserve indicator at 7 o'clock. The titanium version has a retail price of Rs. 8.98 lakh (approx.); the 18k rose gold version is Rs. 29.26 lakh (approx.).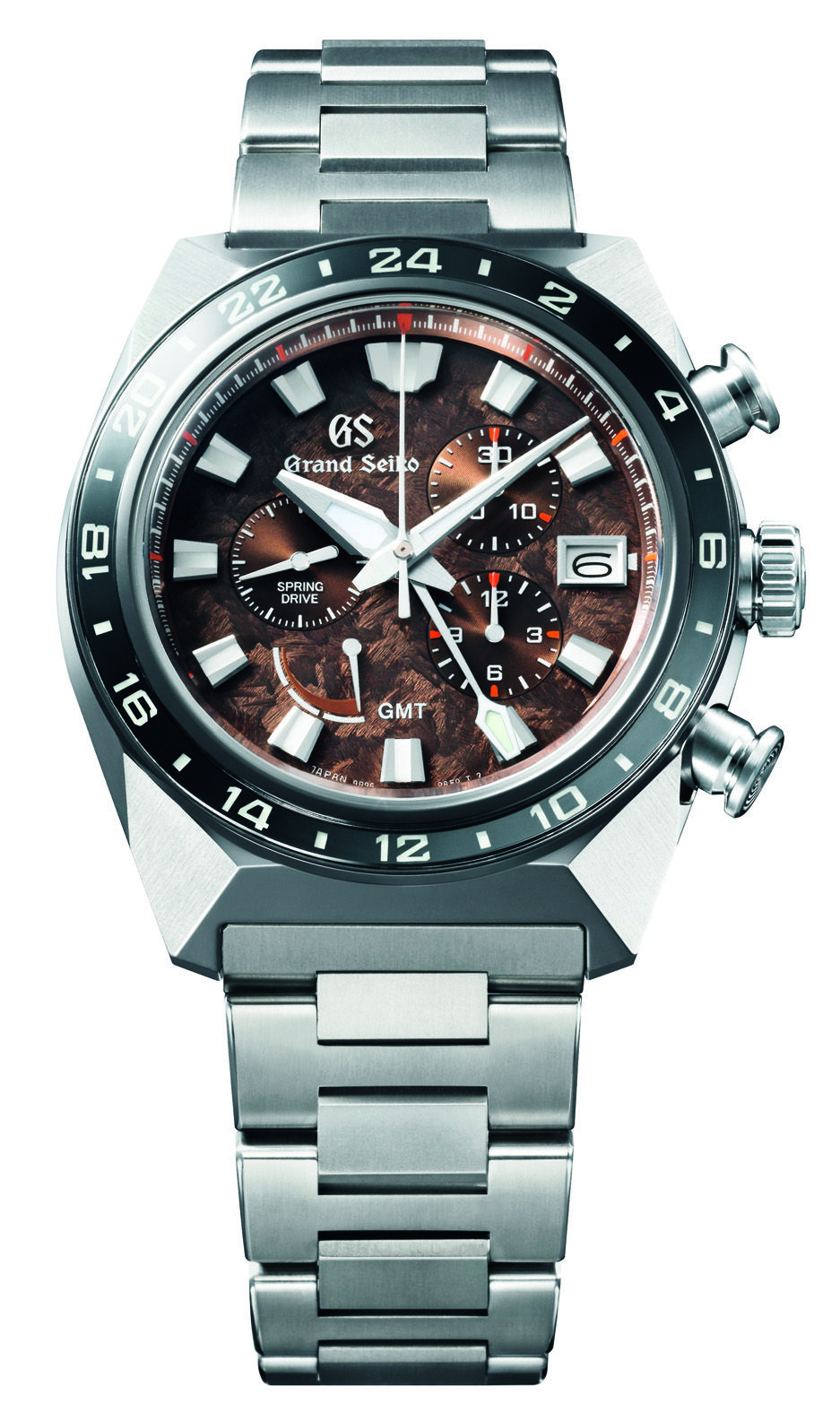 The time-only model features a black ceramic 60-minute bezel and is powered by the Spring Drive Calibre 9R15 with 72 hours of power reserve. The SBGA403 is priced at Rs. 7.38 lakh (approx.).
Well roared, Grand Seiko!