Join us as we take you through the major highlights of De Bethune from the 2020 Geneva Watch Days.
For the 2020 Geneva Watch Days, De Bethune releases a watchmaking marvel with mechanical exclusivity – the DB28 Steel Wheels Sapphire Tourbillon. Equipped with a tourbillon set in a movement that features a delta bridge and two barrel covers that are made of sapphire crystal, the he iconic DB28 Steel Wheels is a faithful piece to the popular DNA of the Maison.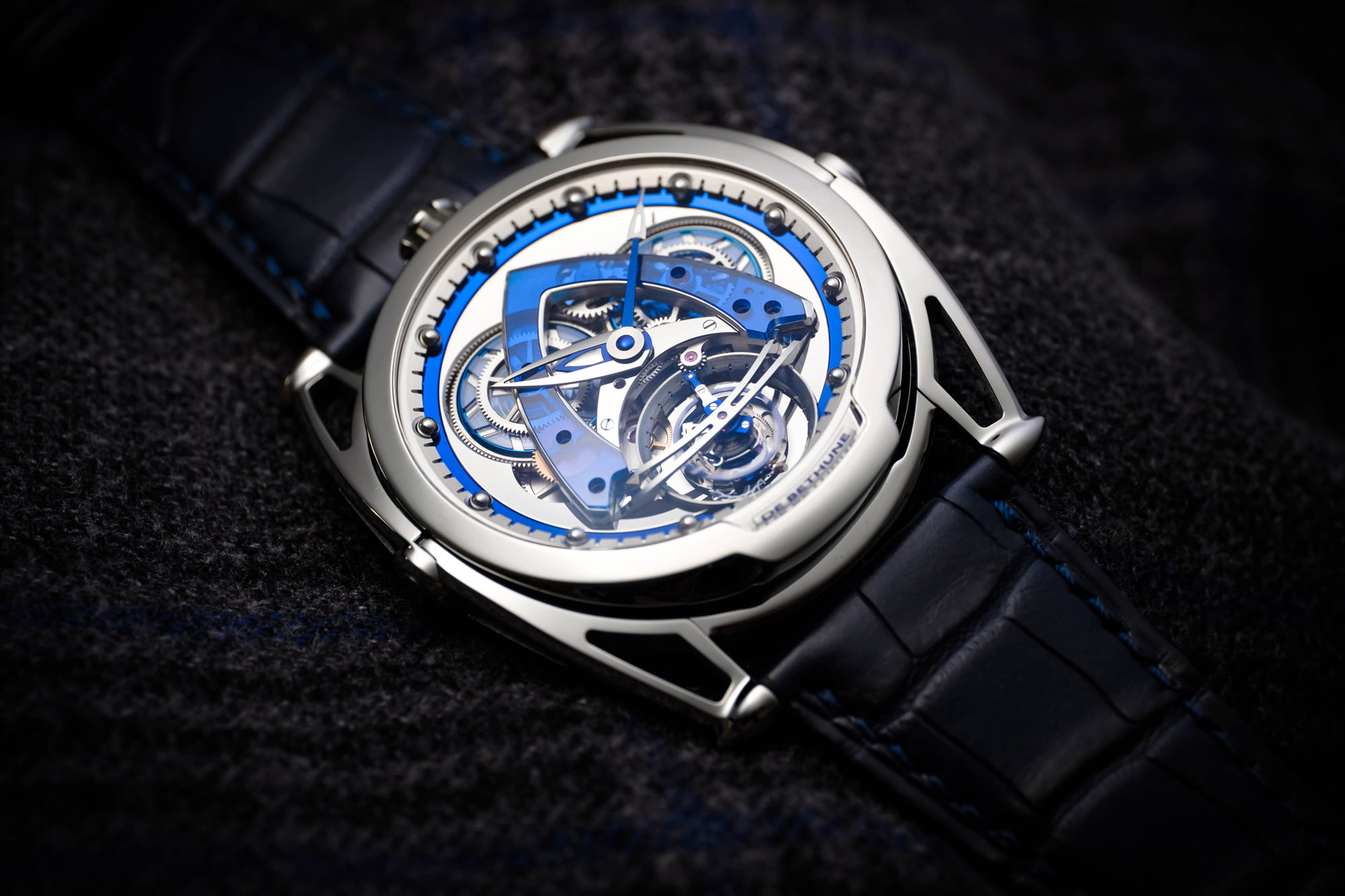 Limited to just 10 pieces, the DB28 Steel Wheels Sapphire Tourbillon represents perfect balance, contemporary and bold aesthetics at the service of exceptional mechanics. When the timepiece was first launched in 2010, it exemplified De Bethune's idea to present a timepiece with an identity of its own and a resolutely futuristic vision of the art of watchmaking. This idea came through when the DB28 was named the Best Watch of the Year and awarded the Aiguille d'Or prize at the Grand Prix d'Horlogerie de Genève (GPHG) in 2011. Since then, De Bethune has time and again found a new way to reveal new facets of this design. Additionally, in 2018, De Bethune gave birth to the DB28 Steel Wheels with the idea of opening the dial to reveal the contemporary architecture of its movement. Recognisable by its delta- shaped bridge – a De Bethune hallmark – and its moon at 6 o'clock, the DB28 Steel Wheels fascinates with a multitude of different forms – hemispherical, concave, spherical – for an architecturally dynamic result.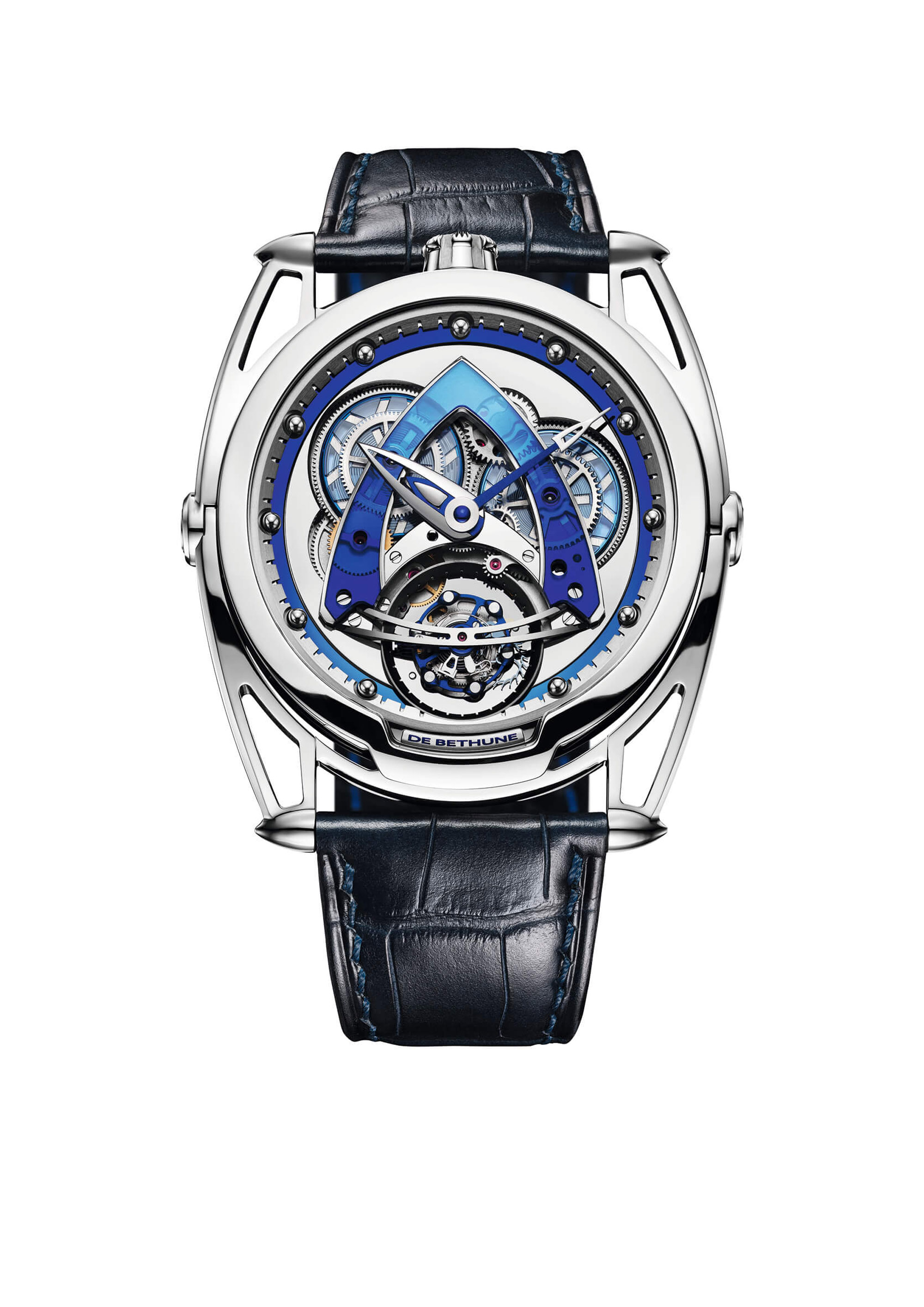 So keeping this historical excellence in mind, for the 10th Annivesary of the DB28, De Bethune launches the DB28 Steel Wheels Sapphire Tourbillon – a combination of the best that the brand can offer. In this timepiece, the sapphire crystal takes a character of it own and finds a new vocation in the form of the signature delta-shaped bridge and the cover for each of the two barrels. Blue for the bridge, clear for the barrel covers, these elements are integrated into the movement, letting light in to play and offer new reflections – and allow the eyes to literally plunge into the mechanism. Each sapphire crystal component is encircled in polished titanium.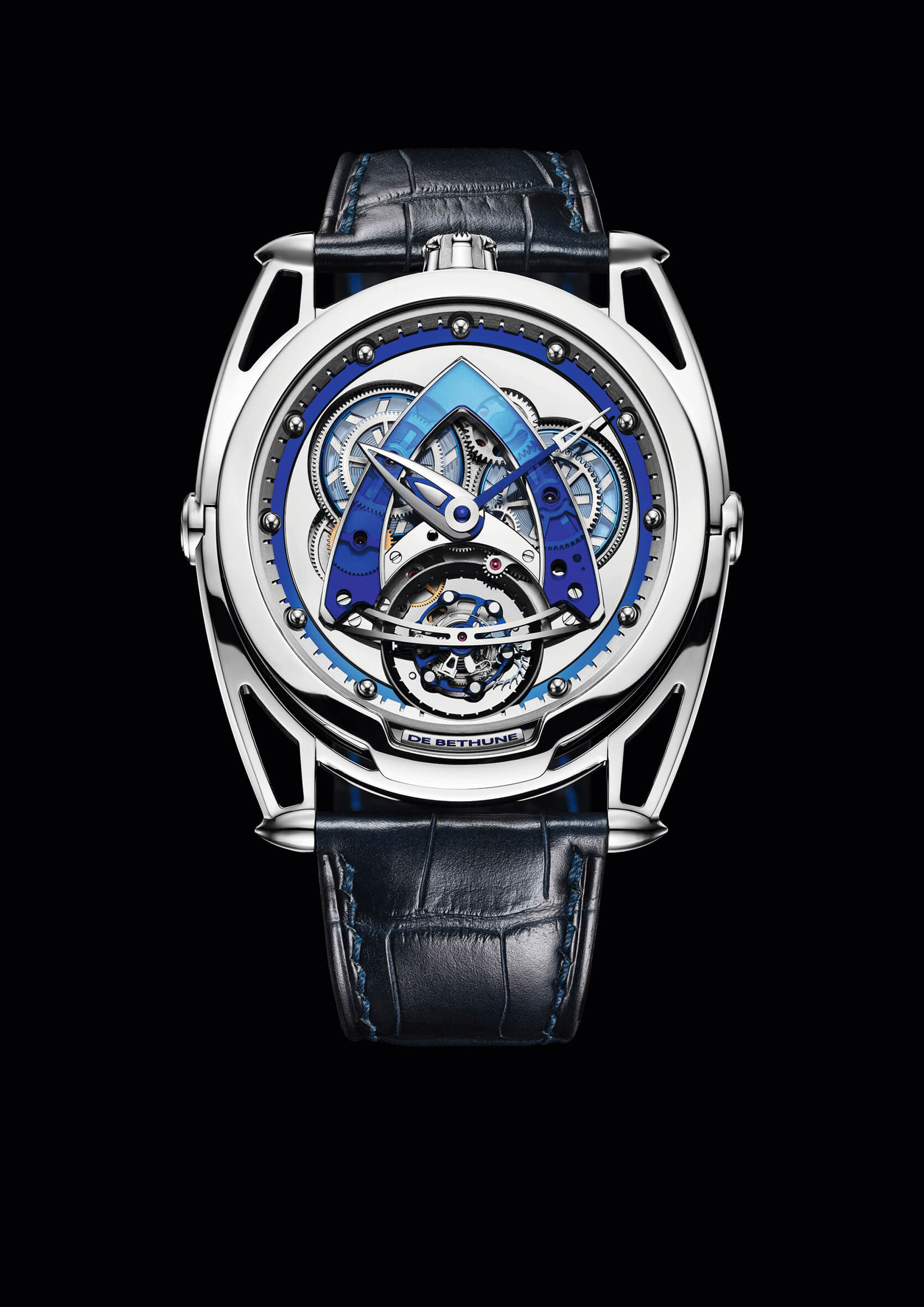 The handcrafted hands by De Bethune in 4 distinct elements; the barrel made of steel for technical reasons, a titanium insert, an inner component of matt titanium, and a polished titanium outer component. Furthermore, the watch houses a extraordinarily lightweight cage (0.18 grams, the lightest ever created) for the tourbillon cage holding a tourbillon in titanium and silicon.Crafted in a polished grade 5 titanium case strapped to an elegant alligator strap with a titanium buckle, the DB28 Steel Wheels Sapphire Tourbillon offers practicality and everyday wearability.