We had a conversation with Philippe Delhotal, Creative Director, Hermès Horloger and learnt what went into the making of the Manufacture's novelties and what Delhotal feels about the 2021 Hermès watches.
Luxury behemoth Hermès premiered its novelties for this year at the recently concluded Watches & Wonders 2021 edition that took place digitally. The workmanship of the Slim d'Hermès C'est la fête is awe-inducing, while the Hermès H08 is a men's piece that's robust and elegant.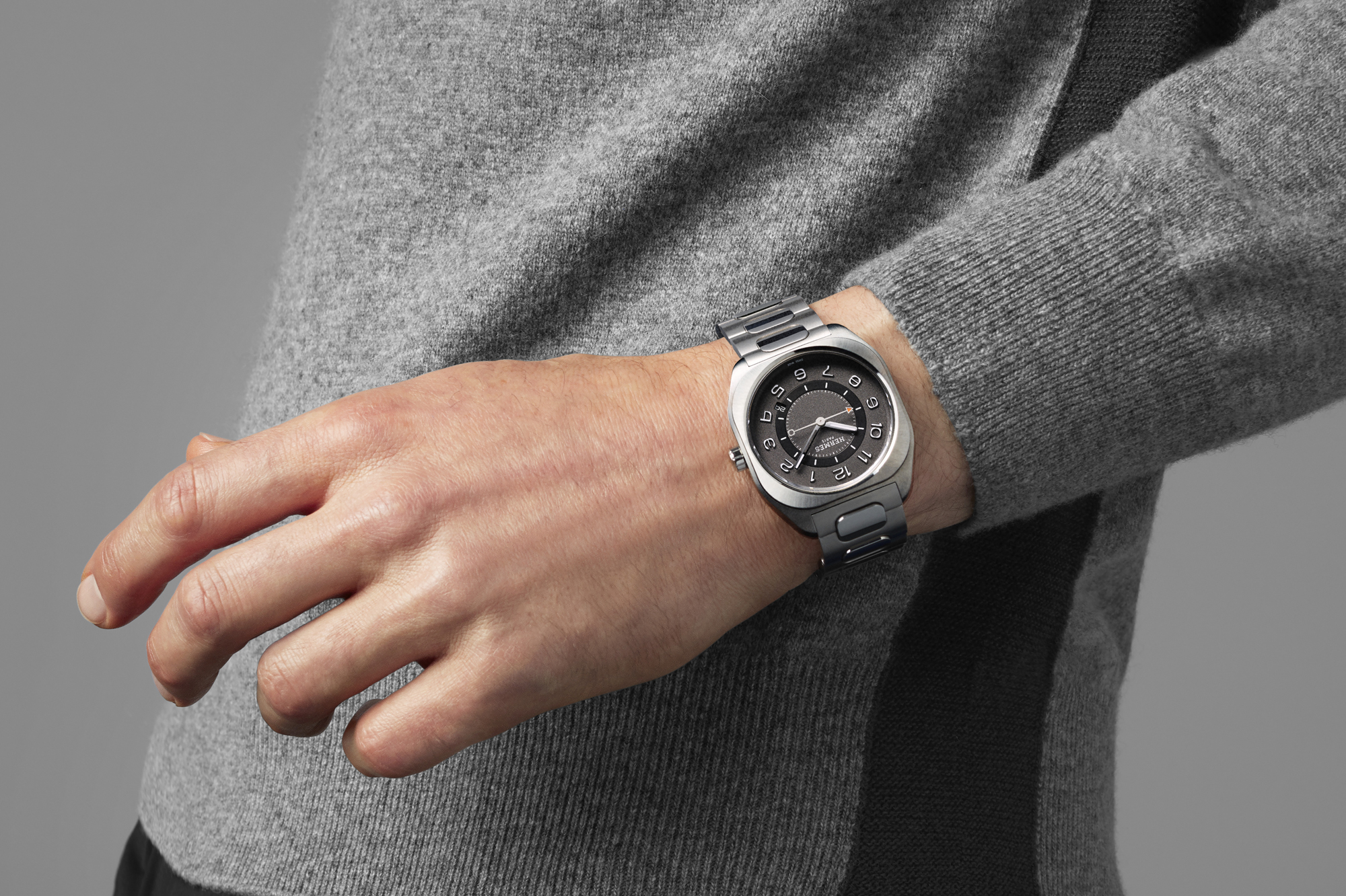 Crafted in blue and bronze/russet tones, the new Slim d'Hermès C'est la fête is a splendid work of enamelling and engraving. The Hermès H08 on the other hand offers case and dial options making it a dynamic timepiece for men.
WatchTime India had a conversation with Philippe Delhotal, Creative Director, Hermès Horloger to understand what went into the making of the new Slim d'Hermès and how the art of enamelling and engraving is evolving at Hermès.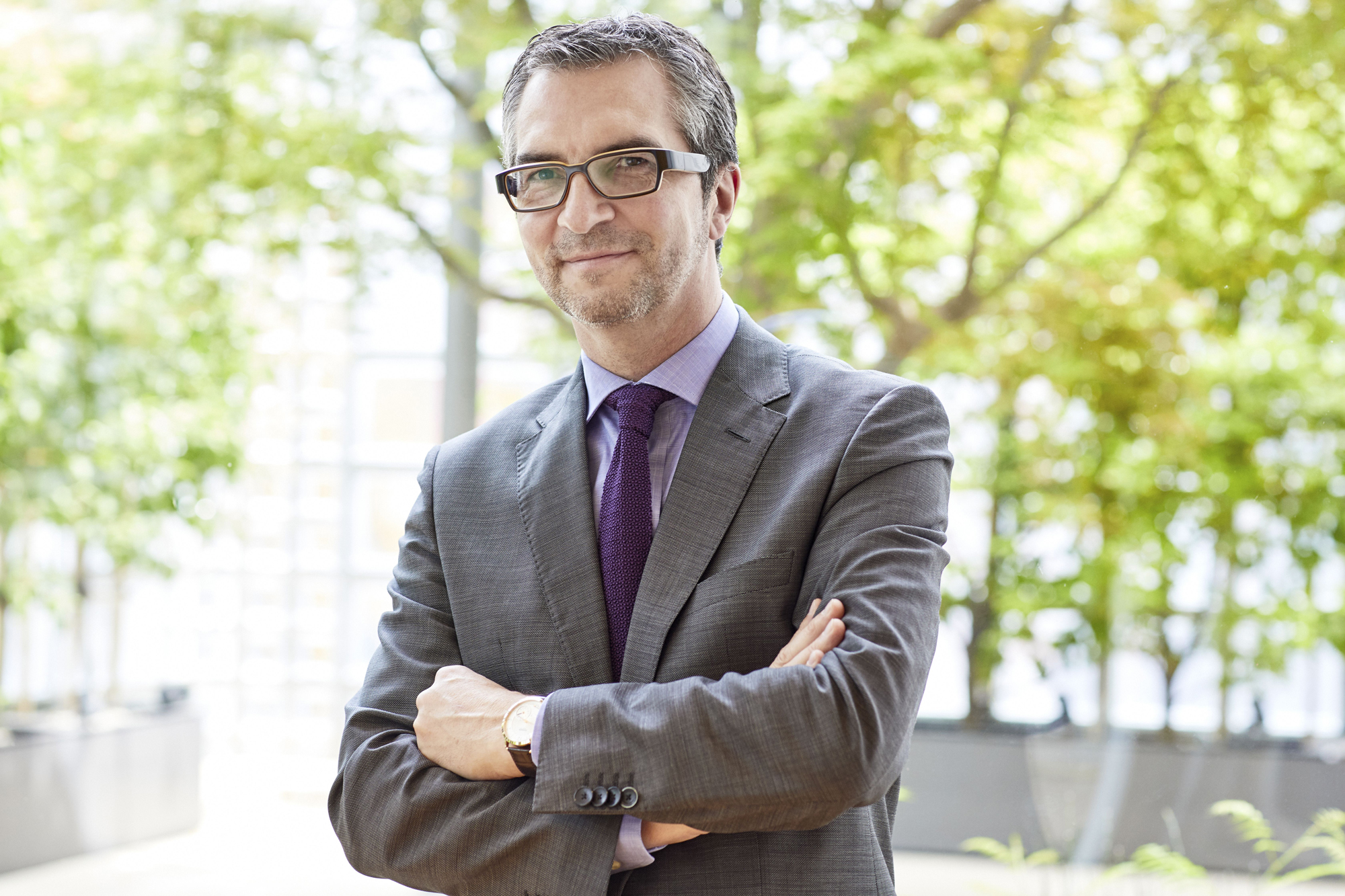 Excerpts from the interview:
WTI: The new Slim d'Hermès combines whimsical ideas and fascinating mechanics. Your comment on the design philosophy behind this creation?
PD: When we were creating the original Slim d'Hermès, we were looking to design an elegant watch that would be ultralight and flat. We offered this elegance in 2015 when Hermès launched this minimalistic timepiece. We focused on keeping this watch simple and classic, be it the typography or its overall design philosophy. Its design was created in 2012 initially for a men's scarf by Japanese designer Daiske Nomura. He wanted to capture certain Hermès symbols such as the horse by associating them with Japanese cartoon culture. I would like to point out that the Slim d'Hermès C'est la fête dial is based on a whimsical theme, but associated with a great mastery of skills since we combine three painstaking techniques with a Manufacture movement: Paillonné enamel, which consists of inserting gold or silver paillons (spangles) between the layers of enamel to create a play of light, transparency, and depth; miniature enamel; and engraving on the rider and his steed.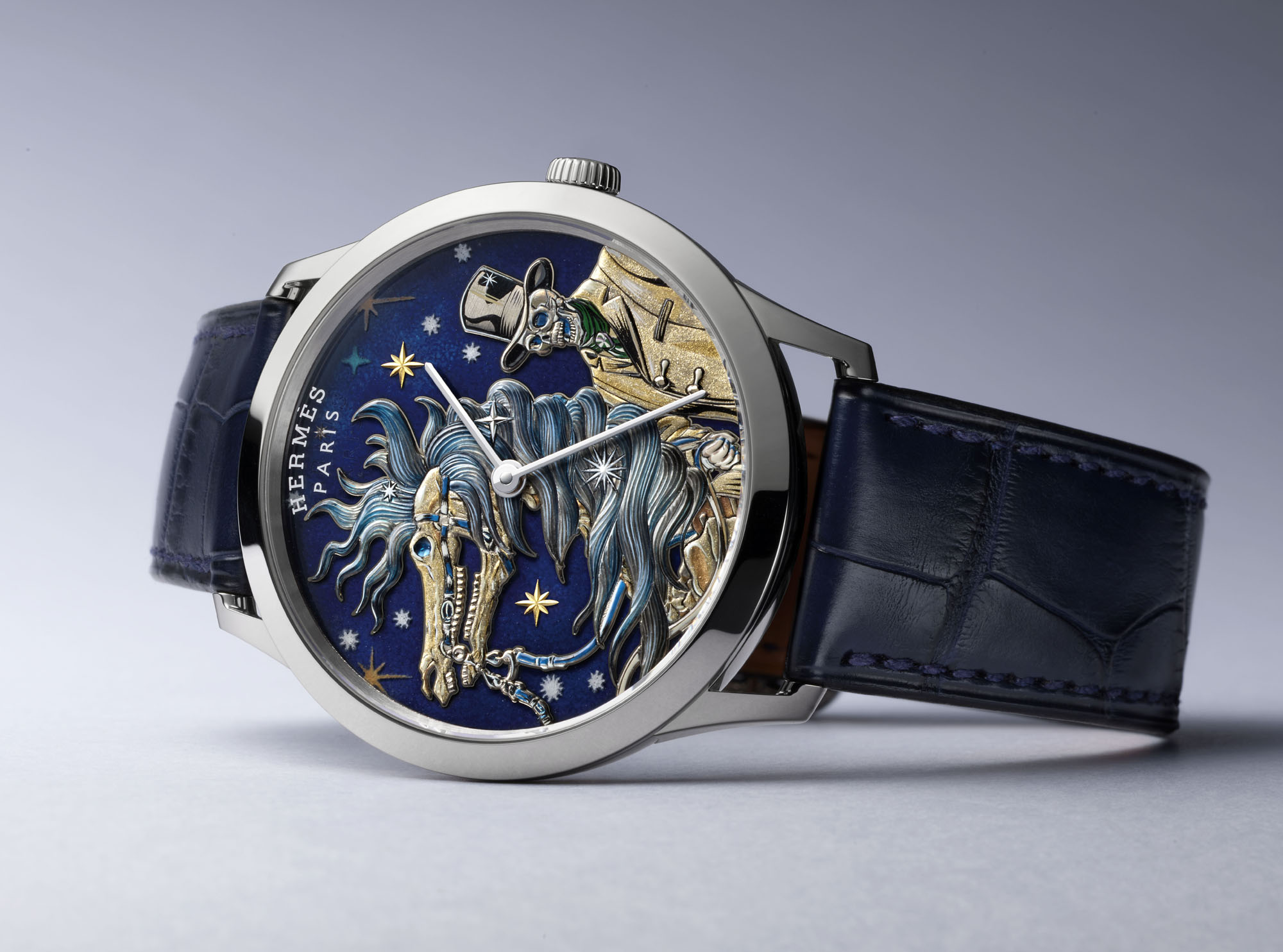 WTI: What was the idea behind using Daiske Nomura-designed men's scarf drawings as the dial motif? Why him and this particular motif?
PD: We chose this motif to bring in an element of surprise: A mischievous skeleton horseman in tails and top hat, riding his skeleton mount. We thought it could be a delightful design for the interpretation on a small scale with a combination of different techniques. The idea was to reinterpret this motif under playful lines with an unconventional fantasy as we did for the bear, the wolf, or the T-Rex more recently.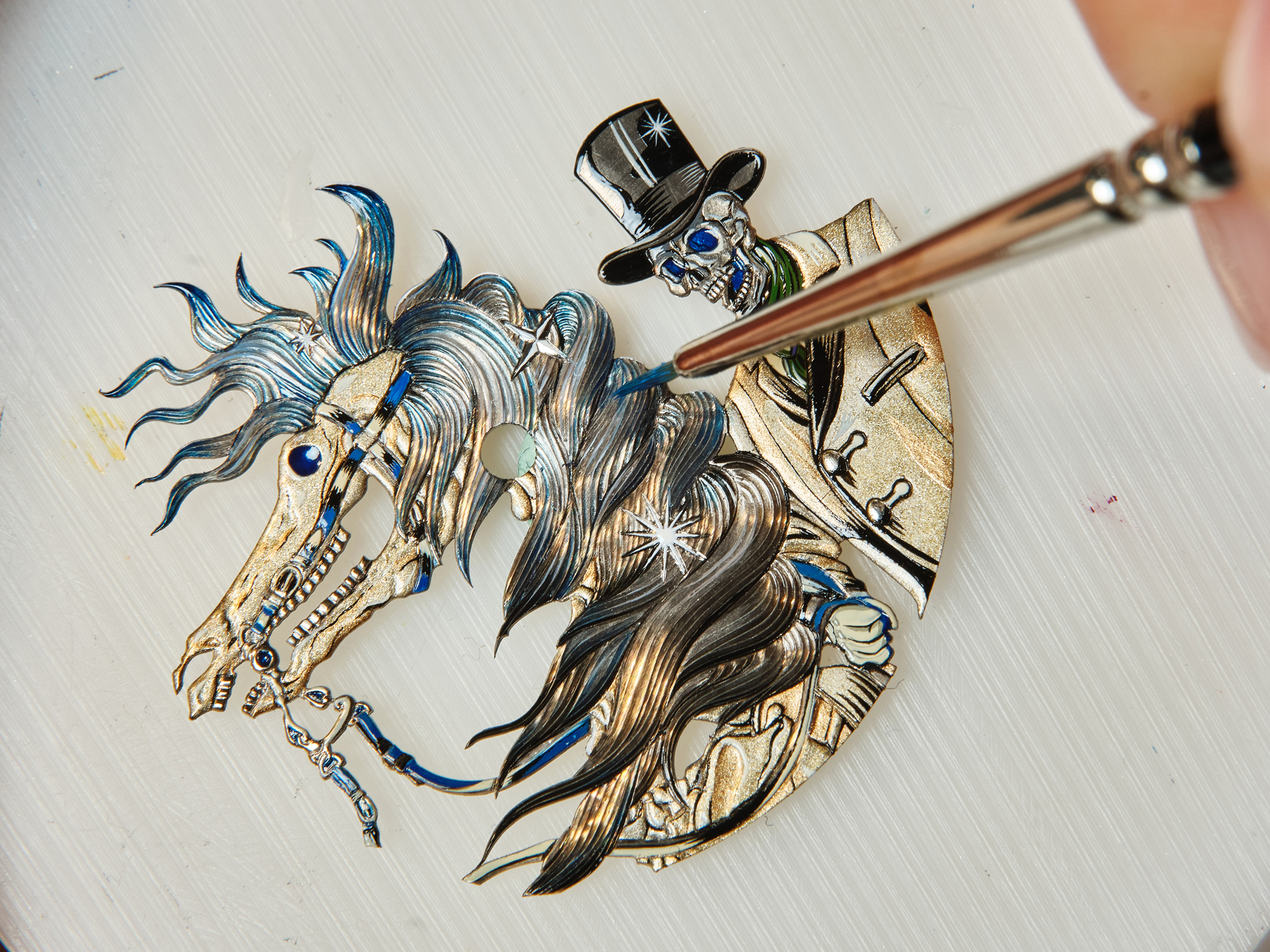 WTI: At Hermès, how has the meticulous techniques of enamelling and engraving evolved over the years?
PD: When it comes to the techniques of enamelling and engraving, not much has evolved. However, our choice of the patterns and motifs have been evolving persistently which helps us push our boundaries and create marvellous pieces. For instance, if a drawing is complicated, it becomes difficult to achieve, but this becomes a motivating force for us and our artisans. We then find solutions to create complex patterns like the Slim d'Hermès C'est la fête.
To dare in life is only essential. It plays a pivotal role in creating new things. Daring brings to the table fun, and life remains complicated and a struggle if you don't bring in a little fun. I want people to be happy and make them smile. By offering our charming and fascinating timepieces, we offer people not just a watch but joy and excitement.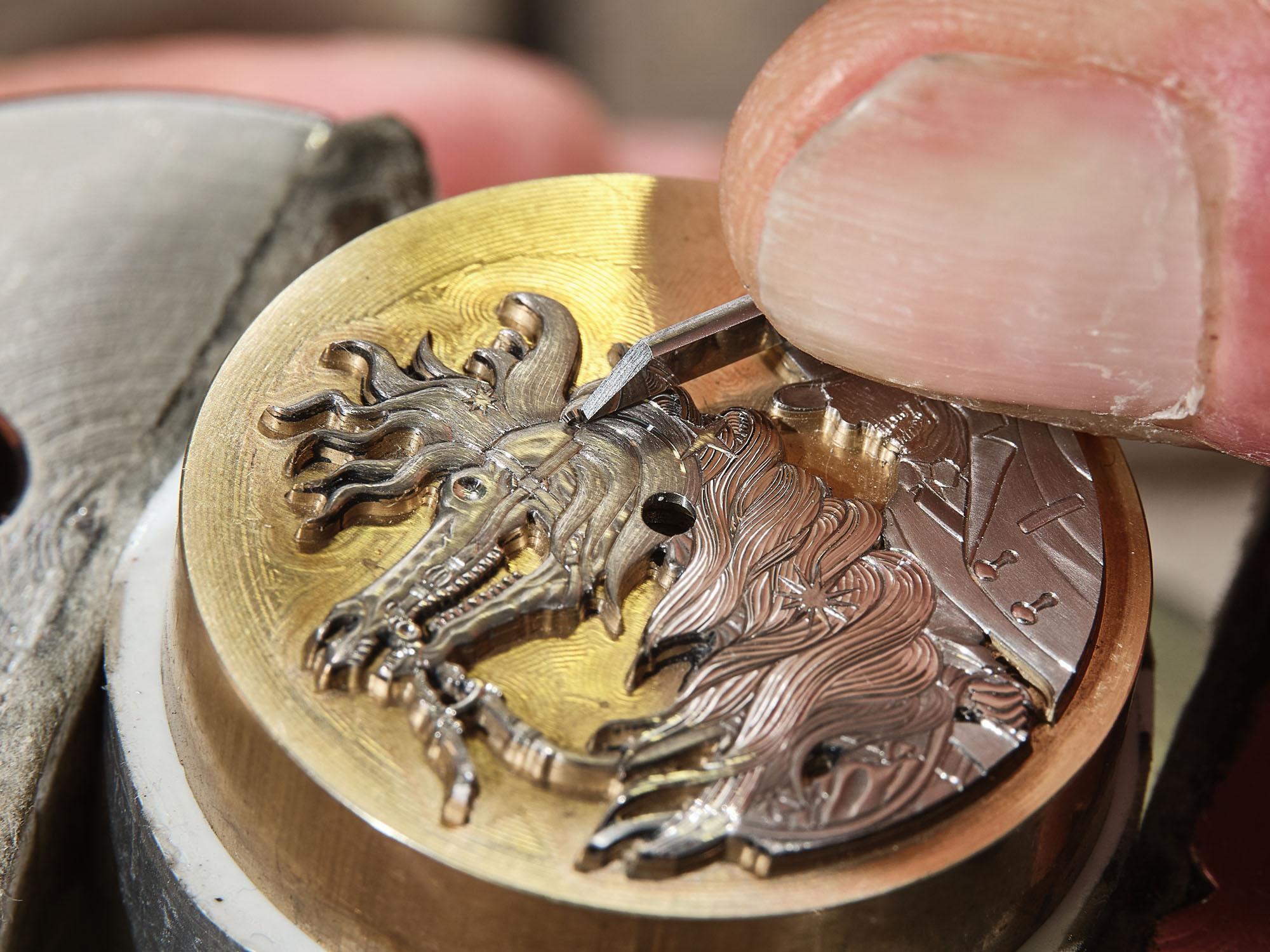 Our work is a work of encounters, of meeting people, and it's a beautiful job. Sometimes people ask me if you had an alternate career option, what would you do, and I always say that I would do exactly the same thing. It's important to be happy with the choices one makes in life and have no regrets. We must live our life as it comes and enjoy what we have and share it with others. And that is what we want to do at Hermès, because our house is a house of creation. Our clients don't only come to our stores to buy objects, but they are sharing a universe of Hermès.
WTI: With respect to the Hermès H08, can you throw some light on the creative process? How do you keep this fire of creativity burning?
PD: Absolutely, we should keep the fire of creativity burning. It is this fire that helps us create objects - it is the real motivational factor. The Watches & Wonders illustrates the commitment to creativity even in hard times caused by the Covid-19 pandemic. To create the Hermès H08, I was looking for a watch that is really anchored in the Hermès masculine universe - a watch to transport people to the Hermès environment. It's a casual and sporty timepiece.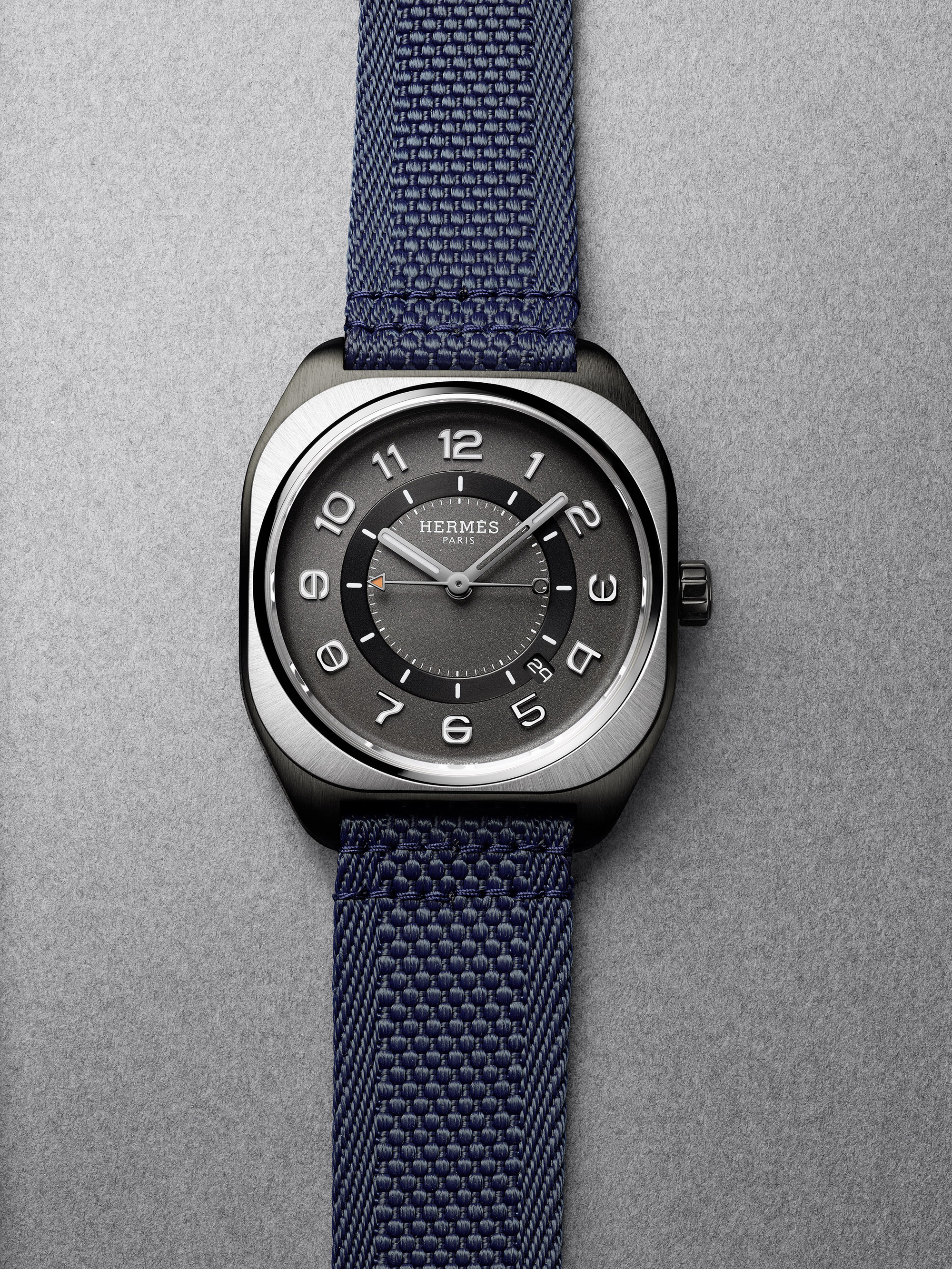 The Hermès H08 is a watch that could be worn daily or when you are swimming or skiing. This tells how robust the Hermès H08 is. At Hermès, sport is something that was always present in our collections since the very beginning of the house - with horse riding and equestrian. It is not a rough sport, but elegant. Hence, in this watch, we were looking to combine the masculine universe and the sporting inspiration. We were also looking to find the right materials for this watch like titanium.
WTI: What makes the Hermès H08 distinctive in the current market?
PD: I think it's the shape that is an important element with many details. We have used different minerals and materials to create its case which gives the watch a unique character. However, for me it's not fair to say that this is a unique watch, I feel our clients are the ones who should be saying that. While creating something, it's essential to be modest and humble, hence, I don't want to declare or claim anything about the watch. The first person to decide should be the client. I have poured my soul into the creation, but it's like a baby that should lead his own life. Even if I'm very proud of what we do, it is important to remain humble.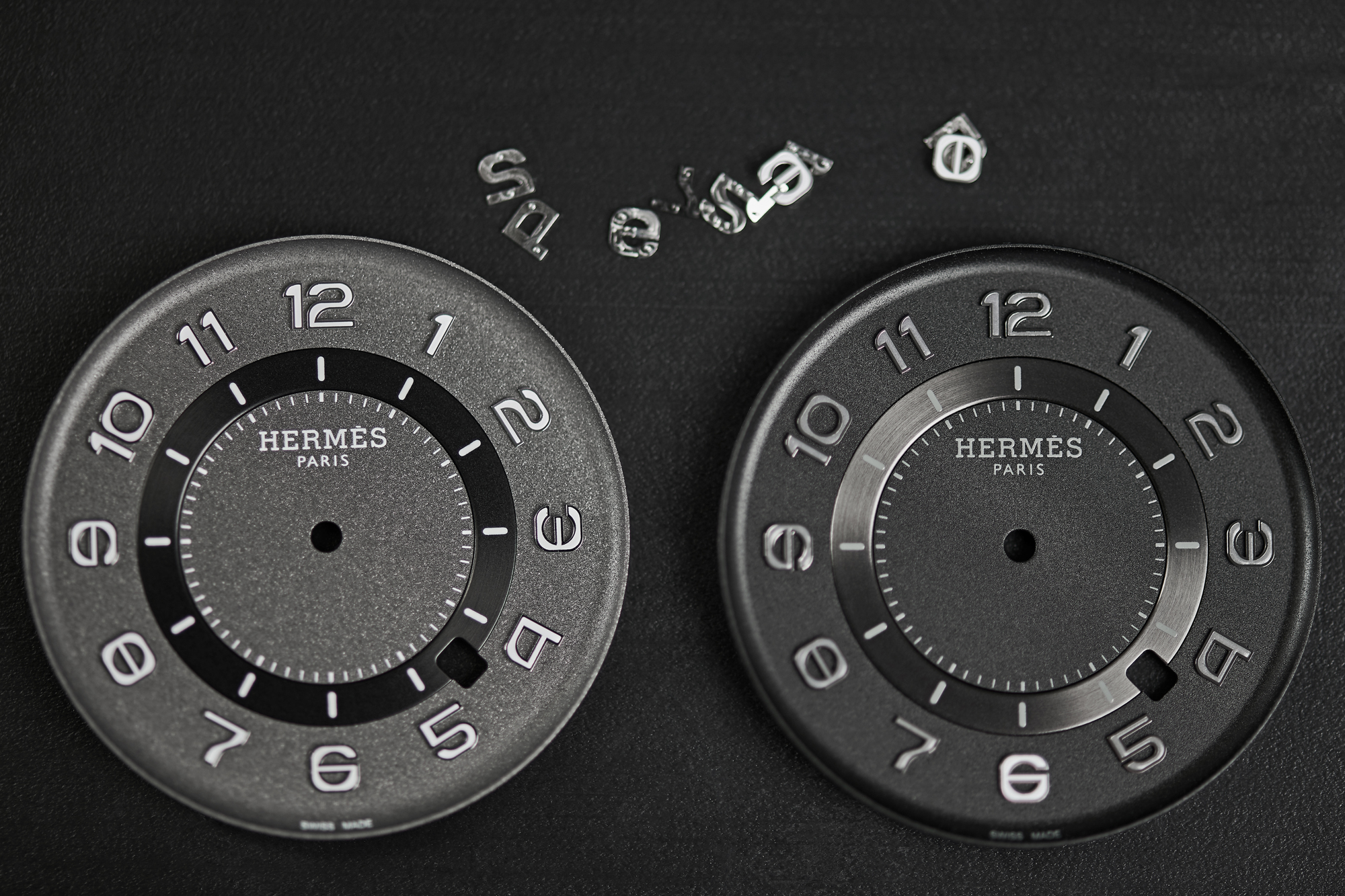 WTI: If you could wear one Hermès watch for the rest of your life, what would it be?
PD: From the current collection, it's the Hermes H08. I like wearing it every day and since I am not using the leather strap, I don't need to take it out even for a shower. It is very functional. From the earlier collections, it's the Arceau Le Temps Suspendu, because it's a real signature of Hermès.