Launched at a massive press event at Geneva (and on Zoom for those unfortunate souls who could not physically attend the fair), Breitling introduces a trio of chronographs thats pays tribute to classic sports cars from the 1960s. Called the Top Time Cars Capsule collection, the announcement also includes the rolling out of its Top Time Classic Cars squad that included Chevrolet Corvette, the Ford Mustang, and the Shelby Cobra.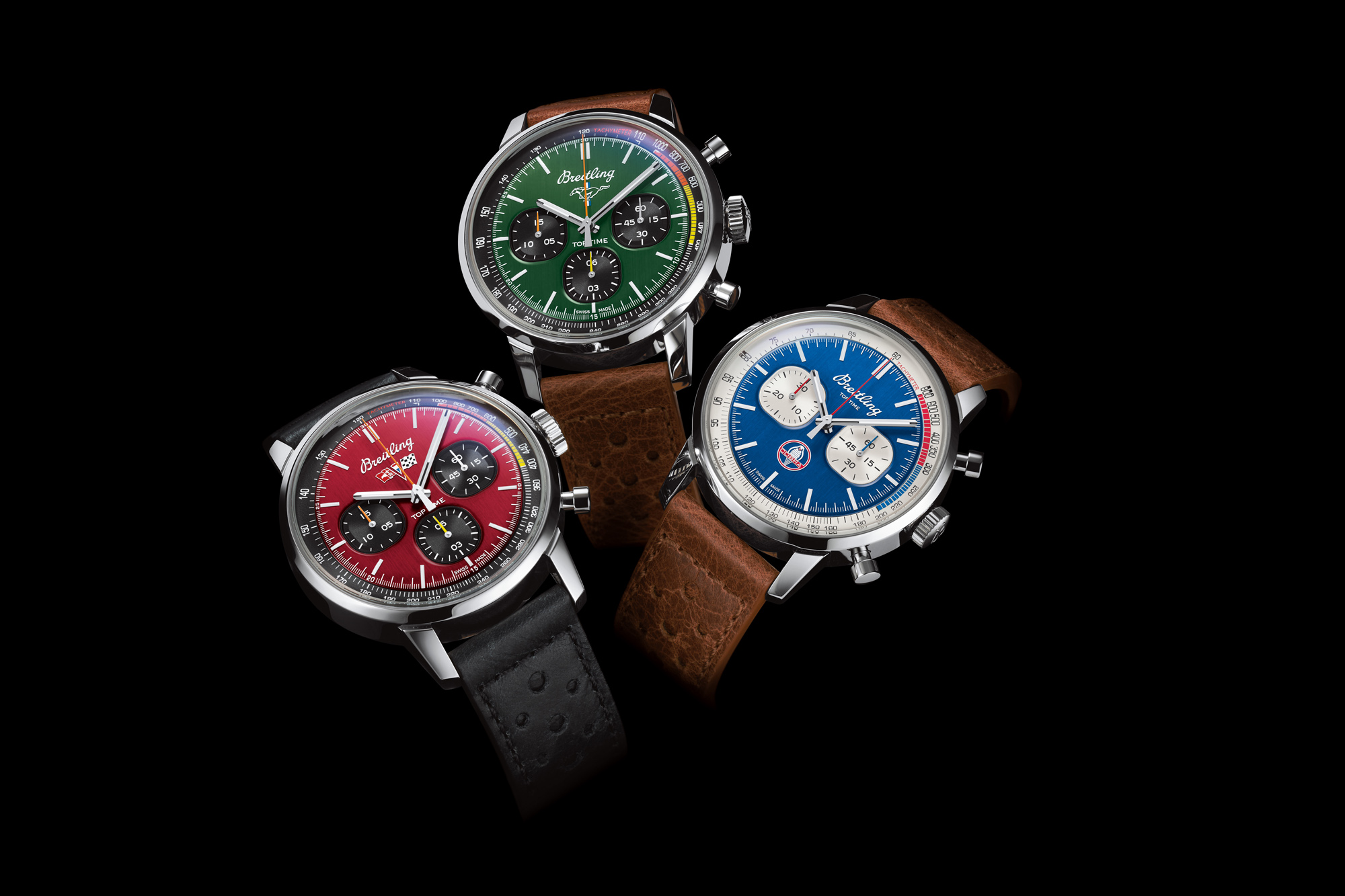 These three icons of the American car cultures has been used as the basis of inspiration for the 2021 Geneva Watch Days novelties. The timepieces also take inspiration from the original 1960s Breitling Top Time models which were designed for 'young and active professionals'.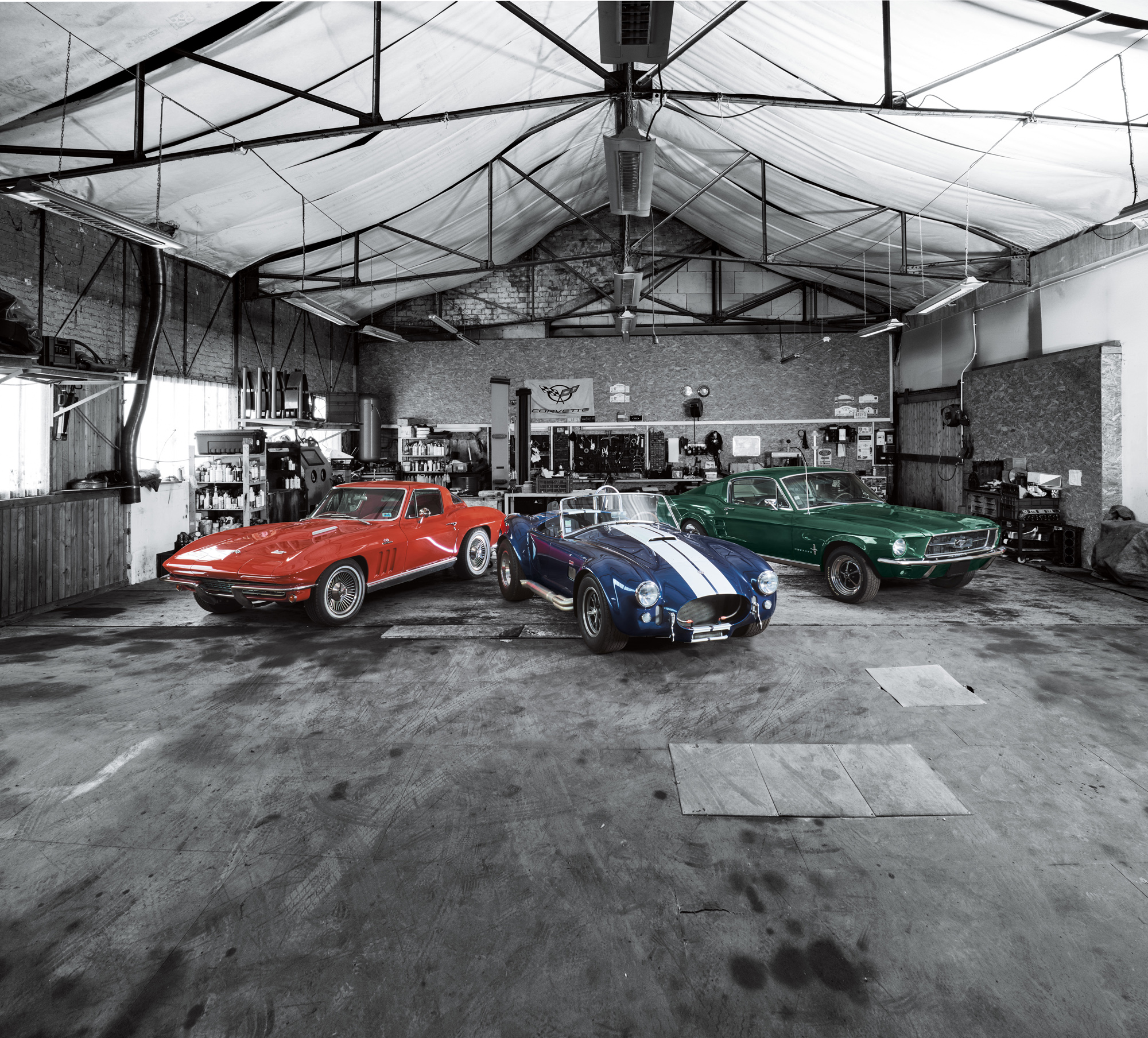 With the 2021 models, Breitling has ensured to create them with an even more youthful and free-spirited theme. "It's about the journey, not the tempo. And that's true whether you're tinkering under the hood or hitting the road for a Sunday ride celebrating these beautiful machines," says Breitling CEO Georges Kern.
About the collection:
The trio of chronographs are available in bold dial colours in red, blue and green. These are further accentuated with orange, yellow or red or blue touches. All of the timepieces launched within this collection feature a race-inspired themed with a unique motoring twist.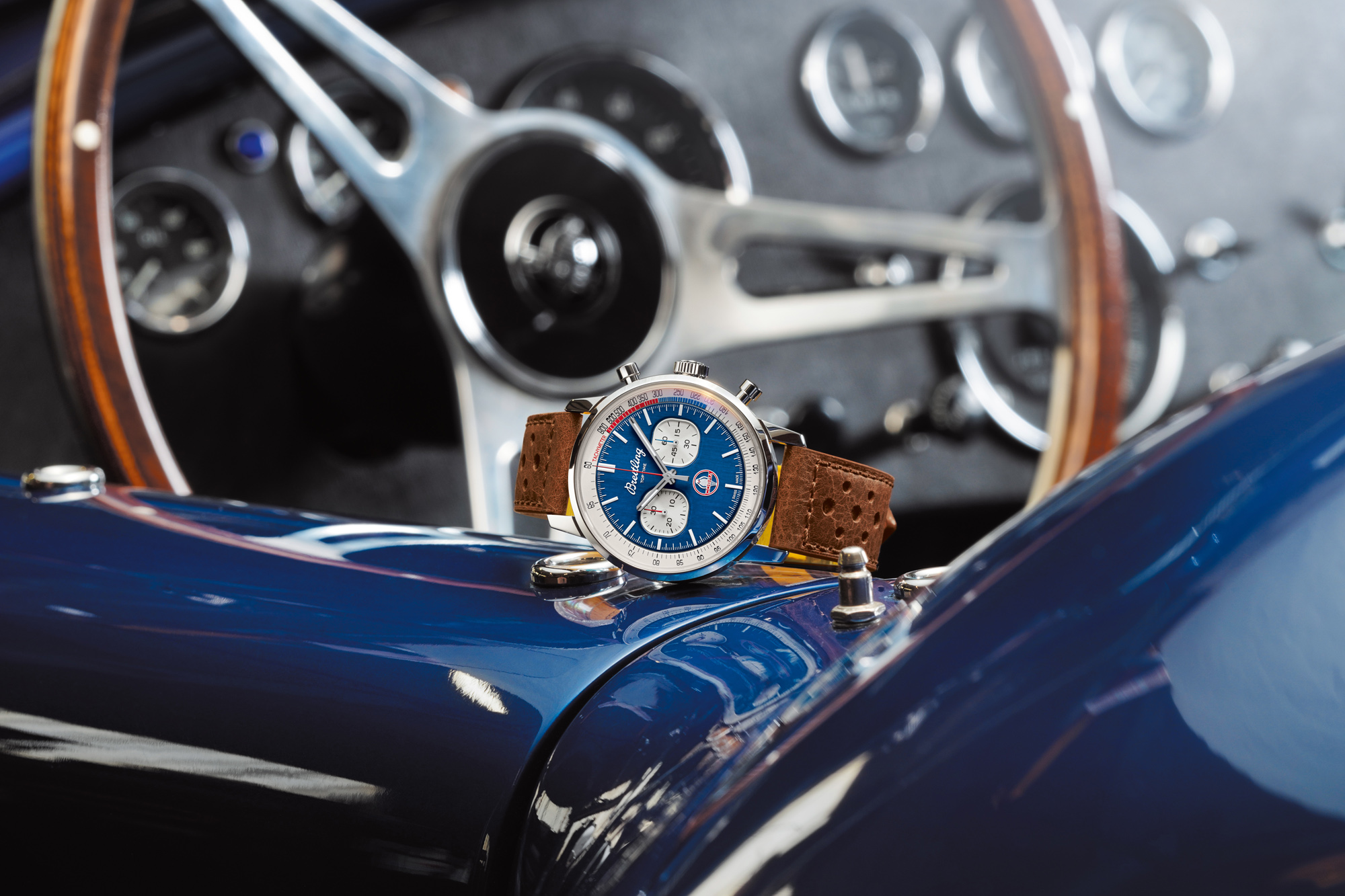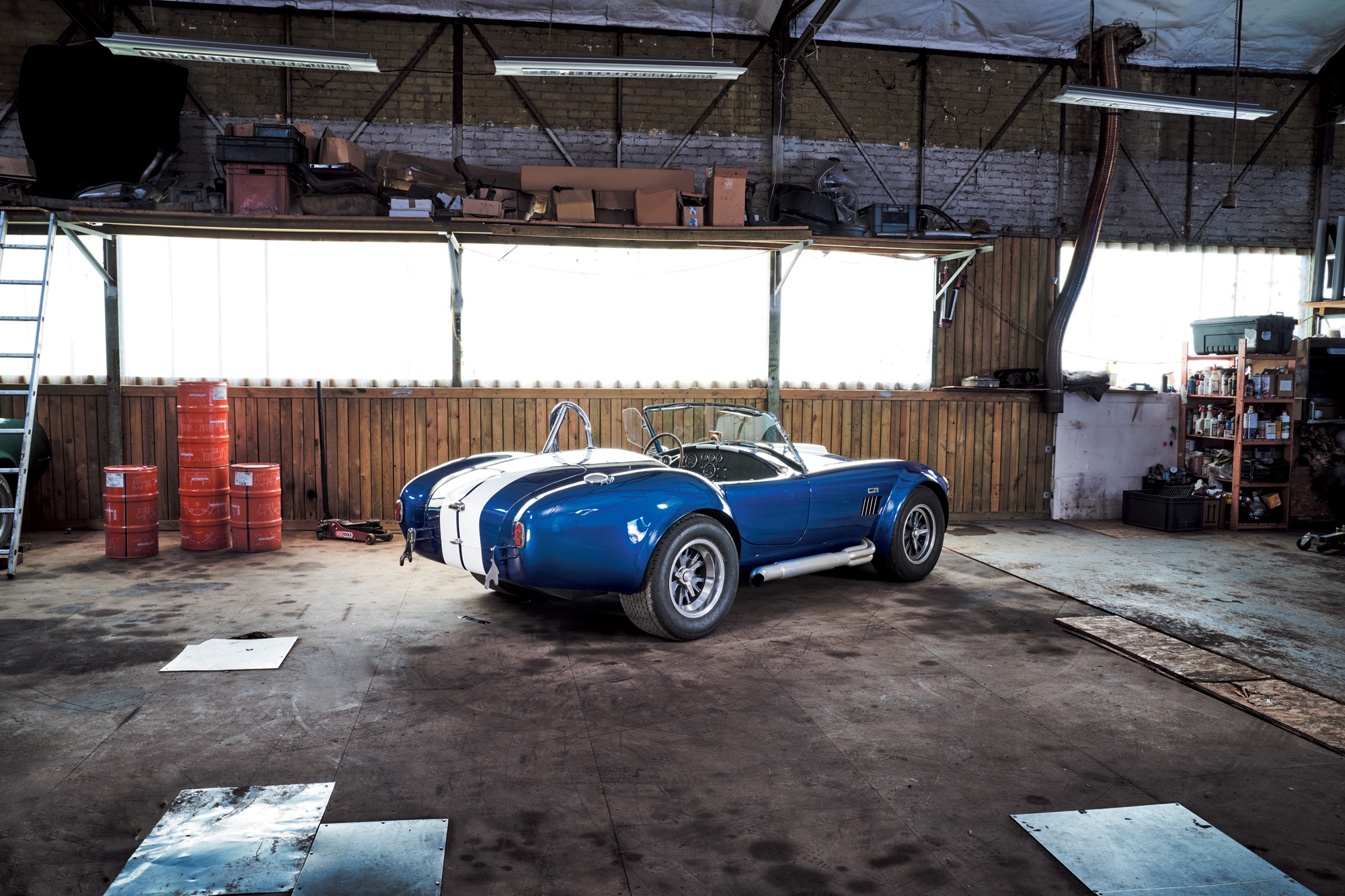 The Top Time Chevrolet Corvette features red and black design codes that has been inspired by the Corvette C2 from the mid-1960s which was also known as the 'Sting Ray". The Top Time Ford Mustang is inspired by the car developed in 1964 and houses a colour theme of green and black. Lastly we have the Top Time Shelby Cobra in colour tones of blue and brown. This watch has been inspired by the machine created by the iconic American race-car driver and manufacturer Carroll Shelby during the 1960s. The watch hints at one of its distinctive paint jobs: blue with white racing stripes.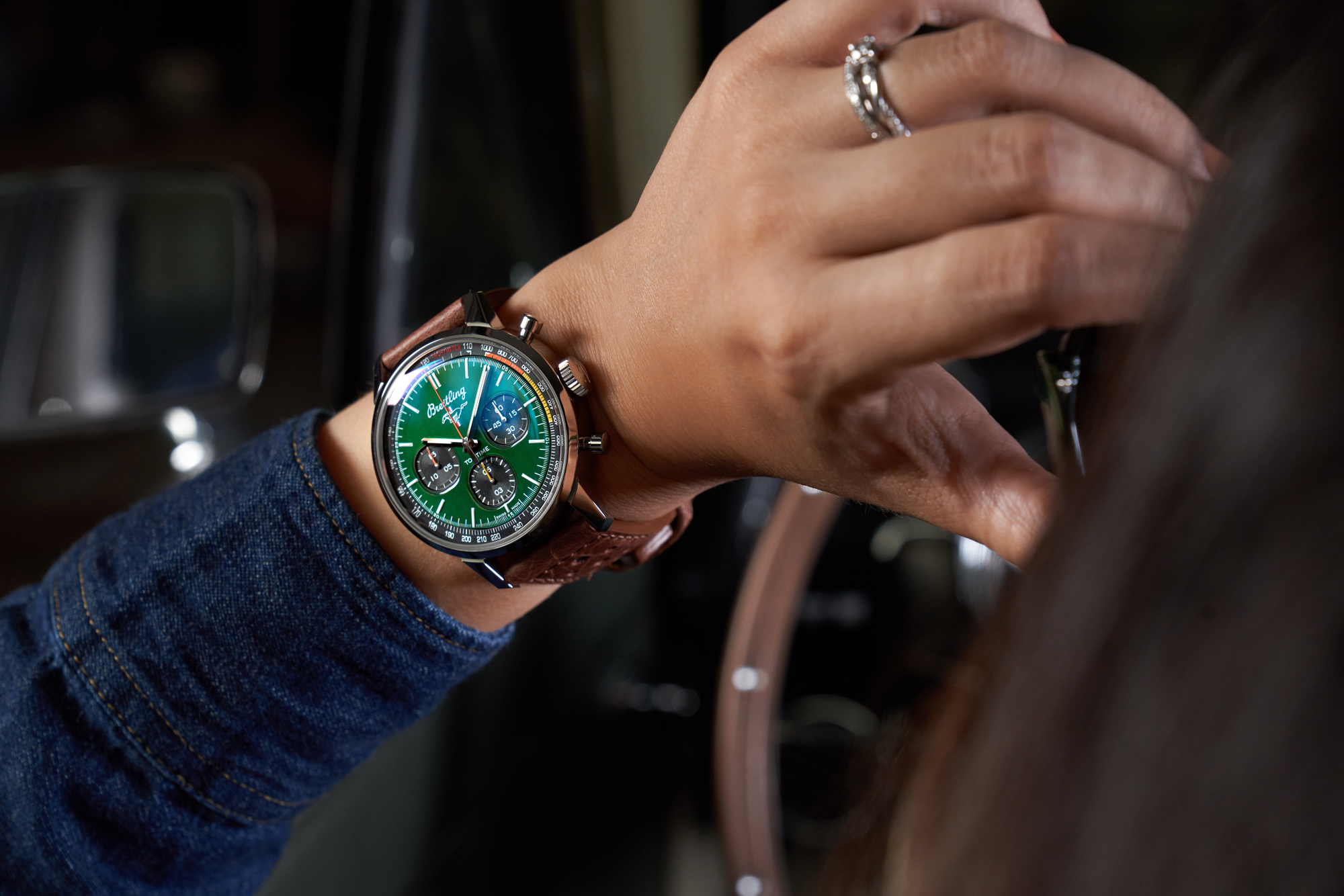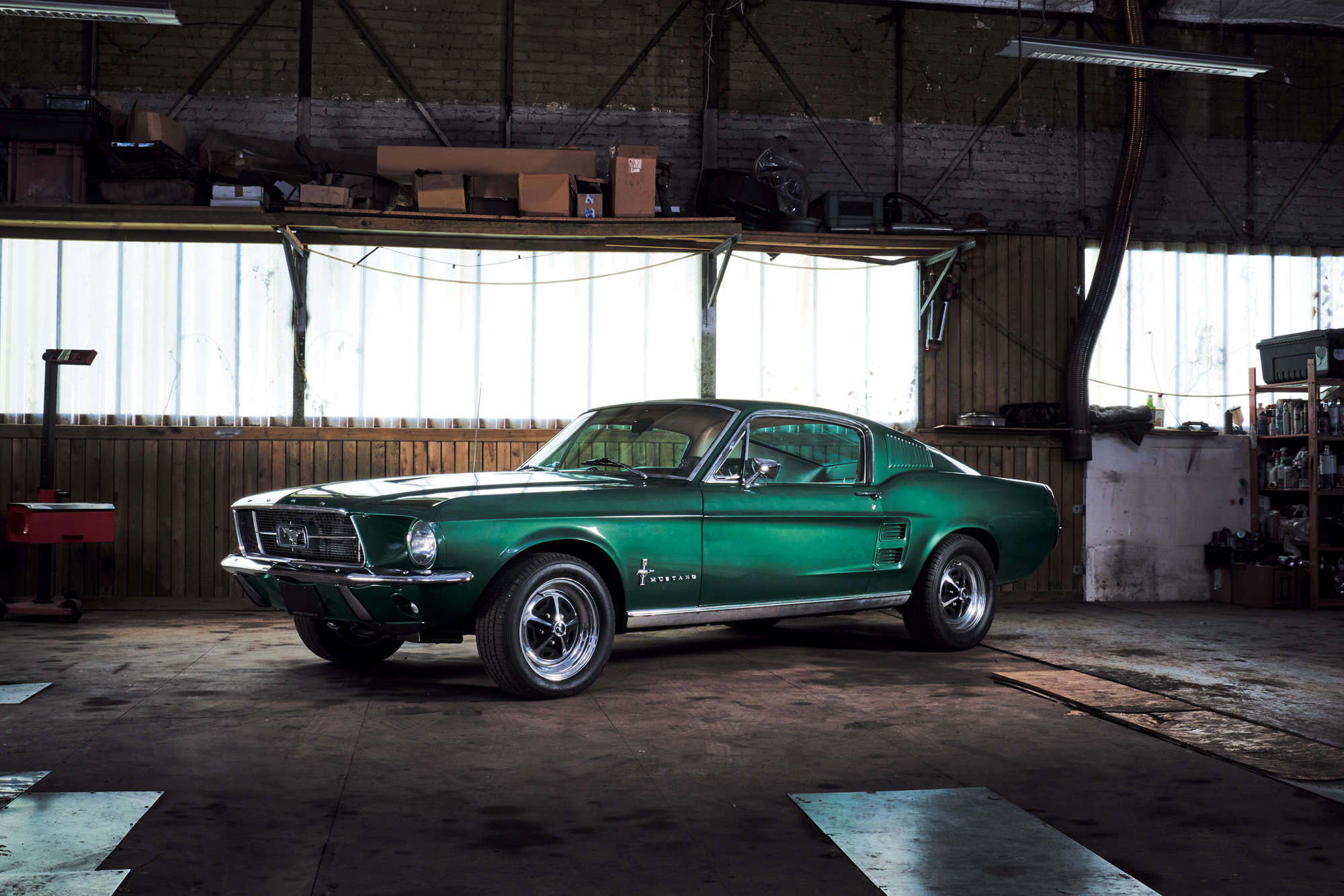 The Chevrolet Corvette and the Ford Mustang comes in a 42mm stainless steel case that houses the COSC-certified Breitling Caliber 25. This is a self-winding 1/8th of a second chronograph movement with a power reserve of about 42 hours. The Shelby Cobra which comes in a slighter smaller 40mm stainless steel case is powered by he COSC-certified Breitling Caliber 41, a self-winding 1/4th of a second chronograph movement with a power reserve of approximately 42 hours.The Shelby is further equipped with a white tachymeter scale and two white contrasting subdials and the Cobra logo at 6 o' clock.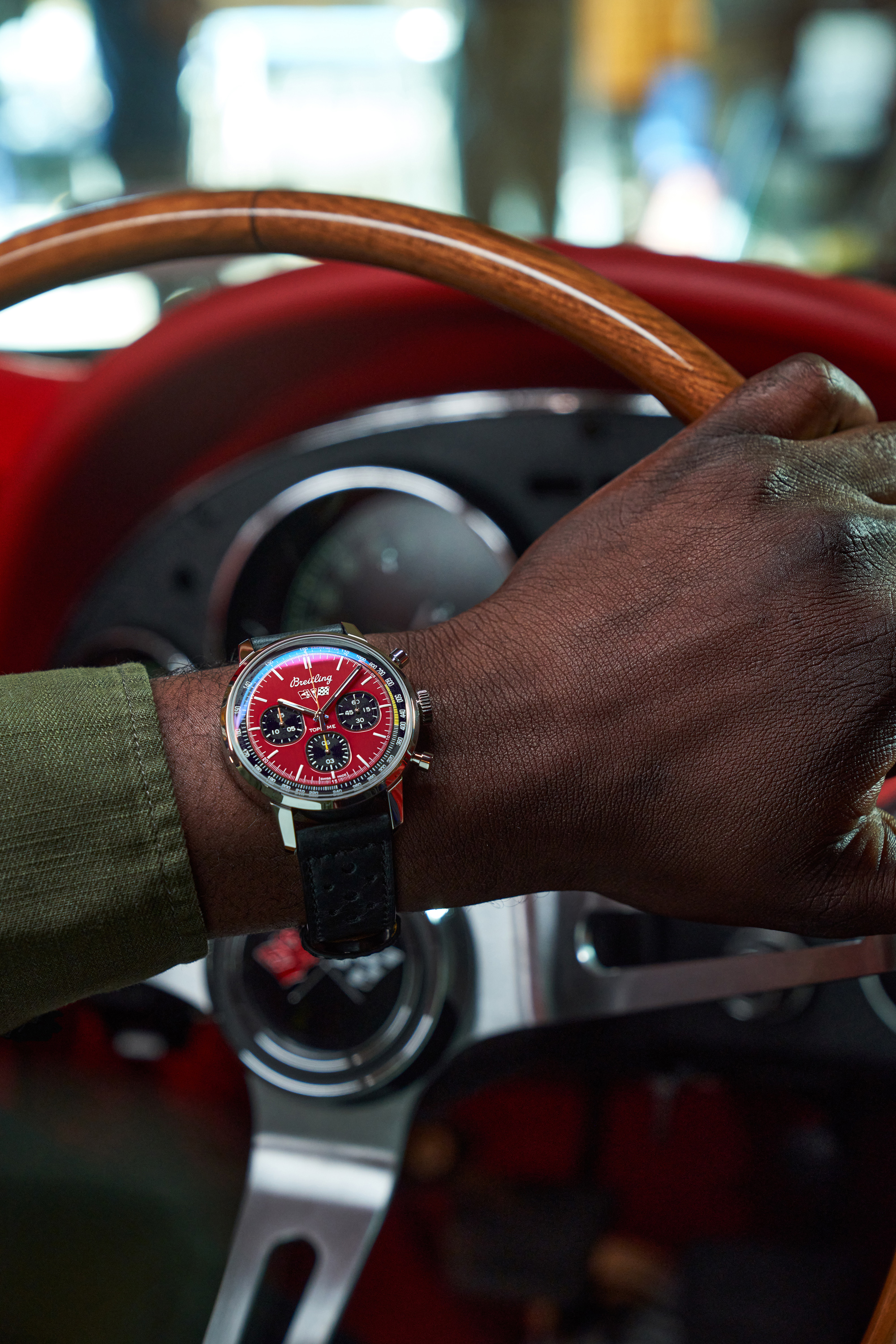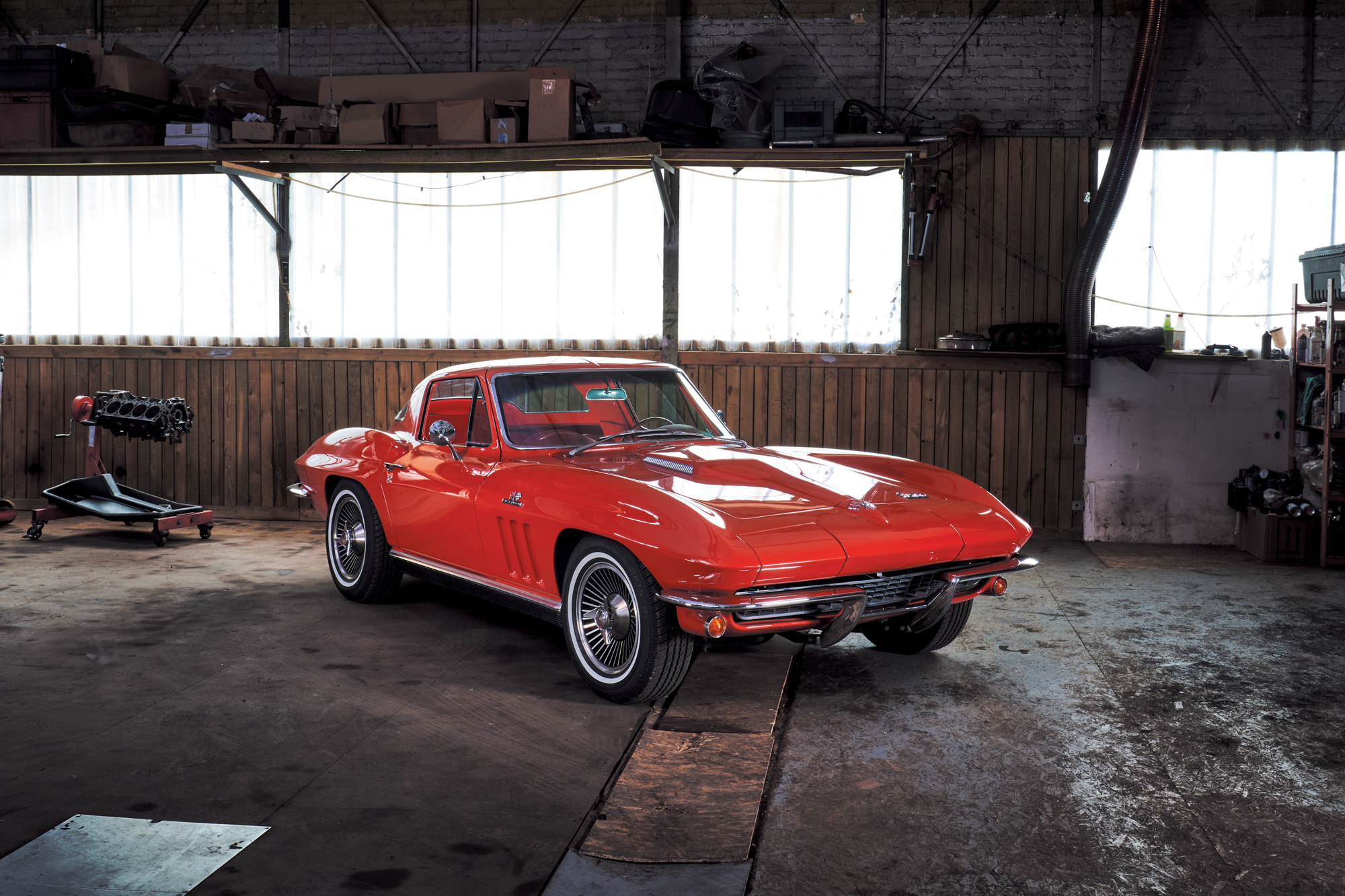 All three watches in the collection features an engraving of their respective car's logo in impressive details and feature a water-resistant up to 10 bar (100 meters).
Here are the technical specifications of the three watches: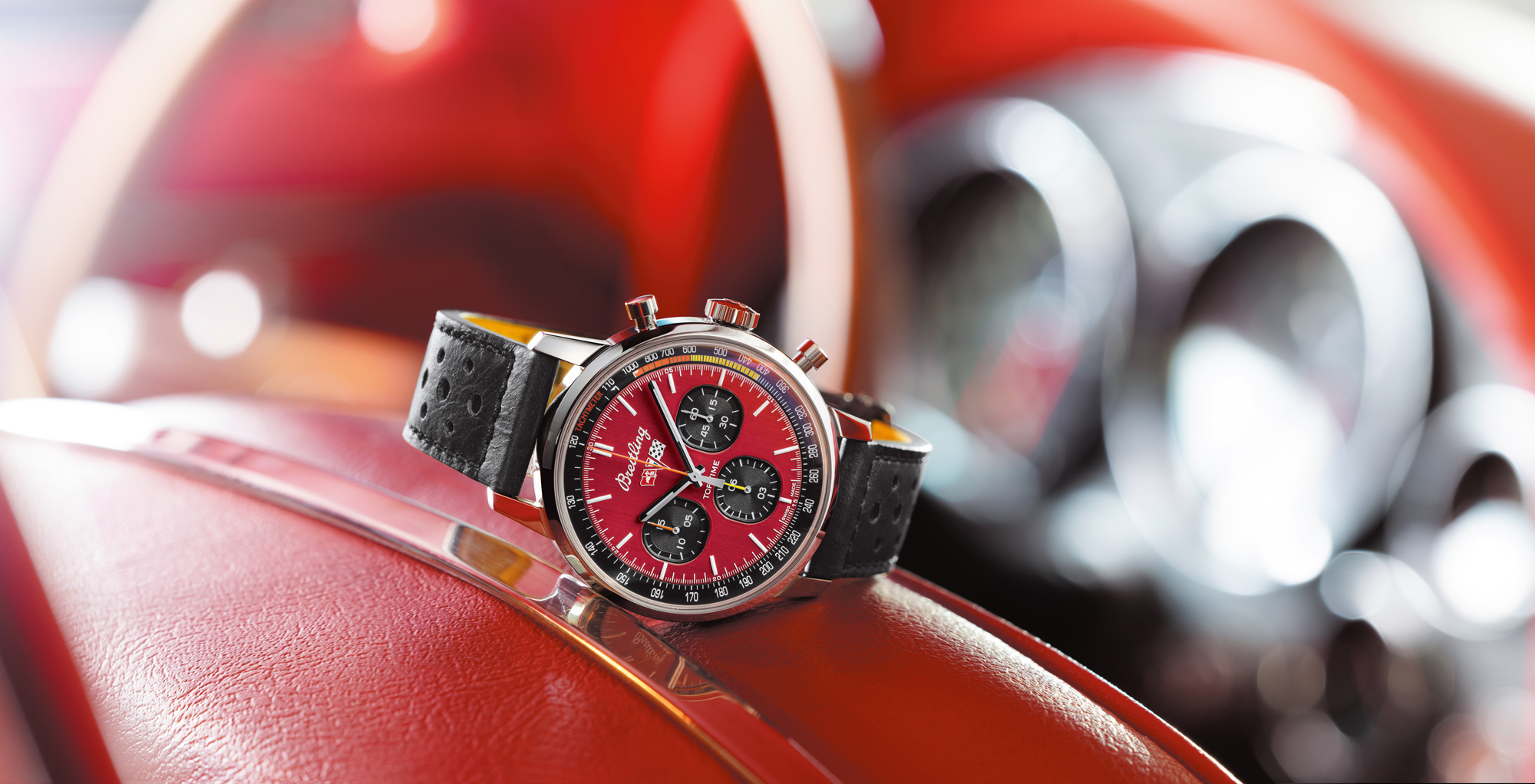 Name: Top Time Chevrolet Corvette
Reference: A25310241K1X1
Movement:
Caliber: Breitling Caliber 25
Diameter: 29.3 millimeters
Depth: 6.9 millimeters
Winder: self-winding mechanical, bidirectional with ball-bearing
Power reserve: approximately 42 hours
Balance frequency: 28,800 a/h or 4 hertz
Chronograph: 1/8th of a second chronograph, 30-second, 15-minute and 6-hour totalizers
Display: hour, minute, second
Certification: COSC-certified
Case:
Material: stainless steel
Diameter: 42 millimeters
Height: 13.65 millimeters up
Water resistance: to 10 bar (100 meters)
Caseback: snapped, steel
Crown: non-screw-locked, two gaskets
Dial:
Red with black tachymeter scale and black contrasting subdials
Hands: Super-LumiNova® luminescent indexes and hour and minute hands
Strap:
Black racing-themed calfskin leather strap with folding clasp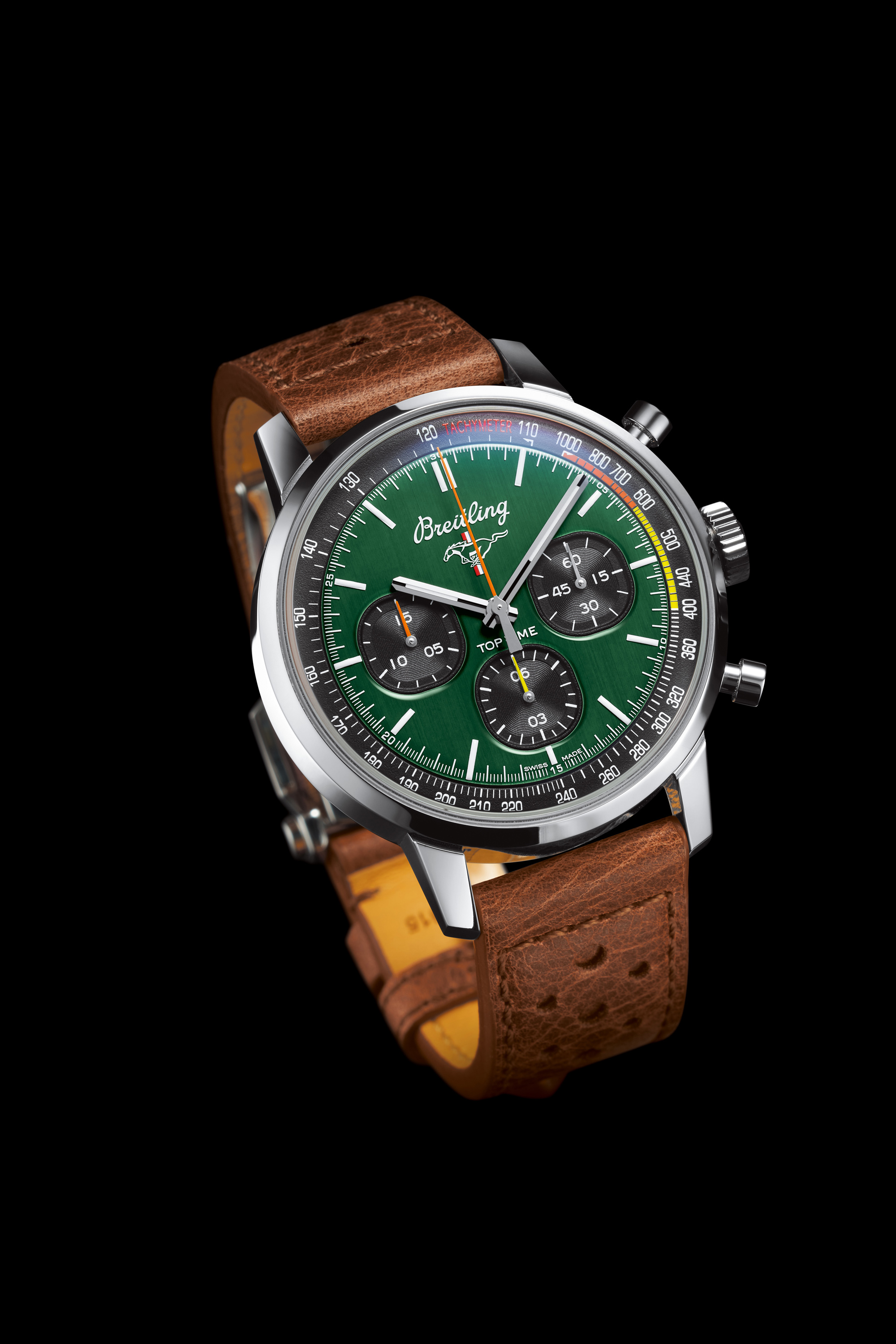 Name: TOP TIME Ford Mustang
Reference: A253101A1L1X1
Movement:
Caliber: Breitling Caliber 25
Diameter: 29.3 millimeters
Depth: 6.9 millimeters
Winder: self-winding mechanical, bidirectional with ball-bearing
Power reserve: approximately 42 hours
Balance frequency: 28,800 a/h or 4 hertz
Chronograph: 1/8th of a second chronograph, 30-second, 15-minute and 6-hour totalizers
Display: hour, minute, second
Certification: COSC-certified
Case:
Material: stainless steel
Diameter: 42 millimeters
Height: 13.65 millimeters up
Water resistance: to 10 bar (100 meters)
Caseback: snapped, steel
Crown: non-screw-locked, two gaskets
Dial:
Green with black tachymeter scale and black contrasting subdials
Hands: Super-LumiNova® luminescent indexes and hour and minute hands
Strap:
Brown racing-themed calfskin leather strap with folding clasp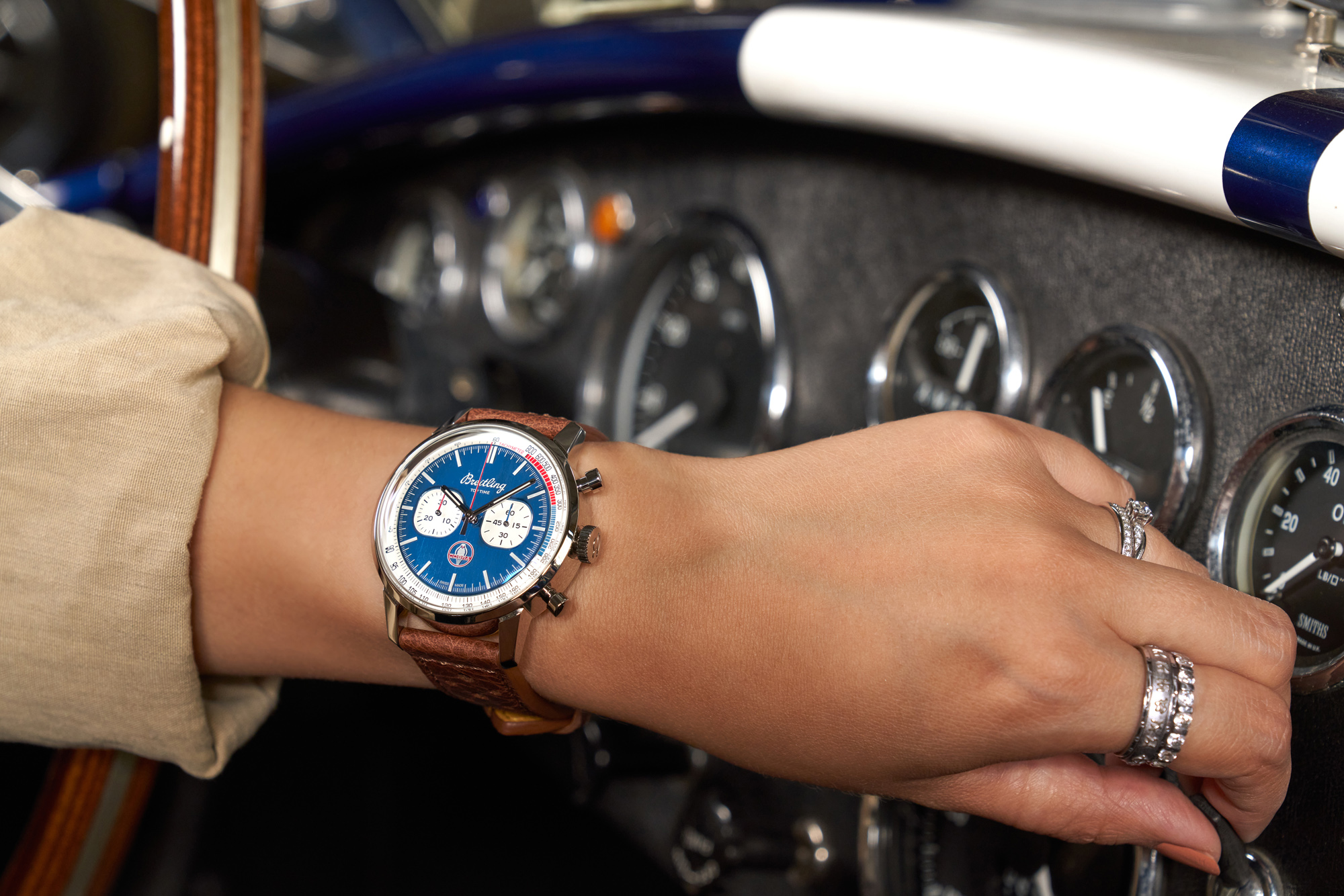 Name: TOP TIME Shelby Cobra
Reference: A41315A71C1X2
Movement:
Caliber: Breitling Caliber 41
Diameter: 25.4 millimeters
Depth: 6.8 millimeters
Winder: self-winding mechanical, bidirectional with ball-bearing
Power reserve: approximately 42 hours
Balance frequency: 28,800 a/h or 4 hertz
Chronograph: 1/4th of a second chronograph, 30-minutes
Display: hour, minute, second
Certification: COSC-certified
Case:
Material: stainless steel
Diameter: 40 millimeters
Height: 13.30 millimeters up
Water resistance: to 10 bar (100 meters)
Caseback: snapped, steel
Crown: non-screw-locked, two gaskets
Dial:
Blue with white tachymeter scale and white contrasting subdials
Hands: Super-LumiNova® luminescent indexes and hour and minute hands
Strap:
Brown racing-themed calfskin leather strap with folding clasp