Jaquet Droz unveils its new, one-of-a-kind Tropical Bird Repeater timepiece.
Complementing the ongoing summer vibes being sent out by the various launches in the industry right now, Jaquet Droz introduces its latest addition to the list – a unique, one-of-a-kind minute repeater. Presenting the new Tropical Bird Repeater.
Embodying the various metiers d'arts used by the brand, the Tropical Bird Repeater is a unique piece covered in shimmery pink mother-of-pearl with a full pave baguette-cut diamond dial. The dial features a tone-on-tone nature scene with an animated hummingbird automaton amongst a peacock, dragonfly, and toucan. The hummingbird can flutter its wings 40 times per second – which is a first for the industry.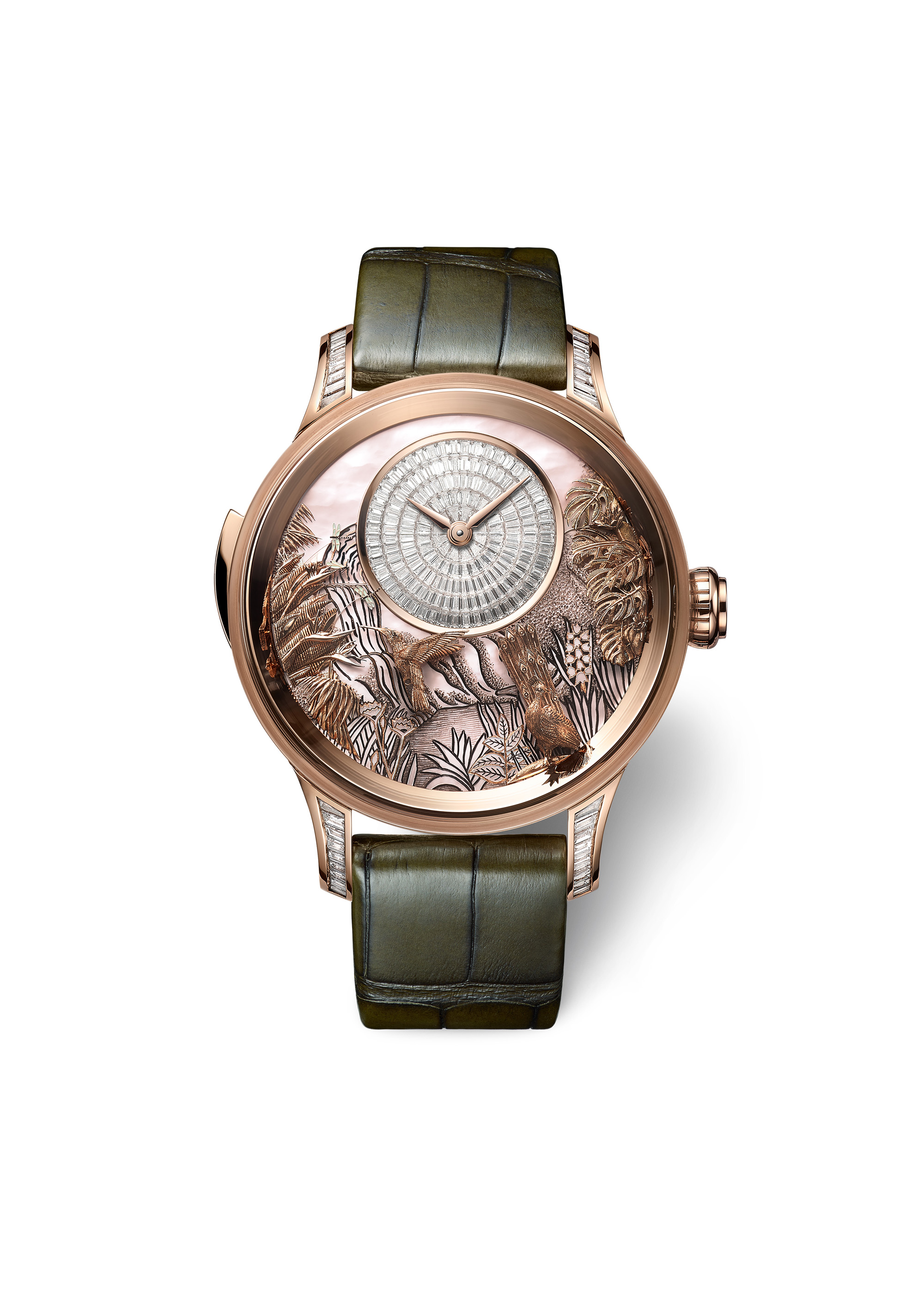 The peacock on the right side of the watch folds its tail up to reveal the toucan popping out from behind the leaves of a Monstera deliciosa plant at the 3 o'clock. At 9 o'clock one can see the graceful dragonflies dance through the air with their Super-Luminova coated wings. This makes a total of seven animations that can last over 12 seconds bringing four different scenarios to the front.
The Tropical Bird Repeater is the first timepiece by the brand with a dial featuring 180 baguette-cut diamonds visibly set in the centre of 47mm dial. The lugs are also adorned with 36 baguette-cut diamonds.
The unique piece comes equipped with the Jaquet Droz RMA89 movement with a virtually silent wheeled regulator which determines the speed of the minute repeater on the basis of the strokes of the small leaf springs on the outside. Other innovations in the complication include new rack springs, an extended pause between the quarter-hours and minutes and a third to ring on the quarter hour. The Tropical Bird Repeater houses a power reserve of 50 hours.