Phillips in association with Bacs & Russo announced the onset of the Geneva Watch Auction 'FIVE' - a double-evening sale scheduled to take place during the weekend of 13th and 14th May at the Hôtel la Réserve - with an iconic selection of Rolex timepieces.
With multiple, first-of-its kind themed sales to its name, including the "Rolex Milestones" sale from November 2016, the Geneva Watch Auction: FIVE will be led by one of the world's most valuable and historic wristwatch remaining in private hands: The BAO DAI, Reference 6062. Read on to know more about the timepieces going on display during the double-weekend sale:
1. The BAO DAI, Reference 6062
Deemed as the most complicated and iconic Oyster-cased model created by the brand, the timepiece features day, date, month, and moonphase indications. It is known to be one of only three black dials known to exist, with diamond markers, which makes the timepiece truly unique, and was the possession of His Majesty Bao Dai, the last emperor of Vietnam.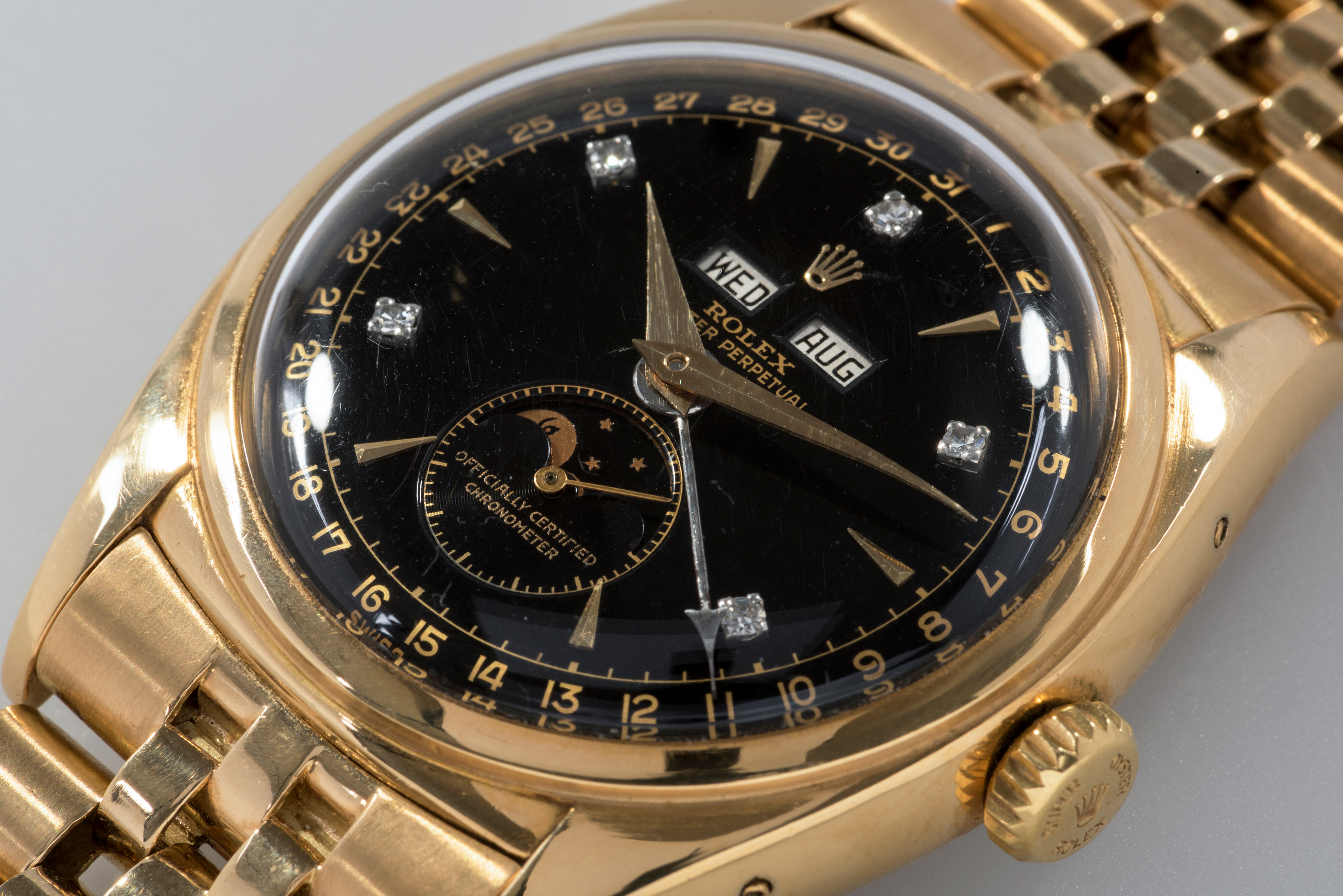 Estimate: in excess of US $1.5 million
2. The Gold Oyster Paul Newman Chronograph – The Legend, Reference 6263 Paul Newman
The third known yellow gold "Paul Newman" Daytona with screw down pushers ever to appear on the market, The Legend is deemed as an exceptionally rare variant of collection. Featuring a creamy lemon-colored dial and white subsidiary register graphics, it is considered to be the most valuable gold Rolex Daytona variant.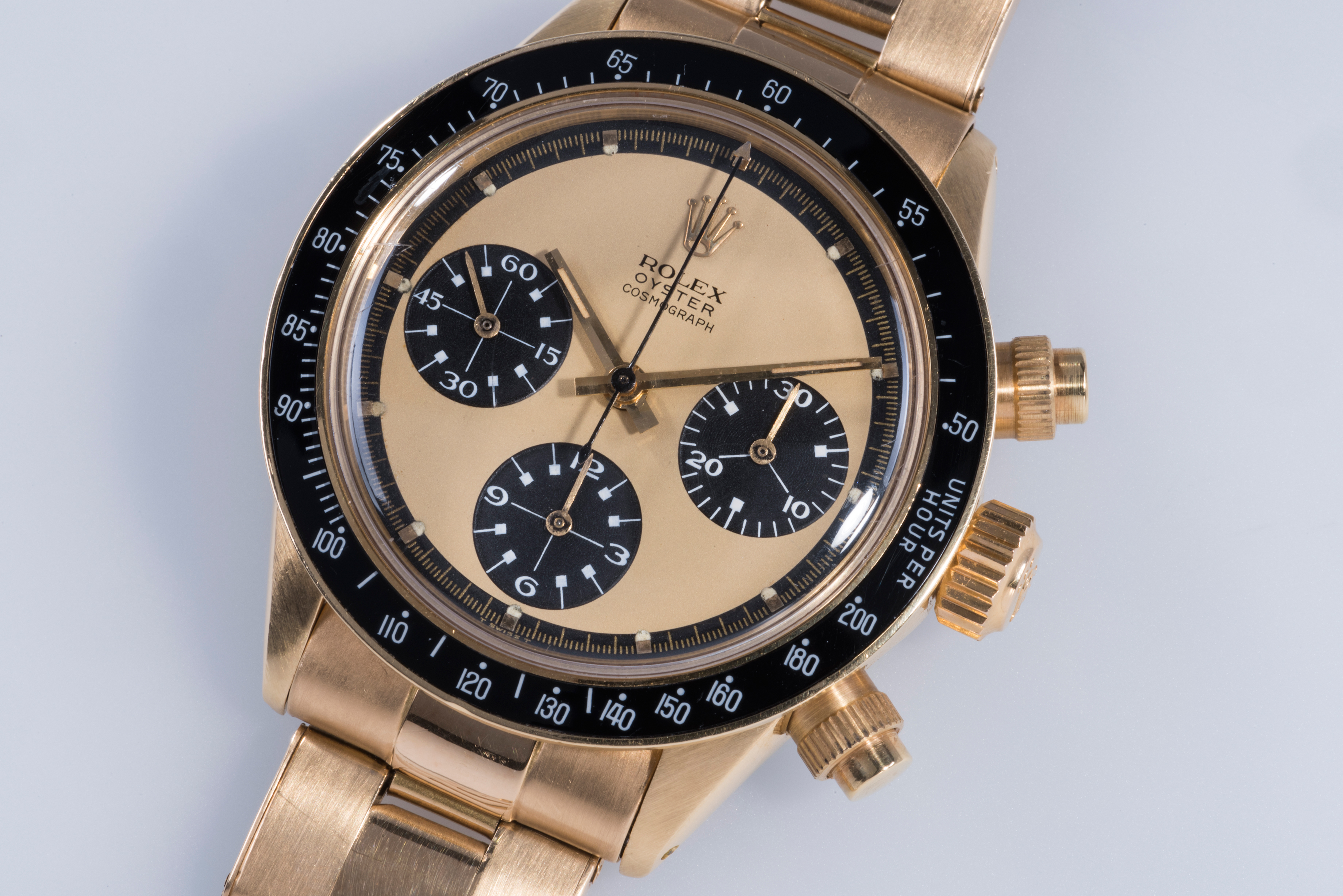 Estimate: CHF 800,000 to 1,600,000
3. The Neptune, Reference 8382
Created by famous enamel artist, Mrs. Nelly Richard, the rare and attractive yellow-gold Rolex wristwatch depicts Neptune riding the sea on its cloisonné enamel dial.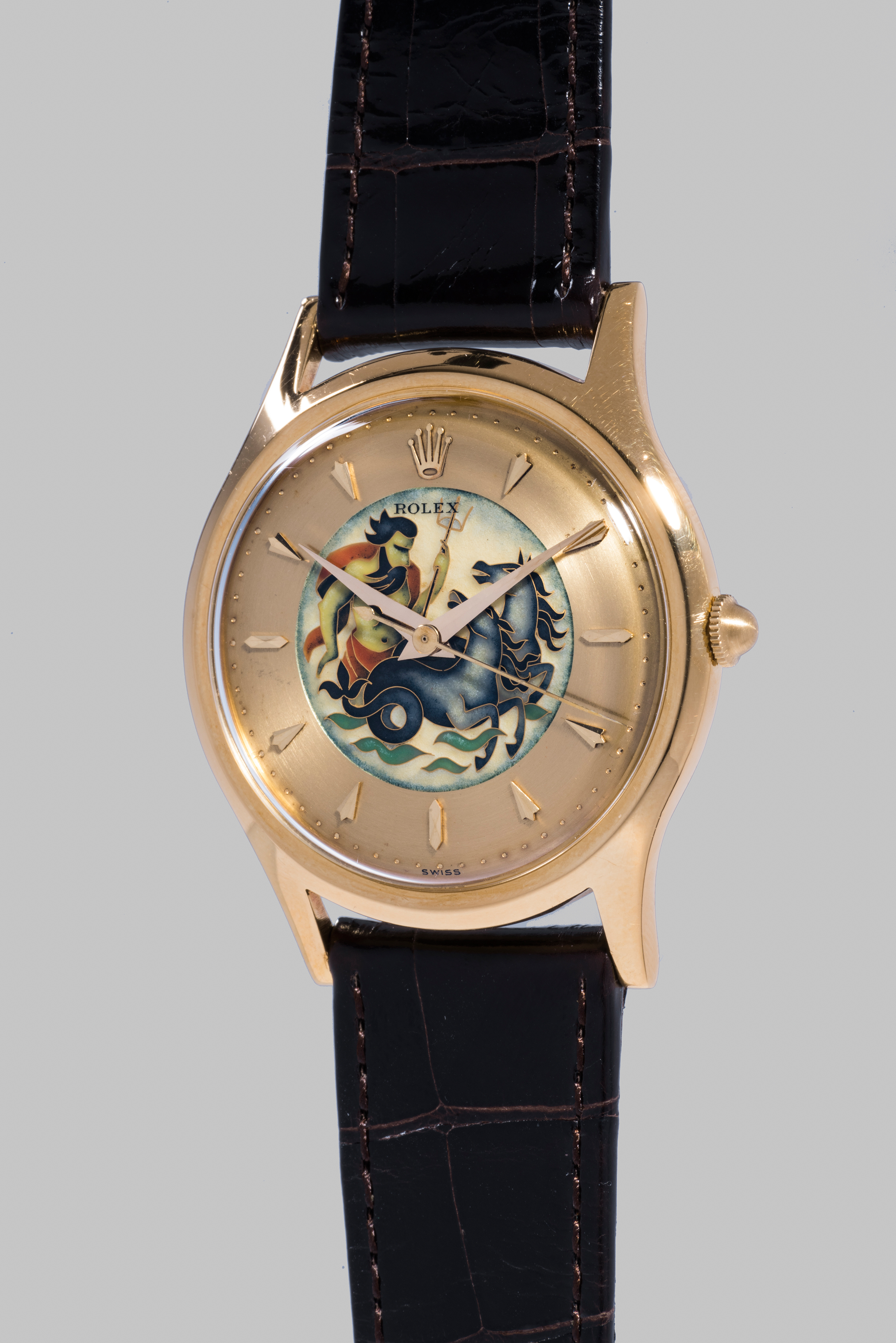 Estimate: CHF 300,000 to 600,000
4. The Stainless Steel 6062
Produced in 1953, the stainless steel triple calendar Rolex wristwatch with a two-tone dial, moonphase and bracelet, is one of the most impressive stainless steel timepieces to survive in its original condition, today.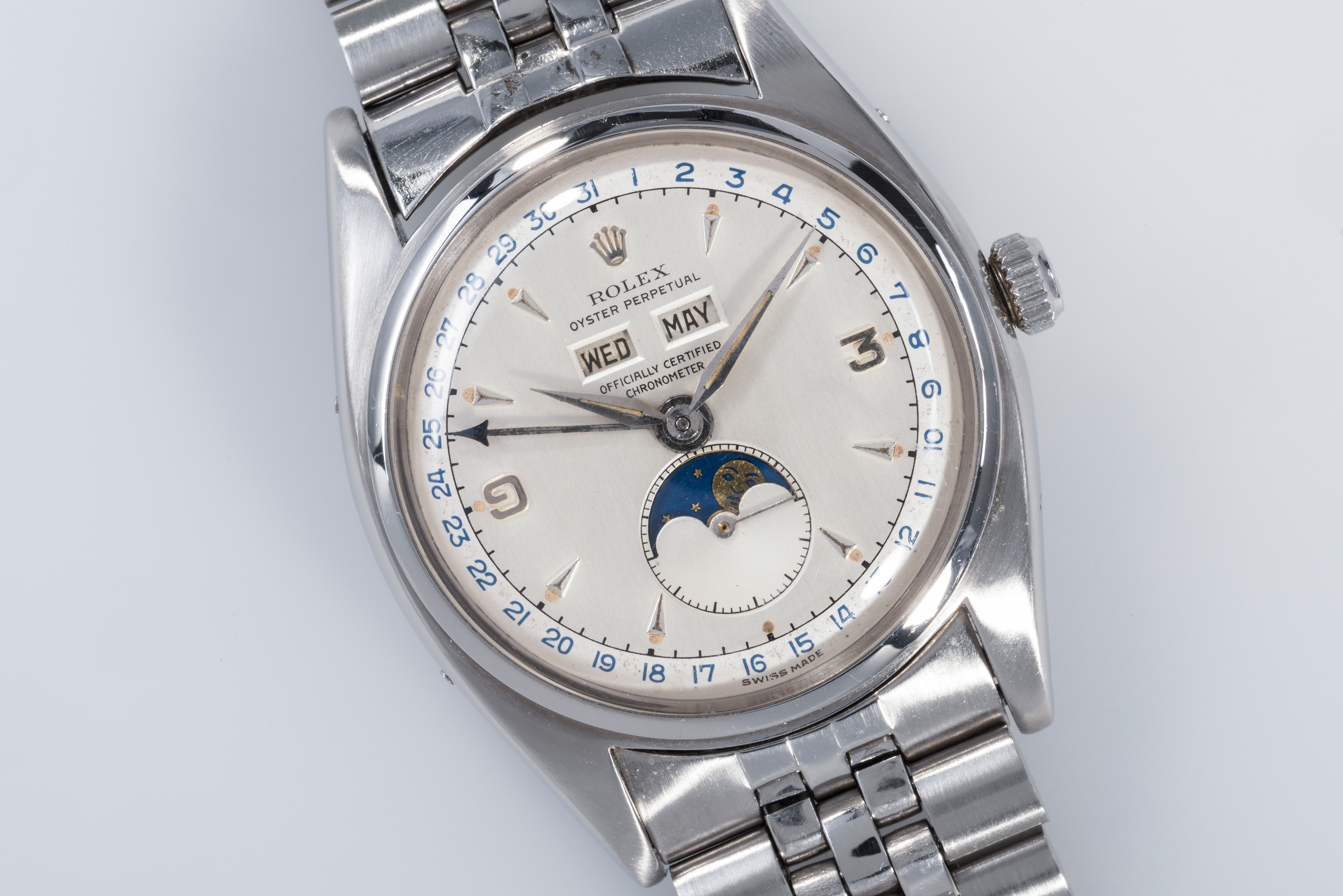 Estimate: CHF 600,000 to 1,200,000
5. The Tiffany & Co. John Player Special Paul Newman Daytona, Reference 6241
Known as the "John Player Special", the unique 14k yellow-gold Rolex chronograph wristwatch, is one of the most beautiful examples of reference 6241 to ever appear in the public eye.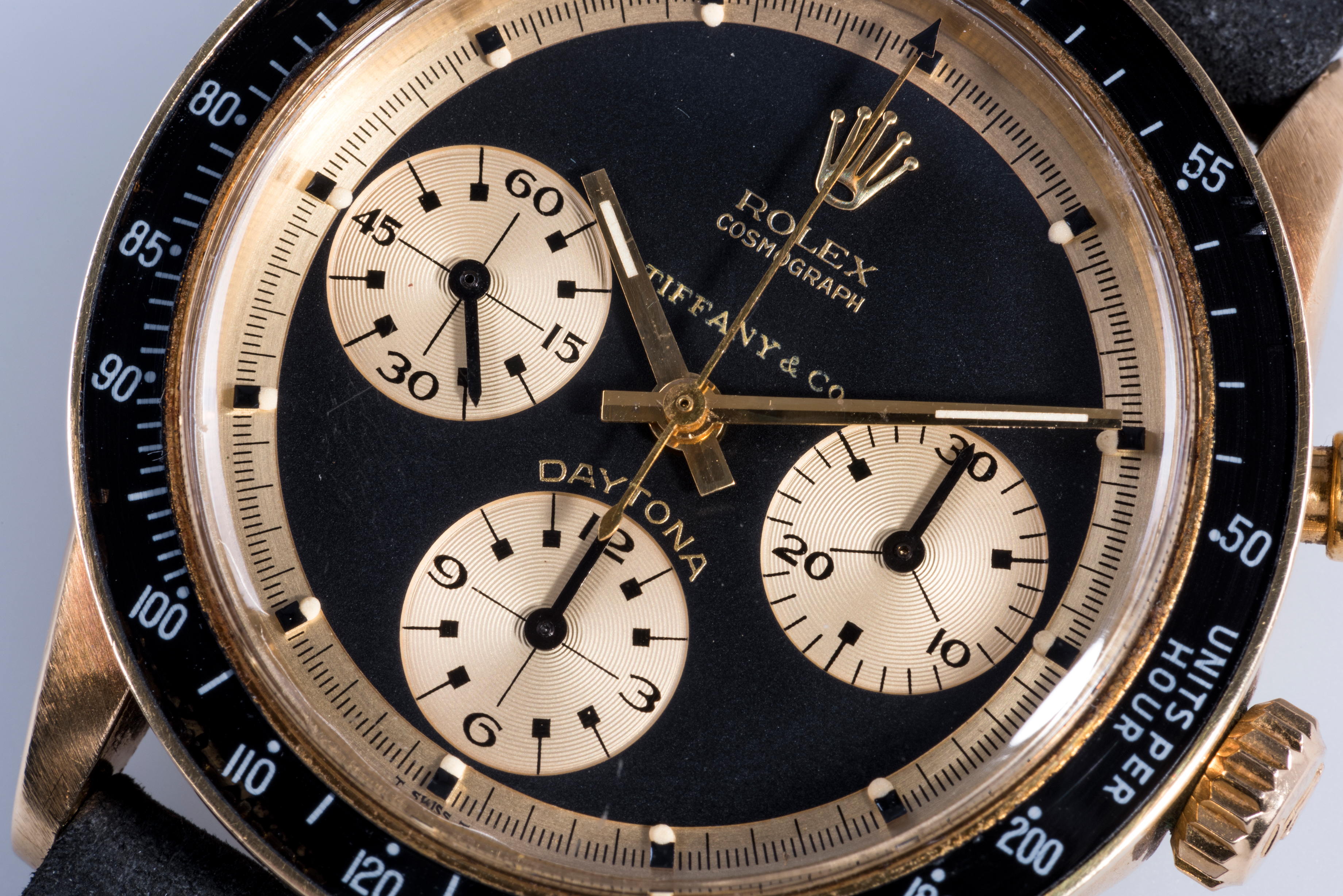 Estimate: CHF 400,000 to 800,000
6. The Only Gold "Qaboos" Daytona, Reference 6265
The only known example of the Rolex Cosmograph Daytona in yellow-gold to feature His Majesty Sultan Qaboos bin Said al Saided of Oman's signature in red, on the dial.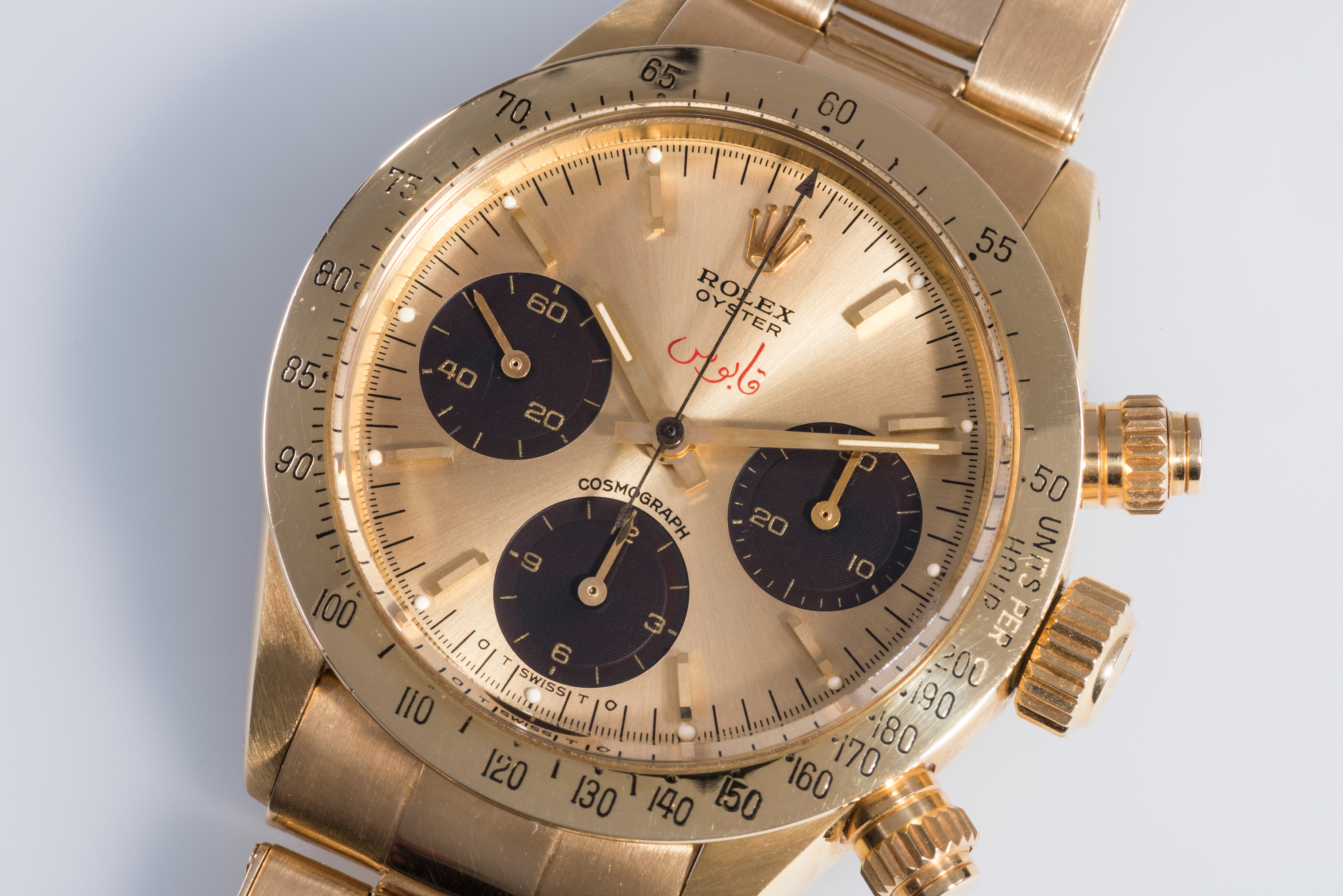 Estimate" CHF 200,000 to 400,000
7. The Pre-Daytona Chronograph with Black Galvanic Dial, Reference 6238
Only the second-known example of the 14k yellow-gold Rolex chronograph wristwatch with a black galvanic dial and bracelet, the "sports watch" features golden graphics which shimmers with subtle tones throughout.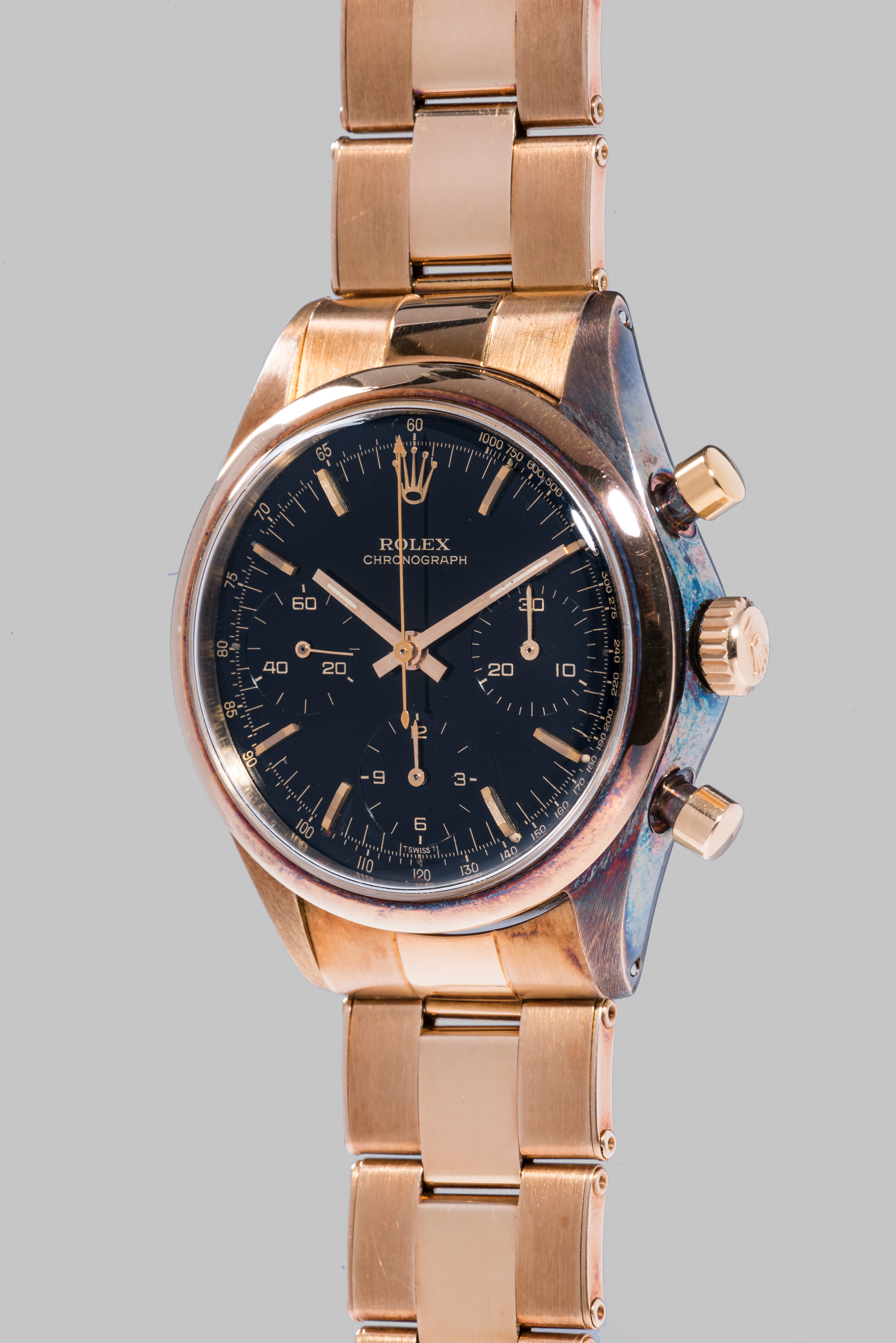 Estimate: CHF 250,000 to 500,000