The year was 2015, and Facebook was still cool. One day, I uploaded a collage consisting of six watches as my cover photo, each of them
watchmaking
marvels. My caption read: 'The day you'll be mine, I'll consider myself successful.' Yes, fairly cheesy and possibly expected from an 18-year-old. What was unexpected was the barrage of messages and comments the watches generated from my Facebook friends. It even helped me earn a coffee date with a cute guy. I was, quite honestly, surprised at the number of people who were as intrigued by the concept of these watches as I was. And I was more than happy to engage in conversations about them.
The models were all MB&F, ranging from HM1 to HM6.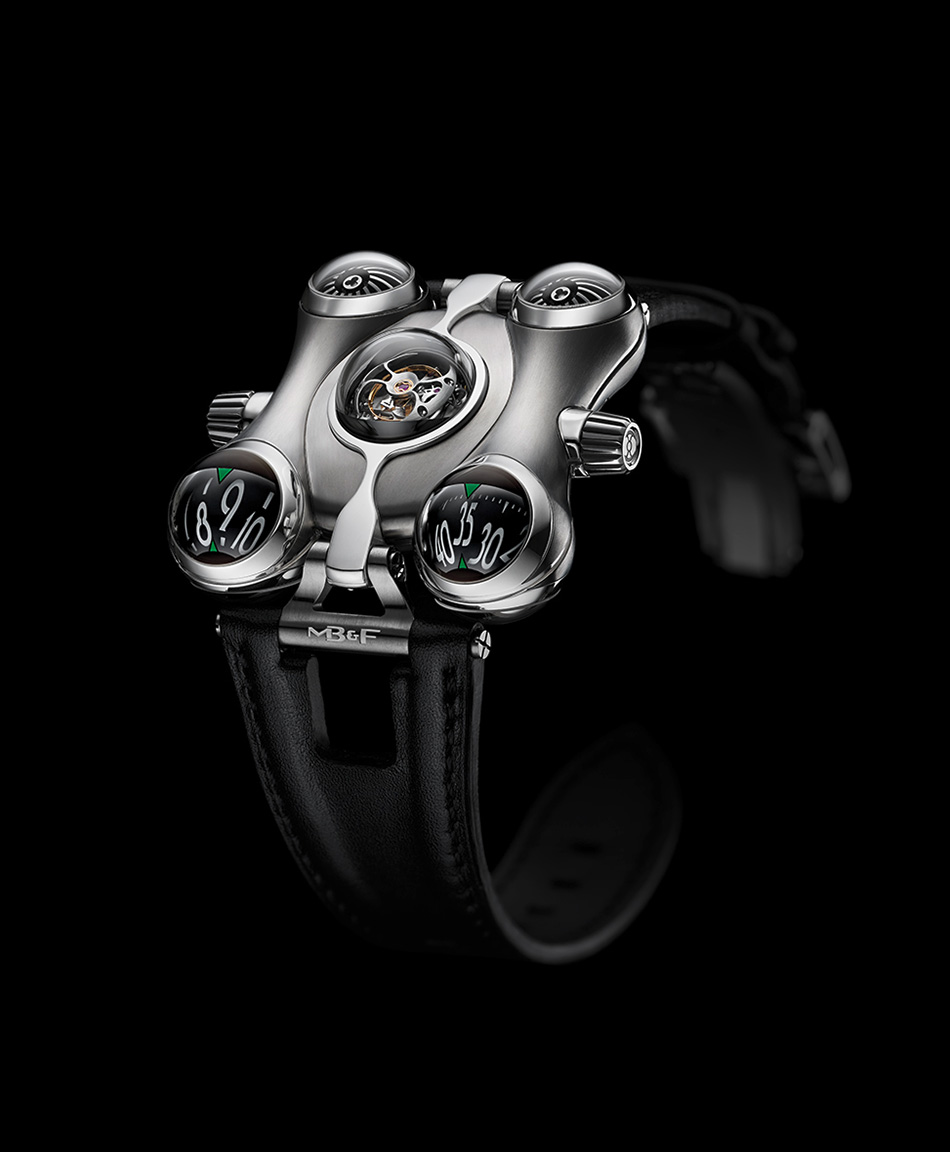 MB&F HM6 in Grade 5 titanium
The love for haute horology was something that was passed down to me by my father and uncle, both of whom are collectors. I was exposed to classics and big guns of industry, the likes of
Rolex Cosmograph Daytonas
,
Omega Seamasters
, Patek Phillippe Calatravas, and the
Audemars Piguet Royal Oaks
, when I wasn't even a teenager. But it took one Instagram post by MB&F that I'd seen in late 2014 to change my entire worldview on the subject.
It was the HM6 Space Pirate, and the second I saw it, my concept of watches and watchmaking changed forever. For years I had seen watches with a standard dial with minute and hour hands, and complications, and sometimes different case shapes. But here was a brand that had created a watch that looked like it had stepped right off the Marvel cinematic universe.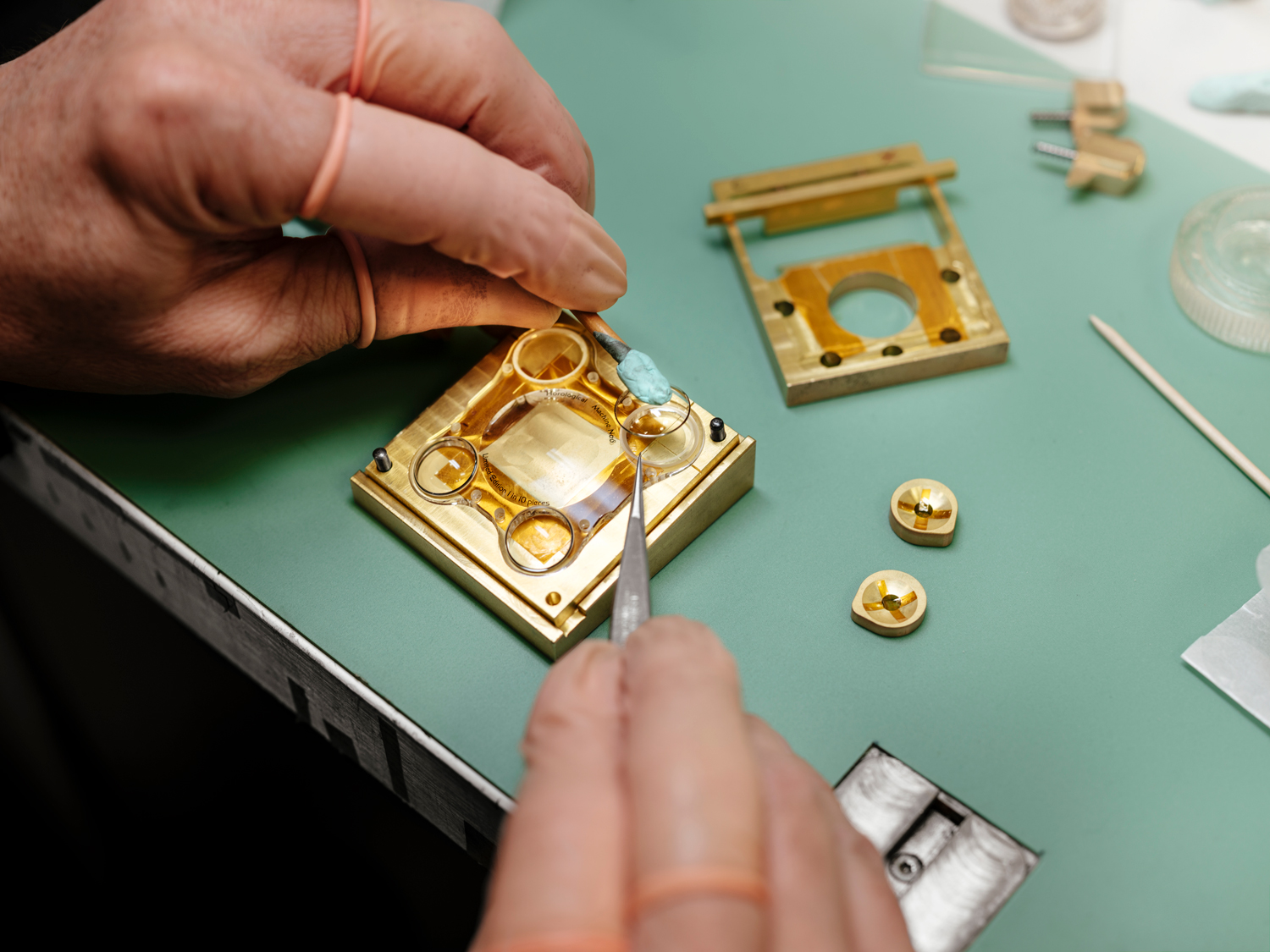 Crafting the HM6
Almost like a flying machine albeit with a biomorphic case form, the watch's four orb-like corners displayed hours, minutes, and the 'turbines' at the back regulated the automatic winding. And a display in the centre showcased a flying tourbillon under the dome! I'll confess I was confused about its working, but that was nothing obsession and extensive research couldn't fix. The sheer artistry and engineering put into this watch flabbergasted me, how it stretched the realm of possibility and capabilities. It was a culmination of horological artists and professionals coming together to create a radical, original horological piece. It was poetry to me.
In its 17 successful years, the founder of the brand Maximilian B
ü
sser has never failed to amaze watch lovers. MB&F marked its arrival with Horological Machines (HM) that were engineered with unorthodox displays, non-conformist designs, and outlandish complications. The 2007 HM1 was an 8-shaped wristwatch with two dials and a centered tourbillion, which was powered by four barrels – it was the first wristwatch movement to have energy transmitted to the regulating system from two sources. Though bold and complex, it earned the brand a cult following. What followed over the years were several watches inspired from Max's childhood and everyday life. The 2008 geometrically appealing HM2 with its jumping hours and concentric retrograde minutes and date; the eccentric HM3 the next year reflected themes of steampunk, space exploration, and science-fiction; HM4 (2010) and HM9 (2018) focused on aerodynamics. Paying homage to the superfast cars of the 1970s and the culture of racing were HM5, HMX, and HM8, while HM7 and HM10 were horological versions of a jellyfish and bulldog respectively. How the movements of these horological wonders were engineered to fit around 3D structures was the essence of their innovation.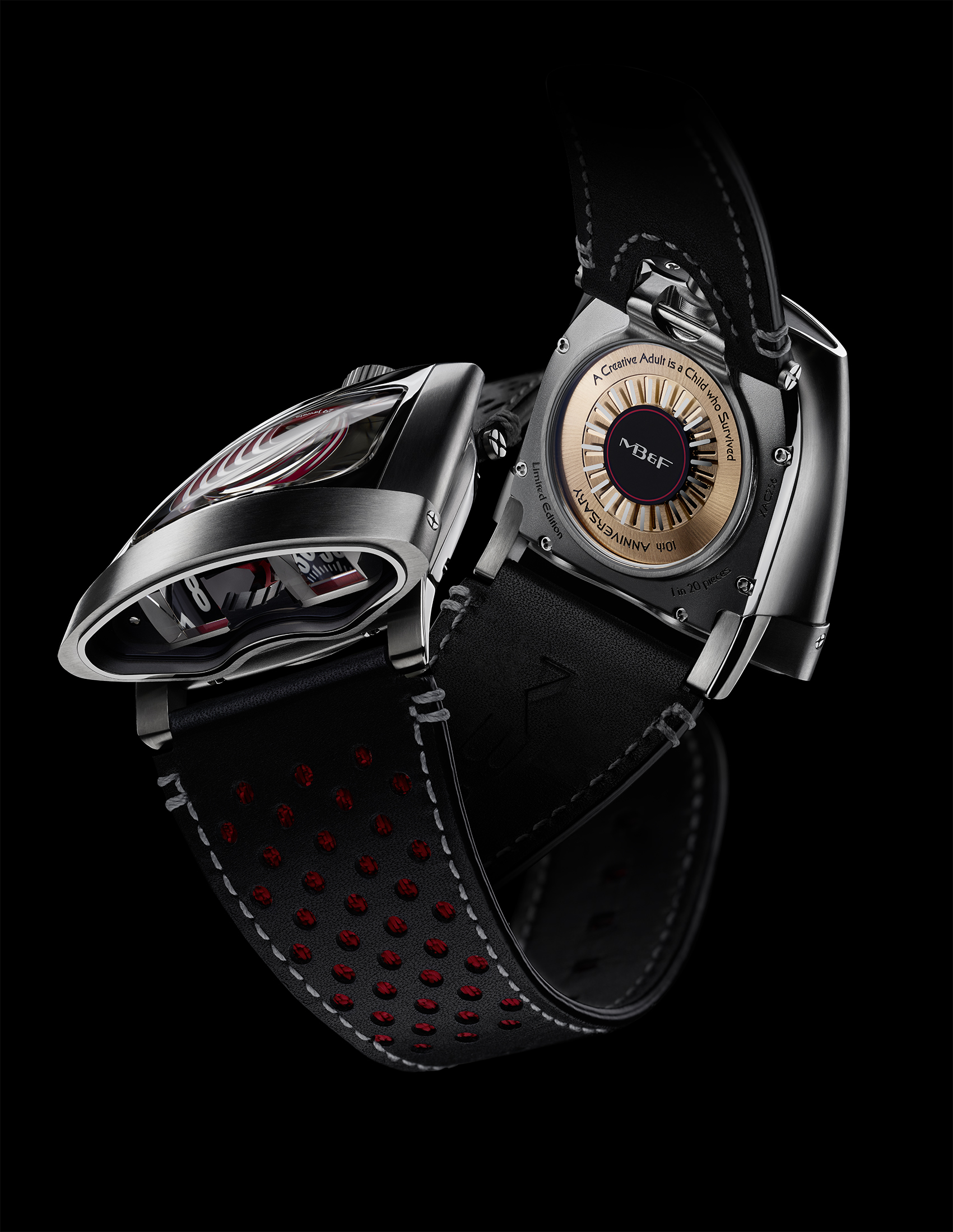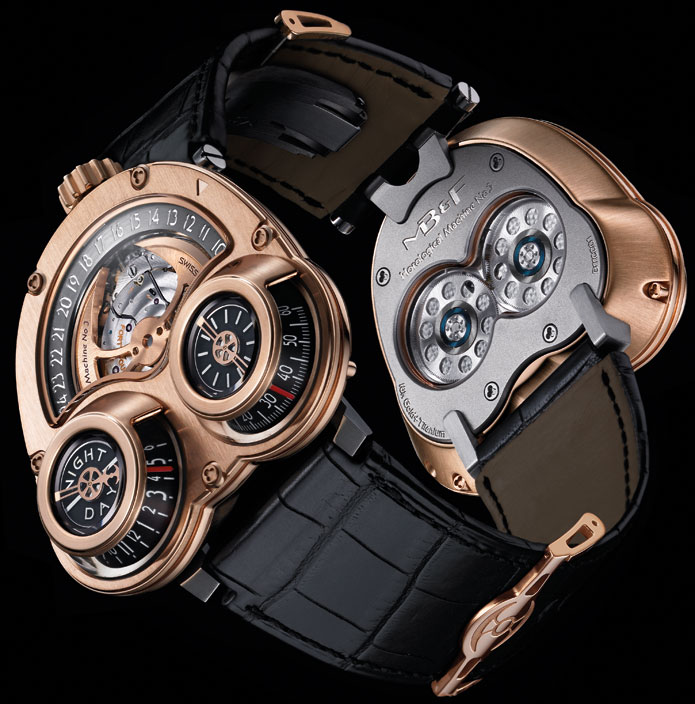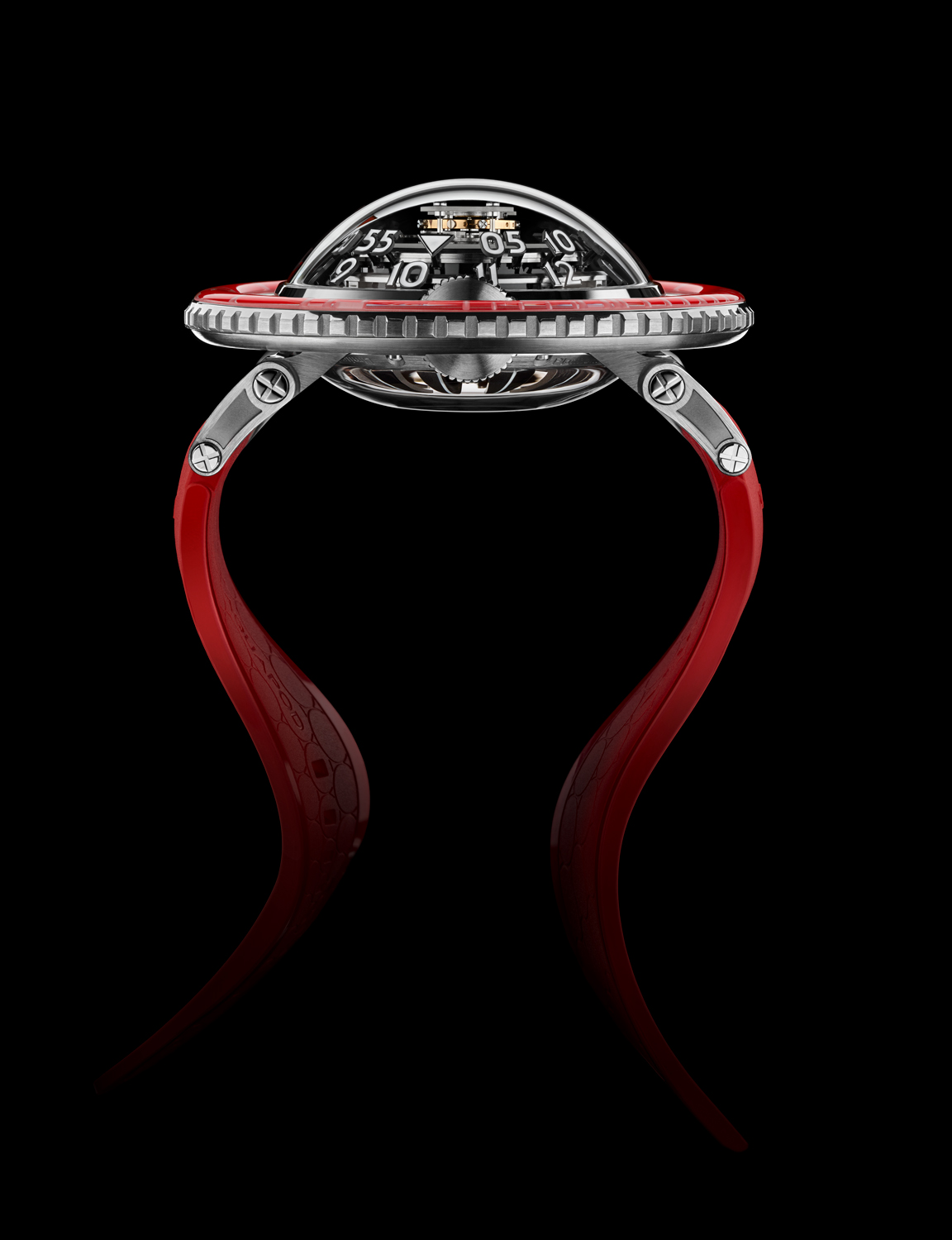 MB&F HM7, reminiscent of a jellyfish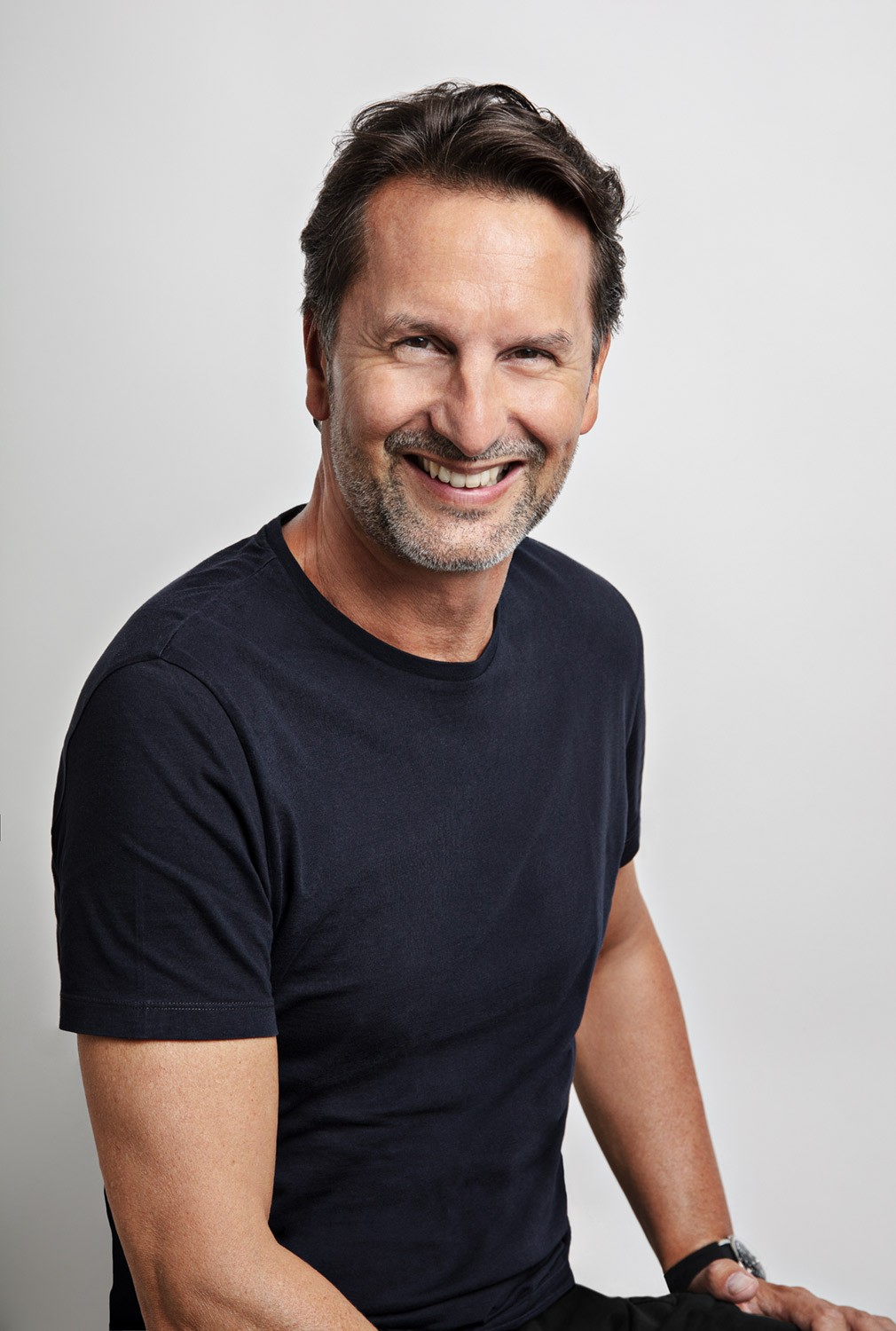 Maximilian Büsser, founder, MB&F
Over the years B

ü

sser has collaborated with several watchmakers, artists, engravers, etc to create new calibres and designs. A gamechanger for me in this regard was the LM (Legacy Machine) Perpetual, which lived up to the OG philosophy of the brand – being a mechanical wonder. A collaboration with watchmaker Stephen McDonnell, who added rings for the date, day, and month on the standard LM round dial watch, the piece eliminated the drawbacks of conventional perpetual calendars like skipping dates or jamming gears. Another favourite was the 2019 LM FlyingT, a perfect blend of femininity and mechanics, thanks to a signature flying tourbillion, an angled dial located at 7'o clock, and a bejewelled case and lugs.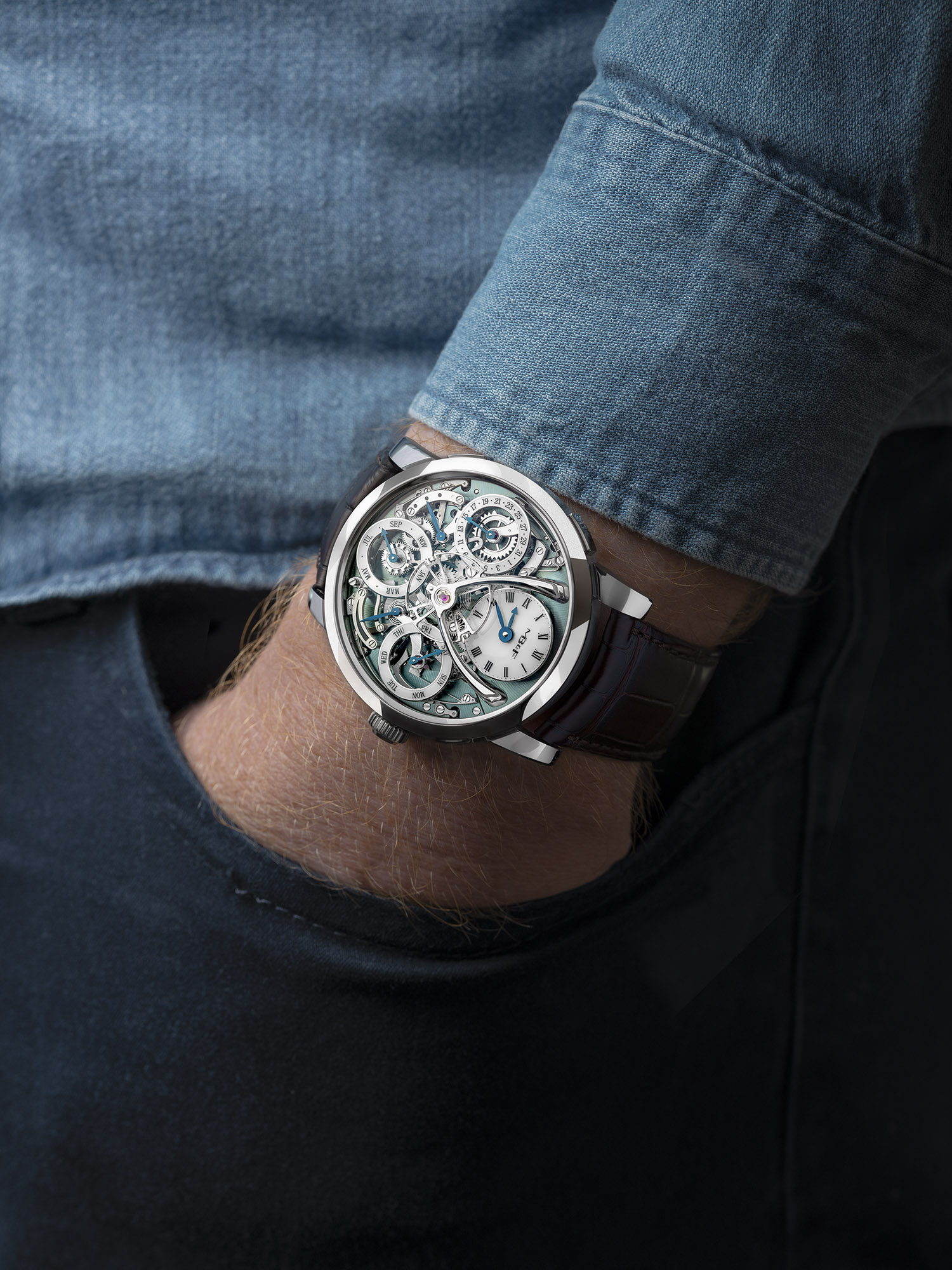 MB&F LM Perpetual
But I think I will forever stay loyal to the HM6. I have never seen a movement that's so intricate and aesthetically done at the same time. My fondness for it rose to a crescendo with the HM6 Alien Nation, a sapphire case iteration with an unparalleled see-through facade – one could see the tiniest details of the mechanics, and also the battle axe rotor at the bottom. But what really upped the ante was that the watch had its own alien crew - a captain sitting upfront and five mini aliens hidden in the case. A band of the luminescent AGT ultra installed around the gasket, along with SuperLumiNova on the turbine, time display, and tourbillon, made the watch glow in beautiful shades of turquoise, green, purple, and blue. With a whopping price of almost INR 2 crores, only 4 of these were ever made.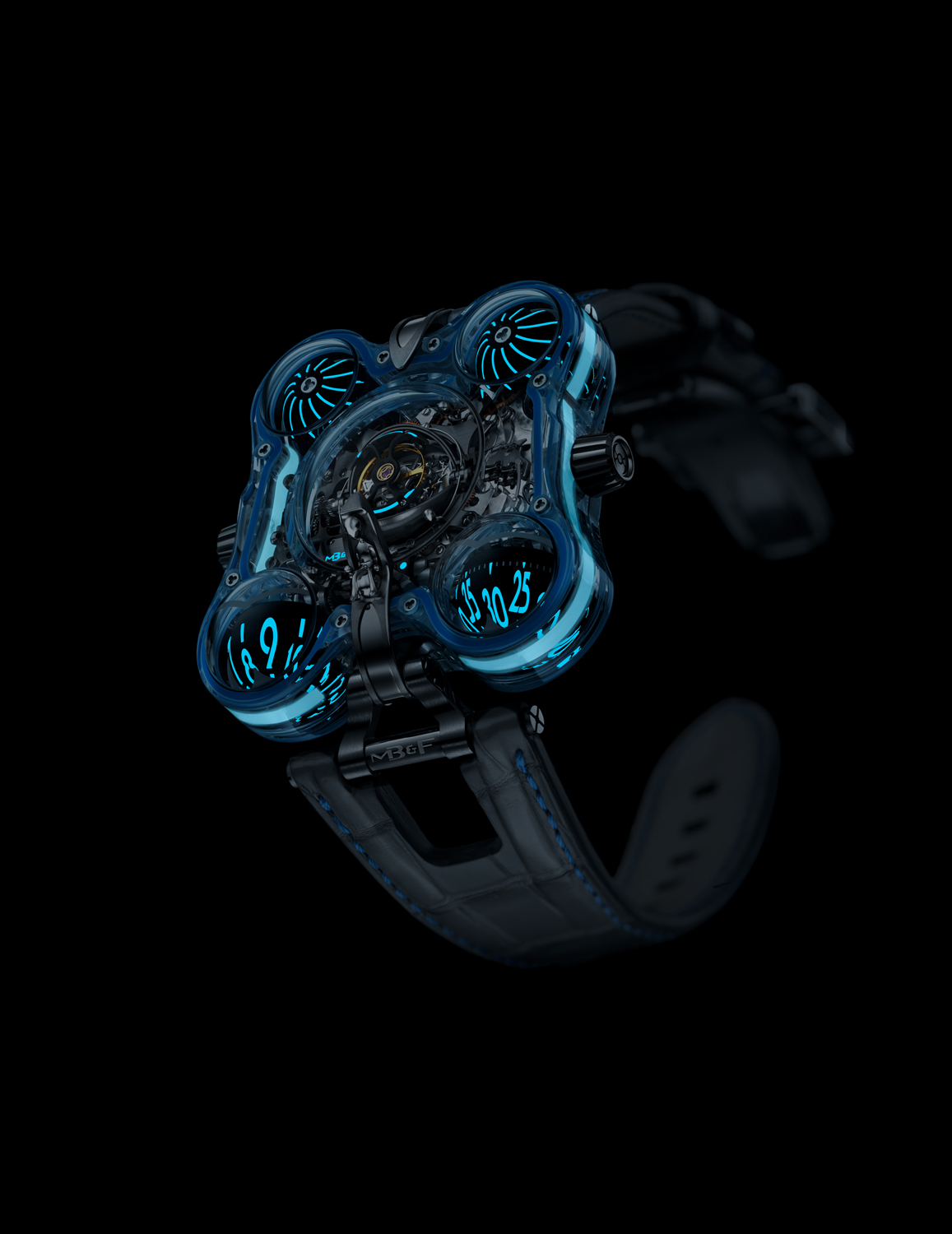 MB&F HM6 Alien Nation
Of course, the HM6 is largely unattainable (unless the universe conspires otherwise in my favour) but it will always have a special place on my bucket list. Not just because it is my dream watch, but because discovering this gem has been like going down a rabbit hole and understanding to what extent the boundaries of watchmaking can be stretched.
My watch collection is currently small and, of course, a work in progress. But I have been lucky enough to invest in some affordable yet unique pieces – there's a Corum Admiral Cup, a Universal Geneve KSA dial, and my freshly purchased Rolex Oyster Precision is my biggest flex. My preference in watches have evolved significantly over the years, and MB&F played an integral role in this. From someone who used to fall for anything with a big name, I have now developed a soft spot for intricate details in movement and craftsmanship. I closely follow atypical, experimental trends in the industry, and would prefer to invest in watches that don't toe the line. And I truly believe that with some hustle, grind, and the right amount of savings, one day there'll be an MB&F on my wrist - maybe an LM FlyingT if not HM6.
Images: Courtesy MB&F