After having worked with brands like Vacheron Constantin, Breguet, and Jaquet Droz, and independents Gerald Genta and Daniel Roth, Bertrand Savary joined Arnold & Son, and Angelus as CEO in 2020. Within this short period of time, Savary has spear-headed and made the Luna Magna line a signature of Arnold & Son. Launched just last year, the Luna Magna's instantly recognisable 3D perpetual moon, in six different iterations, has been much lauded, so much so that this year, the Luna Magna Platinum Meteorite has been nominated in the 'Calendar and Astronomy' category at the 2022 GPHG, along with the brand's first timepiece for women, the Perpetual Moon 38 Eclipse 1 in the 'Ladies' category. We caught up with Savary, who was in India recently, to learn more about the brand and its star timepieces.
Bertrand Savary, CEO, Arnold & Son, and Angelus
WatchTime India: The Luna Magna is a young line from Arnold & Son, and is already a signature. How did the idea for it come about?
Bertrand Savary: When I arrived, this project was in the pipeline for six-seven years, but it was still a prototype. It was just a movement, and the movement was not working. With the technical office, we decided to put more effort into these pieces. This was the first time a 3D perpetual moon was going to be created. So we simplified a few things. First, it was supposed to be a GMT, but I didn't like it. So we redesigned the case. And then we started to think about the material the moon should be in. We met several suppliers and then came to the conclusion that it should be natural stone. We launched the first Luna Magna, a limited edition of 28 pieces in aventurine, and it sold out in a day.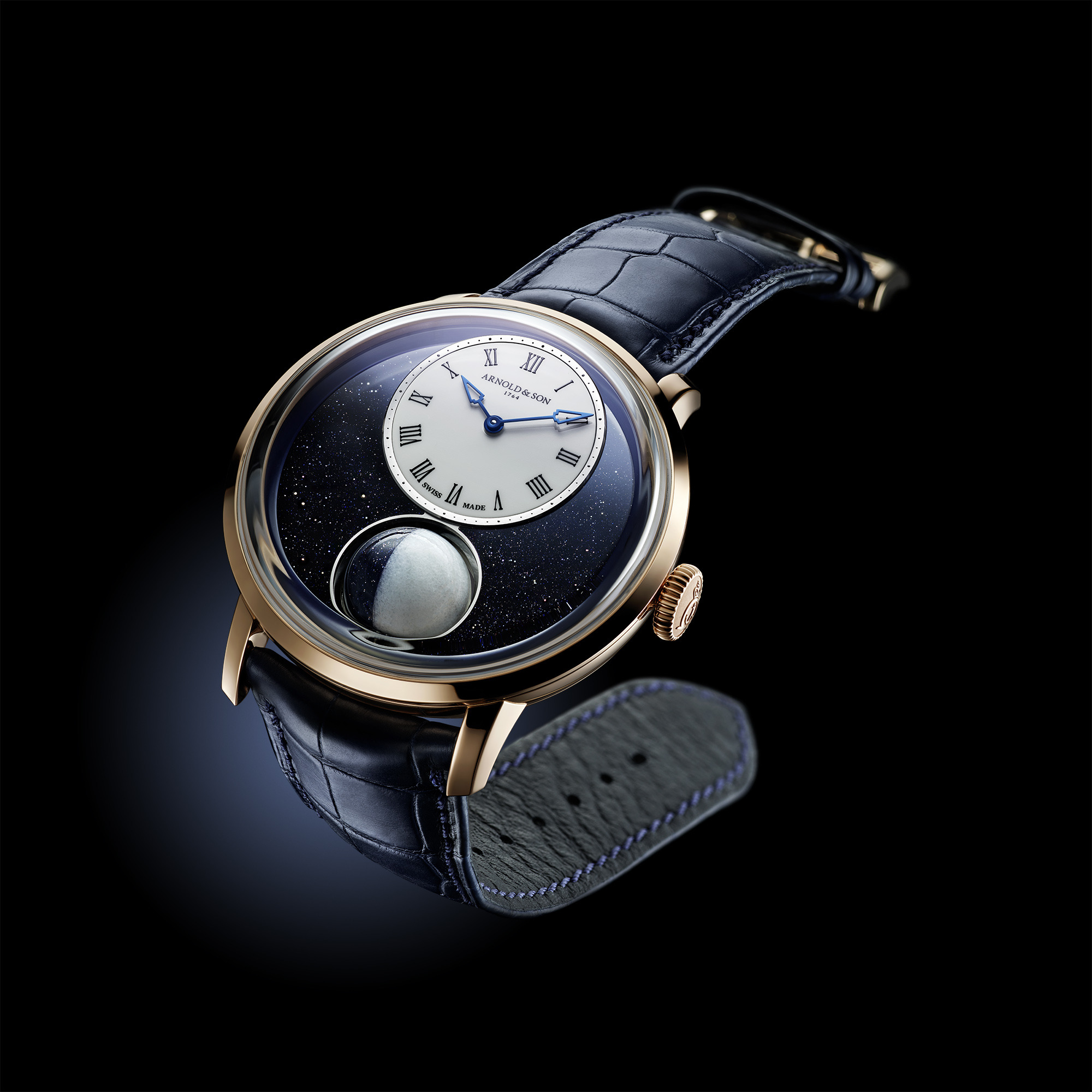 The first Arnold & Son Luna Magna Gold with an aventurine dial
So from where it has come to where it is today, it's about doing something new with the Luna Magna. We have Super-LumiNova now on it, a meteorite dial, and a
Paraiba-studded piece
as well. We try to keep it in small numbers – the movement is very complicated and we can't make high numbers of it. So we are launching the additions to the line twice a year, 28 pieces each time. You are right, today the Luna Magna it is presenting a good image of what Arnold & Son is. It is going to be a focus line, but we don't want to put many pieces out there in the market. We want people to feel that it is something unique.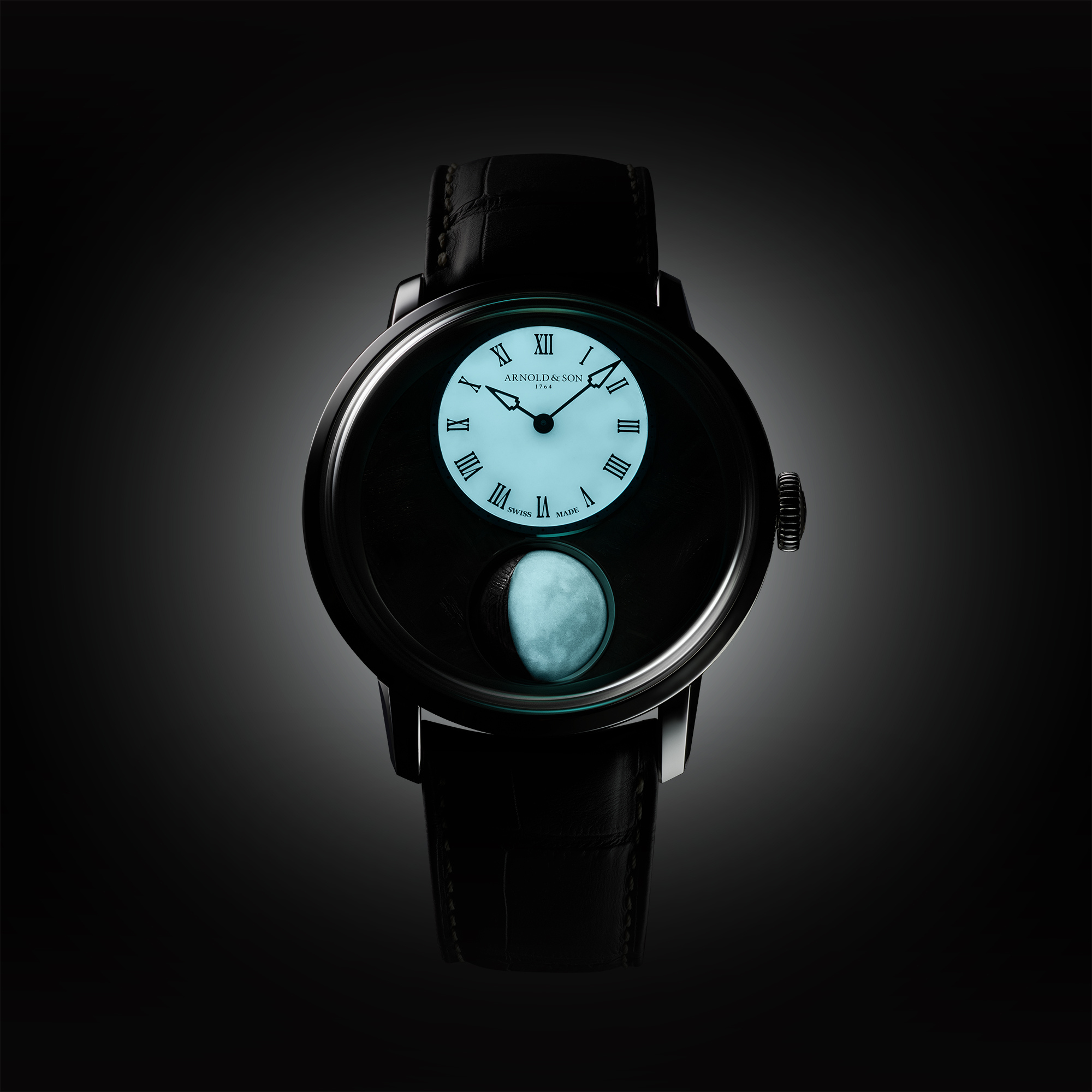 Arnold & Son Luna Magna Platinum Meteorite featuring Super-LumiNova
WTI: Do you have a favourite out of all the ones created?
BS: Yes, the meteorite dial. Cutting meteorite, and remembering that it is something that is coming from space - that is amazing.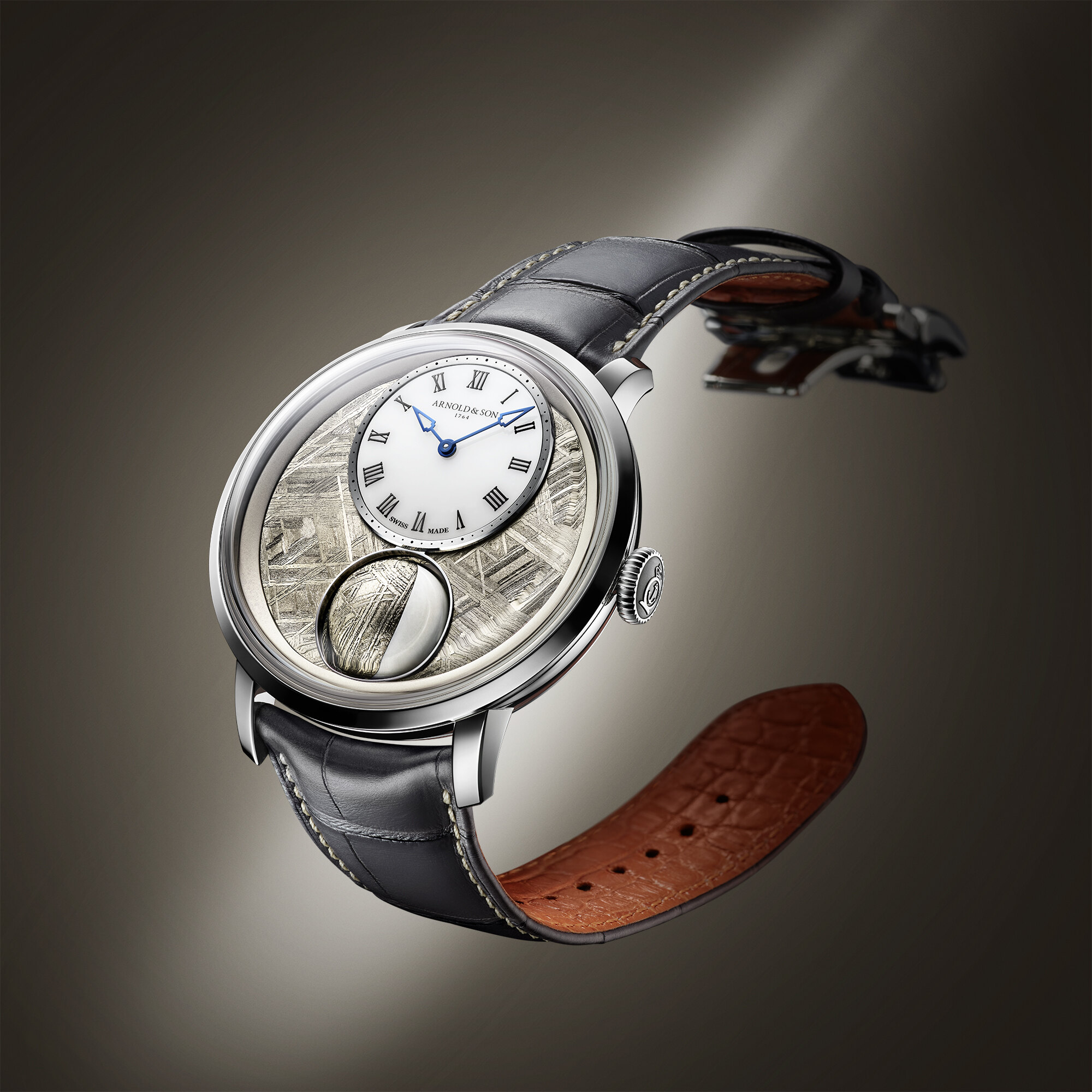 Arnold & Son Luna Magna Platinum Meteorite
WTI: The Perpetual Moon 38 Eclipse 1 is Arnold & Son's first watch specifically for women – how was it conceptualised?

BS: The whole idea came about from our product manager, a lady. After speaking to her we realised that our collection was mostly designed by men. So we asked her to work on a project designing pieces for ladies. She helped our designers – we have 2 – by managing them and bringing her feminine taste to bring alive this piece. She is responsible for this beautiful piece.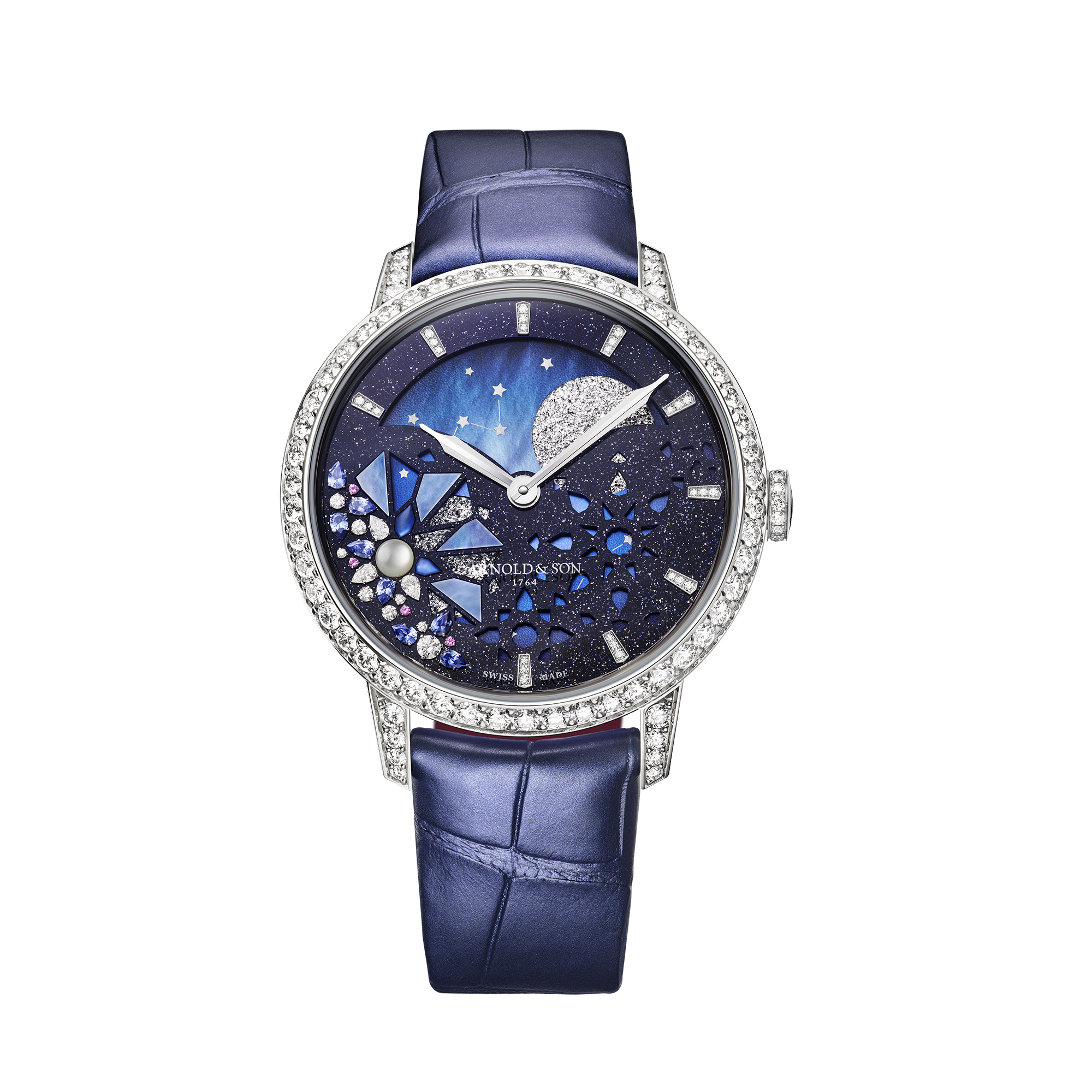 Arnold & Son's Perpetual Moon Eclipse I
WTI: What has the response been to it?
BS: Honestly, fantastic, more than expected, because the craftsmanship and details are all very unique. All the techniques used for the dial are unique, created with laser, and featuring precious stones. The colour also, blue, was the tone of the year, and it worked really well.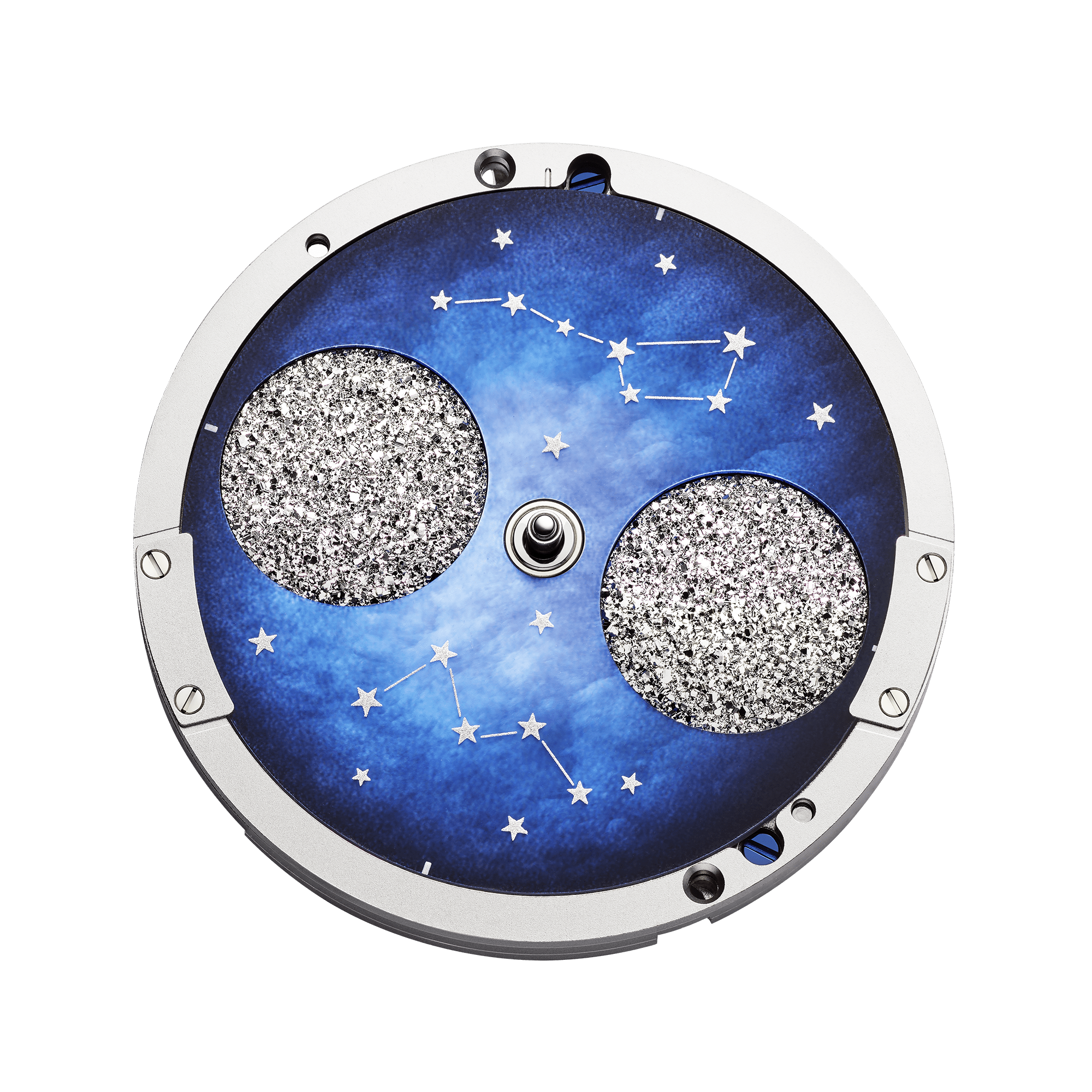 The dial of the Perpetual Moon 38 Eclipse 1 by Arnold & Son
WTI: How many pieces does Arnold & Son produce in a year?

BS: This year it was a little less that 1000 pieces
WTI: So who is the Arnold & Son TG?
BS: Given that we are making only 1000 pieces, the client is someone who understands the watch industry. They are those who already have some pieces, but are looking for something different in terms of design, movement, or independents. It also depends on the country: In India and the Middle East, it's a young generation; it is older in the US, and in Europe, even older. In Asia, our consumer is between 30-40 years. We are selling easily 90% to men, and that is the reason we are looking at making more timepieces for women.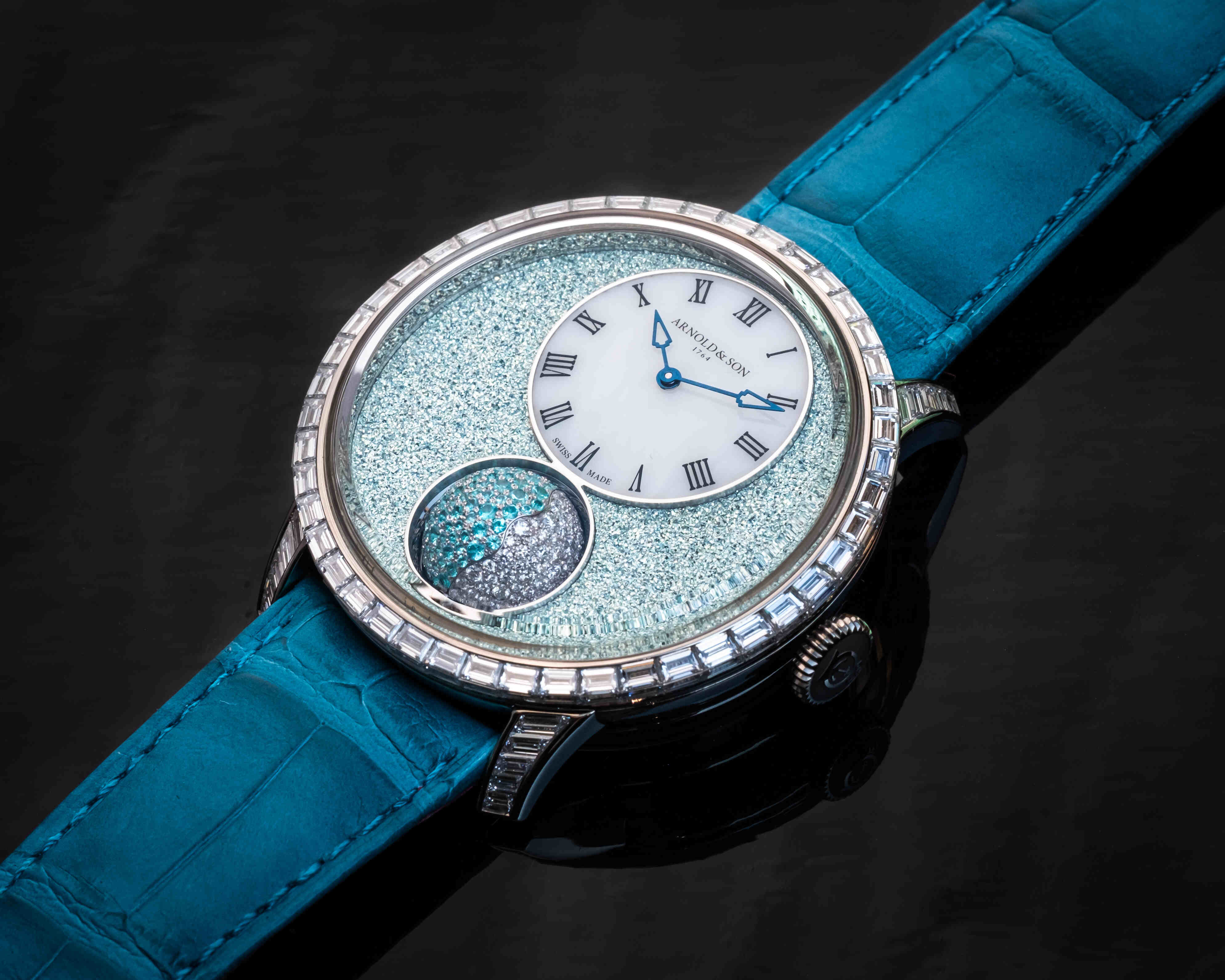 Arnold & Son Luna Magna Ultimate II featuring paraiba tourmalines and diamonds
WTI: The watch collector – do you then tend to interact with them more?
BS: Personalising is core to our business. We are making a lot of unique pieces for our clients, which also helps to know them better. Two weeks ago we met with collectors, and it really helps to know what they like and don't like.
WTI: What are your biggest challenges in watchmaking today?
BS: First is communication – how to reach and touch the client. Then comes the right launch, and customer service, which is a big challenge for independents. Large brands have huge customer service centres, but for small brands, customer service becomes key.
WTI: Helming two brands must also be challenging...
BS: It is mentally challenging, which is good. It's like you cannot sleep on one brand, you need to work on both together. Also it is a good challenge for our team because they are working on both brands, which are completely different i their approach and DNA.
Images: Courtesy Arnold & Son