Somewhere in colourful streets of
Chor Bazaar, Mumbai
, you'll find a gentleman usually dressed in shades of blue, donning a Rolex Bubbleback from the early 1950s. For the world, he is Mr M Salim Shah, owner of the antique store, The Collector Shop. But for me, he is Agha jaan, my father's elder brother, an encyclopedia of watches.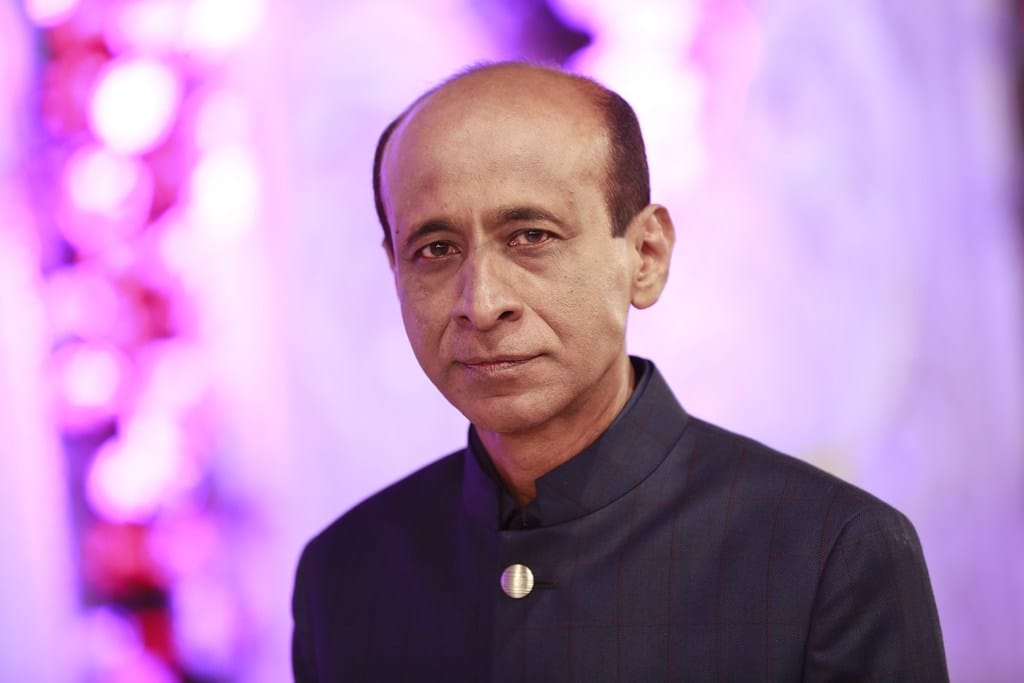 Vintage watch collector and dealer MS Shah
Agha jaan started his career as an apprentice at his father's antique furniture store
in his early twenties
. With time and experience, he started expanding the family business into antique chandeliers, dinnerware, cutlery, and other items. During the early 80s, with half his clientele singing praises of Swiss timepieces, he became intrigued with this world, so much so that he bought his first Swiss watch, a
Jaeger-LeCoultre Reverso
. Not knowing a lot about watches at this stage, he eventually sold the watch for a profit. His entrepreneurial spirit however stepped in, and he started facilitating the purchase of antique watches for his clients, eventually progressing to becoming a vintage watch collector himself.
This resulted in him researching this newly discovered market and he began hunting for Swiss watches in and around his circle. The first watch that caught his attention was the Rolex Bubbleback. "It was the first automatic movement by the company and its most interesting feature was the convex, enclosed case. I loved it so much that I ended up collecting almost 30 of them". In later years he traded the likes of Patek Philippe, Rolex Prince,
Piaget
, Jaeger-LeCoultre, Universal Geneve, Movado, and more. Now in this business for more than four decades, the vintage watch trading and collecting journey has taken him to multiple cities across the country, which in turn has led him to acquire some of the finest pieces in his collection, like a Universal Geneve KSA Seal Dial, a Rolex Prince, a vintage Jaeger-LeCoultre, Cartier, and
Audemars Piguet,
enamel dials watches by Ulysse Nardin and Omega.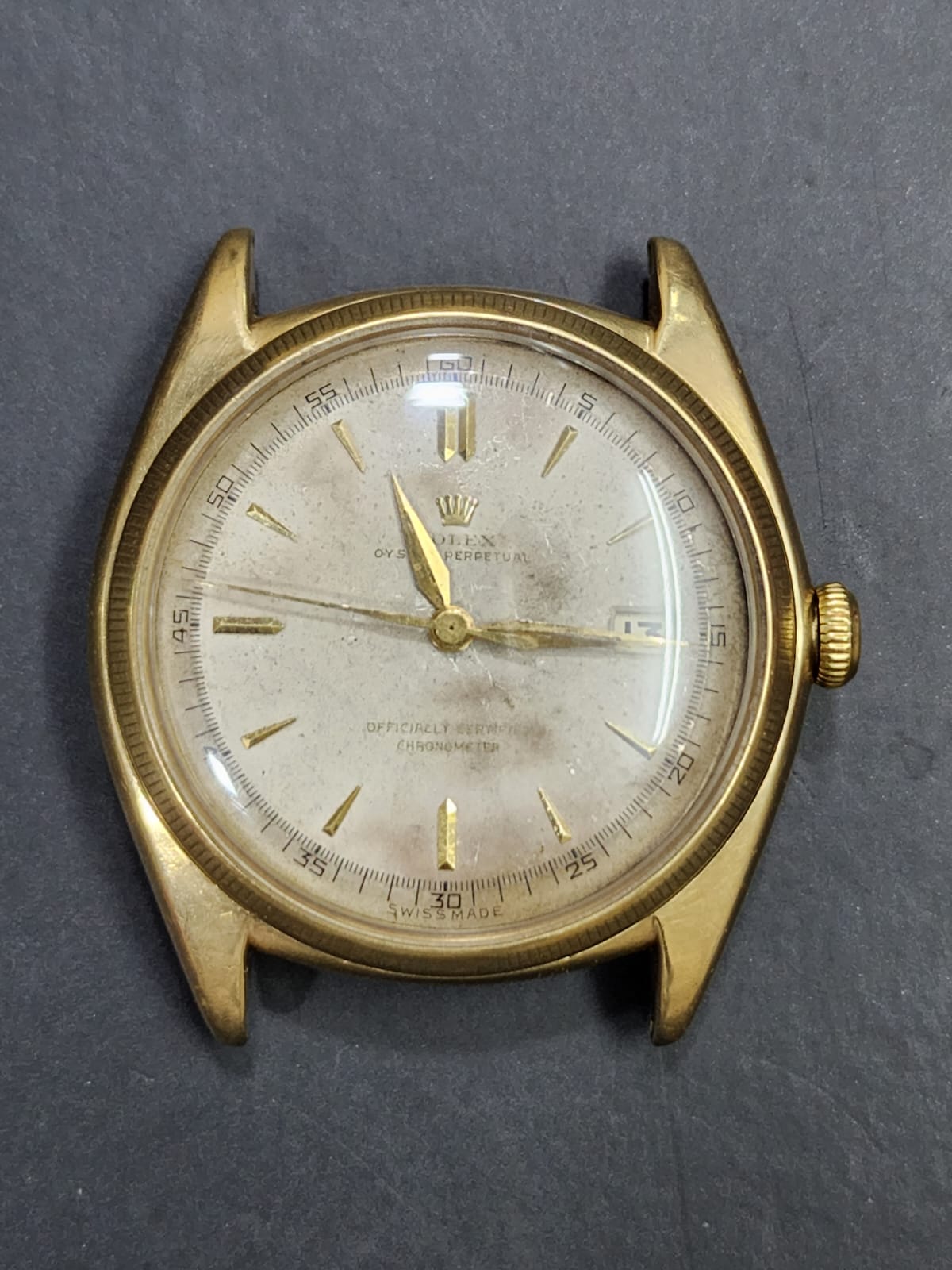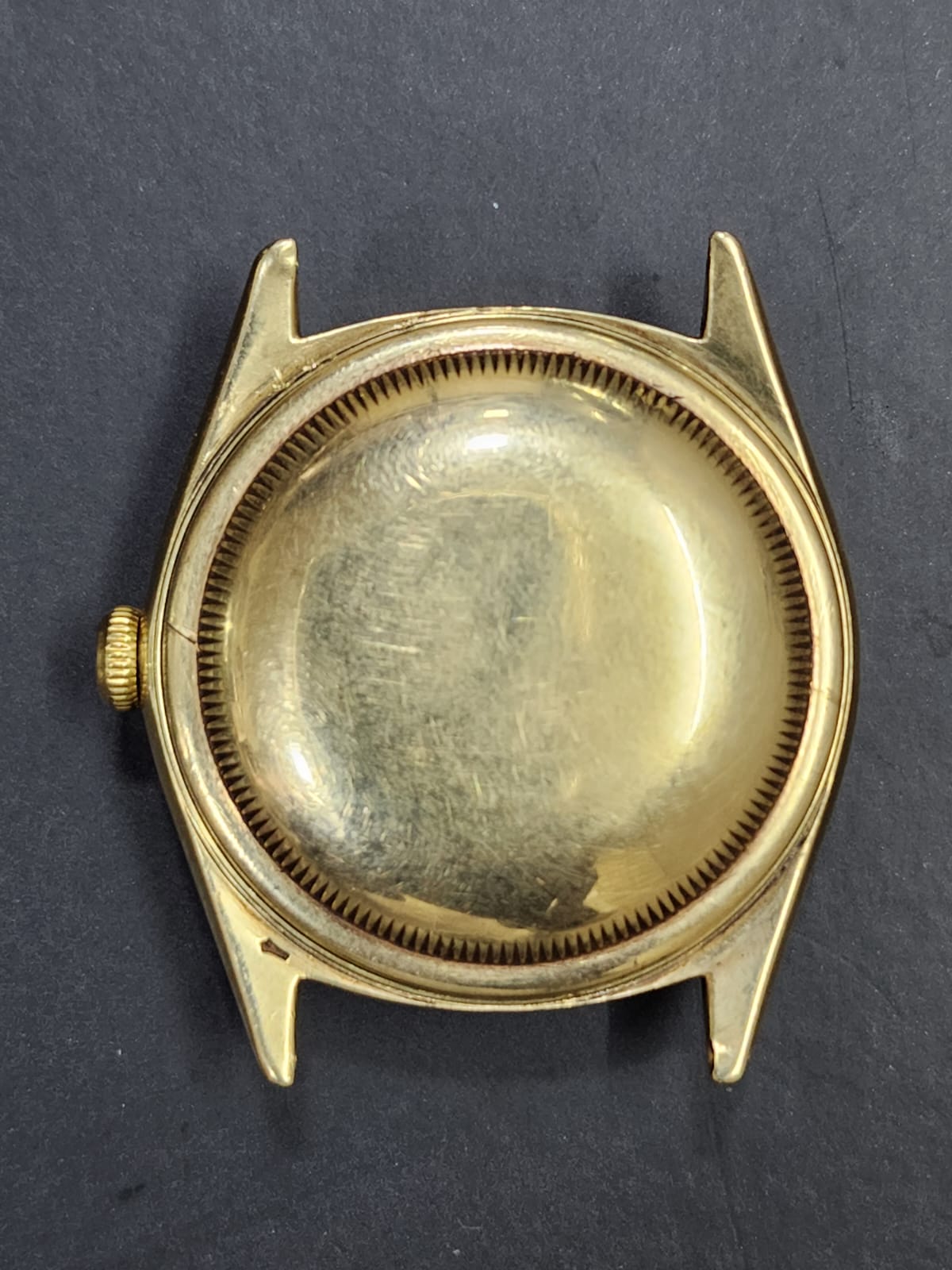 Rolex Bubbleback caseback
"At the beginning, I looked at watches as a mode of investment and business, but with time I turned into an enthusiastic collector. And on this journey, I realised that watches are not just an ordinary daily life instrument but this whole industry is a work of art that keeps evolving. And so I did too," says Shah, when asked about his experience as a collector today.
A man of few words, my uncle sat down with me to talk more about this journey of watch collecting.
Nimra Shareen: Can you tell us about how you got interested in vintage watches?
M Salim Shah: During the early days of my antique business in the 80s, one of my customers brought a Jaeger-LeCoultre gold Reverso and insisted I buy it. Since I had no idea about watches back then, I purchased it for Rs 2,500 based on its gold content exclusively. I was intrigued by the design since it was the first time I had seen an unconventional watch like it. I sold it for Rs 6,000. Although I did not make a huge profit, that was how came into vintage watches and watches in general.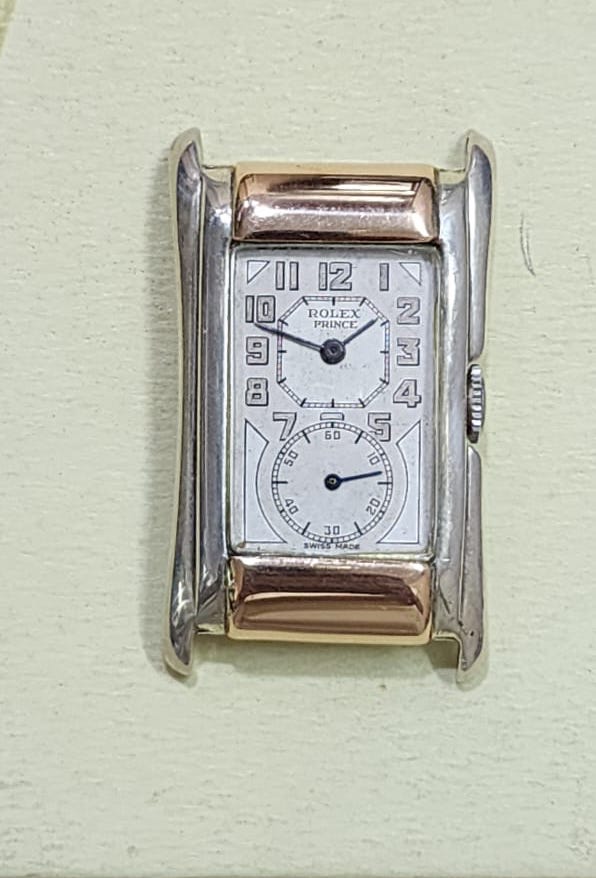 Rolex Prince, 1930
NS: How did this interest build?
MSS: I remember, one day a Parsi gentleman walked into my shop and picked up some antiques. During our negotiations for payment, he showed me his watch - it was the first time I saw a Rolex. He told me he had bought it from Singapore for Rs 17000. I found it insane that someone would spend so much on an ordinary-looking watch. Although my Parsi client tried a lot to justify his purchase by continuously singing praises of his watch, the antique seller in me was neither convinced nor interested until 1985. Then, in the summer of '85 another one of my regular clients came from Germany with pictures of vintage Swiss watches (1940-50 models). He said he would buy all of them if I could find them for him in a month. At first, I was quite unsure about finding these in the Indian market but being a shop owner in Chor Bazaar, a bit of luck, and networking played to my advantage - I was able to spot some with a vendor at Zaveri Bazaar. That client came a month later and bought all the watches, which earned me a good profit. This intrigued me and I started looking into Swiss watches. The profit that came motivated me to become a full-time collector cum dealer.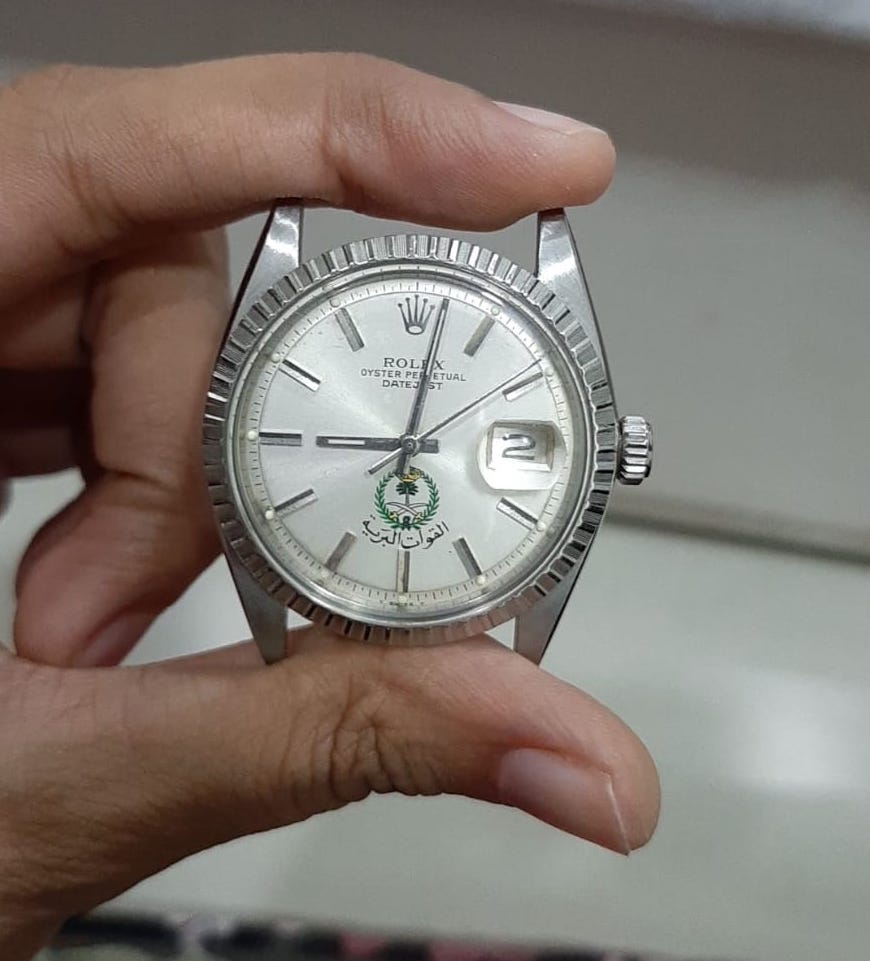 Rolex Datejust KSA dial
While I might have started my journey in watches for monetary gain but soon developed a keen interest in the field and started collecting watches from 1930-50. What really caught my eye was Rolex Bubbleback- it was the first automatic movement by the company and the most interesting feature was the enclosed case which means you cannot see the movement from the back like you can see today, I loved it so much that I ended up collecting almost 30 of them, but I had to sell them eventually as I had to buy a house.
NS: Where do you buy your vintage watches from today?
MS Shah: Today, collectors, brokers, or sellers come to my store with their watches, but sometimes, just like in my initial days, I travel to cities like Kolkata, Chennai, Jodhpur, etc. To be precise, any place that was once a princely state is a hot market for vintage watches and antique artefacts. That is how we get antique watches - most of them are family heirlooms or first edition buys of collections.
I have found some of my own prized watches, vintage included from the southern part of India mostly. I had a chance to acquire a pocket watch by Piaget with a blue lapis dial, along with some Art Deco and jewellery watches from a few collectors in Chennai and Hyderabad.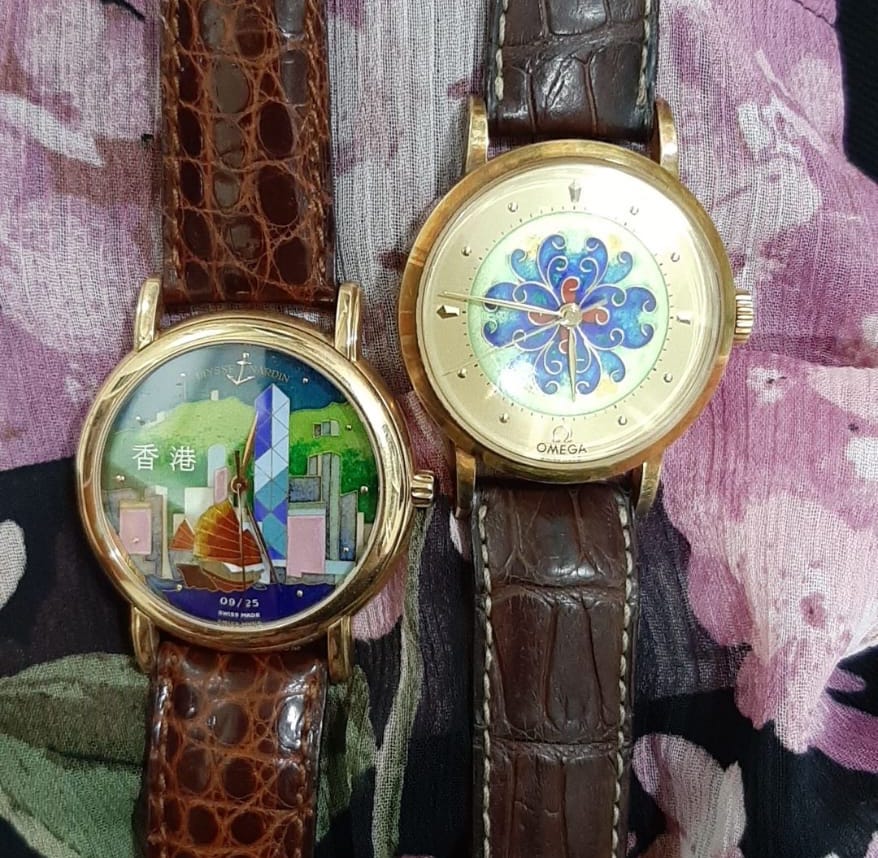 Enamel dial Ulysse Nardin and Omega
NS: How would you describe yourself as a collector?
MSS: I am old school and traditional. I am a huge fan of vintage watches for their simplicity, beauty, and attention to detail, and my personal collection is heavily influenced by the same. One thing very close to my heart is enamel dials - they are beautifully made with precision and most of them represent a culture or story. I have collected a few from Universal, Ulysse Nardin, and Rolex.
NS: How do you decide which watches to retain and which ones to let go off when it comes to vintage watches?
MSS: It depends on the trend. For example, during the 90s, Steve McQueen wore a Rolex Explorer II in one of his movies. Audiences were fascinated and collectors started searching for it. I observed this trend and bought a couple of Explorers and sold it later at a good price. Similarly, I acquired a steel Daytona with Oman's logo from the 1960s, which I sold right before the lockdown.
I once came across a Rolex Daytona in 1986. It appeared quite ordinary to me so I sold it - later I saw a picture in the magazine and I realised it was a Paul Newman dial. So that can be counted as my most prized watch though it stayed with me for only a few days.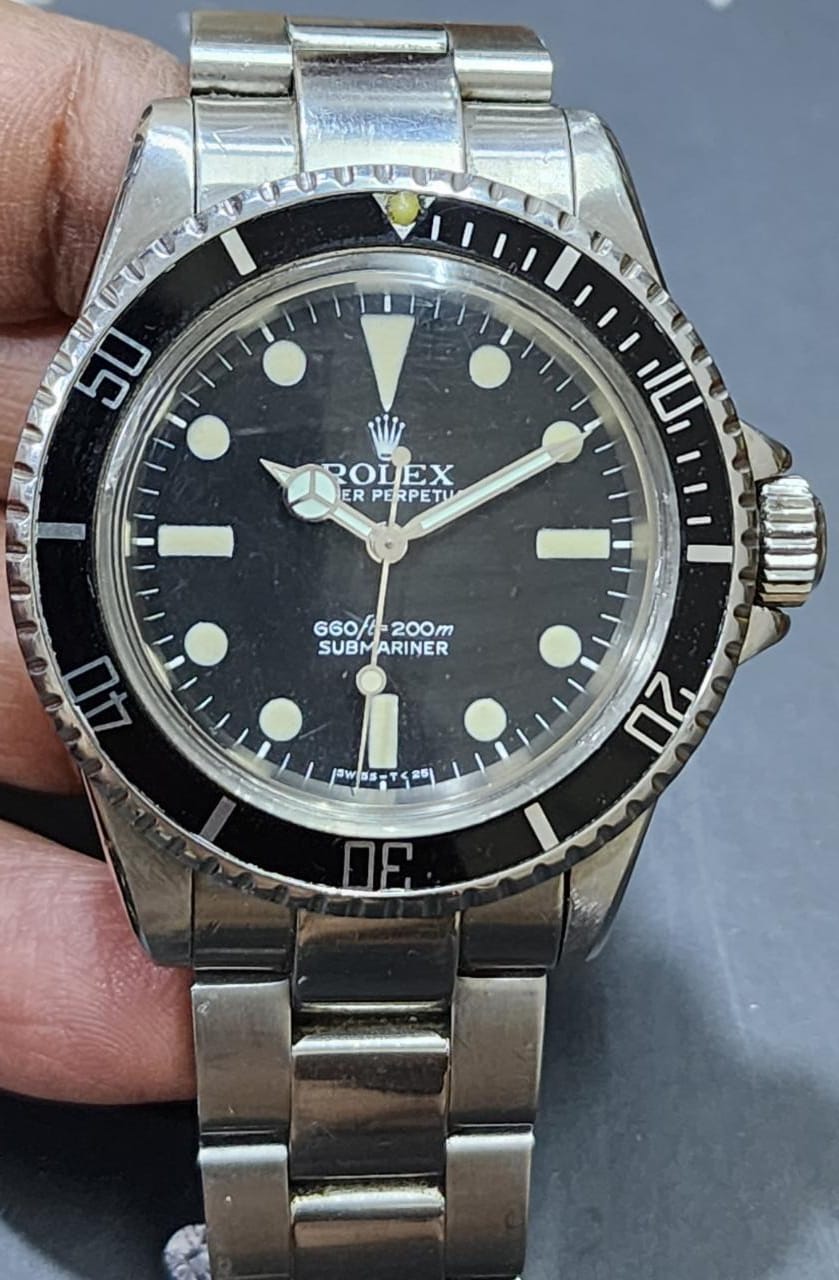 Rolex Submariner Ref 5513 from 1970
NS: What are some of your fave watch 'hunt' stories?
MSS: During my initial years in business, I used to travel a lot in search of vintage artefacts and watches, so one day I ended up at the palace of a nawab in Hyderabad to buy a Rs 14000 Rolex cushion watch or Prince. I bought it for somewhere around Rs 5,000 and asked the nawab if he had any other watches. He politely refused but imparted a crucial piece of information. This particular family had a tradition of gifting a custom Rolex Prince as a wedding gift to their son-in-law. Rolex Prince being a gold watch and elegant in its shape was popular among the royal families and it was expensive, so acted as a precious gift for a wedding. Luckily, my friend was in good terms with the son-in-law, so we went to his house where he showed us the Prince he got as a wedding gift. I struck a deal with him and asked if anyone else got had this gift. The Nawab was kind enough to share contact details of his other two relatives who owned Rolex Princes - one of them sold his watch easily, while the other refused. I did not coax him but a couple of years later he gave in and sold me the watch for Rs 55,000; the others were bought at Rs 8,000-10,000.
There's another story: In 1989, there was a lady in Surat who belonged to a royal family. She had Rolex Prince which she wanted to sell. When I asked her the value, she replied she has no idea but was ready to accept Rs 40,000 as she wanted to purchase a newly launched Sony TV and VCR set by Sony, which cost the same. It was basically a win-win situation for the two of us, so I bought that watch.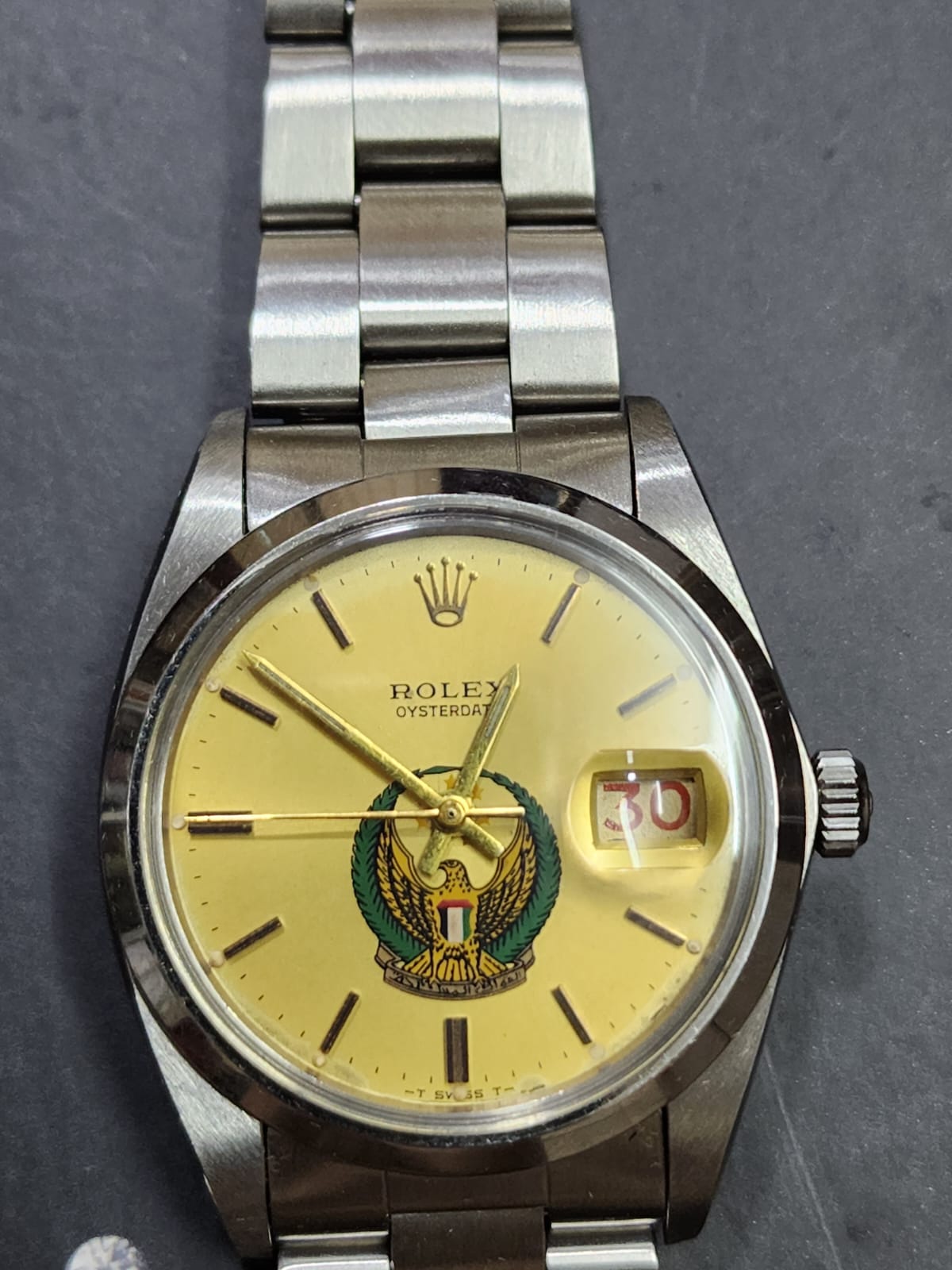 Rolex UAE crest dial manual winding watch, 1970
NS: How do you authenticate your vintage watches?
MSS: Being in the business for almost half of my life now, my instincts are quite strong about whether the parts are authentic or not. First, and most importantly, we investigate the condition and legitimacy of the watch - we go through reference number, model number, parts, etc. I personally inspect the watch from its strap to its movement, but thanks to the internet I can always cross-check when in doubt (which is certainly rare). Earlier we used to check auction catalogues as reference. Secondly, we look into the age and rarity of the watch. Also, lastly the price of the watch.
NS: Do you tend to customise your pieces, before or after you buy them, in any way? Ever created your own watch?
MSS: Over time, I have become so invested in watches that I started customising them. Rolex started colour dials for gold watches in the Middle East, so I collaborated with a few artisans around Mumbai and created a customised dial for my Rolex Precision and Explorer in
Stella
colours. So, it is safe to say that 20 years ago, I was the first one to experiment with Stella colours.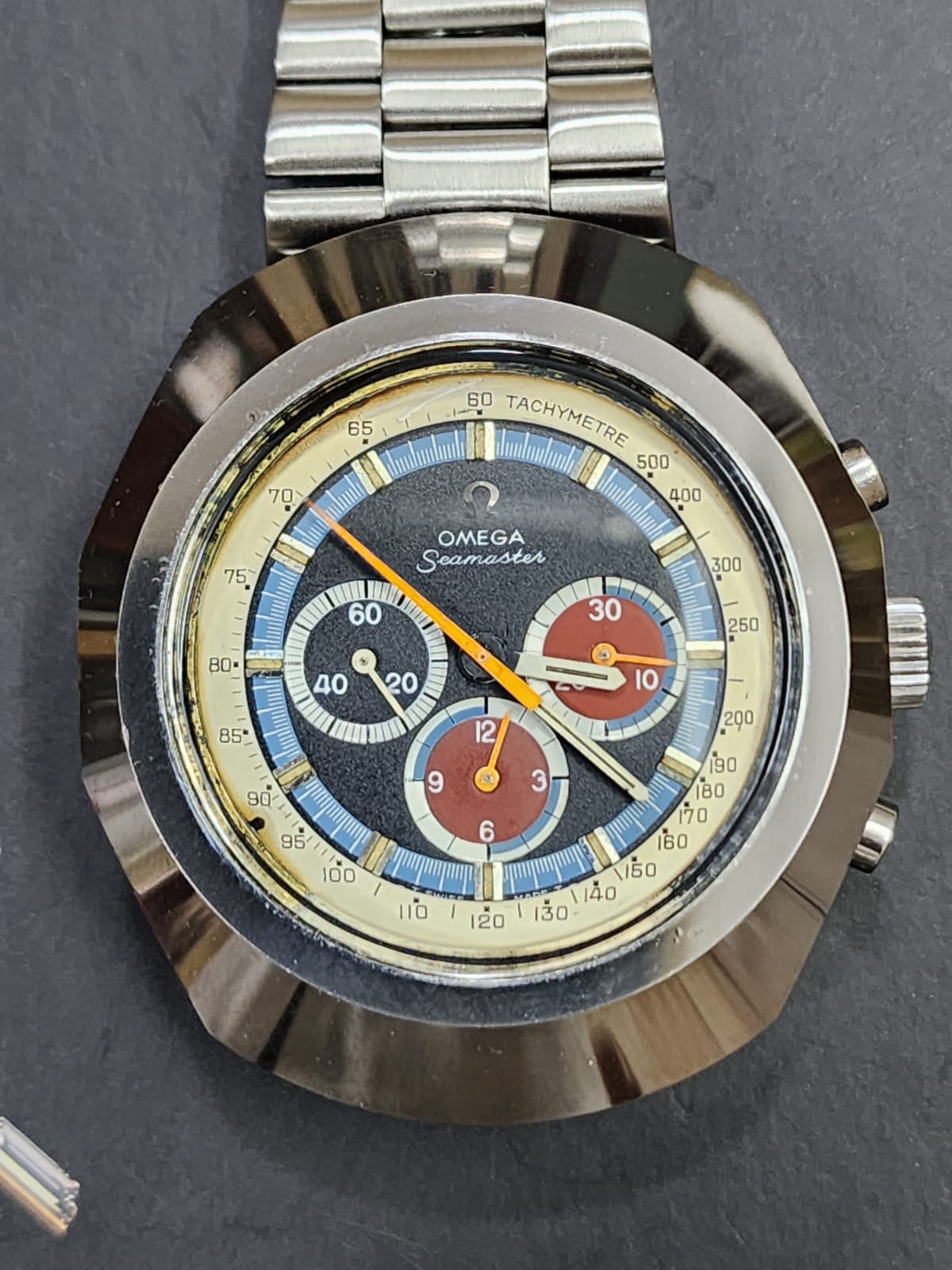 Omega Seamaster
NS: Since the time you started collecting to know, what have been your learnings about buying watches?
MSS: Well, for one if I wouldn't have sold all the watches I have collected, I would have been super rich today (laughs). But on a serious note, my biggest learning has been to learn the basics about the industry and always do good research, and know the worth of the watch before making any deal. I have seen people being ignorant about features, parts, or the worth of the watch and making bad deals.
NS: How do you think you have evolved as a watch collector?
MSS: I used to look at watches as a mode of investment and business, but with time I turned into an enthusiastic collector. I have been in this business for a long time now and have seen major changes in the structure of watches and these changes have inspired me to experiment and customise on a personal level with dials, straps, bezels, and belts. I used to work 24x7 because everything was quite manual back then, from dealing with vendors to collecting information about watches - you can say with technology, things have changed. With the internet and social media, I am more informed now and more eager to learn about everything old and new. And my love for watches has grown exponentially.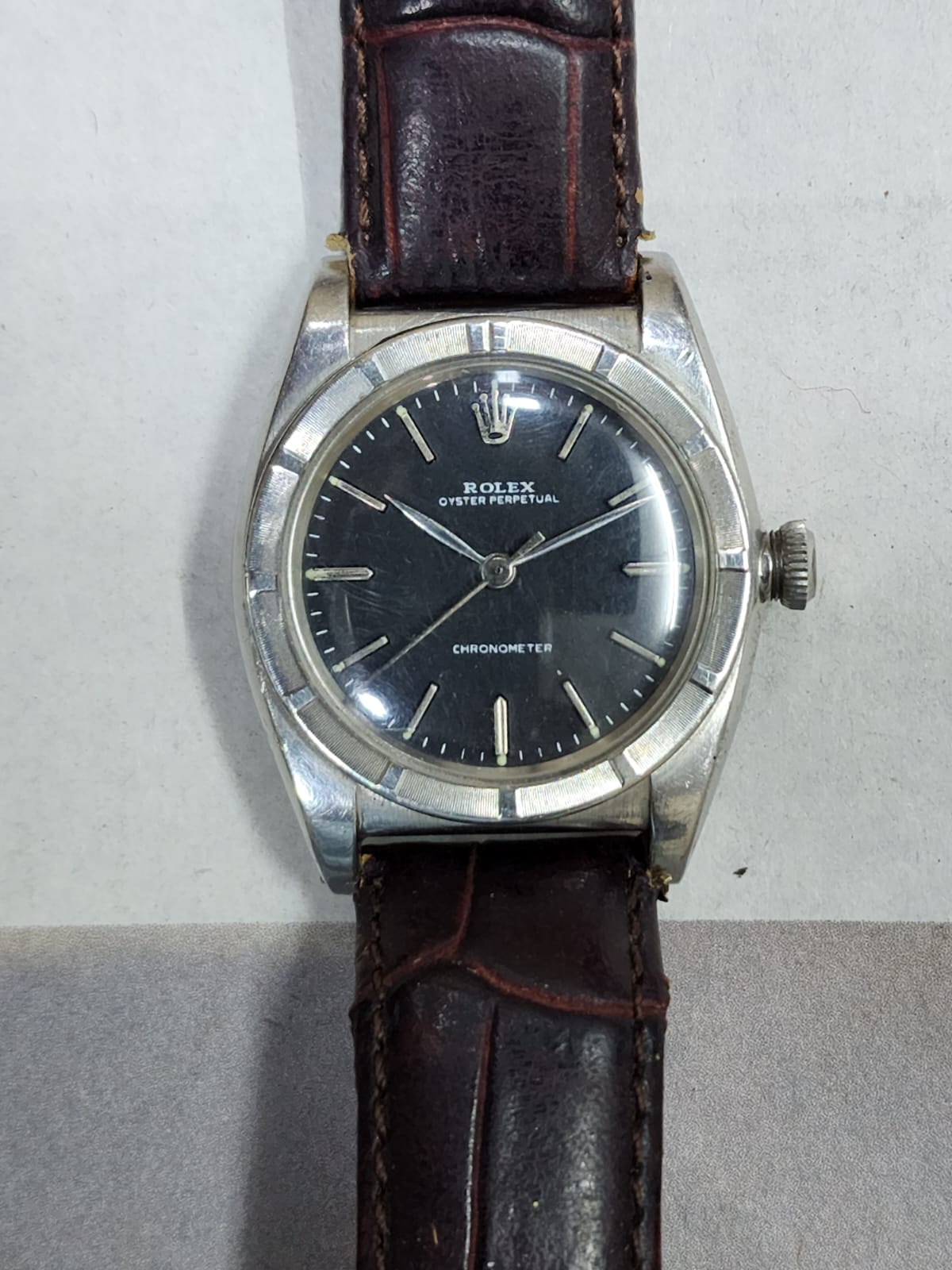 Rolex Bubbleback
NS: Brands you like?
MSS: Breguet, for their high quality and movement, and Richard Mille for its use of carbon cases. But in vintage watches, my absolute favourite is Universal for their finesse with movement and dials. Other than that I like vintage Bulgari and Movado.

NS: Your grail watches?
MSS: Patek Philippe's minute repeater or calendar watch.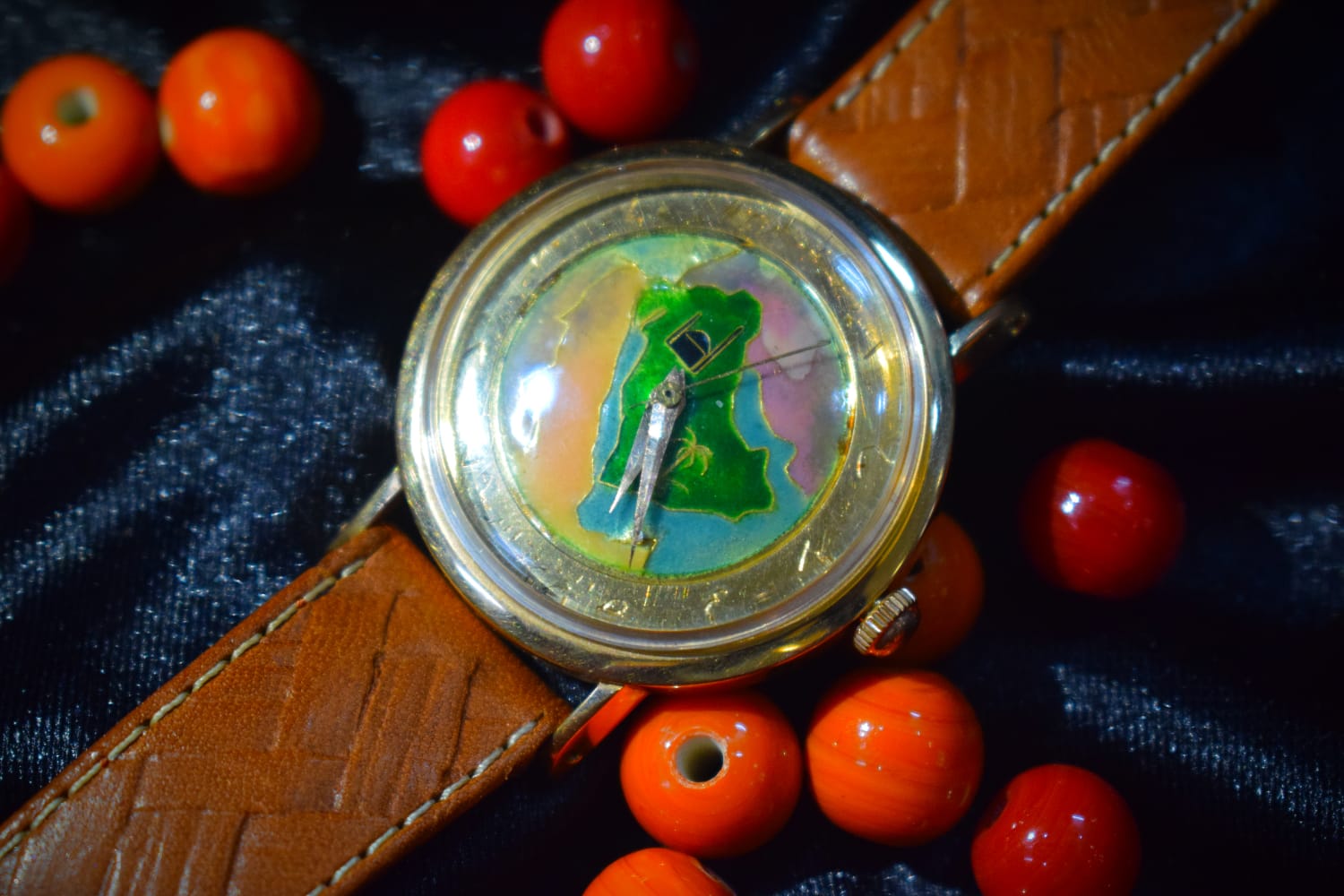 Universal Geneve
NS: What do watches mean to you?
MSS: Before 1984, I was just another antique store seller in Mutton Street, but watches made me who I am today and I will always be grateful to this world of art.
Images: Courtesy M S Salim Shah