Teddy Baldassarre is a watch enthusiast turned YouTube personality. While he still aims "to educate and inspire the next generation of watch enthusiasts," he is also an authorised retailer for more than a dozen watch brands, including Louis Erard, Bell & Ross, Bulova, Nomos, Oris, Tissot, and Zenith. WatchTime reached out to him to talk about views, the industry, and the challenges of being an influencer and watch collector at the same time.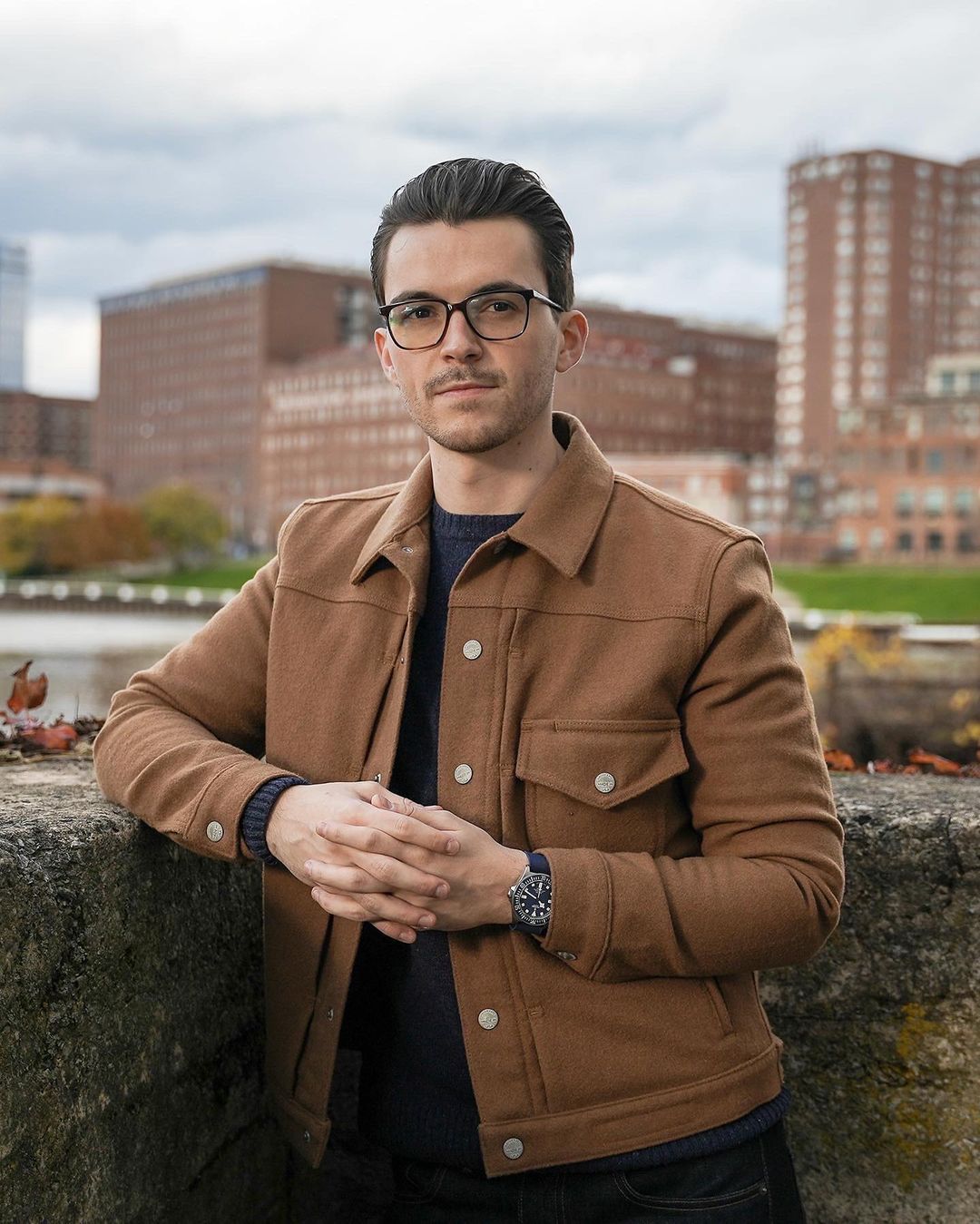 Image: Teddy Baldassarre Instagram
WatchTime: In September 2017, you posted your first video about the state of your own watch collection. What made you hit the record button?
Teddy Baldassarre: Watches were something that hit me fast, which I don't feel is different than many others who eventually get 'bitten' by the bug. In the same way, YouTube and video were a huge part of growing up as an adolescent. If I am being honest, I don't think I had any expectations or motivation for posting my first video.
I had always enjoyed watching collectors showcase their watches as it was always interesting to see the quirks and qualities of an individual being represented in the watches they collect. Being someone living in an area that is anything but a watchmaking hub in Cleveland, Ohio, I felt isolated a bit, and my journey was that I simply wanted to show the world what I was passionate about.
WT: What was your biggest lesson in the past years?
TB: One of the first surprises, when we were just starting out, was how watch brands didn't know what to make of online channels such as
YouTube
. Brands very much like control and will have the closest allegiance to what has worked in the past. Having to push the envelope and try new things is scary when your biggest asset is the prestige of your brand that has taken hundreds of years to build. Looking back, I understand their position more and there has been progress since I posted my first video, but many brands completely neglected the power of digital channels or saw them as inferior to the traditional media.
WT: Did you ever have to (or think about having to) take one down?
TB: There certainly have been more than a few taken down for all different reasons—some being a video that had a production mistake that greatly affected the viewing experience that was missed in editing, others perhaps not landing the way they were intended, and others being videos that have since become obsolete by newer versions that we are just prouder of. Once you click publish on a video for YouTube, it essentially acts as a live broadcast as there is no way to make changes following an upload.
WT: Your most successful/popular video is about the
watches of world leaders
(currently 3.3 million views). What was your favourite video to produce?
Teddy Baldassarre: I typically have more fun making videos that are more out and about rather than the traditional in-studio productions. If I had to choose, I would have to pick the video covering the No Time To Die James Bond watch in NYC that also included an interview with Omega's CEO, Raynald Aeschlimann.
WT: Are there specific brands or topics that work better on YouTube?
TB: The reality is, performance 100 per cent dictates a huge portion of our strategy. Since our content is under our editorial control with no current pay-for-play components from the brands, it leads to us really keeping tabs on what people want to see and what they don't. Measuring views is the obvious metric but there definitely is more to the story than that, with metrics like minutes watched, audience retention, comments, and like-to-dislike ratio. There have been plenty of videos that we know won't perform incredibly well when it comes to views but still decide to proceed with producing since there is either a cool story to tell or it will be well received within a segment of our audience.
WT: Your YouTube channel currently has 7,90,000 subscribers. How are you dealing with comments and trolls?
TB: I always tell people, if you want thick skin, start a YouTube channel. And if you want to make that skin even thicker, make videos for an opinionated
group of enthusiasts like watch collectors
. Jokes aside, trolls and negative comments are part of the territory. Deciding to put yourself out there opens you up to criticism and although most are not grounded on anything other than stirring the pot, they are still engaging with the content and at times they can be constructive. I think it is healthy to keep it all in context though, take punches when necessary and try to roll with them to improve on the next take.
WT: You started your collection with the Orient Bambino. What made you get into watch collecting?
Teddy Baldassarre: It was a culmination of many things. By nature, I am very curious and it takes a lot for something to hold my attention for a while before I head to the next point of interest. However, with watches, I knew that I was hooked for life. There are very few consumer interests like this, that have the same spectrum of appeal. For one, watches are complex machines that monitor the most precious but delicate aspects of our lives with time. In addition, they are rich with history and have the ability to transcend us, given they are made to last in a world that is disposable. Finally, they are an amazing way to demonstrate individuality and are an aspirational pursuit.
WT: How did your own collection/taste change since your first video?
TB: I have had the luxury of handling thousands of watches since the first video in 2017, all of which certainly impacted my collecting habits. There were changes driven by aesthetics like a decrease in my love for dress watches and an increased love for unabashed tool watches, but the most noteworthy change was with my collecting habits. Given the number of watches I have now experienced, it has led me to be slower in acquiring pieces. I am now very calculated when adding a new watch and have developed a collecting philosophy that reminds myself to enjoy what I have rather than always looking for the next piece. To put it simply, there is no one watch that is going to ever make a collection feel complete. Once I understood this, I felt I had a much healthier approach towards the hobby while ensuring that I remember that this is about having fun at the end of the day.
WT: What made you decide to become a retailer?
TB: As the channel was growing substantially, I saw the writing on the wall that I was going to need to determine how I was going to proceed in the industry. Making YouTube videos in a small, niche world like watches does not grant you the luxury to be able to live off of YouTube ads alone, making $5 to $10 per thousand views, unlike other channels that will get more views in a month than we will in a lifetime. The other option before us was building our business around the world of paid media or advertorial content, which I am not a fan of for many reasons. For one, it tends to lead to worse content since the brand will want control over what and how something is positioned. Two, starting a media company in an industry that is gradually shrinking did not seem like a wise revenue model.
The last option was the hardest to navigate but was the best way to solidify a sustainable life in the industry, and that was becoming a retailer. This route would create possibilities for building a team and investing back into the content while preserving creative control by not having to take on advertisers except for promoting our own store.
WT: Can you objectively review a watch that you are also selling?
Teddy Baldassarre: I saw becoming a retailer as a more objective route than many paths. Whether you are selling the product, creating advertorial content, or you're sent a loaned watch and are afraid to say anything critical so that the brand shows favour towards you, all paths have this dilemma of objectivity. There are times when I wish this brand wasn't based around an individual, but it has its positives and negatives like any business. One of the challenges of this idea as well as the benefit is that I do not have a publication name to hide behind. By doing something that harms the reputation of the brand, I am in turn harming my reputation. This makes you think thoughtfully.
One thing I do like about the retail approach is that it puts our business model out in the open for everyone to see, and it is reassuring that all the products we carry are good watches. That said, this was an idea we thought about for hundreds of hours before launching the store. To assist with this, we launched a second channel for reviews where we cover watches we exclusively sell on our website as an authorised dealer. This certainly helps us in not feeling the need to give priority to watches we sell over simply what is the best content to be posting on our main channel. In addition, unlike other outlets, this business model is based around one central host and at the end of every video, there can't be a lack of a stance.
We are not the traditional 'Here is a reworked press release of a watch, alright, thanks for watching' type of outlet. People come for the watch content but I like to also think people come to hear at least a small bit of what I think. I also make it an effort, even more for the watches we sell, to always include a section of the review to discuss the things to consider and the pros/cons of the piece. The beauty of YouTube is that it keeps you in check. If you try to parade around an objective flaw or controversial feature, you are only hurting yourself as you'll hear about it if you take a quick scroll to the comments.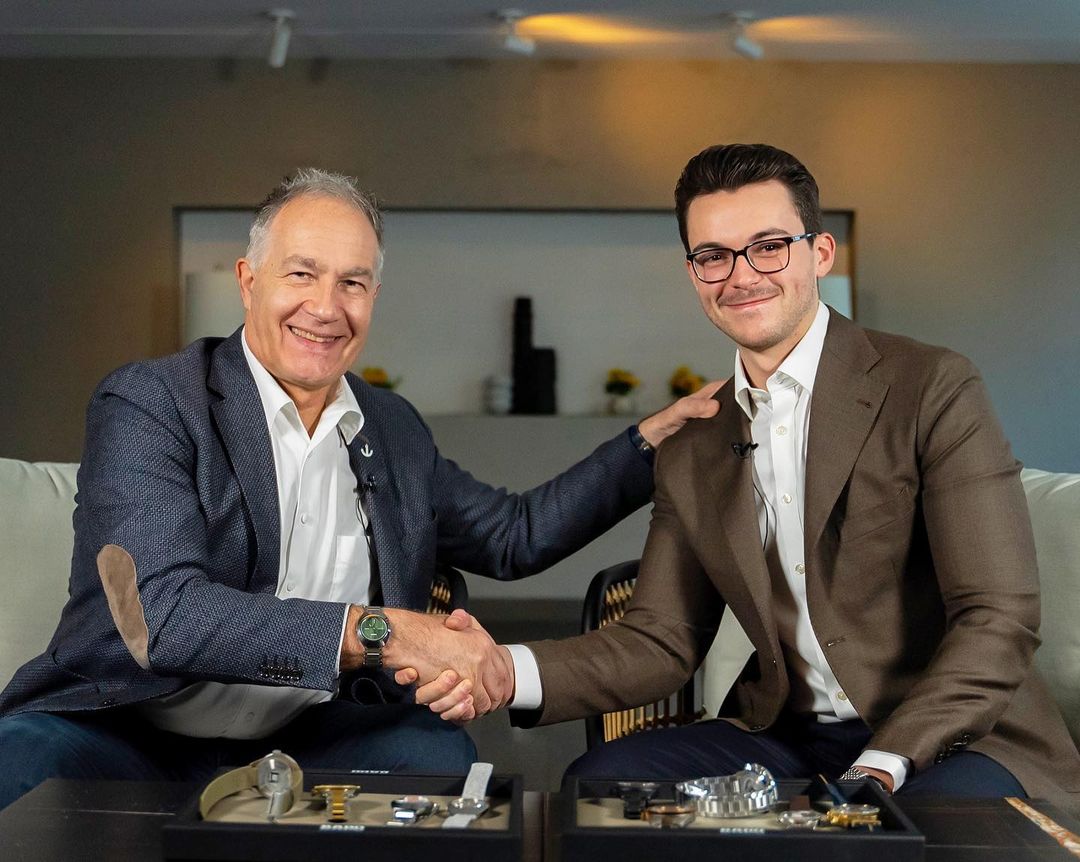 With Rado CEO Adrian Bosshard. Image: Teddy Baldassarre Instagram
WT: How would you describe your typical customer?
TB: Since we are an e-commerce company, we are able to get some fantastic analytics on who watches and buys. A customer of TeddyBaldassarre.com is a digital-first consumer between the ages of 15 and 35 that resents having to walk into a brick-and-mortar retailer and prefers the value of deeply researching their next purchase by watching informative, well-produced digital content that is easy to digest and not pretentious. They are watch enthusiasts; their way of coming to this further appreciation was driven by digital content (strong preference towards video) and they want a buying experience that mirrors that.
WT: Is there a 'perfect' type of watch for the typical client of Teddy Baldassarre?
TB: I don't think there is a perfect type of watch, but the idea of how they research and shop is drastically different than the norm of the industry. Given the current era in which we live, people are becoming more comfortable in spending thousands of dollars on a watch online. Watches tend to be seen in a more objective way online than in a store as a result of the open landscape for feedback in the comments. There is no one archetype for watches that sell and ones that don't, but there is certainly a checklist that enthusiasts internally document in their head outside of just the looks of a piece (size, movement, crystal, bezel, power reserve, etc.) that you need to have the ability to understand as a retailer and content outlet.
WT: Is the watch industry doing enough to reach/educate the next generation of watch buyers?
TB: It pains me to say it, but absolutely not. Now being an AD, I recognise more than ever how disconnected brands are from younger consumers. The industry sees the game as long-term when it comes to preserving its image, and short-term when it comes to sales, only worrying about their top buyers of today, hitting them with the same messaging that has been used for decades. The challenge with this strategy is that unlike previous generations, watches are simply no longer needed objects. There are college graduates now that were born in the 21st century and can't recall a time when watches were required tools in their lives. In the next decade, this generation is going to have an entire subset of high earners and instead of spending their discretionary income on a watch, they will look elsewhere as the seeds of striving to own one were never planted. You can't expect to market a watch to someone at 20-to-30 years old and think they will have any context of your product or even your product category without prior messaging. This idea of watches no longer being needed has only really become the case in the last 10 to 12 years so the full economic impact has not been felt. I know this might be a bleak and extreme way to look at it, but you have to ask the question, 'What is the industry doing today to successfully position itself to the 15-year-old that is potentially five to 10 years away from buying their first proper watch?' The unfortunate reality is that the answer is probably 'Nothing,' since they are not a buyer that is going to make any significant difference to their sales numbers this quarter. However, as an industry, we will win if brands realize this sooner and recognise how paramount it is to begin telling different stories to younger audiences in the places they are spending their time.
TB:

No matter your walk of life, income level, or worldview, there is always the next piece to strive for. This idea of 'the next piece' is how I look at a grail too. My tastes and life will change so I am always looking at the next piece rather than finding the last piece of the puzzle.
This story first appeared in the print edition of WatchTime US, and was then carried for the January-March 2022 issue of WatchTime India. To subscribe to WatchTime India, click
here
.