While most collectors can trace their love for watches to either being influenced at a young age by timepieces that belonged to family members, or growing up in an environment where watches were often discussed, or one piece that they were emotional about, Dr Karan Madan's tryst with watches happened when he was much older - around 30 – and serendipitously. The founder of India's largest watch collecting community, Watch Enthusiasts India, Madan got initiated into the world of horology via a technology forum that he used to be part of, where members would post about mechanical watches. Madan's interest piqued as he read more and more about these watches, the subject soon consuming him.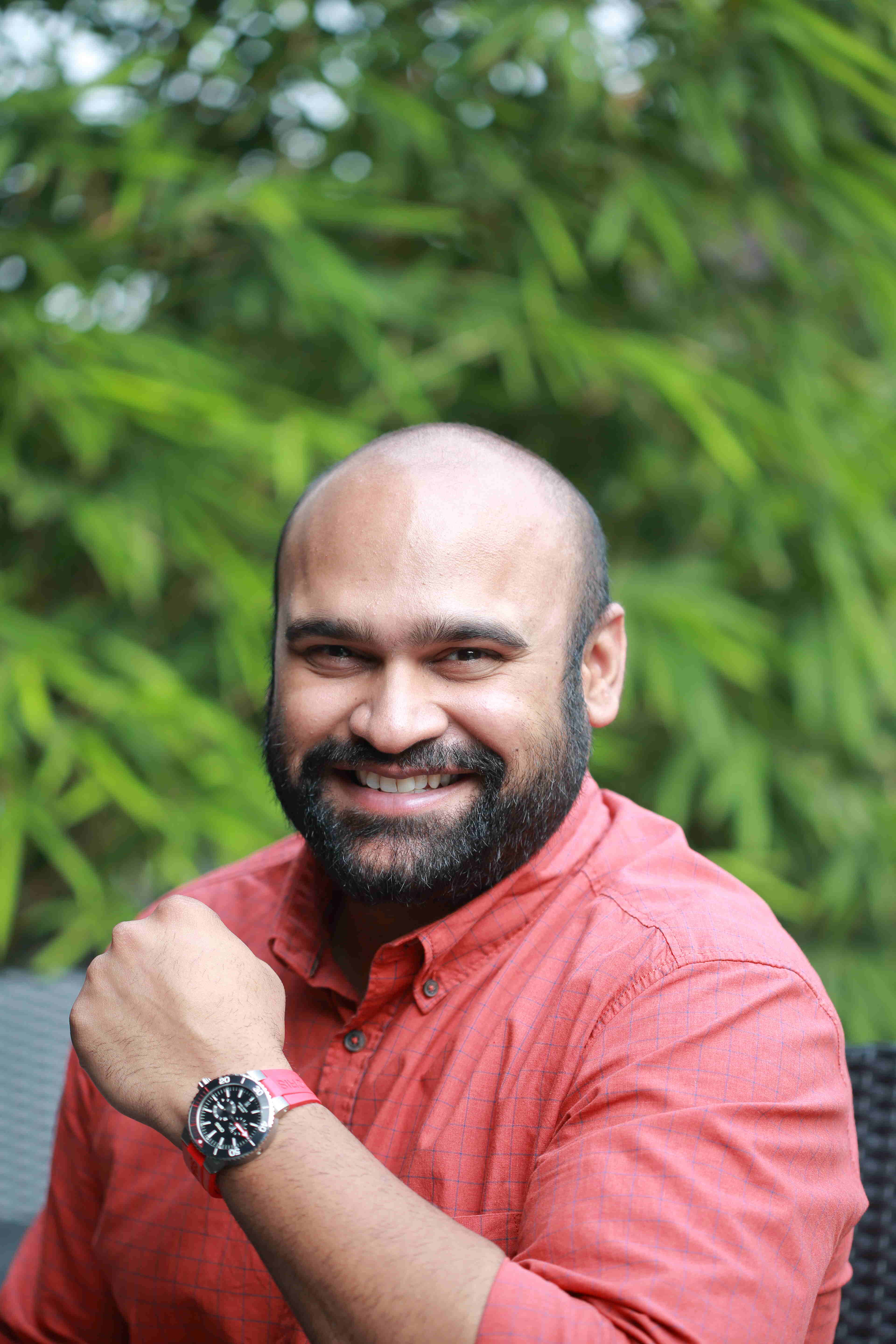 Dr Karan Madan
His obsession had two results. First, Madan, a critical-care specialist based in Delhi, actively sought out like-minded people he could connect with to discuss this new-found love. This was 2013, and connecting with people in India about watches was a lot tougher back then. But Madan kept at it, messaging people, organising small-meets. What he started as an eig
ht-member group on Whatsapp, and then grew to a bigger presence on Facebook, is now
Watch Enthusiasts India
, an active community with nearly 4,200 members in India and abroad. They even meet-up internationally – the most recent get-together was in Vietnam in August.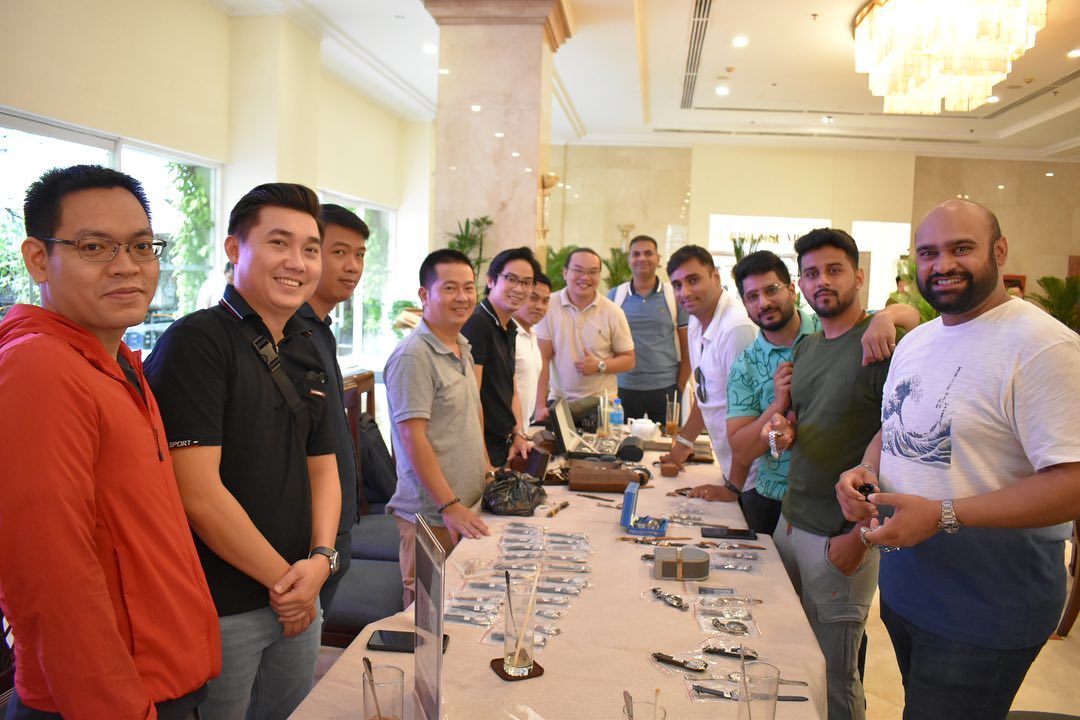 Watch Enthusiasts India's Vietnam mneet-up. Courtesy: Watch Enthusiasts India / Instagram
The second fallout was that he started buying watches. A lot of watches. At one point Madan at 120, which over the past three years he has consolidated to 60. Spread across high-end Swiss brands like Rolex, Girard-Perregaux, Cartier, Omega, TAG Heuer, and Zenith, and micro and independent brands like MB&F, Sinn, Bouldr, and H2O amongst others, and across genres (divers and chronographs), Madan enjoys timepieces that don't toe the line. There is, however, a special place reserved for Seikos and Grand Seikos in his three-watchboxes-full collection.
WatchTime India caught up with Madan to get a closer look at his collection.

WatchTime India: Could you tell us a little but about how you got into watches?
Dr Karan Madan: I was into building performance gaming computers, and was pretty active on a technology forum called Tech Enclave, back in 2013. That's when the news that HMT was closing down started. At that time, HMT did a 500-piece limited run for WatchUSeek Forums, a white dial Pilot with blue hands. So some guys on my technology forum who were into watches got interested, and HMT ended up doing one run for our technology forum as well - friends suggested that I get one. I hadn't got a watch for myself in almost five years, and only had quartz and fashion watches at that time. When I got the HMT Pilot, I loved winding it and the sweep of the seconds hand – it was all new to me. I started looking at what the serious collectors on the technology forum were talking about. I got interested in the nomenclature - movement, escapement, crown, crystal – more and more.
Suddenly one day, a person in Delhi posted about his new Hublot worth Rs 17 lakhs on the forum. I was dumbfounded. The watch on my screen was worth Rs 17 lakhs and the watch in my hand Rs 1,200 - what differentiated them? I searched online, landed on WatchUSeek Forums, and made a deep dive into the world of watches. From there on, I went absolutely crazy about watches. I just kept reading for the first four or five months.
WTI: So what was that first watch you bought once you understood mechanical watches better?
KM: The Seiko Monster - the blue bezel and the blue dial appealed to me at a different level. This was actually part of the 100th anniversary of Seiko's watchmaking that they did 2012. It was a series of four watches, and eventually, I tracked them down and got the entire set. The first of this set was sold out, so I found a person in the US willing to sell to it to me, who shipped it to a friend of mine, who brought it here. Another I hunted down in Croatia, and then the third came from Thailand, and the fourth from the Philippines.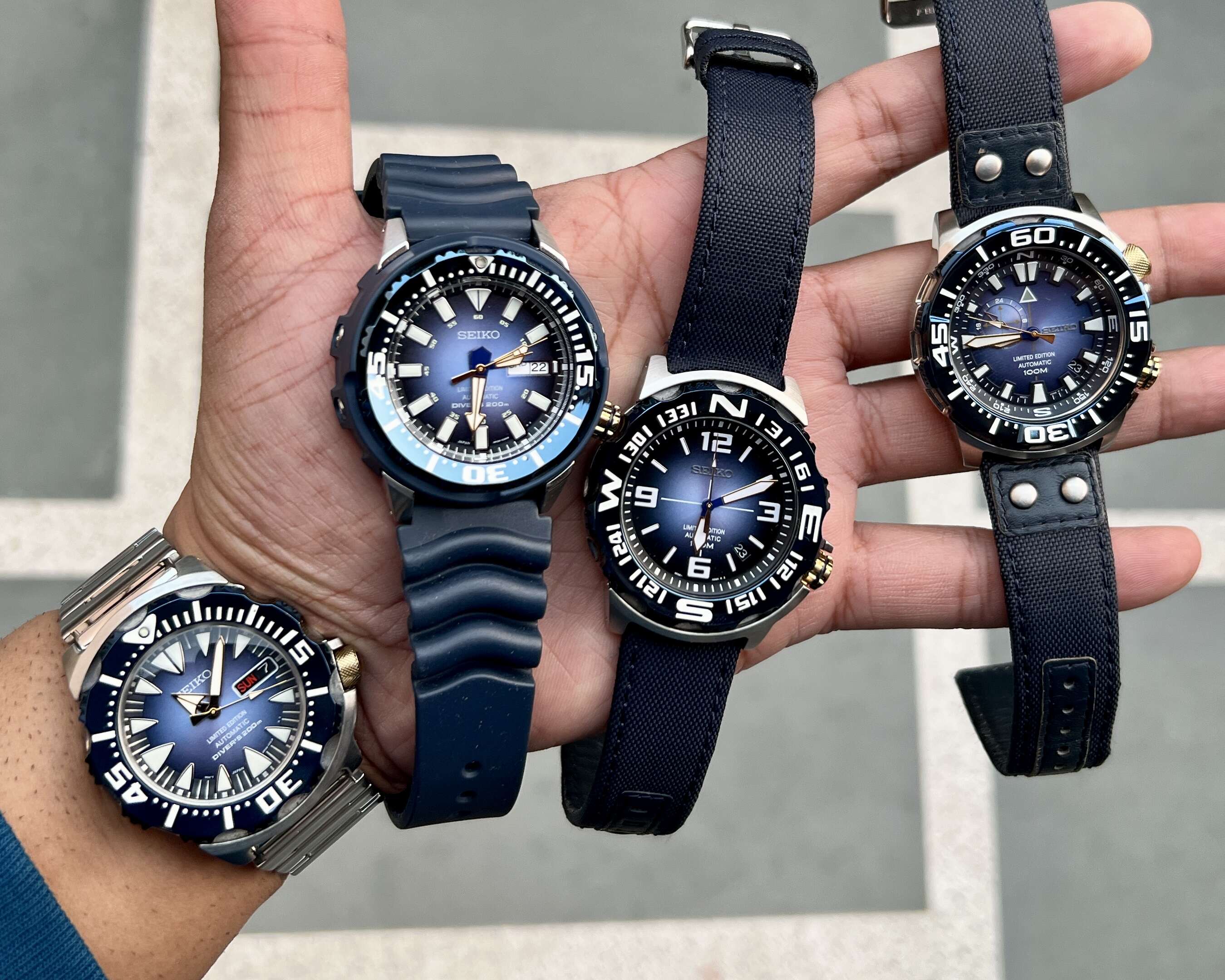 The Seiko Monster was Madan's first 'serious' watch. He eventually tracked down all four in the series
The first couple of years were all about exploring the world of watches. After the Seiko, I jumped into buying a lot of other watches, most imports at that point - this is nine years ago, and retail sector in India was changing. It was also about looking at something online, liking it, and finding online sources to procure it from rather than stepping out of the house. So that's how I built my collection in the first couple of years.
WTI: So let's get into your watches...
KM:
I have a total of 60 watches right now. It was 120 watches in 2019. I offloaded half because I was heavily into Seiko, and what I have now is a fraction of the Seiko collection that you see – I had 94 Seikos at one point, mostly divers and sports watches that they made in the last 20 years. Now Seiko has actually scaled down and is more fixated on quality and the dial work, but previously they used to really work on their cases, and designs; they used to have outlandish watch models altogether. And I used to own 3-4 of each kind - yellow dial, orange dial, blue dial, black dial. To start off, I have the Seiko
7A28 and 7A38 - it was a precursor to the
mecaquartz
that Seiko does right now. These are the first world's first analog quartz chronograph movements. This was in fact worn by James Bond in one of the movies. Then there is the
7T32-7C60 - i
t's an alarm watch with very nice styling, with a day/date, and dual time.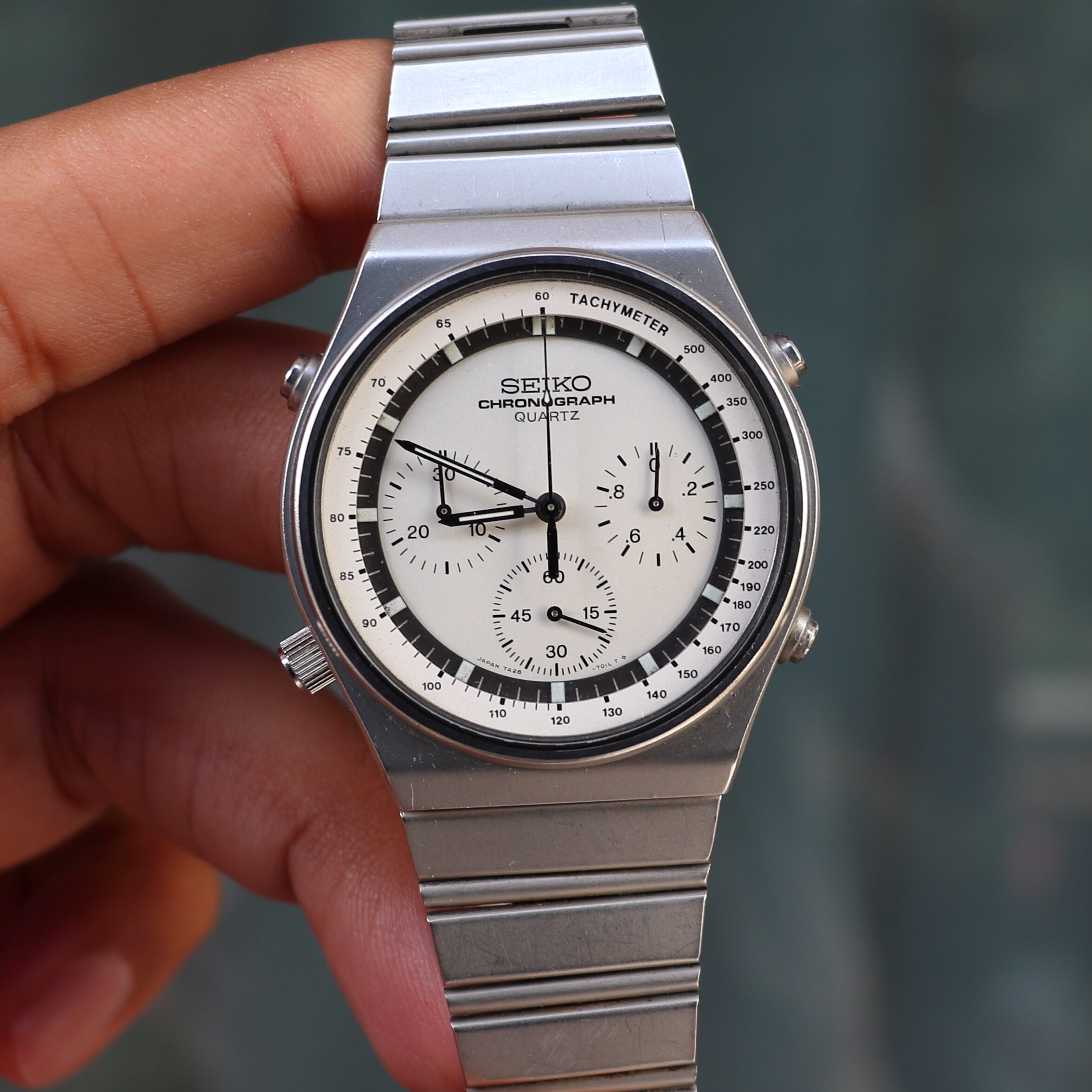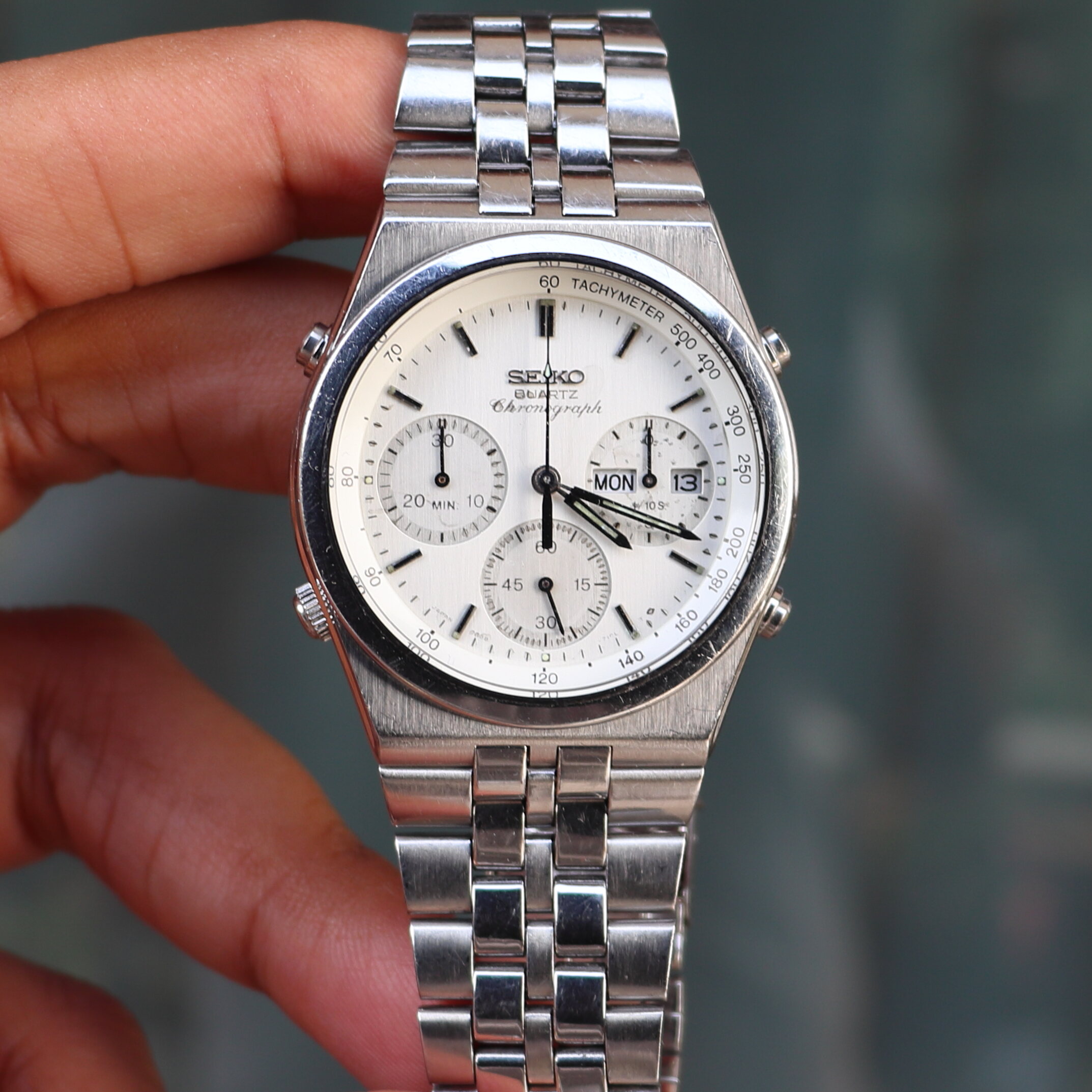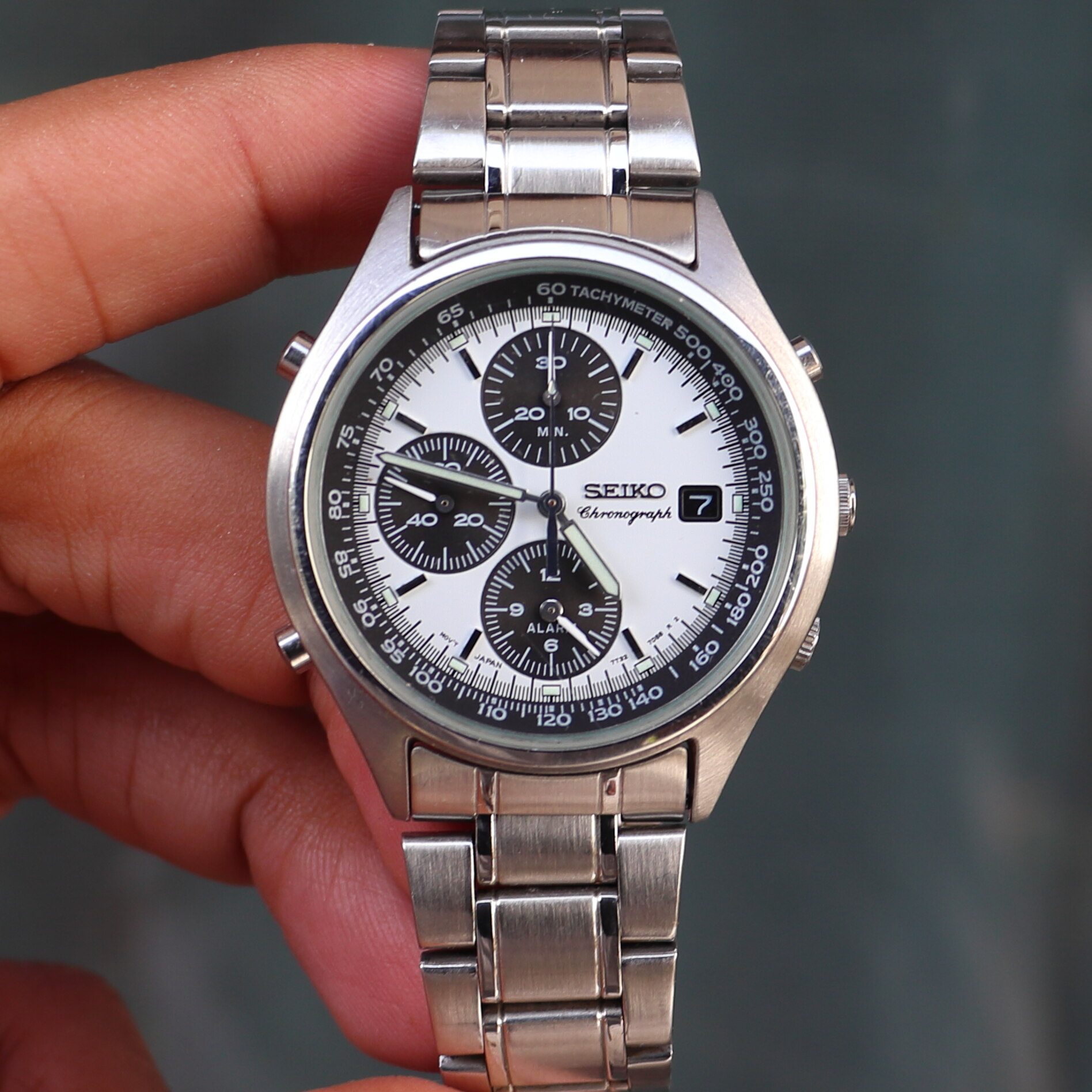 Then there is the 6138 panda dial – this is the automatic chronograph that Seiko released in 1972. This one I really hunted, because vintage watches in general and even versus vintage Seiko, there are so many with aftermarket parts or fake parts that are repainted and refurbished. If you see there is enough patina on the dial, enough markage, it is the original one.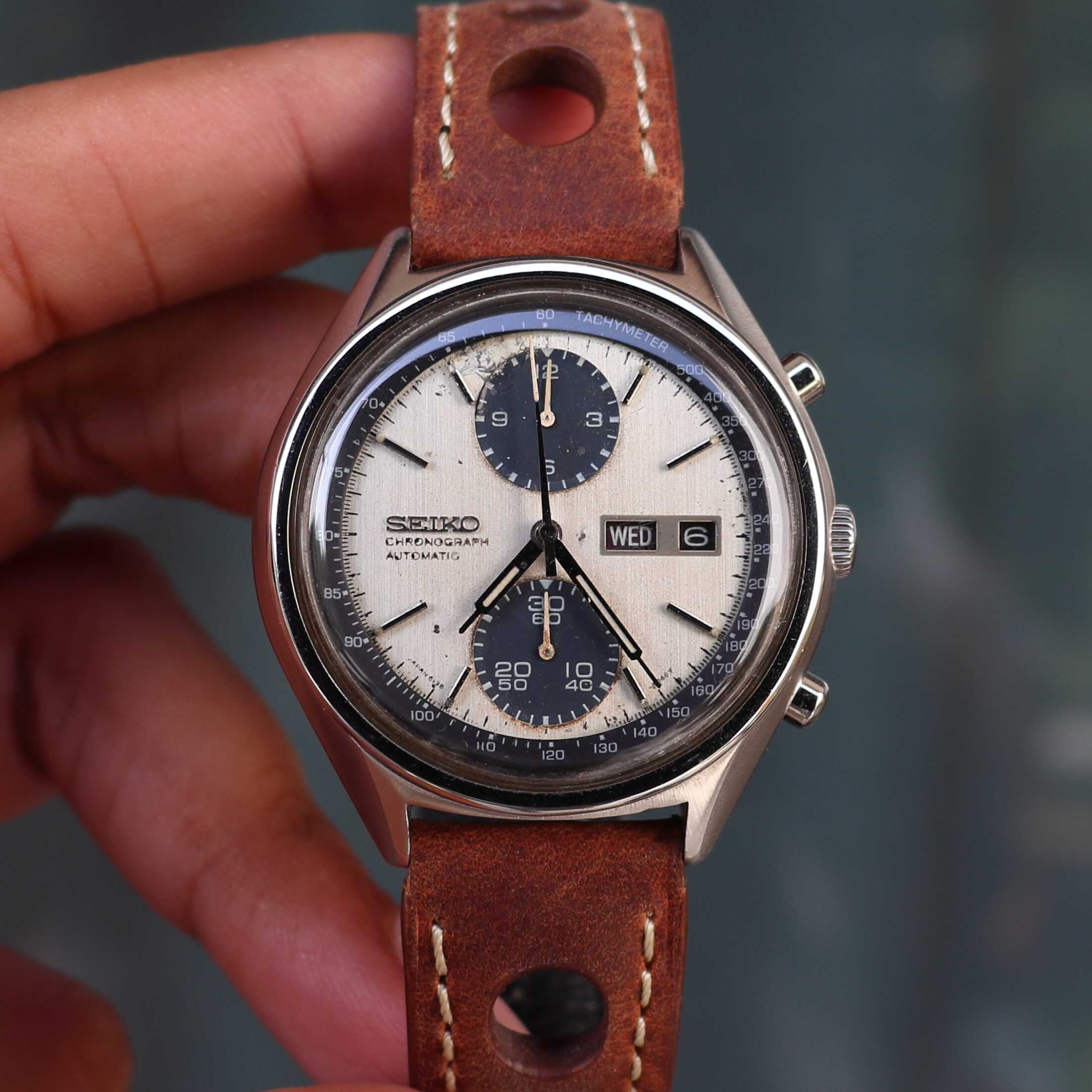 Seiko 6138
I also have the Seiko Calibre 6139, the world's first automatic chronograph released in 1969 – it has an amazing story of how I acquired it (below). So this Seiko, along with the
Zenith El Primero
and the
TAG Heuer Monaco
completes my trilogy - these are the world's first three automatic chronographs, all released in 1969. How I acquired the TAG is also a great story (below). And once I had those two, I got the El Primero from a fellow collector
and group member.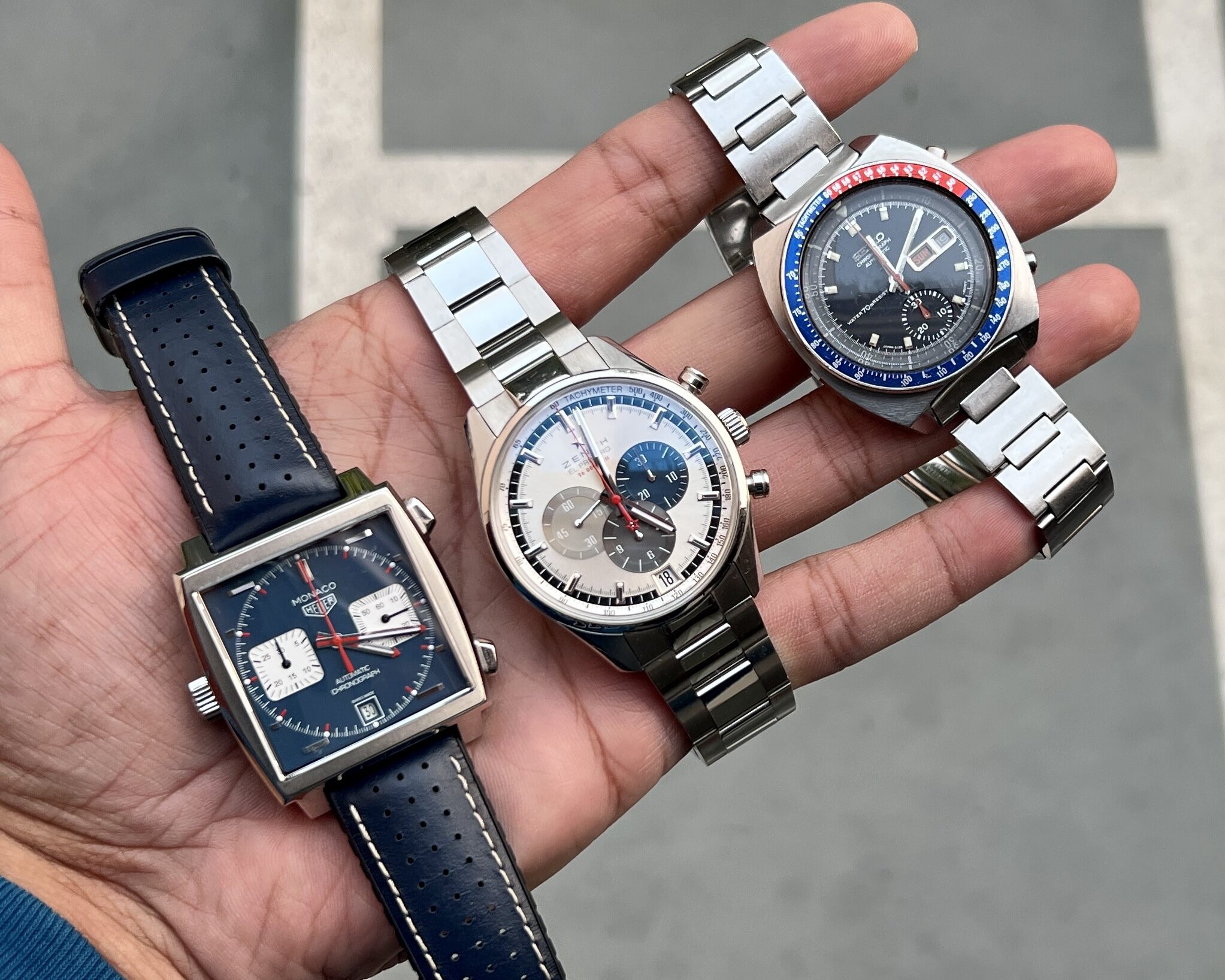 The Trilogy of the first three automatic chronographs, all released in 1969
Then I have the new
Seiko Prospex
62MAS reissue – the 6R35. Another is the Seiko 5 Sports X Worn and Wound 10th Anniversary Limited Edition field watch. This is another Seiko 5 Sports that they did for the 140th anniversary of Seiko watchmaking last year. Most of my Seikos are limited edition. Another one is a European limited edition release in 2020 – mountain glacier alpinist. Absolutely brilliant engineering for diver's watches - monobloc caseback, unregulated Grand Seiko movement inside. It keeps as good time as my officially certified Rolexes. Then there is the Marine Master in black. This one I had to almost beg Seiko India to get this for me because there were only 600 pieces released globally. And there is also a Presage that was gifted to me by my wife.
Then I have my
Grand Seikos
. This brand gets my heart beating faster than any other because it's an extension of what Seiko does with their budget watches, but scaled up and on steroids yet extremely elegant. The
SBGM249
is a 50-piece edition sold only in the Wako store in the Ginza District, and I found someone to do it for me. I also have the SBGH
267 '
Whirlpool', and 1500-piece limited edition.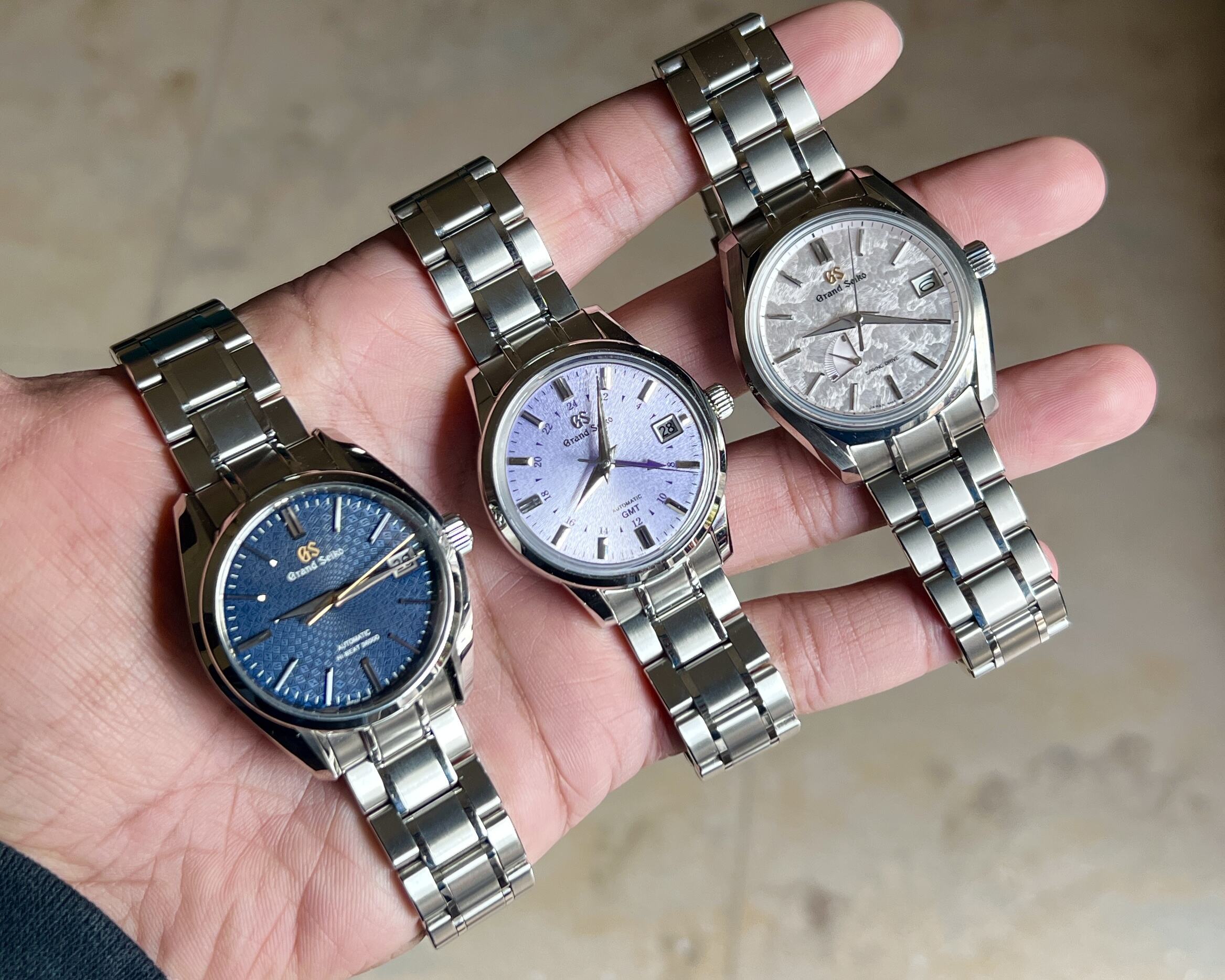 (From left) Grand Seiko SBGH267, SBGM249, SBGA415
WTI: But the Seiko Alpinist has a special place in your heart...
KM: It is one of my most favourite series in the whole of the watch collecting I've done. The red Alpinist I have is a reissue Alpinist made in 1992, when Seiko revamped this line. For 20 years before that, they did not make an Alpinist. They had the red Alpinist text on it, and it has the high-beat 4S15 movement, which was way ahead of its time, along with the twin-crown system, four o'clock crown, with the rotating bezel that set the tone for the Alpinist's success in the years to come. It has been 30 years now. This is sourced from Japan, hunted down on a Japanese marketplace. I used Google Translate to understand what the person who owned it was saying.
Then I have the modern SARB017 Alpinist that kind of put Alpinist on the map. There is also the SARG series, sold only in Japan. They are not technically branded as Alpinist but since they have an inner rotating compass bezel and a four o'clock crown and a slightly bigger size, they are lumped into that. So this is something that I like because of the syringe-style hands.
Another one I own is the Seiko Prospex Alpinist Mountain Glacier released in 2020, solely for the European market. Its initial batch was released with Fratello, and later in Seiko Europe. A group member in Norway said could get in touch with a local Seiko dealer. In a month, this watch was released to him. His brother was supposed to bring it to Delhi. Turns out the delivery was on the day of his flight to India. They actually had to chased down the delivery truck on its route, pick up the watch, and got on the flight!
And then of course the latest Ginza limited edition.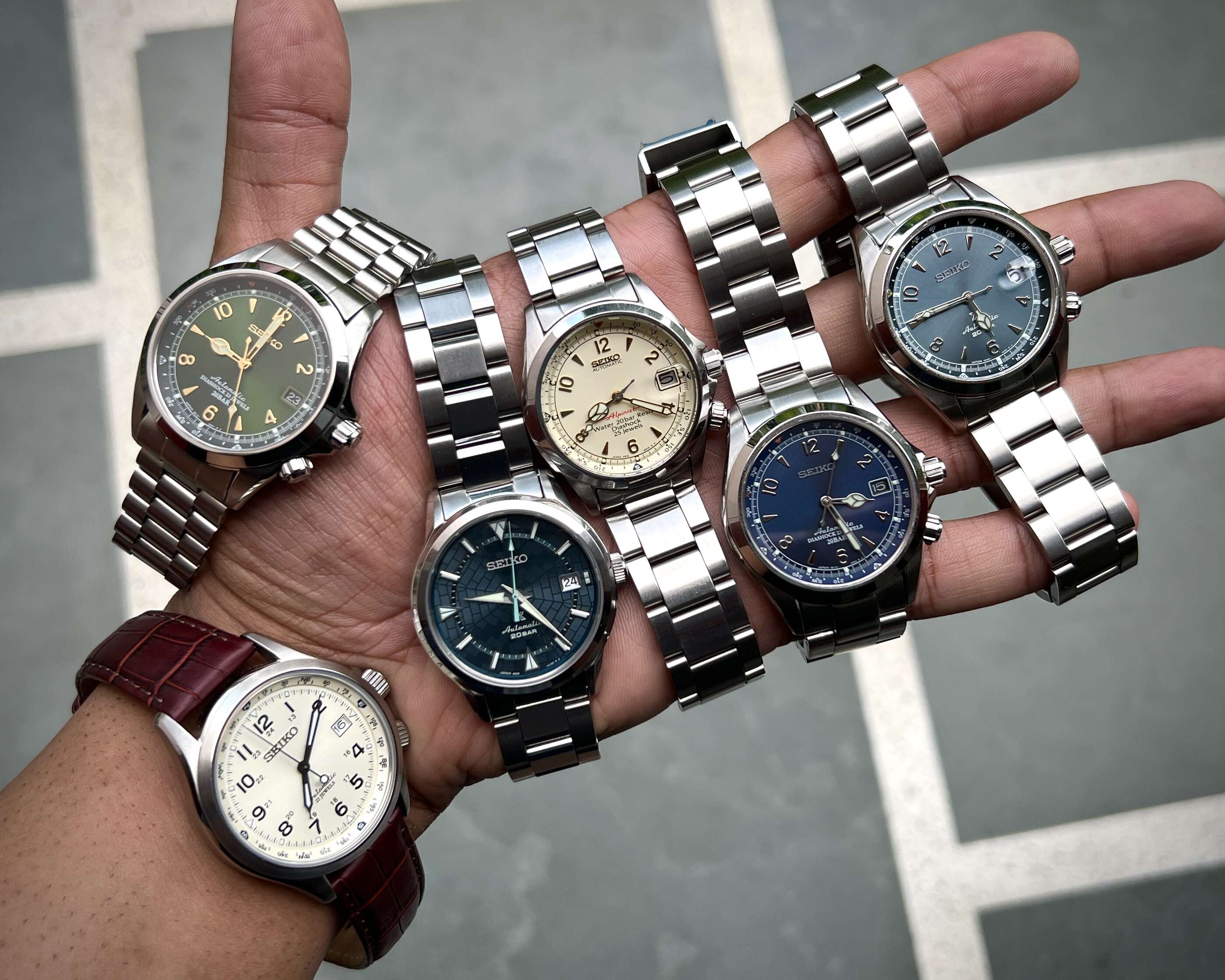 Seiko Alpinists
WTI: What are the other Swiss watches you have?
KM:
A lot of the Seikos I sold eventually paid for some of my Swiss watches, and that is a good feeling - that I don't have to put my hand into my own income to sustain my hobby. The Cartier Santos is the most recent purchase, along with Girard-Perregaux Laureato,
Vacheron Constantin Overseas
- I've been very interested in the brand for the longest time. Last year, I did a review of the 1966 WW TC, and delved deeper into Girard-Perregaux. I knew I wanted a Laureato chronograph, so this was the obvious choice. Again, everything in-house. But I have small issues with the watch - the price point, there's no macro adjustment on the bracelet, and it's a little bit too Audemars Piguet-esque. I also have the Omega Speedmaster Moonwatch Tokyo Olympics Limited Edition. It is a quintessential chronograph to own. I could have gone to the regular black dial with the sapphire or the hesalite crystal. But once I saw this, it was the Speedmaster I wanted to own.
WTI: Please tell us about the Rolexes...
KM: The Polar Explorer was my first one, bought in 2019. I was never interested in the Submariners. So, once I knew that this existed, the stark contrast with the white dial, black-plated markers, black hands, and the offset of the orange colour, I loved it. About 20-odd Seikos helped get this one. I got it off retail right away, when this model was not hot. People asked me why I wanted it, but it was something that appealed to me. I friend picked it up for me in the US. It was lying with the retailer in his back cupboard without getting sold it.
Then came the Kermit. I was talking to a few retailers in India to know if the Hulk could happen, but it was gone. So I simply said, if at all the new one is possible, let me know. So ended up getting the first Kermit sold by Ethos Watch Boutiques in India. It was such a casual request to CEO Pranav Saboo, but he made it happen. September 1, 2020 was when they dropped these watches, and on the 3rd he messaged me and said it would be on my wrist by the 12th. The watch is also a mark of friendship that we have. They know that our group is a worthwhile presence, and their retail presence is very important to us.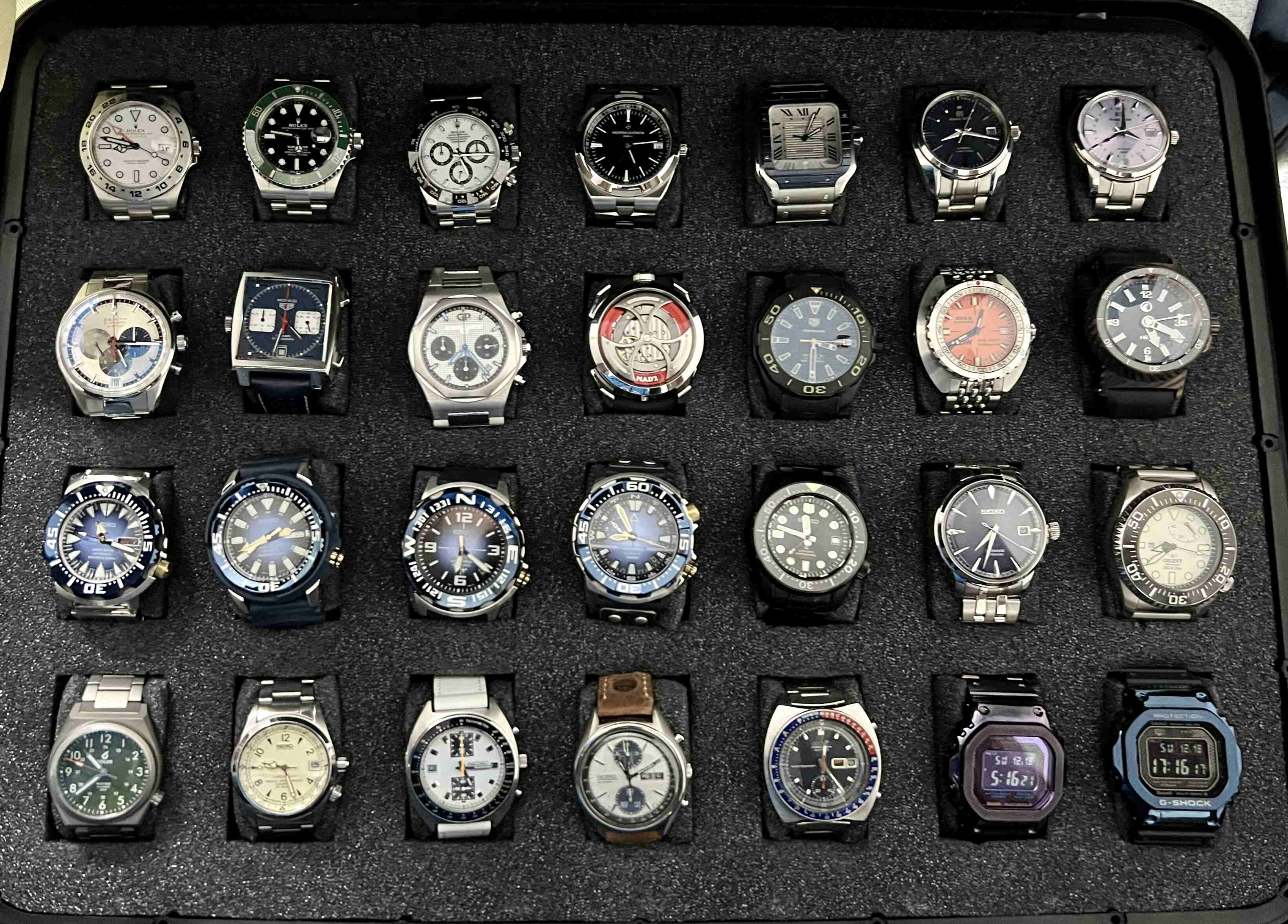 A part of Madan's watch collection
To match the Kermit, I have the
Tudor Black Bay
Harrods. It was only available at Harrods in London. I owned five Tudors at one point, including a couple of their heritage chronos as well. But I wanted in-house movements and eventually those moved. This has stayed with me because it has an in-house movement, updated bracelet, slimmer case, as well as the green bezel that was only in Harrod's edition. I had to wait nine months for this watch. In January 2019 I got in touch with them, and they told me that there was a massive waitlist, and that I should get my name on immediately. My plans to travel to London were finalised on July 2019, and I started hounding them every day - I was due to be in London August 20th, and right before leaving from India, I dropped them an email saying I would be at the store on the 21st, and to please have the watch ready for me. By the time I landed, I had a confirmation!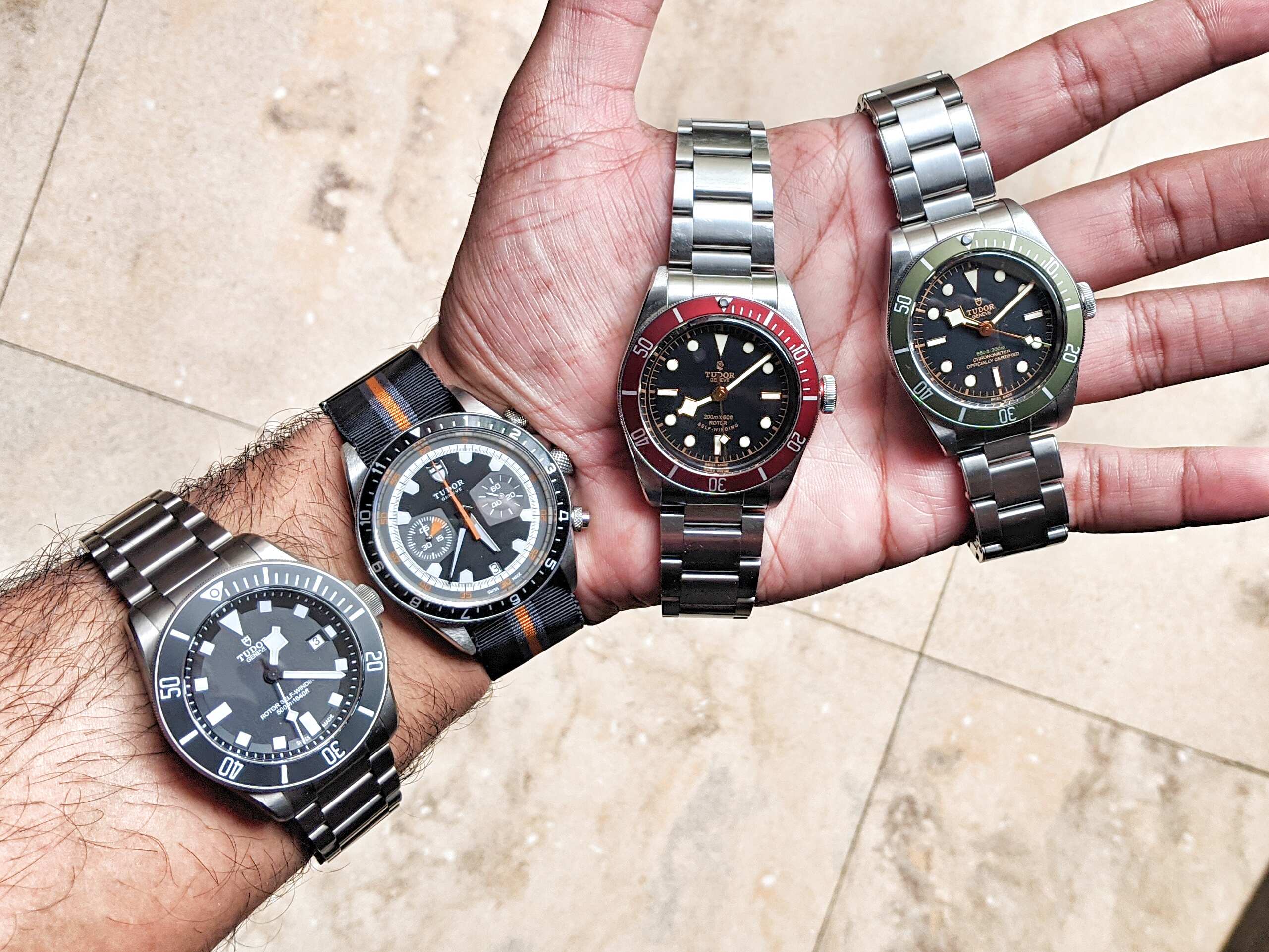 The Tudors, with the Harrods edition on the far right
WTI: What are the other special watches in your collection?

KM: I have some great HMTs - of course there is the HMT Pilot blue dial that started everything. Then I have a salmon dial with a jubilee bracelet. There is an original Janta Devanagri and HMT Shiv. I wouldn't say the HMTs are my most loved watches, but they are close to my heart. It's not a huge collection, but I kept it a good, curtailed one. All of them have been purchased for a reason or with some interest in mind. HMT Karan is of course very close to my heart.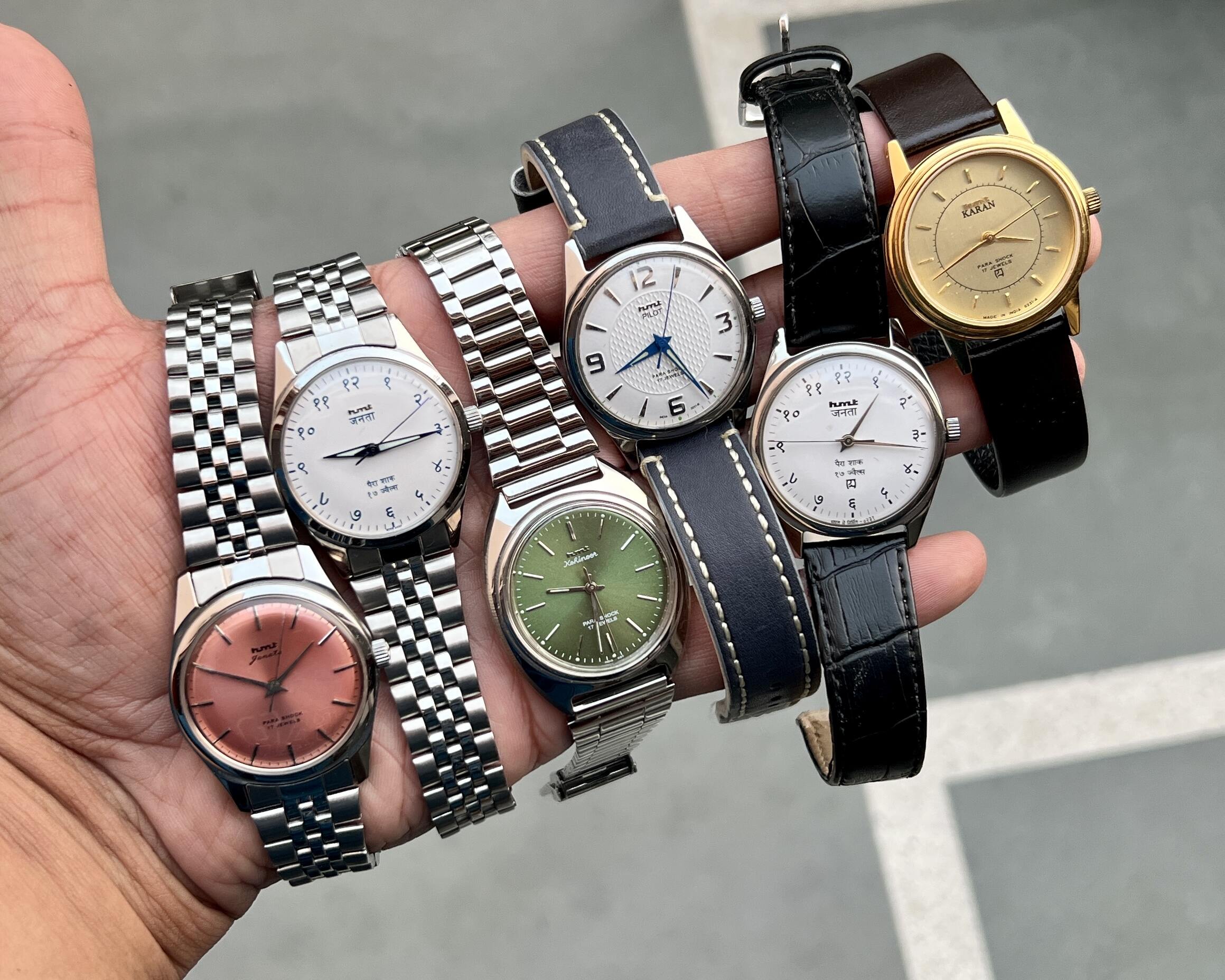 Madan's HMT watches
Not only did I start Watch Enthusiasts India, but I'm also a fellow administrator on the largest Facebook group for divers watches called Diver's Watches Group - we have over 17,000 members. So I have a special Doxa Sub 1200T, which is thicker than that 300T, has a helium escape valve, is slimmer, and has a slightly grippier bezel - it is part of a 25-piece limited edition done for the Diver's Watches Group.
Another watch I have is by Formex, the Essence Leggera, a micro-brand based out of Geneva. They have patented case suspension technology, carbon fibre case, carbon fibre dial and clasp, zirconium bezel, and crown. They've been making watches for the better part of 10 years now. Another underrated brand in my box is H2O. I have the H2O Kalmar II, rated to 25,000 meters water resistance. The Omega Ultra Deep? This one is better than that. This is by young German engineer [Clemens Helberg] who makes watches himself.
The whole case and buckle is made out of Timascus (titanium damascus), and the watch comes on genuine horween leather. T
he last micro brand is Boldr, a Singapore-based brand, launched in 2016. It's a legacy model, called the Expedition – fully lume dial, dual crown system - one for the time setting, one for the rotating internal bezel.
WTI: Your favourite watch?
KM: The Boldr Pulsometer Field Medic that I helped design. The brand's chief designer is also on our group, and is based in Portugal. When the pandemic started, we started discussing what we could do with watches to help people. So we decided to do a pulsometre scale watch. When he gave me the exact measurements of the watch, I printed out the pulsometer and the respiratory scales, and put them on a different chronograph, pasted it with tape, and field-tested it while working with patients. Then we got in touch with the founders of Boldr, and they were very open to the idea. So this was about US $300 – a 38mm titanium watch with a nylon strap, both of which are easy to sanitise and clean. It has a mecaquartz movement. And from every $300 earned, the brand donated $30 to the Red Cross and various agencies that were fighting the fight against COVID.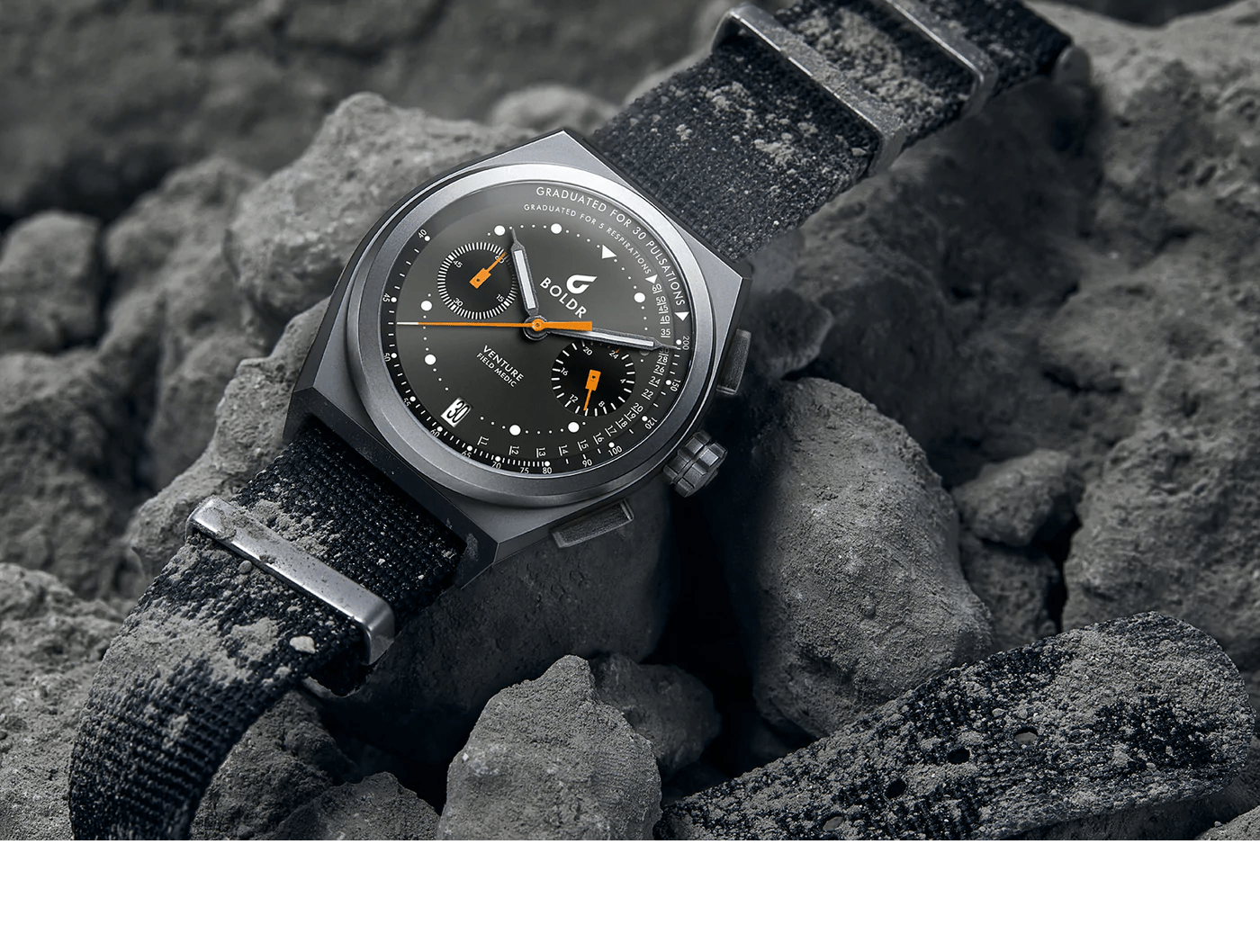 The Boldr Pulsometer Field Medic
WTI: Your favourite hunt stories?
KM: I found the Seiko 6139 at a flea market in Athens. It was a Seiko that I was really hunting for. The crystal, dial, hands, everything is original. There are markings on the dial which prove this is a 'proof' dial made by Seiko, and installed in a Japanese factory. The best part is that these Pogue watches have an inner rotating bezel, which has a diver's marking - that is the first thing that breaks because it's done by the crown. Thankfully, this one is intact. I got it for Euros 300!
The TAG Heuer Monaco is a good story too. A friend and fellow collector from Houston had spoken to me when he was picking one up, but after he bought it, he realised it was too large for him. He listed it everywhere - international forums, Facebook groups, Instagram - for sale, but nobody bought it for two months. So he decided to create a raffle for it to recover the $4,000. Basically, you list 100 tickets at $40 each – people buy the ticket, and you 'draw' a winner. So someone ends up getting a watch for $40. He told me he was doing this and if I wanted to purchase a few tickets. I picked up four tickets and he gave me an extra one from his side. I ended up winning the watch on that free ticket!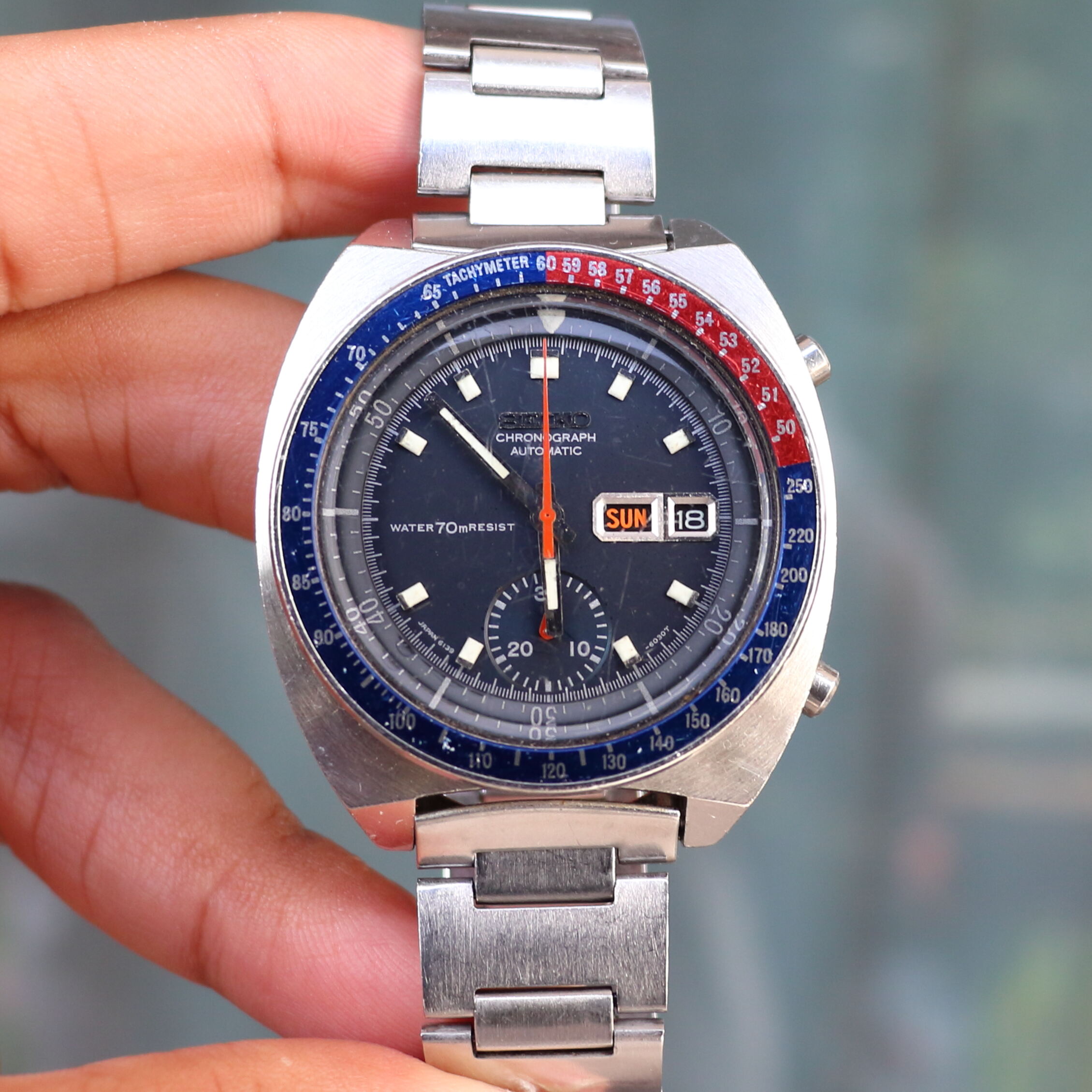 Seiko 6139
WTI: How do you decide what to buy?

KM: I don't have parameters, and that's why my collection is all over – I have divers, field watches, chronographs, vintage watches. But I'm always drawn to chronographs. People think I'm a divers guy because I own a lot of Seiko divers, but I'm actually a chronographs guy. The science behind measuring subunits of time – that's incredible. I also love date windows. But overall, anything new that people can bring out. A different case style, a different way to tell time like a Ressence – those always catch my attention. I am also a bracelet snob, and I play around a lot with them.

WTI: Where do you typically trade watches?
KM:
Mostly it is
WatchUSeek
forums, because that was the original place where I started collecting. It's a robust community - the sales section is very strong, their vetting processes good. I've never been scammed, and I've heard very few incidents like that, far fewer than Facebook. I sell on Facebook too - my own group has 4200 members. We have a sub-group
–WEI Marketplace -
that is dedicated solely to sales. It's even more exclusive and private, and has only 350 members right now.
WTI: What are some of your mistakes
KM: The biggest mistake new collector makes is going overboard because there's so much to try. If you can control that urge to buy everything that you see, especially in the budget price point, avoid it. Because the realisation that dawned on me as well after owning 94 Seiko Divers and Prospex models was that almost everything was the same it has the same movement inside. That's what made me consolidate my collection. I have done a 'State-of-the-Collection' post every year since I started collecting (2014), and when I look at my own posts - what I used to want in the past and what I have right now - I see a big change in my mindset. Now I don't buy micro brands out of impulse. I tend to control myself, evaluate them, reading what people are saying.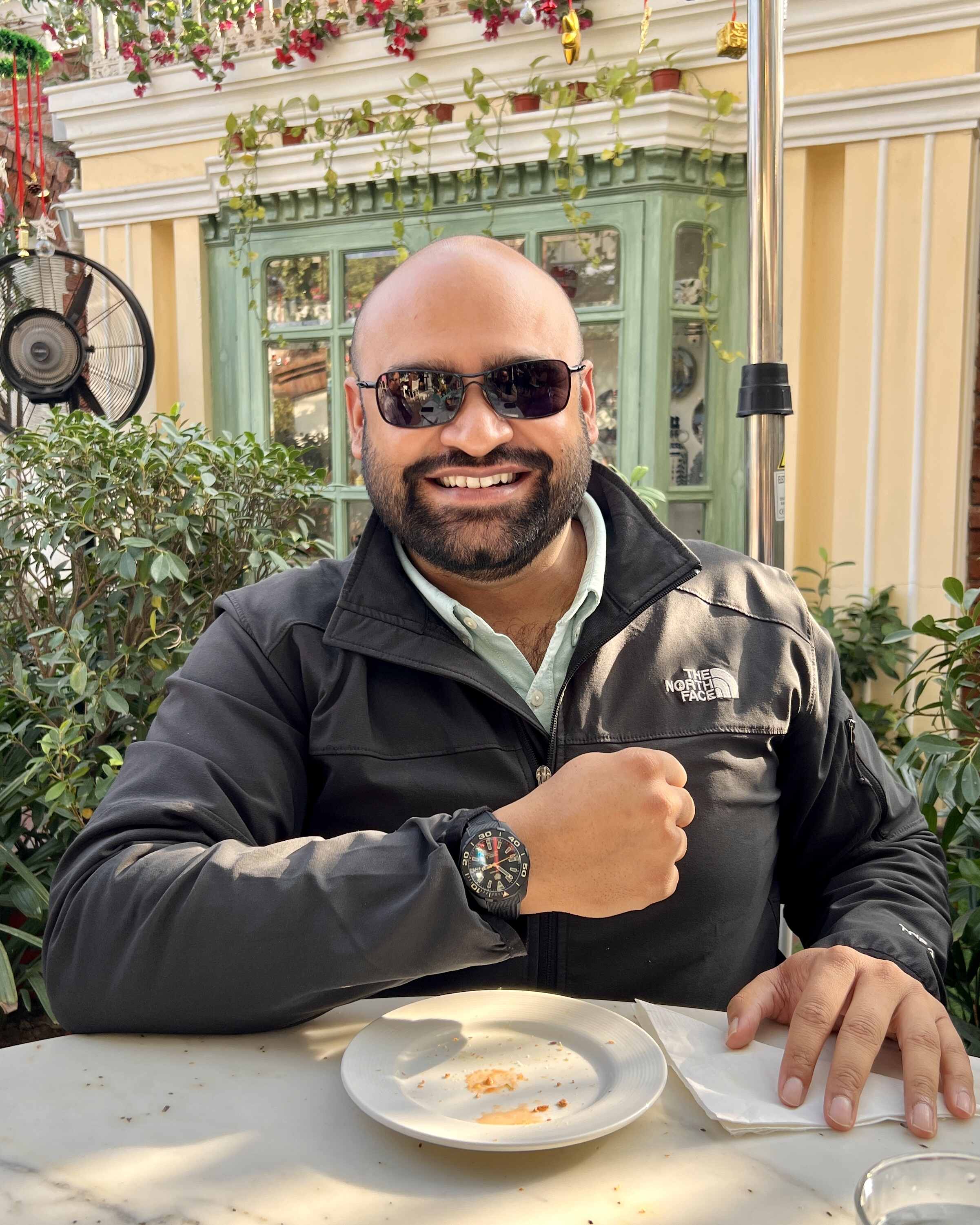 WTI: Apart from Seiko and Grand Seiko, which are the brands you enjoy?
KM:
Jaeger-LeCoultre is my top brand. Vacheron Constantin and Cartier have used Jaeger-LeCoultre movements, so they are a watchmaker's watchmaker. Also, I want a Panerai, especially now, with the 44mm Submersible.
I want to consolidate my collection further, and hopefully get an
Audemars Piguet Royal Oak
, or a Moser Streamliner, a Czapek Antarctique. Eventually, I would want a Parmigiani Fleurier Tonda, and the Bulgari Octo Finissimo Chronograph GMT in steel.
WTI: How has your group Watch Enthusiast India helped you in your journey?

KM: It was so much fun connecting with fellow collectors, an eye-opener into the world of watch-collecting, into the culture of collecting. We held our first-ever meet in Delhi in March 2016, which was attended by 12-13 from not just Delhi, but Chandigarh, Bombay, Chennai. Then our second event in Bombay in July 2016 saw 25 people in attendance. That's when I knew that maybe there is a potential for this.
It always bodes well when people are open to sharing their collections. They are exposing others to better things – this is the purpose of conducting our meets. That exposure cannot be had online. People have purchased really obscure references on the group - someone found a champagne dial vintage Omega Constellation with a star on the dial. Also, we routinely have activities including online quizzes with giveaways like watches and straps, lucky draws, charity raffles, and auctions. We raised Rs 75,000 for a girl's orphanage and Rs 1,00,000 for the Akshay Patra Foundation during the first wave of COVID.
I have two friends, fellow collectors, who are helping me monitor - Abhishek Aggarwal, and Tony DasGupta. There have been other administrators in the past who have helped me through various phases and I'm very thankful to them. I'm lucky to have the team that I have right now because we are on the ball all the time. Also WEI does not discriminate between people who have HMTs or those who own Patek Philippes. Our group has realised it's a good thing what we have and our rules are pretty inclusive yet firm.
Images: Courtesy Dr Karan Madan