Inspired by a chronograph from the 1930s, the Longines Avigation BigEye unites aviation history and modern watchmaking and boasts a column-wheel movement manufactured exclusively for Longines. We review the watch in this feature from our June 2018 issue.
Why is this chronograph named "BigEye"? You can see the reason staring at you when you look at the dial: a large counter at 3 o'clock on the Longines Avigation BigEye tallies the elapsed minutes. It also helps you time your 5-minute boiled egg for breakfast. But heads up! The long index strokes mark every third minute and not, as is more common, every fifth minute. So when the hand reaches the first stroke, your egg is still almost raw, and when it reaches the second stroke, that same egg is already hard-boiled. The gradual creeping motion of the arrow-shaped elapsed-minute hand is unusual also. You'll need to look closely if you want to read elapsed intervals precisely, but the scales are neatly printed and easy to read. The subdial at 6 o'clock counts 12 elapsed hours. The hand above this disk also advances continuously over the subdivisions, where Arabic numerals with square dots mark the full hours, and slender white strokes show the half hours.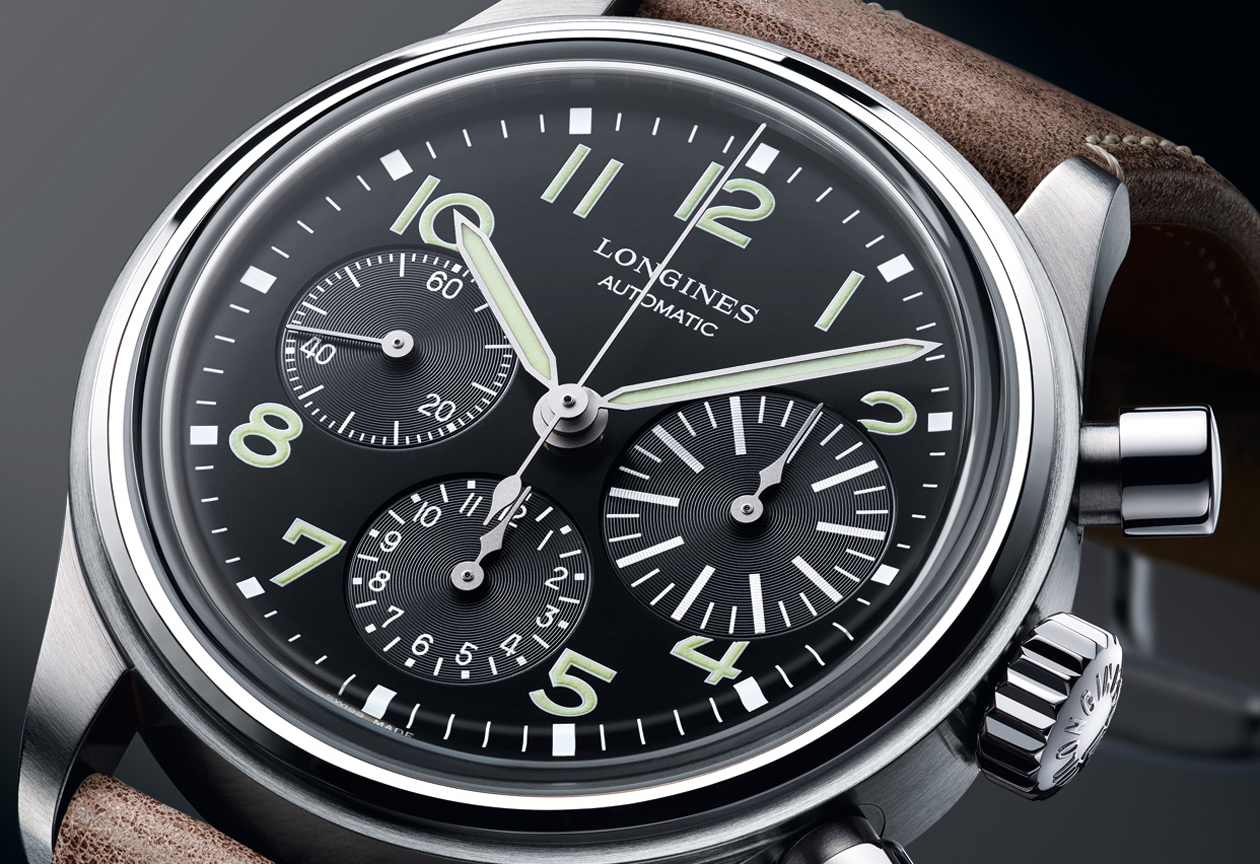 There is no date indicator, but the time display, the small seconds at 9 o'clock and the stopwatch cadrature all belong to Calibre L688.2, which is based on ETA Valgranges Calibre A08.L01 and manufactured exclusively for Longines. After undergoing modification and acquiring a co-axial escapement, this column-wheel chronograph is also the basis for Omega's Calibre 3330. Several years ago, Longines was searching for a chronograph Calibre with column wheel to power its lower-priced watches. The result, which was originally designated A08.231 and subsequently renamed A08.L01, was introduced in 2010 as Longines L688 and later as Longines L788. It works with wheel coupling and a two-armed return-to-zero hammer. The pressure points for operating the chronograph's pushers, which look like they're wearing old-fashioned top hats, are well balanced and reliable. The shape of these user-friendly push-pieces is influenced by the brand's history, which has been the inspiration for Longines's Heritage line. The Avigation BigEye is part of this series and is a reinterpretation of a pilots' watch from the 1930s. The matte-finished and classically styled case with a terraced bezel, a strongly edged sapphire crystal and a fully threaded screw-in back embellished with special engraving underlines the historic look. The brown leather strap has a vintage appearance that recalls historical pilots' watches, but the edges of the lugs are a bit sharp.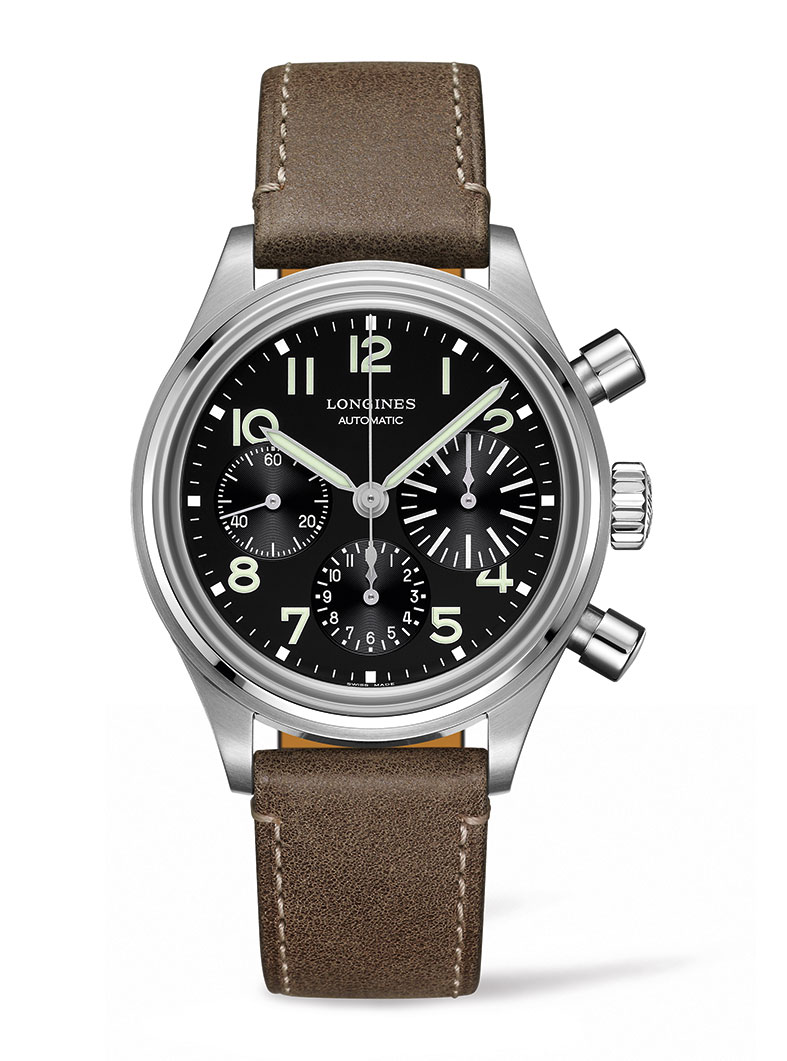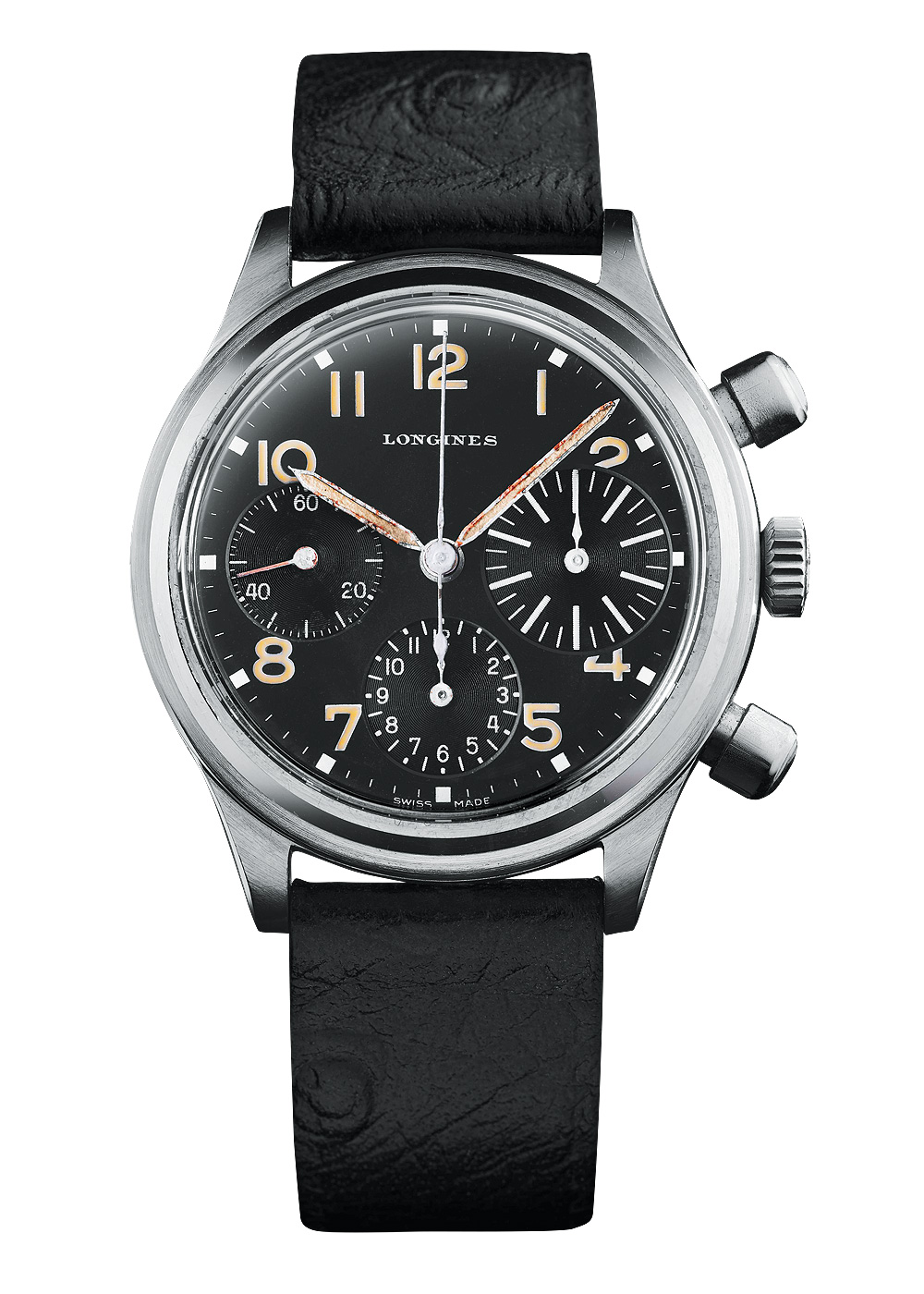 The matte black dial is reminiscent of the early years of aviation and is easy to read thanks to its bold contrasts. And despite the presence of three subdials, the time display remains dominant: a pair of straight and well-proportioned hands sweep past Arabic numerals, all nine of which glow brightly in the dark. A few of the hour numerals are either entirely absent or slightly truncated to make room for the subdials, a minor blemish already seen on historical chronographs, but the time is visible day or night.
The Longines Avigation BigEye that we tested gained between 4 and 5 seconds per day. It maintained this slight gain whether it was fully wound or had been allowed to run for a few hours, whether the chronograph was switched on or off. The movement ticks with equilibrium and keeps time accurately when the watch is on the wrist. The stainless-steel case is nearly 41 mm in diameter and its ergonomically shaped lugs, as well as the handsome, supple leather strap with its pin buckle, contribute to the watch's wearing comfort. The entire ensemble makes it a pleasure to recall a bygone era.
Specifications
Specifications
Longines Avigation BigEye
manufacturer
Longines Watch Co. Francillon Ltd., Les Longines, 2610 Saint-Imier, Switzerland
reference number
L2.816.4.53.2/4
functions
Hours, minutes, small seconds, chronograph (central elapsed- seconds hand, counters for up to 30 elapsed minutes and 12 elapsed hours)
movement
Calibre L688.2 based on ETA A08.L01, automatic, 28,800 vph, 27 jewels, Nivachoc shock absorption, gold-plated nickel balance, Nivarox hairspring, bipartite index fine regulation, 54-hour power reserve, diameter = 30.0 mm, height = 7.90 mm
case
Stainless steel, curved sapphire crystal with several layers of anti-reflective coating above the dial, water resistant to 30 m
strap and clasp
Leather strap with pin buckle
dimensions
Diameter = 40.94 mm, height = 14.61 mm, weight = 102 g
price
$2,625 or Rs. 181,105 (approx).