For Baselworld 2018, in retrospect the last time the brand participated in the traditional watch fair, the Tissot Seastar was reintroduced with a new design, much closer to the original version from 2003 with conic bezel. The case, on the other hand, was kept closer to the previous generation of 2011, featuring recessed polished sections on both sides, but without the integrated helium release valve at 9 o'clock. Perhaps most importantly, the Seastar 1000 from 2018 no longer came with the rather distinctive 'snake head' hour and minutes hands, but with a much less polarising set of polished sword hands instead. Only the T-shaped counterweight of the second hand has been kept almost unchanged since 2003. In short, when almost every watch brand started to focus on dive watches with retro designs, Tissot had introduced once more a refreshingly modern take on a mechanical dive watch, now successfully using some of the key elements from the last 16 years. And speaking of modern take, a year later, the Seastar range was even used as a platform to introduce the Powermatic 80 (ETA C07.811) with 'Silicon Balance Spring' in one of its references (T120.407.11.041.01), hinting at the strategic relevance of the range. "The Seastar is becoming a very important line in terms of sales. The fourth line at Tissot, despite the fact that it's quite new, we started the [current version of the] Seastar four years ago," says Sylvain Dolla, CEO, Tissot. "It's also important because it can demonstrate what Tissot is capable of."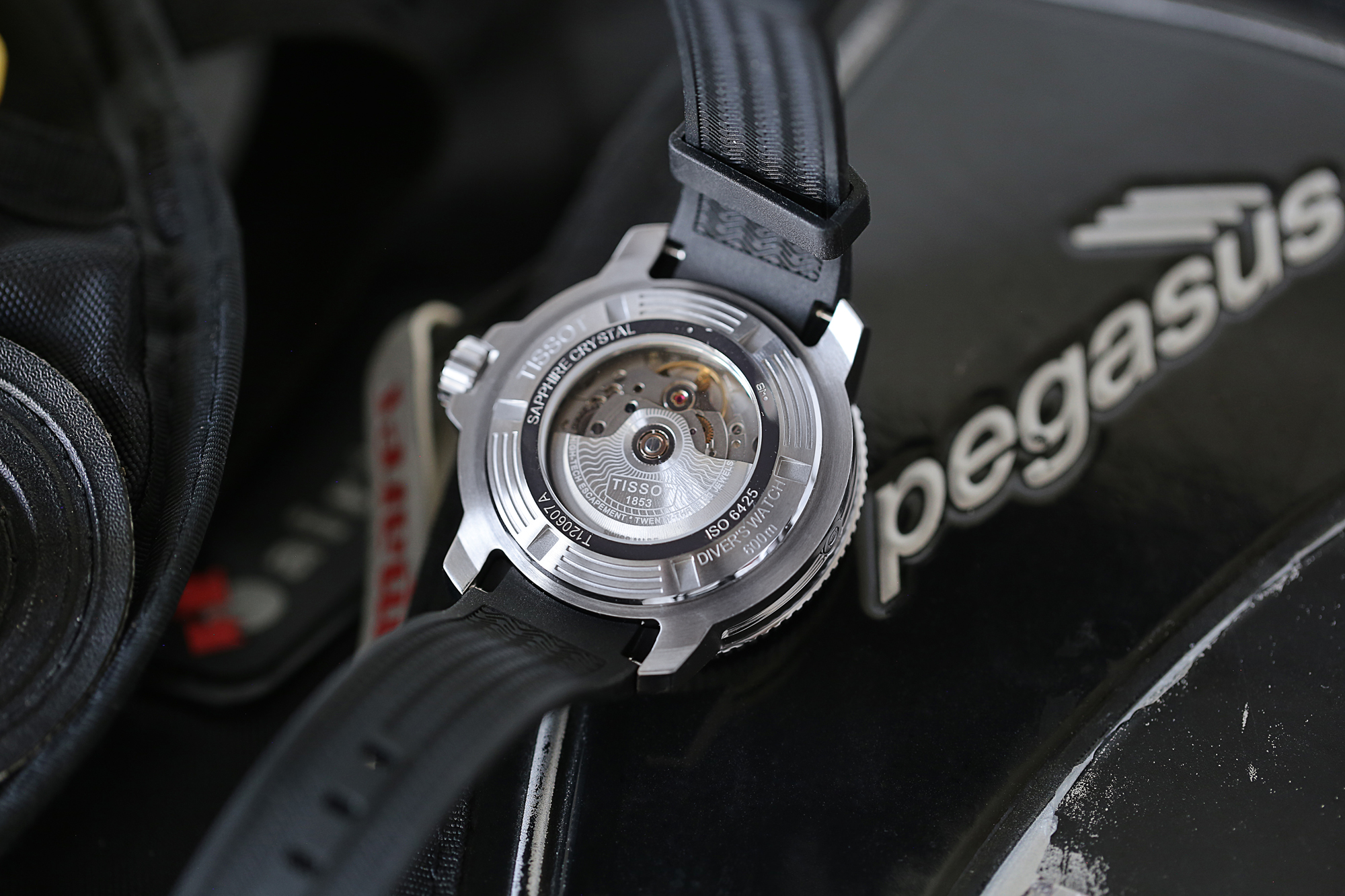 Another undoubtedly conspicuous demonstration of this approach could be witnessed in the beginning of the year 2020, with the introduction of the 48mm Tissot Seastar 1000 Professional Limited Edition Chronograph (Ref. T120.614.11.041.00): For the first time ever, Tissot had created and patented a bezel-locking mechanism (positioned at 10 o'clock) that also housed a helium release valve. From this point on, the add-on 'Professional' became synonymous with saturation diving (where divers live in a pressurised environment, which can be a saturation system on the surface, or an ambient pressure underwater habitat when not in the water). While only a few divers will ever get the chance to use a mechanical dive watch in this environment (the U.S. Bureau of Labor Statistics estimates that only about 10 per cent of commercial divers are working as saturation divers), there is usually nothing against a little bit of over-engineering for the rest of us, when it comes to dive watches. But the new Seastar 2000 Professional not only comes with an integrated helium release valve at 9 o'clock, it also has an engraved ceramic bezel, which increases the visual appeal significantly (compared to the at, polished ceramic bezel insert of the Seastar 1000). More importantly, the three versions that are going to be launched soon all feature a gradient dial with "a background pattern of waves designed especially for the Seastar 2000 Professional." With a water resistance of 600 metres (or 2,000 feet), its 46mm case puts it right between the 48mm chronograph and the 43mm Seastar 1000 automatic. The blue and the turquoise dial look rather spectacular on the wrist, while the dark grey version should be the perfect option for those looking for something a bit more understated (which is, with a diameter of 46mm, generally hard to achieve).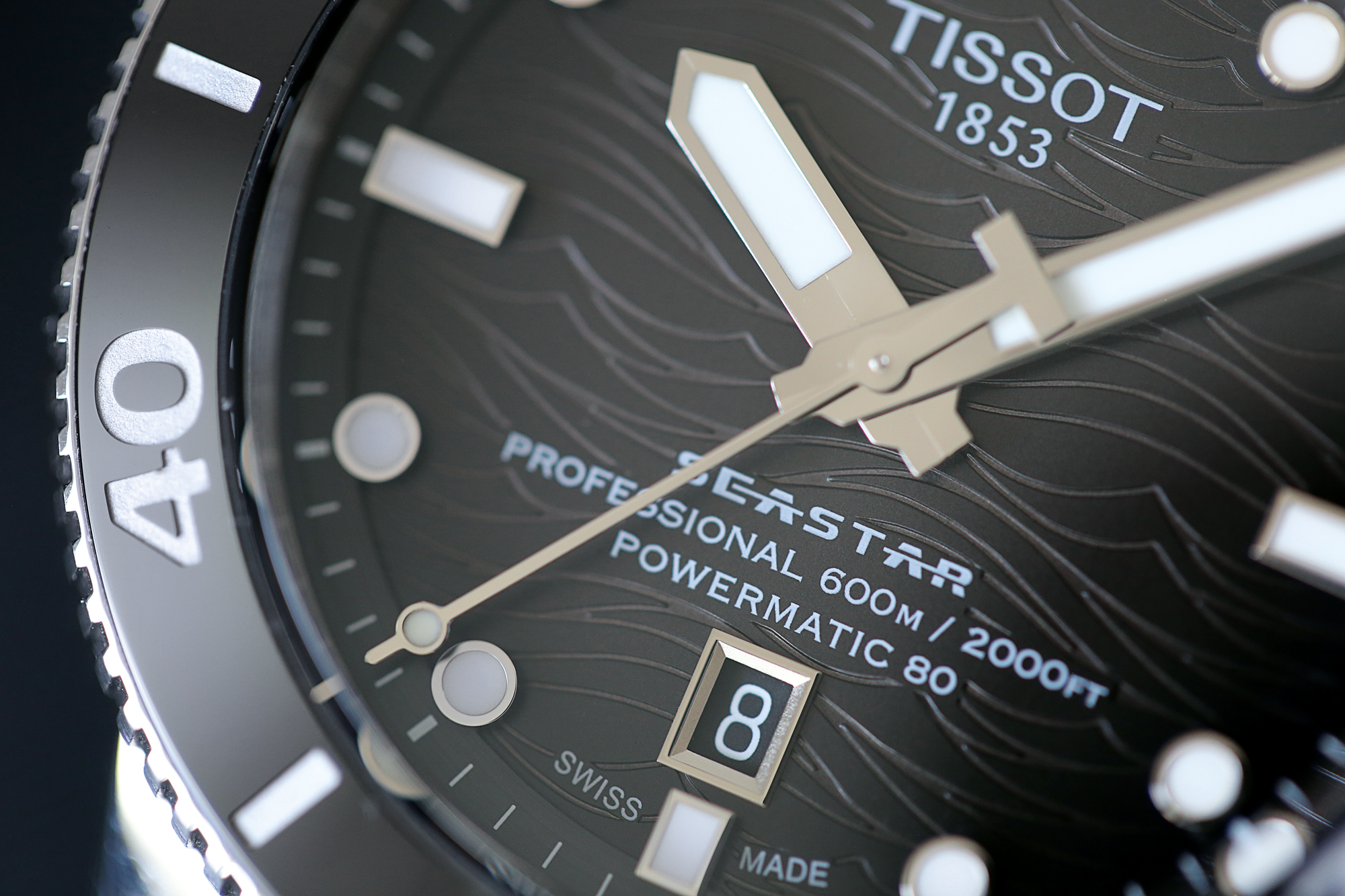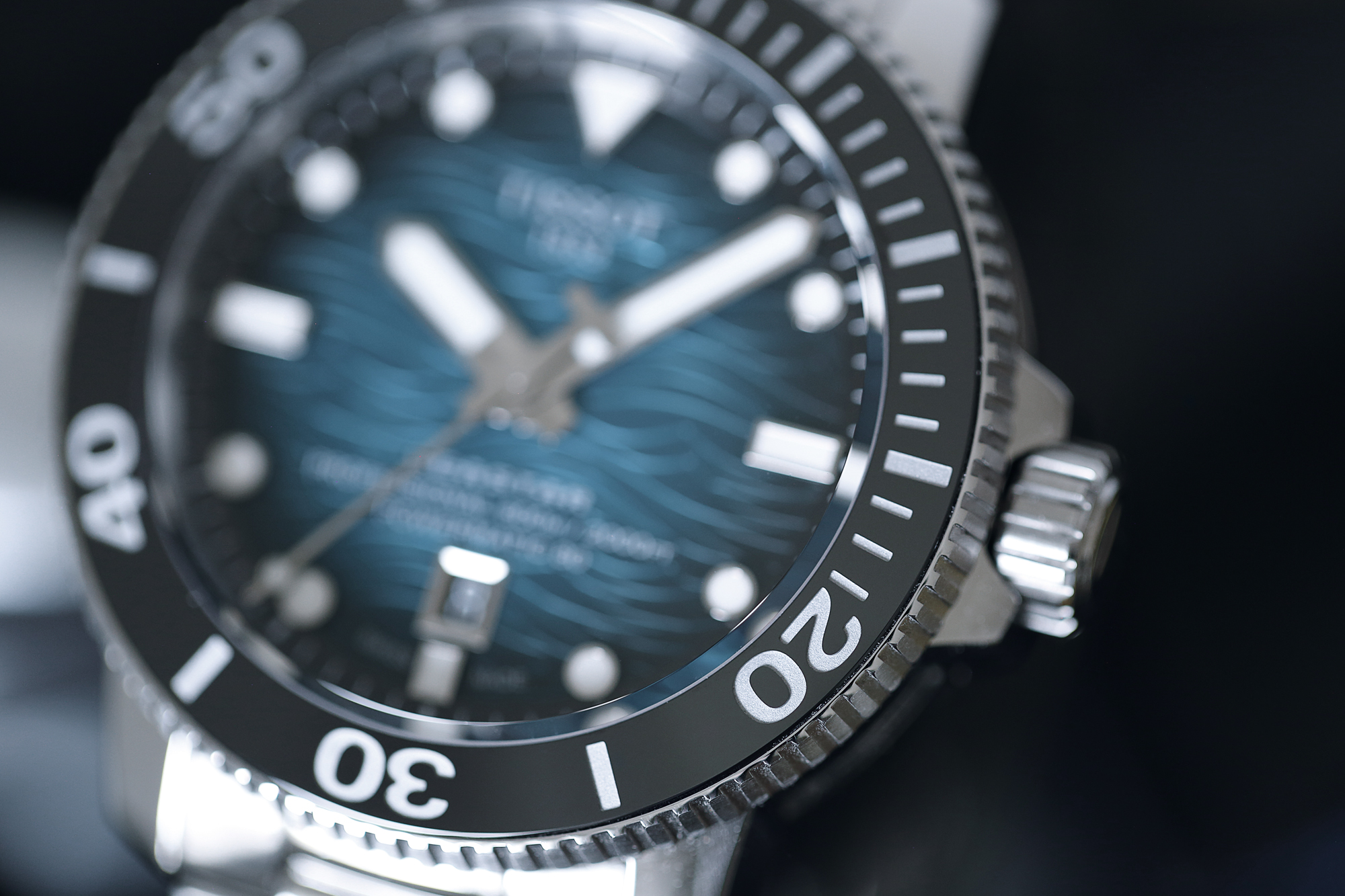 Next to the wave pattern on the dial, the Seastar 2000 has a rectangular date window "in a metallic aperture at 6 o'clock," and also meets "all the criteria of the ISO 6425 standard that governs dive watches." It is powered by the Powermatic 80 calibre (ETA C07.111), a self-winding movement that first debuted in 2013 (in the Tissot Powermatic), celebrating the 160th anniversary of the Swiss watch brand. The movement itself is based on the 23-jewel ETA 2824, but offers an increased power reserve of 80 hours, thanks mainly to the reduced operating frequency from 4Hz to 3Hz (from 28,800 to 21,600 vph). Additionally, this version of the Powermatic 80 comes with an anti-magnetic Nivachron balance spring in titanium alloy. As its name suggests, Nivachron was developed by Nivarox-FAR, one of the leading Swiss specialists in the production of oscillating and escapement parts, and a member of Swatch Group.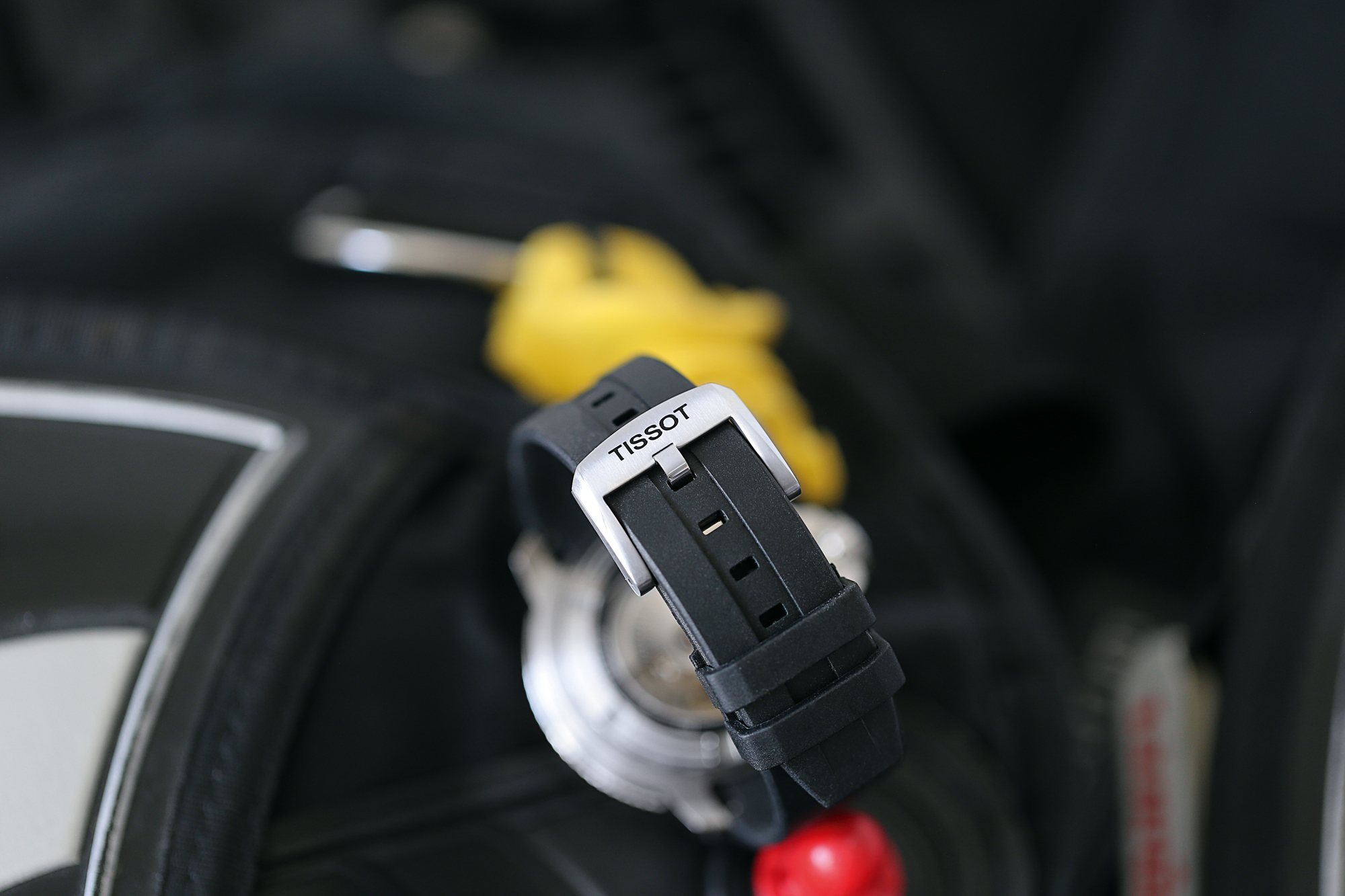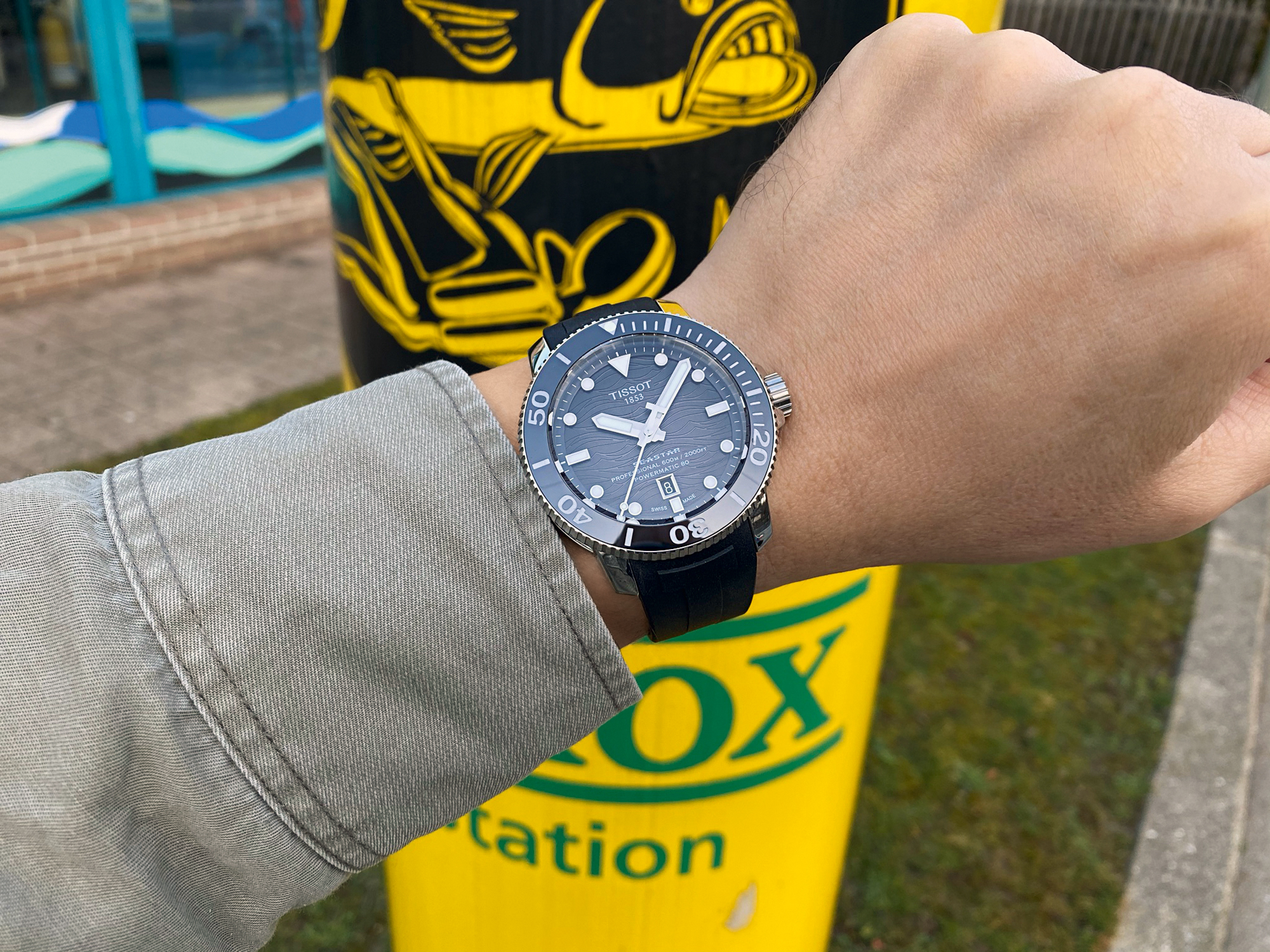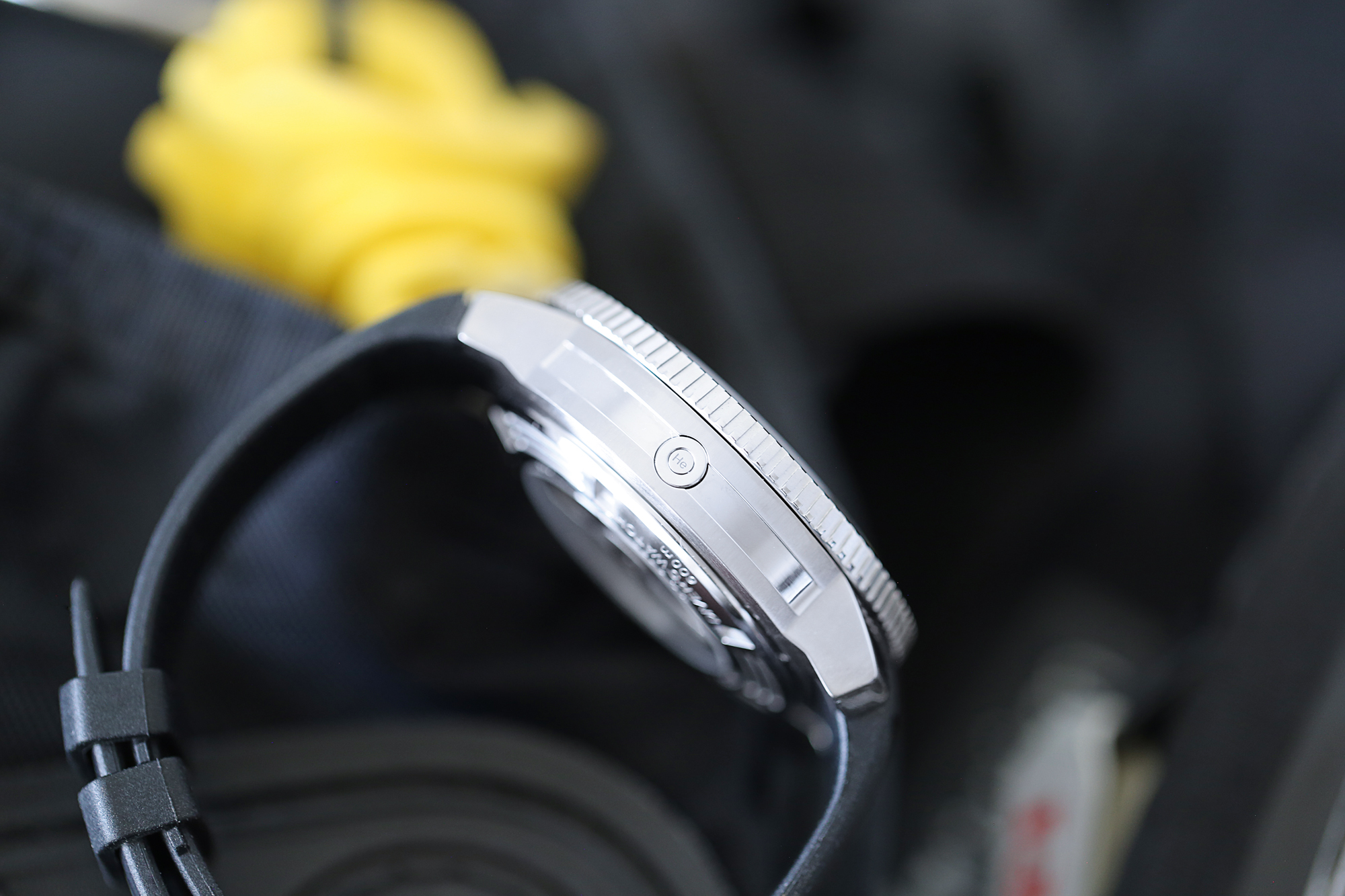 In short, the Seastar 2000 is the most extreme mechanical dive watch from Tissot so far (when it comes to water resistance), and the watch does undoubtedly have "a strong style, based on a combination of masculine colours, chunky dimensions, a unique dial, the expressiveness of a domed sapphire glass and an uncompromising design," to quote Tissot. Perhaps most importantly, the Seastar 2000 Professional, like the Seastar 1000, is a modern dive watch with an excellent price-value ratio and a lot of wrist presence.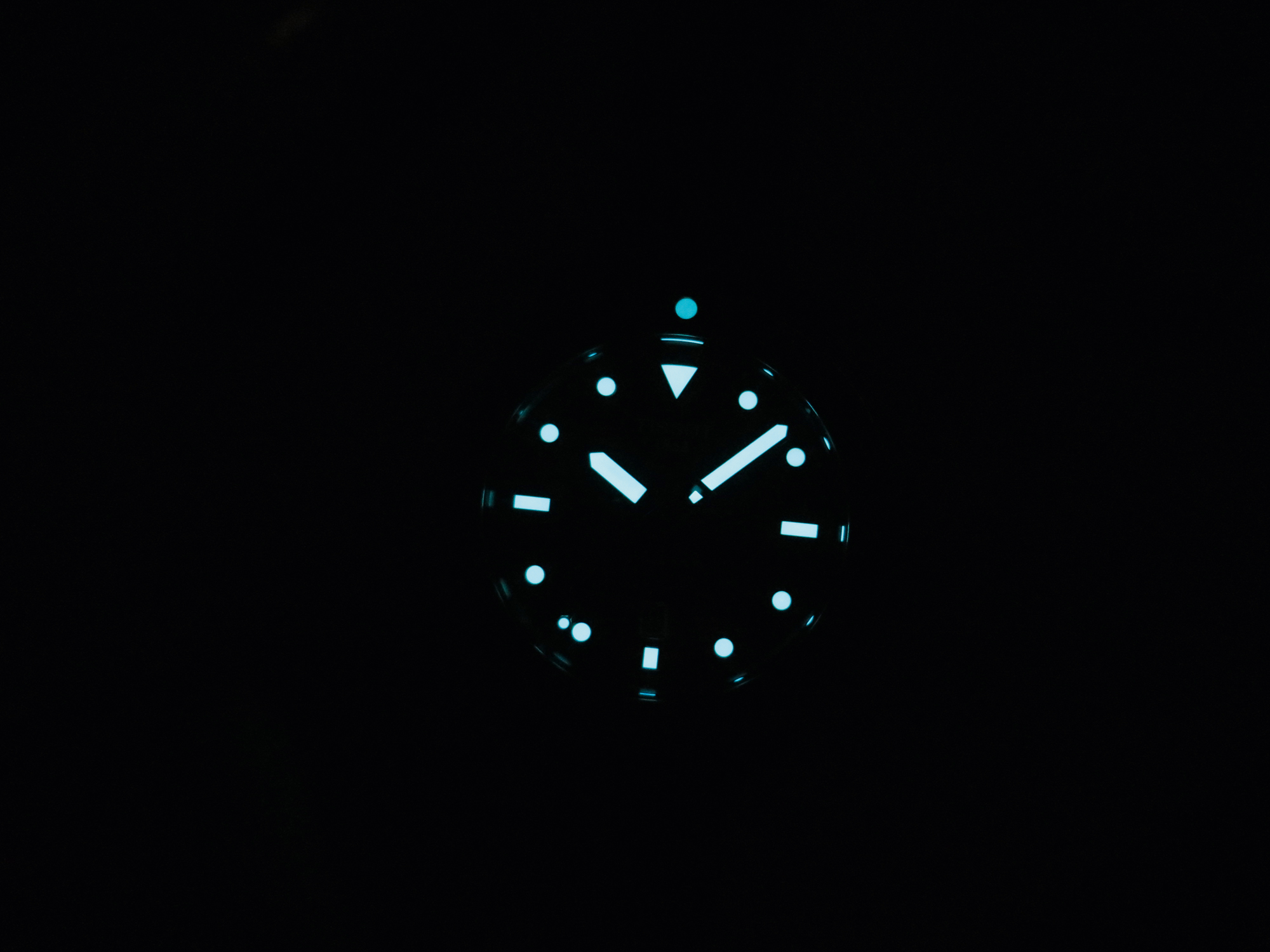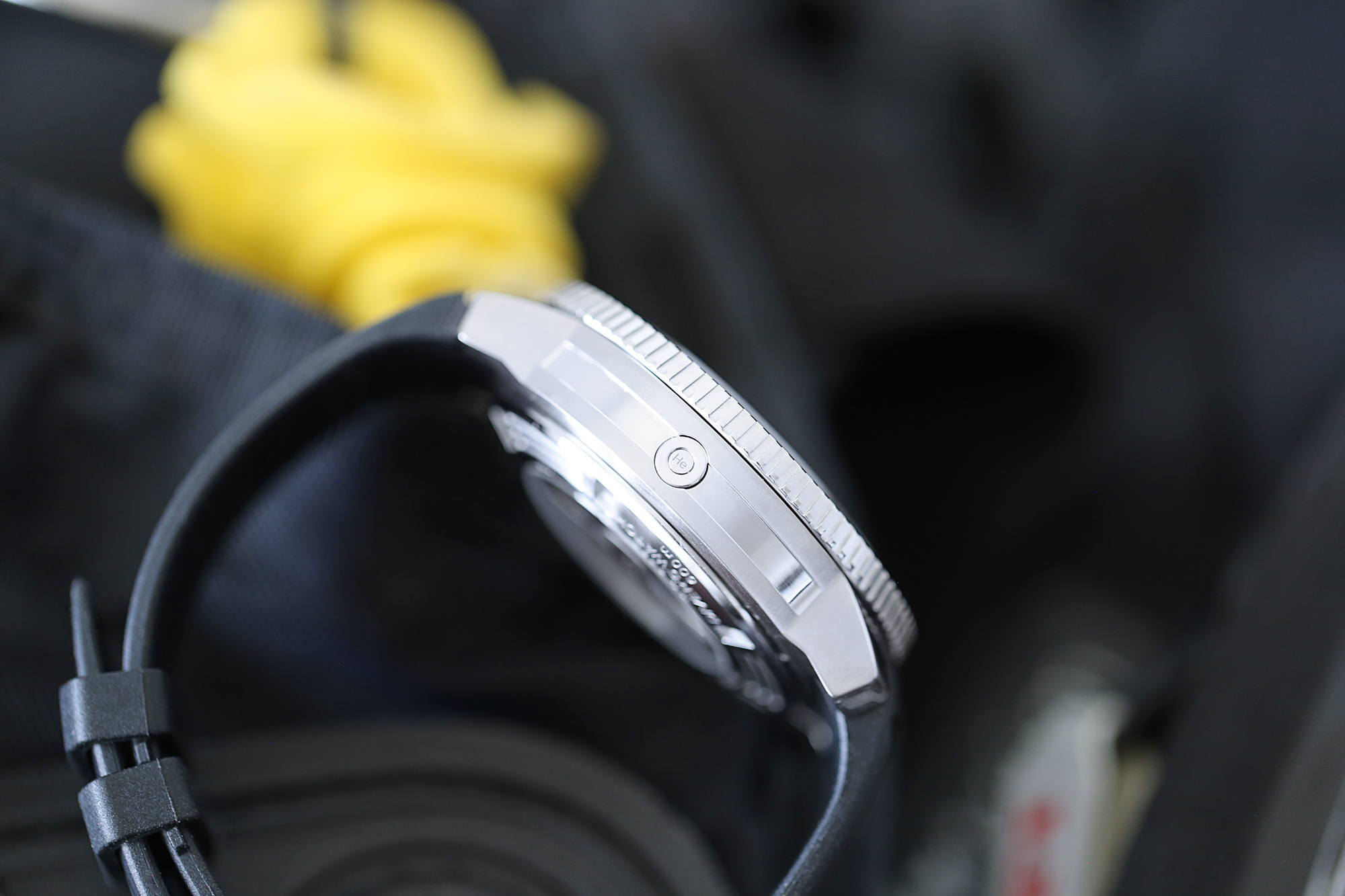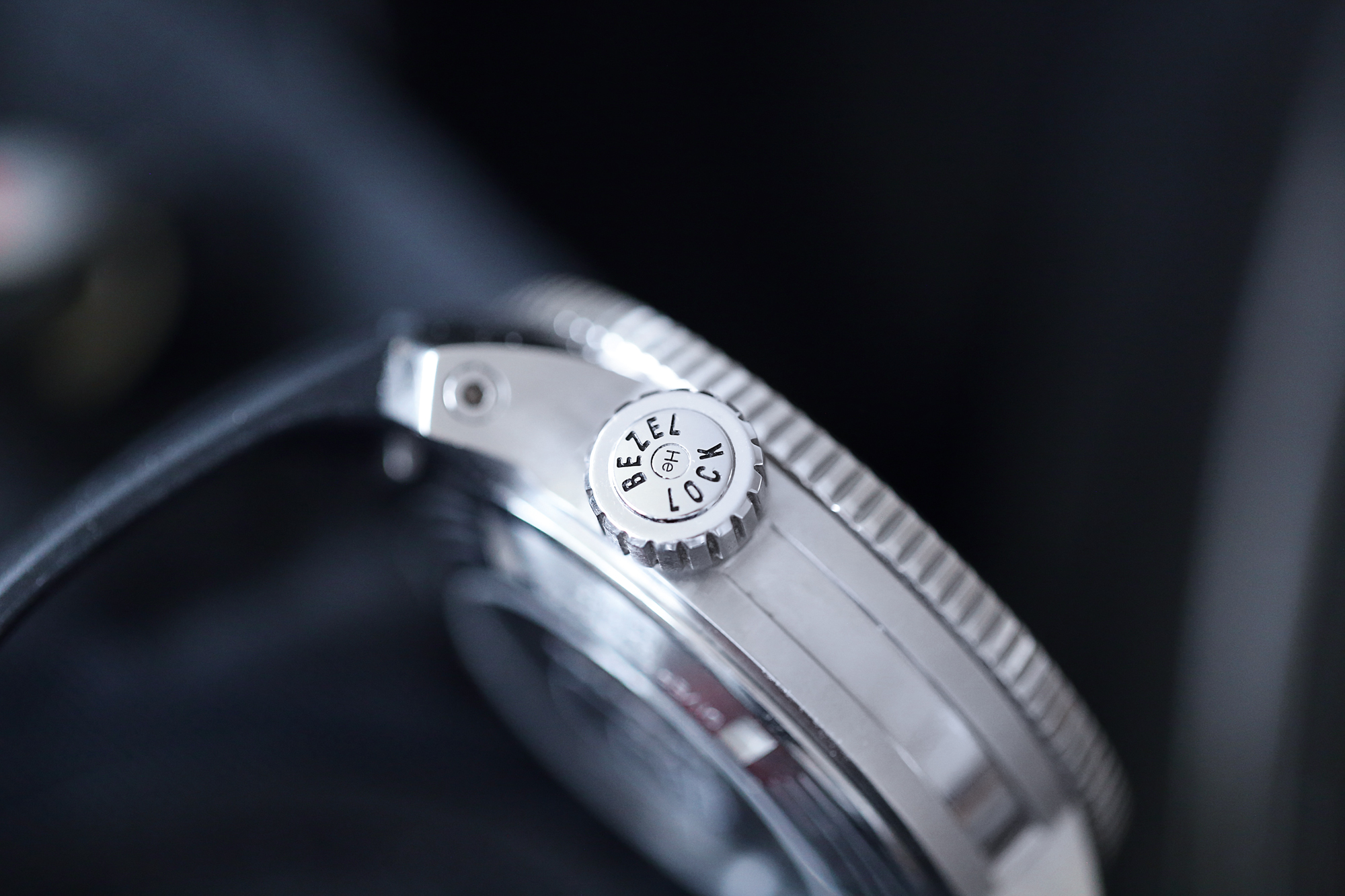 What does seem to be a bit inconsistent, however, given the name and positioning of the model, is the choice of a much more playful dial design (compared to the base model), the gradient colours and the almost elegant date window at 6 o'clock. But who said professional divers wouldn't appreciate a fresh take on the design of a tool watch?
Sylvain Dolla took over as CEO of Tissot last summer, after nine years running Hamilton, another member of the Swatch Group. According to the parent company, Tissot is currently "exporting more than four million watches every year". WatchTime was able to talk with Dolla about his goals and what's next for the offcial Timekeeper of the NBA.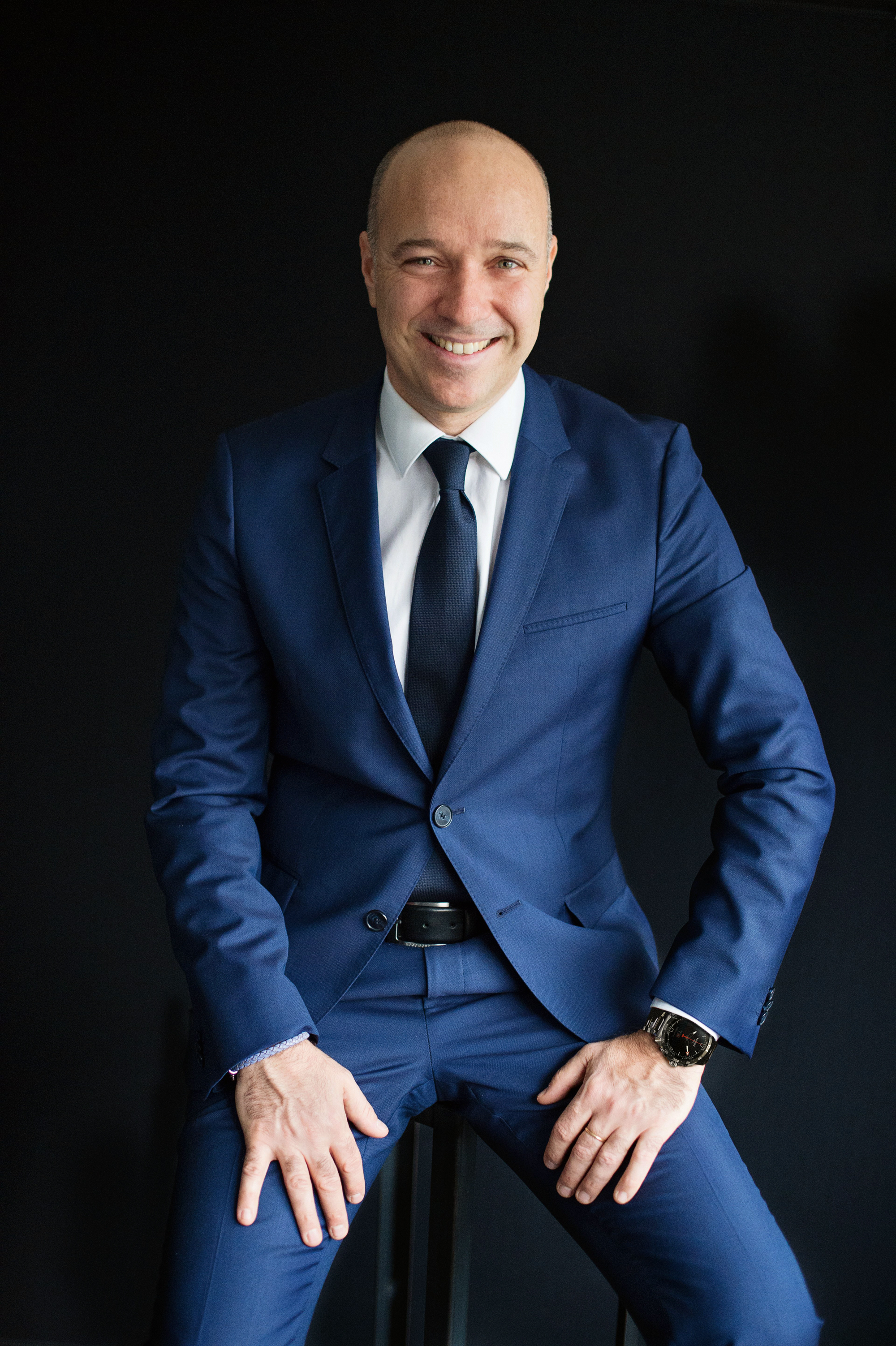 WT: How was 2020 for Tissot?
SD: We see that things are going in the right direction. There are not many Swiss made brands in the $300-to-$1,000 [range], so we can't complain. There are five markets in the world that are open with no constraints. In these five, we are growing. The others, of course, it's challenging, but I was impressed by what they could generate with online.
WT: The partnership with the National Basketball Association (NBA) paid off?
SD: I can say today, yes. If you would have asked me a week ago, I would have had no data to feel strong about this statement. We got the study of the increase in brand recognition, brand knowledge and so on. And you can clearly see a parallel between the investment we did in media and in the NBA, with the growth we are enjoying. We do the study every two years, and we really see a pick-up in the past 24 months.
WT: What's next?
SD: We continue to invest as the official timekeeper of the NBA and we're going to sign and announce next month two new top players as ambassadors of the NBA, joining the Tissot ambassadors. So we're going to continue the same strategy, develop e-commerce, develop the fantastic work done with department stores, which are performing well, helping our retail partners to enhance their online store with Tissot, and with an NBA, NBA, NBA, NBA focus.
WT: Where do you think the biggest opportunities lie for the brand?
SD: This answer could take several angles. We have opportunities with our ladies' collection. Today it's 27 per cent of the turnover. And with the product that this team has worked on, I have a feeling we're going to increase the share of ladies', in particular with Bellissima. I think there, we have a very high potential of a sales boost. So I could answer in this direction in terms of gents' toward ladies,' we have a huge potential of growth.
In terms of markets, we have a huge potential of growth with local clients in countries like Japan. In Japan, we are completely underestimated, and we are investing massively in Japan this year. We want to take o there. So it's a market of 120 million people where we have a huge potential of growth. [In the] U.S., we are growing very fast, but we are still at the beginning. With the investment we made in the NBA, we have tremendous potential of growth. We can double the turnover there easily. And Korea, with Koreans, we have a huge potential of growth. And of course, let's not forget our number-one market, China. China is still a market where we grew these months. This morning, I was looking at the sales figure of our own retail and of our e-comm. We're going to end up with enough big growth this month, 50 per cent up.
It's fantastic. But also we're investing in tools to help our retailers to be able to take part of this unbelievable growth. So we are providing our retail partners, the brick and mortar partners, all the tools to develop the brand further.
Another country with huge growth potential is Germany. The months of November and December were remarkable. Record high sales in Germany, and we just can't wait that it will reopen.
WT: When you took over in 2020, what do you think was the biggest difference from your previous role?
SD: The difference is, I would say, the industrial scales. But it was a bit particular, because I've already been working for four years with the team on this project [the T-Touch Connect Solar]. So it was not really a start, the start for me working with Tissot was rather four years ago. And when you arrive at the company as the new CEO, but you know already Mathilde [Enz, International PR Specialist], Laurie [Saunders, Deputy VP Product], the logistics team, the CFO... it makes it easy.
WT: How important is the Seastar?
SD: Well, the Seastar is becoming a very important line in terms of sales. It's the fourth line at Tissot. Despite the fact that it's a quite new line, we started the [current version of the] Seastar four years ago, so for a family, a new family ending up at the fourth position, it's a big achievement. It's about 7 per cent of the turnover today. So it's a very important family. And for me, it's also important because it can demonstrate what Tissot is capable of: A thousand Swiss francs, ISO 6425-compliant, with a ceramic bezel, the finishing, the quality of the dial, it demonstrates the strengths of the brand. And that's why, for me, in terms of positioning of the brand, it's also a very important line.
Innovation is at the heart with the T-Touch, and with the Seastar. We also love to work on the historical pieces like we did with my favourite watch of the year, the PRX Automatic. Innovate by tradition is in the brand's DNA since years and years and years.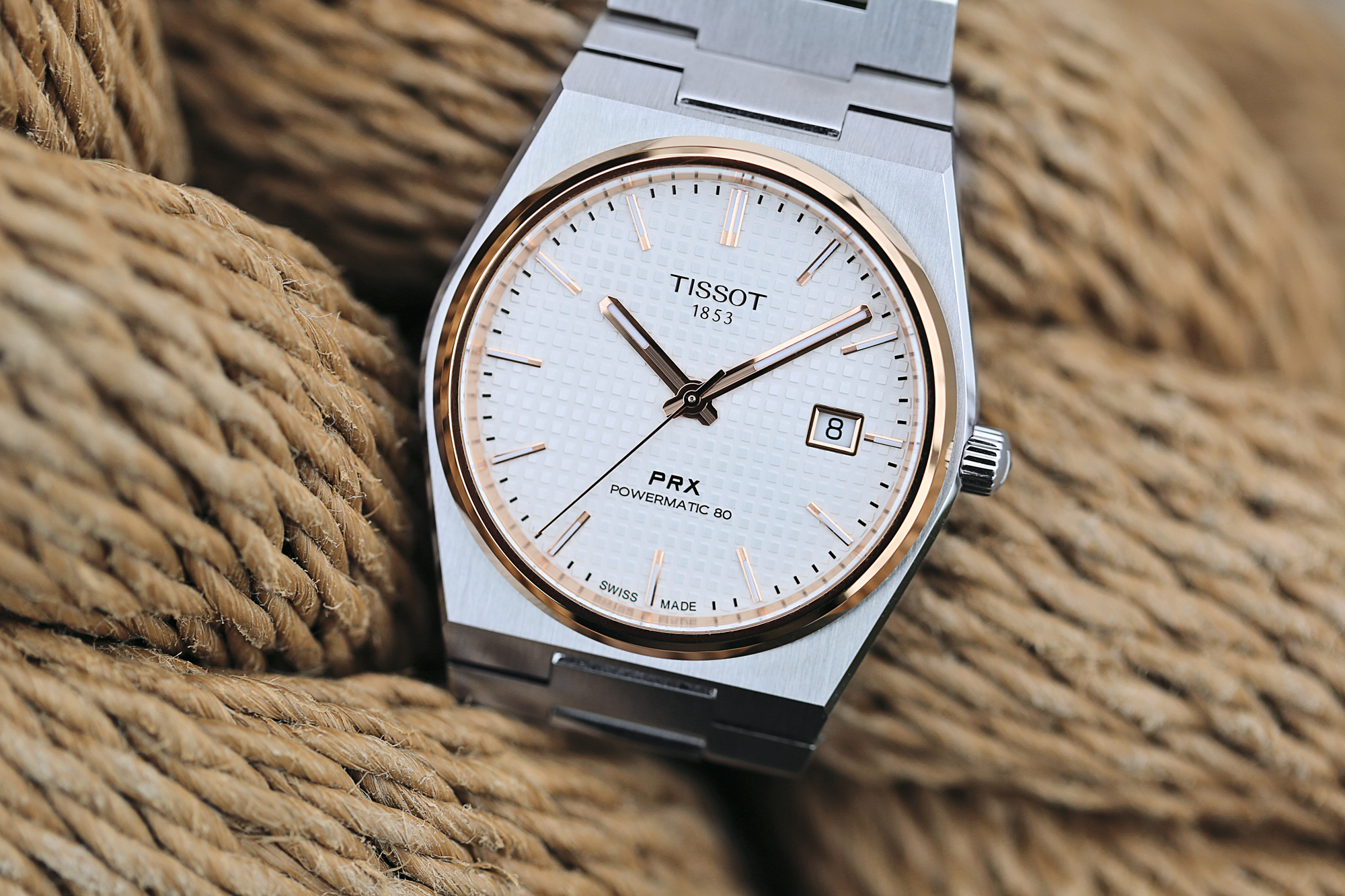 WT: What role do collectors play?
SD: You touch the point of collectors, history. And for us, it's very important that we move to the next level. We have up there our fantastic archives; we're going to leverage this. Having worked for a brand that was also equipped with a rich history, I know how important collectors are. Because if you touch the heart of this passionate audience, it means you do things right. They push you harder, they push you higher than clients that would not have a real affinity to fine watches. And that's why we have a big project. It's a bit early to talk about it, but on this side of the building [turns around], you see this area over here on the back? We are working on preparing something for the end of the year. It will be a small museum, and we also work on having a collection of key pieces that will travel the world.
So that's part of how to reinforce our link to collectors. There is an unbelievable history in this brand that people usually don't know. People usually think that when you think about rich history in watch-making, you have to go to the very, very highly priced brands. But not necessarily. Tissot has a very rich history. And then we want to put it forward. The team has done an unbelievable job in the past 10 years and worked on the archives. We have four people up there working especially on that, people who are coming with a very museum mindset. And now we come to a point where we're going to continue the great work that has been done and put it up front in the eyes of the collectors.
WT: What made you choose a career in the watch industry?
SD: I was working in the tech world, nothing to do with watches. I was working in the commodity world, software world. And I had the chance that Mr. Hayek was looking for someone coming from this world to launch the project with Microsoft, the first connected watch, back in 2005. So it was in 2004 that I joined and it was an amazing journey of one year, working day and night, weekends, on the first ever connected watch. Actually the second, because the first was Tissot Hight-T. And I was on the Swatch side, which had a similar product. But Tissot launched a week before. So that was an amazing journey. And then after, Hamilton. And since then, once you get in it, it's impossible to work again on commodities, on a short life [cycle] product.
WT: Can a connected and a mechanical piece co-exist in the same brand universe?
SD: Yes. Here it is [the T-Touch Connected Solar]. It is possible, but it will require a lot of efforts because, for us, the idea was, okay, if we do a connected watch, we do a watch.
What does it mean? It means it has hands and it means people don't need to recharge. So that was the start of the strategy. How do we do that? Then you look around and there is nothing that can help you to do that. Example, the operating system, there was no operating system focused on ultra-low power. So we had to develop our own operating system. Then we said, 'We need solar aid, and we need energy harvesting. We need solar cells.' But there were no solar cells that were nice enough in terms of aesthetics to be a dial.
So we said, 'Okay, let's do it ourselves.' So we invested. We invested in the OS, we invested in the solar cell. And I'm very happy because at the end, we have a fine watch. And if in six years—let's say there is no more Bluetooth technology, we don't know, the technology world, it goes so fast — you still have a T-Touch expert with the function without being in the connected mode of it being a full solar watch. And then as a watchmaker, of course, the novel materials, the titanium, the ceramic, that part we know how to do it. The learning curve was more on the software side.
The big difference is for me, the promise we make to the consumer. People who buy Tissot, they don't buy it for one year or two years like in the world of consumer electronics. If you buy a phone, in three years, change it, in two years, it will be outdated. We want the people who buy a Tissot T-Touch, that they buy a product that they may still wear in 10, 12 years. Durability is at the heart of what we do. And we see the people, they come back after five years, six years, they need a service and when they buy a Tissot, they have the promise that the watch will last.
WT: Tissot's been known for a comparatively short turnaround time in its after-sales department. Why is that important to you?
SD: Well, the service is one of the strengths of the brand. We want that people who get access to the Swiss watch industry with a Tissot, to have the same experience as if they would have bought a very expensive Swiss watch. And I was also surprised: The first time I serviced a Tissot, I had this little kit as a present and, as a random client, a little kit to clean the watch, and all these little elements that make the service to be in line with the quality we try to bring on the product.
WT: What about spare parts?
SD: You should see the stock of spare parts — it's amazing. We guarantee 10 years. And in case we wouldn't be able to do the service after 10 years, we always o er a customer- friendly solution, like a discount on a new watch.
WT: What was your first watch?
SD: My first real watch, and it's not because I'm working for Swatch Group, was a Swatch. My father, he still only wears Swatch. So he's a big fan and he bought me one in '84, I think.
WT: We're assuming you are currently wearing the connected, aren't you?
SD: It depends. I wear this one [PRX] at the moment, because I just love it. But the T-Touch, I've been wearing it for one year [on my other wrist], like the founder [Nicolas George Hayek] of this company (smiles), because I need it. I have my steps [count]. I am used to it. I put on sleeping mode, and I have the notification that someone calls me. So at the moment, on the left, I wear my PRX and on the right I wear my T-Touch.
WT: Can you tell us more about the PRX?
SD: I love this watch. It's the first one where after one week I said, 'Wow, this is a bomb. We need to do an automatic version.' The team did amazing work. It's exactly what I want to see in Tissot: You have the same feeling as if you'd have a several thousand Swiss Francs watch on your wrist, in terms of feel, in terms of finishing. And that's exactly what they managed to do there.