WTI: Tell us a little about the two recently launched collections – the Heritage and Star Legacy? What was the inspiration behind it and the craftsmanship involved in creating the collections?
NB: Yes, with great pleasure. For both the collections, the Minerva legacy plays a major role. It has continued to shape the identities, the technical excellence and the style expression of our product lines - Minerva is Montblanc, and Montblanc is Minerva so both the Heritage and Star Legacy collection combine a mix of materials and different levels of craftsmanship. Regarding our latest Heritage Timepieces, I would like to emphasise on three novelties; the Montblanc Heritage Manufacture Pulsograph Limited Edition 100 pieces – a timepiece inspired by what collectors call the 'doctor's watches' that can be used to measure heart rates, the Montblanc Heritage Monopusher Chronograph – a timepiece in stainless steel with a salmon-coloured dial at an accessible price point and the Montblanc Heritage Automatic – with a brand-new lacquered British-racing-green dial and matching Sfumato alligator strap for a vintage look. When it comes to Star Legacy, I would like to mention two new expressions of the Spirit of Elegance that define the collection and that mark the introduction of a new 43 mm size, namely our Star Legacy Automatic Date and Star Legacy Chronograph Day & Date.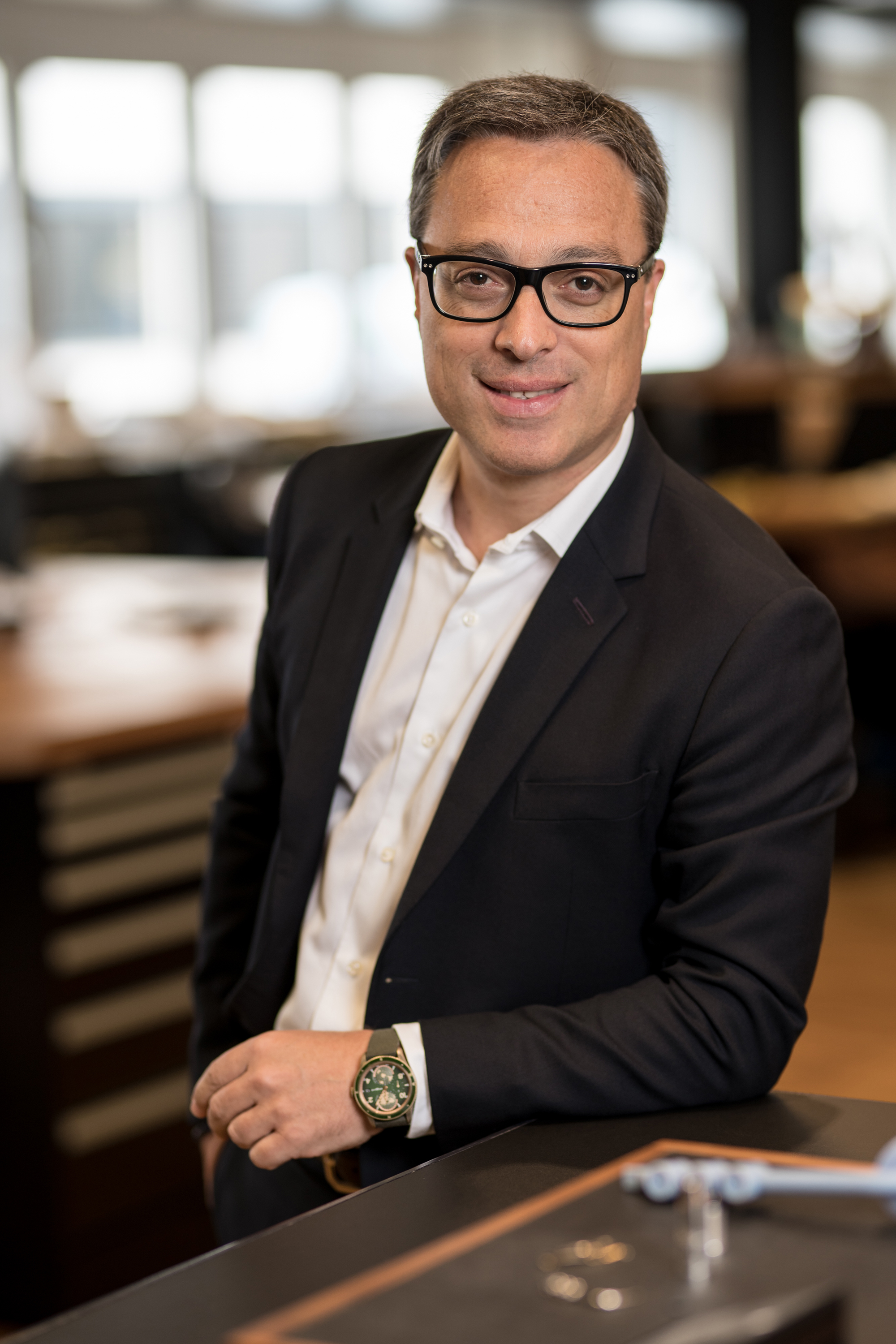 WTI: Talking about the recently revamped Star Legacy collection, what was the idea behind taking inspiration from Minerva pocket watches from the late 19th and early 20th century?
NB: The idea was to embody a certain elegant spirit with our new additions. The Minerva pocket watches and early wristwatches were the perfect inspiration to capture this spirit of formal elegance within our new models. We have defined classical watches typology through their "Elegance" and history pedigree. The new timepieces include round polished pebble-shaped cases, like those found on antique pocket watches; onion-shaped crowns with the recognisable Montblanc emblem; refined dials with the iconic exploding star guilloché pattern. We took a lot of design codes from the old Minerva pieces and provided the perfect mix of classical watchmaking along with a stylish, yet casual look.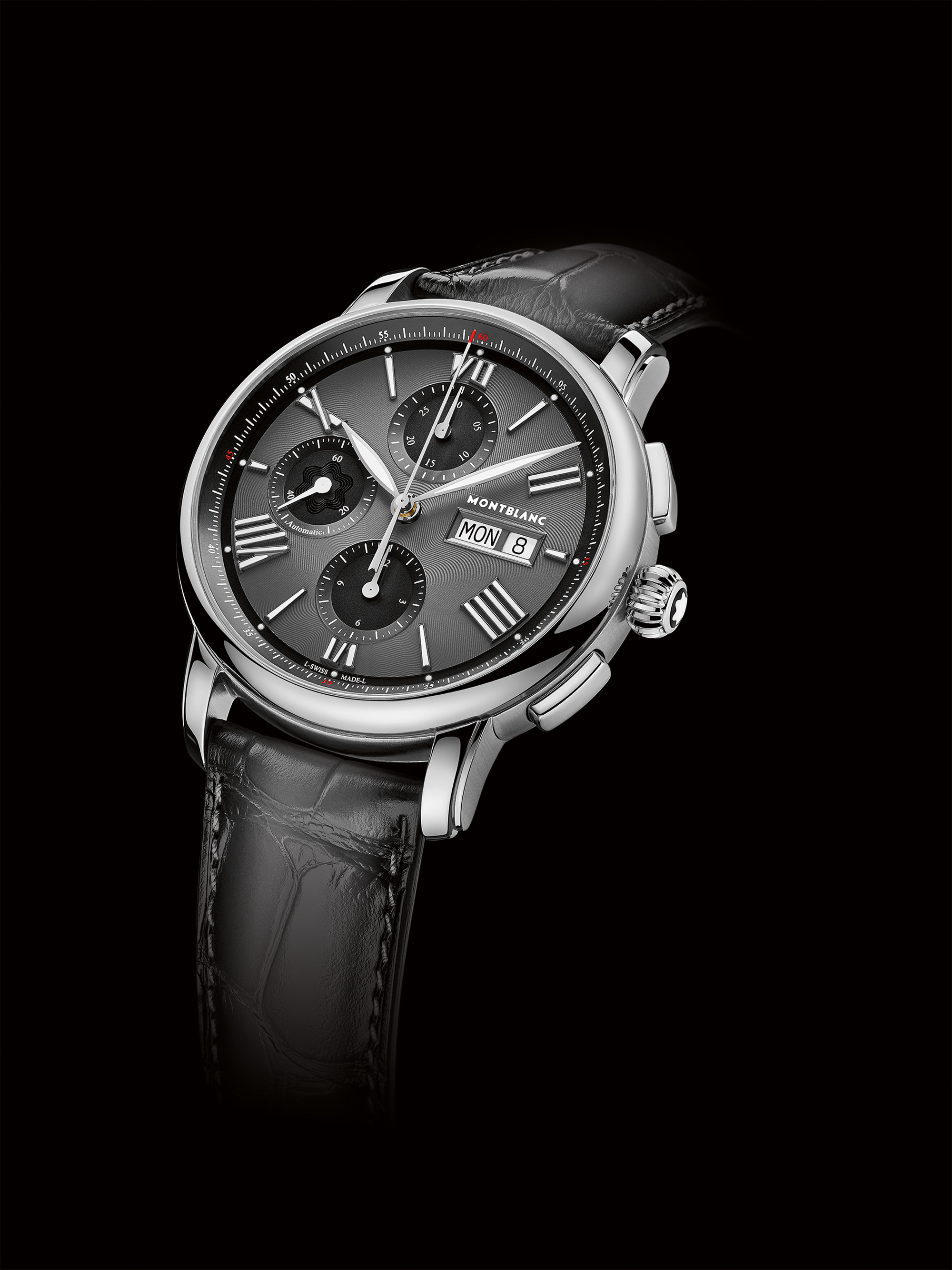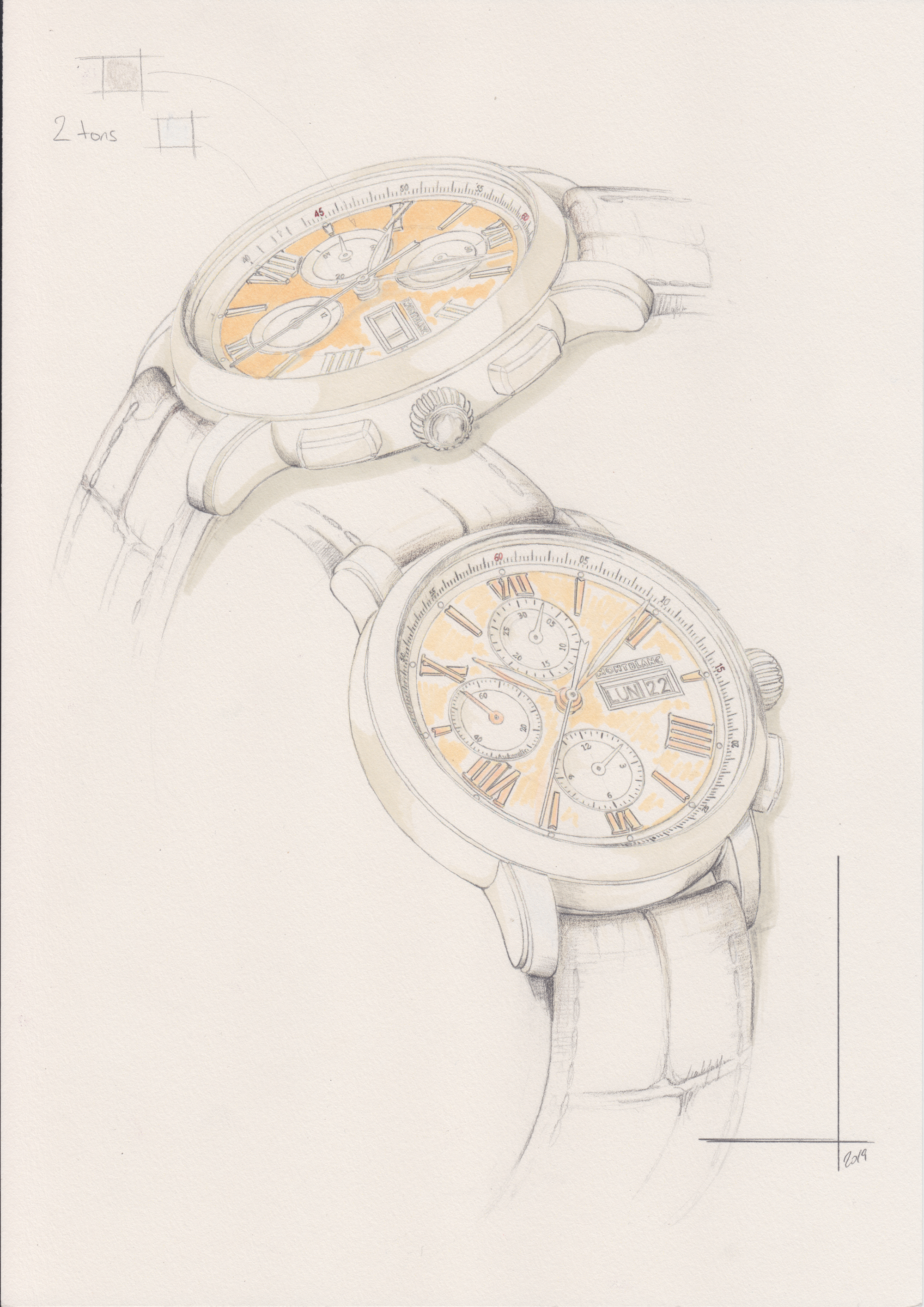 WTI: One of the most interesting watches from the collection is the Heritage Manufacture Pulsograph Limited Edition 100, tell us a little about this particular watch.
NB: Yes, the Heritage Pulsograph Limited Edition 100 is a highlight – a timepiece inspired by what collectors call the 'doctor's watches', that were used by doctors in the past to check a patient's heart rate. Following the salmon-coloured model from last year, we are now unveiling a brand-new model in an 18 K rose gold 40 mm case with a distinctive smoked tobacco-brown dial and matching Sfumato alligator strap, reinforcing the trendy vintage style. Powered by the manufacture monopusher chronograph Calibre MB M13.21, this high-end movement is composed of a large balance wheel with 18 screws that beats at the traditional frequency of 18,000 A/H, a column wheel and horizontal coupling, the iconic V-shaped chronograph bridge whose design was patented in 1912, and the emblematic hand-decorated Minerva arrow.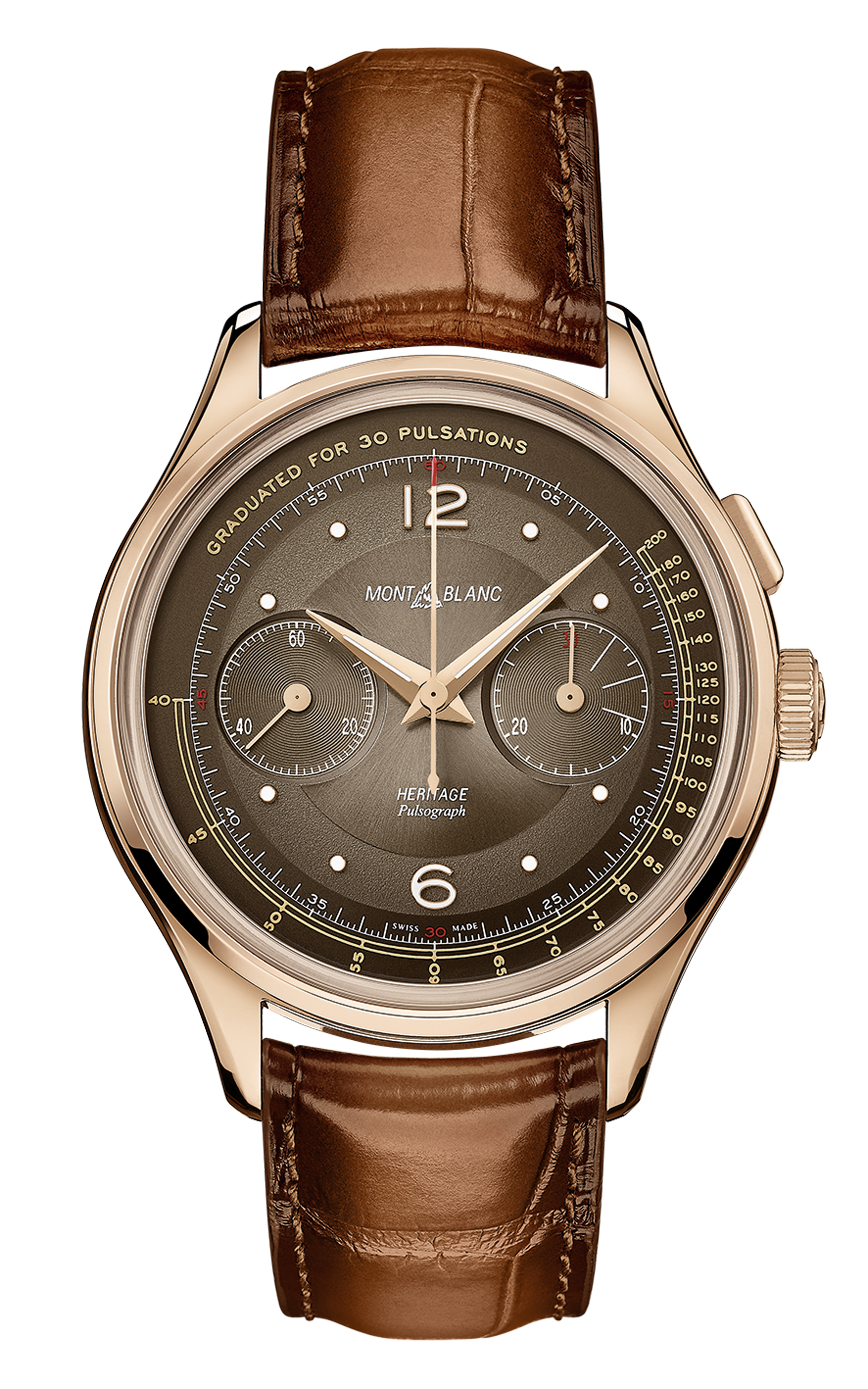 WTI: How popular is this trend of vintage watches? Why do you think it holds so much appeal?
NB: The market is strong and will continue to grow. The vintage trend is running already since 2010. It's a very deep trend remastering classical analogical human craftsmanship into the Zeitgeist of today - and this involves any category of products. The interest in old watches and auctions is huge. It is particularly appealing thanks to the fascination and nostalgia it creates, echoing adventures and finest mastery.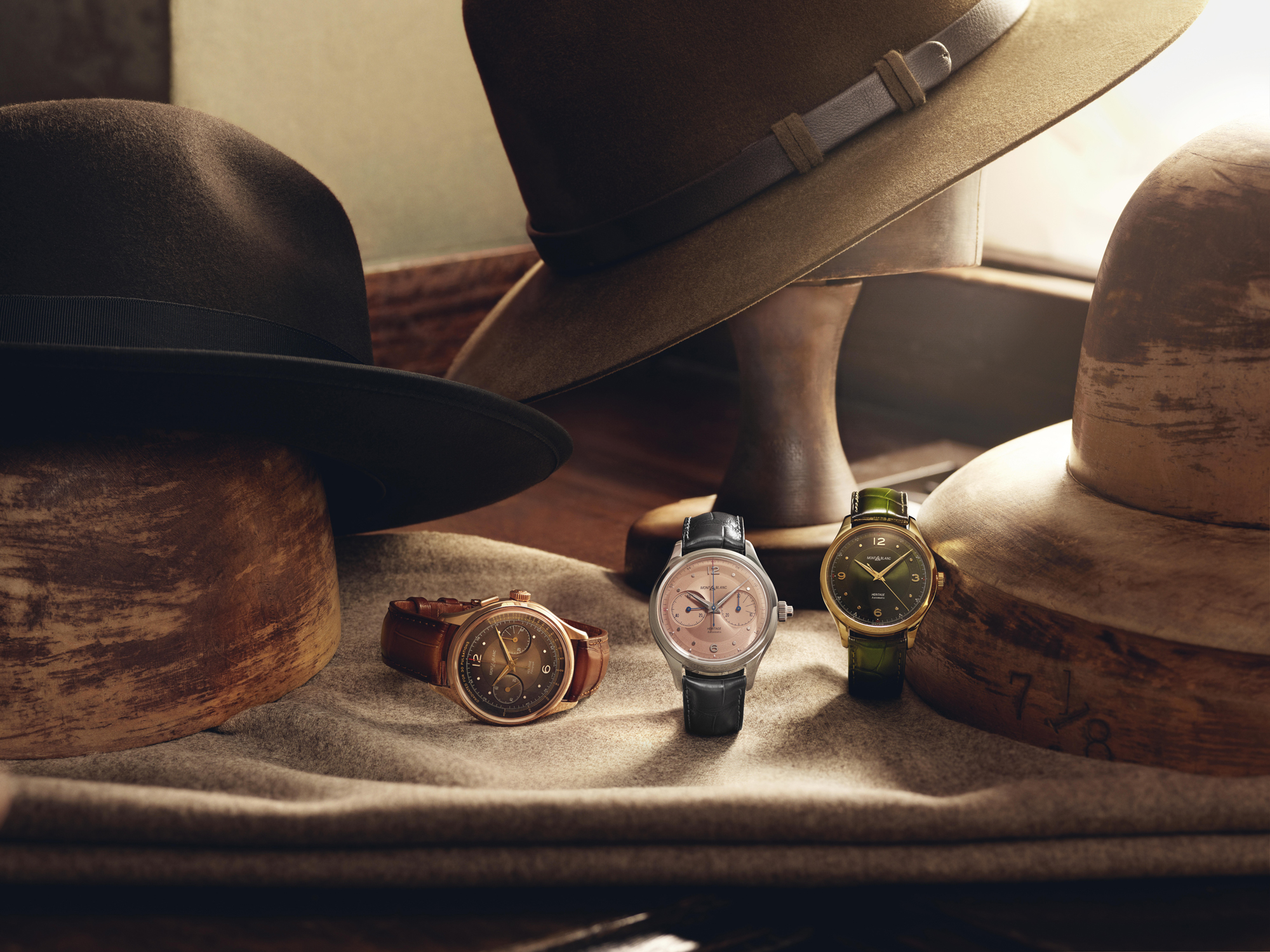 WTI: In this time of uncertainty, how is Montblanc coping with the current situation? What are your plans forward?
NB: Right now, we put the safety of our staff and customers before our business priorities and we continue to adhere to the guidelines issued by local health authorities. We are planning well ahead and striving for longer-term strategic concepts to ensure the stabilisation of our Maison.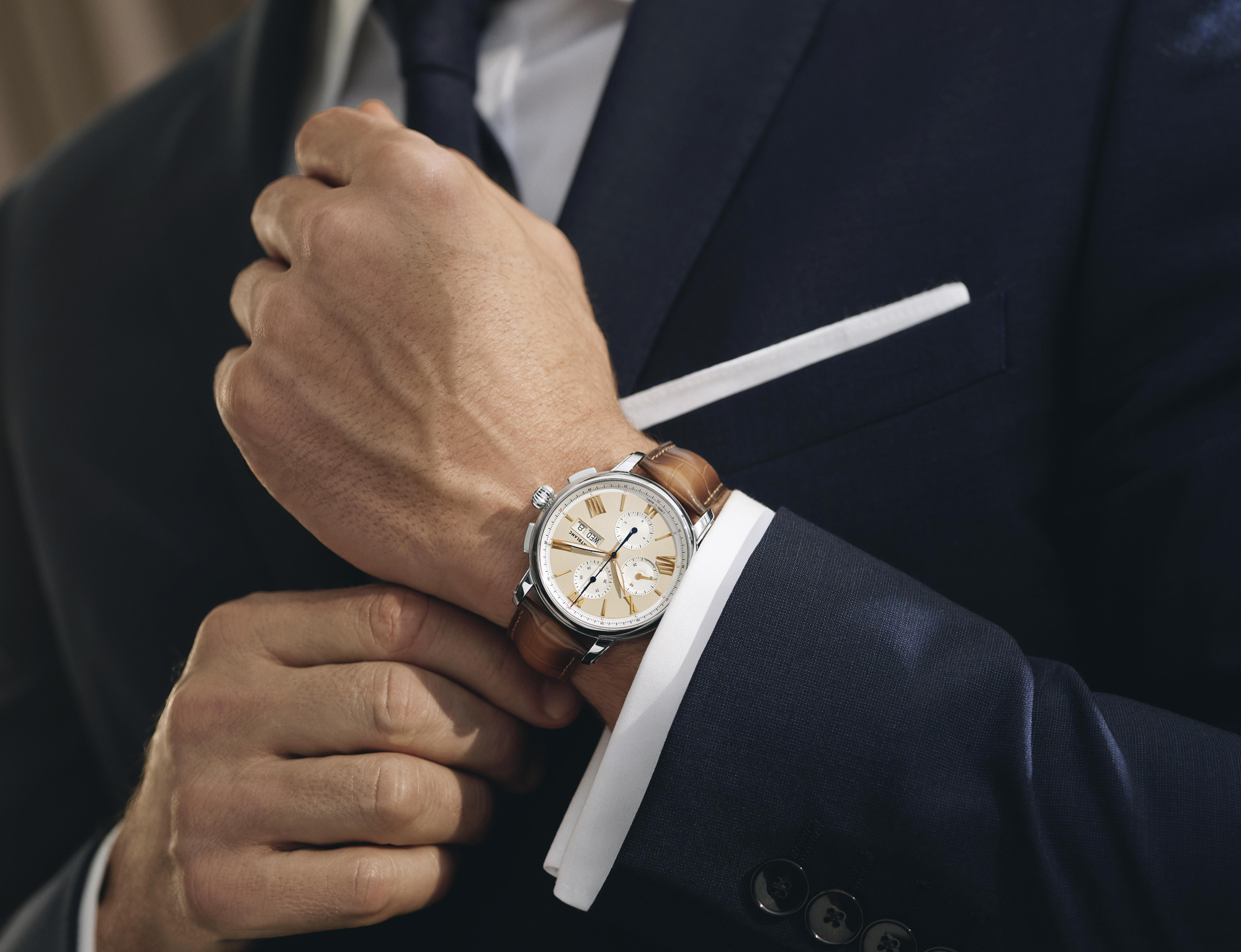 WTI: How important is India as a market for Montblanc? What has been your product strategy for India? Has it been working? If so, how?
NB: India is a very important high potential market for Montblanc, that we will emphasise even more strategically in the near future. The Indian luxury industry has evolved a lot and grows dynamically – clients are looking for experiential value and product authenticity. We recently introduced our High Artistry collection in India with a big event, paying tribute to the magnificent Taj Mahal, celebrating the rich artistic traditions of the Mughal dynasty in India and the influence of one of its most enlightened rulers, Shah Jahan.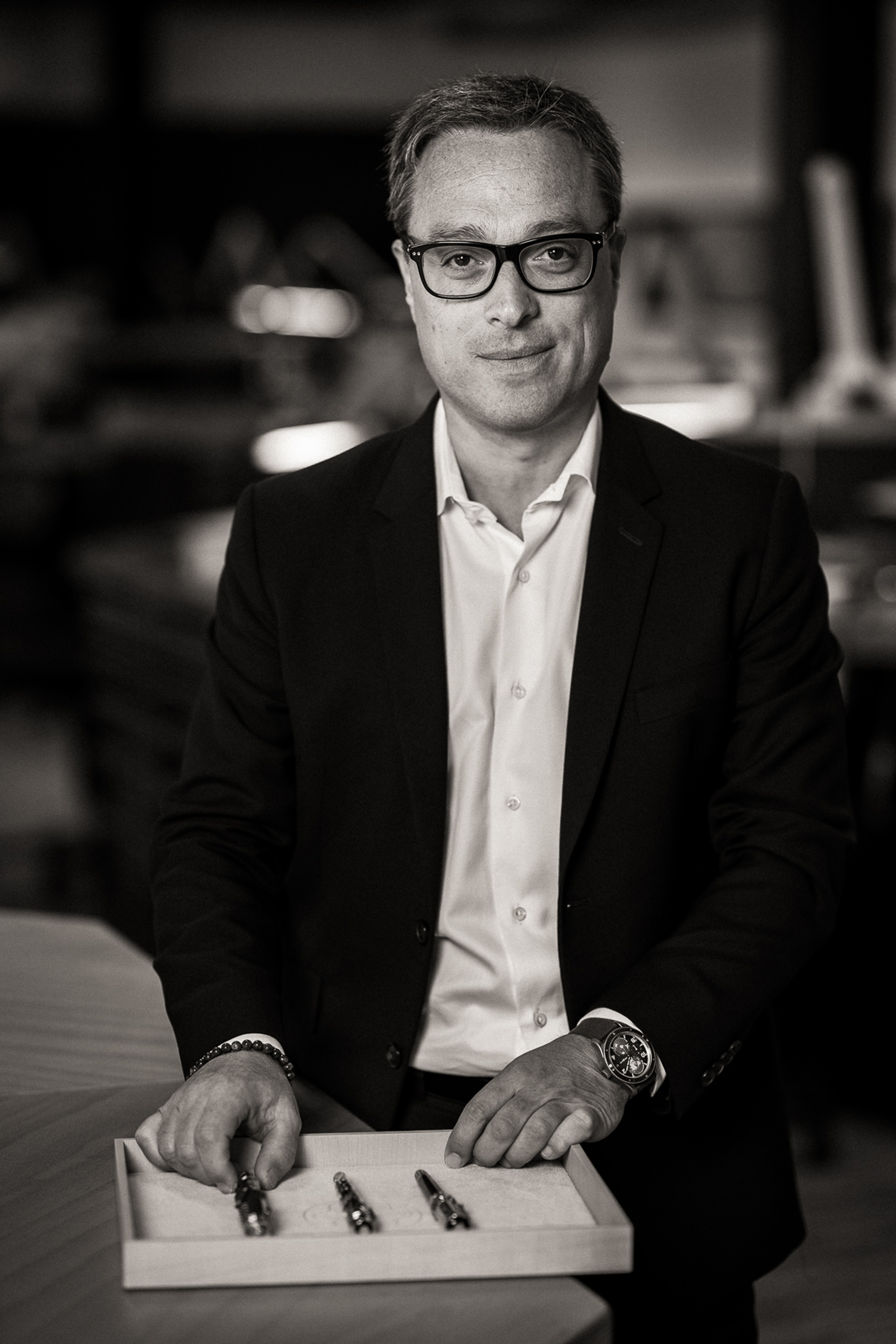 WTI: Which are the top global markets for you? Are you planning to explore new markets in the upcoming years?
NB: On top of our traditional European and American markets, Asia and Middle East have become more and more important in the last decade. The success of Montblanc has always been built on the fact that we are first movers when entering a market – in India for example, we entered more than 25 years ago. We love to bridge local cultural elements with our business and craftsmanship, finding ways to connect with our client and honor their history and the values that enrich their culture. You can see this reflected in our High Artistry pieces with Taj Mahal. Markets may react differently to products based on cultural affinity but overall the values that are upheld by Montblanc have universal appeal.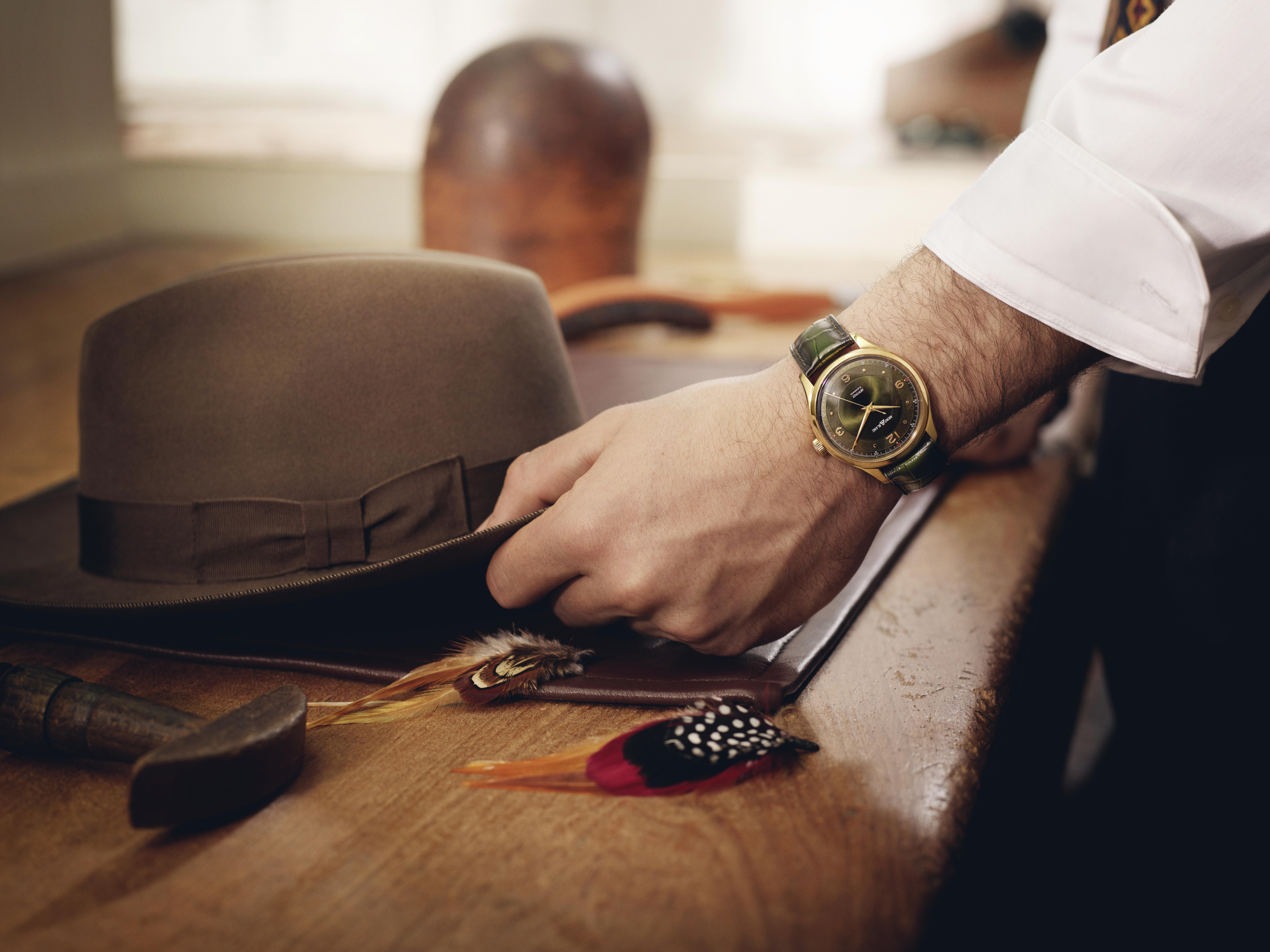 WTI: How has the revolution of the digital space changed the marketing strategy for Montblanc? How have you been adapting to it?
NB: The rise of Digital in all areas is irreversible. Technology is pertinent in our everyday lives and has definitely changed the way how we all access & perceive content, behave, communicate with each other and purchase goods. As a global luxury player, we needed to rethink our digital strategies in order to explore new ways of experiences for our clients. For us it is particularly important to have a strong focus on keeping our brand value and exclusivity. This goes hand in hand with the need of injecting dynamism and emotion within the digital environment. Social Media in particular is the perfect platform to do that. It is important to maintain a strong consistency in the message and strong codes of luxury in the Maison's language – online and offline.
WTI: How do you think the market has changed for ladies' watches? What are your thoughts on it?
NB: The ladies' market has been a very dynamic field for the last years. What is especially interesting about the ladies' segment is how it combines aesthetic aspects from the jewellery business with technical elements from the world of fine watchmaking. Saying this, I can tell that we are working on a big surprise that we will reveal next year.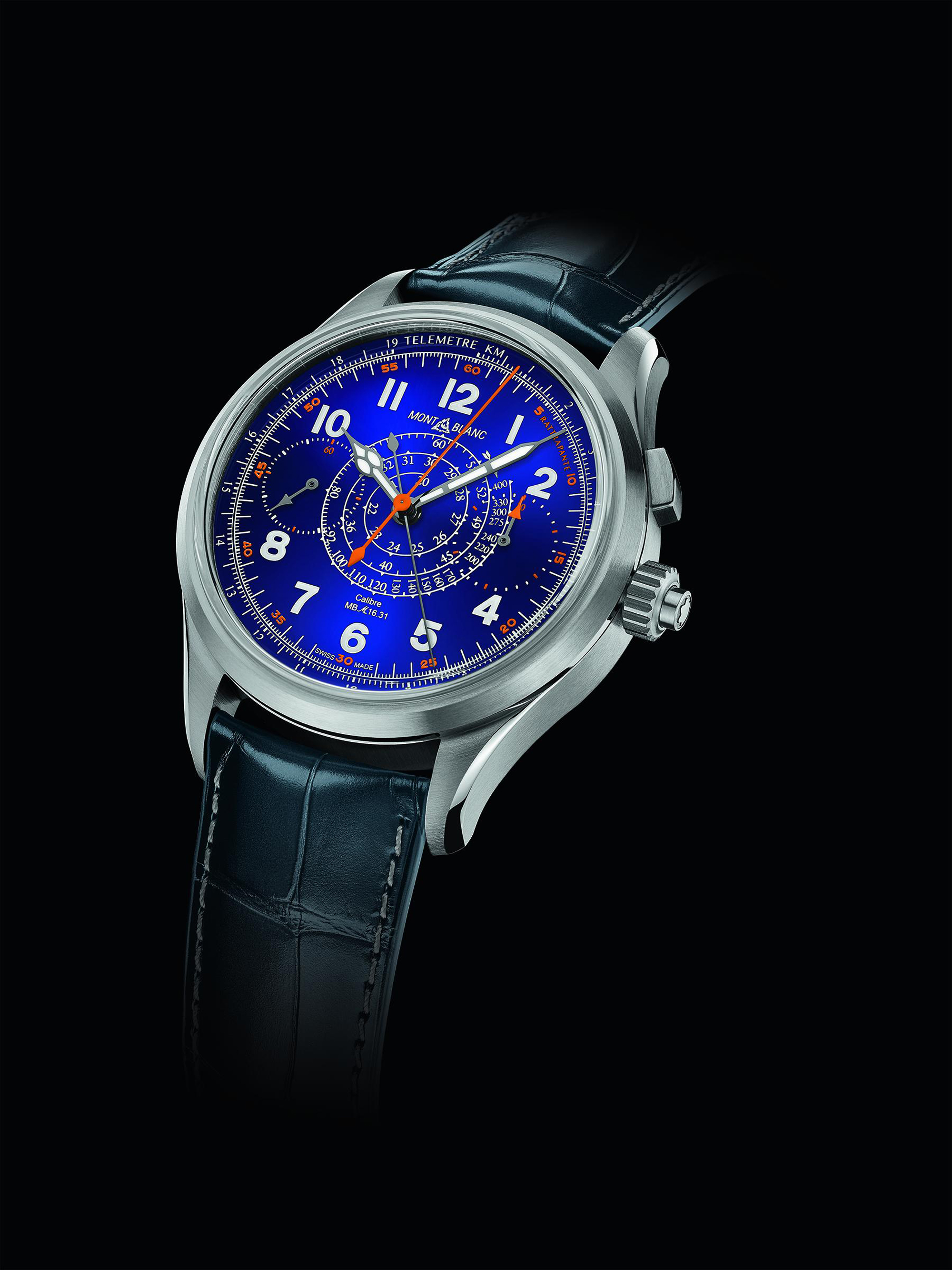 WTI: Lastly, what do you think is the future of luxury watch markets?
NB: Predictions regarding the economic situation are difficult at the moment. The crisis will surely affect the whole luxury sector. However, we are confident that the watch market will stabilise at some point if the whole industry goes hand in hand during this transition phase in order to recover rapidly. For the future, it will be crucial to pay particular attention to strengthening digital and omni-channel offerings, engaging more deeply with customers and attracting a potential new generation of clients.