WatchTime USA tested IWC's new Pilot's Watch Chronograph Top Gun Miramar, suited for both airborne and terrestrial adventures. Want to know the results? Read on to find out! By Alexander Krupp Photos by OK-Photography
The IWC Pilot's Watch Chronograph Top Gun Miramar is named for the "Top Gun" school for fighter pilots, officially called the U.S. Navy Fighter Weapons School, which was based in Miramar, California for nearly 30 years. (It moved to Fallon, Nevada in 1996.) The Top Gun Miramar line debuted in 2012. But this year, a new chronograph model was introduced with a smaller case, 44 mm instead of 46 mm, and several updated details. The new, smaller, model looks like the original but is more comfortable to wear. It has an additional counter for elapsed hours at 12 o'clock instead of one for elapsed minutes only. And the strap is calfskin, rather than cloth, with attractive embossing that looks like the fabric webbing belts in an airplane cockpit.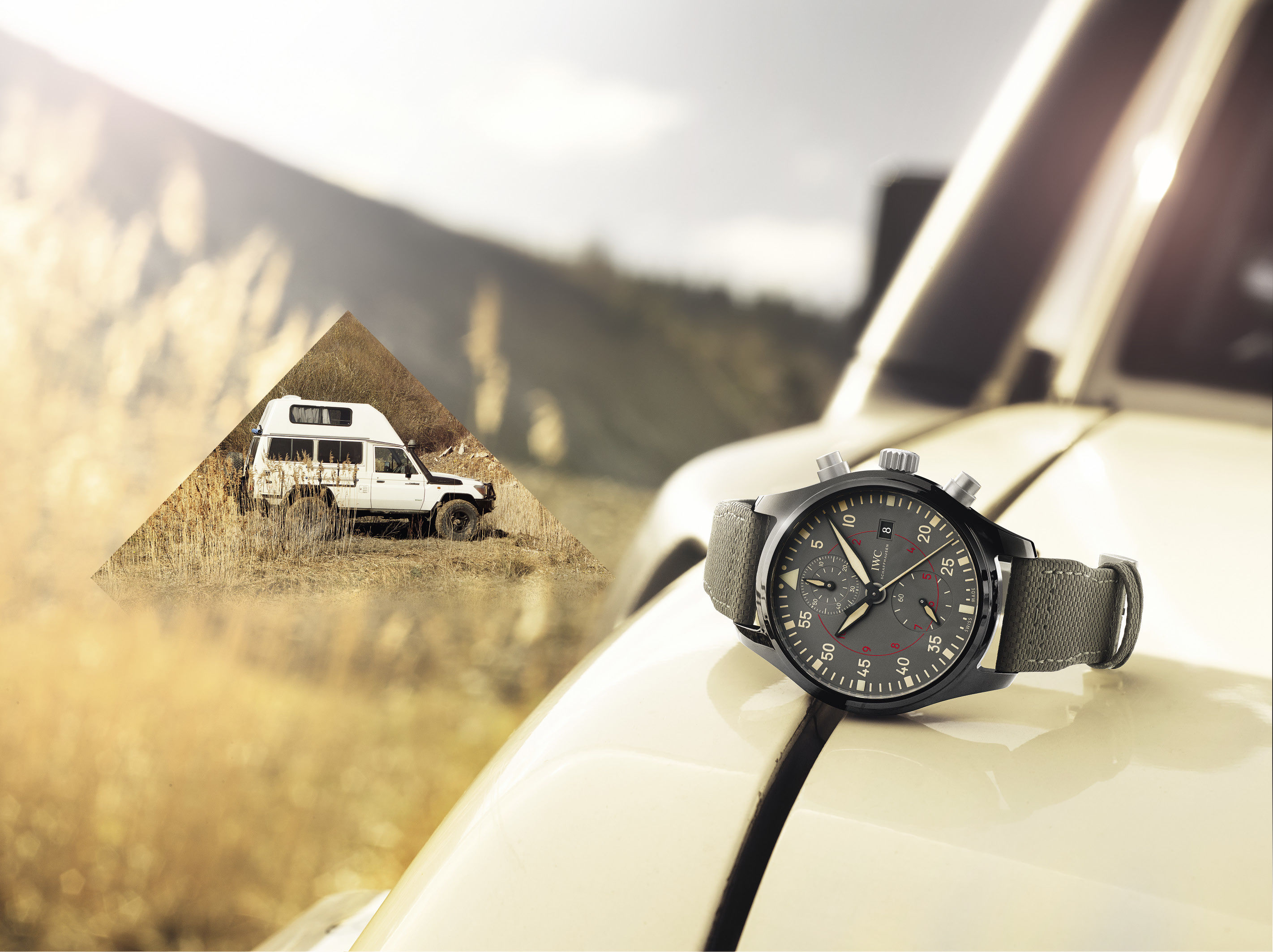 Every pilots' watch raises a question: How many pilots'-watch owners are actually pilots who use the watch as an in-flight backup instrument? The answer: very few. But pilots' watches offer other advantages, e.g., good legibility and convenient operation, which provide added value not only in the cockpit but also in daily life. The Top Gun Miramar's styling adds to its appeal: the watch remains boldly masculine and substantial despite the slight reduction in its case size. The black case and dark dial, together with the textile-like olivegreen strap, seem ready for adventure. Just looking at them makes you think of military missions into the jungle or expeditions across scorching deserts.
Would this watch survive such adventures? Yes. Its case is made of scratch-resistant ceramic, its pushpieces are protected by sturdy bushings, and its crown is screwed in to prevent penetration by dust or fine sand. The strap is sturdy, carefully stitched and well glued. It ends in a sturdy folding clasp, which snaps shut definitively and won't open accidentally. The sapphire crystal above the dial and a fully threaded screw-in titanium caseback complete the solid construction. One drawback is that the clasp lacks opening buttons.
" Its specified water resistance corresponds to a theoretical diving depth of 60 metres, but IWC computes this depth assuming total stillness under water."
But use caution if you want to take a dip in an oasis lake after a desert car rally or wade through a river on the African savannah: this watch isn't especially watertight. Its specified water resistance corresponds to a theoretical diving depth of 60 metres, but IWC computes this depth assuming total stillness under water. Underwater arm movements can potentially allow moisture to penetrate through the bushings of the push-pieces and into the case. Therefore, the guideline for wearing this watch is sand and dust, yes; water, no.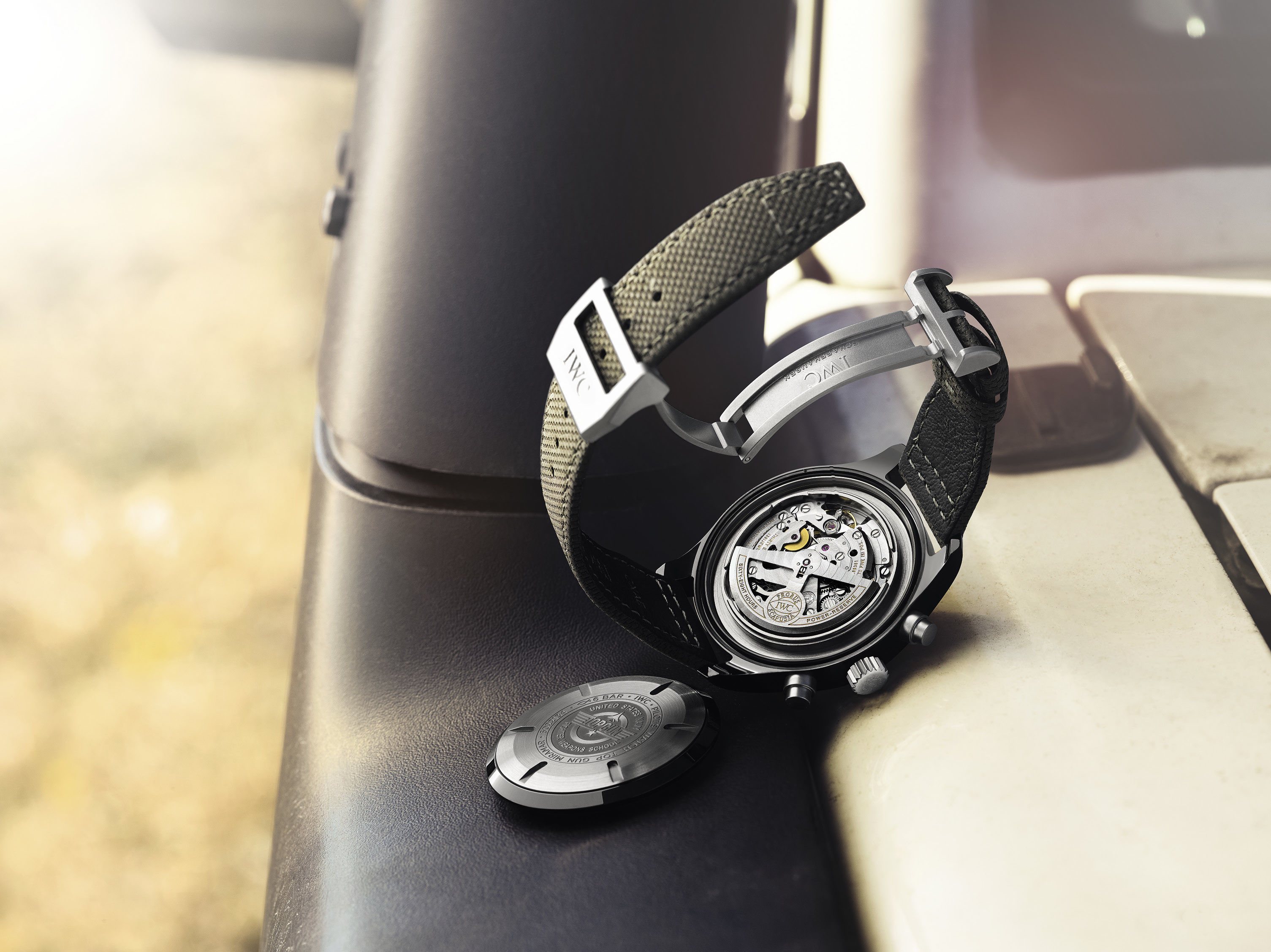 The exterior of the Pilot's Watch Chronograph Top Gun Miramar is user friendly, robust and well crafted. And the same traits apply to its inner workings. IWC's automatic manufacture Calibre 89361 has a flyback function, which lets you instantly restart the chronograph during an ongoing elapsed-time measurement. The movement also has a long, 68-hour power reserve. The Glucydur balance, which is nearly unaffected by temperature fluctuations, can easily be adjusted by a watchmaker because it relies on regulator-free fine adjustment via weight screws along its rim. The movement's robustness is also due to its relative thickness (7.5 mm), which results in larger tolerances for interplay among the components. In addition, a soft-iron inner case shields the movement from magnetic fields, which can cause irregularities in the rate of an unprotected watch.
Gold-filled engravings and polished heads on the screws underscore the high quality of the movement. But while these decorations are handsome, they don't quite reach the level of haute horlogerie. Instead, function is clearly in the foreground.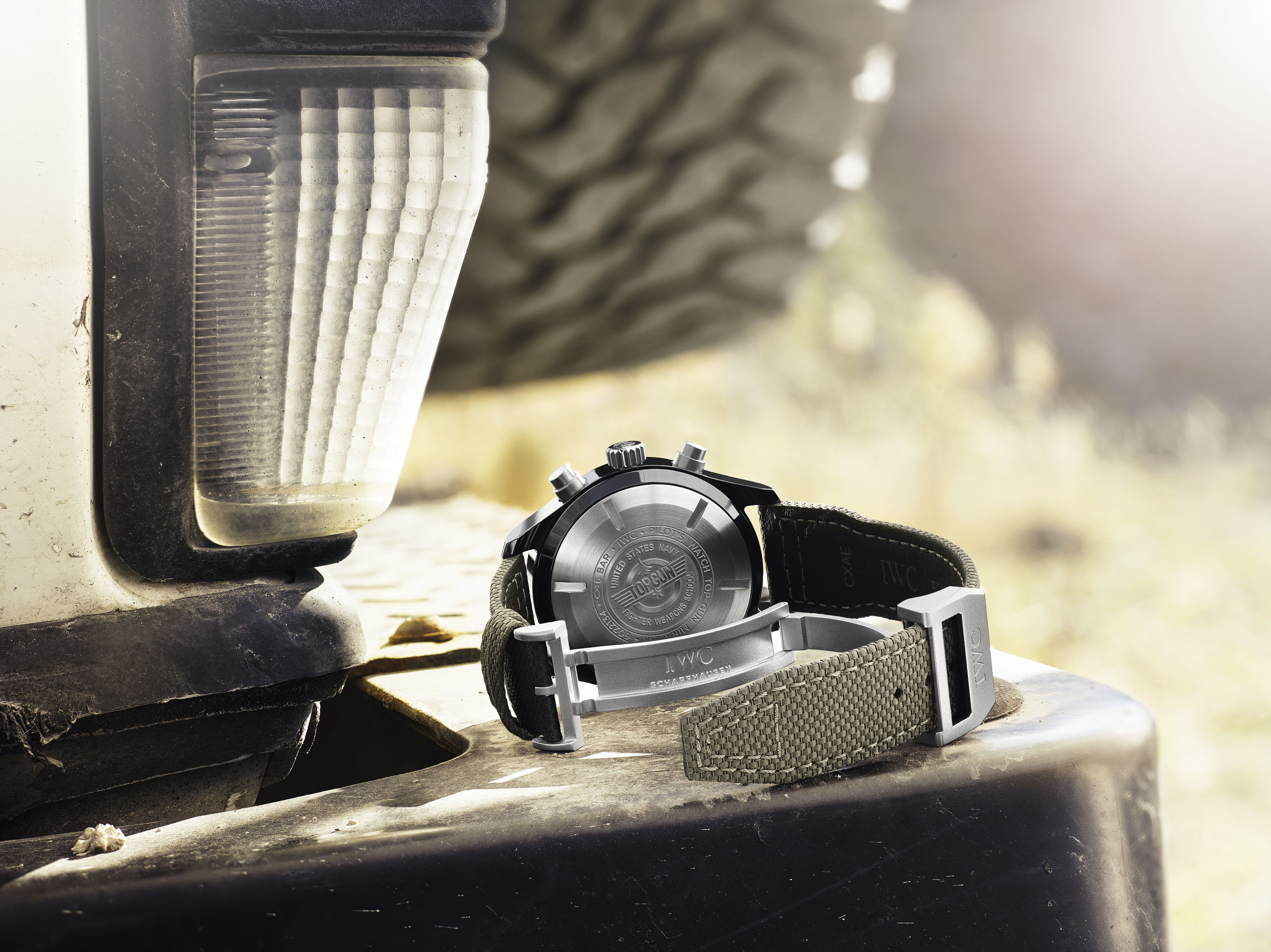 Functionality also defines the concentric counters at 12 o'clock that mark elapsed hours and elapsed minutes. This subdial is designed as if it were a regular time display, with a short hand showing elapsed hours and a longer one showing elapsed minutes. It's a little hard to decipher because the subdial is rather small and its calibrations are spaced very close together. When the sun goes down, only the center-mounted hands and the four indexes at 3, 6, 9 and 12 o'clock begin to glow. But this could also be regarded as an advantage because it ensures that the time can be read without distractions from any other luminous elements.
You can rely on the accuracy of the readings because we found that this watch runs very precisely. It gained 2.5 seconds per day on the timing machine and on the wrist. The greatest deviation of rate between two positions was 5 seconds, which is acceptable.
The Pilot's Watch Chronograph Top Gun Miramar impressed us with its rate results, robustness, user friendliness and high quality. What more could one want? Perhaps more free time for adventures.