In the circle of watch enthusiasts, it's common knowledge that if choosing a perfect luxury watch is a daunting task, then getting it ed might trigger insomnia. From sending it to certified service centres, sometimes abroad, to getting an estimate of the, to getting the watch back, watch servicing and restoration of luxury pieces can become a predicament.
Sarat Bhogavalli, an IT consultant and avid watch collector in Bengaluru, laments that one has to wait for months to get valuable timepieces serviced from an official service centre in case it's based in Switzerland or Japan. "Even when your watch is under warranty, it usually takes at least three months for regular servicing. It can take more time if something needs to be ed," he says, adding that official service centres in India usually take around a month to service a watch. The wait can be longer if the service centre has a heavy workload.
Dr Karan Madan, the founder of Watch Enthusiasts India, the country's largest watch-collecting community, also attests to the long and tedious process of luxury watch servicing, especially when the brand doesn't have a service centre in India. "A friend of mine recently went to Germany for a week-long vacation and gave his
A. Lange & Söhne
watch to the company's service centre. After three days, he was informed that it would take at least two months to service because the brand had to make one of the parts that was out of production. So, he had to leave his watch there and collect it after three months when he visited Germany again," he says.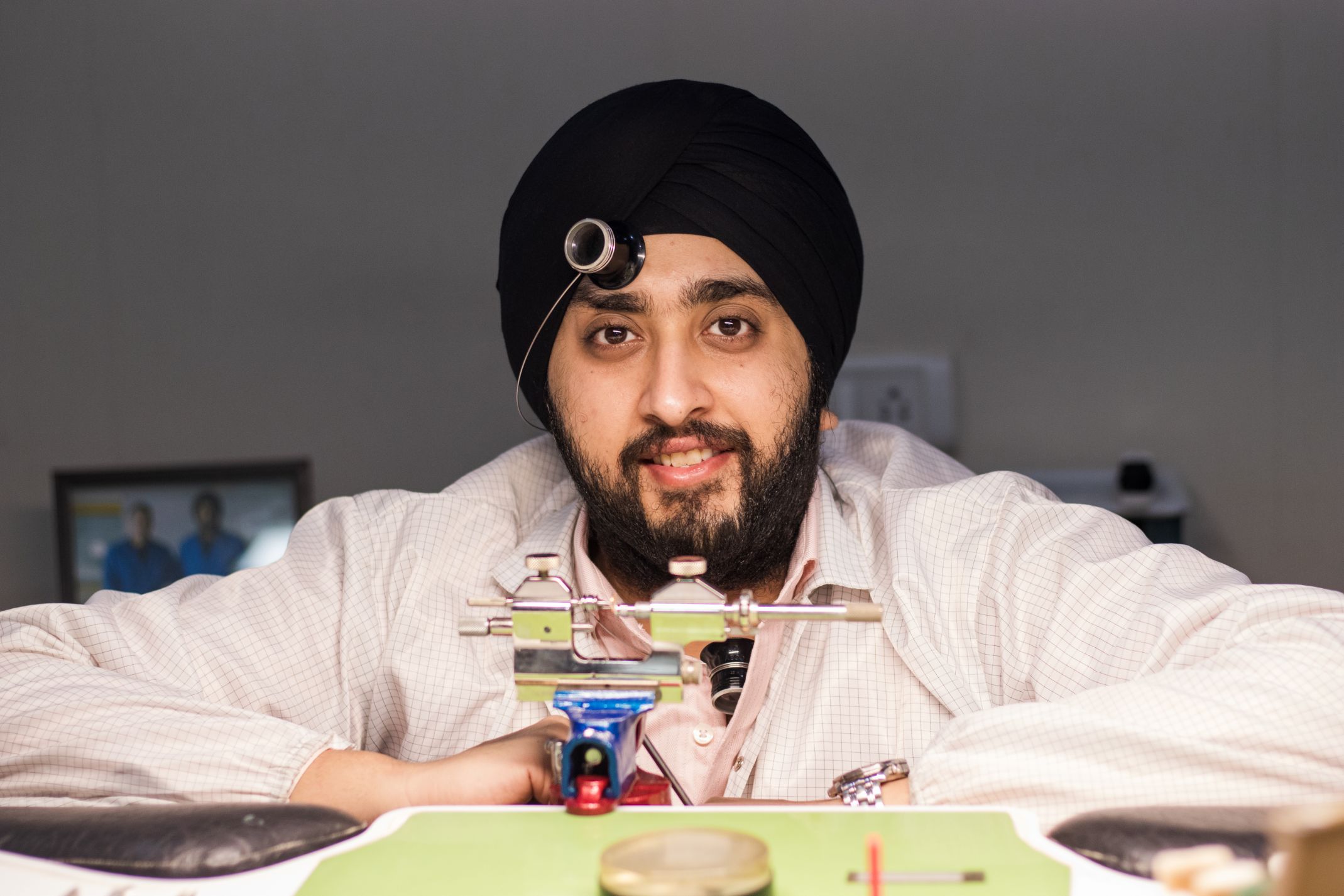 Harman Wadhwa, watchmaker and founder of The Repair Hub
In recent years, however, things seem to be taking a turn for the better. There has been a rise of local, independent luxury- watch servicepersons who are not affiliated to watch retail stores (which typically have their own service centres) and who have mastered the art of fixing some of the most precious and expensive timepieces. Service centres like The Repair Hub in Delhi, and Luxury Watch Works and Maison D'horlogerie in Mumbai, offer more cost-effective and viable alternatives to sending watches abroad to be serviced. Their formidable workshops and technicians who have learnt the art of haute horology from brands, allow them to cater to a wide clientele.
"It usually takes us just around two to three weeks to do regular servicing of any luxury watch. In case we need to replace a component or import something, it might take a little longer," said 31-year- old Harman Wadhwa, watchmaker and founder of The Repair Hub. Although the family established the watch business in 1995, Wadhwa took over the service centre in 2015, with the help of a very small team, and is currently an authorised service centre for
Seiko
.
"Initially, we were servicing watches made by premium and fashion brands only, but gradually, customers started to bring their luxury watches to us, especially after people got to know about us through word of mouth. Since then, we have been ing and servicing timepieces by most high- end brands," says Wadhwa, who has learnt the art of watchmaking from the K&H Watchmaking Competence Centre in Le Locle, Switzerland. He says that he didn't want to restrict himself to just the business side of his service centre, which is why he decided to become a watchmaker in 2019.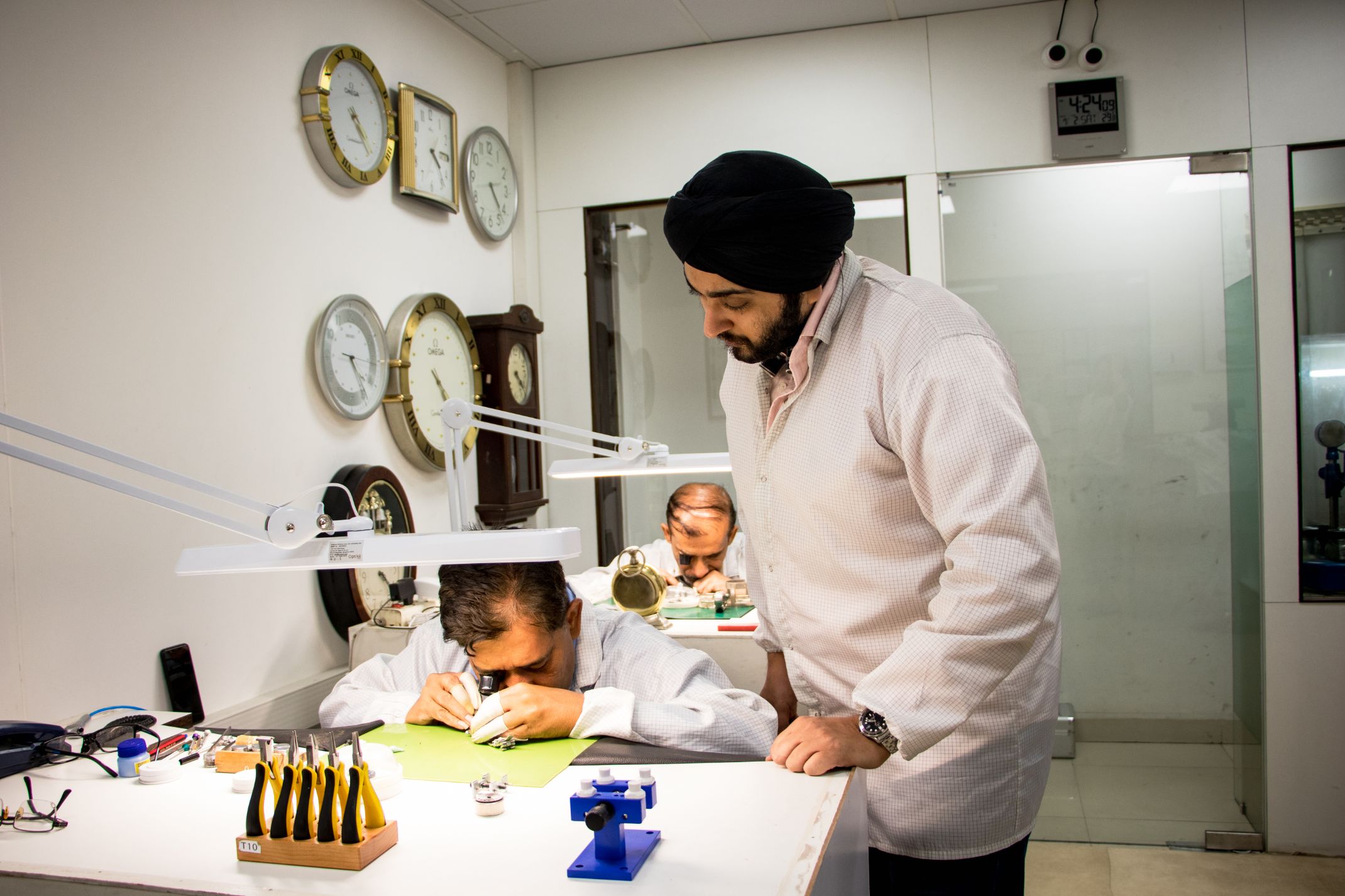 Wadhwa and his technicians at The Repair Hub
Today, The Repair Hub has six watch technicians, including Wadhwa. He says that his workshop services and s 80 watches every month, with the help of a host of machines and tools that are used to open and fix watches by companies like Rolex, Omega, and Cartier. These include instruments like the Witschi water resistance testing machine, Bergeon caseback opener—especially used to open Rolex timepieces—and machines like a chronoscope to test the accuracy of watches.

"After a watch is handed over to us, it goes through observation before we give an estimate for the servicing or . After the approval, we start to work on the watch. There are several aspects to this, including servicing of the whole mechanism with the help of a special cleaning machine. Then we use Swiss oils for lubrication. For every separate section, we use a different kind of oil," he says. Wadhwa adds that once the servicing has been done, they test the watch for accuracy and make sure that it meets the optimal levels of performance.

When it comes to owning state-of-the-art instruments and the skills to restore luxury timepieces, The isn't alone. Based in Mumbai, Luxury Watch Works is another independent watch service centre that has garnered immense popularity among watch collectors in the recent past. Sarosh Mody, who has spent over 20 years working for several watch brands in retail, distribution, after-sales service, and in an advisory capacity, founded the place after he realised that there was a big gap in qualitative after-sales service.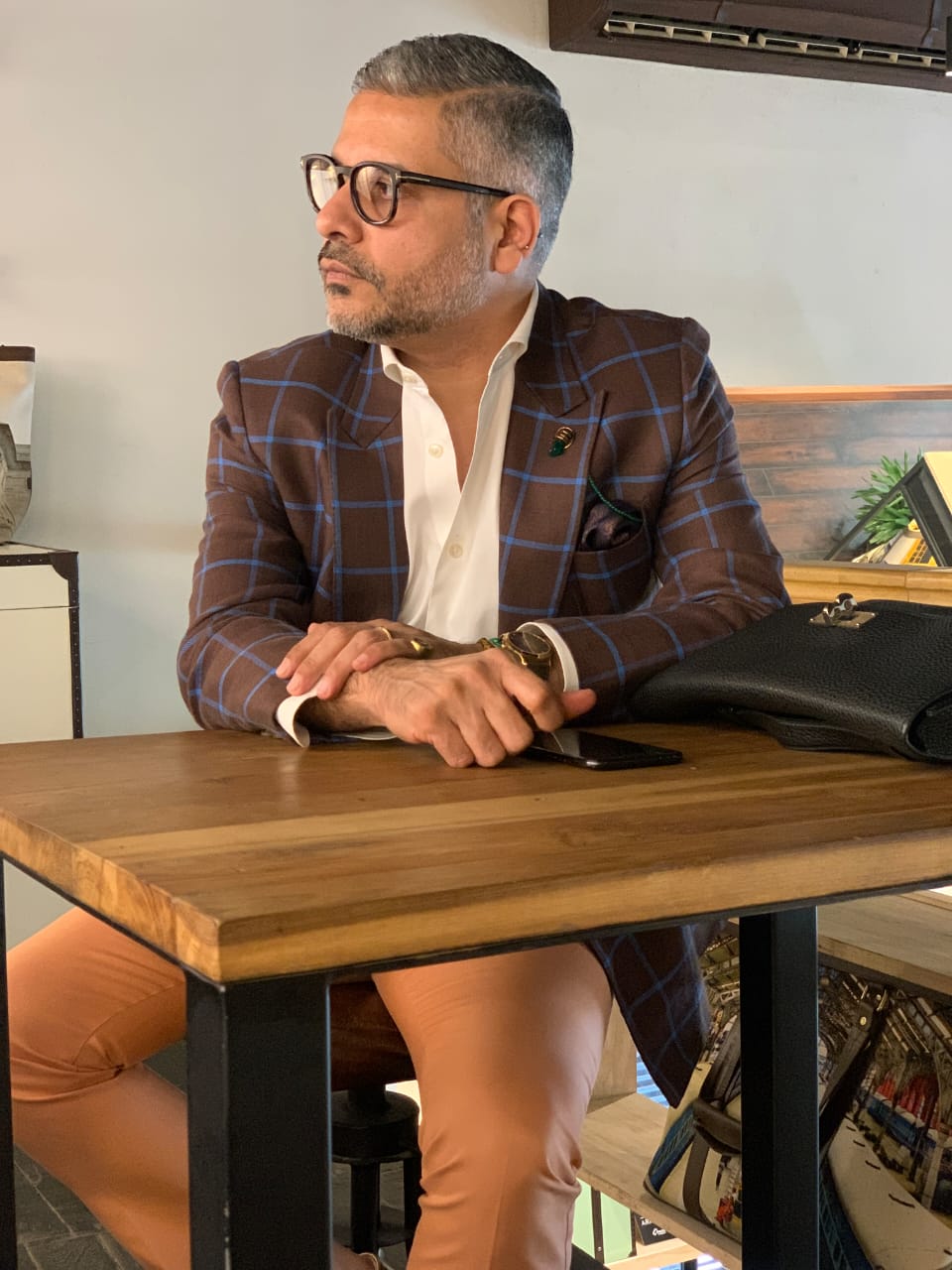 Sarosh Mody, Founder, Luxury Watch Works
"Our aim was to bring forth transparent and qualitative after-sales service to watch owners across India. For the same reason, our workshop is equipped with the latest tools and testing machines," says Mody. Currently, Luxury Watch Works holds an inventory of over 1,000 different kinds of generic watchmaking toolings and equipment and over 300 brand-specific special toolings.

"For the watches, when received at the workshop, a detailed Service Record Form is drawn up, noting down all the physical attributes, as seen and Sarosh Mody, Founder, Luxury Watch Works inspected by the technical team. Then, an estimate for the s/intervention is drawn up and sent to the client's email, within 48 hours. Subject to availability of spare parts, the service is completed within three weeks (with testing)," he says. To instil a sense of confidence among his customers, his team of 12 watch repairers has been trained by brands themselves and is authorised to conduct technical interventions.

Much like Mody's Luxury Watch Works, another service centre in Mumbai that emphasises training with foremost watch brands is Maison D'horlogerie. The centre is run and owned by Chandraprakash Pogu, who entered the world of horology back in 1985, and has since trained as a watch repairer under the guidance of around 15 brands including
Vacheron Constantin
, Rolex, Chopard, and H. Moser & Cie. Owing to his exhaustive experience and the skill of his team of six other watch repairers, whom he has trained himself, Maison D'horlogerie has become a go-to service centre for many luxury watch owners in the country.
"Watchmaking was my hobby since childhood and when I grew up, I decided to do it professionally. I came from Hyderabad to Mumbai and began working for different watch brands, before starting my own service centre," says Pogu, who, before establishing Maison D'horlogerie, worked with DiA, a retail store of luxury goods and jewellery, as a technician for almost a decade.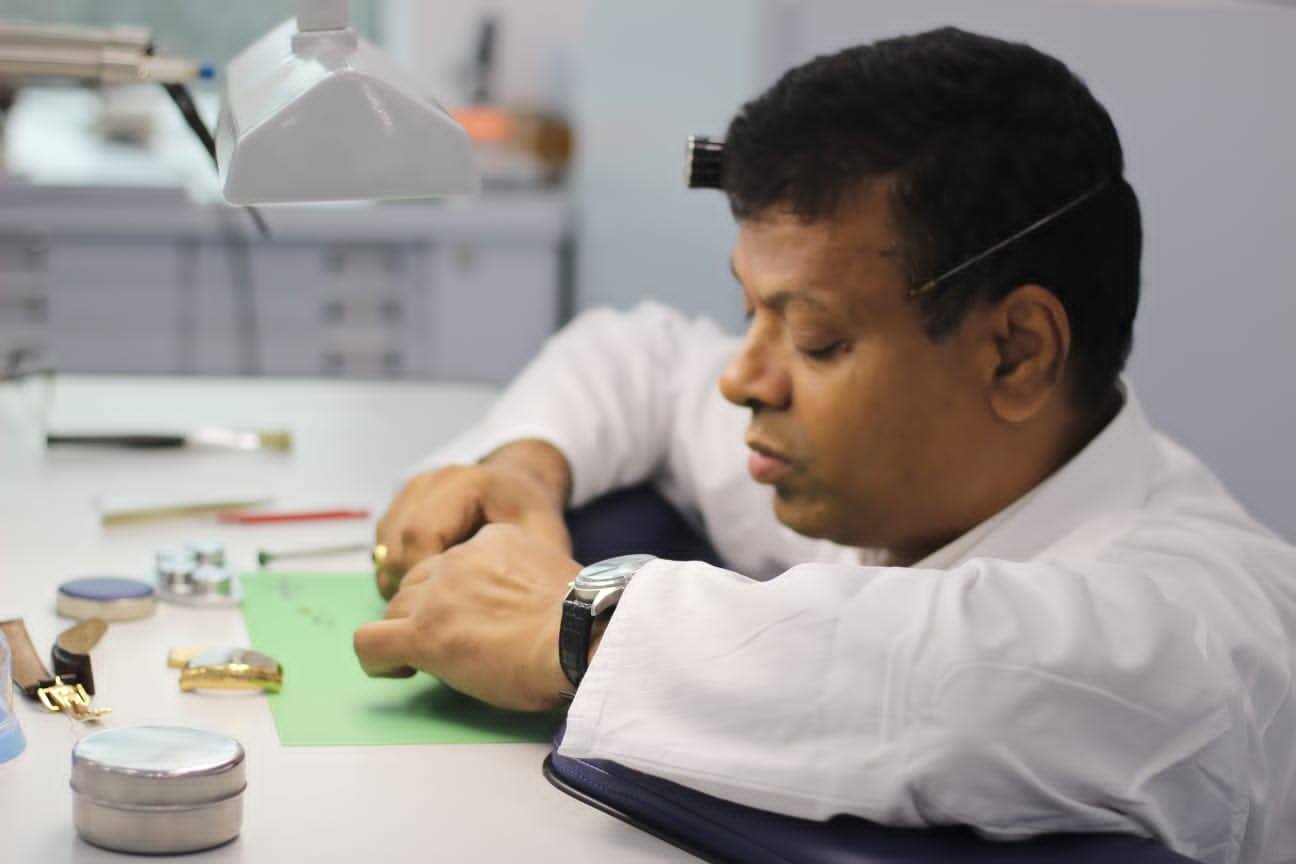 Chandraprakash Pogu, owner and head of Maison D'horlogerie
An expert in restoring perpetual calendars, minute repeaters, and other highly complicated timepieces, Pogu says he and his team provide services like replacing worn-out parts of a watch, ultrasonic cleaning with specialised chemicals and liquids, gear adjustments, polishing, oiling and greasing of movements, and testing water resistance. Maison D'horlogerie is also equipped with a lathe machine, Witschi's Chronoscope—to check the accuracy of timepieces—and Elma's Cyclomotion, which is used to wind watches. Pogu says that he has a long list of clients who prefer coming to him rather than approaching Swiss-based service centres.
"I recently fixed a Vacheron Constantin Perpetual Calendar whose owner was struggling to get it serviced Harman Wadhwa and his technicians at The Repair Hub for over two years. Even the official service centre in Geneva couldn't do it. Similarly, some time ago, I restored a very complicated lot watch that featured a minute repeater, tourbillon, and chronograph," he adds.

Talking about the challenges of servicing and restoring luxury watches in India, Pogu says that there are times when he has to wait for weeks to get a certain component from a different country. Wadhwa agrees, adding that importing machines for watch servicing is also a daunting task. "The cost of each of the imported machines and equipment can be quite high but for maintaining the Swiss standard, equipment should be constantly upgraded," he says.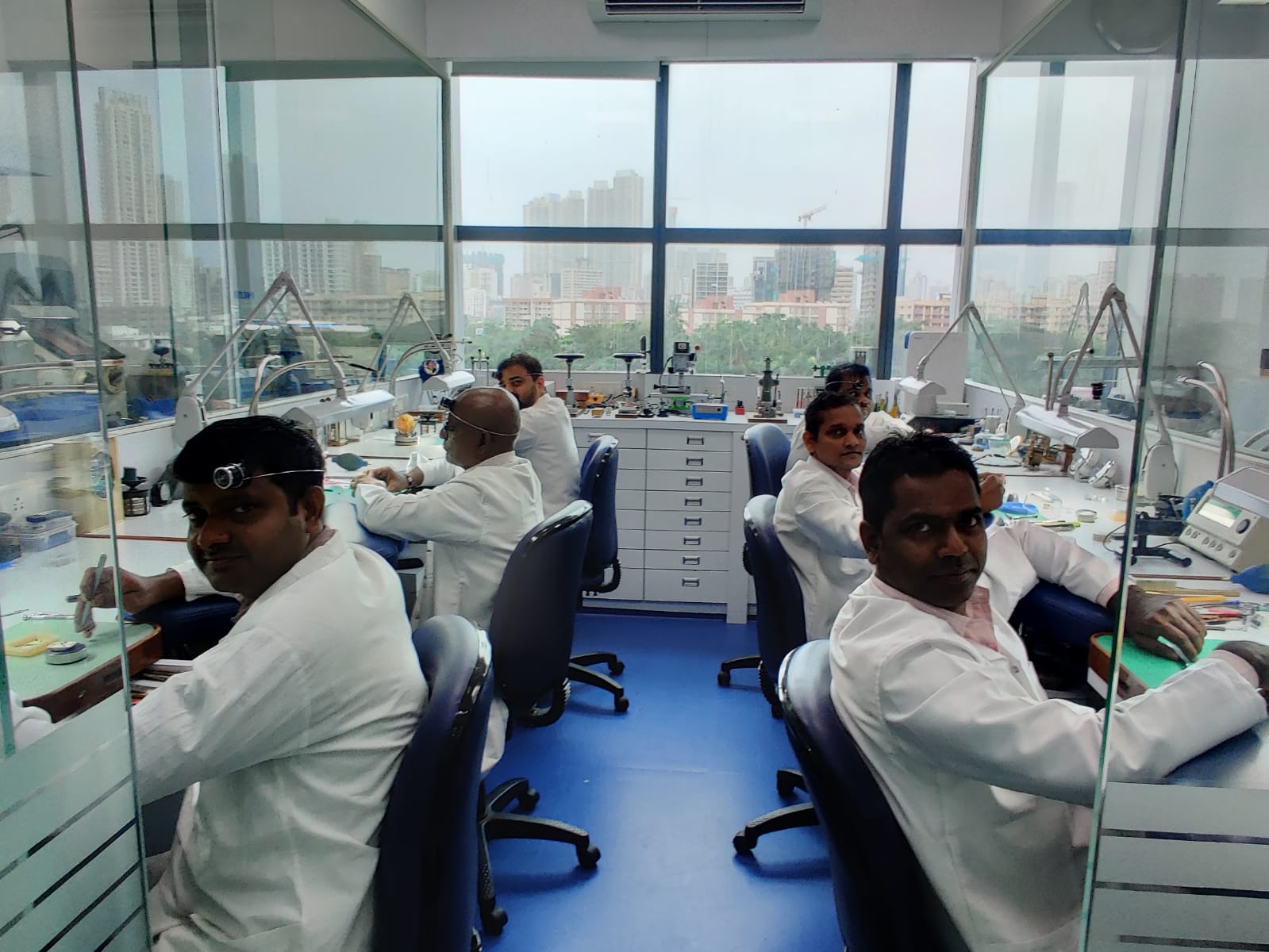 Techinicians at Maison D'Horlogerie
Even though these local service centres go a long way in offering ease of servicing, there is still a large chunk of watch collectors that has a trust deficit regarding sending their valuable timepieces, especially those under warranty, to them. Dr Madan explains that it's due to lack of experience and unsavoury experiences in the past that some owners would rather wait for months to get their watches serviced. "If it's a Swiss watch and costs around four or five lakhs, then most owners prefer sending it to the brand's official service centre and don't mind waiting for even six months. They have the assurance that the company will be responsible if something goes wrong," he says.

Independent service centre owners like Wadhwa do acknowledge the issue, but are hopeful that with time and better services, the fear among watch collectors will go away. "However, I feel that as we gain more expertise and learn new skills, customers will start to trust us more. We are constantly trying to improve and keep the customers in the loop regarding every step of the servicing while taking their feedback seriously," he adds.