Our first Guest Columnist Josh Rankin takes you through the historical journey of the Emperor of Austria - Francis Joseph I - and his specially designed Audemars Piguet timepiece.
""A gentleman's choice of timepiece says as much about him as does his Saville Row suit,""
The colourful architect of a certain Mr. Bond once wrote. A cheeky quote that us horophiles occasionally use as enablement to loosen the purse strings a bit more than we should. Sure, it's a broad and unabashed generalisation, but when we squint hard it's one that we can almost believe, even when we know deep down that it's the man that makes the watch. After all, could we have hand-picked a better watch for 007 than his spy-moded Submariner/Seamaster? A Fifty-Fathoms perhaps, or a G-Shock for the wet work...
Such a notion, when applied to a watch completely unbound by finances, whose every detail was conceived by a man who possessed the wealth and power of nations, has the ability to tell a much deeper story.
Trade Mr. Flemings' Saville Row suit for the white waistcoat and scarlet trousers of an Austrian military officer and the image of Francis Joseph I, known by his formal title as the last and longest reigning Emperor of Austria, comes into focus. So ubiquitous was this ensemble to the Emperor that he was fondly referred to as "Lieutenant Red Legs".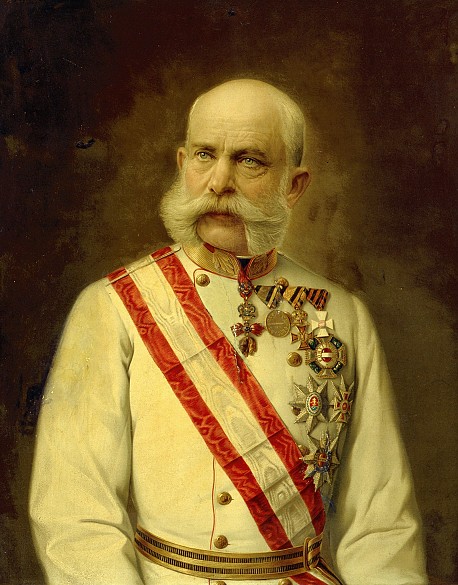 The timepiece half of the equation would enter the picture much later in the Emperors life, so late, in fact, that he never got to hold it in the metal. He died in 1916, two years after Audemars Piguet began work on the Imperial commission. This was a watch limited only by the imagination of it's designer and the technology and the skills of its maker. What would such a watch say about such a man?
Francis Joseph I entered the world on August 18th, 1830 in Vienna, Austria. The son of Archduke Franz Karl of Austria and Princess Sophie of Bavaria, the young Archduke was a scion of the ancient Habsburg family that at one time ruled over most of Europe. His youth was spent roaming the halls of Schönbrunn Palace, the sprawling 16th century 1,441 room manse that he and his family called home.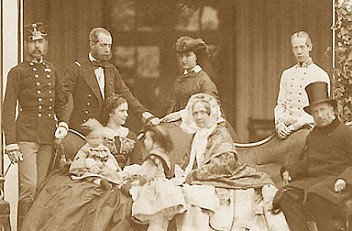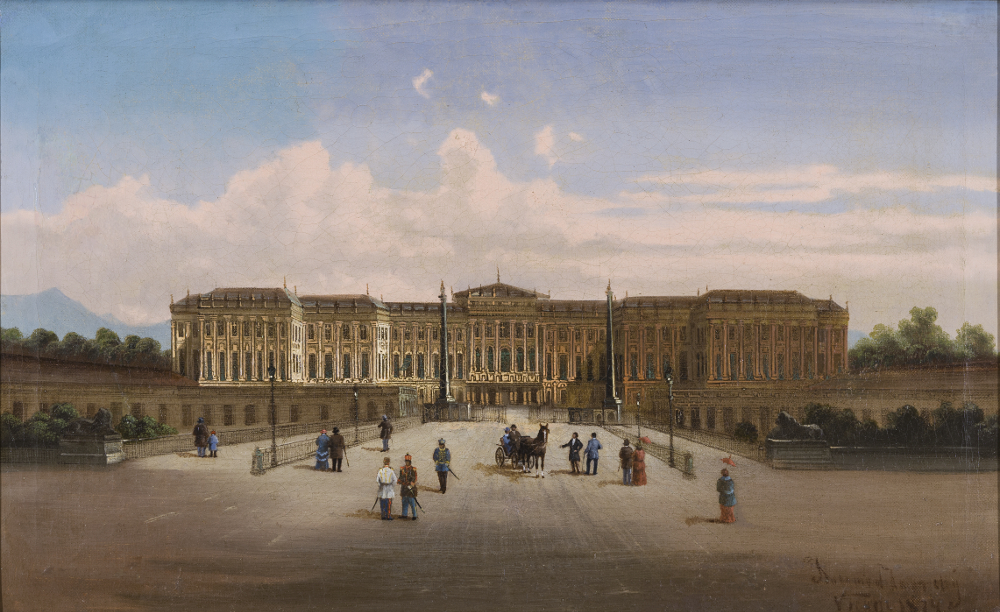 'Franzi' was the eldest of four brothers and one sister. Two years behind him was Ferdinan Maximilian, or Max, Charles Ludwig a year later, Maria Anna in 1835, and Ludwig Victor in 1842. Fragile from birth, his sister suffered from increasingly frequent seizures that took her life at the age of four. Upon her passing nine-year-old Francis Joseph, in an innocently misguided attempt to comfort his grief stricken mother, bought her a monkey with his pocket money, crying to her that he was sorry he was unable to buy her another little girl.
It was customary for young Archdukes to be groomed for roles in military and state leadership, and Francis Joseph showed a particular aptitude and enthusiasm from a young age. As a toddler he would march beneath his nursery window to the sound of bugle calls from a nearby parade ground, even spending one Christmas night calling cadence to his older Archduke uncles who playfully obliged him. It was clear Franzi was destined to become a soldier.
At the tender age of 13 he was commissioned as a Colonel in the Austrian Army. On the 5th of May, 1848 Franz-Josef got his first taste of combat, receiving his baptism of fire at Santa Lucia while battling to break the nationalist Magyar revolutionaries.
The Austrian Empire of the mid 19th century was anything but a unified whole. It was a diverse patchwork of nations and ethnicities, and nationalism was threatening to break it apart at the seams.
In the face of this growing threat, Francis Josephs' uncle, the well meaning but feeble minded Emperor Ferdinand I and Minister President Prince Felix of Schwarzenberg abdicated the throne at Olomouc, paving the way for a more capable monarch.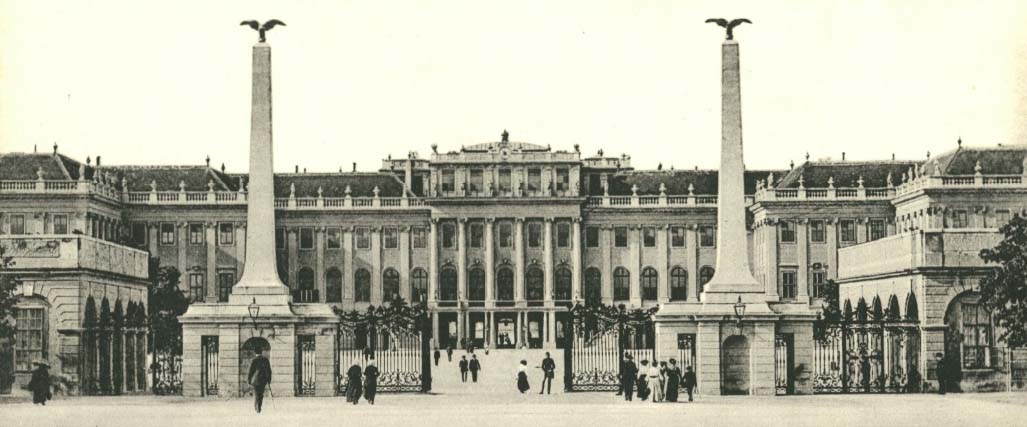 If the empire were to survive it would need a leader of youth, vitality, vision and devotion. In a bid to bastion the monarchy from the progressives, Prince Alfred I of Windisch-Grätz, an influential Bohemian military commander, championed young Franzi as the ideal successor, reasoning that the new youthful Emperor would be unburdened by previous agreements made by the sickly Ferdinand I regarding the constitutional government. The move was a success, and the fresh-faced Francis Joseph officially ascended the throne as Emperor of Austria on December 2nd, 1848. He was eighteen years old.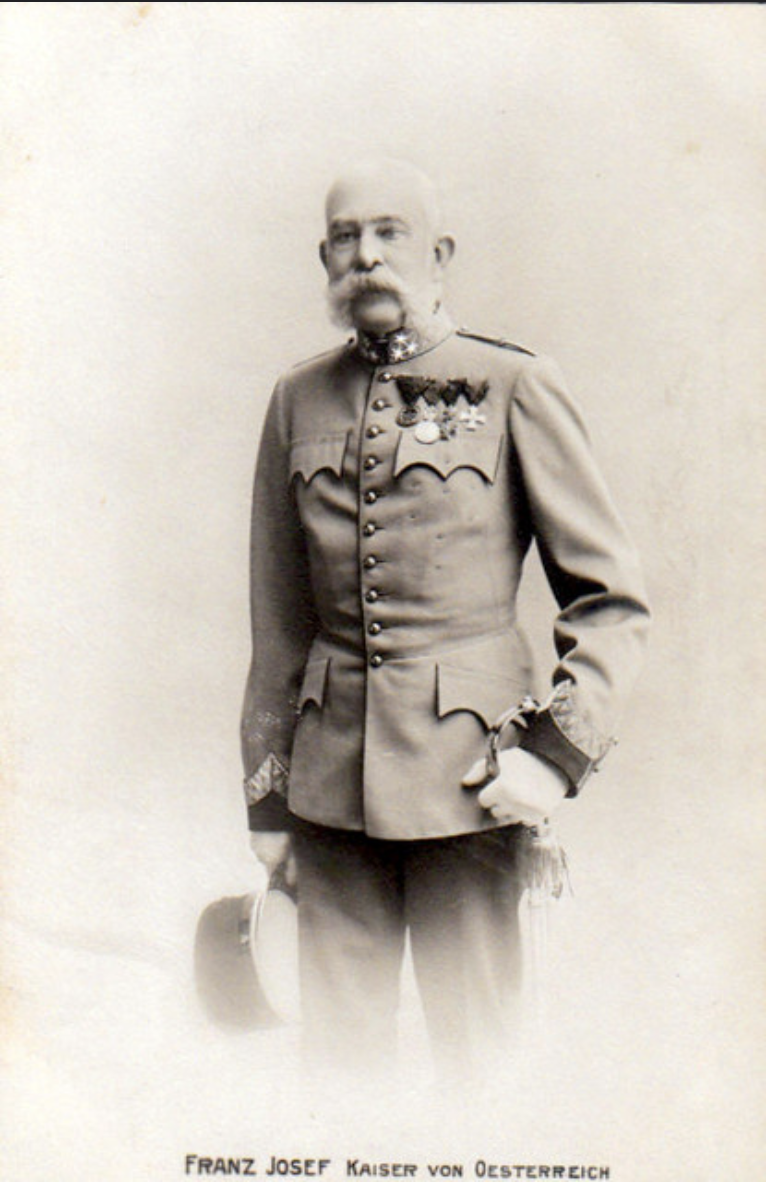 The passage of time gives broad space for armchair monarchs to weigh in on Francis Josephs' 68 years of rule - critics have chided him as cold and unimaginative. Historian F. R. Bridge believed that 'his toughness and perseverance were combined with a certain inelasticity of mind and lack of imagination.'
When Queen Victoria of England met the Emperor face-to-face in the early 1860's, she found him to be 'very quiet, simple and unaffected, not talkative, but very dignified.'
Although he was a firm proponent of the autocracy and never altered his belief in his divine appointment as figurehead, he ceded small bits of his power to local representative governments in ways that were beneficial to the preservation of the empire, but doubtless would have had his predecessors turning in their graves. This is a man that, confronted with the overwhelming tide of the changing times, did his very best to adapt.
He had no patience for superfluous conversation, and preferred a quick and concise decision making style akin to a modern-day corporate CEO. What he lacked in warmth and personality however he made up for in his steadfast devotion to his post and his people. He valued above all a just rule and routinely spent 10 hours a day at his desk handling affairs of state.
He was a family man and a loving son and husband, but the quiet and reserved Emperor suffered as many parents do, struggling to connect with his only son Rudolph. His reign would be the longest of any European monarch of the previous three centuries, but in a sad irony, many of those closest to him would meet an untimely and tragic demise. Prior to the commission of his watch in 1914 and the assassination of his nephew, Franz Ferdinand that same year, an event that would ultimately lead to WWI, he would lose his wife, his only son, his brother Max, and his infant daughter.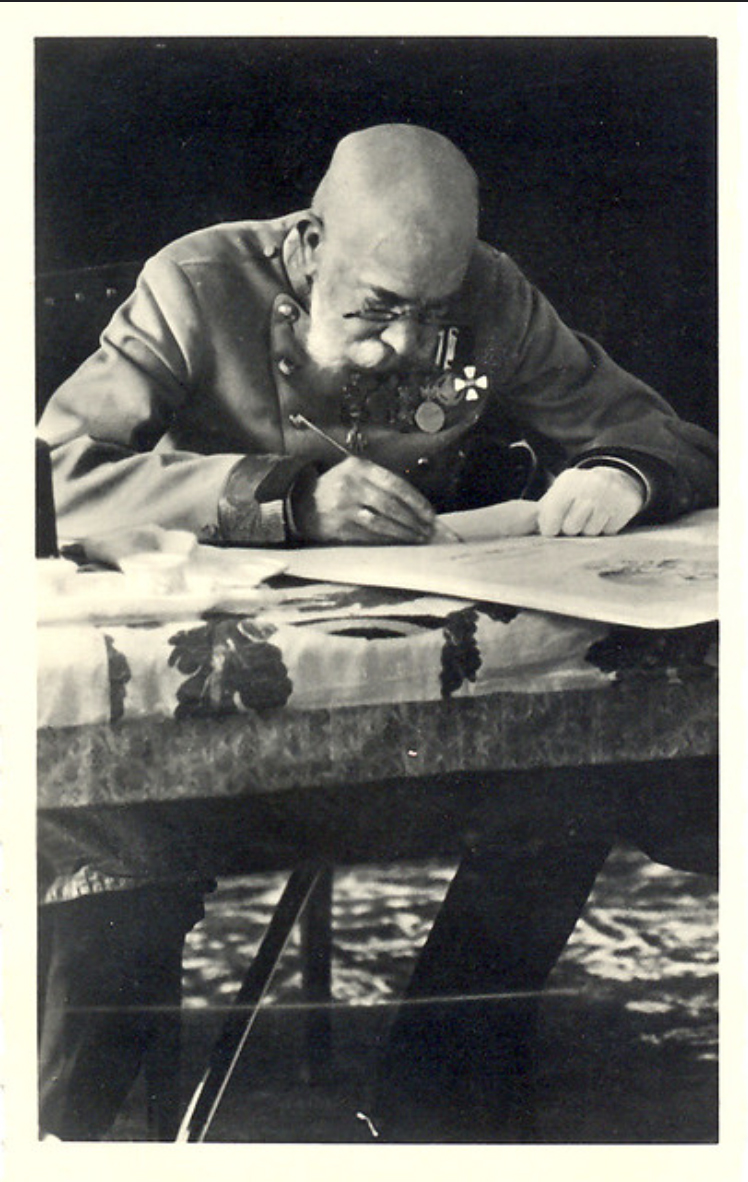 As Francis Joseph the man was a contrast to what some would expect from an all-powerful Emperor, it's not surprising that the watch he designed presents in stark contrast to the bejewelled spectacle one might expect from an imperial commission. The complications specified by the Emperor give the impression that this was not a watch that would simply be displayed, but one that would be used with regularity.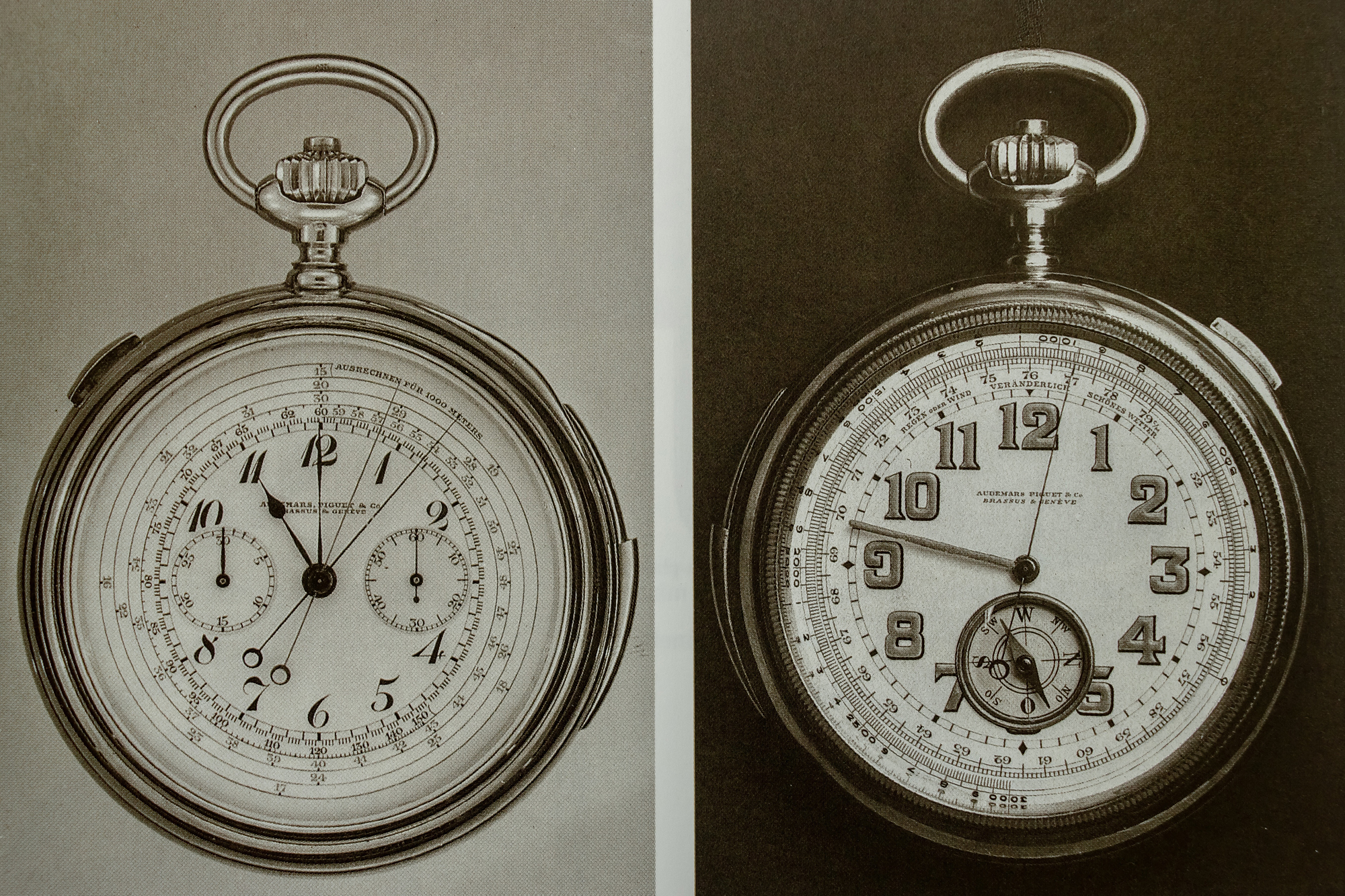 For example, in addition to the standard high horology fare of the time (dual time zone, minute repeating mechanism and flyback split-second chronograph), a barometer, compass and alarm that could be set to the minute were requested. A barometer and a compass.
To best accommodate the Emperors wishes, Audemars Piguet used a double-face format. Both dials appear to be white porcelain. On one side is a dual-register split-second flyback chronograph with an outer tachymeter scale. The hours are enamelled in elegant black Breguet-style script.
Flip the watch over and things begin to get interesting. The white porcelain dial here also displays a 12 hour register, but these numerals are filled generously with luminous compound.
Set into the dial at 6 o'clock in place of a subsidiary seconds register is a compass. A lone luminous coated baton hand, presumably to indicate the alarm setting, stretches from the centre of the dial which it shares with the long delicate barometer indicator. The barometer scale rings the outer edge, graduated from 0 to 3000.
One side of the case is home to a chronograph pusher, the other a repeater slide. Atop the crown is also a pusher. Undoubtedly a watch that was designed to be used, and used well. But, as it so often does, fate had other plans.
The Emperor died on the 21st of November, 1916, the result of pneumonia that had developed in his right lung days after a cold winter walk with the King of Bavaria. His death and the turmoil in Europe from the First World War led the watch to sit unclaimed for four years, relegated to a shelf in the Audemars Piguet strongroom.
The 1920 Geneva Watch Exhibition was just the platform Audemars Piguet needed to unveiltheir forgotten masterpiece to the public. The watch was displayed as part of a showcase of complicated timepieces. The uncommon combination of complications and exquisite craftsmanship caught the attention of the press and one fateful eye in particular.
By the conclusion of the fair the watch was sold, the only indication of its buyer a single name scribbled in AP's registers - 'Casanova'. It's here, almost 100 years ago that the trail of the watch goes cold, leaving us to contemplate the mystery. What, or who is 'Casanova'? Perhaps it was the Bolognese watch retailer who sold other notable Audemars Piguet watches (ref. 1533 chronograph in Phillips GWA:8, originally retailed in 1943) or was it simply a gentleman with a memorable name and a keen eye for horology?
Where the watch is now is anyones guess. One can almost picture it sitting in a dusty attic jumbled with antiquarian relics in a forgotten house in a forgotten corner of old Europe, waiting patiently to be discovered. The truth is we may never know, and some mysteries leave no clues.