A watch aficionado, and a wine connoisseur, the CEO of Eleven James is a force to reckon with. Talking watches, entrepreneurship, and the value of family, WatchTime India presents the second part of the exclusive interview with Randy Brandoff – the main behind the subscription-based service for renting luxury timepieces.
WTI: What was your family's reaction like?
RB: My wife, I can tell you, a million percent believed in the idea and my passion. Her reaction was, I think, "it's a brilliant idea, but I'm worried because we're about to have kids and this would be like another child. Would you be able to handle it"? I think I had to convince her more on my ability to balance my commitment to both my work child and my family. But having your family's support is essential for your entrepreneurial spirit. Some people might not believe in your idea at the first go, because they can't visualise it like you do. They'd believe it once they see it. On the other hand, some people are with you from the go, because they can understand the picture you've created in your head. I think, this is a very important lesson which I learnt through my family, to never give up.
WTI: Do you think there will be a steady growth in the trend of "renting watches" in the coming years?
RB: I wholeheartedly believe, that what Eleven James is currently doing, is in tune with the luxury consumer's current mindset. The concept of ownership is just a part of the mindset which enables you to get what you want when you want. I believe Eleven James is going to expand and find countless members who will be interested in being a part of a platform that allows them to experience luxury in this way. To have us help them with their own personal collection. Brands are not considering any alternatives to making and selling timepieces, though I may be wrong, and as long as companies like Eleven James continue to strive, consumers will find it much easier to get what they want.
WTI: What kind of members do you have on board? Are there more "try-before-you-buy" or young enthusiasts?
RB: Those two are actually very important buckets for us. However, there are two more buckets we focus on. One bucket consists of consumers like me – we want the variety but we can't justify the number of timepieces we own. Like, a customer once said to me, "there are more watches I want to date, than I want to marry". The other bucket is the one where the customer doesn't want to own the watches, but just wants to wear them for fun because those watches are cool.
Even when you come to the corporate gifting schemes, watches are considered to be some of the top most gifts/incentives which are given to employees. Our $149 program taps this 77-billion dollar corporate gifting market place. Getting an Eleven James membership is a fantastic opportunity because you just can't go wrong with it.
We also do data and surveys, which indicate that there is a natural seasonality in accessorizing. I think this will be the core of our female audience, as it will allow them to refresh their look and style with each season. That is what an Eleven James membership allows you to do.
WTI: What category do you put yourself in, if we go according to the various packages under Eleven James – Enthusiast, Aficionado, Connoisseur, or Virtuoso?
RB: I'm absolutely a hybrid member. I believe, there's a watch and a place for everything. I have two young kids and if I'm with them in the park, chasing them, I'd choose a relatively inexpensive timepiece. But in my life and work, I'm attending a lot of formal functions, for which I'd require a dressy watch which I'd probably choose from the Connoisseur or the Virtuoso collection. So I really love the dynamism of having the variety. My family is, honestly, the only consistency I need. I am all for variety otherwise.
WTI: You recently launched a collection for women. What has the response been like?
RB: Women have started enquiring and signing up. Our first rotation was in January 2017. We believe in giving each member what they want. We launch a popular list of brands and models, as a proxy to what women actually want. We need time to know what exactly they desire and then we fill up accordingly.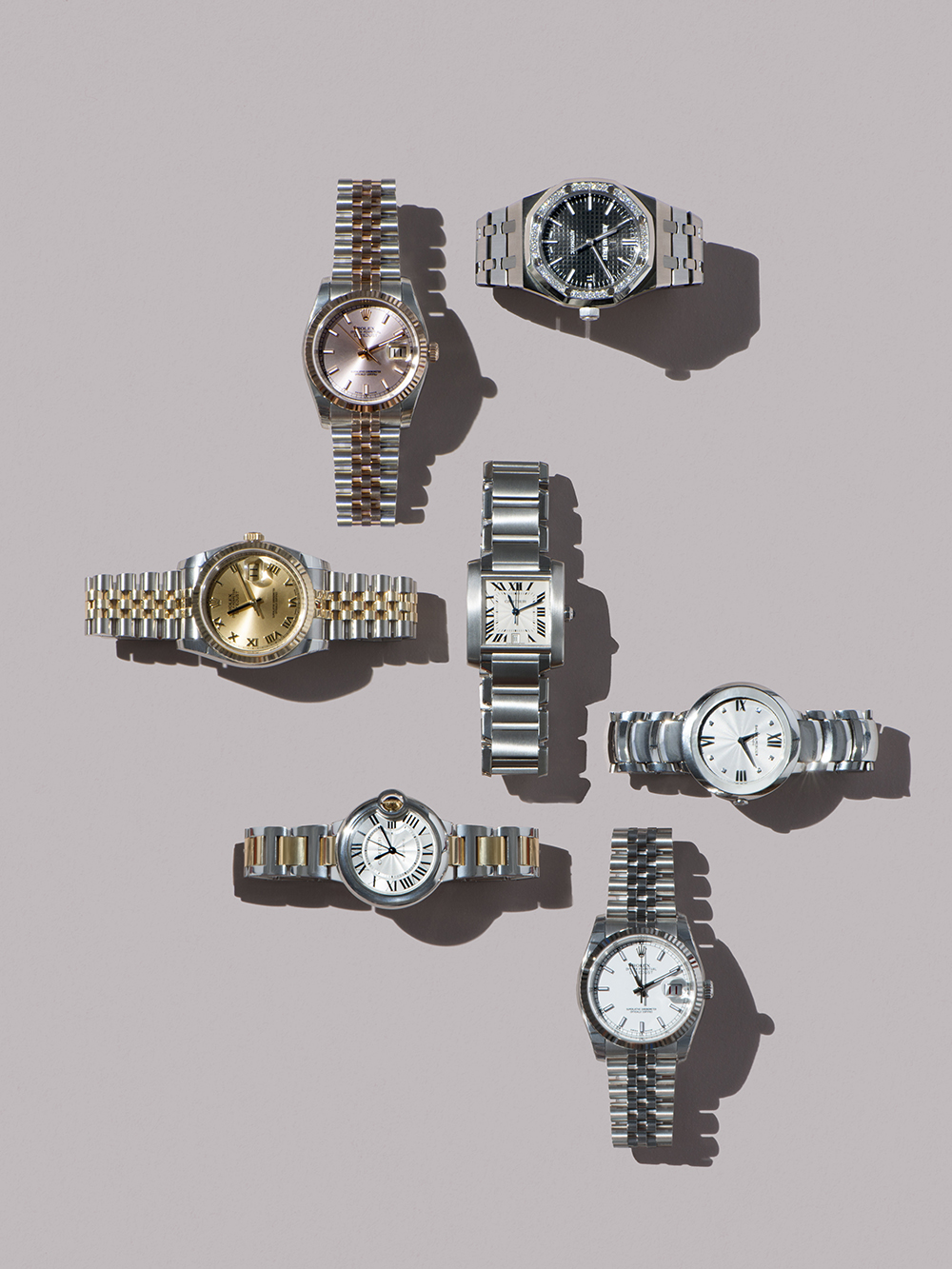 Part of the newly-launched Eleven James Women's Collection
WTI: A lot of brands are introducing mechanical timepieces for women. Do you think there's an actual demand for complicated watches for women, or are they just treated as high-end jewelled accessories?
RB: Honestly, I don't know the women luxury watch consumer well enough yet. But I will have a lot of intel if we have a follow-up discussion a year later. But there are logical growth opportunities. There is a real market of educated female consumers who cater to the jewellery pieces which are well-adorned by brands, but are not mechanically significant. Recently, I think they must have heard or seen enough demand for complications in a pretty timepiece. They see it as an opportunity in a sector which has been under-catered and I suspect they see a demand. It's just a question of how big the opportunity actually is.
However, I am fascinated by the notion. This is one of the few uncapped directions the industry can go into.
WTI: Lastly, how do you cater to someone who isn't able to locate the timepiece of their choice on the website?
RB: Firstly, we're adding new watches on a monthly-basis. We do our own photography for each timepiece, so there is a natural lag, because of which, maybe 10 – 20 per cent of the time, the timepieces may not make it to the site immediately.
Secondly, our members provide us with the whole data about themselves, and what they want, and own. We're constantly aggregating our collection and curating it accordingly, so as to make informed decisions.
However, as a prospect, if you call and say you want a specific timepiece – if it's consistent with what we've been hearing about the trends, and opinions etc, it'll be added to the collection sooner. But if it's a unicorn request, then it's hard to add a timepiece for which there's no demand. If it's something totally unique we encourage you to acquire it yourself and we'll be happy to help you do so.
The fact of the matter is, you join Eleven James because you have a handful in mind, not the desire to just wear one watch. Once we have a member on board, we send them the list of timepieces they'll be receiving, but we request for some flexibility based on the availability of certain timepieces.