Established in 1889, Doxa enjoys a fervent following of watch enthusiasts, thanks to its reliable and perfectly legible dive watches. From releasing the first-ever watch with a helium release valve to introducing the iconic orange-coloured dials, the independent Swiss watchmaker is known for pushing the boundaries of innovation and breaking stereotypes. This year, the brand first introduced the much coveted Army Limited Edition in ceramic and titanium, which got sold out within a day — the timepiece was also nominated for Grand Prix d'Horlogerie de Genève's (GPHG) diver's category in 2022 — and then later unveiled an unlimited edition in steel.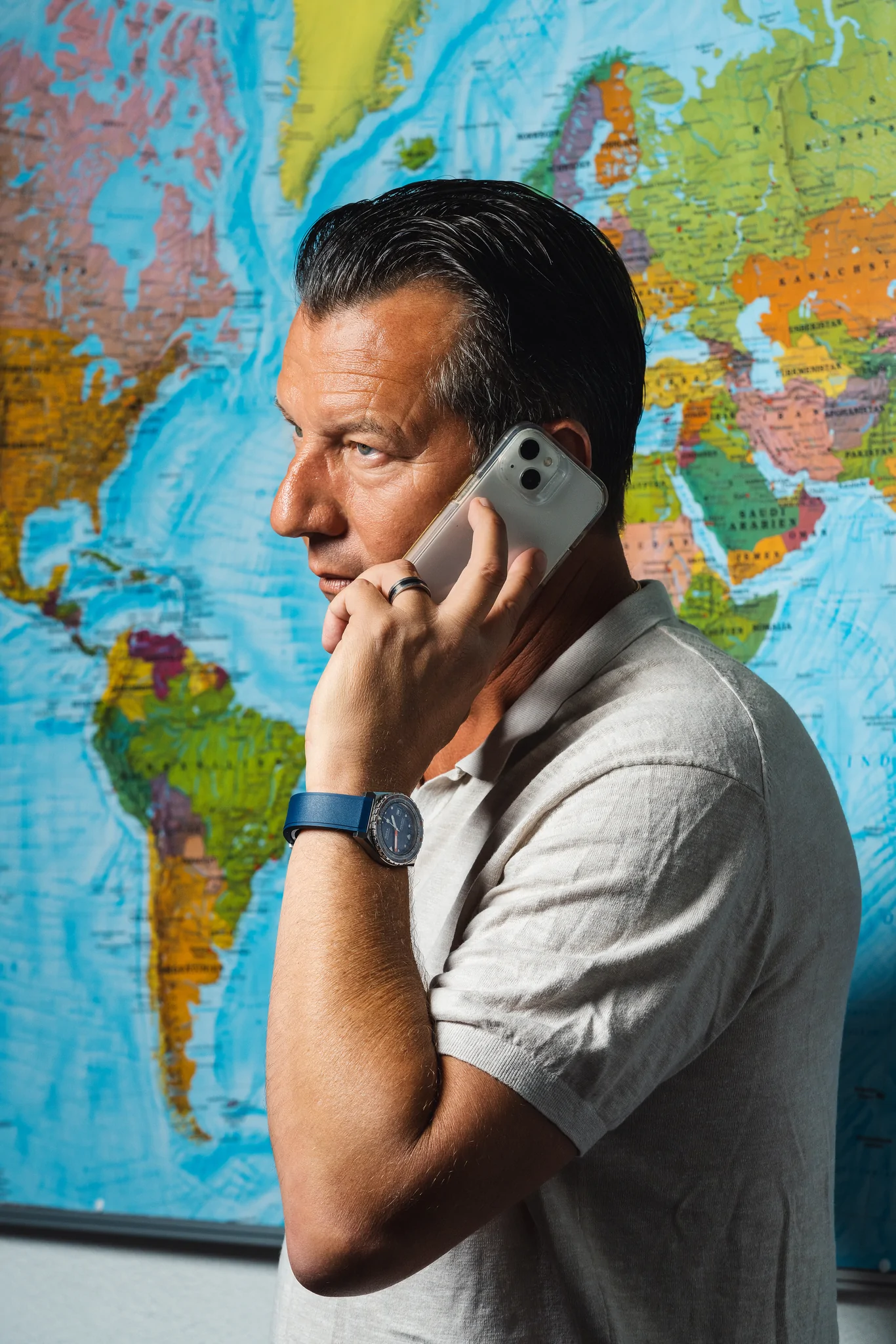 Undoubtedly, these new models have further solidified Doxa's position as one of the foremost watchmakers in the dive watches category. And if there is one man who has played the most significant role in helping the brand build such a formidable reputation, especially in recent years, then it has to be Jan Edöcs — he became the CEO of Doxa in 2019.
WatchTime India caught up with Edöcs and talked about the brand's recent revival, why people still buy dive watches and the future of Doxa.

WatchTime India: Tell us about your journey with Doxa so far.

Jan Edöcs: We're really happy. As you know, Doxa got a revival two-and-a-half years ago. There has always been a big fan club of collectors for the brand but these collectors are ageing. The challenge was to bring the next generation into the picture. The fanatics of Doxa watches think that everybody knows about the brand but it isn't true. I went to my son and asked whether he knows who Jacques Cousteau is. He said that he is the new player for Paris Saint-Germain. That was big work that needed to be done. The biggest challenge was to find new consumers, young in age, and today, 60 per cent of the consumers are first-time buyers of Doxa. We also needed to add the right kind of products. We call them desk diver watches, which aren't pure heavy diver watches.
Also, since 2001, Doxa was only available online and its watches weren't available for sale in retail. So, for the last two-and-a-half years, we have been trying to get into the offline market and have opened up more than 80 stores with premium players like Ethos Watch Boutique in India. We are growing step by step.

WTI: Why do you think people still buy diver watches when there are so many advanced and technological instruments available in the market?

JE: It (Dive watch) is a statement on your wrist. Also, people wear different watches during the day if they can afford them but a dive watch is a status symbol also. Whereas, a computer is about functionality and safety. End of the 60s, you were dependent on the watch. Today, it's the computer that you rely on.
WTI: What makes for a great diver watch?

JE: Functionality, material, legibility, experience, and longevity.
WTI: What is the most popular Doxa model?

JE: It's SUB 300T. It was released in 1968 and was the first-ever watch to come equipped with a helium release valve.
WTI: What is the one thing people don't know about Doxa?

JE: A lot of people didn't know that Doxa, in 1968, was officially supplying watches to Swiss Army divers. However, people at that time didn't even know that there was a Swiss Army Diving unit. It was a secret till last year when the ministry of defence finally disclosed it.
WTI: At Geneva Watch Days this year, the brand expanded its Army collection. Please tell us more about the new models.

JE: The original watch was made from black oxidised steel, which can't be used today. So the new models were crafted from ceramic (released in April) but we made only 100 pieces and they got sold out in one day. This led to a lot of frustration in the market. We knew that when we come out with an unlimited steel version, it will also do fairly well. In order to play with the past, present, and future, the latest version features steel and bronze with a ceramic insert in what we call hunter-green colour. Also, we want to step into the future and don't want to just open up books of the past and make replicas. So here (the Army model) we combine materials as well as came out with a carbon piece one year ago. The guys who will be in charge of Doxa 50 years from now should think that we did new things even in 2022.
WTI: What is the reason behind Doxa's brightly coloured dials?

JE: In the 1960s, Doxa made diver watches with either dark blue or black dials. Then, they did a test in Lake Neuchâtel (located in Switzerland) which isn't anything like in the Maldives. It's dark. So when the divers, who were part of the test, went down in the lake, they found that the orange colour helped them the best to see the watch, especially during the first 30m. And during the 1960s, divers were dependent on their watches. That's why in 1968, orange became a revolutionary colour and we were lucky that Jacques Cousteau picked it up. Even today, we are going with such bright colours as they provide functionality with a simple view.
WTI: Where do you see Doxa five years from now?

JE: Five years from now, I see Doxa presented in the most important international markets. We are a family business and not part of a group so we know exactly where to go.