A truly rare Cartier watch, specially crafted for the Paris-Dakar Rally—one of the world's most gruelling motorsport races—will be up for auction for the first time ever at Sotheby's Paris in September. This Cartier Cheich is one of the four ever made and offered by the family of the Belgium-born racer Gaston Rahier, who was awarded the timepiece after winning the rally twice in a row in 1984 and 1985.
The watch was conceived after
Cartier
's then-CEO Alain Dominique Perrin reached out to Thierry Sabine, the founder of Paris-Dakar, with the suggestion of making a special timepiece to be given as a prize for the winner of the race. However, Perrin added a condition that in order to win the watch, the racer would need to win the race twice in a row using the same class of vehicle. This came to be known as the Cartier Challenge.
What gave this timepiece a unique identity was its design that took its inspiration from the rally's logo, a person wearing a cheich—the cloth worn around the head by the Tuareg people (Berber-speaking nomads) to protect them from the sun. Designed by Cartier's then creative director, Jacques Diltoer, and Perrin, the watch was crafted in gold and featured a dial with a central two-hand timekeeping system. Not only this, the watch became even rarer after the Cartier Challenge came to an abrupt end in 1986. That year, Sabine and four others died in a helicopter crash in Mali that led to the cancellation of the race. Apart from the aforementioned timepiece, the watchmaker had created three more variants, two of which are in its possession and one is considered to be lost.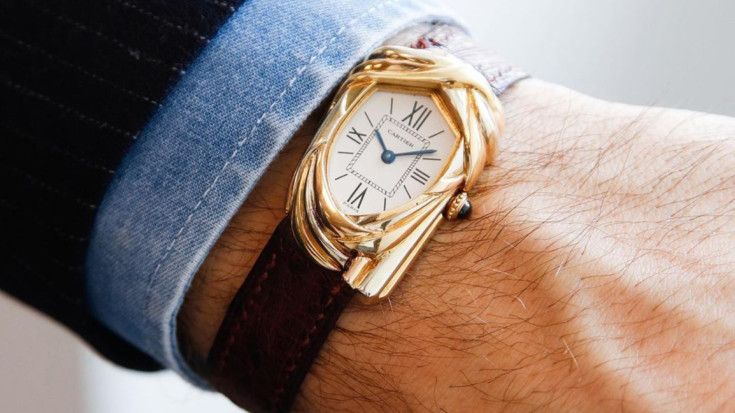 Besides the case design, the watch has more unique facets. Firstly, it is one of the few watches from Cartier to be fashioned from all three - yellow, white, and pink - golds. Then there is the fact that the watch does not have conventional lugs. The straps are fastened to the caseback using a special mechanism. The dial in itself features a railway track and Roman and bar hour markers. The hands are blued, and sword-shaped.
Speaking about the Cartier Cheich, Benoît Colson, international watch specialist at
Sotheby's
, explained, "Nothing quite like it would ever be made again, and its reemergence now from the family of the great champion to whom it was awarded, like a holy grail, is any serious watch collector's dream." He added, "There is no doubt that this Cheich watch, the only one awarded and the only one to come from private hands, is one of the most important Cartier wristwatches ever made." The piece is estimated to sell in the range of €200,000 to €400,000.
The Cartier Cheich is part of Sotheby's Fine Watches auction, set to take place in Paris from September 16-20, 2022.