Fusing innovation and tradition, Hublot celebrates the Bavarian craftsmanship with the new Big Bang Bavaria timepiece.
Swiss watch brand Hublot, and German manufacturer Meindl join hands this Oktoberfest – the world's most renowned festival – to introduce the new Big Bang Bavaria timepiece. A complete rendition of the traditions and culture of Bavaria, the timepiece is the perfect result of the fusion of the expertise of both the watchmaker and tanner. Showcasing supreme craftsmanship, merged with old-age materials, the timepiece is cut from bronze and is strapped to two hand-embroidered deer leather bracelets.
" I am delighted to have found partner in Hublot, one that shares our passion and our love of design, products and craftsmanship; we have created a product that brings together our two universes flawlessly!"
"Traditions provide new generations with a unique way of reconnecting with their identity, it is why they last. Braudel said that 'in order to hope, in order to move forward, we also need to know where we come from.' The Big Bang Bavaria is a concentration of history and traditions", says Jean-Claude Biver, Chairman of Hublot
Bronze – a material created in 3000 BC plays its debut with Hublot through the Big Bang Bavaria. Non-magnetic and resistant to corrosion, the metal gives the timepiece a rather unique appearance with its clean finish using the a natural patina. Each strap and case will be different as the metal enhances over time, adding more character to the timepiece. They are tanned and burnished by hand individually.
"The differences between state-of-the-art technique and authentic, living craftsmanship, and also those between the city and the mountain, are what embody everything that fascinates modern individuals and that inspires me to create our MEINDL products. I am delighted to have found partner in Hublot, one that shares our passion and our love of design, products and craftsmanship; we have created a product that brings together our two universes flawlessly!" Markus Meindl, CEO of Meindl
Unveiled at the Hublot boutique in Munich, the Big Bang Bavaria comes with a patented attachment system which allows it to change its "One click" straps easily. The first version is a natural light brown deer leather cuff which is further enhanced by two leather tabs embroidered with a deer head. The second version comes with an oak-leaves embroidery on "altsalzburg" (black-brown)- coloured deer leather. The heart remains the Hublot manufacture UNICO movement, complete with 330 components and a 72-hour power reserve. The self-winding bidirectional movement comes with a flyback chronograph and a column wheel on the side of the dial.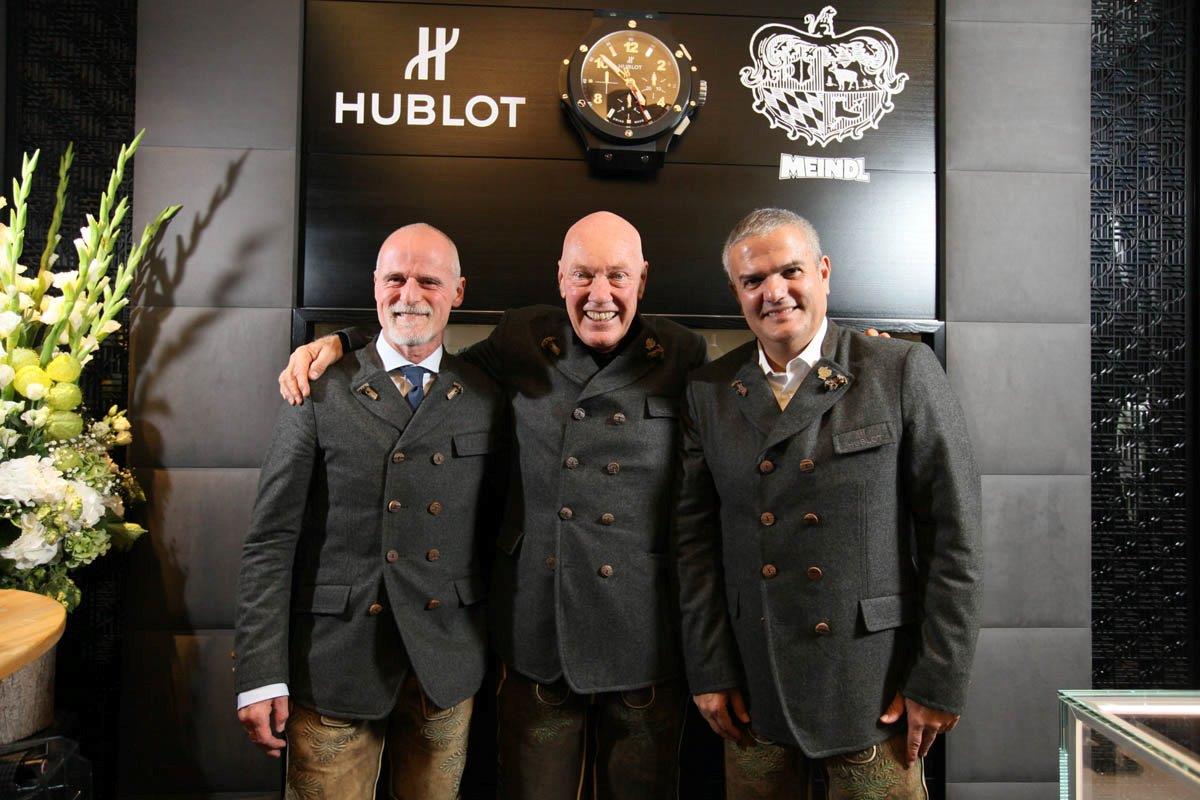 "For over 10 years, the Big Bang collection has been confirming that all styles suit it. Denim, linen Pop art, thousand colors... it also emphasises traditions. After its collaboration with the lace of Saint-Gall Bischoff, Hublot has partnered with Meindl to create the Big Bang Bavaria. This new piece is cut from an ancient metal—bronze, a metal that Hublot has loaded with tin and burnished—and its bracelet made from tanned hide, shaped and embroidered using age- old techniques. This watch has a rich history which naturally ensures its place in the future. Tradition and innovation has fused to celebrate Bavarian alpine art." - Ricardo Guadalupe, CEO of Hublot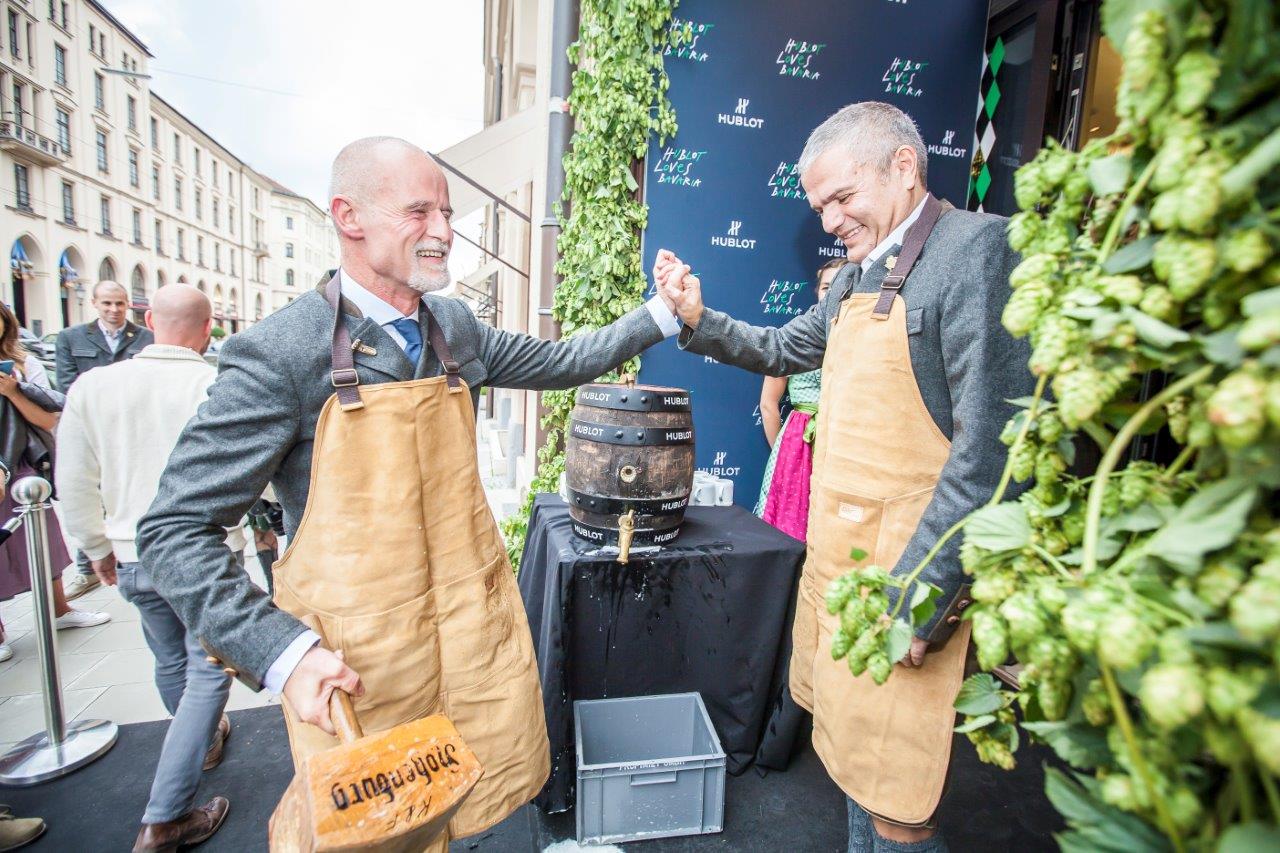 The Big Bang Bavaria strap hides centuries of traditional craftsmanship in its material. Reminiscent of the "Lederhosen", the short leather breeches that originated in Bavaria, the strap s cut in deer leather and hand-embroidered with a pattern only possible to create on deer leather. Traditional sewing gives a further 3D effect to the leather. The hide is tanned over a course of three to four months, during which it is salted and then plunged into a limestone-based liquid before being washed, then treated by hand with cod-liver oil and dried. The last two steps are repeated multiple times until the leather is entirely soaked in oil. The hide is then left to dry in the sun to develop a light brown colours and is then rubbed with sandpaper to bring out its velvet character. Lastly, the leather is then brushed with several with tropical wood bark colorants – completely preservative and chemical free – by Meindl up to five times.
The timepiece is limited to a 100 special editions.