There are few global watch events that have grown in stature and popularity the way Dubai Watch Week has. Since its inception in 2015, the biennial watch fair has become a top-billed immersive platform that not only showcases new releases, but also fosters an environment for spirited dialogue on the goings-on in the industry and provides enthusiasts a chance to try their hands at different facets of watchmaking. When not being held in Dubai, the show travels to different cities—in 2018, in partnership with Christie's, its first international Horology Forum was held in London, and just last month, it debuted in the United States with its 'Moves New York' edition. Given its unique ethos, last year the Grand Prix d'Horlogerie de Genève (GPHG) awarded Dubai Watch Week the Special Jury Prize.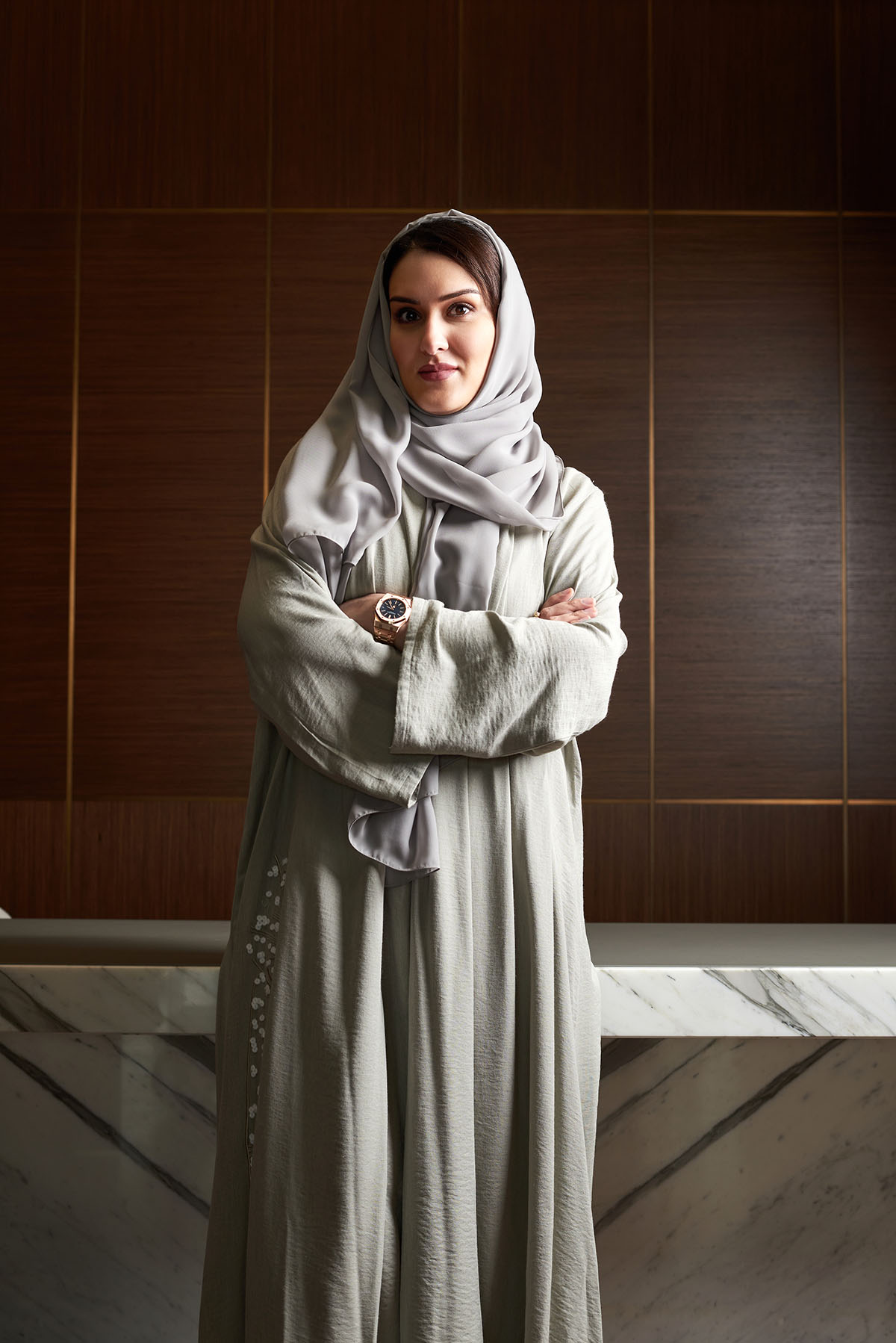 Behind the dynamic event and approach is Hind Abdul Hamied Seddiqi, Director General, Dubai Watch Week, and Chief Marketing and Communications Officer, Seddiqi Holding. Granddaughter of Ahmed Qasim Seddiqi, who founded Ahmed Seddiqi & Sons, UAE's leading watch retailer, Hind envisaged and delivered Dubai Watch Week's meteoric rise. She is often seen taking part in panel discussions and forums, and greeting attendees personally. This year, Hind is also on the 30-member jury of the GPHG that determines 2022's winning timepieces.
Being part of a family that is in many ways at the centre of the watch culture in the UAE means that timepieces form an important part of Hind's professional and personal life. It also means she has a collector's eye and a unique approach to buying watches. A discerning aficionado, she acquires only pieces that she loves, as opposed to following the It-watch-of-the-moment approach. Hind's collection features independents F.P.Journe (Élégante) and MB&F (FlyingT), alongside pieces from Patek Philippe (7180 Ultra Thin), A. Lange & Söhne (Lange 1 with a diamond set dial), and Richard Mille (RM007). WatchTime India caught up with the tour de force, just as she wrapped up her hectic New York schedule, to get an insight into her watch collection.
WatchTime India: How would you describe yourself as a collector, and what kind of watches do you prefer?
Hind Seddiqi:
My passion has always been to buy timepieces that I love. I prefer watches that are not commonly seen or purchased by many. They don't need to be limited editions, but generally they're not the usual suspects. I prefer leather straps over bracelets, and tend to gravitate towards watches men would wear. I love the independent watchmakers; I feel their pieces are very personal and that a part of their creativity and craftsmanship is present in them.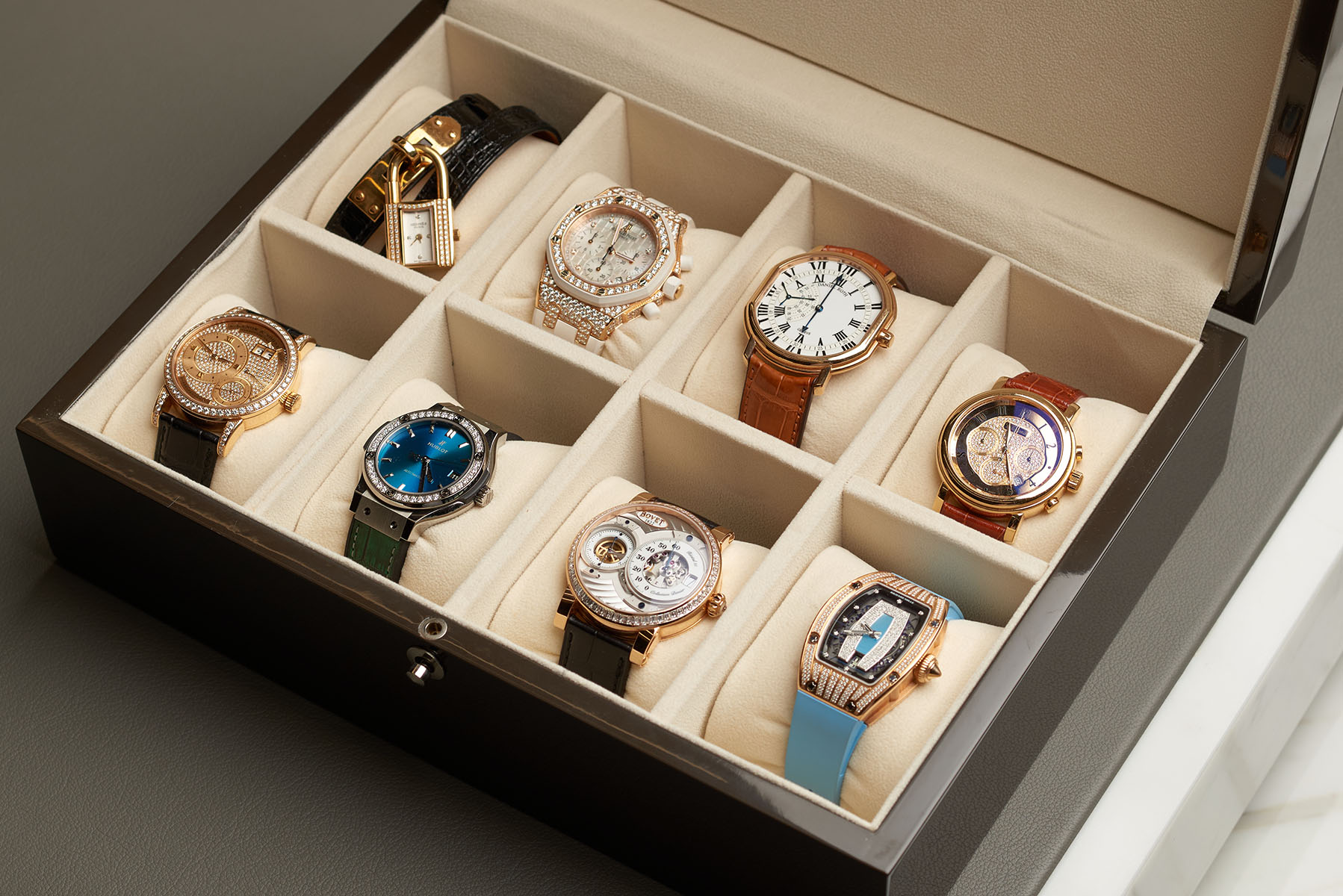 A closer look at Hind's watch box
WTI: Could you tell us more about your collection, your favourite watches in it, and why you love them?

HS:
I am a big believer in restraint and really investing in pieces, so I may not have as wide a collection as some may think. I am, however, blessed to have some really beautiful pieces.
My favourites include my yellow-gold Rolex Cosmograph Daytona, which was the first watch I purchased. My F.P.Journe Élégante is super comfortable, beautiful on the wrist, and requires no winding. Then there is the Patek Philippe ladies 175th Anniversary World Time Moon Ref. 7175R-001—this was a dream watch, which I never thought I would be able to own. I still remember the day I received the piece, and it was truly a very special moment. I also love my MB&F LM FlyingT yellow-gold case with a tiger-eye dial plate—it's such a stunning watch, and I can't stop staring at it when I wear it.
WTI: You grew up around watches. What was that like, and how did it affect your interest in them?
HS:
I was always intrigued by the watches my father used to show us. For a 90s child, it was one of the most fascinating objects we could get our hands on besides video games and life-sized Barbies. It was always very interesting when he would explain how chronographs could be used, but I guess what always fascinated me were the stories of the brands—who they are, how they started etc.
WTI: What instances from your childhood or adolescence contributed towards building your interest in watches?
HS:
I do have some very fond memories. The first time I saw a Jaeger-LeCoultre Reverso, I loved the fact that you could conceal the watch in such a smooth way. Another would be the TAG Heuer link watch I was gifted when I received my French language certification. It was my first watch, and I still have it. It's such a special piece with steel and gold links. As a teenager, I loved the bezel and how it clicked when I turned it. Till date, I like to purchase a timepiece to commemorate certain milestones and hope to do so moving forward.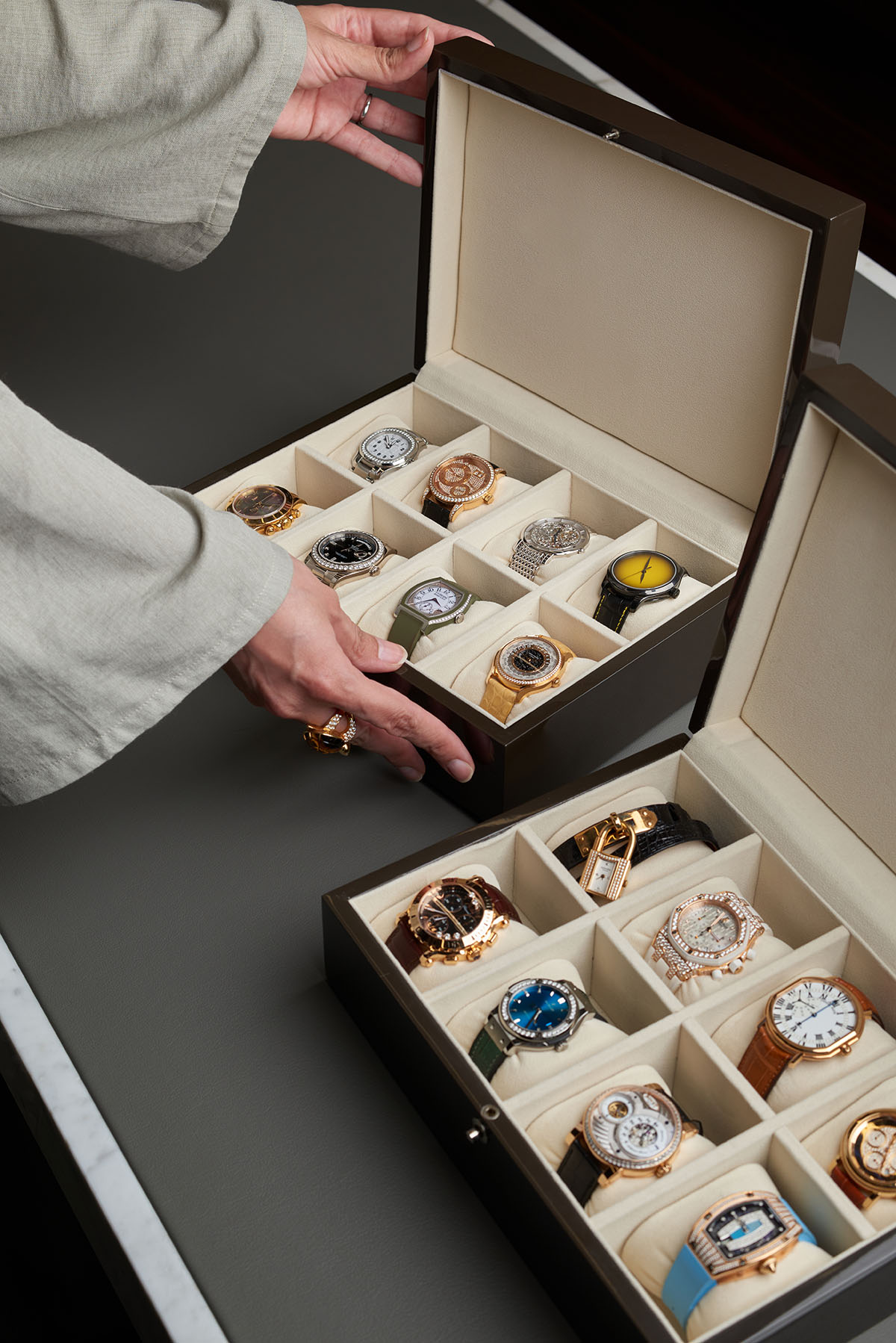 Hind's collection features independents F.P.Journe (Élégante) and MB&F (FlyingT), alongside pieces from Richard Mille (RM007) amongst others
WTI: What are some of your favourite watch 'hunt' stories?
HS:

My Patek Philippe anniversary edition was a dream. As a family business and a retailer, our objective is to always prioritise clients and what they're looking for. But this piece is special, and I wanted to try my luck. I still remember the day I walked into my uncle's office and said, "I know how we operate within the business, but I would love to own the ladies 175
th
anniversary World Time Moon if possible. I very rarely ask for anything so please consider my request." And the answer I received was, "We shall see".
I honestly left the office thinking, "Well I tried and if I don't get it, then perhaps I can purchase this another time." When I got a call from my cousin saying I was allocated the watch, I was over the moon. That's why it is very special to me.
WTI: Do you enjoy vintage watches as well?
HS:
HS: I do love vintage watches, specifically vintage Rolex watches. I guess this came from my father's love for Rolex. I haven't bought any vintage Rolex watches yet, because my father has a beautiful collection and I enjoy wearing those pieces. My brother and I, however, still purchase some for my father whenever we find interesting ones, to add to his collection.
WTI: Where have you found some of your most prized watches, vintage included?
HS:
To be honest, there are many amazing and trusted websites and platforms. However, we are cautious and always send people we trust to inspect the watches for us wherever they are around the world, before purchasing them, if we do not personally know the owners or platforms. I would always advise people to see the pieces physically before purchasing them.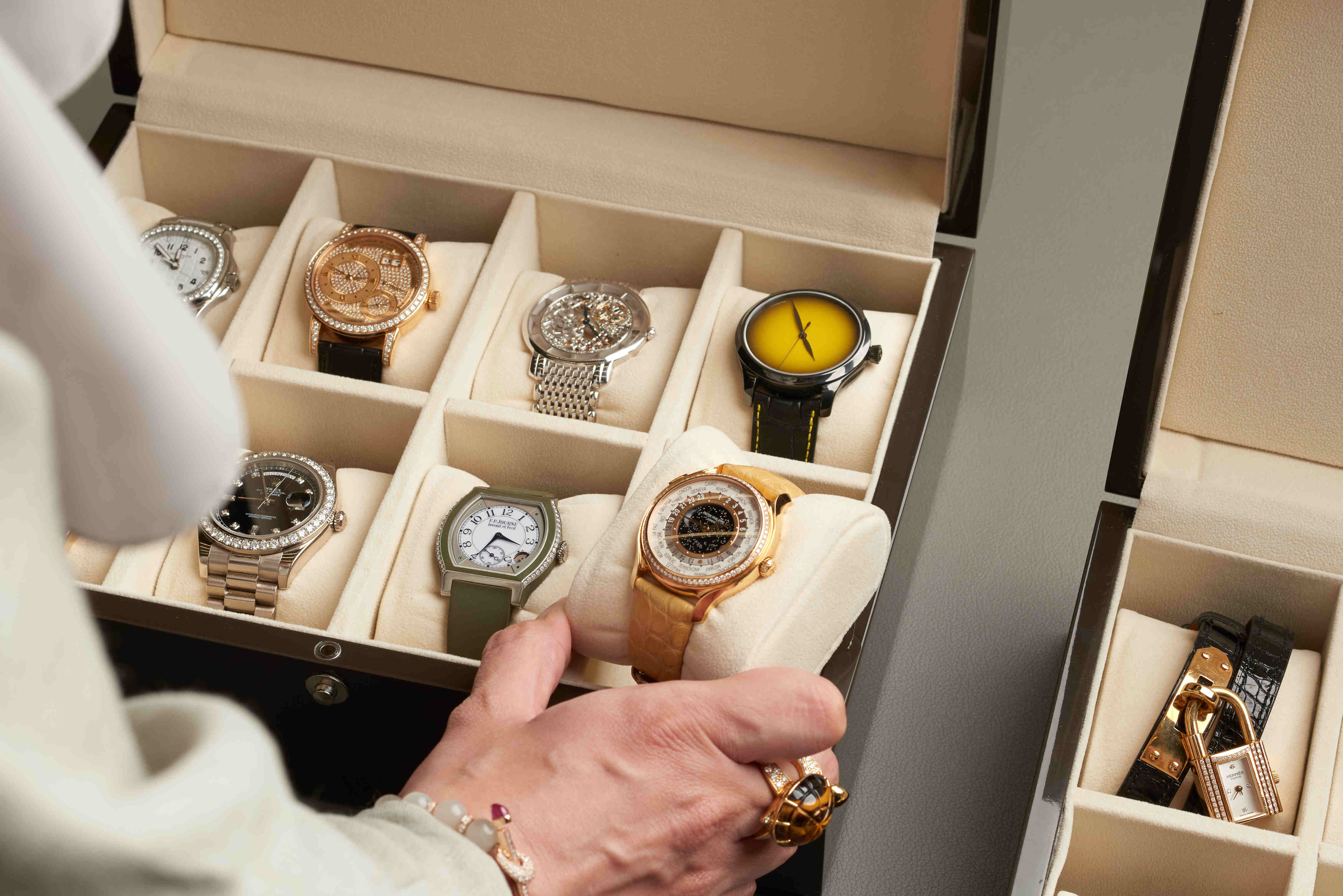 WTI: Do you have any set rules that you follow when it comes to buying watches?
HS:
My one rule is to buy pieces that I love. I do not have an agenda in mind or a reason for collecting, per se, but when I do come across a piece that I find special, I am open to adding it to my collection.
WTI: Do you tend to customise your pieces before or after you buy them, in any way?
HS:
Because I prefer watches with leather straps, I often change the straps and play around with many variations, which adds a certain stylish element. I was lucky enough to be gifted a two-of-a-kind
H. Moser & Cie.
watch by my cousin, who has the second piece. Black case with fumé yellow dial—an absolutely gorgeous watch. The UAE editions created by Ahmed Seddiqi & Sons are also very special to me because they are designed and conceptualised by us internally. So, I like to buy as many UAE editions as I can. Hence, they are my favourite 'customised' watches.
WTI: What's your stand on gender, size, movements, and aesthetics, and the rules pertaining to them?
HS:
One must buy only what they love and what suits their character. I enjoy it when my sisters say "This is such a Hind piece," because they understand the style I would go for. I am like that with jewellery, too. What's important to me is its beauty, practicality, and story. I must love the brand's ethos before buying from it.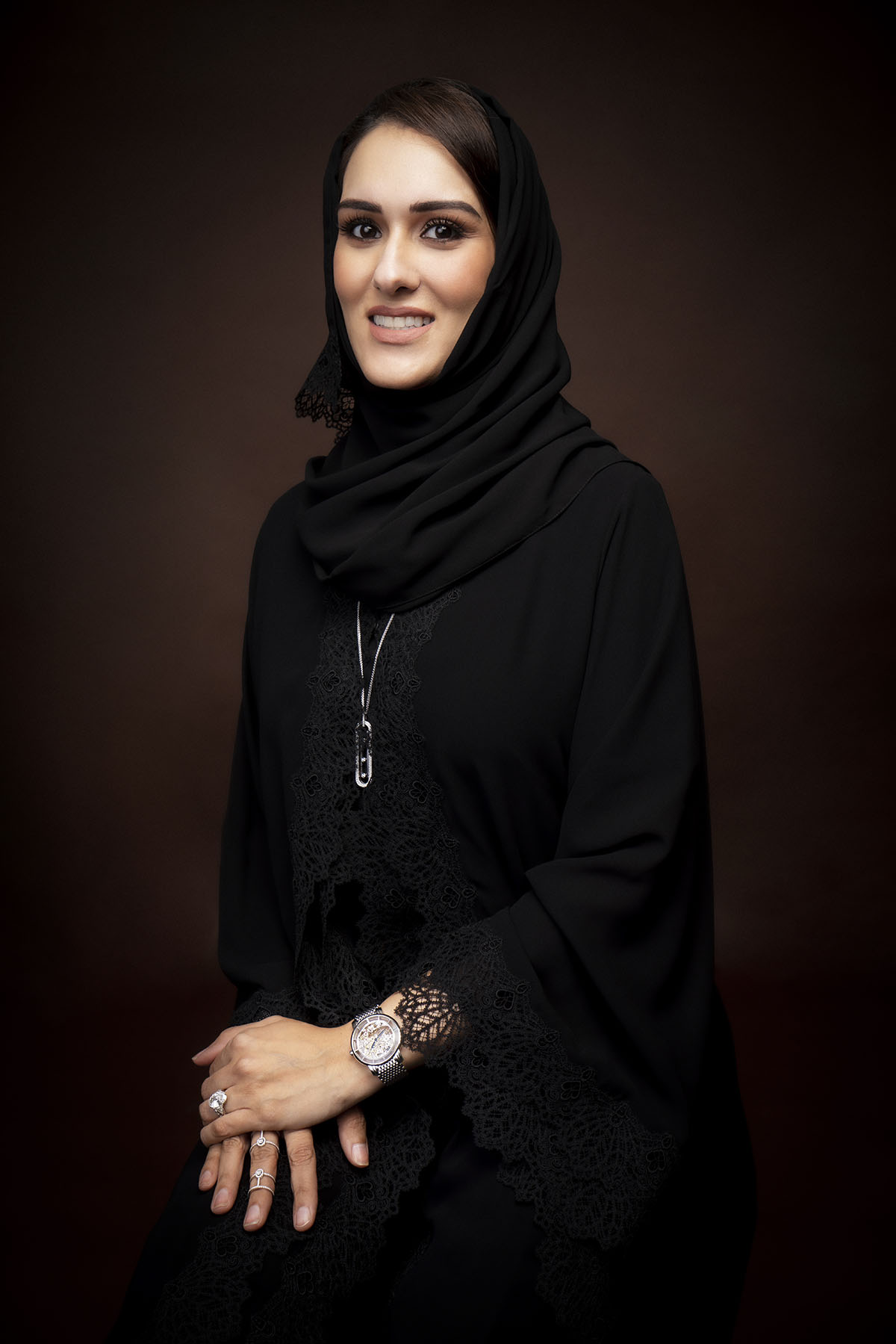 WTI: From when you started collecting to now, what have been your learnings about buying and wearing watches?
HS: Never buy something because it is trending in the market or if it's deemed as the 'It' watch to have. My advice to all collectors is to always buy pieces that excite you and what you would wear continuously. I see the merit in buying unique pieces that can only be worn occasionally, however I prefer buying a watch I can wear consistently. For example, I only have one full diamond bracelet watch and I never think of buying more, simply because it's something you cannot wear very often.
Another learning is that if you find a timepiece via retail and you really like it, purchase it immediately and do not hesitate, because you may never have that chance again with certain watches.
I have formed my own style when it comes to buying watches. When you see a watch box open, and people ask you to "guess the owner", if you know me, you would guess it's mine. I believe every collector has that stamp on their collection.
WTI: Your work is also about watches. Do you find that helps in your passion for watches?
HS: It does, because we get the chance to see and hear the inside stories of how the piece was conceptualised, and brought to life. We are blessed to meet everyone involved with these watches and build a personal relationship with the brands and the people behind them.
We also get to see the different intricacies of each piece, and how each brand puts its mark on its creations. But this can also be a double-edged sword because it makes you want to purchase everything you come across.
WTI: Which brands and references are you looking to add to your collection?
HS: The industry is at such an exciting time and there are so many amazing creations we see year on year, so my list only seems to get longer. But I can certainly name a few. There's my long-time dream of owning a Patek Philippe enamel minute repeater. I would love to own the
Rolex
Oyster Perpetual Yacht-Master 40 with the pink, blue, purple sapphire and diamond bezel, and full-diamond dial.
Also, I would love an F.P.Journe Tourbillon with the hand-engraved Régence Circulaire dial. Now that is something that I fell in love with immediately.
WTI: What do watches mean to you?
HS:
Watches to me are luxury and excellence in human craftsmanship.
Images: Courtesy Dubai Watch Week