Despite facing stern competition from smartwatches, mechanical watches still enjoy a strong fanbase. Swiss watchmaker 'Bomberg' is a young and a new entrant since 2012 takes inspirations from the world of tattoos, symbols, and icons. The watches are capable of making a statement of its own and the brand has challenged all conventional methods of watchmaking. For the Indian market the brand will be partnering with Delhi based retailer Johnson Watch Co and Mumbai based retailer Time Avenue.
Ricky De La Croix is the man behind the brand who shares a common love for watches. For over three decades, Croix has followed all the conventional routes in the watch sector; observing and learning all the secrets which includes trick in marketing, and the art of selling his product. Bomberg is a young, highly innovative watchmaking brand which is still very much Swiss at heart. The name was apparent as 'Berg' honoured a famous mountain. Bomberg believes that if one identifies himself as a rebellious, then Bomberg is the place to be. The brand promotes dare to be different and create their own unusual rules.
Bomberg has moved away from the art of traditional watchmaking and has created a niche for people who are cool, creative, and confident globally. After disrupting the market in Latin America, the USA, and Europe, the watch maker has enter the Indian market with four of its prominent collections.
BB01: Automatic
The key highlights of the collecton are: Cure The Bulldog Black ( Ref SKU: CT43APBA.30-2.11), Dia De Los Muertos-Red (Ref SKU: CT43APBA.26-2.11), Dia De Los Muertos (Ref SKU: CT43ASS.26-1.11), and Pistoleros Gold (Ref SKU: CT43APBA.29-3.11. Powering the watches is an Automatic 3 hands Sellita SW200 movement with 38 hours power reserve. The stainless steel, 43mm case gives it a water resistance of 50m. Watches in the collection come with a crown at 2 o'clock.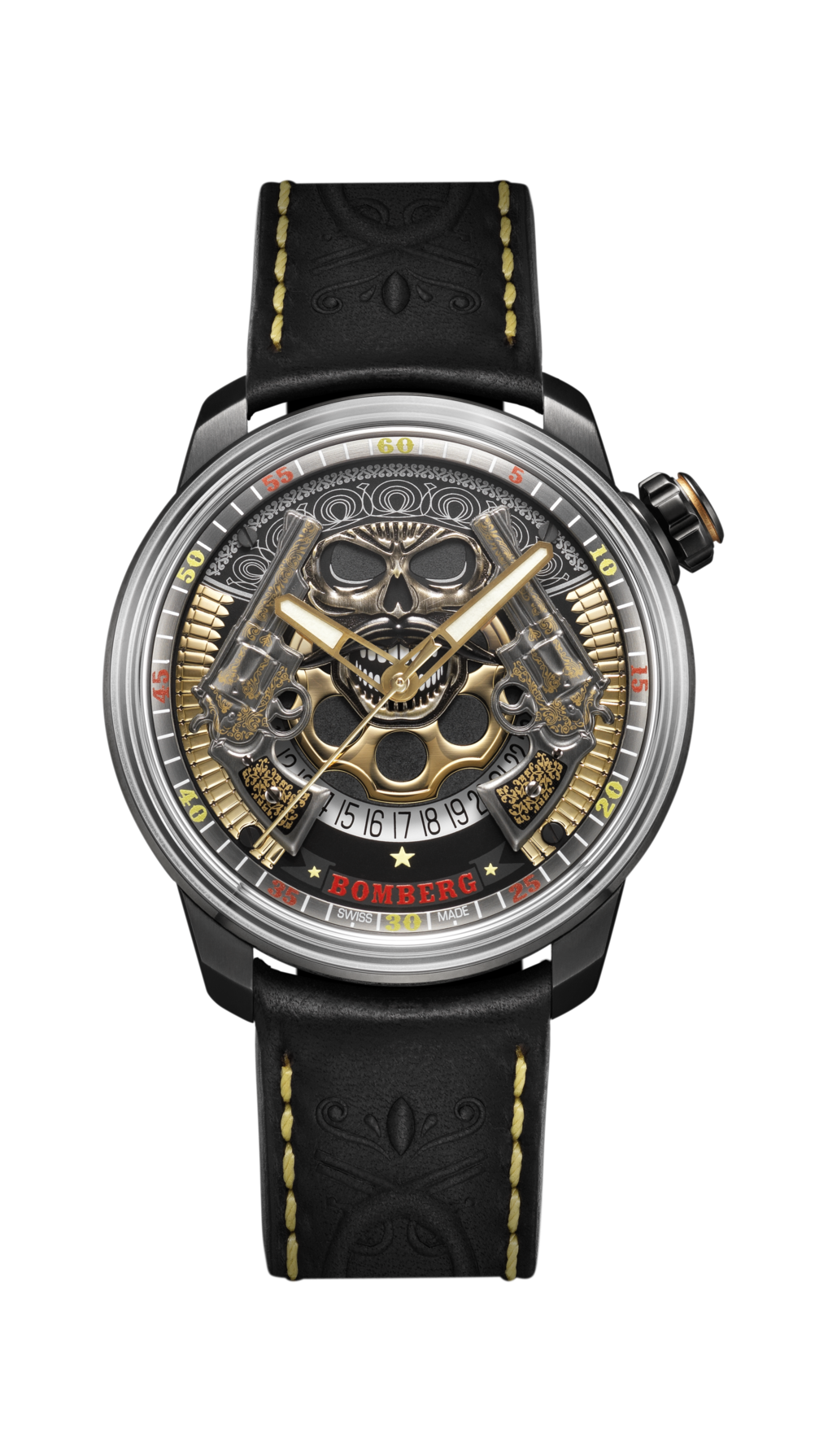 Bolt-68: Racing
Bomberg's new collection includes Light Blue Stripe (Ref SKU: BS45CHPBA.059-6.10), Navy Stripe (Ref SKU: BS45CHSP.059-4.10), Black Red Stripe (Ref SKU: BS45CHPBA.059-13.12), and Black Stripe (Ref SKU: BS45CHPBA.059-14.12). The chronographs are powered by Ronda 3540, Quartz movement. The 45mm stainless steel watches get a black aluminium tachymeter bezel. Water resistance of these watches is at 50m.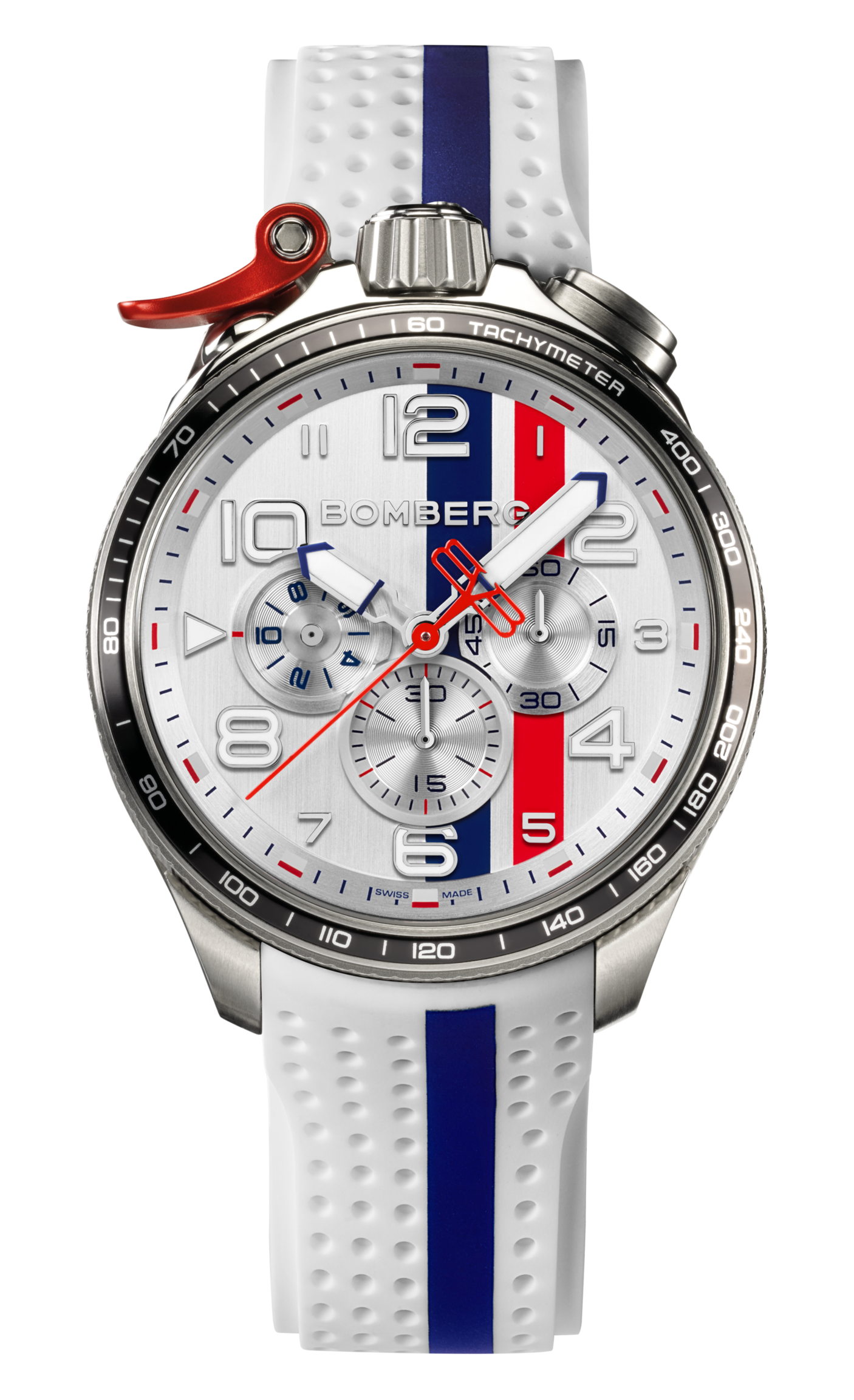 Bolt-68: Neo
The Swiss watchmaker has brought in Spartacus Metal (Ref SKU: BF43H3SP.02-1.12), Lucha Libre (Ref SKU: BF43H3PBA.03-2.12), Devil Skull & Flames (Ref SKU: BF43H3PBA.01-1.12), and Metal (Ref SKU: BF43H3SS.07-2.12). The highlight is the crown at 12 o'clock, the dial inspiration comes from skulls and tattoos. Quartz Ronda 515 movement powers these watches. The 43mm stainless gives these watches a 100m water resistance.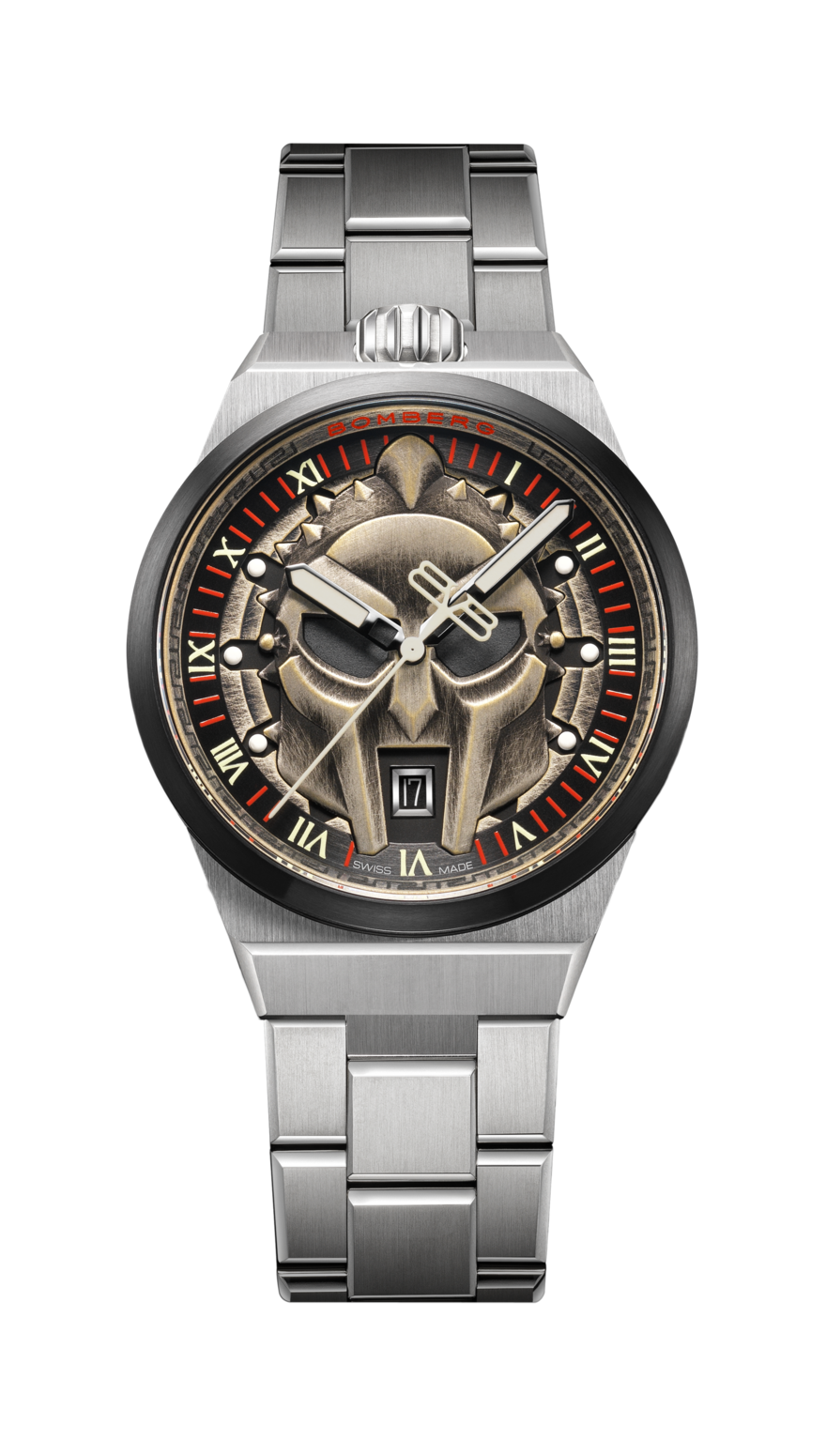 Image: Courtesy Bomberg