The Reine de Naples collection is a premium offering for women by Breguet. The range takes inspiration from what's claimed to be the first-ever wristwatch, which was made by the brand and delivered to Napoleon's sister, Caroline Murat, Queen of Naples in 1812. The Reine de Naples watches are best known for their oval shape, feminine attributes like precious gems, and engravings. Now, the brand has expanded the line-up by adding two new timepieces — the Reine de Naples Ref. 9835 and Ref. 9838.
Both the new Breguet watches come with the flexible minutes hand, which is composed of two arms linked at one end yet independent of each other. What happens here is that these two arms create a shape that changes as "the hand" moves around the dial: expanding as it moves towards noon and contracting on the way to six. Meanwhile, hours are displayed through a semicircular window in the centre of the dial. The ingenious mechanism of the minutes hand is powered by the self-winding Calibre 78A0, which consists of 252 parts, runs at a frequency of 3.5Hz, and offers a power reserve of 40 hours. The movement of the new
Breguet
watches also comes attached to a platinum rotor.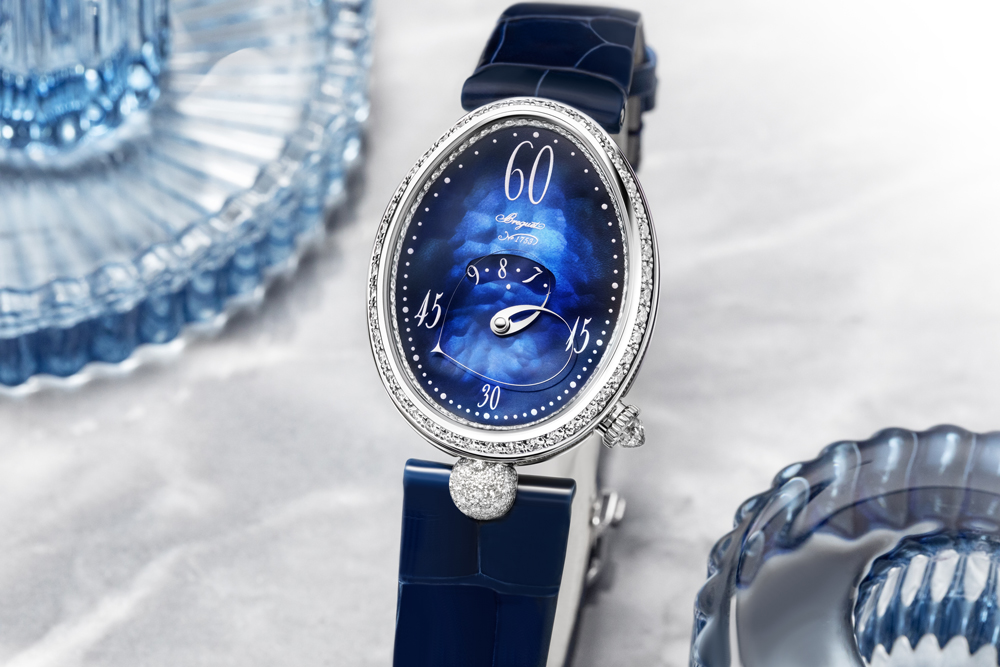 The
Breguet
Reine de Naples
Ref. 9835 is housed in a white gold case that features a total of 161 diamonds studded on its flange, bezel, and lugs. Apart from featuring the earlier mentioned minutes hand and hour display, the
mother-of-pearl
display comes in midnight blue and comprises silver-toned minutes numerals. Limited to just 20 units, the Reine de Naples Ref. 9835 is paired with an alligator leather strap matching the dial colour.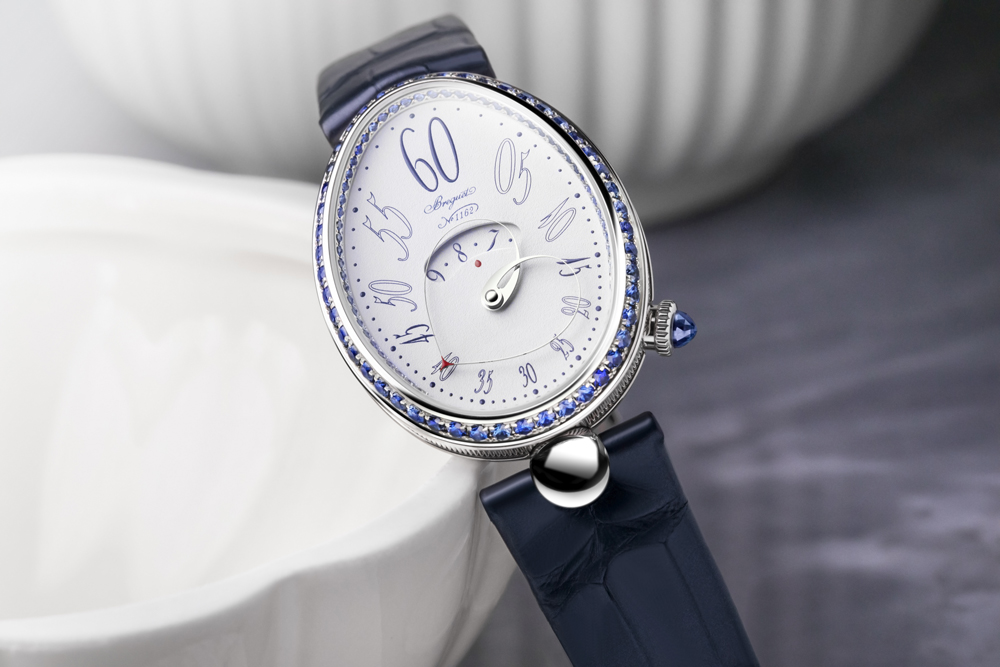 The second watch, the Breguet Reine de Naples Ref. 9838 offers a charming white lacquered dial along with a white gold case — where the flange, bezel, and crown are set with blue sapphire crystal. The method of time-telling remains exactly as the Ref. 9835 while the watch is secured to the wrist with a blue-coloured alligator leather strap that stands perfectly in contrast with the display.