The Cartier Tank family is one of the brand's, and perhaps even the watch world's, most emblematic pieces, worn by everyone from Jackie Kennedy and Princess Diana to Yves Saint Laurent, Muhammad Ali, and
Andy Warhol
amongst many more. Within it, there are seven sub-collections including the (currently very popular) Must, Louis Cartier, Cintree, Chinoise, Americaine, and the
Française
- all of these interpret in different ways the design of the tanks of WWI battlefields, and are defined by flat, vertical brancards (inspired by the treads of a military tank) and a sapphire cabochon. Within them, the Tank
Française
marks the first time the brand introduced an integrated bracelet, in 1996. With bolder lines, a squarer shape, and Roman numerals, it is the watch that Michelle Obama chose to wear for her first official portrait as First Lady. Now, the brand has introduced subtle updates to the design.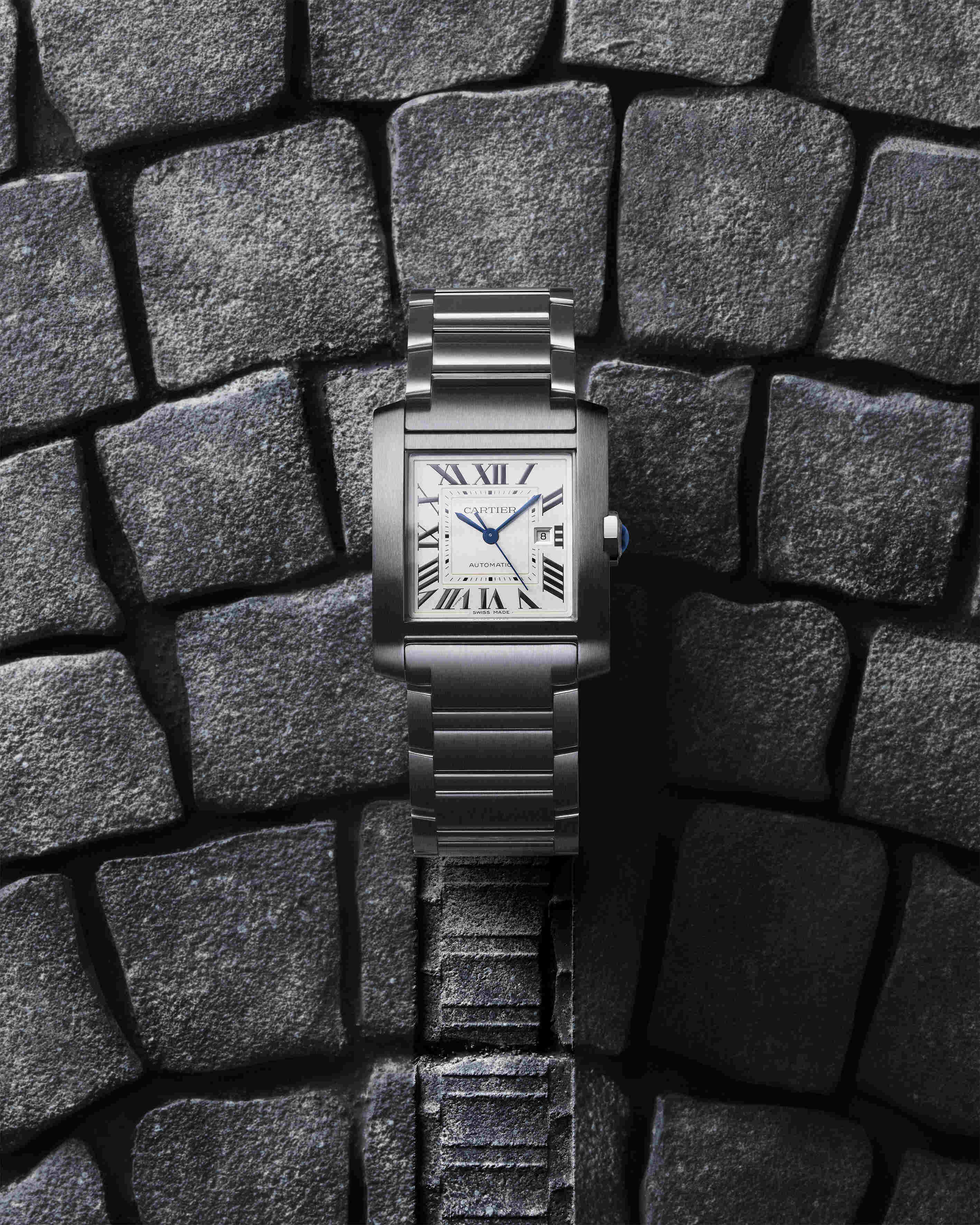 The new Cartier Tank
Française
timepieces are still rooted in the original design tenets. Design updates include a rounded brancard, crown inlaid to match the profile of the brancards, a satin finish, and a sunray dial. The bracelet is also more flexible now. One of the seven models also marks the debut of a larger size.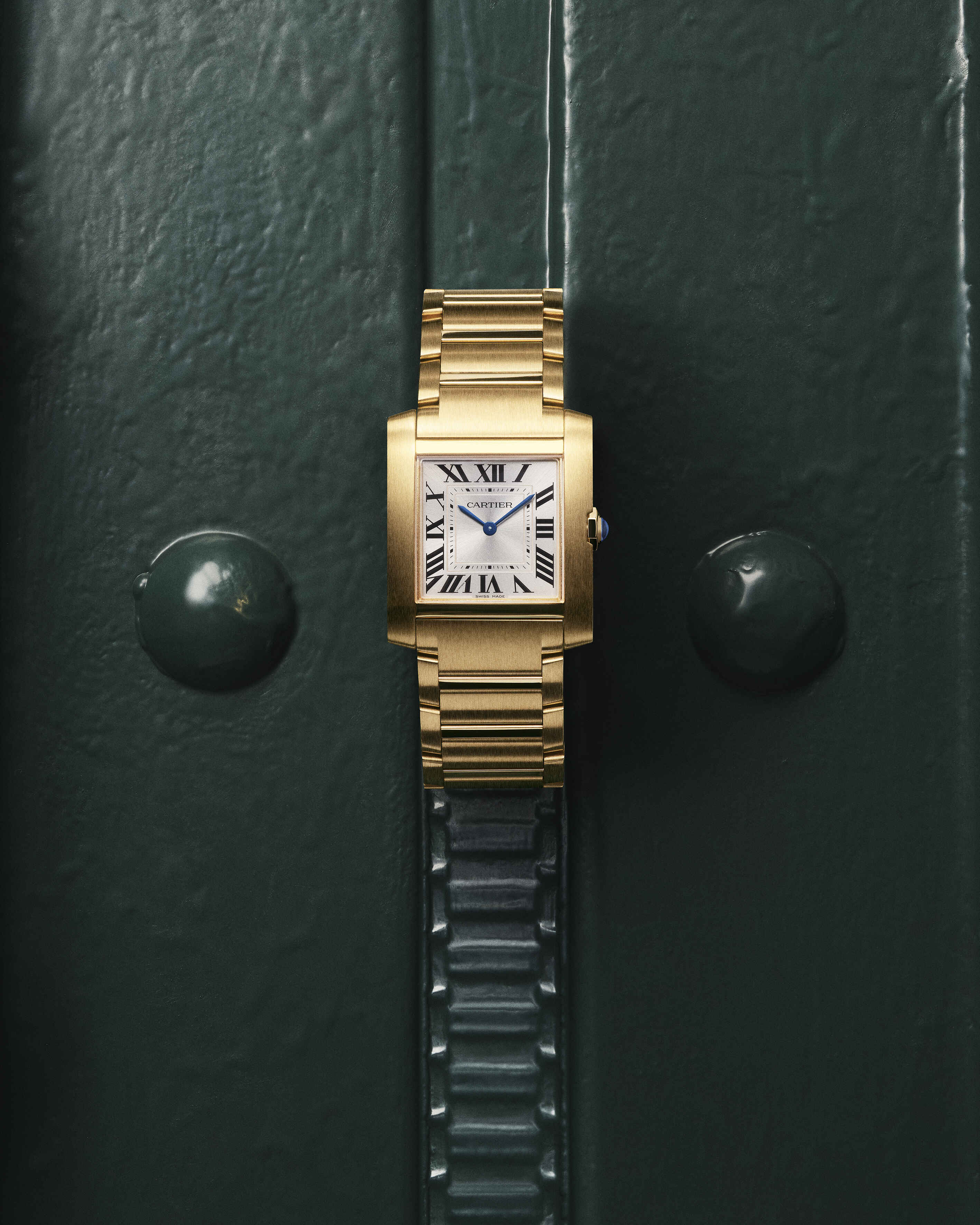 "The new Cartier Tank Française reflects a creative conviction. Like rediscovering the raw nature of a cut stone, it was about capturing the watch's radical shape, simplifying its essential lines, and stripping them of all embellishment to return to the myth's origin," says Marie-Laure Cérède, Cartier's creative director of jewellery and watchmaking.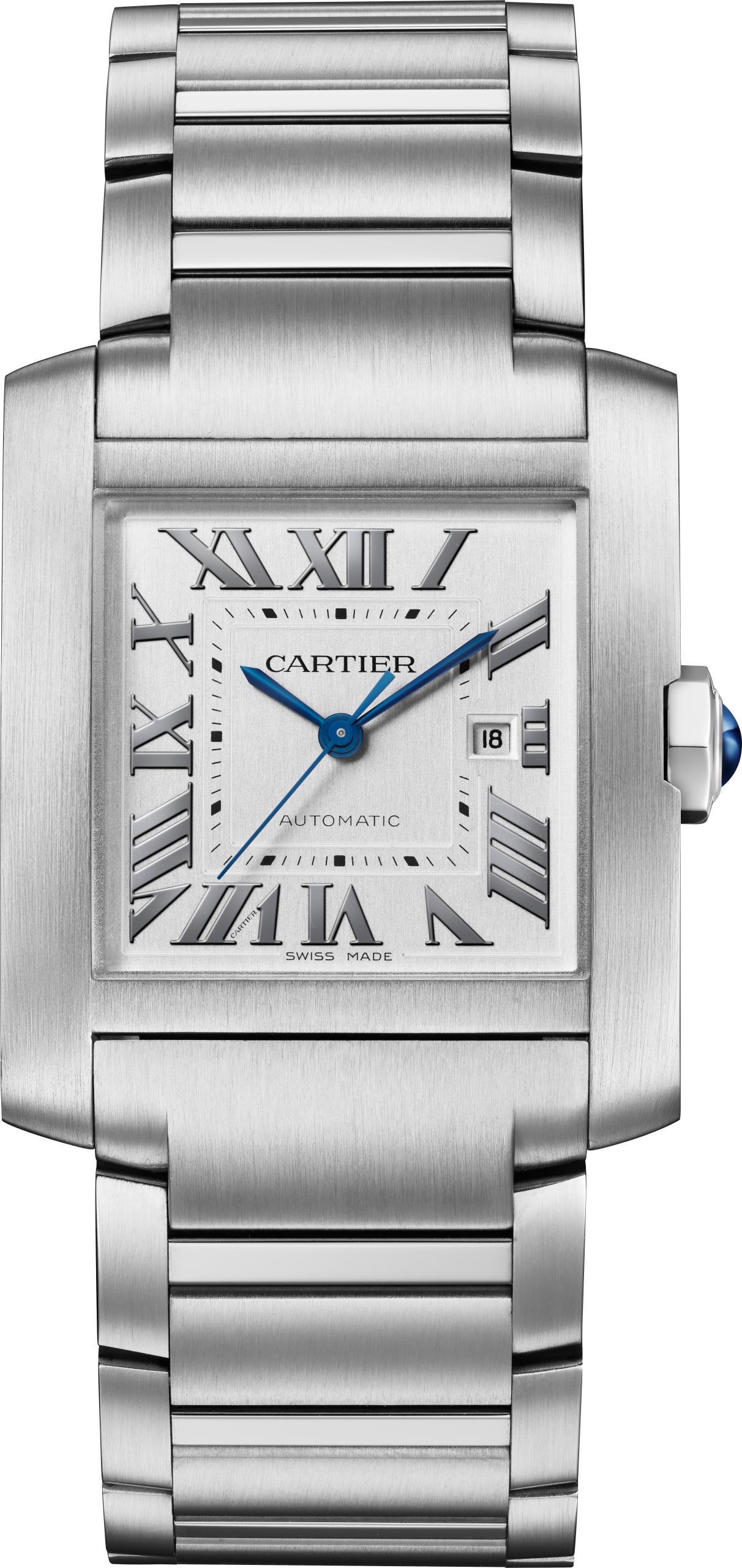 The large automatic Ref. WSTA0067 in steel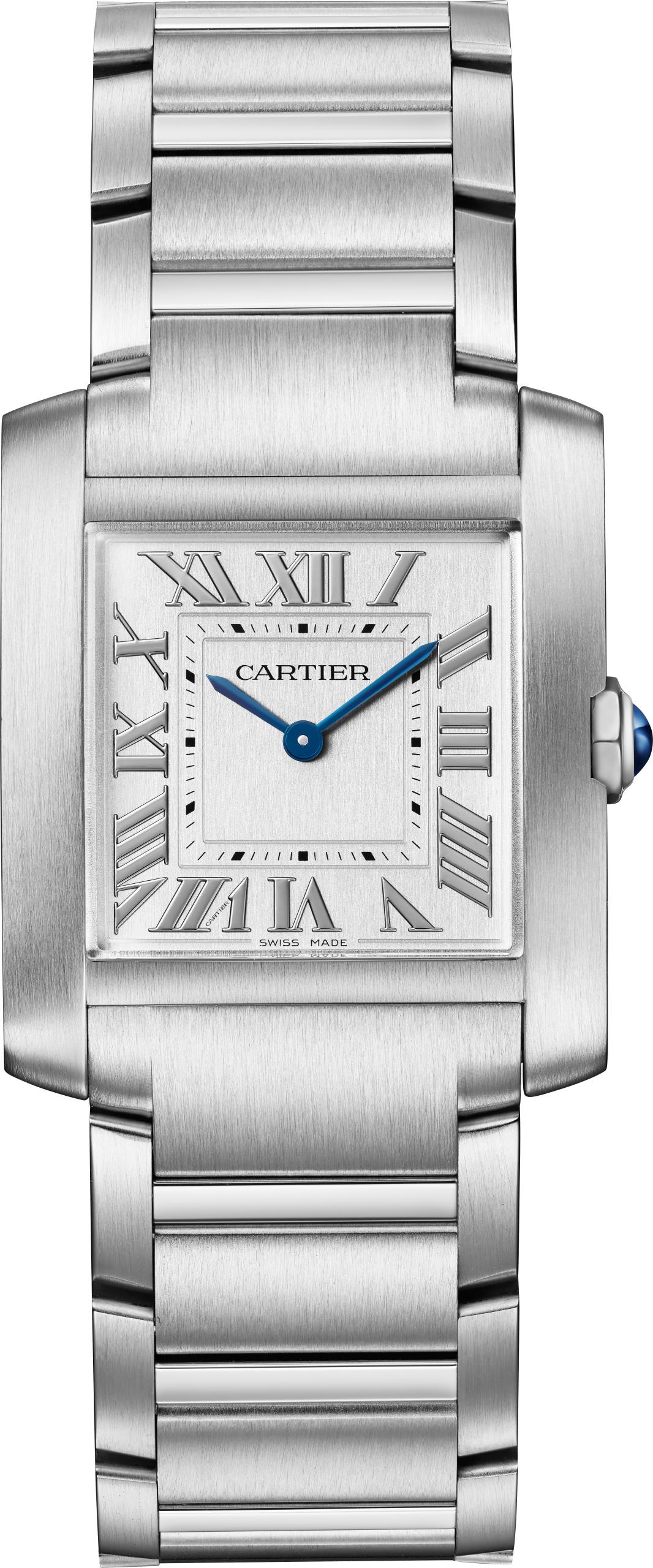 The quartz medium sized model Ref. WSTA0074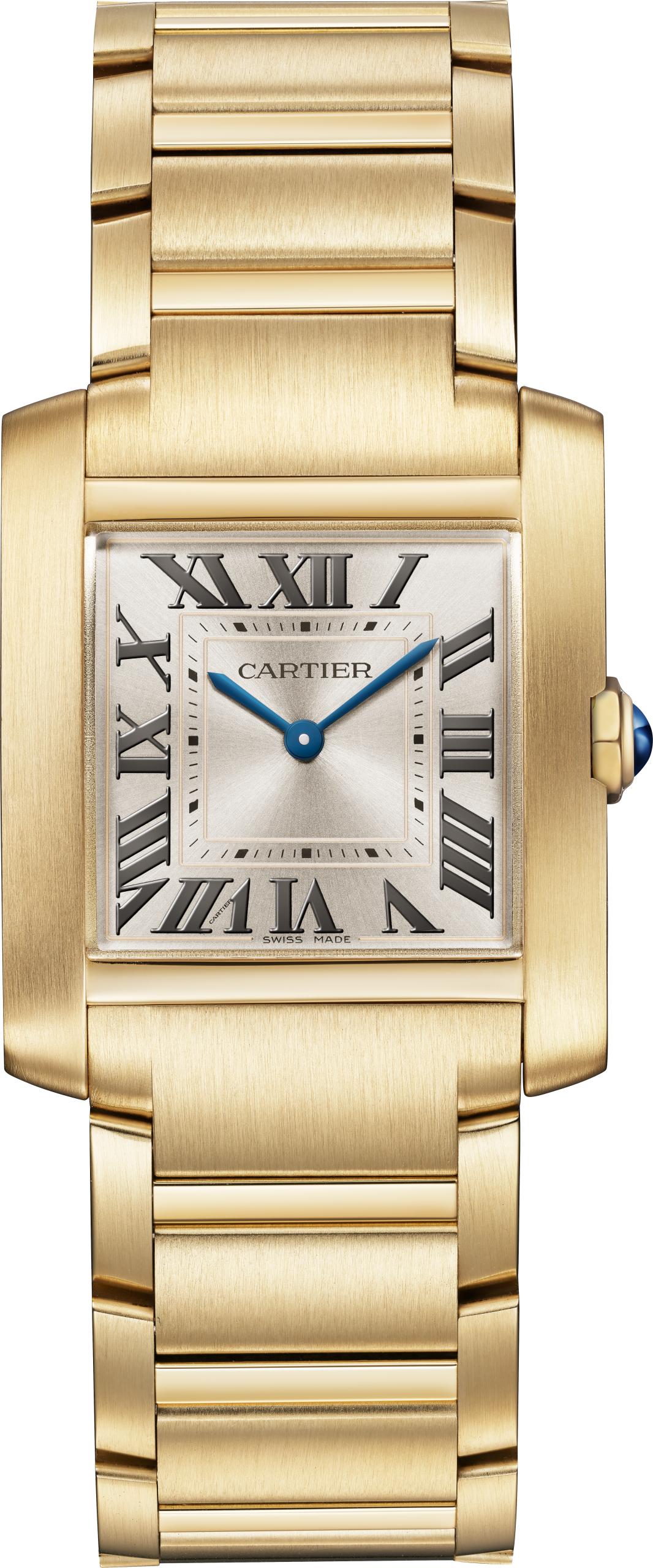 The medium Ref. WGTA0113 in yellow gold

The small quartz model, Ref. WGTA0114, in yellow gold
Both masculine and feminine, these seven
Cartier watches
references are in different sizes and materials. Since metal bracelets are an integral part of this collection, Cartier is enhancing this monobloc metal design with the new Tank Française iterations that are available in steel and yellow gold, and with or without diamonds. Out of the seven new timepieces, the large Tank Française in steel, Ref. WSTA0067 is the only automatic reference. The remaining six references are powered by quartz movements and are all water resistant up to 30 metres. The Tank Française Ref. WGTA0114 and Ref. WGTA0113 are small and medium models respectively. These two timepieces are housed in 750/1000 yellow gold cases. The Cartier Tank Française Ref. WJTA0039 is a small model, the Tank Française Ref. WJTA0040 is a medium one - both are
packed inside 750/1000 yellow gold cases with diamonds. The Tank Française Ref. WSTA0065 and the Tank Française Ref. WSTA0074 are the steel versions in the line-up, where the former is a small model and the latter is medium.
Rami Malek and Catherine Deneuve star in a new film directed by Guy Ritchie to mark the launch of the new watches
The launch of the new Cartier watches is also marked by a star-studded campaign - actors Rami Malek and Catherine Deneuve star in a film directed by Guy Ritchie. Watch it here.
Images: Courtesy Cartier