Combining sporty elegance with urban allure, luxury brand Hermès reveals exciting new models in their H08, Slim d'Hermès, Cape Code, Arceau collections - and more.
Hermès H08 Chronograph
The new cushion-shaped Hermès H08 Chronograph joins the H08 family with a satin-finished and polished titanium bezel and an integrated black PVD-coated and orange-rimmed crown. This monopusher at 3 o'clock activates the chronograph.
The black dials display two chronograph counters and a cushion-shaped date with orange accents, along with black-gold hands and luminescent applied numerals, and hour markers.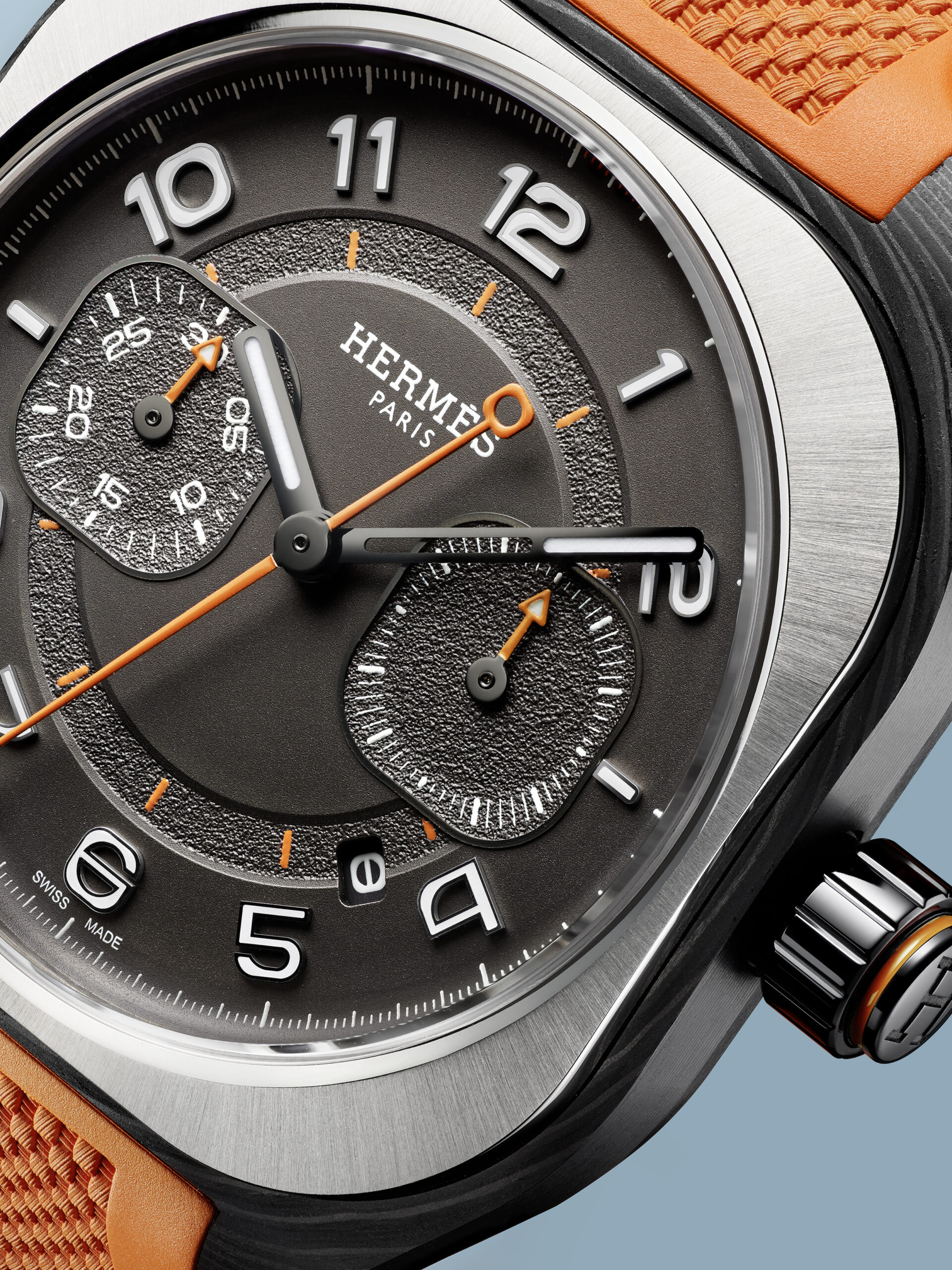 The H08 Chronograph is powered by the Hermès H1837 mechanical self-winding movement that includes a chronograph complication. It comes with an orange rubber strap reminiscent of the iconic Hermès weaving technique.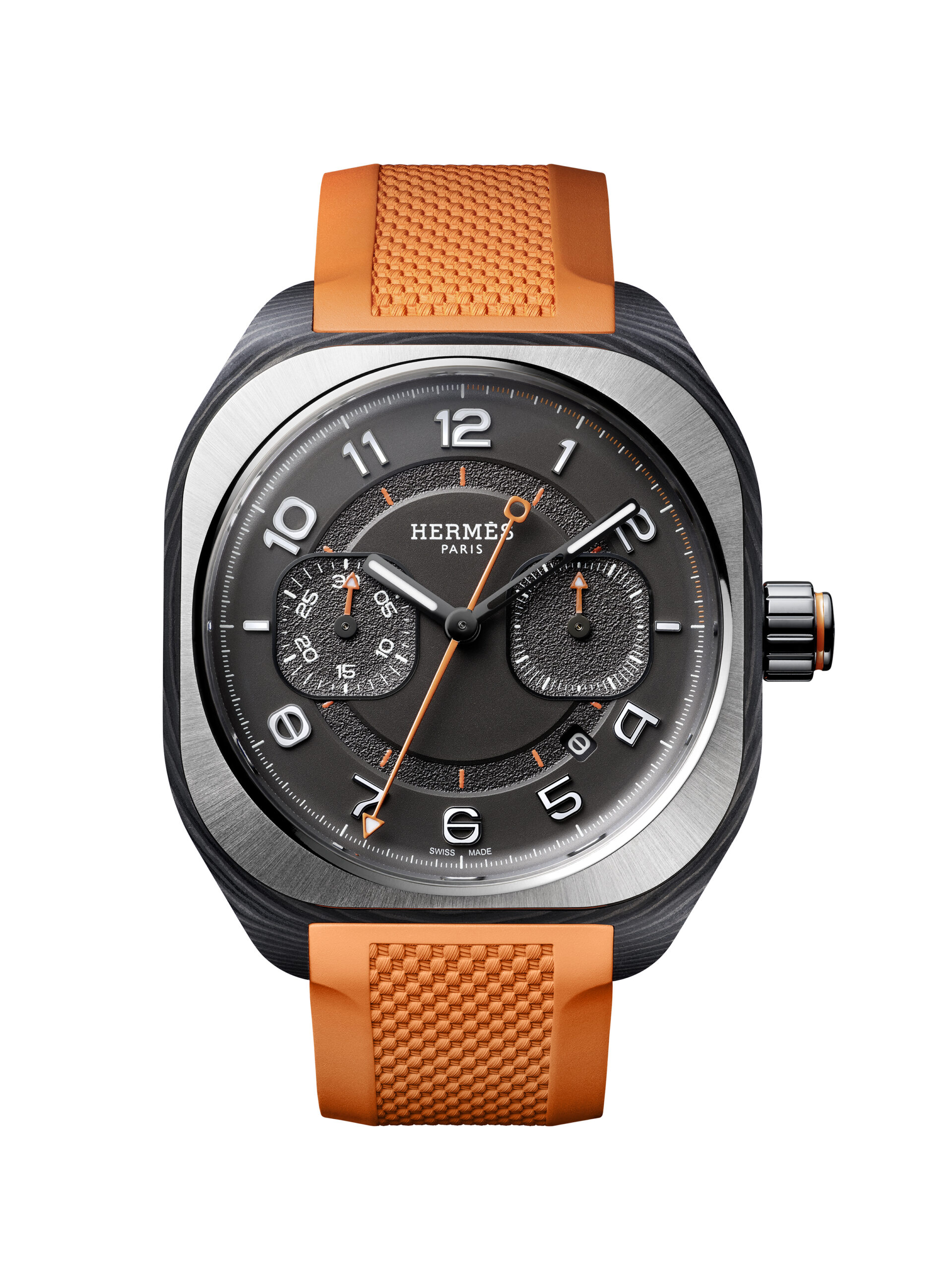 Hermès H08
Featuring the signature circular dial in a square case with softened edges, Hermès' H08 range welcomes bright colour variations in yellow, green, blue, and orange.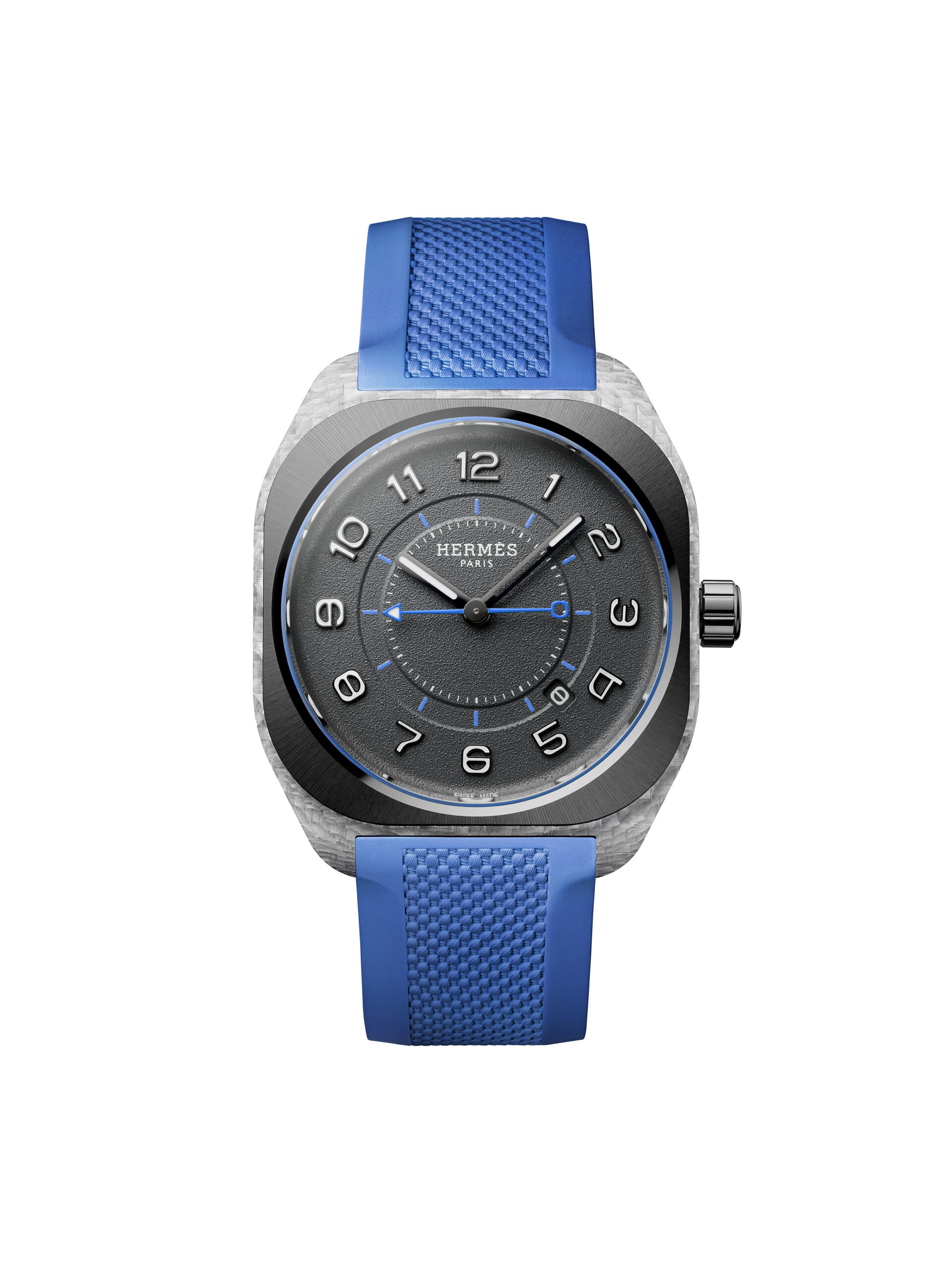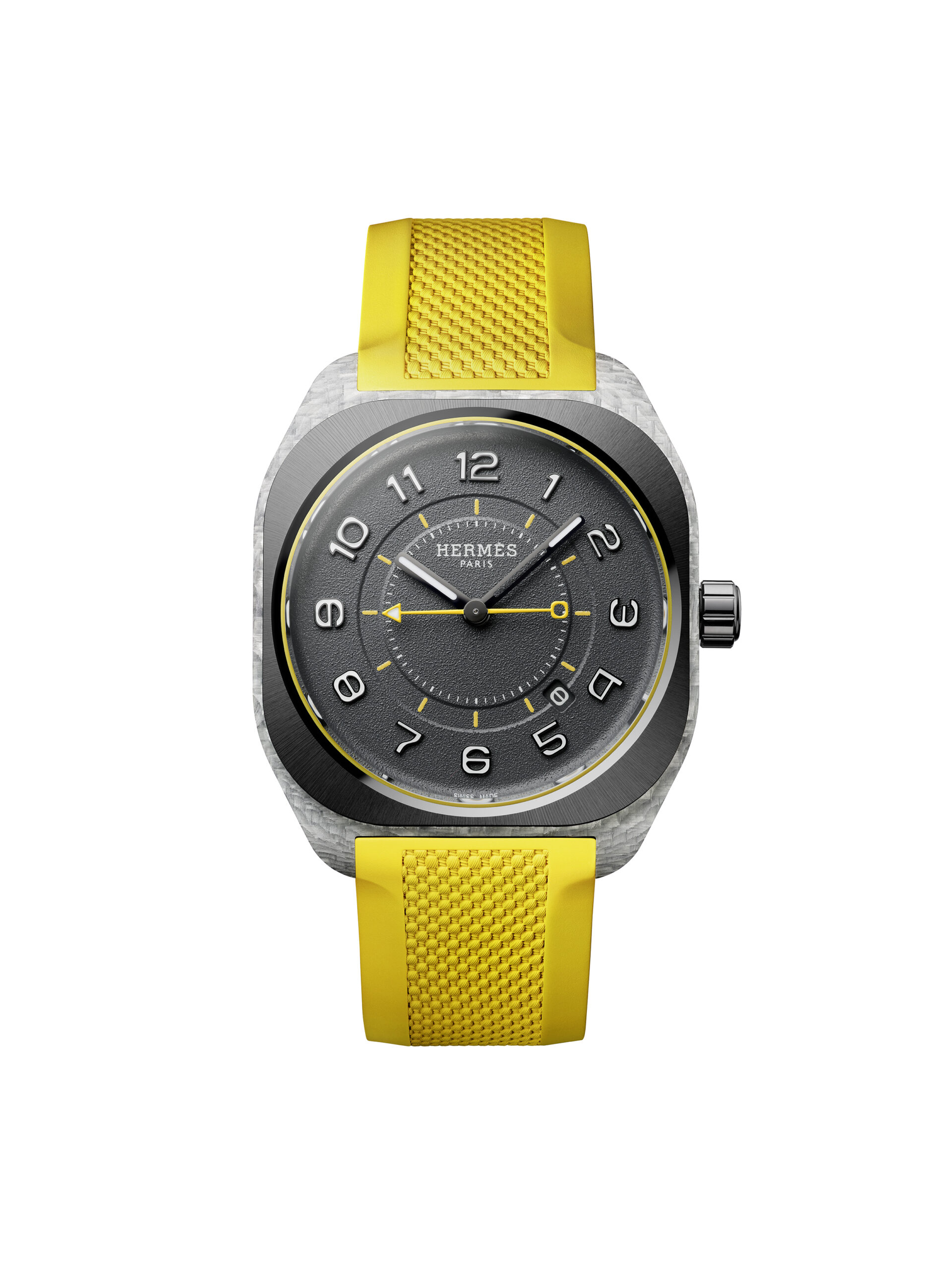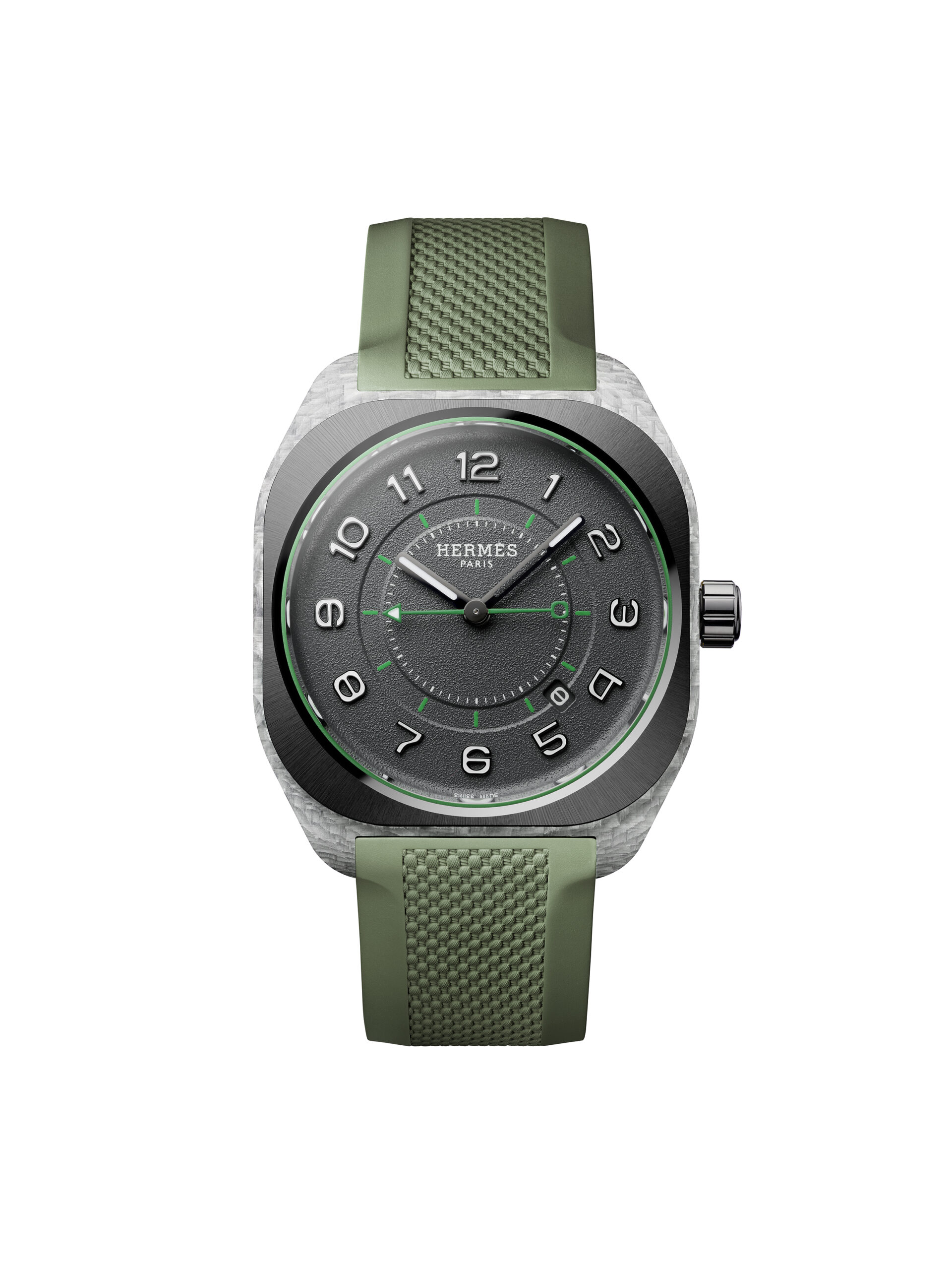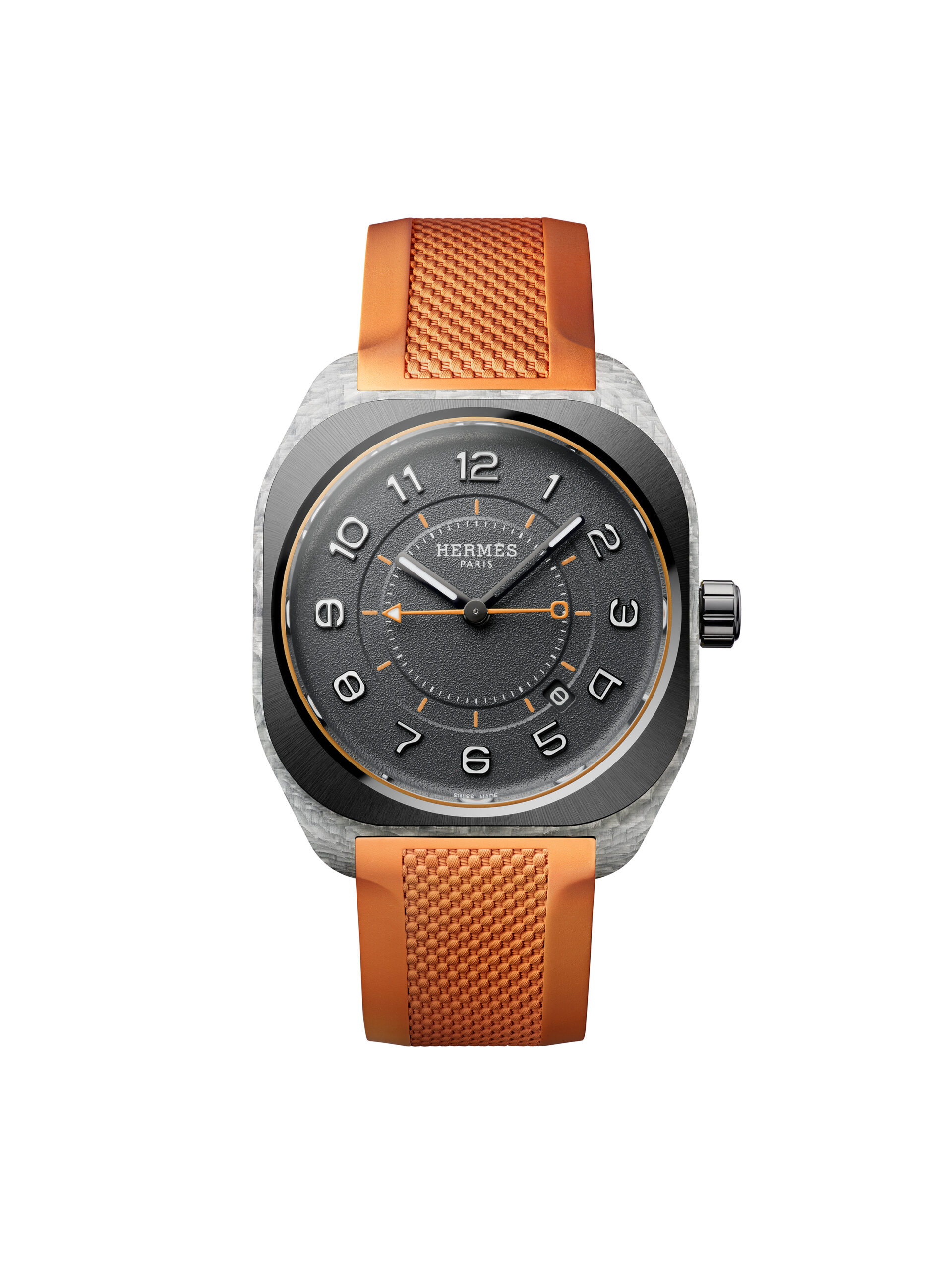 The cushion-shaped case fashioned from composite is light, and sturdy and is made using braided and aluminized glass fiber and slate powder. It is wrapped in a black ceramic bezel and houses a concrete-colored dial featuring black hands and luminescent applied original font of Arabic numerals.
The watch glass seal, minutes track, and varnished seconds hand carry touches of yellow, green, blue, or orange, matching the respective rubber strap. The new Hermès H08 models are powered by the
Hermès H1837 mechanical self-winding movement.
Another version in black DLC-treated titanium caseback with a rose gold case middle is also available. The H08 in titanium and pink gold is wrapped by a black ceramic bezel and crown and offers a satin-brushed and polished-finishes alternating finely grained dial topped with luminescent golden hands and Arabic numerals. The date is featured between the 4 and 5 o'clock position.
The H08 with a date display comes with the options of a black and anthracite fabric webbing or a black rubber strap.
Arceau Petite Lune

The new Arceau Petite Lune seeks inspiration from the astral world with its aventurine, mother-of-pearl, aragonite, and opal dial framed by a halo of diamonds. Set in a round white gold case with 70 diamonds, the dreamlike interpretation of the solar system is powered by the manufacture Hermès H1837 self-winding movement.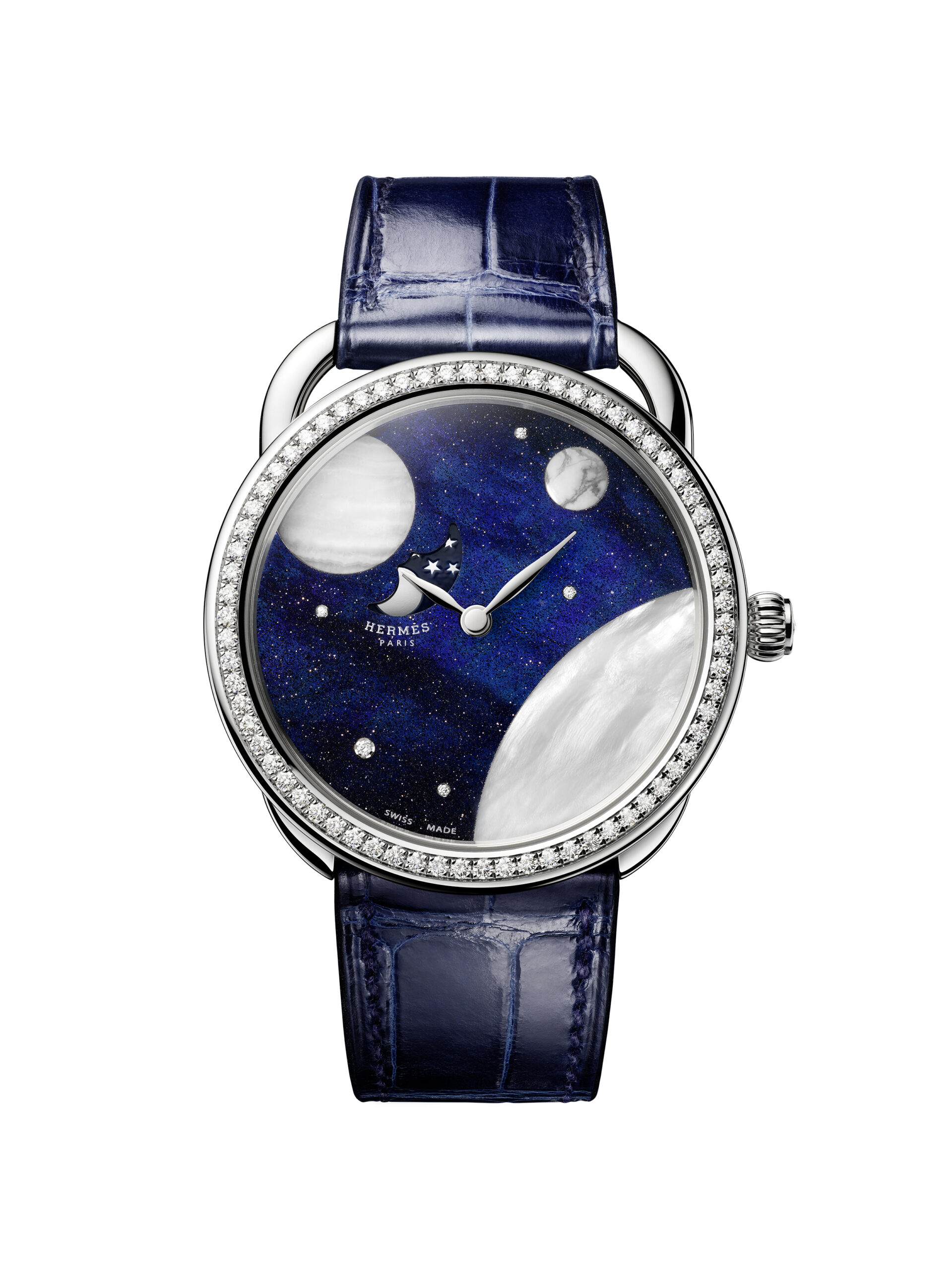 The Petite Lune model displays the hours and minutes along with the moon phase between 10 and 11 o'clock. It sits on a blue sapphire alligator strap crafted in the Hermès Horloger workshops.
Slim d'Hermès Cheval de Légende
The Slim d'Hermès series has always been about simplistic elegance with its distinct yet understated lines of the round case with angular lugs hugging the frame. The new Cheval de Légende models carry with them the same personality with their enamelled white gold case studded with the outline of a galloping horse using gold or enamel beads and set with 52 baguette-cut diamonds.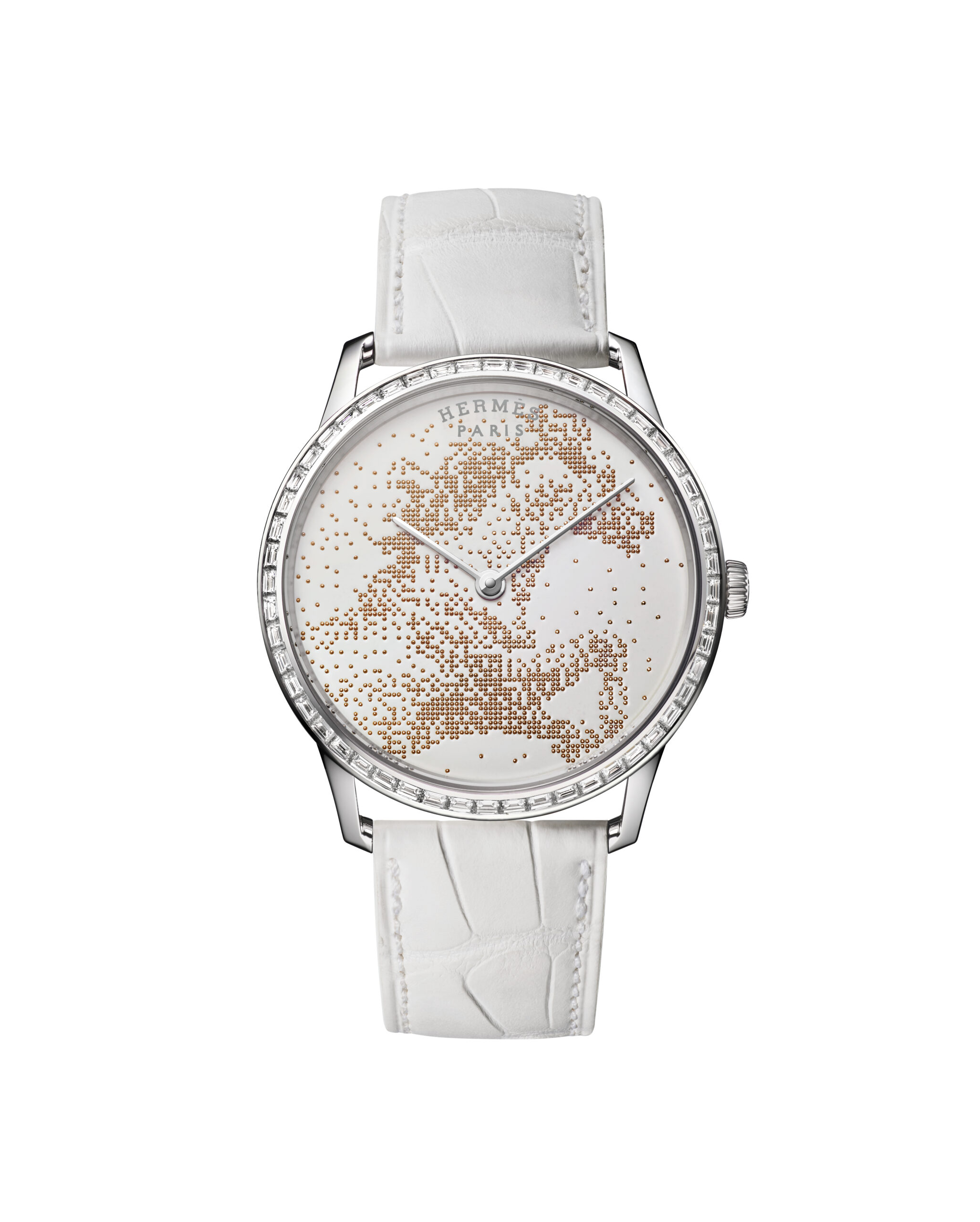 Comprising of 1,678 pink gold or blue beads, the two 39.5 mm models house an ultra-thin Hermès H1950 self-winding movement and are presented on either Chantilly-coloured or smooth sapphire blue alligator straps. Each piece is limited to 24 pieces.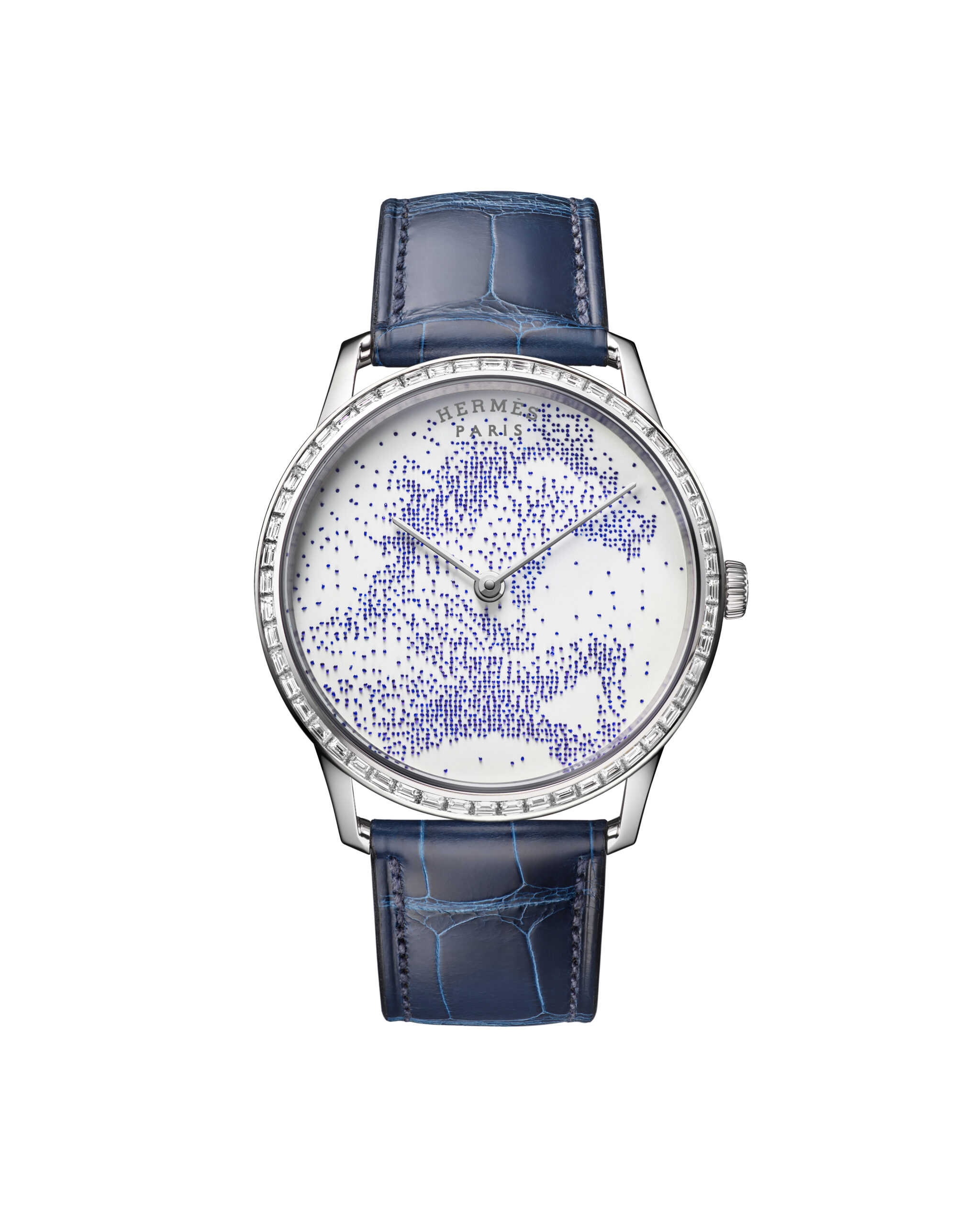 Cape Cod Chaîne d'Ancre
Bord in 1991, the Cape Cod watch was launched with two "anchor chair" half-links playing with the emblematic motif inspired by a boat chain. The "square in a rectangle" collection welcomes two new feminine gem set and non-set models in shades of Glycine and Blue.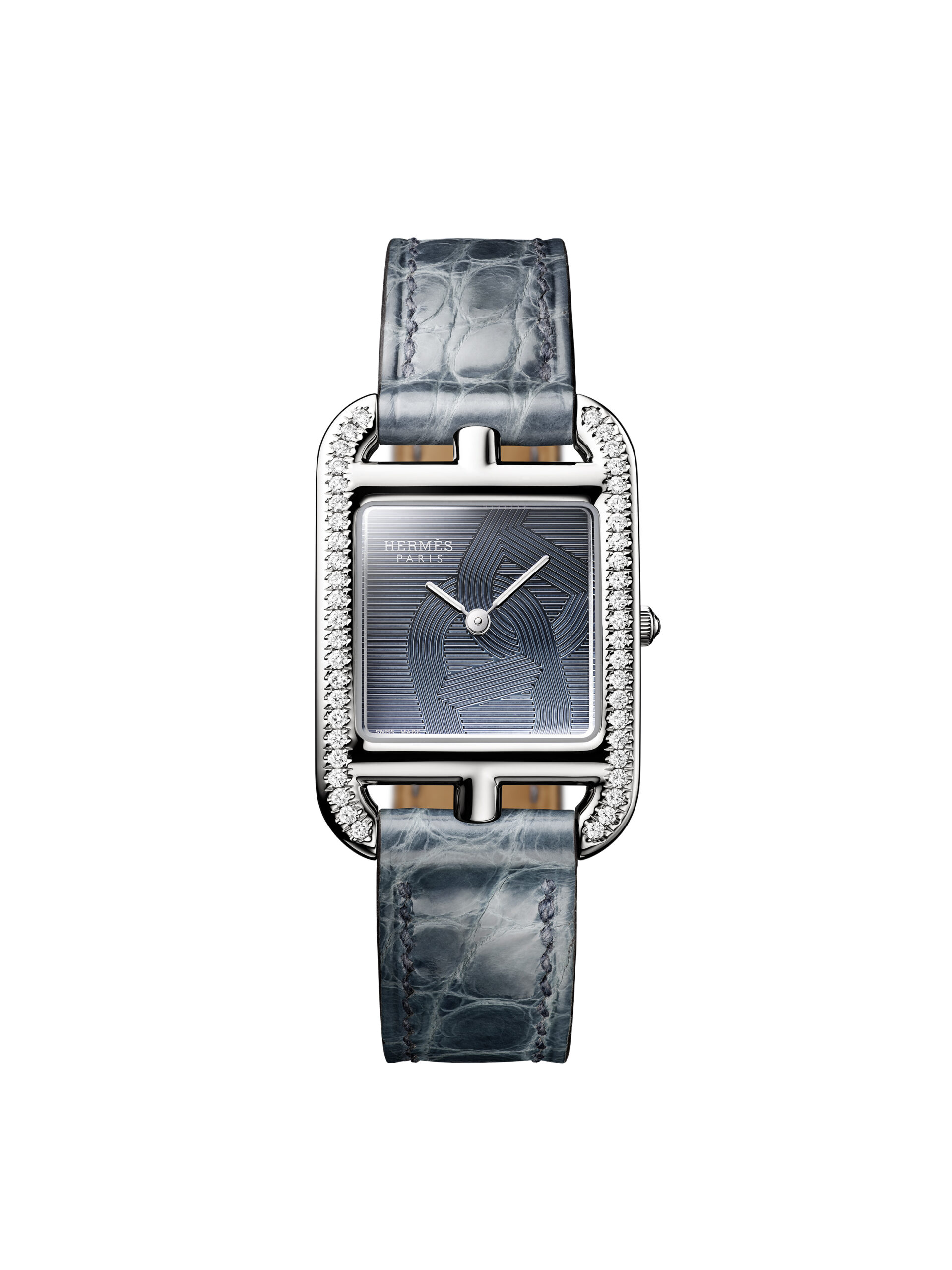 The dial displays the iconic intertwined links against a background of stamped horizontal lines coated in tinted lacquer and is topped by fine baton-type hands. Both the gem set models feature 46 diamonds and come with alligator or calfskin straps in soft dusty shades matching the dials.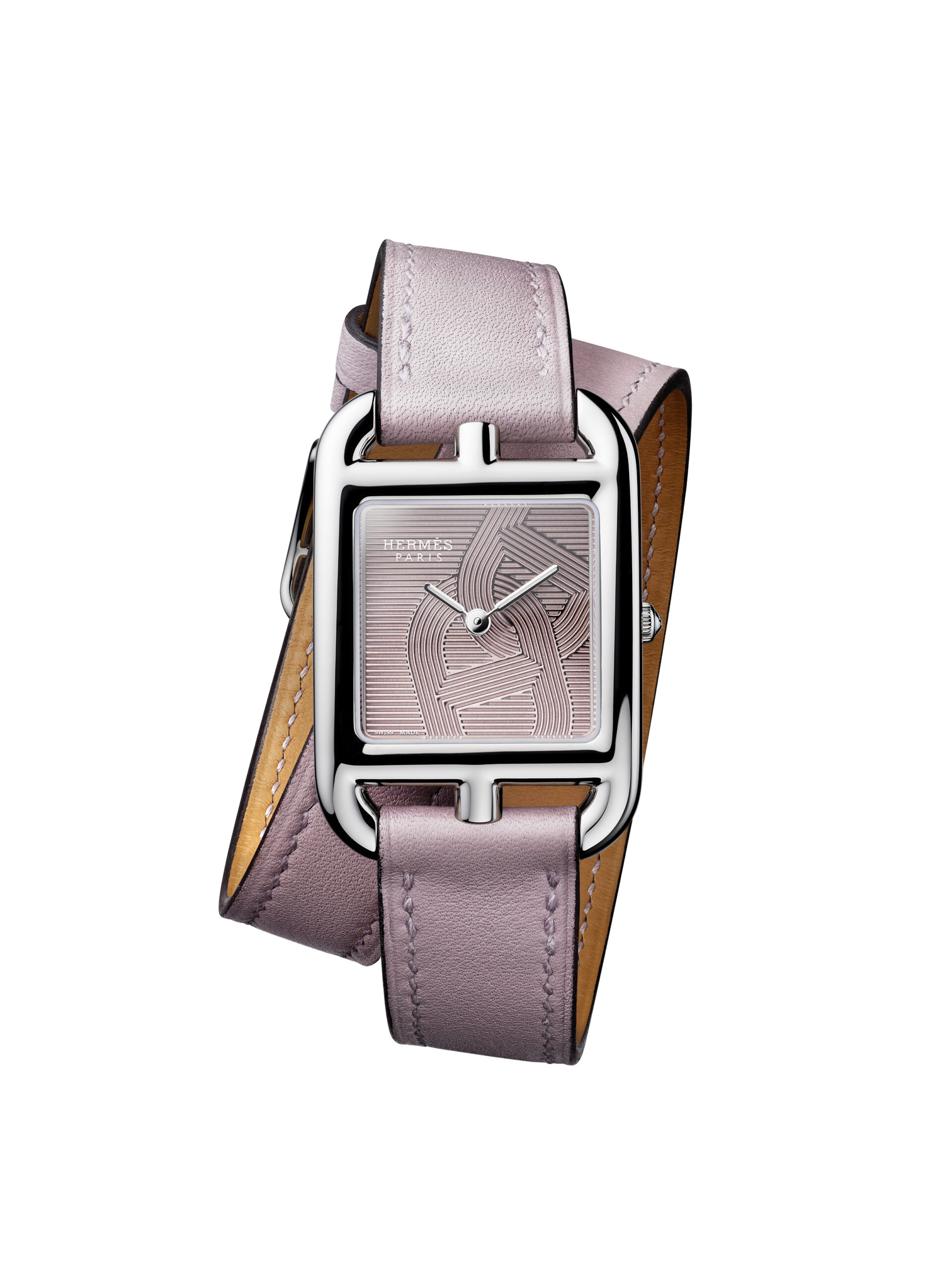 Slim d'Hermès Panthère
Limited to 24 pieces, the new Slim d'Hermès Panthère comes in a 39.5 mm rose gold case with anti-reflective sapphire crystal covering the leather mosaic dial.
It is equipped with the Hermès H1950 ultra-thin movement. The mechanical self-winding calibre offers a 42-hour power reserve.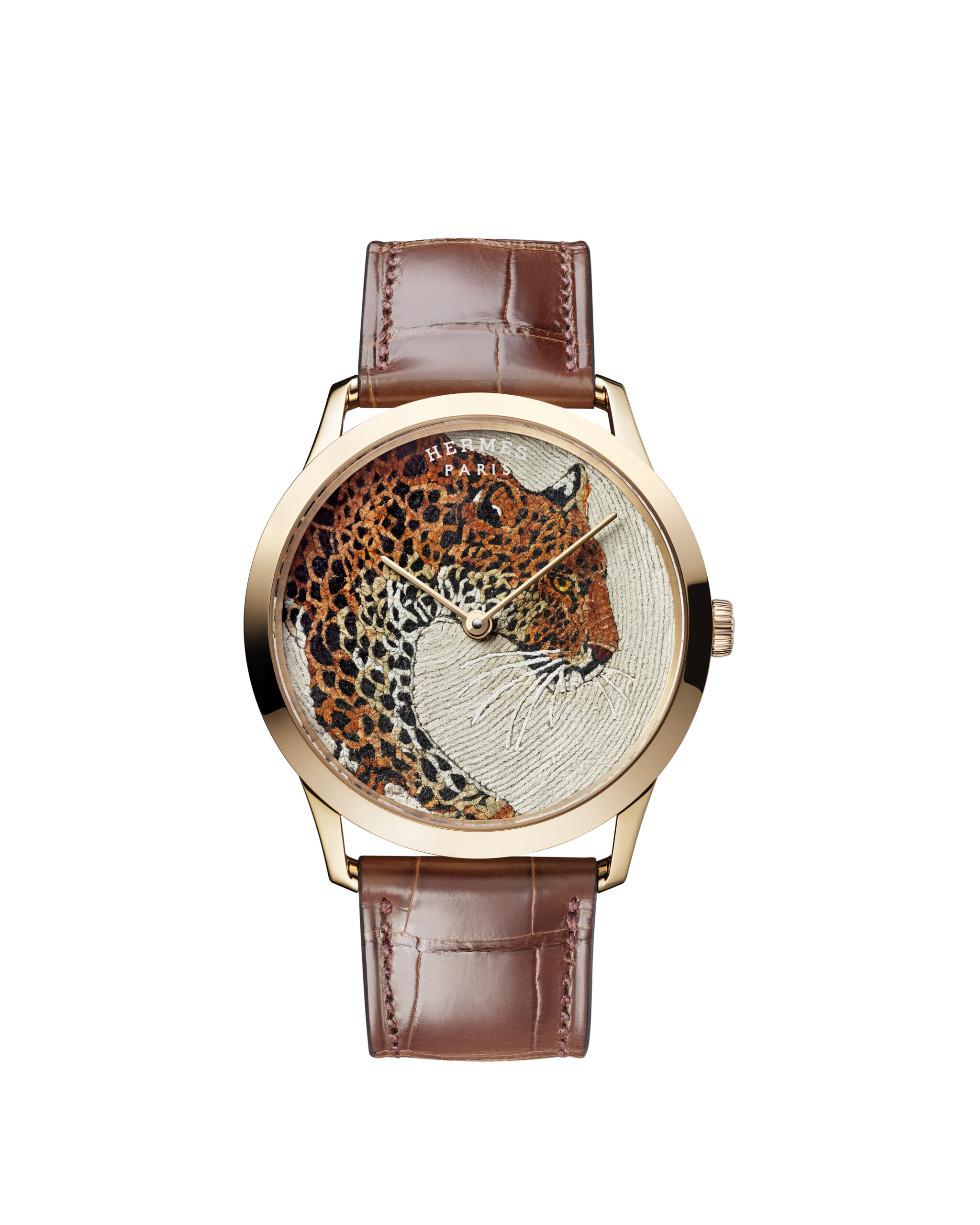 Arceau Grand Carrosse Royal
Designed by renowned illustrator Claus Rye, the new Arceau Grand Carrosse Royal features four stunning and playful horses spilling out of a carriage in a welter of hooves with their manes and twirling tails.
The 41mm white gold case frames the stirrup-shaped geometry of the mother-of-pearl dial with subtle shades of blue and grey. Each tiny detail is hand-drawn with a brush and elevated with twenty or so layers of colour. The dial is topped with two hands powered by the Manufacture Hermès H1837 self-winding movement offering a 50-hour power reserve.
The Arceau Grand Carrosse Royal comes with an Abyss blue alligator strap and is limited to 12 pieces.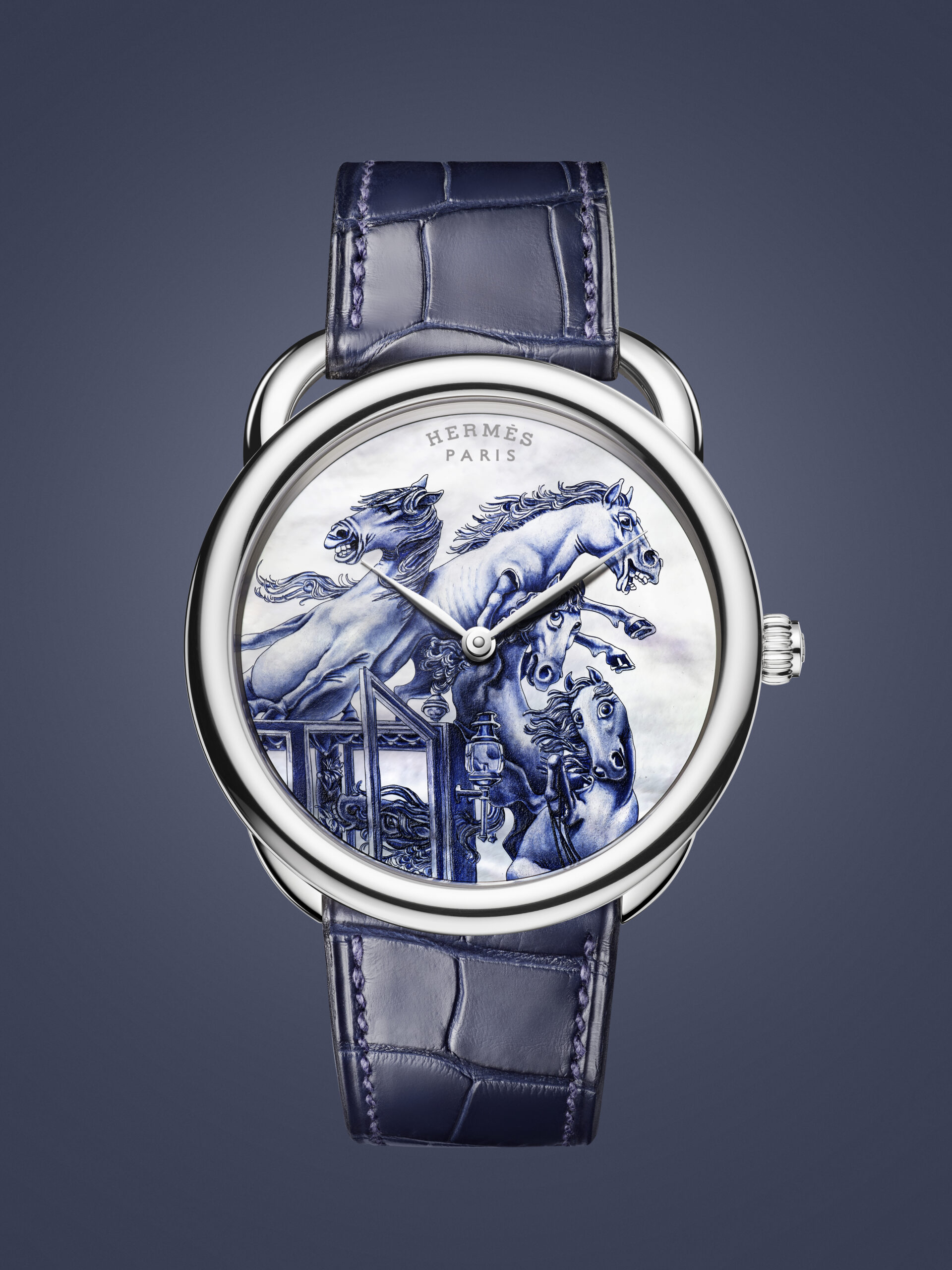 Arceau Hermès Story
Hermès Horloger unveils two playful new timepieces with the
Arceau Hermès Story. Inspired by English designer John Burton's Hermès Story silk scarf from last year's spring/summer collection, the new models capture the essence of the fantasy animals in 12 limited edition pieces for the first version and 24 for the second version.
The first model features a tiger composed of the wood marquetry technique with turquoise eyes. The feline is surrounded by hand-engraved and painted gold applique butterflies, hummingbirds, turtles, and peacocks along with miniature-painted rabbits and praying mantises.
The 38mm rose gold case comes with a bezel set with 82 diamonds and sits on a Chantilly alligator strap.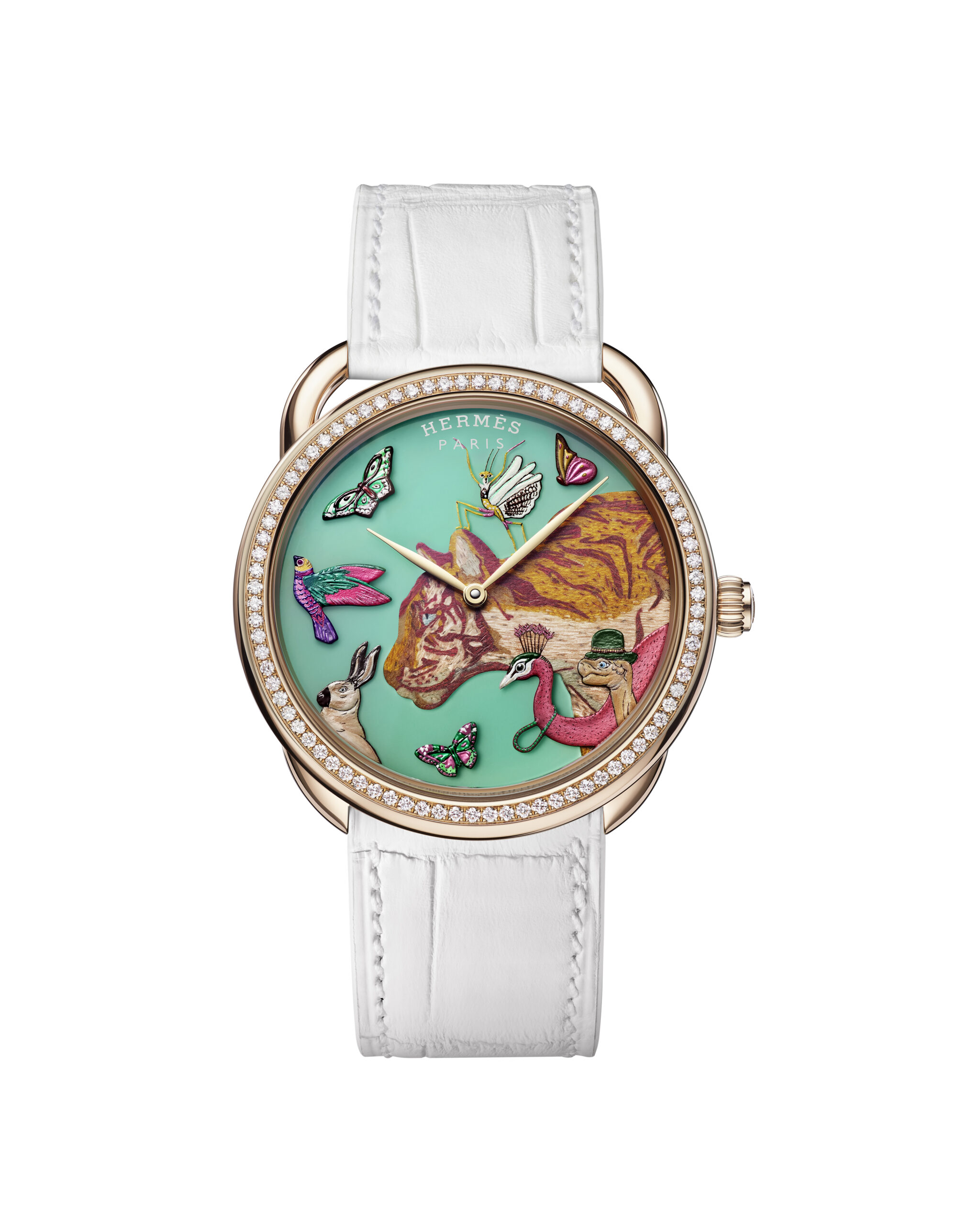 The second model comes with a white gold case wrapped by 82 diamonds on the bezel and encases a miniature painting on the mother-of-pearl dial that is varnished, polished, and smoothed by hand. The dial features a princess on her wooden horse at the heart of an animal circle surrounded by a toucan, turtle, peacock, swallow, and rabbit. The 38 mm comes with a pastel blue alligator strap.
Both versions come equipped with the Manufacture Hermès H1912 self-winding swiss-made movement offering a 50-hour power reserve.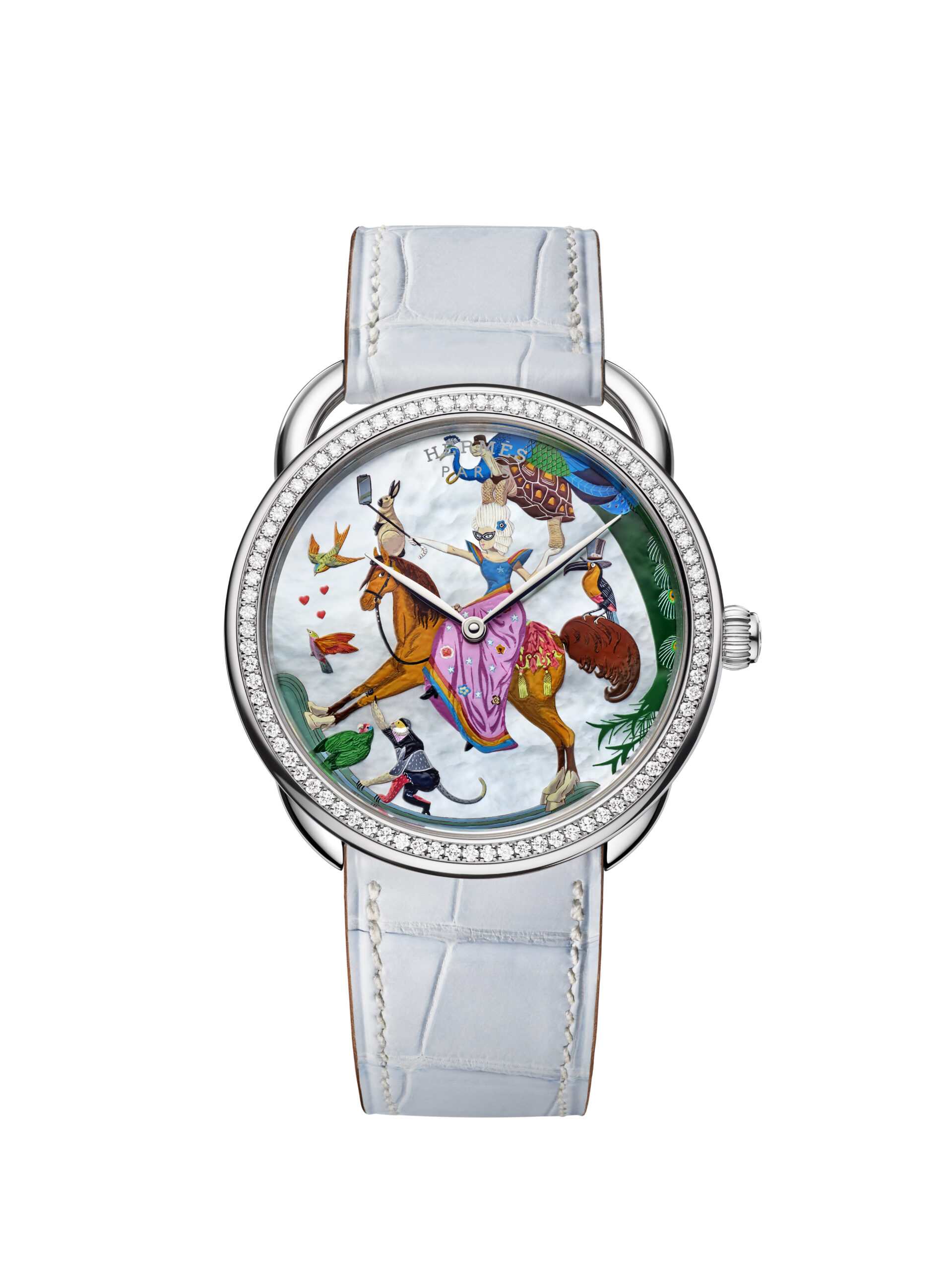 Images: Courtesy Hermès