It was in 2012 that Vishesh Sahni, the Delhi-based founder of the brand experience company, White, bought his first luxury watch, the Rolex Milgauss. While it had taken him two years to save up, research, and buy that timepiece, he sold it within a week of buying it. "I loved it on Day One. But on Day Two, I started feeling it wasn't for me. I wasn't connecting with it." Of course, this was well before the hype that surrounds Rolex today, but the pattern repeated itself with the Patek Philippe Nautilus 5712G he bought in 2017, which he sold off after six months because he wasn't enjoying it. "Then I got a Patek Philippe Calatrava Pilot Travel Time 5524G, again sold that in 2021, and bought the steel that is currently in my collection – [the now discontinued] Patek Philippe Annual Calendar Chronograph Stainless Steel 5960/1A."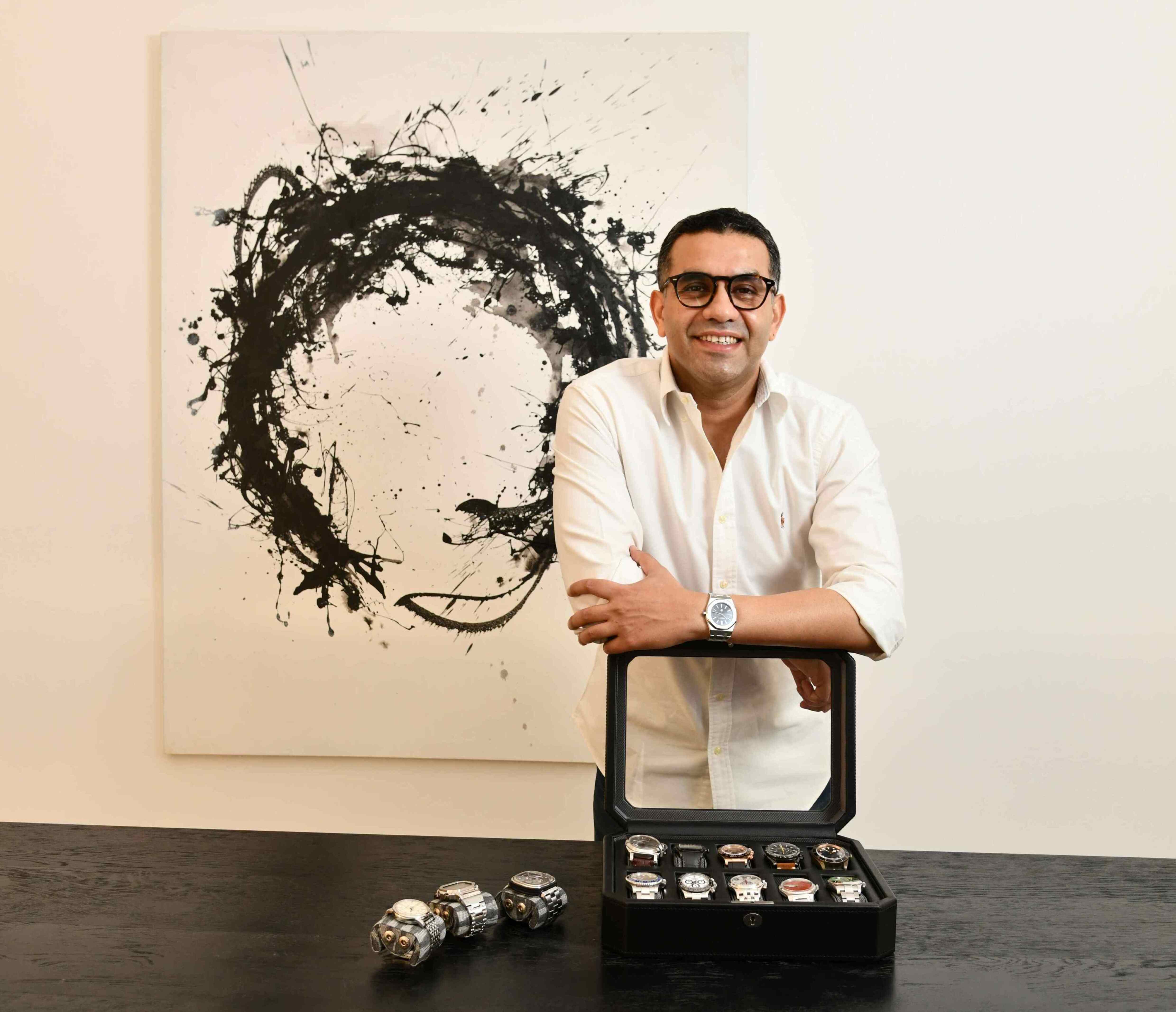 Vishesh Sahni with his watch collection
These aren't momentary lapses that Sahni regrets. It is a part of his collecting ideology that focuses on enjoying the journey of acquiring a timepiece, and conversely also letting go of the one that is just not cutting it, no matter how popular the reference may be. "Call it a hunt or the process of talking to people, finding out what is available, researching on it. It is the entire gamut, from start to finish that I appreciate." This approach has resulted in him putting together a tight-knit selection of pieces, most of them sporty watches, which include the likes of
Panerai Luminor
PAM00112, Cartier Santos Skeleton,
Omega Speedmaster
Apollo 8, two
Rolex
Cosmograph Daytonas including the 'panda', the Rolex 'Batman', the Audemars Piguet Jumbo, and his most recent acquisition, the exclusive Czapek & Cie. Antarctique with a stone 'Cuprita Roja' dial made especially for the group Watch Collectors India, amongst others.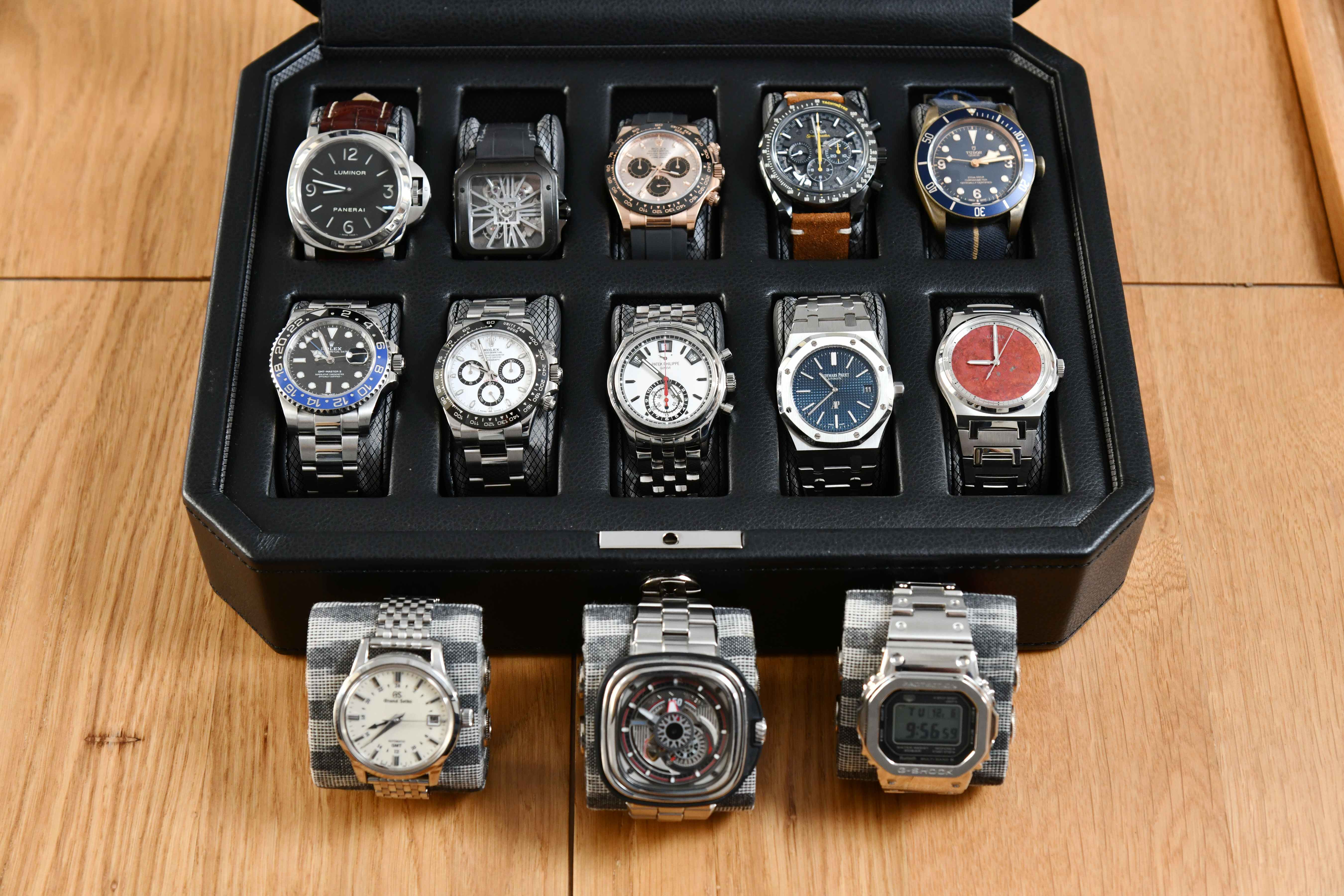 Sahni's watch collection
The joy of the 'process' is something that extends to other parts of Sahni's life as well. For example, his company focuses on humanising brand experiences, an ideology that has led him to put together experiential events for brands like Panerai, IWC, Jaeger-LeCoultre, Bulgari, and Chopard. Most recently, White executed 'The Gentleman's Edit' in
DLF Emporio
, New Delhi, a weekend-long showcase that brought together luxury men's fashion and accessories, timepieces, special edition single malts, luxury automobiles, and more; part of it were also hands-on watchmaking masterclasses. Sahni also extensively works in the luxury spirits segment, and perhaps, not surprisingly, also collects luxury whiskies. "I recently bought a cask in Scotland – now I'm waiting to go there and taste it."
Sahni shares his thoughts on both these passions – fine spirits and watches – on his Instagram handle
@vishawatch
, which has over 15,000 followers. Over the years, watches have become his lifestyle, and he has built an ecosystem that supports this in every way, be it via social media, his watch collector friends, or even taking trips that focus solely on deepening his understanding of timepieces. Watch Time India caught up with him to learn more about how he collects what he collects.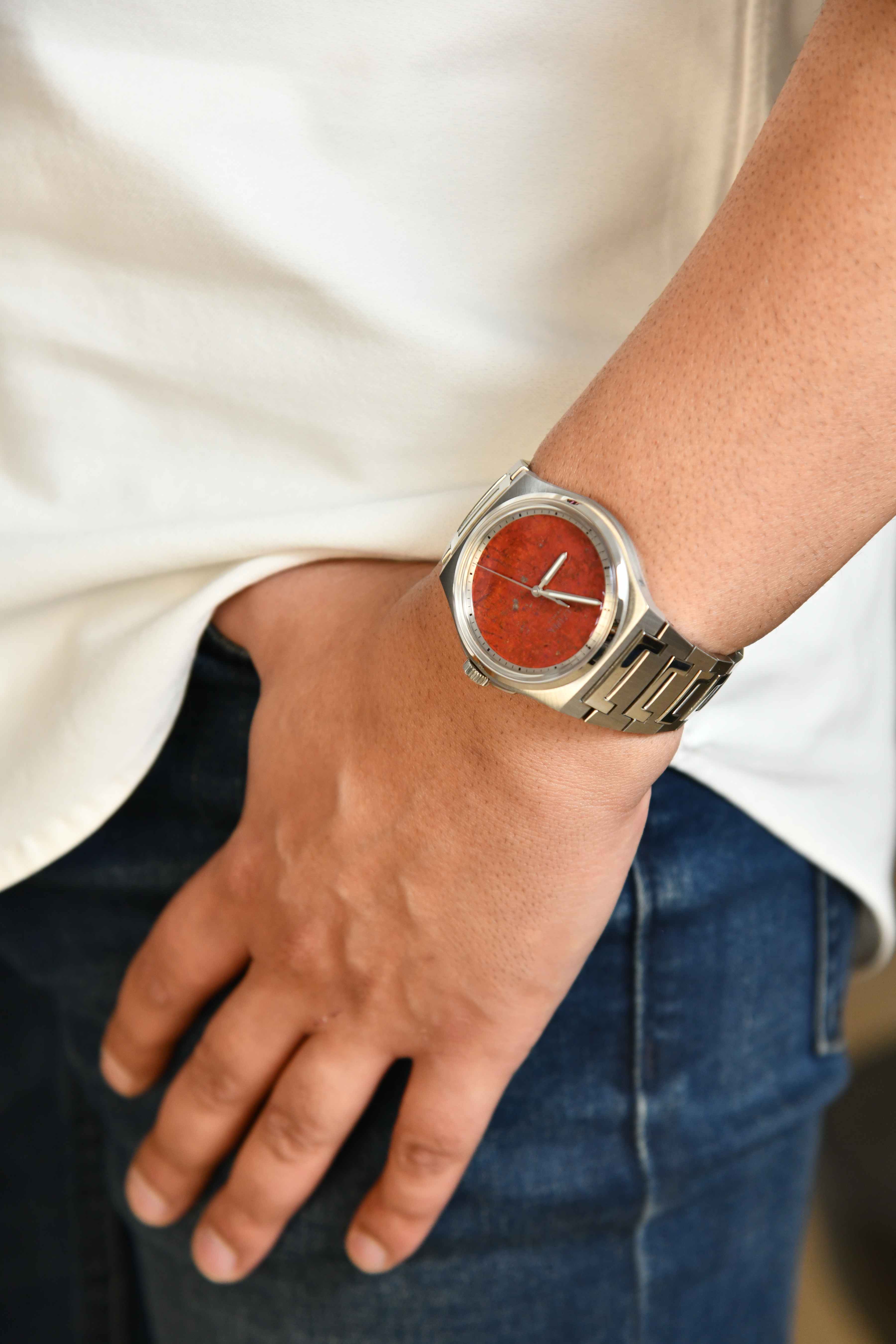 Sahni's newest watch, the Czapek Antarctique featuring a stone 'Cuprita Roja' dial
WatchTime India: How did you get into watches?
Vishesh Sahni: It was a very gradual journey. From childhood, my parents insisted that I should wear a watch. During my schooling, it was a lot of G-Shocks and
Casios
. Then, when I was in college and started working, around when I was 19, I was more in Delhi and started noticing people's wrists. My salary was 3,000 rupees a month at that time, but still managed to save some money over a year, and managed to buy myself a Tissot chronograph. Within a few years of that, I got Rado, and realised that there were a lot more options out there. Eventually, it took me eight-nine years – this would be 2010 – before I started getting into 'nice' watches, pieces that I really loved. It took me two years to save some money and I bought my first Rolex Milgauss in 2012.
WTI: But you also sold that watch, your very first luxury watch, very quickly!
VS: Yes. I sold it in six days. At that point, I don't think that watch was for me, even though I today have another Milgauss in my collection. I sold, did more research over the course of a month and I bought the Panerai Luminor PAM00112. This is technically what I call my first luxury watch, which I bought in 2012, and it is the most worn watch in my collection.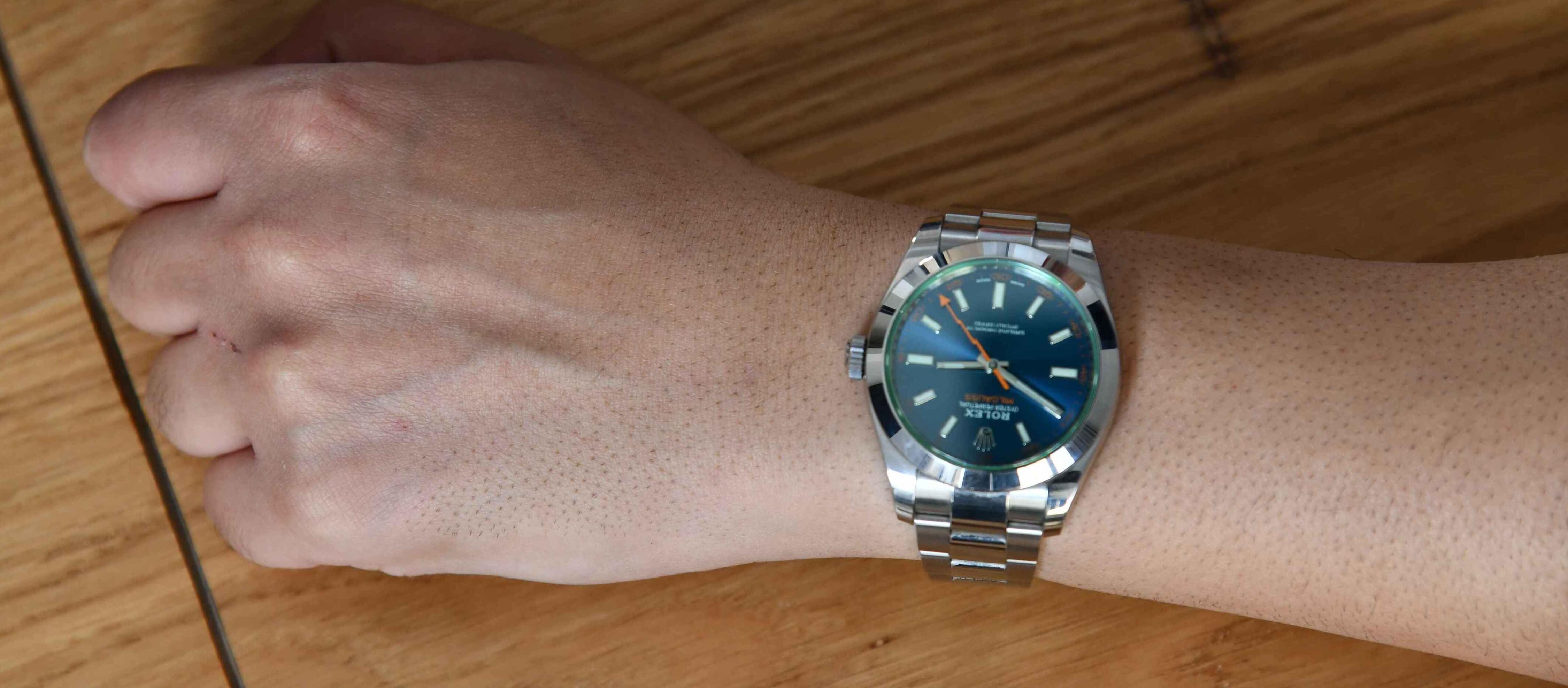 The Rolex Milgauss
WTI: What made you buy the Panerai in the first place?

VS: One of the best things that I love about collecting watches is the understatedness. Ten years ago, no one knew Panerai. For me, I love the fact that I can wear a watch and it can go undetected. I have worn my Audemars Piguet Jumbo to random places and people don't even give it a second look. On the other hand, if I wear my Rolex today, I will get a lot many more looks.
After the Luminor, for a long time, I didn't buy anything because again I had to save a lot and for a good amount of time. Eventually, I started my own business and had a bit more disposable income so I could think of growing my collection. I also wanted to talk to people a lot more about watches, and that's when my interest grew exponentially. That's when the Rolex Batman happened – it was in 2016 and I bought it at discount! There was no looking back after that. I went down the rabbit hole of collecting watches. Next came the Grand Seiko GMT and Seven Friday.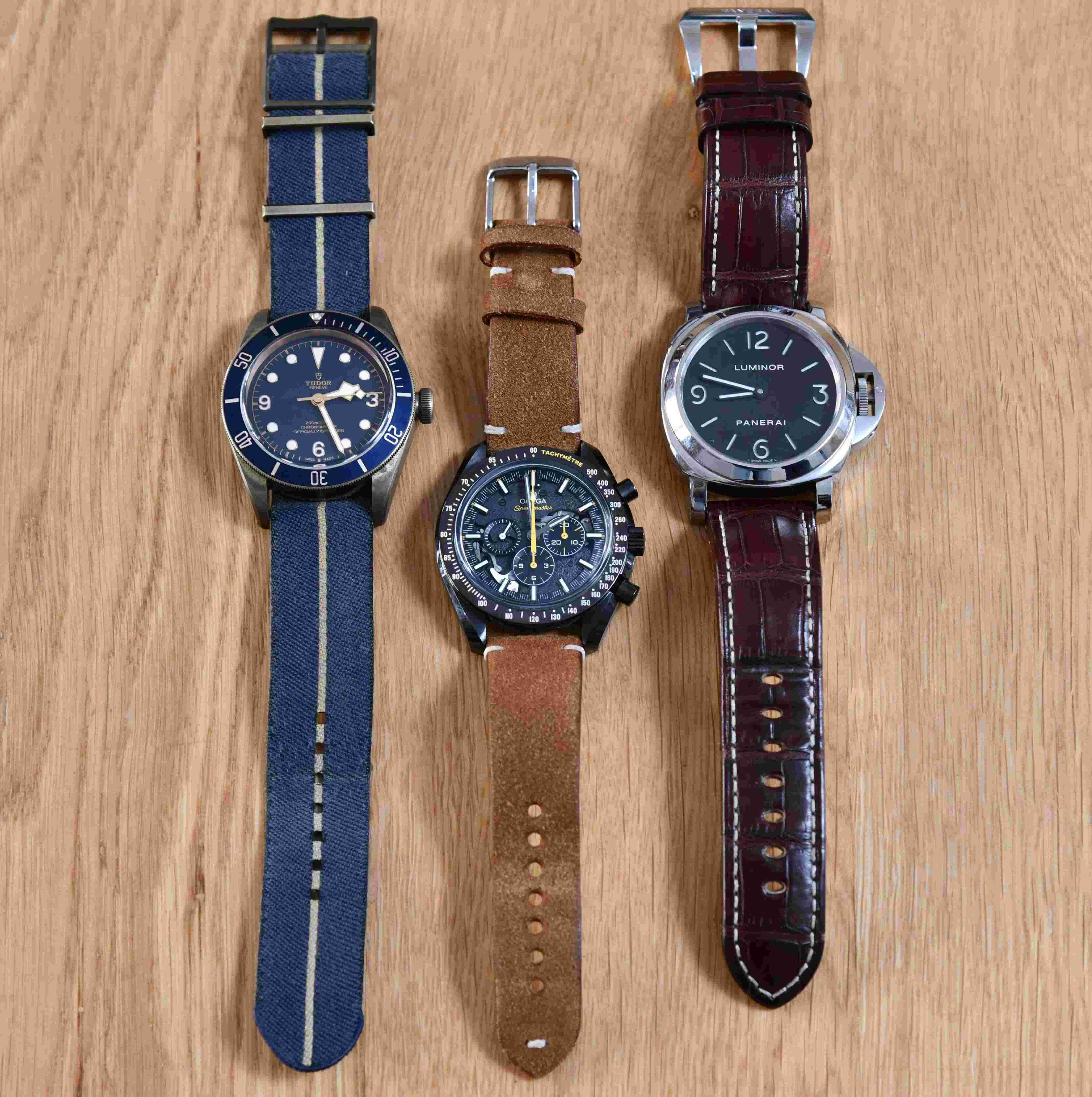 The Tudor Bucherer, Omega Speedmaster Apollo Eight, and Sahni's first luxury watch, the Panerai Luminor PAM00112
WTI: Not many would part with a Nautilus as easily as you did...
VS: I think for every collector, it is part of the journey, especially in the initial phase, where we also flip quite a lot. We buy some, sell some, and we are also figuring ourselves out as collectors. We need to know if the watch connects with who we are. Also, for me, a watch is a mix of aesthetics and the story around them. For a long time, I've been calling watches 'art on the wrist'. Yes, the movement and complication are great, but if it doesn't feel great on my wrist, I'm not into that watch no matter how much of a grail it is. So aesthetics play a very important role, and then the story and the provenance of the brand.
The movement and complication are great, but if it doesn't feel great on my wrist, I'm not into that watch no matter how much of a grail it is.
I will say that in the last two-three years, I haven't sold even one watch. I've understood what I like, what I don't like. There could be a break of six months where I won't buy watch, but then this year, within a span of one month, my Czapek, the Rolex panda, and the Cartier Skeleton came. That's because I have figured out the kind of collection I want to build.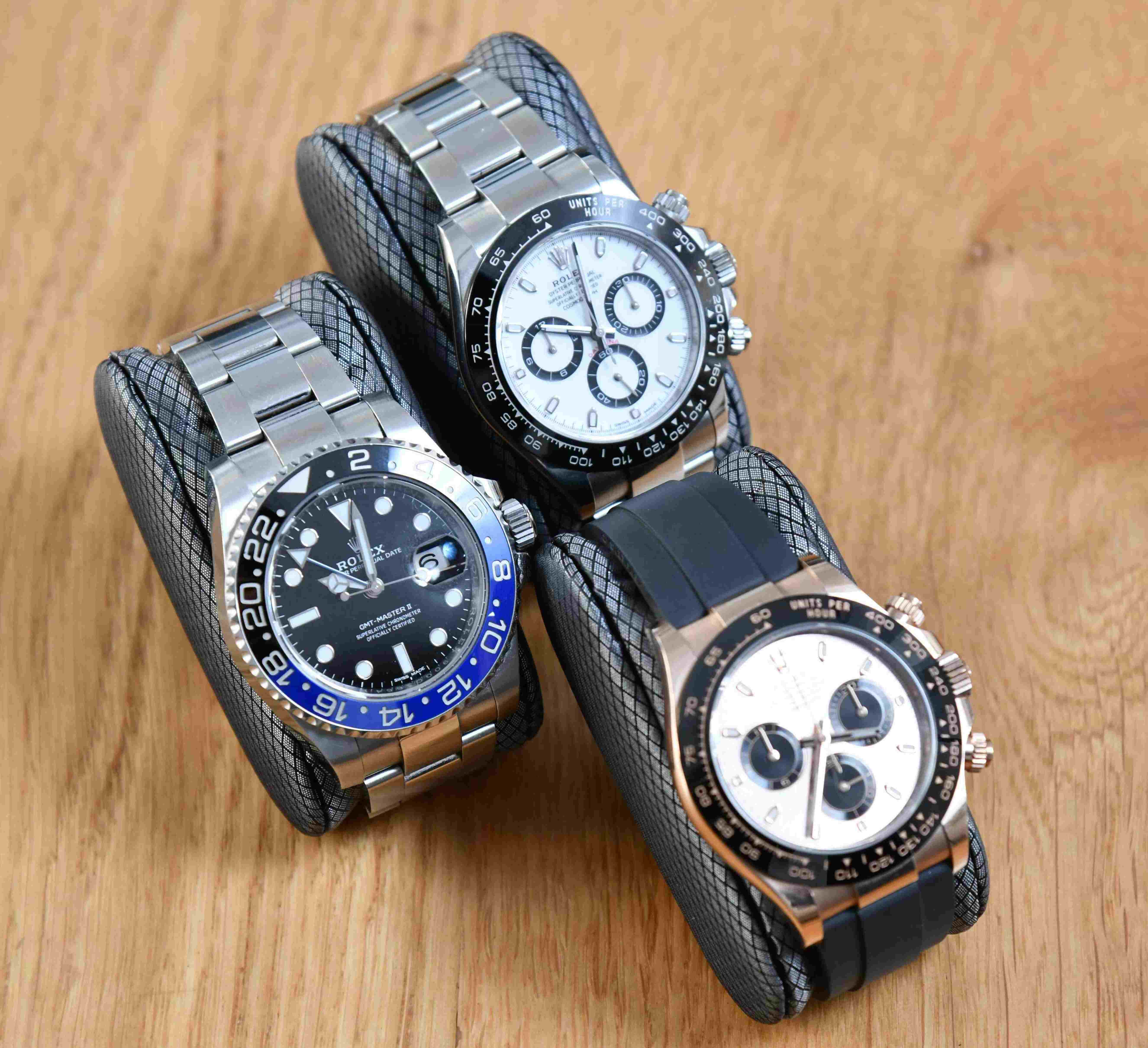 Sahni's Rolexes
WTI: So, luxury, as an idea, is very personal to you...

VS: I work a lot in the luxury industry, and personally I don't believe in loud luxury. I believe in the detail, the quality, or the experience, but it doesn't mean I want to tell the world about the experience.
WTI: What kind of watches do you end up gravitating towards?
VS: Mostly sports watches - it's not very varied and it is evident as soon as you see my collection, from Tudor and Audemars Piguet to Rolex and Panerai. Also, quality over quantity. I have a lot of straps too. I have a straps folio, and each of my watches have two-three straps at least.
Recently, I have started to gravitate towards independents, so that's my focus for the next few years. For a long time now I have loved MB&F, especially the LM EVO Perpetual - I just can't afford it right now. Urwerk is another – I have spoken to both of them [founders Felix Baumgartner and Martin Frei] multiple times. We almost had a deal but somehow it didn't go through. Then there is F.P.Journe, which is on everyone's list. Hopefully now, and especially given that the Indian market is opening up and the access and process of buying watches has become easier, we should be able to get hold of a lot more.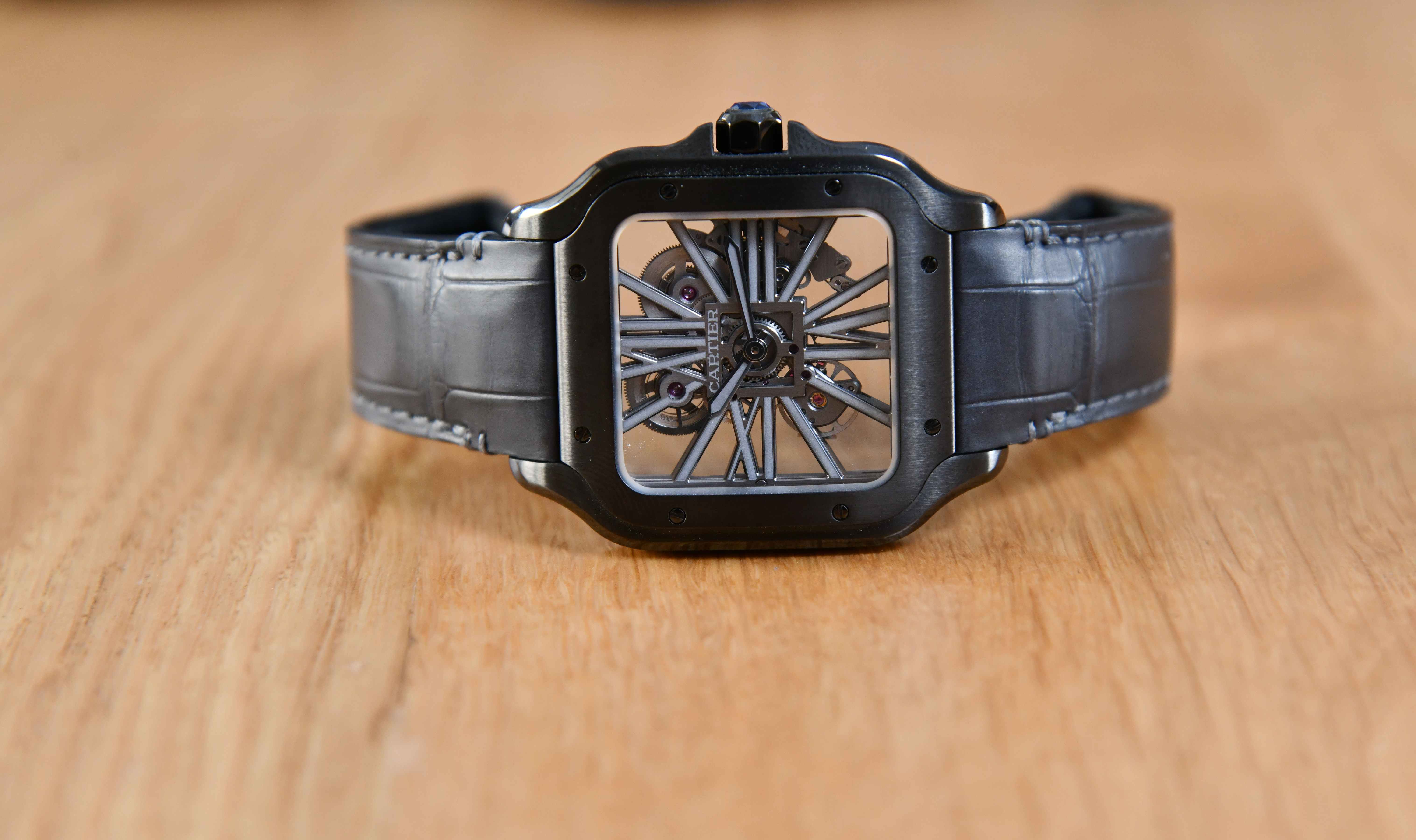 Cartier Santos Skeleton
WTI: What are some of the learnings that you've had about yourself through this process of collecting?
VS: Don't always act on intuition - certain spur-of-the-moment decisions that I have taken may not have worked. Now I sleep on it, and that always helps. Also, I research more now.
I don't think of watches as an investment per se, but at the same time, I'm very cognizant of the fact that the watch I buy should retain most of its value. I would like to know that I spent a certain amount and the watch still values somewhere in that vicinity. As a watch collector I follow that format, and I have been able to get the watches I wanted and they have been doing okay.
WTI: Typically how do you buy your watches?
VS: Mostly retail, but I have bought from a lot of pre-owned retailers, Watchbox being one. I have also gone to auction houses, though 80 – 90 percent is retail.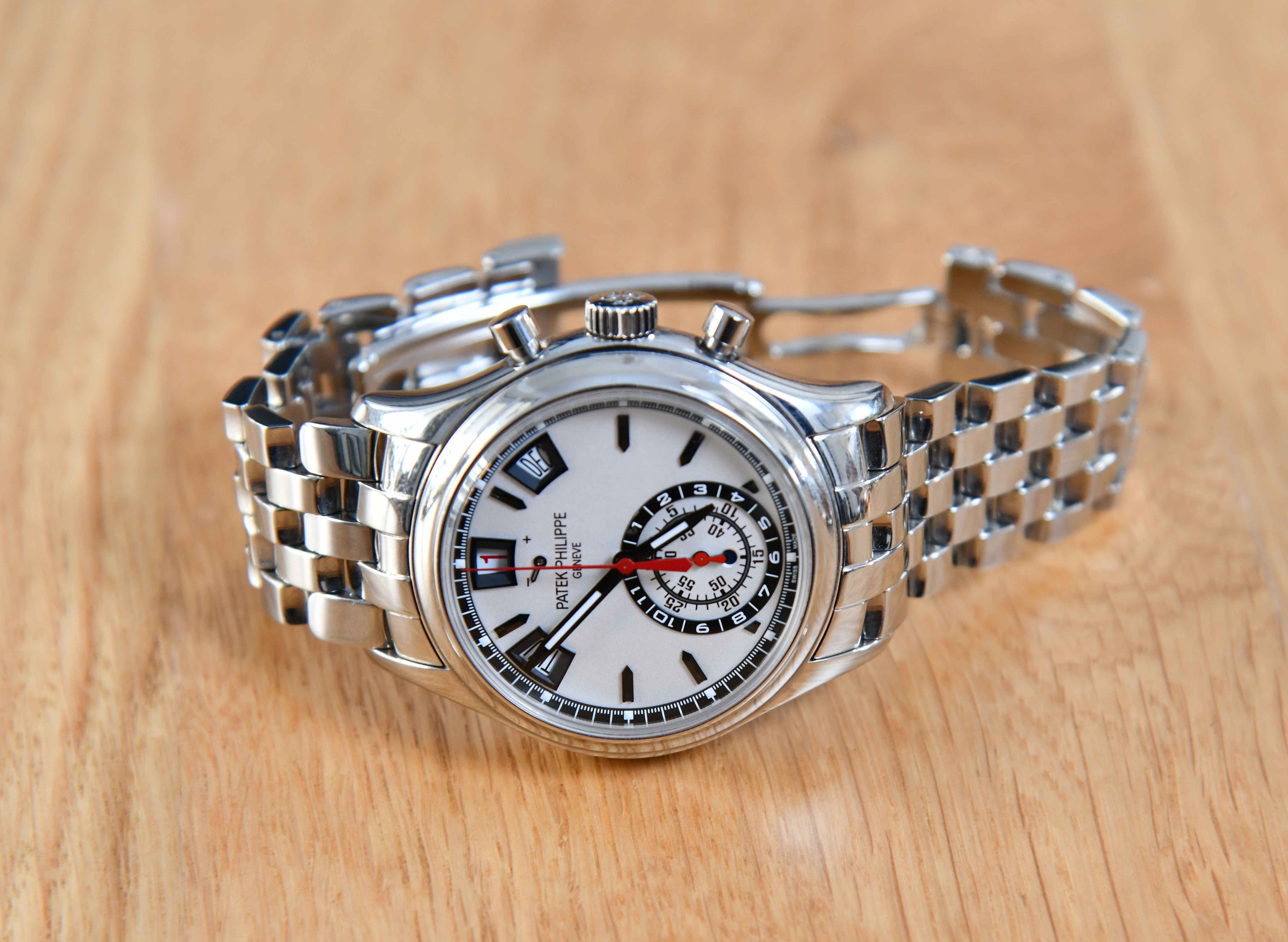 Patek Philippe Annual Calendar Chronograph Stainless Steel 5960/1A
WTI: Your favourite hunt stories...
VS: I think the Audemars Piguet Jumbo 15202 had the longest hunt – from a Dubai retailer to an Italian retailer to a London retailer. In fact, I especially flew into Singapore twice just to show my face and have a coffee with them, hoping that eventually, they would do something for me. But the 'bundle' that they were offering was always too much so that never happened. Then luckily, one day I got a call from the Indian retailer and they managed ta piece for me. By this time it had been three-three and a half years, and I finally acquired it in 2019. Technically, it's the last Jumbo that came to India.
Another was the Bucherer Tudor. I am someone who tries a watch but I didn't with this one. The Bucherer edition was available in either Switzerland or Harrod's in London, and I first asked my watch collector friends to help me get it in December 2017. Just a week before SIHH 2019, Dillon [Bhatt] was in London and he found one for me! He got the watch for me at SIHH.
Then there is the Patek Philippe 5524, which I bought in New York at the store
Material Good
. The straps were not ready for it though. The team was coming to SIHH, and I picked up my straps there. In fact, when I bought my 5712G from Watchbox from Hong Kong, it had a leather strap and I wanted a rubber. So I went straightaway to MisterChrono Hong Kong, and got the strap changed to rubber. But when it was being changed, it broke from the lug. We had a flight the next day, so we called WatchBox, and they said they would take 24 hours to fix it. So my wife and I booked our stay in the city for another day, just so we could get the watch.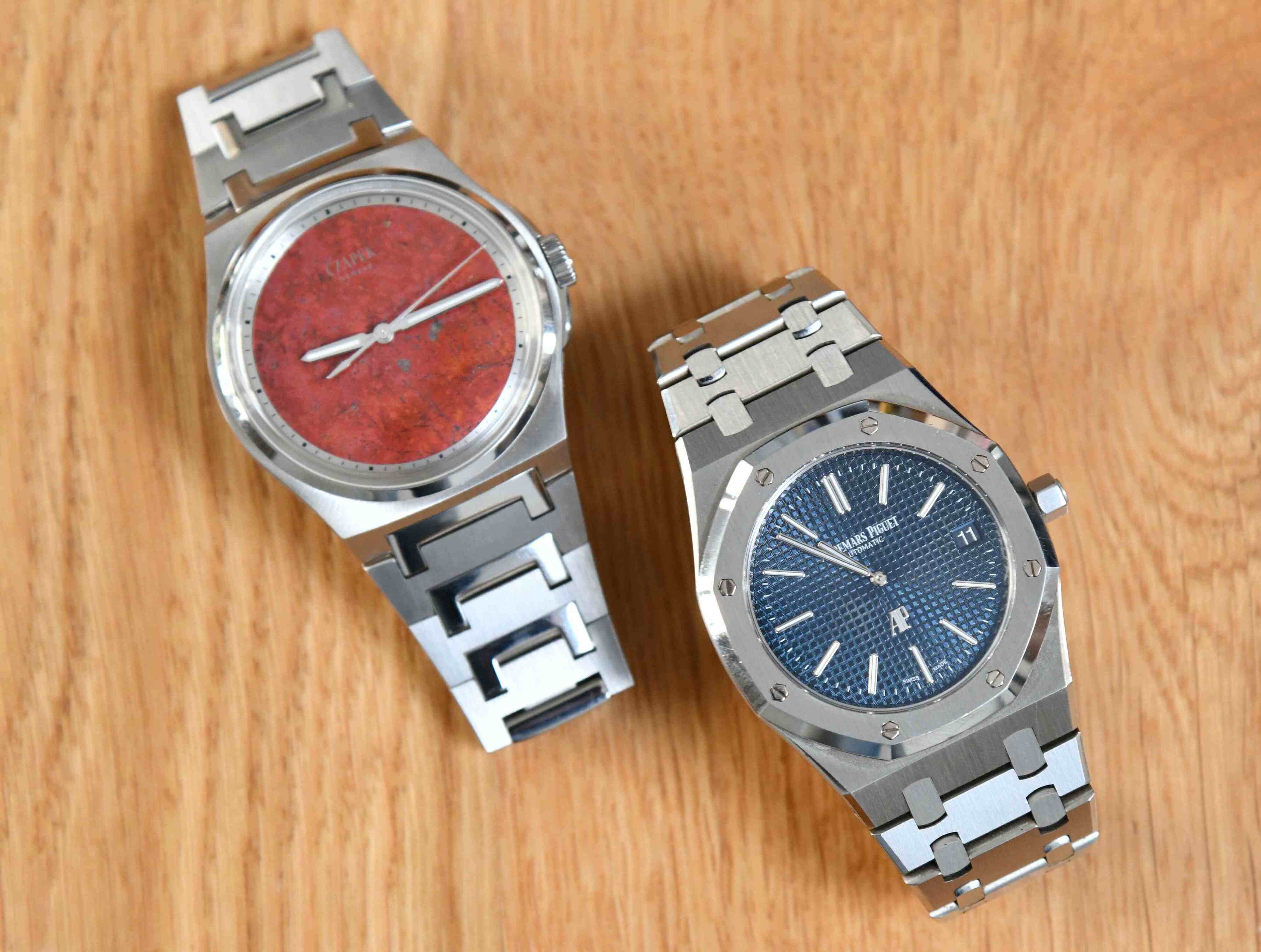 Vishesh Sahni hunted for the Audemars Piguet Jumbo (f

oreground) for nearly three years
WTI: The watch brands you look up to?
Vishesh Sahni: Gruebel Forsey. They are a little big for me, but the whole experience of the watch, and how they put the story together is just fantastic. Audemars Piguet has been one of my favourites for a long time now. Rolex – I have a lot of respect for the Crown now and that has also been a journey. When I bought it in 2012, somehow I couldn't connect to it. And then for the longest time, I saw Rolex as a statement watch that people wanted to show off with, and that to me as a watch collector is the opposite of who I am. But eventually I got the Batman, started wearing a Daytona, and also got the Milgauss – that is when I realized how great these watches are.
In India, it is Bangalore Watch Company – my meteorite should be coming in 10-12 days. I respect them for what they do as a brand, the detailed design, and every aesthetic of the watch that they get into. There are not many players who do that in India.
WTI: Grail watches you'd like to acquire?
VS: It's not a permanent list as it keeps changing. But the Vacheron Constantin Openworked has been there for a while, and hopefully, that should happen.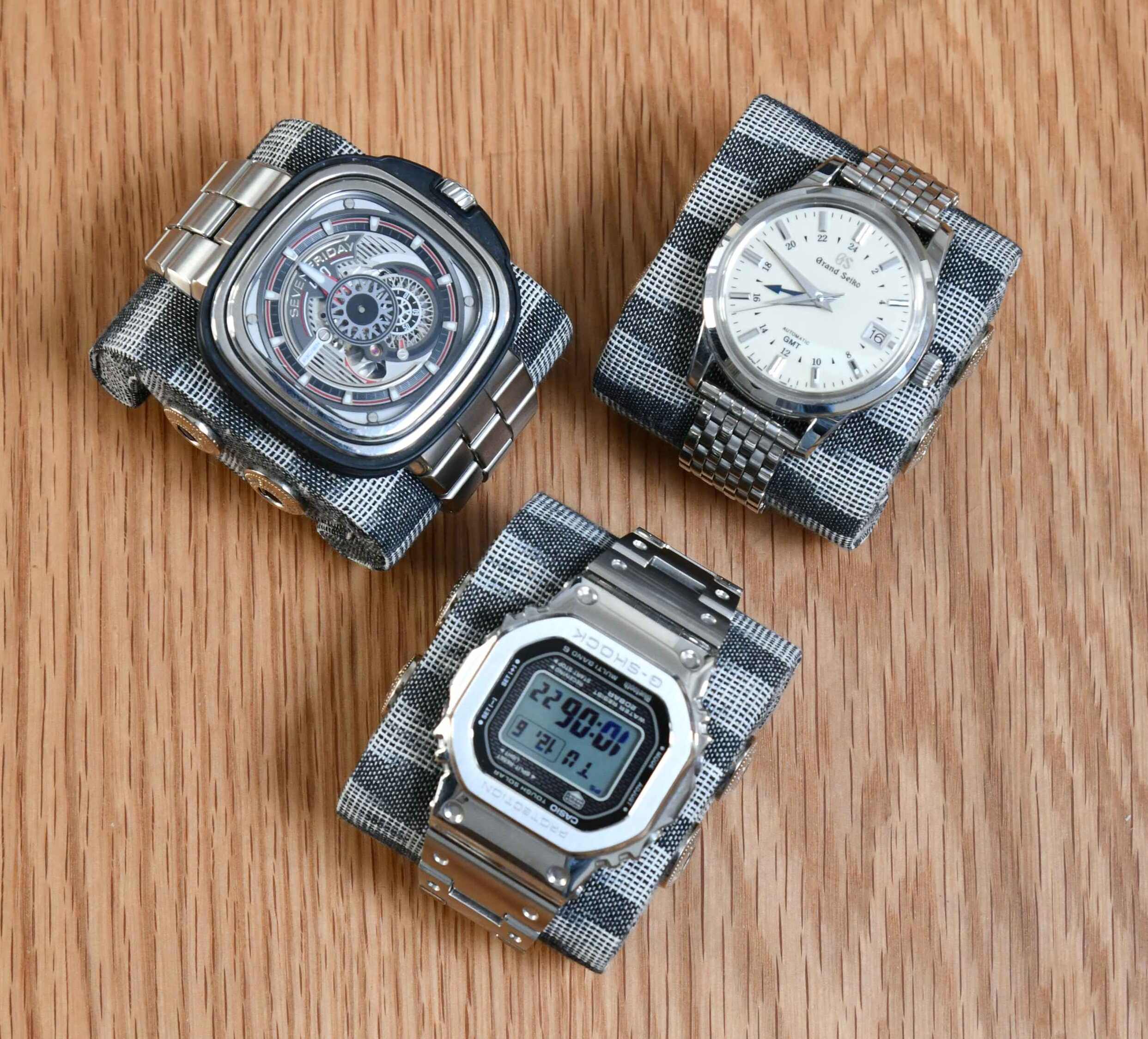 Seven Friday, Grand Seiko GMT, and Casio G-Shock
WTI: Are you a part of different watch communities?
VS: Officially, only Watch Collectors India, because I am anyway talking a lot about watches [on my Instagram] and to be part of a Whatsapp group on watches can be a little bit tricky. But Watch Collectors India was one group whose members I kept meeting at multiple events and connected with them with a very like-minded passion. And also the kinds of watches we had well were similar.
WTI: Where do you typically research your watches?
VS: Watch collecting is a lifestyle. Half of our friends are collectors and some of the best times I've had travelling globally are with these friends. A couple of friends in Amsterdam, our only connect is our love for watches. I might not even know what they do, but I know what watches they have. So that connection is a community or a brotherhood. It's via social media, collector groups, through our friends, or retailers who have become friends. I say 'lifestyle' because knowingly or unknowingly it is part of your life. So we live it day in and day out. We seek information knowingly or even unknowingly.
WTI: The watch collecting scene in the country over the past decade has seen a sea change. What do you feel about it?
VS:
It's evolving. There are a lot of people who are genuine watch collectors and they have a true love for watches, and it's not always about the value of the watch. It's more about the journey of finding what you love. I think it's that which keeps us going and brings us together as well.
Images: Sanjay Ahlawat