Luxury watchmakers have for long held the hand of innovation. What once was a pocket watch is today a piece of fine watchmaking that sits on the wrist and boasts unparalleled craftsmanship, both technical and material. With regards to the latter, watch manufacturers have created avant-garde cases with steel, gold, silver, aluminium, ceramic, graphene, plastic, and even metal taken from the hull of the Titanic. Now, sapphire, a highly scratch-resistant material that is commonly used to protect the dial and through which the movement can be upon turning the watch over, is being used to craft full sapphire watches.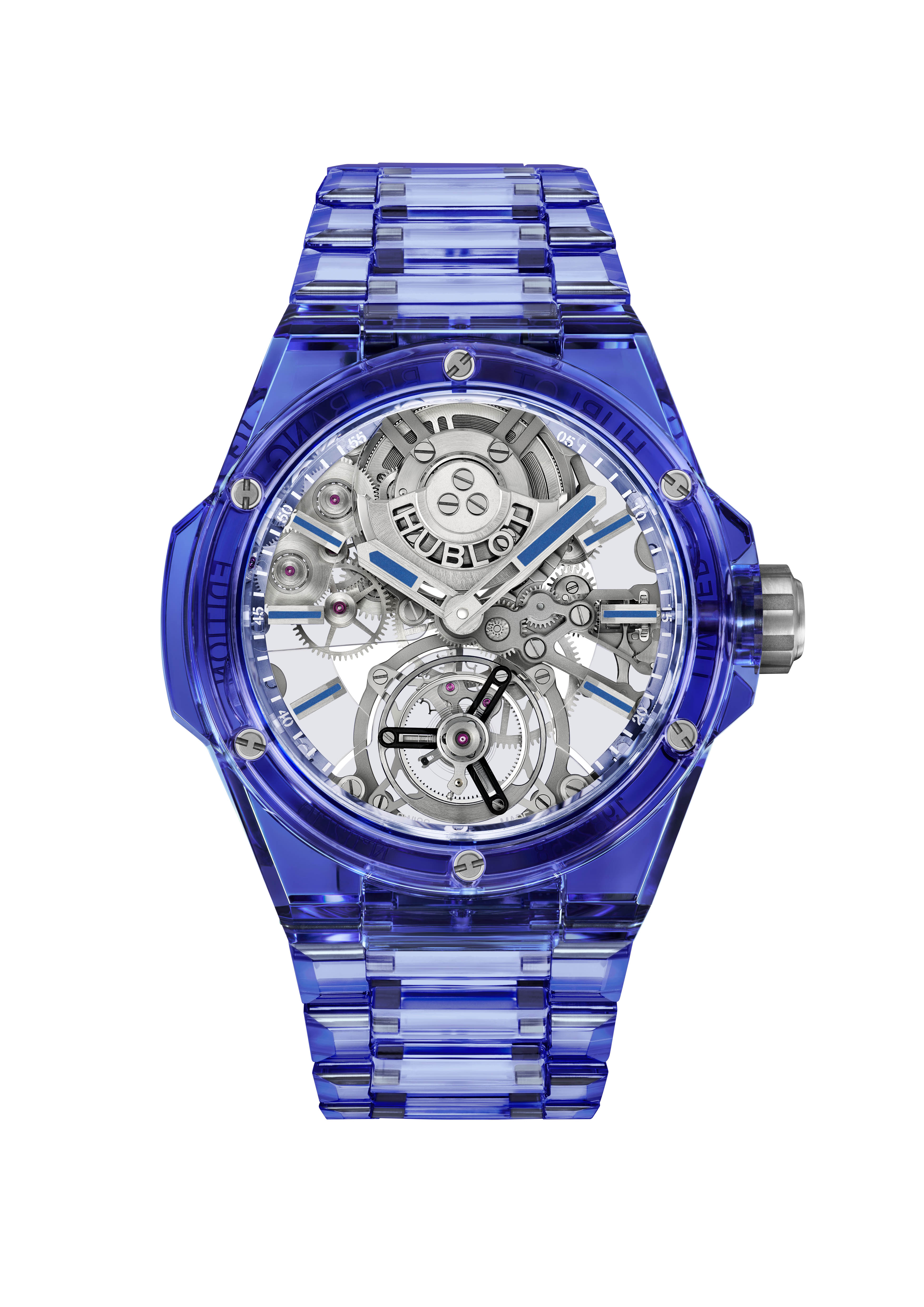 Hublot Big Bang Integrated Blue Sapphire
In 2020, Hublot flagged this off by creating an entire piece with the material, in the
Big Bang Tourbillon Automatic Orange Sapphire
. Since then, the brand has worked with the material consistently - the Big Bang Tourbillon Only Watch with a translucent case cut from sapphire was the brand's entry for the 2021
Only Watch auction
. At Watches and Wonders 2023, the brand introduced
the
Big Bang Integrated Blue Sapphire
, a 43mm polished blue sapphire crystal case coated with an anti-reflective treatment, with an integrated bracelet in the material too. In January this year, the bright neon yellow
Big Bang Tourbillon Automatic Yellow Neon SAXEM upped the ante on the material.
SAXEM is an acronym for Sapphire Aluminium oXide and rare Earth Mineral, and is an alloy of aluminium oxide, the basic component of sapphire, also comprising rare earth elements like thulium, holmium, and chromium. Developed in the field of satellite technology, it offers transparency and excellent resistance. Not surprisingly, Hublot, with its Art of Fusion motto, opted for the material in a new watch.
Big Bang Tourbillon Automatic Yellow Neon SAXEM (Ref. 429.JY.0120.RT)
This is not the first time that sapphire has been explored in deeper ways in the construction of a watch. While it is mostly confined to the front, as a dial covering, and back of the watch, where it allows one to see the movement, the past several years have seen brands engage more with sapphire to create sapphire watches. The results have been quite amazing, ensuring a fantastic sight of the movement from all sides.
A look inside
When the 2021 Big Bang Tourbillon Automatic Orange Sapphire was unveiled, the manufacture declared that it was 'the world's first case in orange sapphire'. "We wanted to play with the visible and the invisible, and present the heart of the timepiece appearing to be suspended in the air in order to be admired from all around," shares Hublot's CEO Ricardo Guadalupe with WatchTime India. Its 45mm polished orange sapphire crystal case augments the beauty of its new self-winding tourbillon calibre HUB6035 movement. Hublot further adds to its distinctive appeal by offering it on a polished orange sapphire crystal bezel and a transparent orange structured lined rubber strap.
Hublot Big Bang Tourbillon Automatic Orange Sapphire
With the
Big Bang Tourbillon Automatic Yellow Neon SAXEM released this year, the brand further experimented with sapphire watches, this time with the added element of colour. For Guadalupe, the draw of s
apphire lies in the fact that it gives a different look to the watch. "The material is interesting - it is not scratchable but at the same time it has weakness also as it's fragile. But, the SAXEM in 10 years will look exactly the way it does right now. It's an interesting material that gives a specific design to the watch. It makes us different from others. Every time we come with different watches that no other brands are offering, there is success."
The beauty of sapphire further takes us to some notable pieces that offer a look at what is going on inside. In 2018, Jacob & Co. used sapphire's transparency to showcase the brilliance of the 2.88K diamond that sat atop its
Astronomia
four-arm vertical movement, housed in the Astronomia Flawless Diamond. Bell & Ross's first sapphire watch—the BR-X1 Chronograph Tourbillon Sapphire—came in 2017, priced at around Rs 4.2 cr. The brand took the opportunity to flaunt a skeletonised movement equipped with both a flying tourbillon and a monopusher chronograph. Its transparent 45mm case is cut from six blocks of sapphire, one each for the case middle, back, bezel, crystal, and bumpers.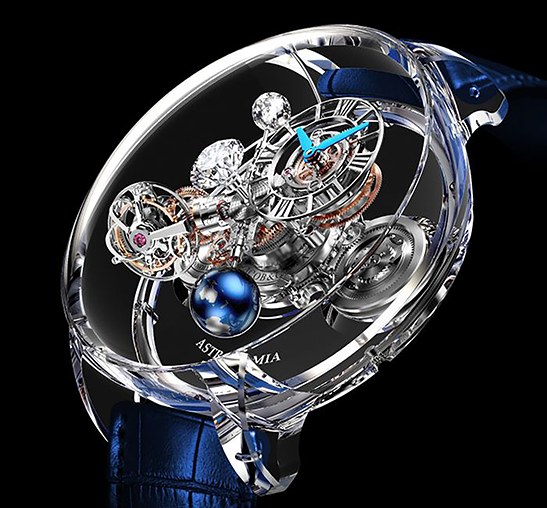 Jacob & Co. Astronomica Flawless Diamond
In 2015,
Richard Mille
presented a fully transparent wristwatch designed especially for women. The RM 07-02 had been crafted from sections of coloured sapphire taken from a single block. According to the brand, the case requires around 40 days of machining and finishing. Its pink sapphire case houses the Calibre CRMA5, a skeletonised automatic-winding in-house movement that is also visible through a clear caseback. Another is the Greubel Forsey Double Tourbillon 30º Technique Sapphire—priced at around Rs 9 cr. Launched in 2016 in a limited edition of eight pieces, its thick solid sapphire has been machined from a single block of sapphire crystal that houses its multi-level movement with its two tourbillons.
Many challenges
Beauty apart, sapphire as a material is incredibly difficult to machine and polish. These challenges have perhaps kept many watchmakers from marrying it with their case designs. "Sapphire is going to take hundreds or thousands of hours of machining. To make sure that a three-dimensional transparent sapphire watch is completely watertight is an additional challenge," says
Maximilian Büsser
, founder and creative director of MB&F. In 2021, MB&F presented the HM9 Sapphire Vision, which flaunts a sapphire crystal case with a red gold frame. Also known as Horological Machine N°9 Sapphire Vision, it follows in the footsteps of 2018's Horological Machine N°9, nicknamed
HM9 'Flow
' (inspired by the flowing, aerodynamic profiles of automotive and aviation design from the 1940s and 50s). The HM9 'Flow' shows off extreme curves and acute angles with a milled case in titanium or red gold. "The greatest challenge was trying to maintain the original Flow philosophy of the titanium version in a virtually full sapphire piece," says Büsser.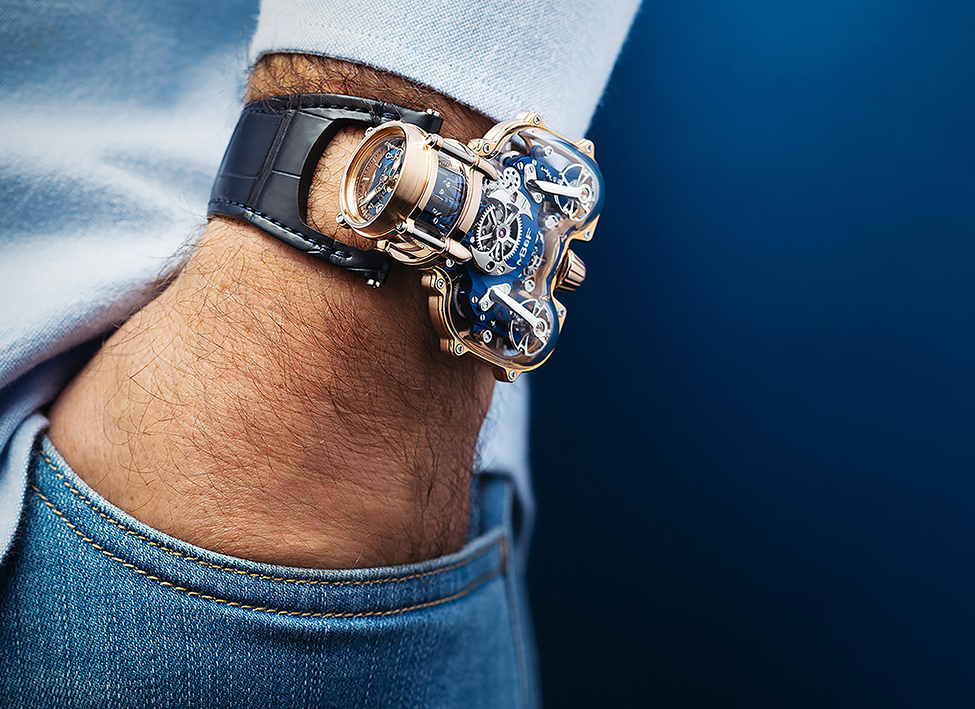 MB&F HM9 Sapphire Vision
Almost entirely scratch-proof and extremely brittle, sapphire is the second hardest material on earth after diamond. With all its boons, its banes are deep-rooted in its production. Even though sapphire has come a long way to be used as many parts of a watch, it took watch manufacturers two decades of industrial research to incorporate sapphire as different components of a watch, and brands think they still aren't quite there yet, even if the present sapphire watches are creating headlines. "Sapphire is eternal, like diamonds, but hard and fragile at the same time. Each sapphire component, requiring its own process and tools, is milled and polished; it is a risky process that only exposes imperfections upon its completion, making errors expensive," says Guadalupe.
You can never be too careful with embossing sapphire watches as the process can either damage the sapphire or the tool. Watchmakers are aiming for maximum transparency, and with it comes a great demand for attention to detail. As sapphire is a transparent material, anything inside it can be visible, even dust. With great power comes great responsibility, and so it does with brittle sapphire. It's hard, but it also has a tendency to break when struck. That means if it falls, what may shatter is not the watch but also your heart.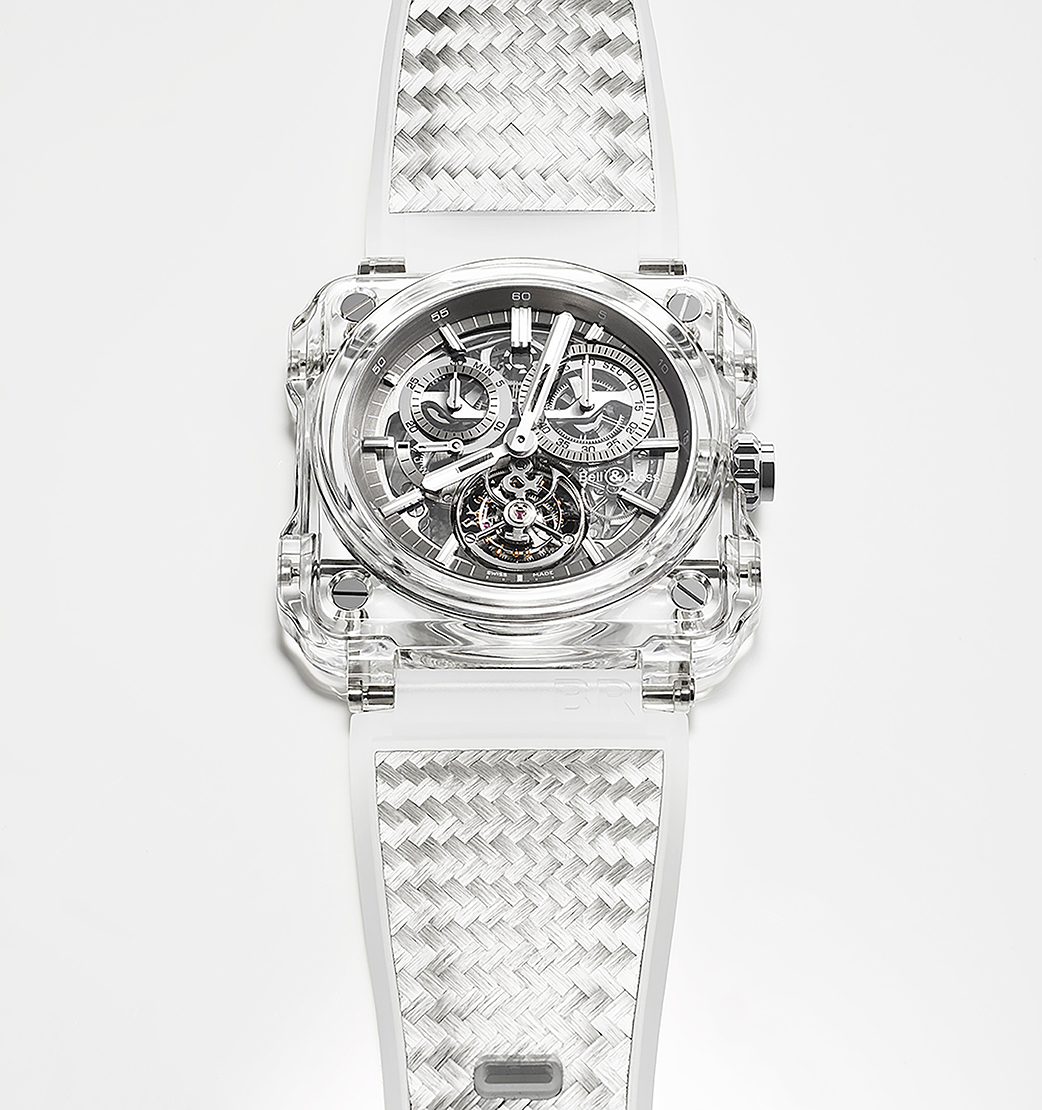 Bell & Ross BR-X1 Chronograph Tourbillon Sapphire
Overcoming the odds
Sapphire watches are like space travel; a trend for which you pay a premium because of its exclusivity. Now that we know that sapphire can break easily or can end up breaking the machine, you can imagine the time, effort, and patience it requires to produce its many components. So much goes into it, including high-end machines and painstaking engineering, and all of that results in exorbitant production costs. "It takes more than three months to manufacture the components with an assembly time of about one week, and no less than 10 people
at different stages to man the machines for different components, to make
a complete watch," explains
Guadalupe.
Given sapphire's hardiness, no ordinary machine can mill it. Its density can only be handled by diamond mills. "Each pass with the mill can only take microns off," explains Büsser, highlighting how even diamond-cutting machines can only achieve so much when it comes to the highly concentrated sapphire, adding, "Simple shapes can now be crafted in lower prices than five years ago, but complex shapes are not only in incredibly high prices, but very few manufacturers can achieve this complexity."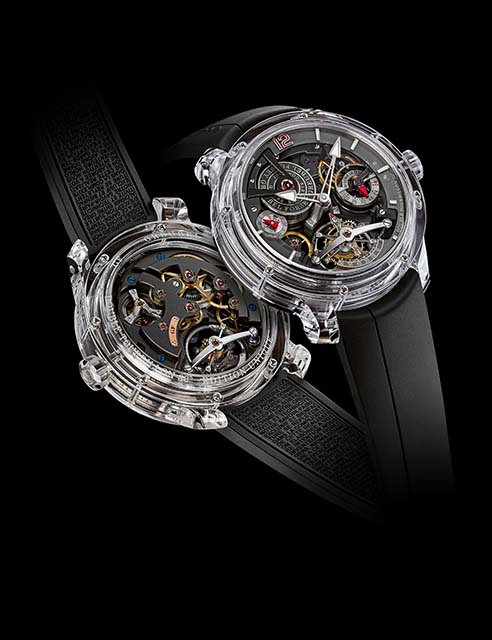 Greubel Forsey Double Tourbillon 30° Technique Sapphire
One day, one day
At every stage lies a new and gruelling challenge to make something as beautiful as a sapphire watch, be it embossing or milling, all to be done with loads of finesse. On an unfortunate day, its chances of breaking are more than that of glass, but with more and more manufactures presenting fabulous sapphire watches, these designs are gradually getting within reach. But, for now, it remains highly priced, a collector's item, and a great conversation piece.
Images: Courtesy brands
This story first appeared in WatchTime India's Oct-Dec 2021 issue, and has been updated to reflect recent developments. To subscribe to WatchTime India magazine, click
here