Today, French watchmaker Louis Moinet's legacy not only includes the creation of the world's first chronograph, the Compteur de Tierces, in 1816 but also the first high-frequency stopwatch – the Compteur de Tierces beat at 216,000 vibrations per hour (30 Hz), a feat unheard of at the time. This honour was however bestowed, rather recognised, only recently, when in 2016, the Guinness Book of World Records officially confirmed Moinet's contributions to horology - it was popularly believed that Nicolas Rieussec invented the chronograph. And the man who brought the fact to the forefront was Jean-Marie Schaller.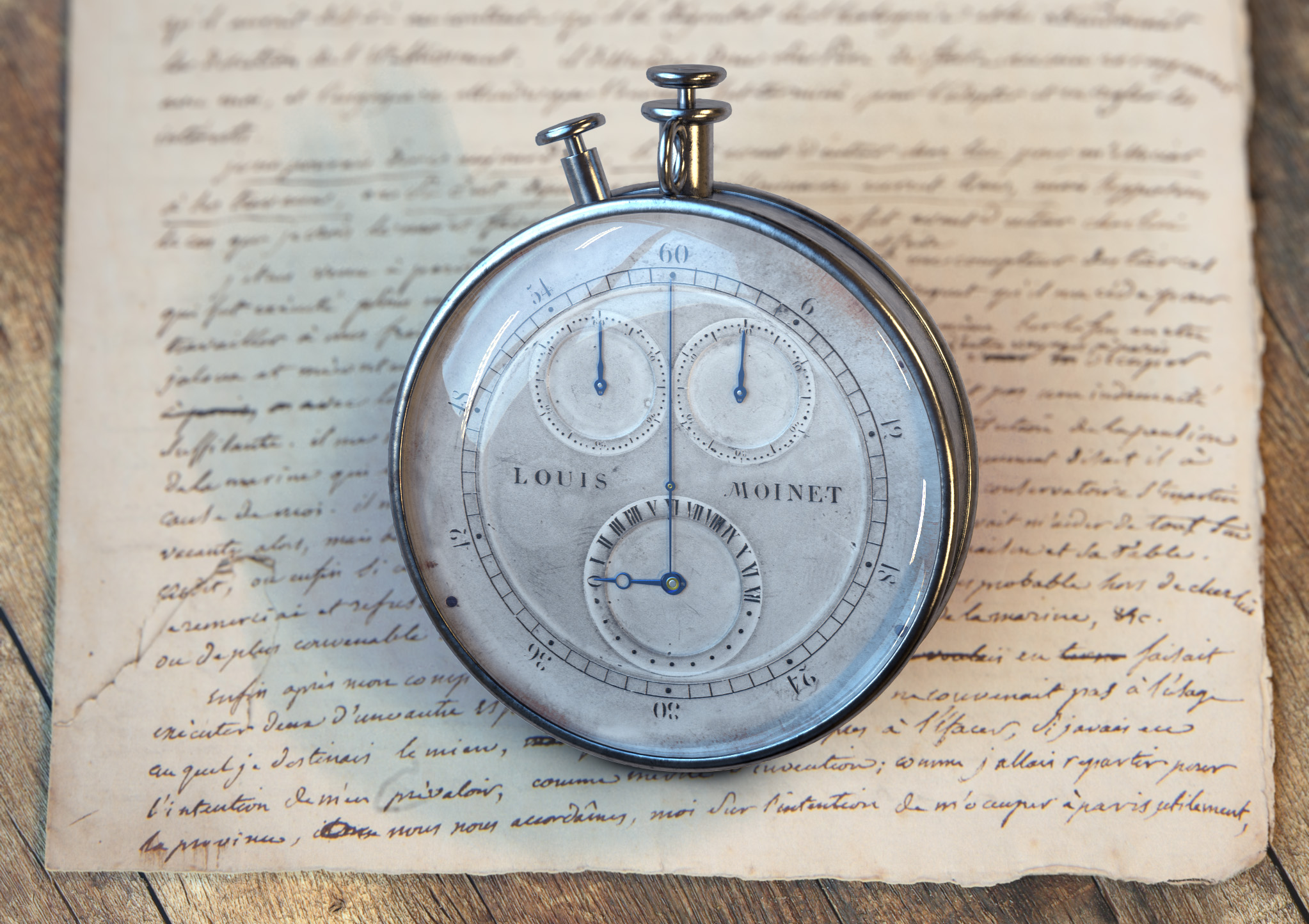 The first chronograph ever made, Louis Moinet's Compteur de Tierces
Jean-Marie Schaller, CEO, Ateliers Louis Moinet, re-established the legendary brand in 2004 in Neuchâtel, Switzerland. In 2012, when the Compteur de Tierces came up for auction at Christie's 'Important Watches' sale in Geneva, Schaller bid on it, won, restored the watch to working order, and then publicly made the historic claim, which was eventually ratified.
These honours have gone a long way in bringing both the past and present work of Atelier Louis Moinet more recognition. The
independent watchmaker
today creates one-of-a-kind models or limited editions under two categories - 'Cosmic Art' and 'Mechanical Wonders' - and often employs unusual and rare components to craft its pieces. With a focus on creativity and exclusivity, the brand has won the UNESCO Award of Merit, and six Red Dot Design Awards (including one Best of the Best Award), amongst several more such accolades. This year, its watch Time to Race is nominated in the 'Chronograph' category of the
2022 GPHG Awards
.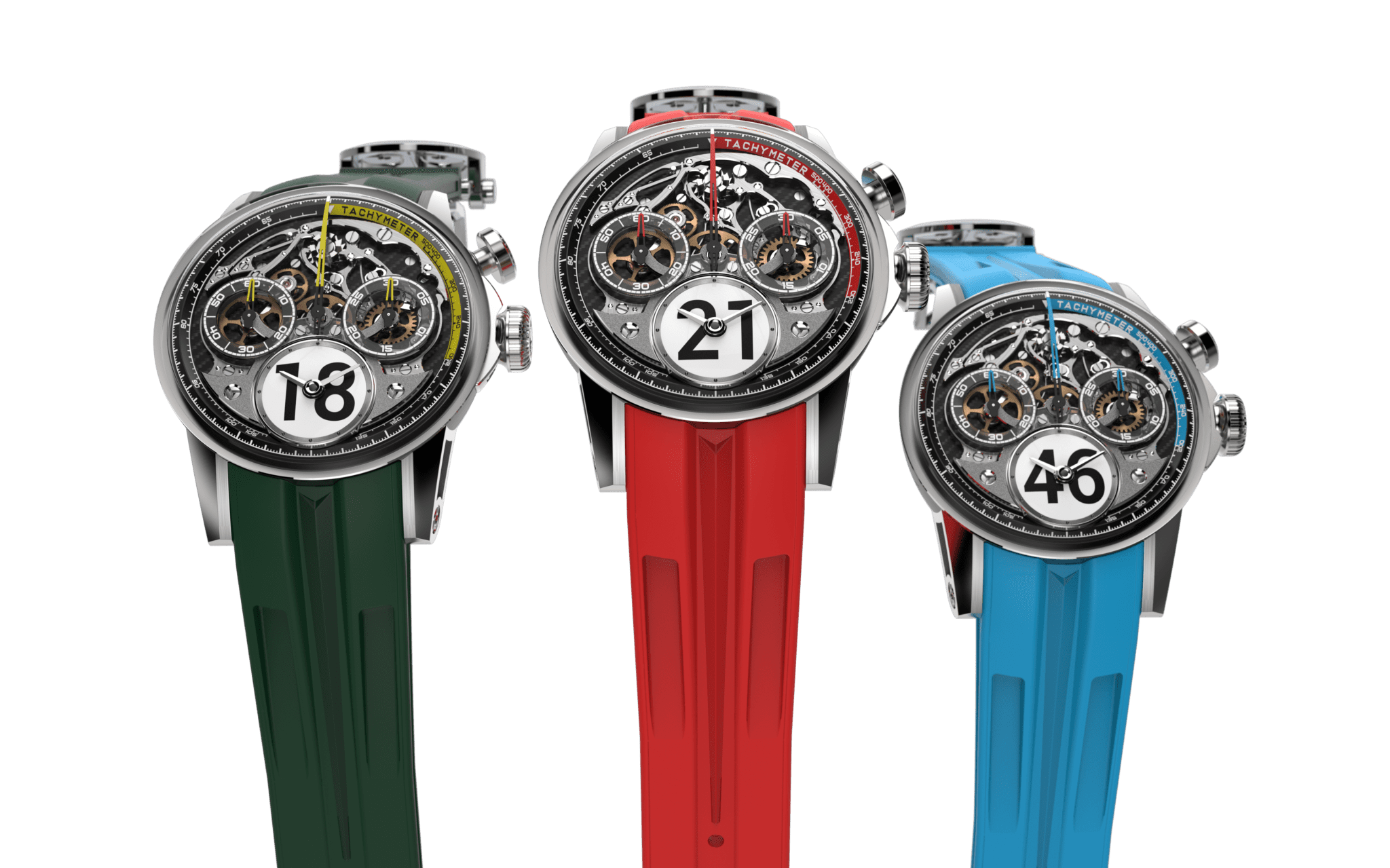 Louis Moinet Time to Race
Time to Race is a customisable watch, and Schaller says that it can be so that no two watches created under this collection are the same. With a skeletal chrono movement on display (the legacy at play), the dial features an oversized one or two-digit number, reminiscent of racecars of yore, that can be personalised. With the option to choose from three different colours - Rosso Corsa, Racing Green or French blue - the Grade 5 titanium watch also features a new type of inner bezel ring, dissociated from the crystal, which allows for the reading of a tachymeter scale and a 60-second display.
Another highlight piece released this year by the brand was the unique 'Only India' watch, featuring a Martian
meteorite
from 1865, which fell to Earth near Sherghati, Bihar. Placed at 12 o'clock inside a floral design, the watch also features a dial base made from real peacock feather, hand-engraved spokes representing the Ashoka Chakra, a hand-engraved 18K gold case, and the LM-35 movement, winner of the International Chronometry Competition. Schaller calls it the brand's ode to India.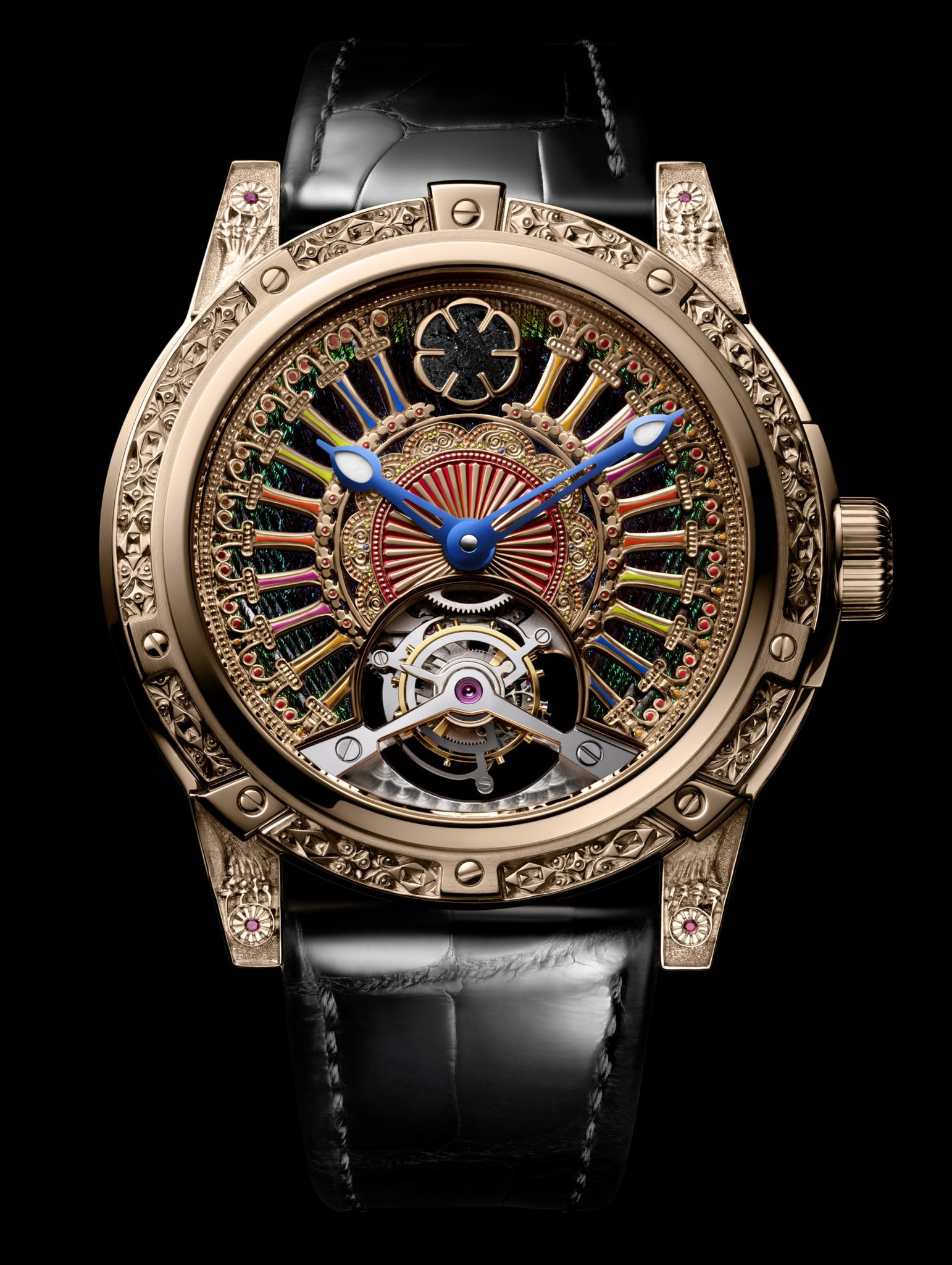 Louis Moinet's Only India watch
WatchTime India caught up with Jean-Marie Schaller to know about these new watches, the brand's upcoming plans, and what it takes to run an independent brand.
WatchTime India: How did the idea of Time to Race come together?
Jean-Marie Schaller: It came to me on a Sunday morning (laughs). I had an espresso, and then a second one, and then a third... I wanted to create art - this is what was driving me. I also love cars, and I was thinking about the first cars and the origin of racing. At that time you could not paint a car according to your thinking. Italian cars were built in red, French in blue, and English in green. There was a colour for each nationality. At that time they kept the numbers simple, in black. I wanted to find a link with this and thought, why don't I create a watch with a chronograph - an invention by Louis Moinet – which is a very good starting-point, and create some tailor-made pieces for collectors. It turned out to be our biggest success because it was based on the principle that people want what they cannot have. So it is not a collection. You choose your own number, colour, and nobody else in the world will have it.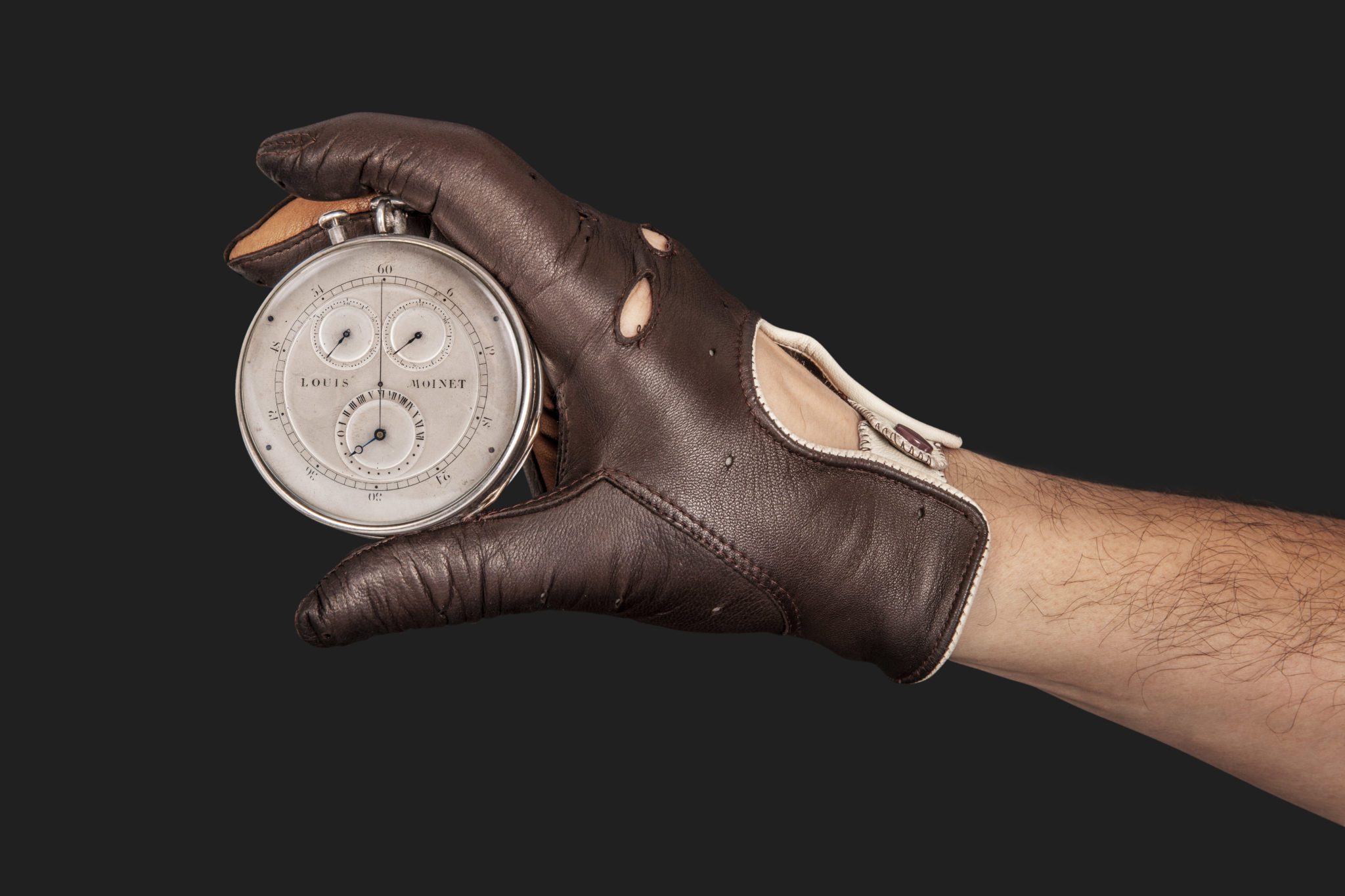 Time to Race harks to the historic Compteur de Tierces, the first chronograph ever, made by Louis Moinet in 1816
WTI: Which aspect of the watch is most striking for you?
JMS: Mr Enzo Ferrari used to say that the car must look good from every angle. And it's the same for a watch. At the start, the challenge was this big chronograph movement that normally fits in a 46mm case - I wanted it in a 40mm case. It took us two years to find the solution, which was to think out of the box. Normally, when you think of the body of the watch, you think of the case, and then the crystal, but here you had to find the crystal first, which is like a dome, 50% of the whole surface of the watch, and then to use this frame in titanium – very light, 80 gms – and have a very strong design in 40mm.
We had to use very modern technology for this watch. The rubber strap is very complicated because I wanted it to remind one of auto racing, with aero-dynamic shapes. And it wasn't easy in terms of adapting it to the case. The watch is like a symbiosis of high technology, be it the domed crystal, titanium case, rubber strap, or even the dial where you have a number. It is not silk screen. They are made in tempography, like a stamp. It is a unique technology. The numbers come out perfectly. Even the luminescence is a result of a special process, the colour too – blue and green.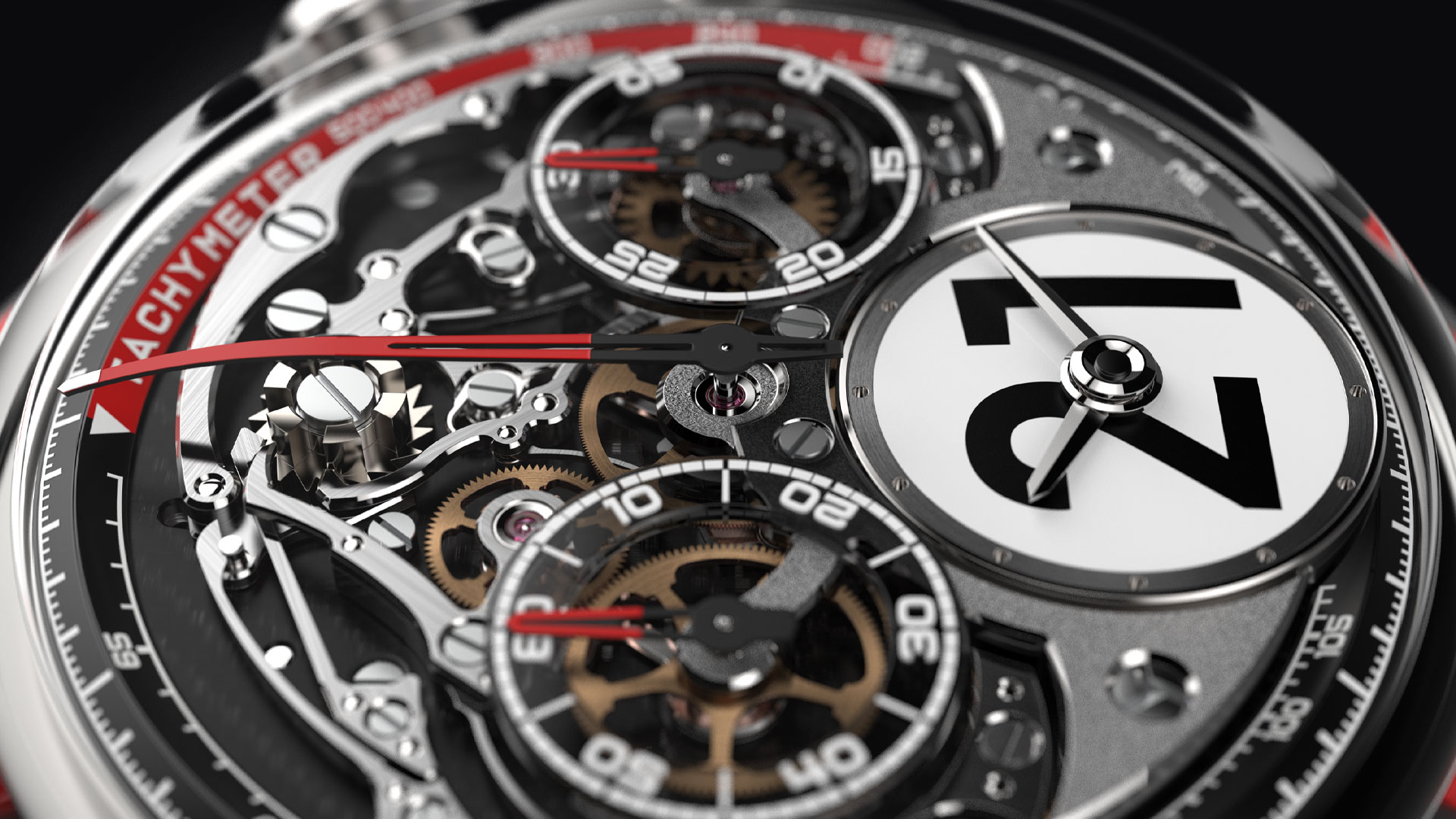 The digits on the dial of the Time to Race can be personalised
WTI: Time to Race is geared towards collectors...
JMS: I am not good at strategy. I do what I feel is right, and I felt that it was right, because it gives value. You can have only the one in the world. I have seen the success of the watch – it was amazing, beyond my expectations. We have exhibited 20-30 of our watches in Doha and in Mexico, and the people were glued to Time to Race because they feel there is something special there
WTI: Coming to the Only India watch... how did it take shape?
JMS: This is a watch that pays homage to the culture of India, full of symbolism. On the dial we produced the chakra which is hand-engraved and hand-painted. A piece of Martian meteorite which was found in India in 1865, was in a museum in Alberquerque in New Mexico, from where I sourced it. Earlier we had made a Mexico watch, which had amazing success. Next, we thought of India because, like Mexico, India has a very strong heritage, and so I wanted to create something that was a reflection of this culture. But when I looked for something unique from India, it was not easy to find. And when I found this piece of meteorite, I thought this is it. There are only 300 known meteorite pieces from Mars in the world.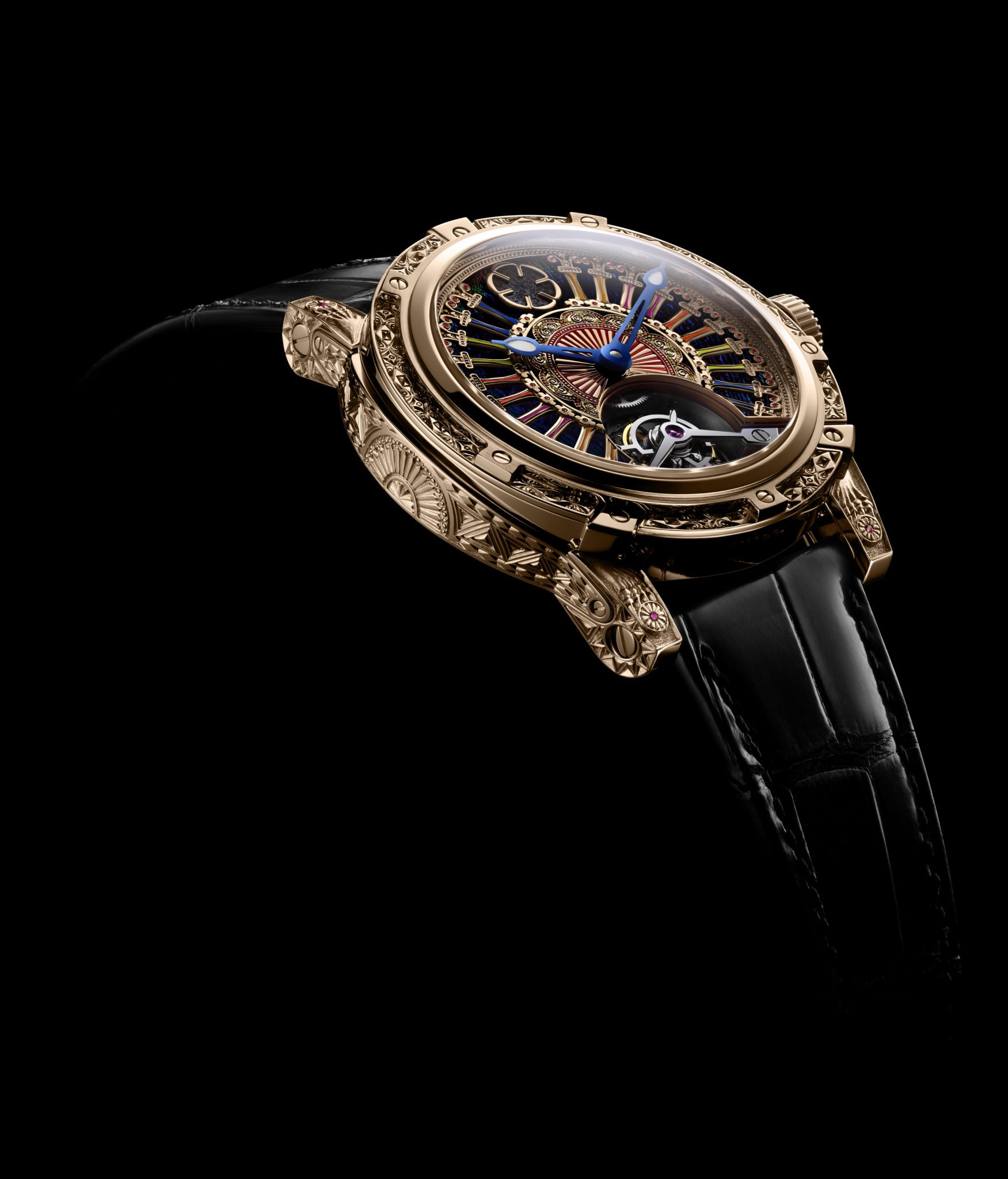 Details of The Only India
WTI: How did the design come together, given that there are many Indian elements in the watch?
JMS: If you want to do something for India, you have to focus on what is important to India. And I found many elements, like the peacock feather, chakras, meteorite, and we incorporated the metiers'd, and came up with a beautiful piece.
WTI: What has the response been like?
JMS: It is still available, and we have had many enquiries. It is also very important to wait, so we find the right person for it.
WTI: You resurrected Louis Moinet's legacy in 2004. What challenges did you face in doing this?
JMS: When we started, Mikaela, my wife, and I functioned like we were in a laboratory, working from home. But it was a call of destiny. I listened to a simple voice in my head, telling me to start this name. I did not create a company and invest millions of Swiss francs in it. I didn't know what to expect. Louis Moinet was completely unknown, the legacy of the chronograph we found afterwards. But I felt I wanted to do this.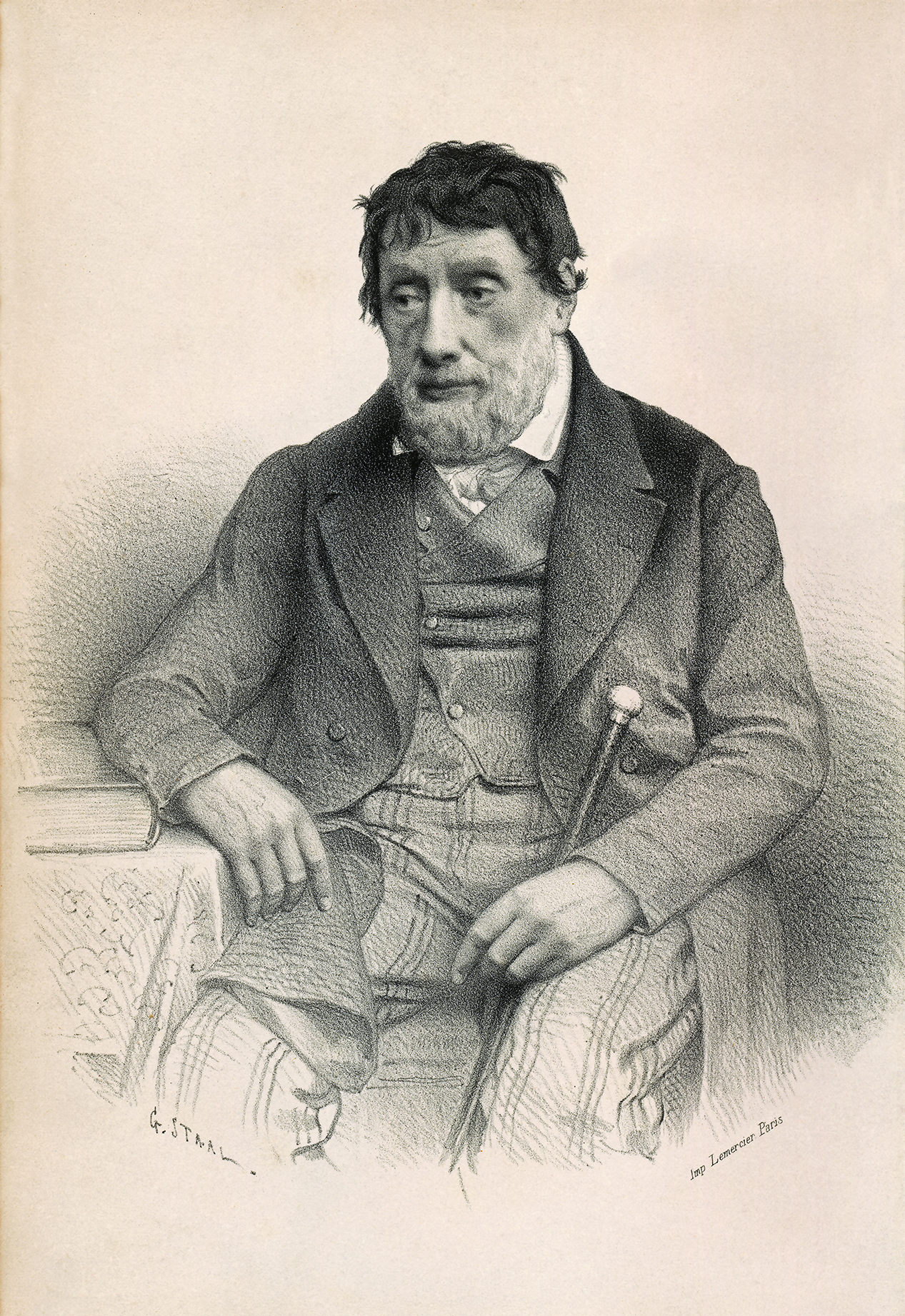 Watchmaker Louis Moinet
WTI: Who is Louis Moinet's target audience?
JMS: I don't like the word 'target'. I like to think we have friends who have the same values. We are creators of something, and someone is taking this and putting it on his wrist and it is creating amazing relations. They become friends and we exchange ideas and create things together.
For people who are our customers, Louis Moinet is not their first watch. They are people with knowledge of watches. Sometimes they already have a collection of 20 watches, and sometimes they do not have many watches, but they want to invest more money and buy a Louis Moinet. And then the relationship develops. We have customers who have 20 Louis Moinet watches.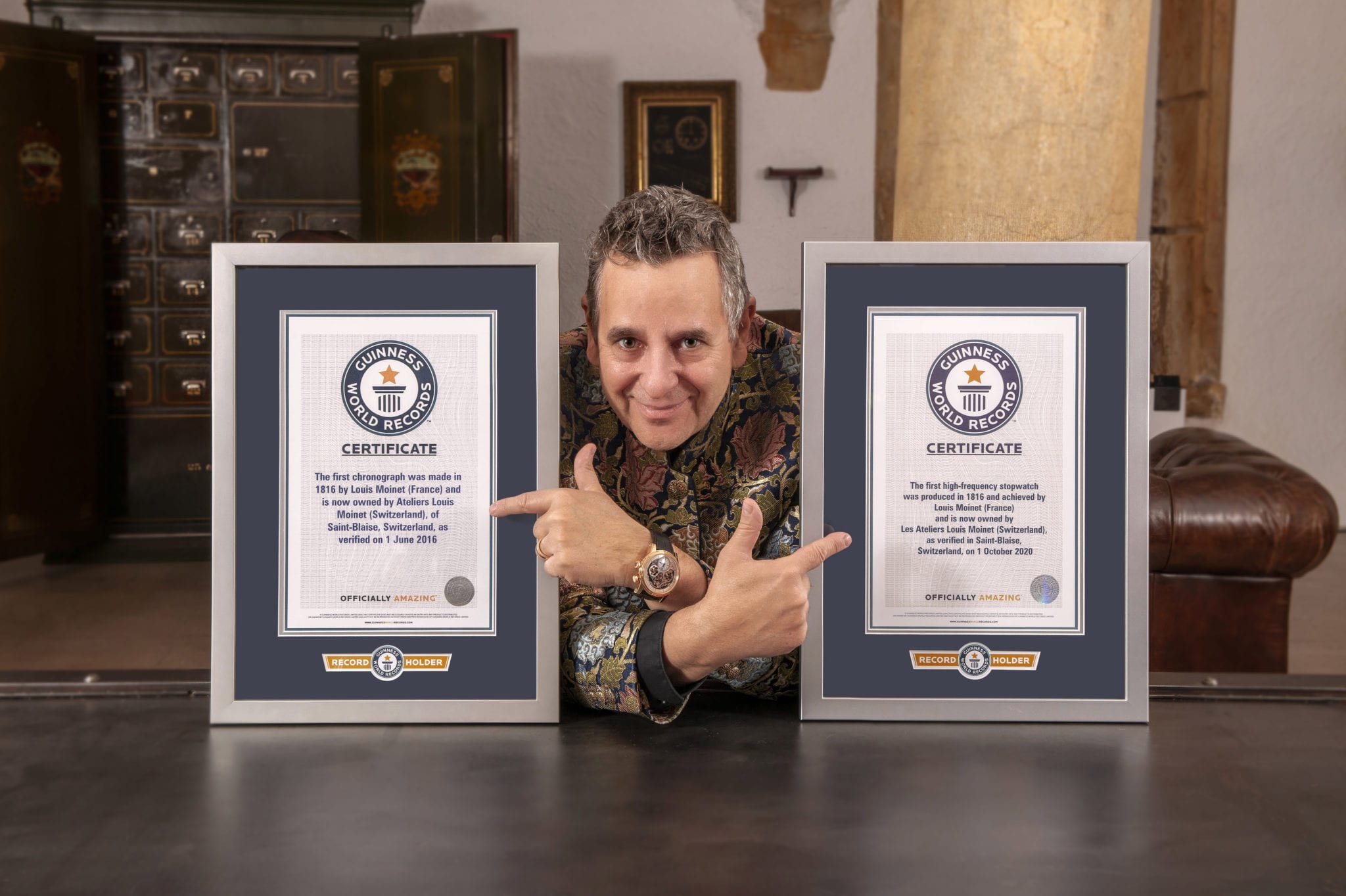 Jean-Marie Schaller with the two Guinness Book of World Record certifications
WTI: What is your production like?
JMS: In a year, traditionally, we have produced 500 pieces. We don't want to compromise on quality, and we want to make our customers happy. This year, we are expanding to 700-800 pieces, with the same level of quality.
WTI: What are the challenges of watchmaking today?
JMS: As an industry, it is to put passion into watchmaking - I don't see that in many people today. My team is 20 people, we are not an army. We need people who have talent and a big heart. They are difficult to find today. For us specifically, it is to cope with the demand. There are bottle-necks in the industry and I don't make everything under one roof. We all have to rely on suppliers, who are not always well-equipped.
Images: Courtesy Louis Moinet