Last year, when Urwerk unveiled the UR-112 Aggregat, it highlighted a novel dynamics of the energy being derived from a single source that powered all displays and mechanisms. Complex and stealth, it was a perfect example of modern watchmaking meeting a futuristic realm. But that was Urwerk's grand opening. This year, the brand has followed it up with the limited edition UR-112 Aggregat Odyssey.
While the UR-112 Aggregat had a darker aesthetic with its titanium case, the new 42mm UR-112 Aggregat Odyssey is striking with its metallic accents, using a combination of titanium and steel. Different textures and finishes make up the case, which has two large windows of sapphire crystal, where UR-112's signature rotating prisms operate, displaying the jumping hours and minutes (advancing in five-minute increments), set with Super-LumiNova. On top rest two steel wings of the Urwerk U-112 Aggregat Odyssey that fit into the central body – press the pushers on either side and these open up to reveal the power-reserve indicator on the left, and digital seconds inside the window on the right; the latter is made of skeletonized silicon disk with an attached red anodized aluminum bridge.
Also Read | A Complex Gearbox On The Wrist: Urwerk's UR-112 Aggregat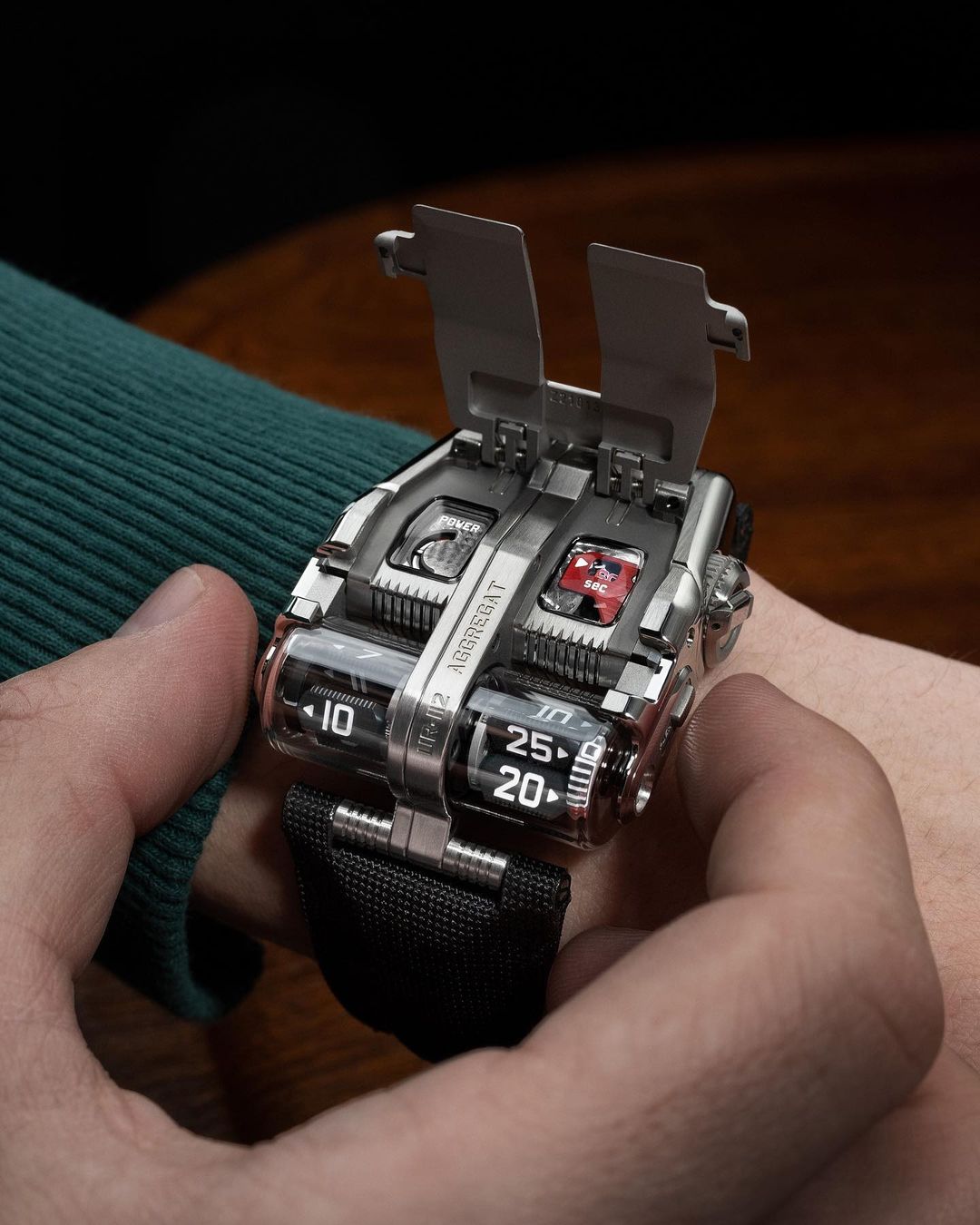 Unlike Urwerk's previous watches, which displayed time via the wandering-hour concept, UR-112 Aggregat Odyssey is part of the 'Special Project' line. The time display of jumping hours is courtesy a cardan shaft – a long, thin titanium rod, which, with a set of gears, drives the hours and minutes prisms via two 90° bevel gears. The watch is powered by the Calibre UR-13.01 automatic movement, with a 4Hz frequency and a 48-hour power reserve. With a water resistance of 30 metres, the limited edition UR-112 Aggregat watch gets completed in a black textile strap with four visible screws holding the watch and the strap together. The UR-112 Aggregat Odyssey doesn't have the aesthetics of a typical watch that most of us wear on everyday basis, but its bold, avant-garde, idea certainly puts it in a league of its own.
Images: Courtesy Urwerk