Antiquorum is organising a Geneva auction of rare, historical, modern, and vintage timepieces; we explore three models that immediately caught our attention.
Antiquorum is coming up with its latest auction of some of the rarest and historic timepieces. Titled 'Important Modern & Vintage Timepieces Geneva Auction', the event is set to take place at the Beau-Rivage Genève Hotel from November 6, 2021 to November 7, 2021.
We take a look at timepieces we are excited about in this upcoming Antiquorum watch auction:
Omega Ref. 166.0077 Ploprof
The Omega Ref. 166.0077 Ploprof, Prototype T 2 in a titanium was quick to pique our interest. The Omega Ploprof is an extremely rare prototype - a self0winding, titanium diver's wristwatch with date. Omega's legacy has been linked to outer space and oceans, giving birth to some of the most iconic watches. While these timepiece found their owners, there are a few Omega prototypes that never were commercialised.
Once such prototype is the Omega Ref. 166.0077 Ploprof, with Omega archives stating less than a dozen titanium cases were ordered in the early 1970's to test the possibility of using titanium for the Ploprof watches considering the material's lightness (the titanium case weighs 48gm, much lighter than its stainless-steel counterpart weighing in at 85gm).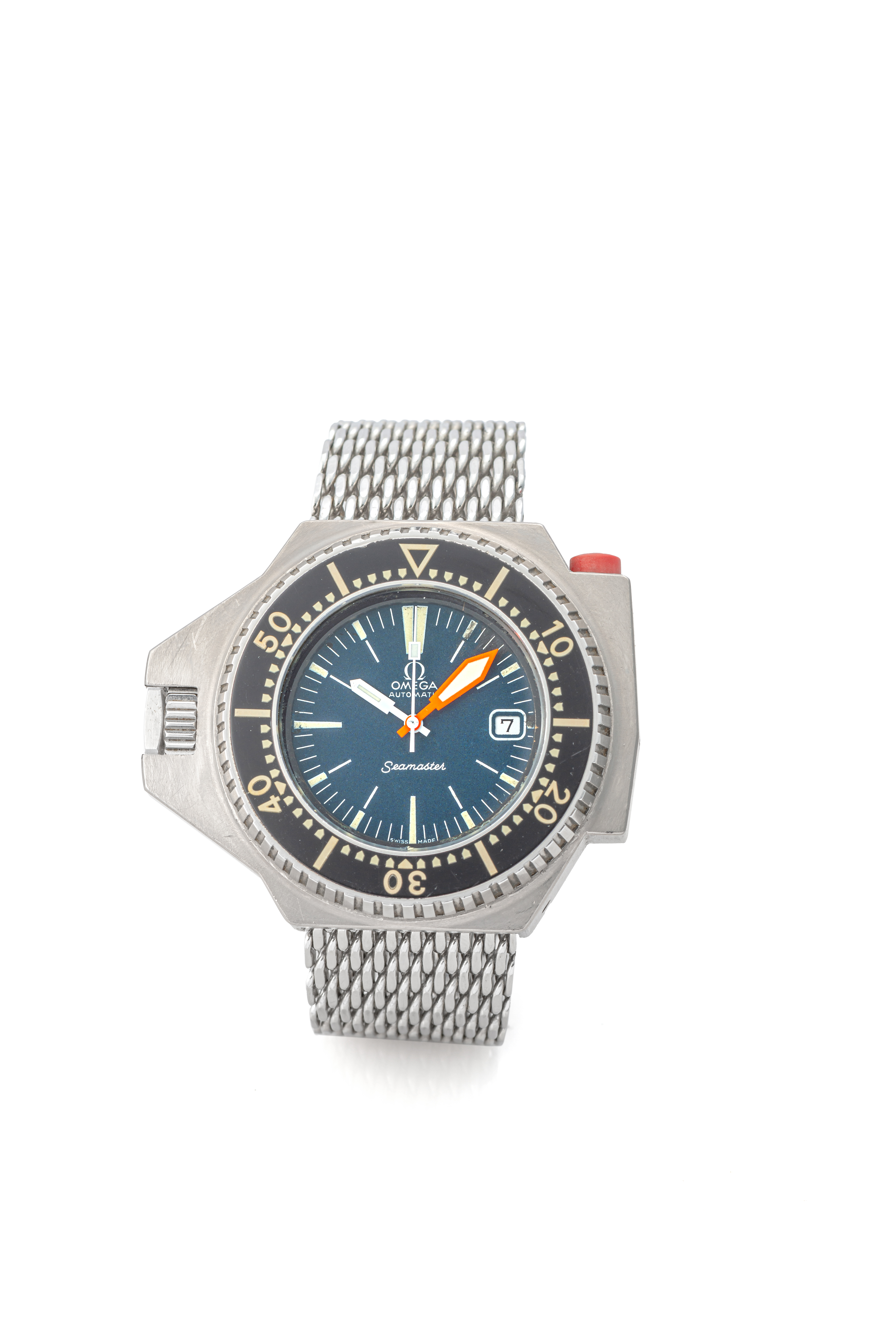 This Omega Ploprof was never commercialised, but this piece was assembled later using a movement usually fitted in the stainless-steel models. It features the early 'Seamaster' dial and a stainless-steel Omega mesh bracelet.
Estimate: CHF 15,000 - 30,000
Patek Philippe Ref. 1518 Perpetual Calendar Chronograph, 18K Yellow Gold
The Patek Philippe Ref. 1518 Perpetual Calendar Chronograph, 18K Yellow Gold is the former property of General Eduardo Hernandez Chazaro - private secretary to President Ortiz Rubio of Mexico. The Ref. 1518 is the first perpetual calendar chronograph wristwatch ever produced by the brand. There are four distinct series of the Ref. 1518 that, although were not released chronologically, were available at the same time, with only 281 pieces being made in total between 1941 and 1954.
The first series, with applied gold Arabic numerals, was produced from 1941 to 1954. The second series was presented at the Basel Fair in 1942 with enameled hour indexes, with the index at 12 o'clock in applied gold Arabic numerals. The third series featured applied gold indexes, with the index at 12 o'clock in applied gold Arabic numerals as well, while the fourth series featured applied gold baton indexes.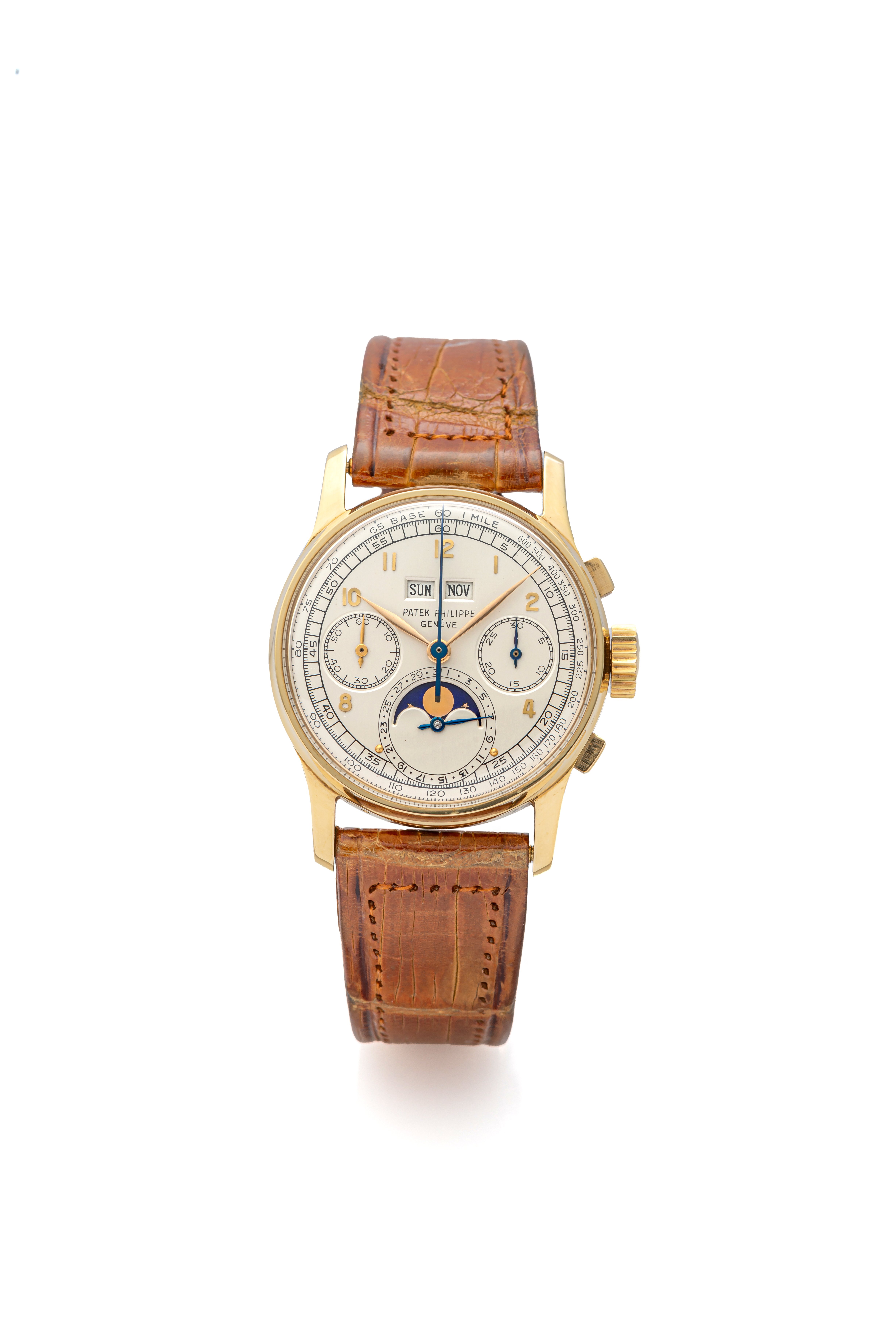 The very fine and rare Ref. 1518, manual-winding, perpetual calendar chronograph Patek Philippe wristwatch with moonphases in an 18K yellow gold case is being presented for the first time on the auction market.
Estimate: CHF 2,00,000 - 4,00,000
Rolex Ref. 1665 Seadweller, Double Red Tropical Dial, Mark II, Thin Case, Portuguese Hallmark, Box and Papers, Steel
The Sea-Dweller remains Rolex's one of the most iconic models and the Rolex Ref. 1665 Seadweller becomes an interesting timepiece for the collectors given any Seadweller's high position in the market.
This Rolex Ref. 1665 was originally sold in Lisbon in 1975 and entrusted to Antiquorum from the original owner. This Seadweller features a distinctive tropical dial as well as the extremely rare Portuguese hallmark on the lug.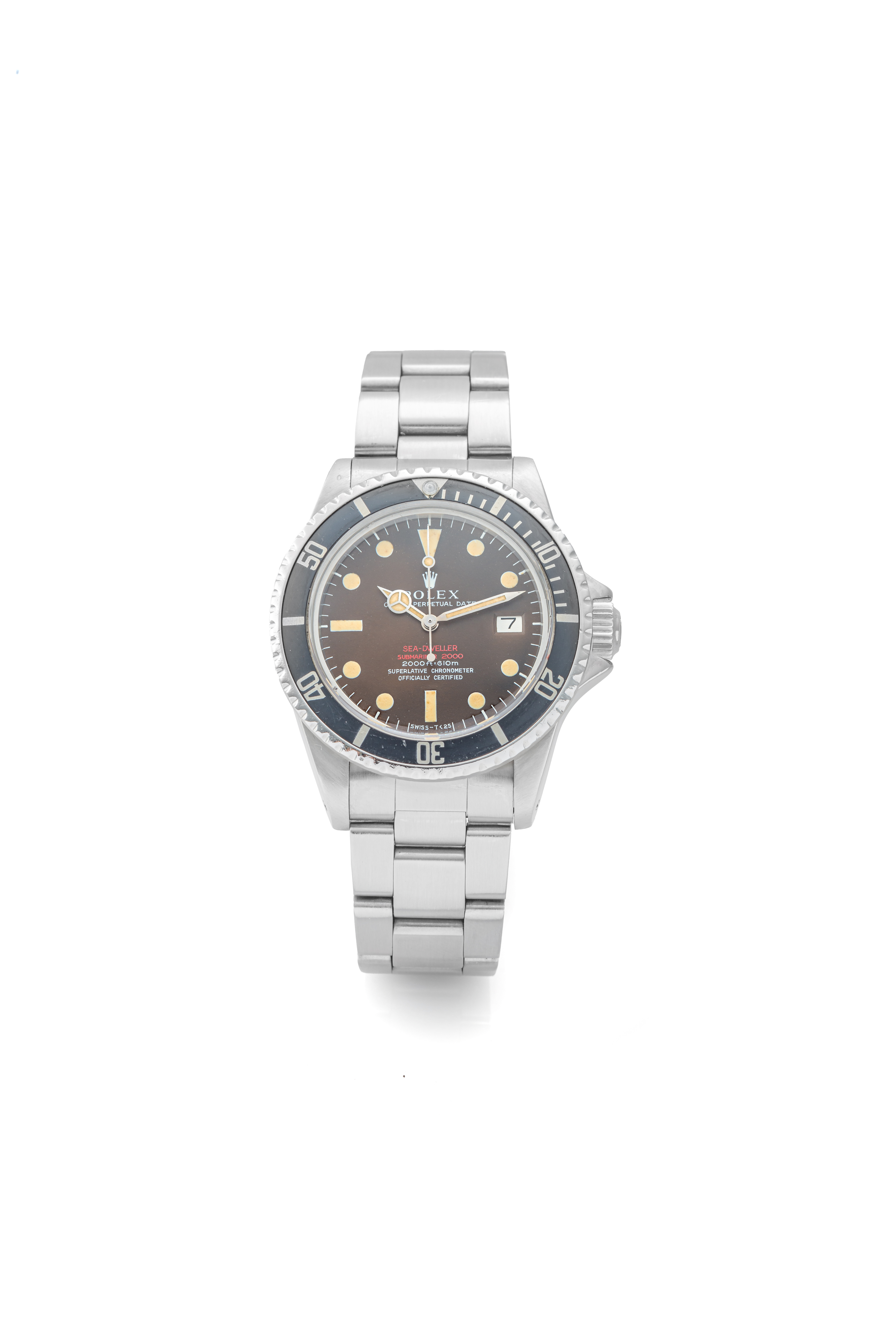 This timepiece is part of the second series, which was characterised by its thin case and flat Rolex logo in the shape of a crown. In stainless-steel with a matching stainless-steel Rolex bracelet, the dial's patina is also paired with the patina on the hands. This lot comes with its original box and papers.